Highlights
The Omen Transcend 16 comes with an Intel i7-13700HX processor

It runs on 16GB RAM and has up to 1TB of storage

The laptop secured 7.8 out of 10 in our review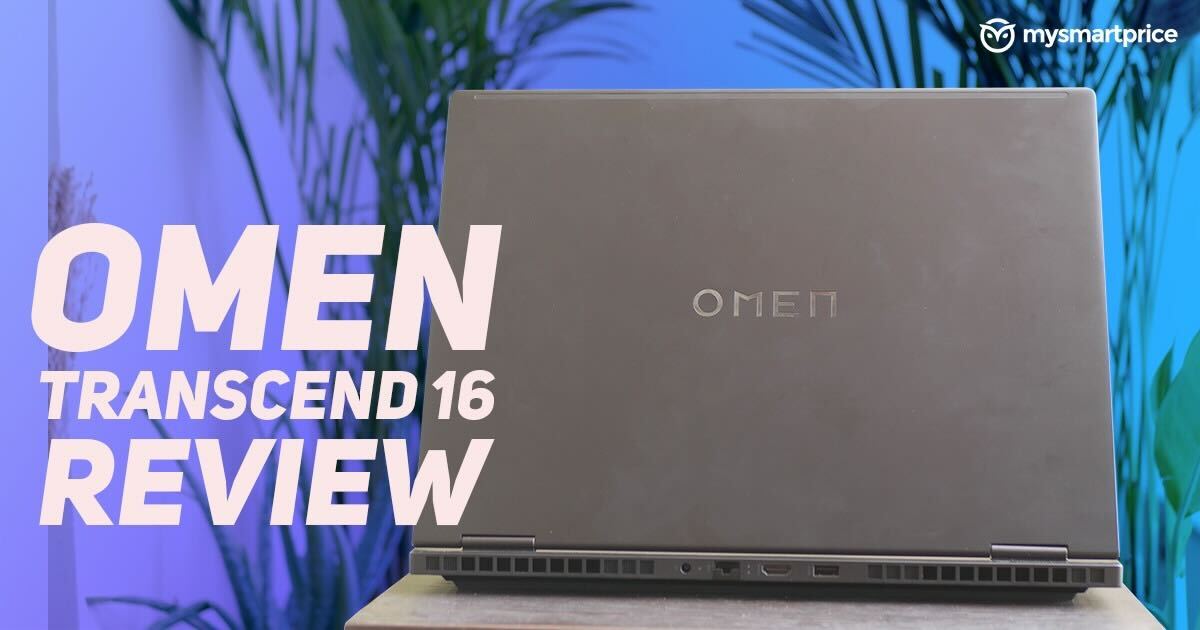 HP aims to strengthen its value proposition by introducing Omen Transcend 16, mostly aimed at gaming enthusiasts and creators. Transcend basically means to go beyond limits, and the laptop achieves that with a thinner approach compared to the traditional variant of the Omen 16. The unit we have comes with an Intel i7-13700HX paired with an Nvidia RTX 4070 GPU. We have been using the laptop for two weeks, and here's what we think.
HP Omen Transcend 16
Rs 2,09,000
KEYBOARD AND TRACKPAD
8.0/10
What Is Good?
Slim and subtle design
Good keyboard and trackpad combo
Decent selection of ports
Bright and vivid mini-LED panel
Good gaming performance
What Is Bad?
Tends to get hot
Mediocre battery life
HP Omen Transcend 16 (2023) Review: Design and display
It features a 1080p webcam upfront for video calls
The Omen Transcend 16 comes with a decent set of ports, including an RJ45 jack and HDMI 2.1 port
The laptop transcends into a new chassis, which is up to 12 per cent thinner and 14 per cent lighter than its predecessor. The entire chassis is an amalgamation of good-quality plastic and magnesium aluminium alloy, which results in the laptop tipping the scales at 2.1kg. Despite the somewhat beefy internals, it's commendable that the laptop looks sleek.
We managed to carry it with us in a backpack for a short trip without much fuss. On the design front, it skips the traditional diamond logo on the lid, with a more subtle 'Omen' branding written in an attractive font. Speaking of the lid, it has a matte finish which is prone to fingerprint smudges.
It comes with a revamped top-hinge design, which helps with better airflow. While the hinge is sturdy for the most part, we noticed minor wobbles when trying to game using the keyboard. The Omen Transcend 16's hinge can go all the way to 180 degrees when needed. The palm area is fairly spacious, with branding stickers on either side. The keyboard layout felt a bit cramped, and it took us a fair amount of time to get used to it.
With so much real estate at their disposal, HP could have easily included a full-size keyboard, but alas, many gaming laptops tend to skip on it to save space. Nevertheless, it includes Page Up and Down keys, a dedicated Omen Gaming Hub switch and not-so-cramped arrow keys (yes, Zephyrus M16, we are looking at you).
To add more essence, the WASD keys on the laptop come with a translucent covering. The keyboard is RGB backlit, with different presets. Coinciding with the palm rest is the wide and tall trackpad, which was quite responsive in our usage.
The port situation is also decent, with the left side featuring two USB-Type C Thunderbolt 4 ports and an audio jack. The right side of the laptop comes with just a USB-A port, while the rest of the cavalry sits at the backside with a power connector (accompanied by a physical LED indicator), an RJ45 jack, an HDMI 2.1 port, and another USB-A port.
Read More: HP Omen 16 (12th Gen) Review: A Powerful Gaming Laptop
It's sometimes a task to try to search for the connector port at the back. In most cases, we accidentally shoved it into the air vent instead. Since the laptop is being targeted towards content creators, a full-size SD card slot would've made life easier.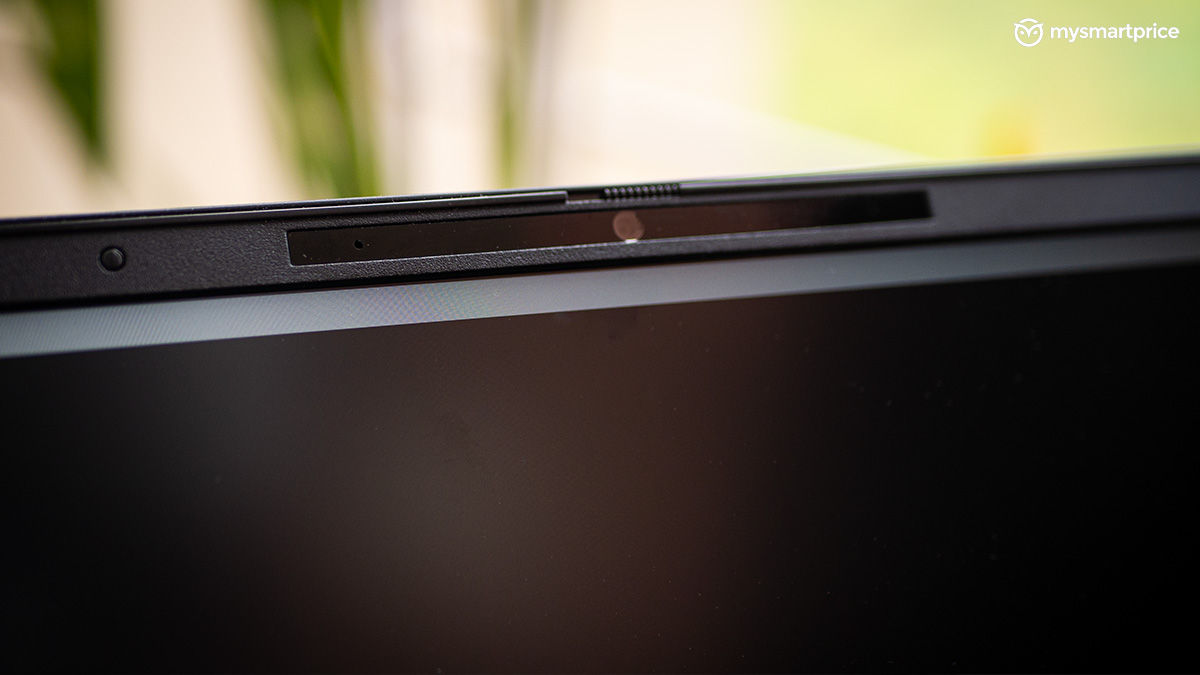 All these three sides also hold in-place vents for optimal airflow. Regardless, we faced some heating issues — more on that soon.
The Omen Transcend 16 gets another upgrade in the form of a 1080p webcam, which also comes with a physical shutter. The webcam output is quite good for conference calls and works well under dim conditions.
HP Omen Transcend 16 (2023) Review: Display and audio
It sports a 16-inch display that refreshes at 240Hz
The display has an aspect ratio of 16:10
The Omen Transcend 16 gets a bunch of upgrades across the board, but the most notable one is on the front. Its 16-inch IPS display has a native resolution of 2560 x 1600 pixels and a refresh rate of 240Hz. The response time of 7ms is relatively on the higher side when compared to most other high-end gaming laptops that register inputs at either 5ms or 3ms. The faster screen aids games, especially first-person shooters. You can switch to 60Hz to save battery.
With the addition of mini-LEDs, the display can achieve a peak brightness of a whopping 1000 nits, which is excellent for indoor and outdoor usage. If you want to learn more about mini-LEDs, we have a short and concise explanation in the Zephyrus M16 review, and you can click here to read that.
The result is crisp and detailed pictures, with deeper blacks when watching content, as there is no unnecessary backlight. The panel produces close-to-natural colours with good viewing angles. The 16:10 aspect ratio is unorthodox for most games, but it bodes well for content consumption. Unlike the Zephyrus M16, you don't have manual control over single-zone and multi-zone backlighting.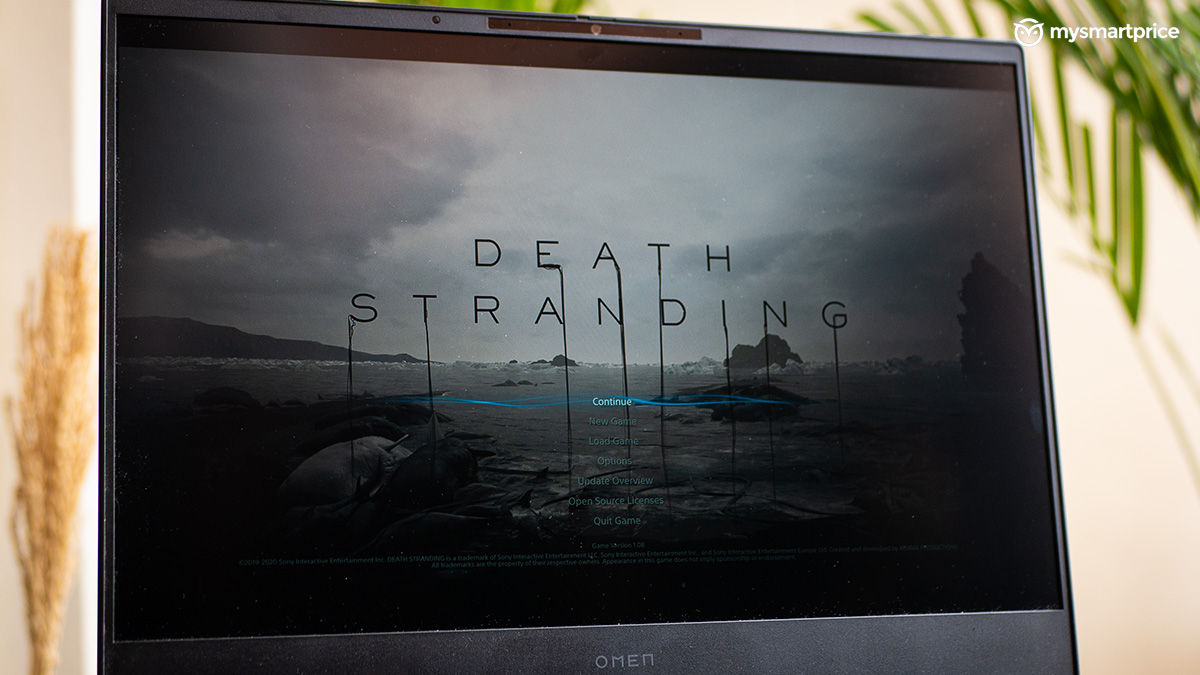 It has a dual speaker setup tuned by Bang and Olufsen. The understanding with gaming laptops is that you get a mediocre sound system, while the one on the Omen Transcend 16 isn't revolutionary, it gets pretty loud with decent bass.
HP Omen Transcend 16 (2023) Review: Gaming and general performance
An Intel i7-13700HX powers it
An Nvidia RTX 4070 GPU handles graphics
The Omen Transcend 16 is available in multiple variants, with the top-most variant running on the i9-13900HX. For this review, we have the variant with i7-13700HX. The 'HX' nomenclature basically indicates the processor is targeted for heavy performance with room for overclocking.
It has a total of 16 cores (8P + 8E) and 24 threads running at a boost clock speed of 5GHz.
This is paired with 16GB of LPDDR5 RAM running at 4800MHz, in dual-channel memory. It comes with up to 1TB NVMe SSD storage. The Nvidia RTX 4070 sits at the heart of the laptop for gaming needs. It has a maximum TGP of 130W and 8GB of GDDR6 VRAM.
While it's not really surprising, the laptop flies through almost all the tasks thrown at it. We did not notice any hesitation when using the laptop daily.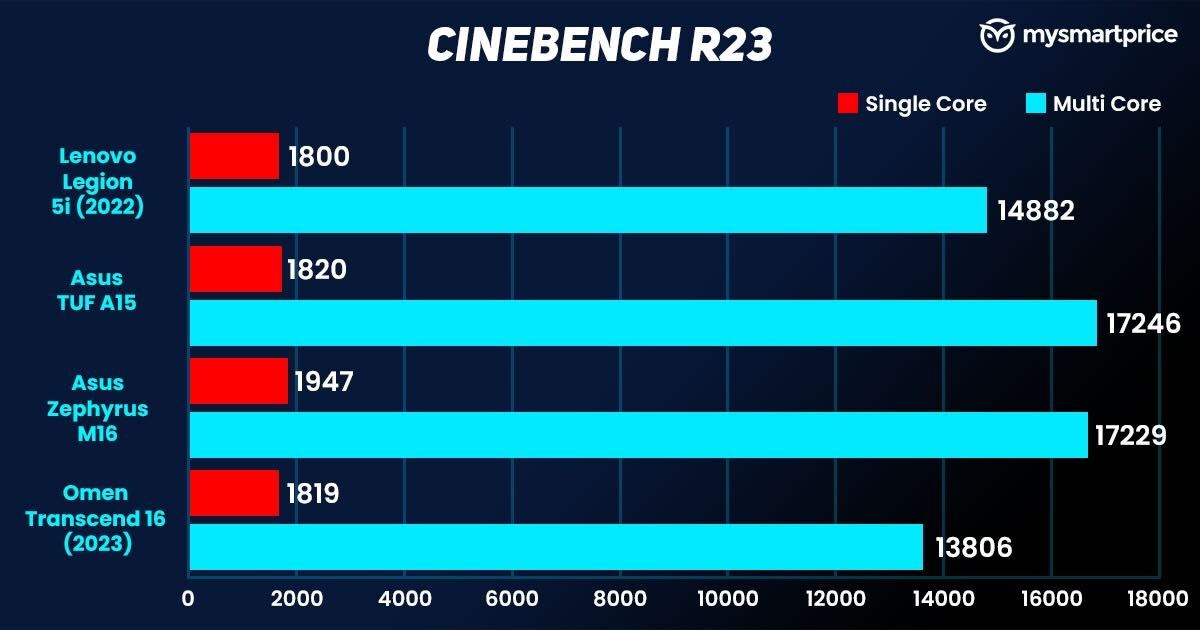 Coming to the benchmarks, the Omen Transcend 16 scores almost the same single-core numbers as the Asus TUF A15 (2023) but falls behind in multi-core scores. It manages to get the upper hand in 3D Mark's Time Spy tests. In PCMark10, it achieved an overall score of 6766.
In Geekbench 6 tests, the Omen Transcend 16 returned 13406 and 2495 in multi-core scores and single-core, respectively. The included Micron's 1TB SSD is pretty fast, with sequential read and write speeds of 7093 MB/s and 6382 MB/s.
The Omen Transcend 16 handles most AAA games without much trouble. All the games mentioned below have been played on High Graphics at native resolution. Additionally, you also get access to Omen Gaming Hub, which, as the name suggests, is a hub which lets you launch games directly from it instead of hopping on to Epic Games or Steam. It also enables you to boost games by clearing up space in the background.
| | |
| --- | --- |
| Games | Average Frame Rates (FPS) |
| Apex Legends | 117fps |
| Valorant | 234fps |
| CS:GO | 190fps (noticed throttling issues) |
| Death Stranding | 105fps |
We noticed the underside of the laptop reaching up to 60 degrees, so keeping the laptop on your lap is only recommended if you plan on ironing out your jeans. Speaking of which, the keyboard area also reached upwards of 39 degrees. While most games weren't affected by this, CPU-intensive games like Counter-Strike: Global Offensive saw the frames plummeting.
Benchmarks on games such as Dying Light 2, Shadow of the Tomb Raider, and Grand Theft Auto V returned promising results, proving the laptop's mettle.
HP Omen Transcend 16 (2023) Review: Battery life and charging
It features a 97Whr battery
The included charger is rated at 230W
The Omen Transcend 16 packs in a 97Whr battery, which the company claims can last up to 9 hours with medium usage. Gaming laptops are known for poor battery life since most of them are meant to be desktop replacements. In our usage, the laptop hardly managed to last about three hours on the GPU. Switching to the Eco Mode inside Omen's Gaming Hub lets you stretch the battery for a bit longer.
The included 230W charger gets pretty hot, and we found the brick connector to be loose, which resulted in multiple disconnections. This could just be an issue with our unit. Anyway, it took the laptop about 30 minutes to reach the 50 per cent mark, with another half an hour or so to juice it up completely.
HP Omen Transcend 16 (2023) Review: Verdict
With the introduction of new-gen components, a hike in the price of gaming laptops is inevitable. The Omen Transcend 16 has multiple variants on the market starting at Rs 1,59,999 —- the variant we reviewed retails for Rs 2,09,000. At this price, the laptop offers notable upgrades over the traditional Omen 16 in the form of a mini-LED panel and a sleeker approach to the design.
The combination of Intel's i7-13700HX and Nvidia RTX 4070 GPU work well together. It should suffice for gamers looking to play AAA games at 1080p resolution on demanding graphics. While the battery life is quite disappointing, you're bound to use it plugged in for peak performance. If you are someone who values battery life on a gaming laptop, the Asus TUF A15 might entice you.
If you're looking for alternatives, the Acer Helios Predator is also available with almost the same configuration sans the mini-LED panel and, well, a higher price.