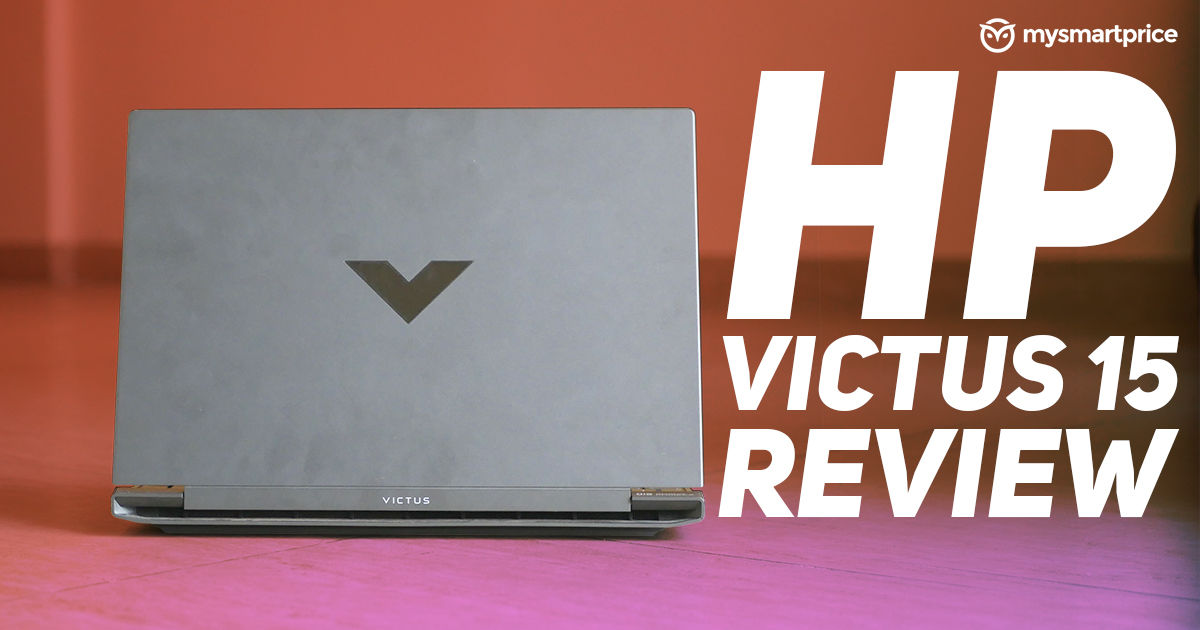 Gaming laptops have grown in abundance in recent years. Companies like Asus, HP, MSI, and more have made their mark and continue to bring innovations with their new launches. Buying a new gaming laptop is now more accessible than ever since you can get one at Rs 70,000 and Rs 50,000. The HP Victus series recently debuted and is positioned below their flagship gaming series, Omen.
The Victus series is known to cater to the audience who wish to get a laptop with decent gaming prowess and still would like to keep their wallets heavy. The HP Victus 15 is their latest entrant and comes with a Ryzen 7 5800H, Nvidia GeForce RTX 3050, 512GB SSD, 16GB RAM, and more. The company has a bunch of other SKUs to choose from, both from the Red team and the Blue team. We've been using the laptop for over two weeks, and here's our full review.
HP Victus 15 Review: Design and build quality
If subtlety had a different name, it would be called HP Victus 15. We are used to seeing gaming laptops with all kinds of gaming blings, from RGB-filled keyboards to translucent back panels. The HP Victus 15 is the exact opposite of all that. For this review, we have a variant with a Mica Silver colour, which looks like stone black. The chassis is made of decent-quality plastic. While it doesn't give you that premium feel, corners had to be cut to keep the price in check. A huge 'V' logo on the lid and a Victus branding on the hinge give away the laptop's make. The lid has a matte-like texture, and we managed to scratch it slightly when it was packed inside a bag along with its charger. Nothing too concerning, though.
There are slight gaps between the lid and the chassis of the laptop, which is a traditional design language of the Victus series. Air vents have been placed just below the hinge for optimal airflow. The backside of the laptop has more exhaust, though the plastic used here feels a bit flimsy. Opening the lid of the laptop with just a finger is also possible. The top of the laptop is bouncy and has some flex to it, which is another indication of the materials used.
It packs in a full-size keyboard, which feels a bit crammed in because of its smaller form factor. It took us a couple of days to completely get used to it. By then, we were always hitting the wrong buttons while typing. The keyboard also has a bit of flex, and we found the key travel decent. Once we got the hang of it, typing on the HP Victus 15 was a good experience. The keyboard is backlit but only flashes white LEDs.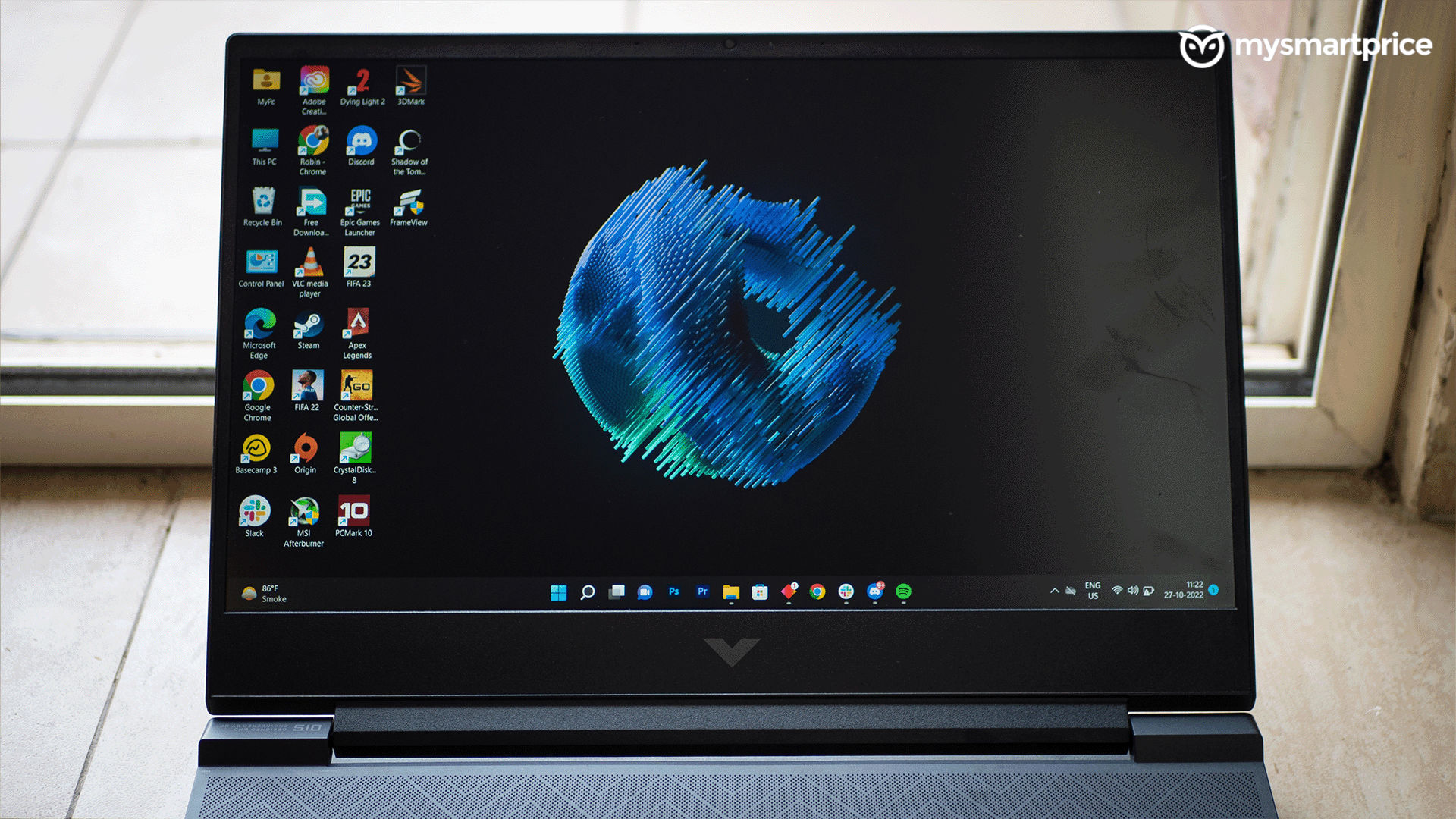 Some gamers might be disappointed with this as it does not have any RGB zones. However, we were content with the lighting situation of the keyboard as sometimes too much bling can also be a bit distracting. And this matches with HP's whole approach with the Victus 15 — subtlety. You can adjust the brightness of the lights as per your personal preference.
It also gives you access to a bunch of media controls, including the mute button. The keyboard also has a dedicated 'Omen Gaming Hub' button alongside the power on key. The trackpad is big enough, and scrolling through webpages was quick and responsive. The click has decent travel and feedback to it and does not feel frail. The bottom edges of the HP Victus 15 are sharper than normal, and our forearms were not happy in the initial days.
Gaming laptops are always on the heavier side. The HP Victus 15 is no different. The laptop weighs 2.29kg with a 23.5mm thickness. We tried carrying it around in our backpack along with the charger, but it was a bit heavy for our weak backs. Though, it's nowhere near what the Asus Strix Scar 17 SE weighed. The HP Victus 15 has a fair number of ports. The left side of the laptop holds in place the power input, a USB Type-A port, an SD card slot, and a 3.5mm headphone jack. The rest of the party lies on the right side of the laptop. It features a full-size HDMI 2.1 port, a USB Type-A port, an RJ45 port for your ethernet duties, and finally, a USB-Type C port which supports DisplayPort and HP Sleep and Charge. It also features a 720p HD webcam to attend meetings at the top of the display. It does not have any physical shutter for privacy, though a small LED right next to the camera indicates whether it is on or off. The camera quality is fairly average, even in good lighting conditions.
HP Victus 15 Review: Display and performance
The HP Victus 15, as mentioned earlier, is available in multiple variants. For this review, we have a variant with a 15.6-inch FHD display, GeForce RTX 3050 4 GB GDDR6 GPU, 16GB 3200MHz RAM (8×2), a 512GB NVMe M.2 SSD, AMD Ryzen 7 5800H with 8 cores and 16 threads and a max boost clock of 4.4GHz. This particular variant (fb0053AX) is priced at Rs 83,999 in official HP stores.
The 15.6-inch FHD display has an IPS panel with a refresh rate of 144Hz. It has a 9ms response rate which is slightly higher, FPS gamers might not be very happy with these numbers. It has a peak brightness of 250 nits. Using the laptop under daylight was not an issue. The laptop has relatively thin bezels on the left and right side of the screen, with a slightly wider one on the top to reside the in-built camera. The display has decent viewing angles, and the colours look good on it. It does not produce over-saturated or very vibrant colours, and we like it. However, it lacks some contrast, which we would've preferred.
The content consumption experience on the HP Victus 15 was good, and we managed to binge-watch a couple of episodes of House of the Dragons. Darker scenes in the series also looked good. The in-built speakers helped the video viewing experience. These are engineered by Bang and Olufsen (B&O). These are placed underneath the laptop on either side of the chassis and also near the hinge. The speakers get loud enough and have an ample amount of bass to them. Listening to music using these was also a great experience.
Now, for the part most of you are here for. We ran the HP Victus 15 through our usual slew of benchmarks and gaming tests, and the results were average. All the games and benchmarks were tested with the laptop set to 'Performance Mode' using the Omen Gaming Hub. The laptop registered a score of 8595 pts and 1382 pts on multi-core and single-core tests on Cinebench R23, respectively. Geekbench 5 recorded a score of 1460 and 7557 on single-core and multi-core tests. As for PCMark 10, the laptop scored a total of 6073 with a 'Digital Content Creation' score of 6857 and a 'Productivity' score of 9432. We also put the RTX 3050 to the test, with Geekbench 5 registering a score of 53322. TimeSpy test registered an overall score of 5029. Finally, CrystalDiskMark returned sequential read and write speeds of 3547 MB/s and 1163 MB/s, respectively.
Just like Armoury Crate in Asus, the Victus series incorporates Omen Gaming Hub, which can be used for customisation and a bunch of other things. It provides three different modes for the user to tweak around with — Quiet, Default, and Performance. This allows you to save battery and the fans to calm down when switching between balanced modes. When it's time to get into your gaming boots, the performance mode can be enabled. It also lets you toggle the fan speed. Speaking about gaming, we played a bunch of games on the HP Victus 15. All these games were played on native resolution — 1920×1080. Benchmark test on Shadow of the Tomb Raider returned an average FPS of 70 on 'High' settings.
Apex Legends returned an average FPS of 72, but we noticed major frame drops during squad fights to about 21fps. The keyboard started to warm up during these sessions. Dying Light 2, another graphic-intensive game, returned an average of 37fps on 'High-Quality' settings. As for 'Medium-Quality' settings, it returned an average of 41fps. Both settings were tested without DLSS enabled. CPU-heavy games such as Counter-Strike: Global Offensive rendered a constant 171fps on high settings, which is a bit on the lower side. The HP Victus 15 tends to throttle under heavy loads, despite such airflow. Playing most of these titles on medium settings is ideal for optimal performance.
The fans underneath start to whir up, and they throw off heat from the vents placed below the hinge. So, it's ideal to use the laptop on a table instead of on your lap — especially under heavy loads. The fans are audible when at max. Using the laptop for normal and everyday use was a breeze, and we did not face any kind of trouble during that.
HP Victus 15 Review: Battery and charging
The HP Victus 15 has a 70Whr battery packed inside, and we were content with its battery life during our usage. The company claims a video playback of 14 hours and 30 minutes. During our use, the laptop lasted us for around 4 hours on default mode during a binge-watching session of a series with a couple of other tabs open on Chrome. We found the battery reliable, and going out without a charger is possible as long as you are doing normal load work on the laptop. Gaming on the battery is not suggested, and you can find better performance with the laptop plugged into the charger. It comes with a 200W charger inside the box, and it took the laptop an hour and 10 minutes to charge from dead to 86 per cent. The charger is not that heavy to carry.
HP Victus 15 Review: Verdict
At a price tag of Rs 83,999, the HP Victus 15 has a bunch of things to offer. The 144Hz FHD display is suitable for gaming as well as consuming content. Partnering with B&O was a good move because the speakers on this laptop are good. We quite liked the overall look of the laptop because of the subtle elements, though using better quality plastics, especially underneath, could've been a wiser choice. Despite this, the laptop is a bit heavier, though that is how most gaming laptops are, because of the components it packs in. Gaming performance on the HP Victus 15 was fairly average as it tends to throttle under heavy loads, which causes frame drops in games such as Apex Legends.
The port selection is quite decent, and it's great to see an SD card slot also considered. The laptop's battery life is good and reliable, which is rare in gaming laptops. The 720p webcam is a good addition, as a lot of meetings are still conducted online. Though, we would prefer a 1080p camera on a laptop that costs this much. If you are someone who is into casual gaming and would like a laptop that is reliable when it comes to battery life, the HP Victus 15 should make it on your list. As for alternatives, the ROG Strix G15 G513 also has a bunch of SKUs that you can consider.