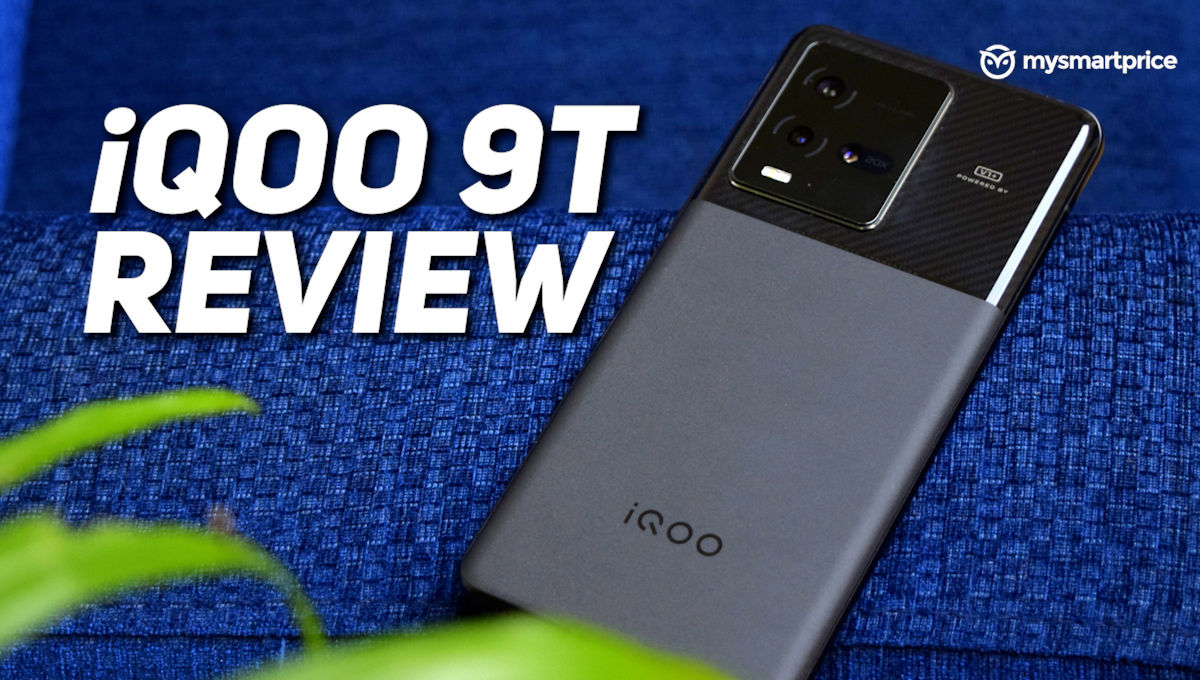 Like its previous BMW-inspired siblings, the iQOO 9T claims to be the fastest smartphone on the planet while being well within reach of the masses. Of course, the performance-focused mobile gaming purists are going to be very happy – it is powered by the latest Qualcomm Snapdragon 8+ Gen 1 chip tuned to give you some insane benchmark figures along with up to 12GB of LPDDR5 RAM and 256GB of UFS 3.1 internal storage, a state-of-the-art vapour chamber cooling system and a helping hand from the V1+ chip for some frame interpolation magic.
The price tag of Rs. 49,999 of its base variant is also extremely lucrative for many, but despite the performance chops and premium in-hand feel, there are a few corners that iQOO has cut with the 9T. Keep reading on to see if this phone's ludicrous performance outweighs its compromises and if it can truly tame the gamer inside you.
iQOO 9T Review: An addictive design
Any smartphone's first point of contact after unboxing it is its chassis and rear panel, so it's very important for first impressions. The iQOO 9T comes in two colour trims – one is the classic BMW-inspired white-blue-red tricolour Legend variant, but we received the other 'Alpha' variant with two textures on its rear panel.
The bottom two-thirds of the latter comprise this gorgeous, almost addictive velvety finish, which shimmers in the light. In contrast, the area around the camera module has a glossy texture with a carbon fibre pattern. The frame is metallic with a matte finish, and you may also notice that the design lines are slightly dated because there's no squared-off, flattened-out 2022-esque vibe here. Instead, the rear panel is curved, and the metal chassis protrudes out ever so slightly for a better grip. But that doesn't mean it's any less premium feeling than its contemporaries.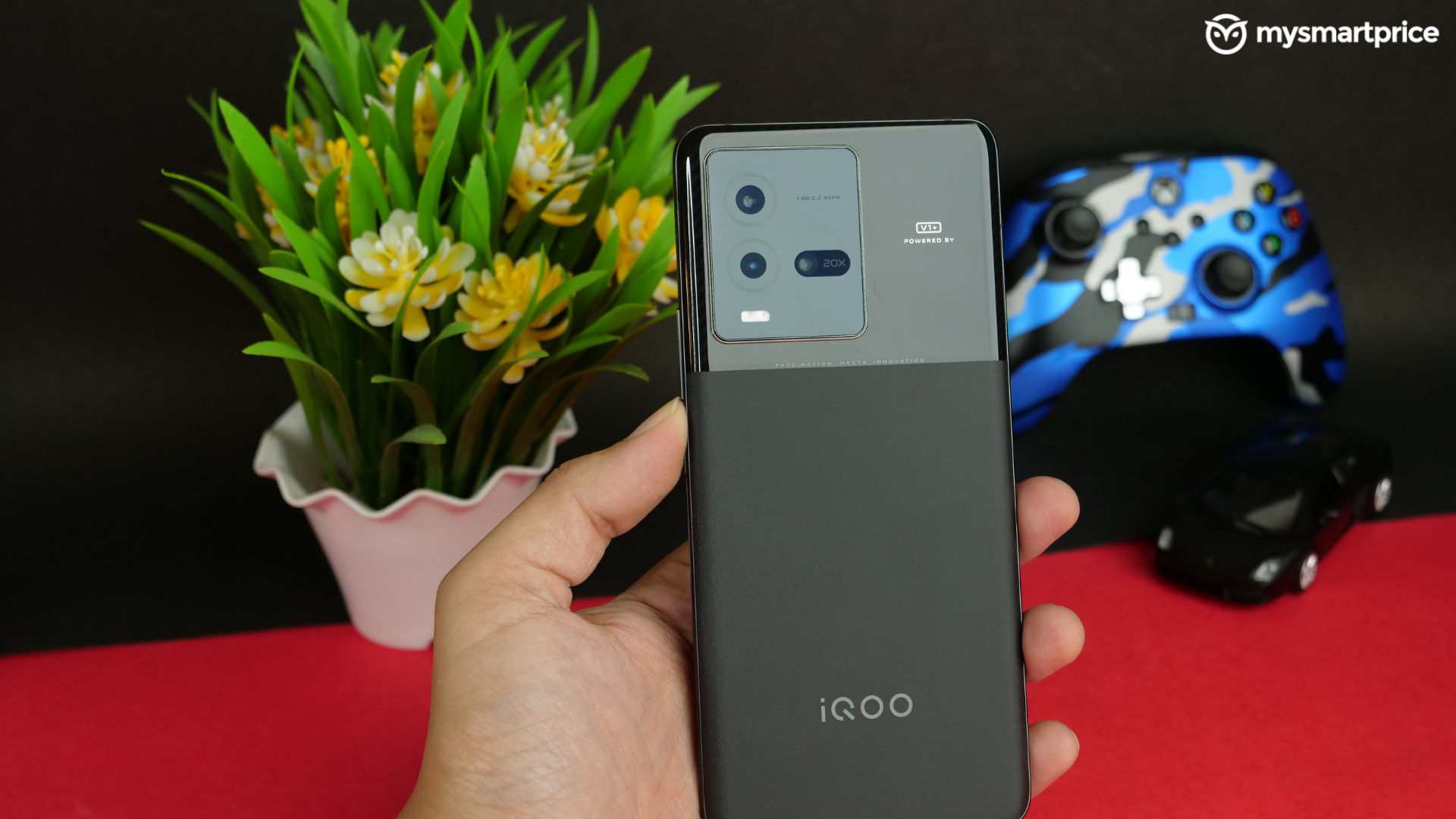 But then, in typical iQOO fashion, there's some weird stuff written just at the edge of the glossy third – FASCINATION MEETS INNOVATION. They did practise restraint here, it's written in the tiniest legible font size possible, but it wasn't required. We know what you stand for, iQOO!
Moving on to the phone's physical features, the bottom is the busiest side of the phone, with a USB Type-C port, a speaker grille, a mic hole and a dual SIM slot. In addition, the right side houses the volume rockers, whereas the left is entirely clean. Finally, the top hosts a secondary microphone and an IR blaster, which is always interesting to see in a phone at this price.
Because it has to accommodate a 6.78-inch display at the front, it is a big phone to hold and isn't suited for one-handed use. But, because it's slim and lightweight, it doesn't feel hefty. For reference, an iPhone XR weighs more than the iQOO 9T.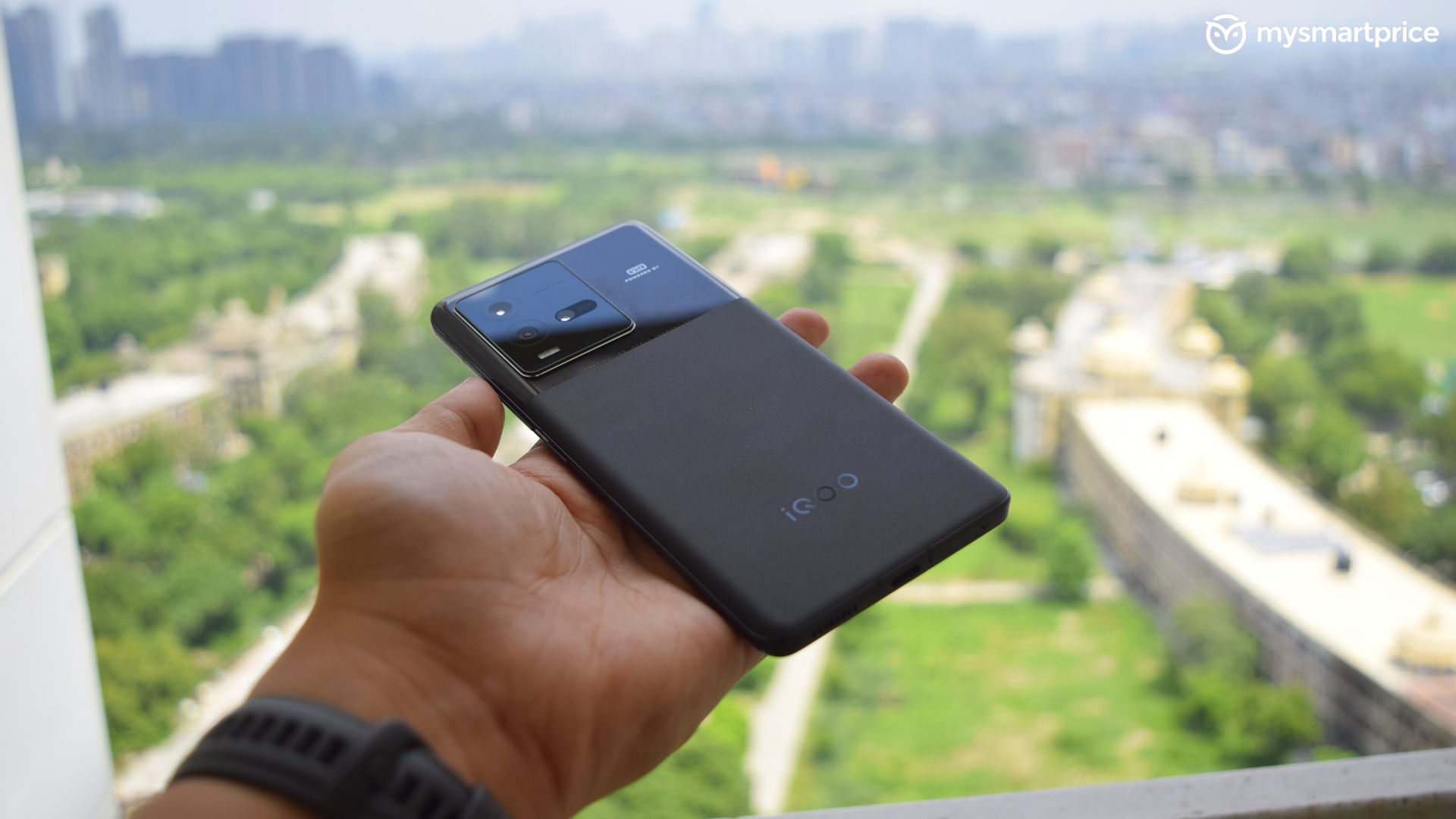 In terms of durability, the phone has an IP52 rating for water and dust resistance. At the front and back, it has Schott Xensation Alpha glass protection. In about a week's worth of use and spending time in our rather abusive jeans pockets, the display and the rear panel hasn't shown any deep scratches.
iQOO 9T Review: Buttery smooth display
The 6.78-inch OLED display we just mentioned is a work of art. It's an E5 panel from Samsung which refreshes at 120Hz. In addition, it has Full HD+ resolution (2,400×1080), instant touch sampling rate of 1200 Hz, 100% P3 gamut and HDR10+ support.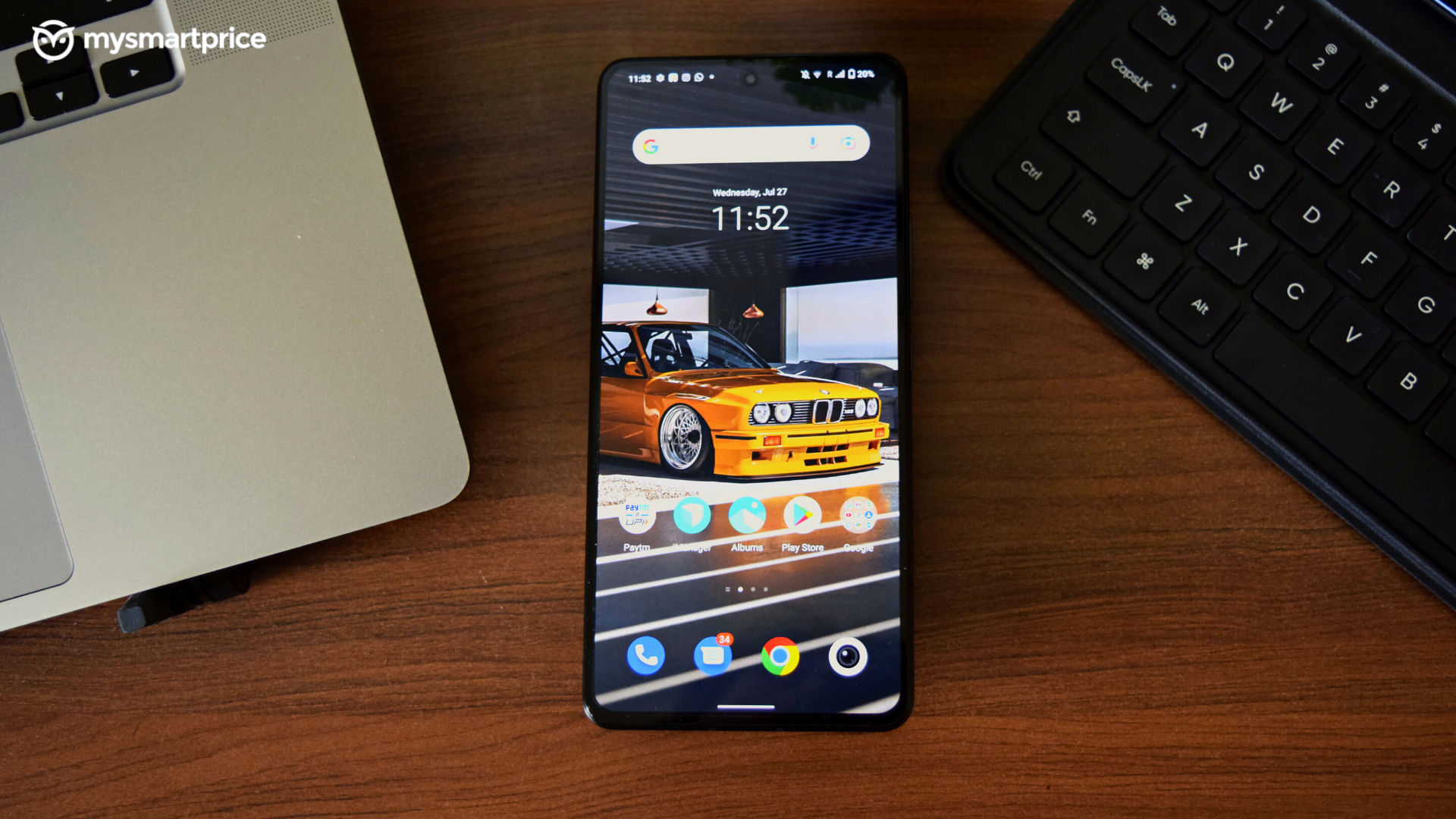 The result is one of the smoothest and most colour-accurate displays you'll find across price tiers. Yes, it's not QHD+, but it's crisp, plenty bright under direct sunlight and fun to watch content on. There's a lot going behind the scenes here, and the V1+ chip makes standard 60 fps refresh rate stuff appear slightly smoother, thanks to frame interpolation. It's not a night and day difference and can be observed only when you're watching high-paced content like a football match or a motor race.
Since it's an iQOO smartphone, it has a bunch of gamer-focused features like In-display Dual Monster Touch which helps in registering four finger inputs simultaneously. This is something that the claw-grip FPS gamers will absolutely love.
Accompanying this display are dual stereo speakers and a solid x-axis vibration motor for haptics. The speakers aren't necessarily perfectly symmetrical, but they get loud with considerable depth and bass. There's no Dolby Atmos certification, but the 3D emulation is actually perfect. We watched a sequence with stereo separation from Better Call Saul's eighth episode of the sixth season, and it did a phenomenal job for a smartphone speaker.
The haptics are good, but the x-axis motor isn't for us. It doesn't quite knock the display all that well like the Nothing Phone (1)'s does, but it should be good enough for gaming.
iQOO 9T Review: Clutch performance
Sporting the latest Qualcomm Snapdragon 8+ Gen 1 SoC, the iQOO 9T is one of the most powerful smartphones money can buy, at least at the moment. The accompanying specs are top-notch, so you can pair the processor with either 8GB of LPDDR5 RAM and 128GB of UFS 3.1 storage or go top-tier with 12GB RAM and 256GB storage. As mentioned earlier, a Vivo V1+ chip is also present here, which aids the main SoC in image processing and frame interpolation duties.
Given the hardware, the ridiculous benchmark figures won't surprise anyone. It secured 1320 and 4055 single-core and multi-core scores in Geekbench 5 and a whopping 1087936 overall score in AnTuTu 9.
The V1+ also flexes its muscles here, allowing frame interpolation in watching videos and gaming. While esports-level gaming is guaranteed here, the bigger question is 'how is sustained performance?' Pretty good, it turns out.
We played Call of Duty: Mobile, BGMI (before it was taken off Google Play) and Apex Legends in the best graphics quality and frame rate settings possible. While COD: Mobile ran smoothly without considerable heating, the phone turned toasty while playing BGMI and Apex Legends within a few minutes. The performance wasn't compromised at any point, but the heat may be concerning for those planning to play on the phone without a case. Also, BGMI didn't support haptic feedback on the phone, which is a bummer given the x-axis motor.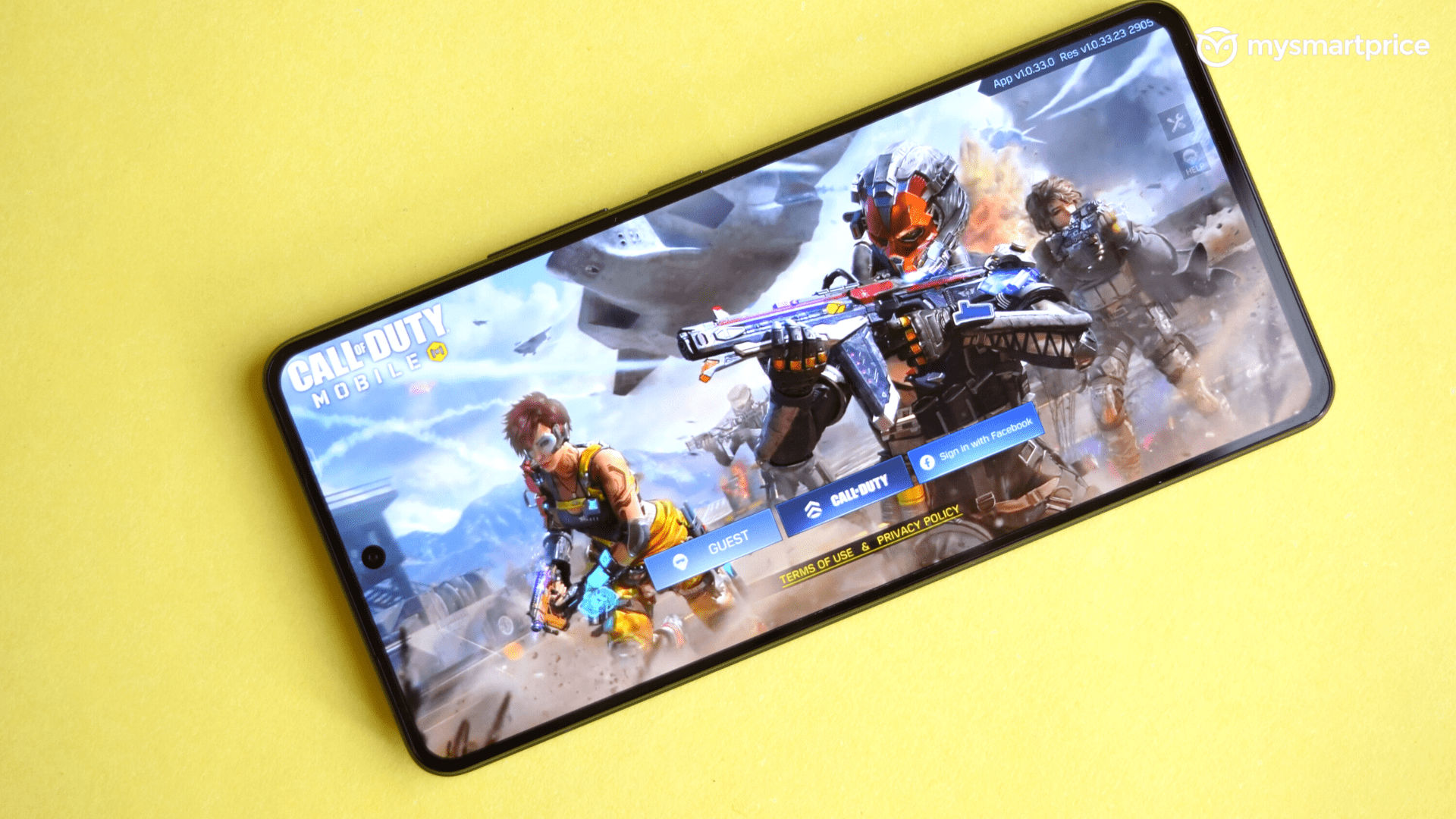 The phone never broke a sweat in day-to-day use, even during the toughest multitasking sessions. We threw several processor-intensive tasks simultaneously for about 20 minutes, and it never succumbed to stuttering. This included running YouTube Premium in PiP, navigation on Google Maps, tracking a ride on Ola, texting on WhatsApp, scrolling reels on Instagram and occasionally shooting photos and videos on the camera app – essentially, a typical cab ride on a humid Delhi day.
While we have sung praises for the hardware prowess of the iQOO 9T, the UI is disappointing at the end of the day, especially for a smartphone commanding this price tag. A lot of bloatware is present here, and you're bombarded with ads and spammy notifications on a daily basis. Stuff like notifications not appearing properly while watching videos on YouTube in landscape mode is also really annoying. There's clearly a lot of work needed to make this a true flagship experience. We would love to see a bloat-free high-end smartphone from iQOO, no matter what the price tag, because that would be a perfect balance between power and user experience and a truly unique selling point.
iQOO 9T Review: The holy trinity of cameras
The iQOO 9T has triple cameras at its rear, but being a gaming phone doesn't mean they are run-of-the-mill quality. The primary camera has a 50-megapixel Samsung ISOCELL GN5 sensor at its heart, which was also seen in the vanilla iQOO 9-series. But what caught our attention was the presence of a 12-megapixel telephoto camera that can double up to click portraits, much like the Galaxy S22 smartphones, and a 13-megapixel ultrawide that doubles up as a macro camera.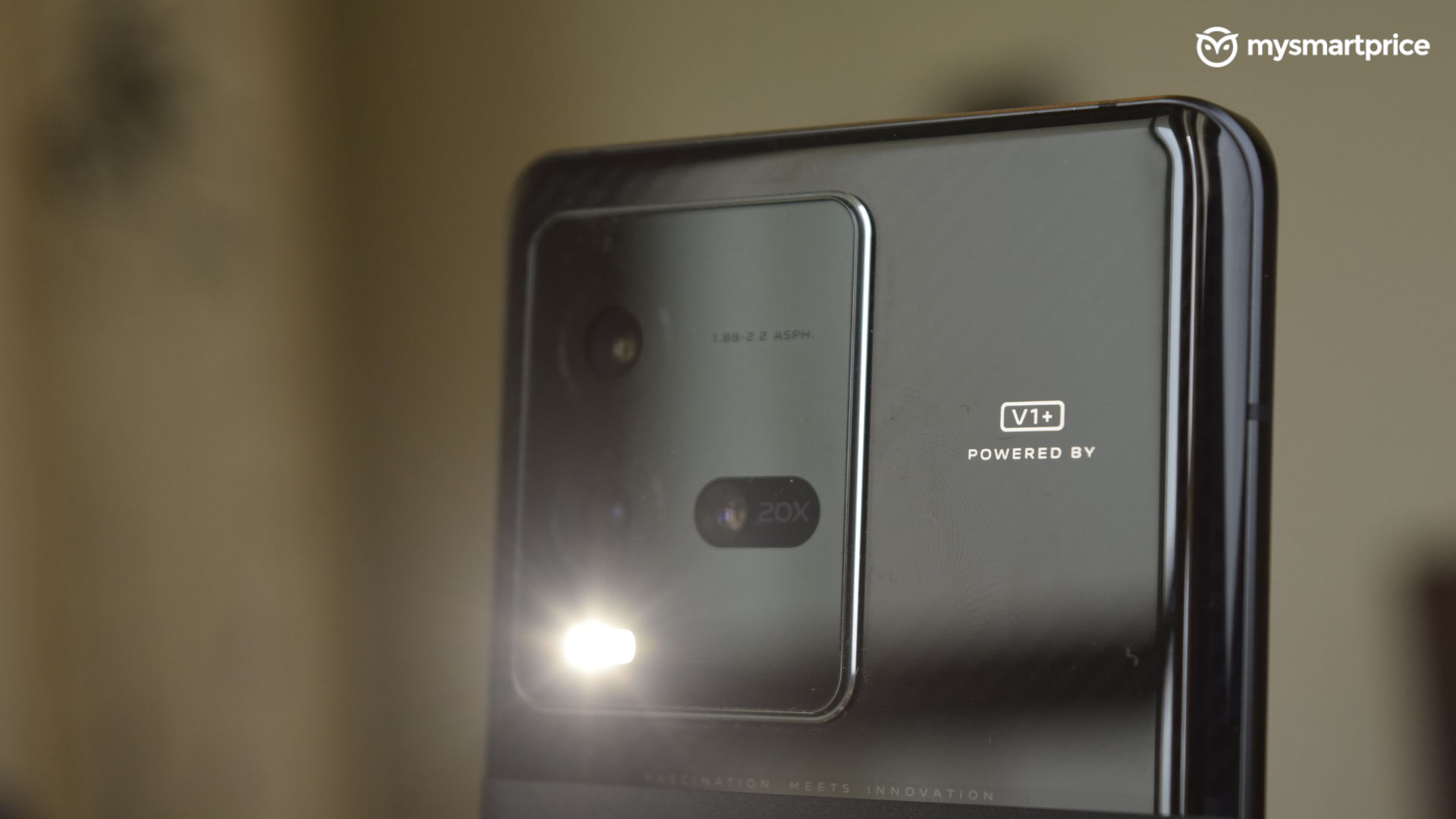 iQOO claims are bold here – the V1+ chip allows PureNightView, XDR Photo and Extreme Night Vision. It's a great selection of cameras on paper, but it's slightly less impressive in real life.
The primary camera takes some decent shots during the day, but they aren't not the most detailed by any measure. It's very clear that the emphasis is more on vibrancy, so blues, greens, oranges and pinks are always enhanced. This can be seen in sunset portraits, where the HDR captures the sunset in the background but makes the side of the subject's face a bit too warm.
Also, the colours of the primary and ultrawide cameras lack consistency. However, during the day, it captures better details and a little more information than 8-megapixel cameras, which are common at this price.
The 2x optical zoom of the telephoto doesn't seem like much on paper, but in reality, it lets you get closer to a subject while reproducing the finer details that the primary camera misses out on. Photos clicked with this are slightly darker during the day.
HDR works in all three cameras and does a good job outdoors. Indoor photos can have a bit of noise, and HDR works when it comes to balancing the bright and dull points in a photo, but it fails to recover details effectively in the process. In one of our shots, Nothing Phone (1)'s glyph is visible, but the texture and colour of its rear design are inaccurate.
In low light, the primary camera clicks photos that have appealing heightened colours, but the finer details around the edges appear to be missing. Ultrawide images clicked in low light are way darker and washed out. We didn't see anything pathbreaking in terms of Extreme Night Vision and PureNightView either.
You can record up to 4K videos at 60fps, but ultra stabilisation is only present in 1080p 30fps. This is surprising because the primary sensor and the powerful SoC allow the capture of 8K video. Still, shots are decently stabilised, even in 4K and have good exposure. Focusing is quick and doesn't go crazy in low lighting either.
Selfies are decent, even in tricky lighting. HDR in selfies works well too, and skin texture appears natural when the filters are turned off.
iQOO 9T Review: Long battery life & fast charging does the trick
Apart from shredding benchmarks, the Snapdragon 8+ Gen 1 is also great at managing battery efficiency. It sips power instead of gulping it down, unlike its predecessor. This, combined with the 4,700mAh battery capacity of the iQOO 9T, gives it a battery life of about a day and a half on moderate use and just a little under a day when gaming for about a couple of hours. We got about seven and a half hours of screen-on-time with the brightness turned up to 80% and refresh rate set to 120Hz.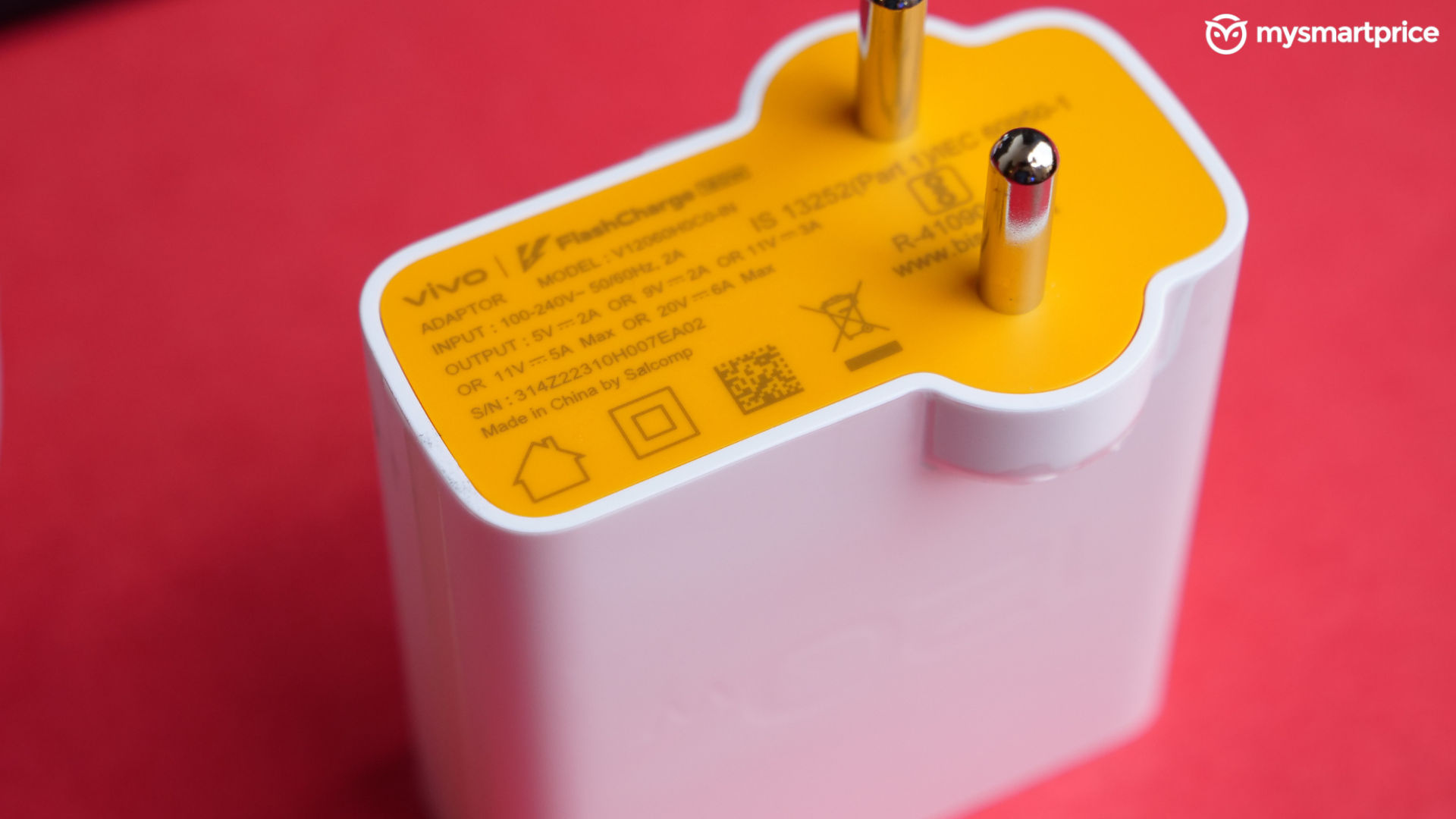 What makes it even more fun is the ability to top up the battery within 25 minutes, thanks to the 120W FlashCharger. It's one of those claims that did live up, and boy, were we happy with it. Charging your smartphone's battery is like washing dishes after a family meal in lockdown – nobody likes to do it, but then, what choice do you have?
iQOO 9T Review: Verdict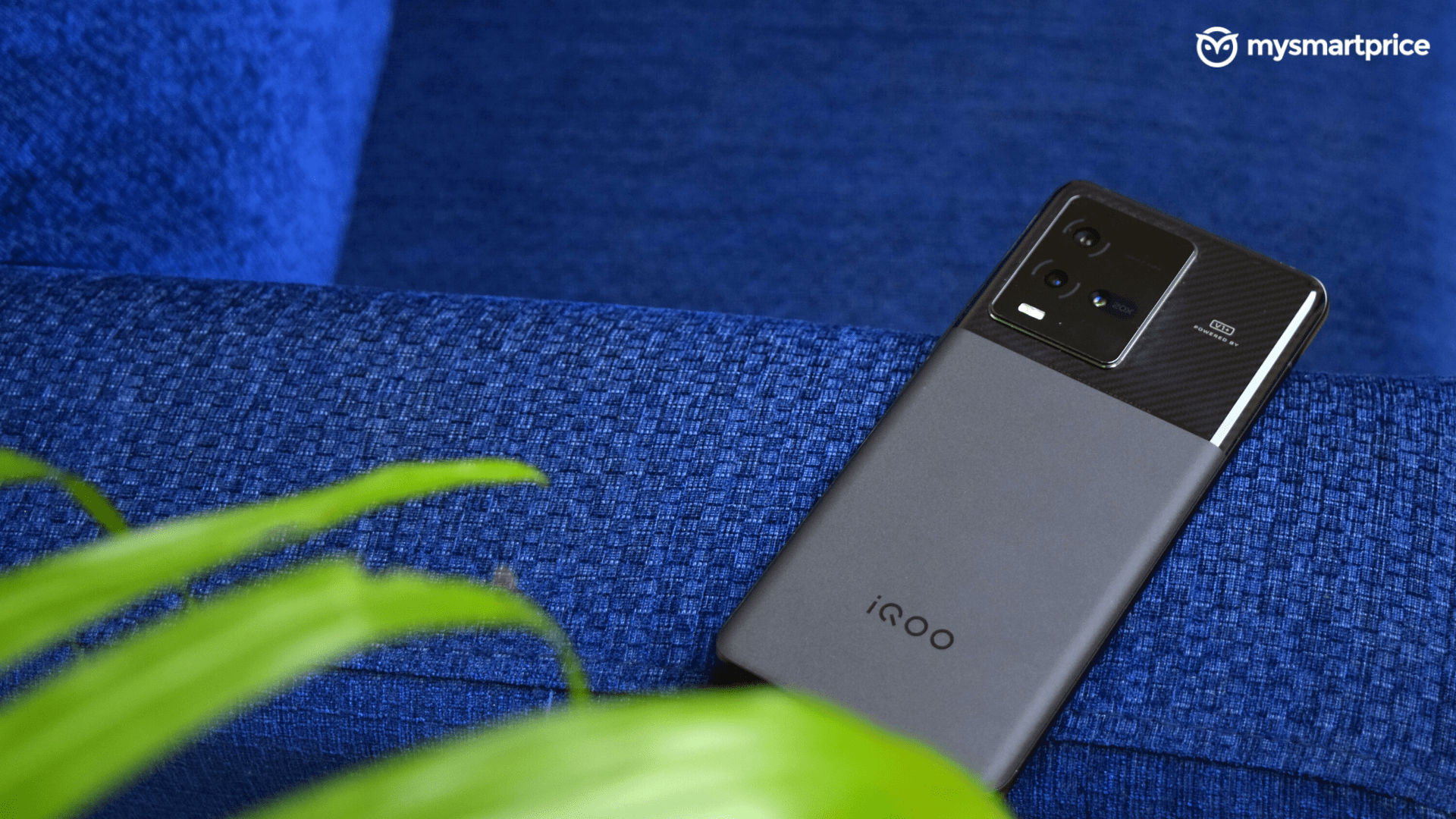 For its price, the maxxed out flagship hardware, display specs and battery performance the iQOO 9T provides is unmatched. It even gets the design right to an extent.
Sure, bloatware is disappointing, and camera performance is above average at best, but it nails every parameter it claims to do well.
But, is the average young mobile gamer going to care about it? Nope!
We would love to see what a truly flagship experience (without bloat) from iQOO feels like, no matter what the price tag.
At Rs. 49,999, We are compelled to compare the iQOO 9T's dual-chip nature to the Oppo Reno8 Pro's because of how well the V1+ chip handles camera duties along with frame interpolation in both gaming and video watching. As a result, the iQOO 9T truly justifies the price tag in every aspect.
What Is Good?
Crazy fast performance
Smooth, crisp display
Great battery life
Fast charging speeds
Black variant has a nice rear texture
Value for money
What Is Bad?
Bloatware at this price
Poor colour consistency among cameras