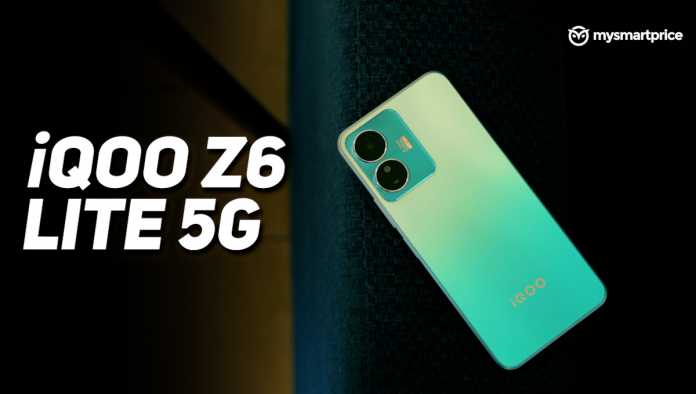 The story of iQOO in India has been pretty interesting. So far, the company has had this laser-focused goal of launching high-performance smartphones that became an instant hit among India's young, gaming-oriented population. iQOO smartphones pack in as much value as possible, but given the kind of performance headroom they seek to offer, they tend to be pricey. And despite being successful, we haven't seen them spam the 'budget' smartphone market in their two-year journey.
The iQOO Z6 Lite 5G is the company's big break into this volume segment. With a starting price of Rs 13,999, the Z6 Lite 5G is here to test the harsh waters where the Realmes, Pocos and Redmis of the world are dominant. Packing the new 5G-enabled Qualcomm 4 Gen-1 chip with up to 6GB of RAM and 128GB of internal storage, the smartphone seems to stir up the competition a little bit. But there is a vital area where it skimps out – the charging brick. So, given the compromise, is the iQOO Z6 Lite 5G unique enough to dethrone its established rivals and be your next pick? Find out in our review.
iQOO Z6 Lite 5G Review: Design
The iQOO Z6 Lite 5G keeps things relatively simple yet contemporary with a flat edge, squared-off plastic frame and a flat plastic back, which we have come to see as the design theme of 2022. The frame protrudes a little, making way for a better grip. The only design element that sets it apart is the flashy plastic back. We received the Stellar Green colour variant that diffracts light to produce shades of purple and blue under dull light. Under bright light, the colour shifts to yellower and greener hues, and the little glitter particles on the rear panel become far more obvious. There's also a less flashy Mystic Night variant available.
The camera module is similar to other Z6 siblings of the phone – two cameras are stacked vertically on the rectangular island. It sticks out enough to give the phone some wobble when rested upon a surface, which isn't necessarily a bad thing as it becomes much easier to pick up.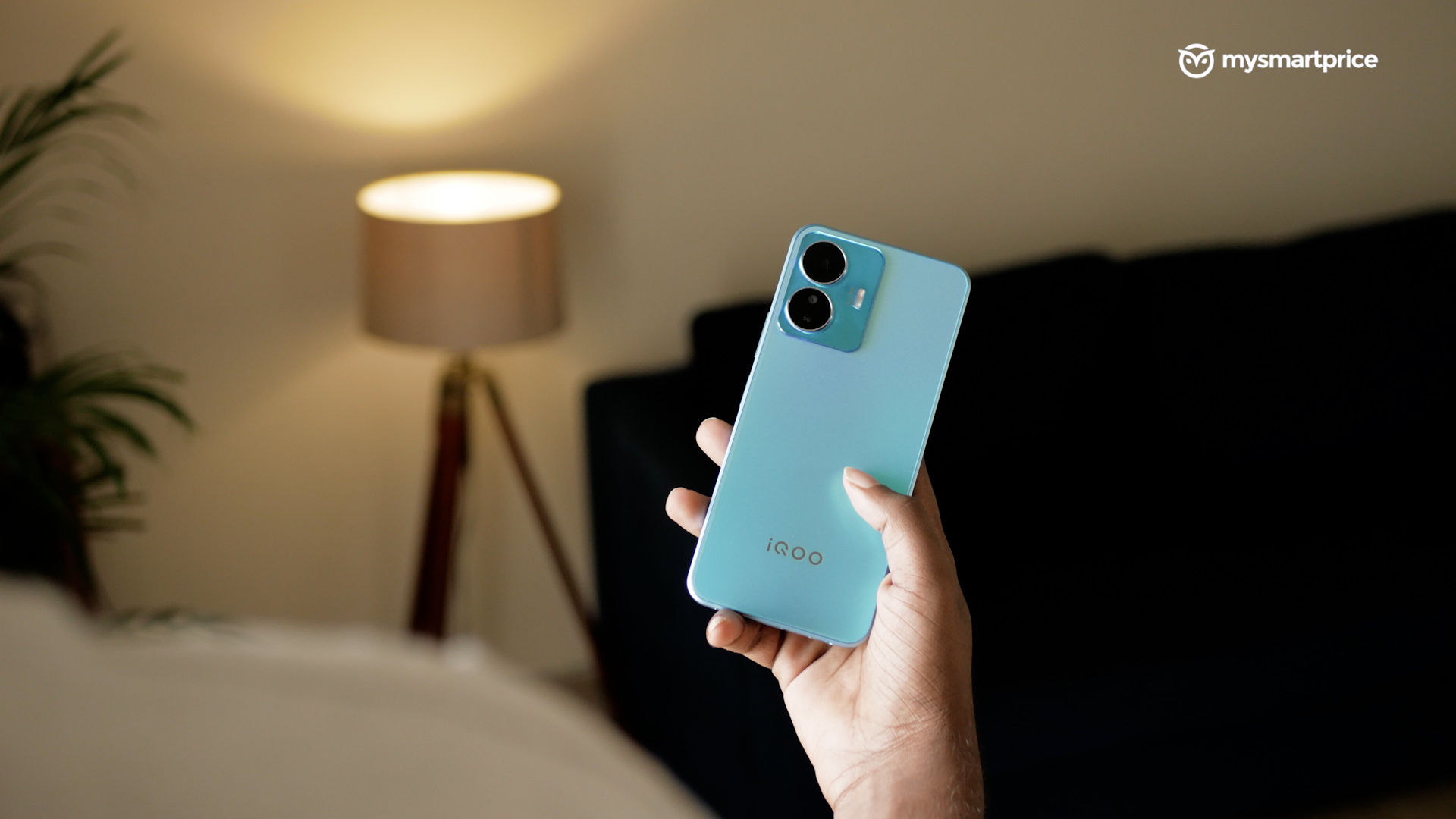 The all-plastic build yields its durability, but there's no IP rating, something we don't expect at this price point.
In terms of buttons and port placement, the left of the phone is entirely blank, whereas the right has the volume rockers and the power button, which also has an embedded fingerprint reader. The top of the phone is also relatively plain, with just a SIM tray, but the bottom is super busy with a Type-C port, a 3.5mm jack, a mic hole and a speaker grille.
iQOO Z6 Lite 5G Review: Display
The front of the iQOO Z6 Lite 5G hosts a 6.58-inch LCD with FHD+ resolution, but here's the kicker – 120Hz refresh rate and 240Hz sampling rate, a great feature for this price. While we haven't been provided with official brightness figures, it is usable under direct sunlight. Surrounding the display are thick black bezels and a dewdrop notch that give it a 2018 vibe.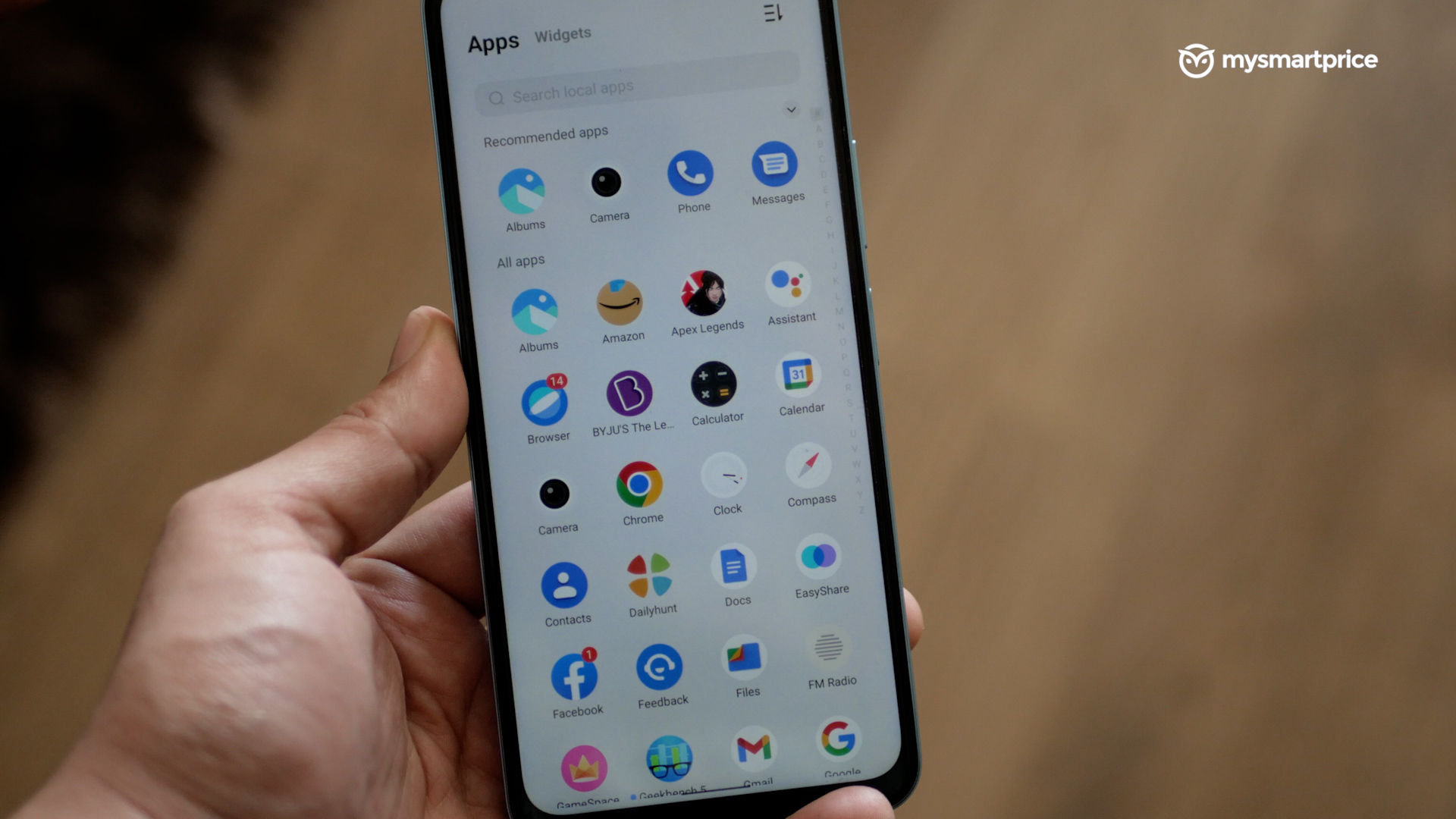 Viewing angles are decent, the colour tone is slightly on the cooler side, and because it's an affordable LCD panel, the colours aren't as punchy or vibrant. However, for the price, the quality of the display is entirely acceptable and is very similar to that of the Poco M5, which we regarded highly overall.
The high refresh rate gives you a higher perceived speed, and swiping through your social media feed and scrolling through web pages feels very responsive.
We couldn't find Netflix on Google Play. It might be because our unit was a pre-production device. But the smartphone has Widevine L1 certification, so that we can expect full HD playback on the app. Unfortunately, there's no claimed compliance with Dolby Vision or HDR here, which is also something we usually expect from a higher price point.
Speaker performance is fine, and it's nothing to write about. It's a single, bottom-firing unit that can be covered easily with your palms. Unfortunately, it struggles a bit beyond 80% volume.
iQOO Z6 Lite 5G Review: Performance
Any gain in performance is a significant advantage for a smartphone at this price. It's a race of small margins here. The iQOO Z6 Lite 5G is powered by a Qualcomm Snapdragon 4 Gen-1 SoC, and it comes in two storage variants of 4GB/64GB and 6GB/128GB, the latter of which we received. The difference in pricing is just Rs 1,500 apart, so we recommend getting the higher variant anyway if you can. The Z6 Lite 5G runs Android 12 with FuntouchOS 12 atop.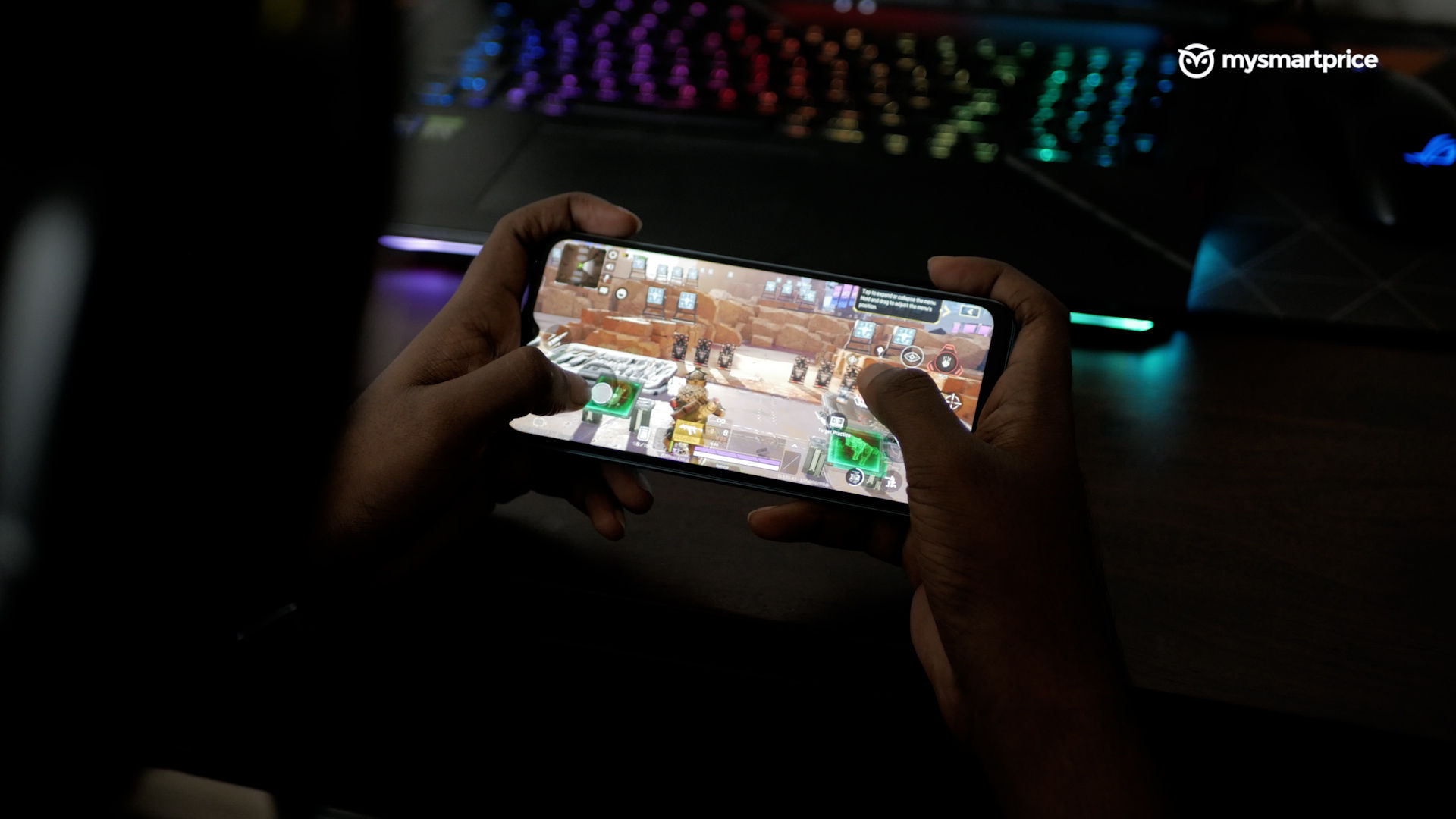 You also get virtual RAM, which allows you to allocate up to 2GB of your UFS 2.2 internal storage as RAM. This doesn't really add much to the raw performance, and it just lets you keep more apps open in the background, so they don't start from the splash screen.
Moving forward to the benchmarks, the iQOO Z6 Lite 5G managed 616 and 1773 single-core and multi-core scores in Geekbench 5. In AnTuTu v9, it posted an aggregate score of 386485.
These numbers are comparable to that of the Poco M5, with slightly better single-core performance, but then the Z6 Lite 5G has a card up its sleeve. A dedicated cooling system for the SoC isn't something we see a lot at this price point, but well, iQOO being iQOO, has included one anyway to live up to the performance-centric hype. As we said, any trick to get the most performance out of a phone is critical at this price, and this seems to help in sustained workloads, such as gaming for long hours.
We tried Apex Legends and Call of Duty: Mobile on the iQOO Z6 Lite 5G, and it worked well with Medium graphics settings, although in Apex, we did observe a little bit of stuttering. But the phone never got alarmingly warm, even after 30 minutes of play. We also watched videos and reels for long durations, and the phone still marched on without heating up.
In terms of day-to-day use, the FuntouchOS shows its quirks. Compared to MIUI, it's far more spammy and bloaty, and that's mainly because of the notifications sent by the Browser app. So you'll have to take out some time to remove the bloat and turn off unwanted notifications. Otherwise, navigating between apps was mostly snappy, but there were times when we saw a bit of stuttering.
Also, you get 5G just in time. With its launch right around the corner, iQOO Z6 Lite 5G has support for two bands – n77 and n78. The latter is a mainstream mid-band, so that it might be compatible with many networks, but we will have to wait until the launch to give a final verdict on the 5G performance.
The fingerprint scanner is not the best in the category, though, and it can be a pain to use. It failed to register our inputs correctly and consistently.
iQOO Z6 Lite 5G Review: Battery
Many buyers in this price point rank battery life as one of their highest priorities. The iQOO Z6 Lite 5G comes with a 5,000mAh battery, but guess what? No charger in the box! This is the corner iQOO has cut to keep the prices of a 5G-enabled smartphone low. The funny thing is the box has a slot for the charger, but iQOO has hidden it with a card that reads, 'Thanks for contributing towards the planet by reducing carbon emission.'
This can be problematic for first-time smartphone buyers because they'll have to shell out some extra money for the brick. But the good thing is that iQOO hasn't given high hopes with charging speeds, as there's only 18W charging here. So a compatible third-party brick should cost something around Rs 500.
Battery life is good, though, with great standby times. For example, after starting the day at 8 and ending it around 11:30, the Z6 Lite 5G still had a 38% charge, and the next day it only lost 2%.
But charging it feels like an eternity, about one hour and 40 minutes to entirely charge it up using a third-party charger.
Putting it in a nutshell, the overall battery and charging performance of the Z6 Lite 5G is very similar to that of the Poco M5.
iQOO Z6 Lite 5G Review: Camera
The rectangular cutout at the rear of the iQOO Z6 Lite 5G houses a dual camera setup consisting of 50-megapixel primary and 2-megapixel macro sensors. On paper, the 50-megapixel sensor seems capable enough to carry the entire configuration by itself, but in reality, it falters due to the lack of any kind of stabilisation. As a result, photos appear blurry no matter how steady you keep your hand. We tested the camera in a variety of situations under natural and artificial lighting, and its performance didn't entirely convince us.
In broad daylight, the photos clicked by the primary camera are sharp but appear dull due to washed-out colours. The camera is backed by HDR, which tries to recover the blown-out highlights and shadows in harsh lighting. As a result, the photos shown in the viewfinder and those appearing in the final output are vastly different. The HDR is not overwhelming, the images don't seem too processed, and it comes into action quickly as soon as the camera detects the scene.
Indoors, with natural light, the camera clicked blurred photos, even when we tried to take the support of a wall. The focus also appears soft in wider shots with multiple subjects.
In low light conditions, the camera takes really blurry photos and sometimes refuses to lock the focus correctly even after confirming on the viewfinder. The noise reduction is also aggressive, so images have a soft, hazy look to them. The Super Night Mode takes about four seconds to register a shot, and often the result is a blurry photo, which can make you mad if you try to click the same shot again and again, waiting four seconds every single time. The Super Night Mode is only available in the 6GB variant.
But, here's an interesting observation – the camera tends to boost the colours and contrast when its scene detection recognises a document.
Macro photography is also nothing to write home about – the photos clicked by the 2-megapixel sensor are dark and have really low details, and we were able to click comparable photos with the primary camera.
An 8-megapixel front-facing camera handles selfies. We clicked a few photos in the daytime. The camera tends to make skin tone slightly brighter and texture slightly softer even after turning off all the filters. Also, thanks to HDR processing, photos with a harsh backlight don't appear blown out.
We wish the camera module was slightly better and didn't struggle so much with the shutter speed. But then, the phone is designed keeping performance in mind, so this doesn't seem like an area iQOO wanted to focus on.
iQOO Z6 Lite 5G Review: Verdict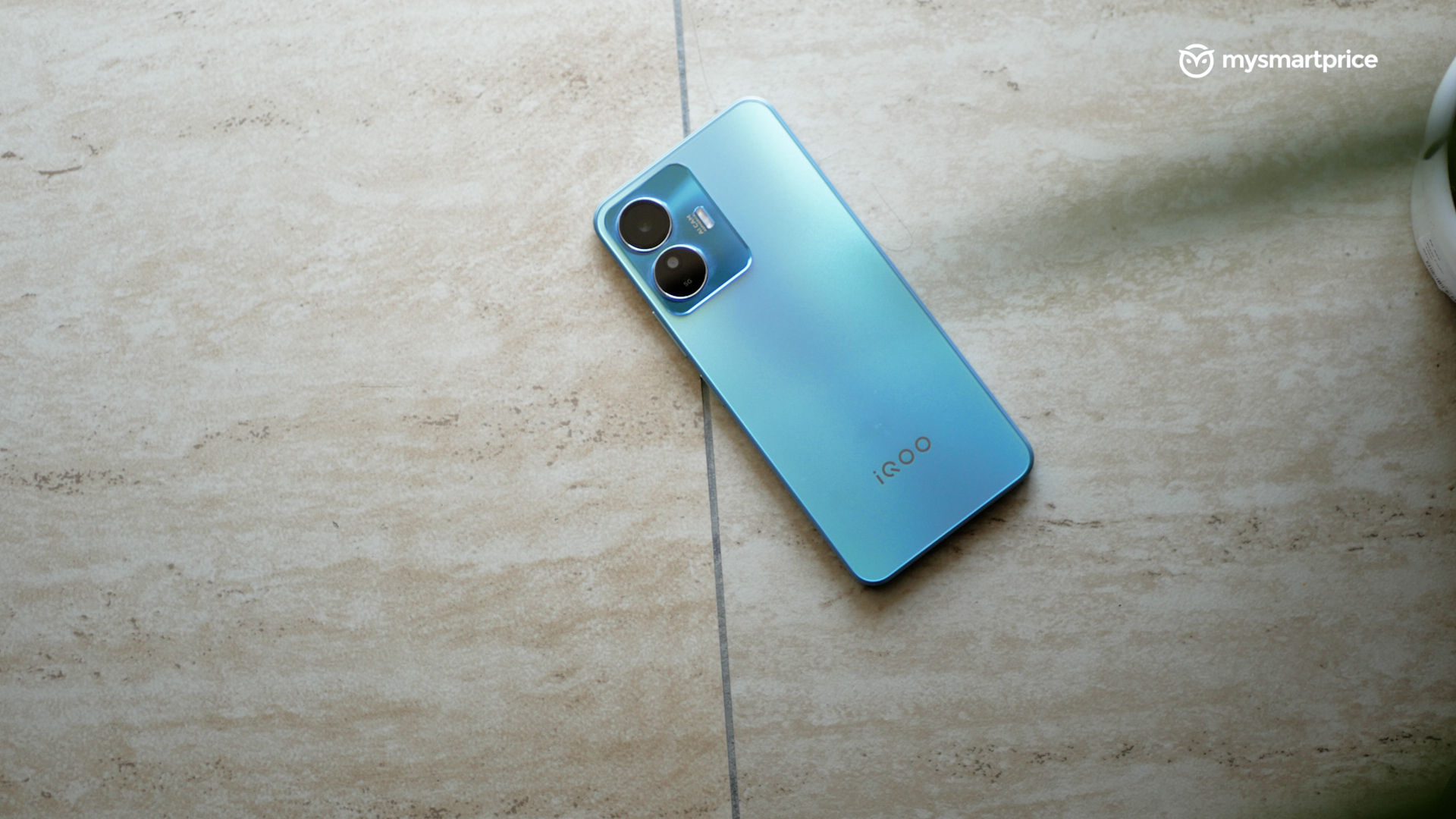 With a starting price of Rs 13,999, the iQOO Z6 Lite 5G ticks the boxes of the brand's core philosophy of performance and battery life. Its flattened-out design, with a shiny plastic rear, is very much in-sync with the smartphones in the same price segment.
It also supports two 5G bands, which might be useful for first-timers looking at bare-basic 5G connectivity. So, if you have a spare charger, are tight on budget and want a basic 5G phone, the iQOO Z6 Lite is the perfect fit.
The fact that it doesn't ship with a charger might be off-putting to some, and its camera performance is mediocre at best. In such a case, you may want to look at some alternatives. The Poco M5 seems to be its toughest competitor in terms of raw performance. It has better camera performance and ships with a charger, but it lacks 5G connectivity. The Redmi 11 Prime 5G is another alternative – it has nearly everything the Poco M5 has to offer, plus 5G chops for all network operators. It may be slightly inferior in terms of raw performance to the Z6 Lite, but it costs about the same and comes with a charger in the box.
What Is Good?
5G affordability
Good performance
120Hz display
Big battery
What Is Bad?
Mediocre cameras
No charger in the box
Slow charging
Thanks for reading till the end of this article. For more such informative and exclusive tech content, like our Facebook page