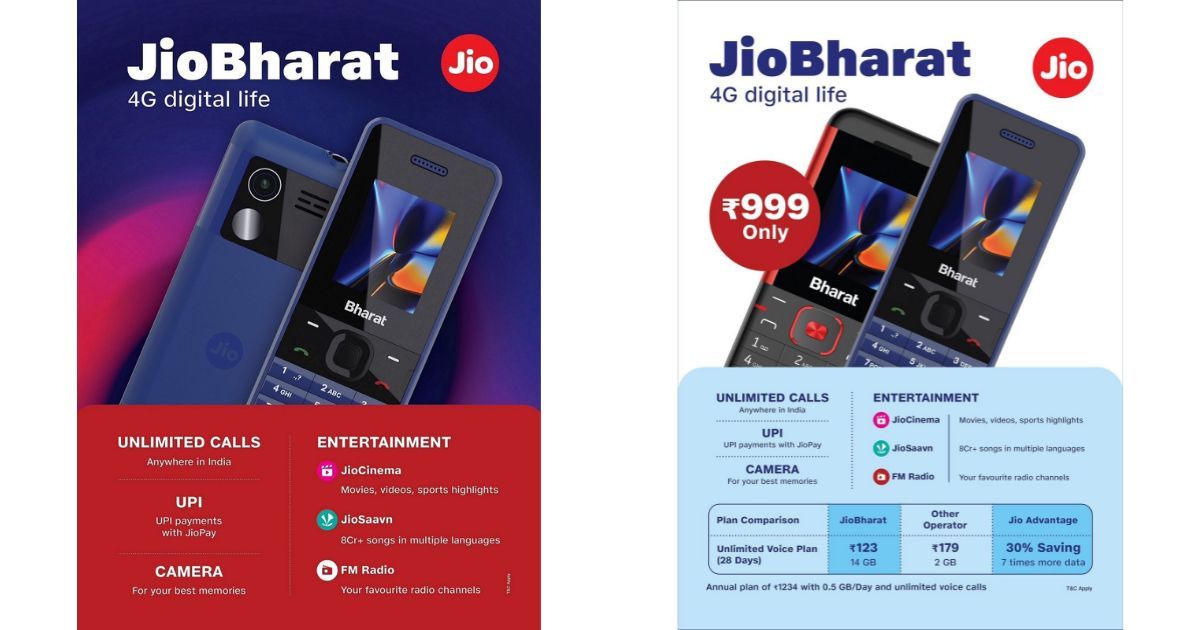 On July 4, Jio Platforms, the digital services subsidiary of Reliance Industries, launched a 4G-equipped feature phone priced at Rs 999. The device caught the headlines for multiple reasons — the most interesting of which is Reliance's strategic play towards capturing more telecom users into its fold. Offered as a platform, the Jio Bharat Phone goes on trial sale across India starting today, July 7. On this note, here's looking at what this 4G feature phone offers, how you can get it, and how it stack up against previous feature phones from Jio.
Also Read: Jio Recharge Plans and Offers 2023: Jio New Prepaid Recharge Plan Price List with Talktime, Validity, 4G Data Benefits
Jio Bharat Phone: 5 Key Things to Know
With two variants up for sale to users, here are the five most important things that you must know about the Jio Bharat Phone.
The Jio Bharat Phone is a feature phone platform, with physical T9 keypads from the yesteryears. The series is being made available in two variants — the Jio Bharat K1 Karbonn, and Jio Bharat V2. They are both feature phones and have the same set of specifications — which likely form a standard of sorts for the devices that Reliance Jio has specified.
According to the official page, all Jio Bharat Phone variants offer 1.77-inch screens, come with a 1,000mAh battery, and have external memory cards with support for up to 128GB of storage. Each Jio Bharat Phone feature phone also has a VGA camera to the rear, while optionally, they also get integrated flash units to serve as torchlights as well as headphone ports.
The feature phone series only works with Reliance Jio's 4G network, and cannot be used with any other telecom operator's services. Alongside the phones, Jio has introduced an affordable data plan that offers 14GB of 4G data and unlimited voice calls at Rs 123 per month.
Despite being a feature phone, Reliance Jio has bundled a number of smartphone-centric features such as streaming movies through JioCinema, music through JioSaavn, and making UPI payments through JioPay. All of these services have been made available without any extra cost, with the bundled telecom plans.
While Karbonn's variant is available in a grey-red colour scheme, the Jio Bharat Phone V2 is available in two colours — black and blue. Each phone is bundled with a charger, and in terms of further additional features, it also gets call recording.
How Much Does it Cost?
Each Jio Bharat Phone feature phone costs Rs 999, alongside which buyers will be needed to buy a recharge plan to go with. This will cost an additional Rs 123 for a monthly plan, or Rs 1,234 for an annual plan.
How to Buy a Jio Bharat Phone?
According to reports, a trial phase of the sale of Jio Bharat commences today, July 7. As part of this phase, the feature phone will be available across 6,500 tehsils all across the country. The device will, for now, be available only across Reliance Digital stores, and Reliance Jio-associated single-brand and third-party multi-brand retail stores across the country.
The beta trial of the sale of the feature phone will be conducted for the first 1 million buyers of the device, following which the company may revise its retail strategy. To be sure, it remains unavailable to buy online, for now.
How to Use UPI on Jio Bharat Phone?
The overall procedure of using the UPI payment feature will remain the same as what it was on JioPay UPI on the first JioPhone. Here's how you can go about it:
Given that you will likely get a new number linked to your phone, you may first need to link your number to your bank account
Open the JioPay app on your phone. It should be pre-installed on the Jio Bharat series
On the app, you will see an option to add a UPI ID to the app
Select your bank from the list, and wait for the process to complete
Once added, you will then see options to send money via UPI, check balance, and recharge your phone through JioPay
Tapping on 'send money' will ask you to add UPI ID, or account details
Simply follow the on-screen instructions to complete the process
How Does it Compare with the JioPhone?
The JioPhone, to be sure, can be ranked as a predecessor to the Bharat Phone series, attempting to offer a bridge between feature phones and smartphone users — something that Jio also attempted with the JioPhone Next feature phone. However, the JioPhone is a feature phone that runs on KaiOS. Here's how the two compare:
| | | |
| --- | --- | --- |
| | Jio Bharat Phone | JioPhone |
| Display | 1.77-inch | 2.4-inch QVGA TFT |
| Connectivity | 4G/3G/2G | 4G/3G/2G |
| Camera | 0.3MP rear | 0.3MP rear, 0.3MP front |
| Apps | JioSaavn, JioCinema, JioPay | JioSaavn, JioCinema, JioPay, JioTV, Google Assistant, Facebook, WhatsApp |
| Battery | 1,000mAh | 1,500mAh |
| Storage | Expandable up to 128GB | 512MB internal, expandable up to 128GB |
| Keypad | Alphanumeric T9 | Alphanumeric T9 |
| Input support | 3.5mm audio port | 3.5mm audio port |
| FM radio | Yes | Yes |
| Price | Rs 999 | Rs 1,499 |
With this in sight, it is clear that the Jio Bharat Phone is squarely targeted at low average-revenue feature phone users. A report by Mint cited industry experts to state that Jio is likely not making any profit on the hardware of the Bharat Phone, and will in turn generate revenue from the telecom plans that buyers will have to take. This, in turn, will eat into the 2G feature phone market — in which Bharti Airtel so far had a 54 per cent market share.
The key differences here between the two phones include the applications that run on them and the screen size. At 2.4 inches, the JioPhone includes support for WhatsApp, Facebook and YouTube — three key apps. Instead, the Jio Bharat Phone takes a more rudimentary approach, saving on the overall cost of the device.
Frequently Asked Questions (FAQs)
Is jio Saavan free to use or not on the Jio Bharat Phone?
Yes, the Jio Bharat feature phone supports Jio Saavn application. Customers can enjoy all the latest songs and more on Jio Saavn on the new Jio Bharat phone.
Can we use Airtel or Vi SIM on the Jio Bharat Phone?
No, one cannot use Airtel or Vodafone Idea SIM on a Jio Bharat feature phone. One can only use a Jio SIM card on it.
Does Jio Bharat Phone have a call recording feature?
Yes, there is a call recording option on the device.
Is the phone available to buy online?
As per the latest information, the Jio Bharat feature phone will be only available through offline channels. One can go to Reliance Digital stores, Jio retail outlets, and other retail outlets across the country to buy it.