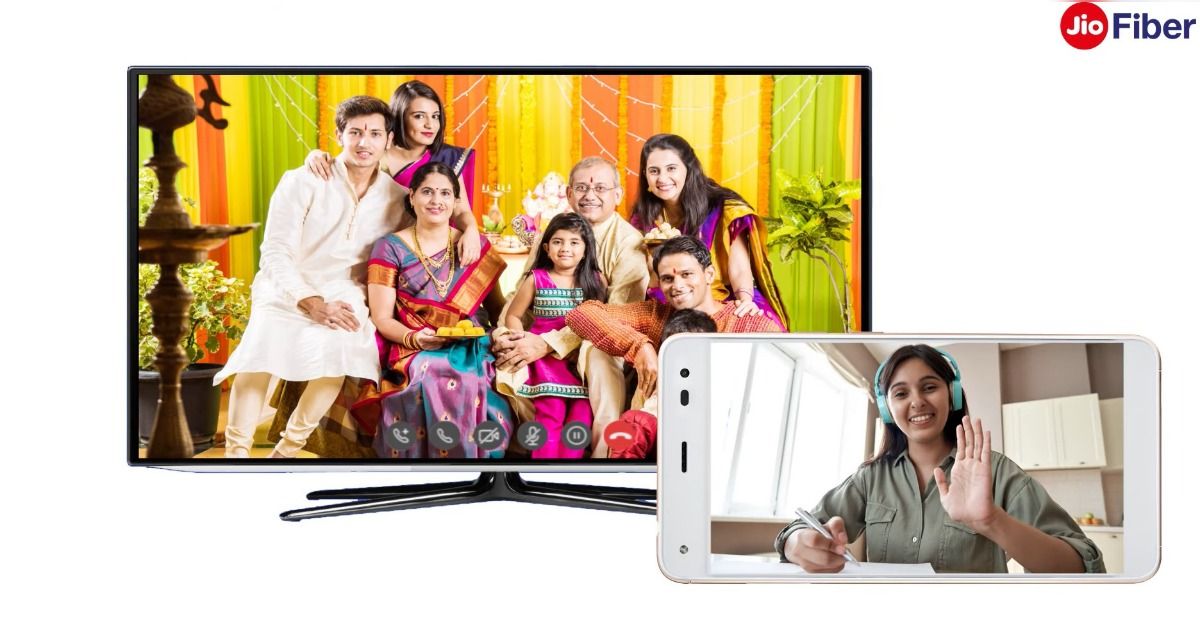 Jio Fiber video calling has been around for a while, but now, the operator has added another level of convenience by allowing Jio Fiber broadband users to use their phones as a webcam to make video calls on smart TVs. The feature will allow any Jio Fiber user to use their Android or iOS phones to make video calls, through the new 'camera on mobile' feature introduced in the JioJoin app. The feature removes the need for Jio Fiber broadband users to acquire compatible webcams for their smart TVs, hence making it even more convenient to host group calls or personal video calls on TV.
Also Read: Jio Fiber Plans and Offers 2021: List of Jio Broadband Plans with Price, Free OTT Apps, New Connection Details
Jio Fiber: How to Make a Video Call on Smart TV Using JioJoin App
The Jio Fiber video calling feature, as the name suggests, will allow all users of the fiber broadband internet service to use their phones in sync with their smart TVs to enjoy a large screen video call experience. To do this:
Download the JioJoin app via the Google Play Store or the iOS App Store.
Once downloaded, login to the JioJoin app using the 10-digit Jio Fiber landline number.
Now, head to app settings within the JioJoin app, and turn on the 'camera on mobile' feature.
Make sure that both the smart TV and the smartphone are on the same Wi-Fi network.
Now, initiating a video call will load the call directly on the smart TV, while using the phone as a webcam for calls.
You may need to allow access to your phone camera and microphone for the JioJoin app.
Also Read: Jio Fiber Availability: How to Check If Jio Fiber Broadband is Available in Your Area or Not?
What are the Minimum Requirement for Jio Fiber Video Calling?
The minimum requirements for the Jio Fiber video calling feature are fairly easy and accessible for most. Users are required to own an Android smartphone running Android 6.0 Marshmallow or above, or an iPhone running iOS 10.0 or above. The feature, therefore, is accessible to most Android phones released after October 2015, and iPhones released after September 2016. As recommended settings, Jio states that users should switch to the 5GHz Wi-Fi network on both their phones and TVs to get a seamless video calling experience. However, the feature will also be functional on 2.4GHz Wi-Fi networks, albeit with potential lags.