Highlights
The Kodak CA Pro 65-inch TV sports a 4K panel.

It has a bunch of useful ports on the side.

The TV secured 8 out of 10 in our review.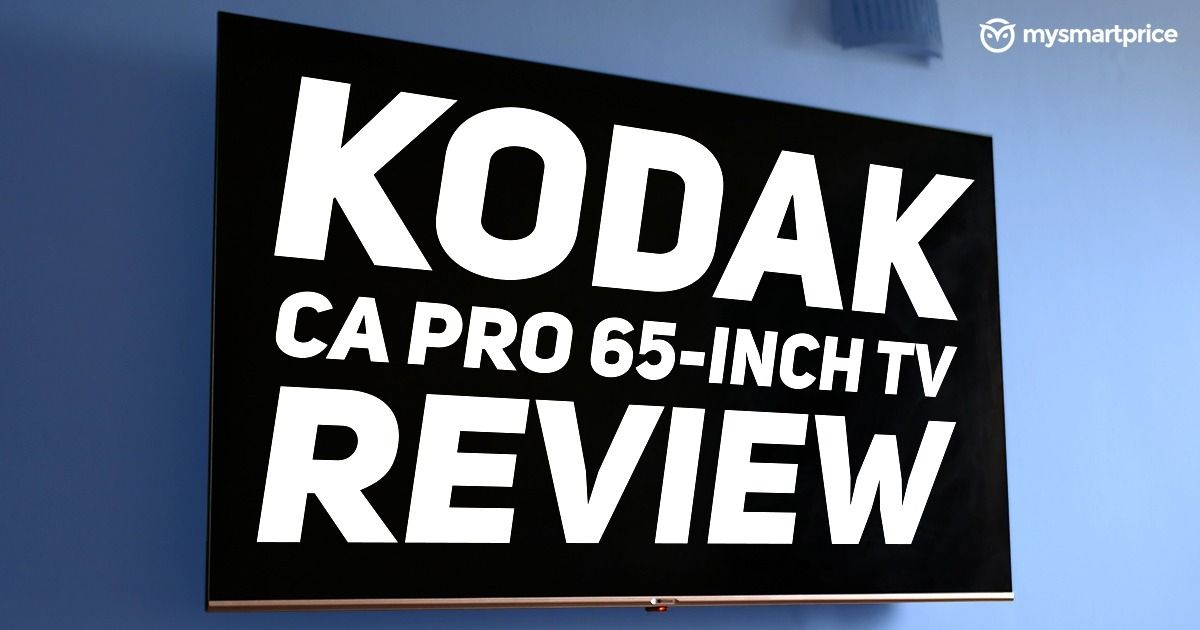 The Smart TV industry has seen an influx in options ever since a bunch of new OEMs entered the market. The increased competition resulted in lower prices for TVs with many capabilities. One among them is the recently launched Kodak CA Pro 65-inch TV. While it does not have the beauties of a QLED or OLED TV, it gets many things right, especially the price. We've been using the TV for over a month. Here's our review.
Kodak CA Pro 65-Inch TV
Rs 43,999
CONNECTIVITY OPTIONS
8.0/10
What Is Good?
Affordable 4K TV
Good display quality
Support for HDR10+, Dolby Vision
Well-equipped smart remote
Decent speakers, support for Dolby Atmos
What Is Bad?
Ports can be hard to reach
Sluggish UI
Kodak CA Pro 65-Inch TV Review: Price and Availability in India
As of today, the CA Pro is available in different sizes varying from 43,50,55, 65, and 75 inches. You can get the TV on Flipkart, where the base variant is priced at Rs 23,999, while the topmost, 75-inch variant sells for Rs 84,999. The 65-inch version that we have today will cost you Rs 43,999.
Kodak CA Pro 65-Inch TV Review: Design and build quality
Most parts of the body are made out of plastic

The entire unit weighs 25.7kg
Inside the box, you'll find the TV, quick start guide, remote, two tabletop stands, and a wall mount. The Kodak CA Pro is available in the traditional black colourway. The company does not go with over-the-top design aspects but keeps things simple. While the entire unit is mostly made of plastic, it is a bit heavy, so you'd need two people to lift it.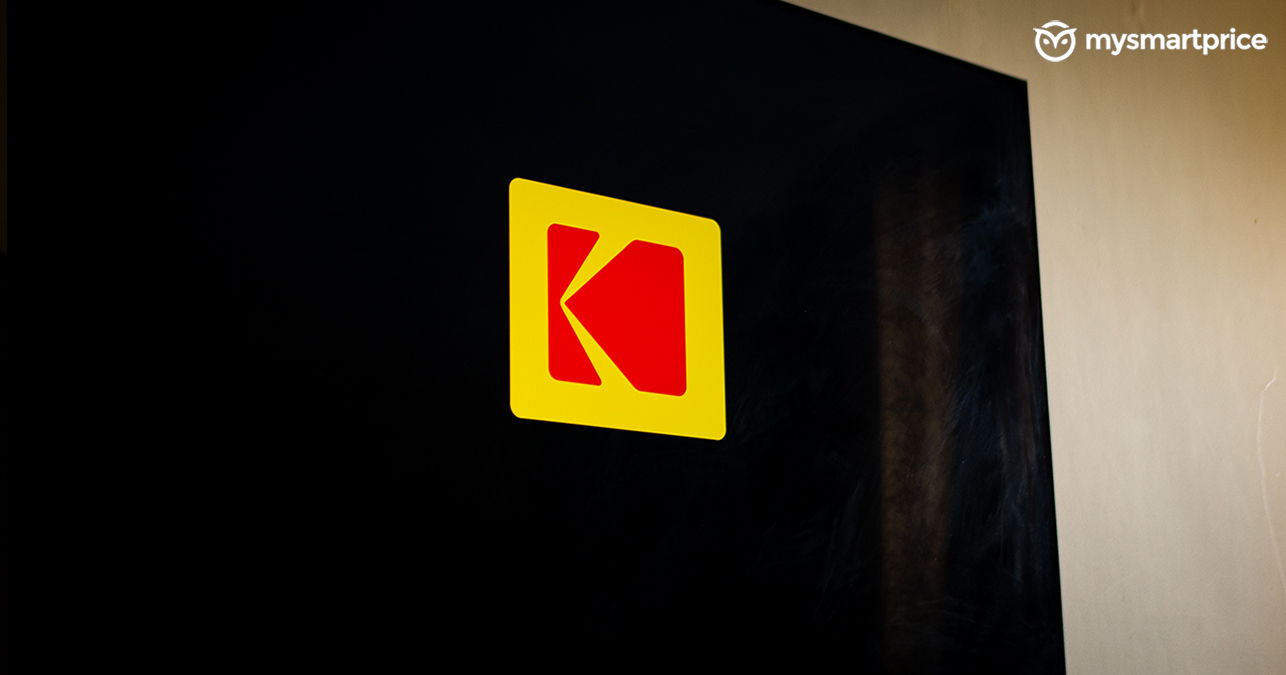 Speaking of which, the rear has a relatively chunky hump which holds the brains of the TV. It's not a dealbreaker since the front of the TV triumphs. Plus, you'll most likely pin this on a wall or place it on a table. Bezels on all three sides are fairly minimal, with a surprisingly great screen-to-body ratio. The bottom chin bevels upwards and is made out of metal. It is painted in rose gold for some colour contrast.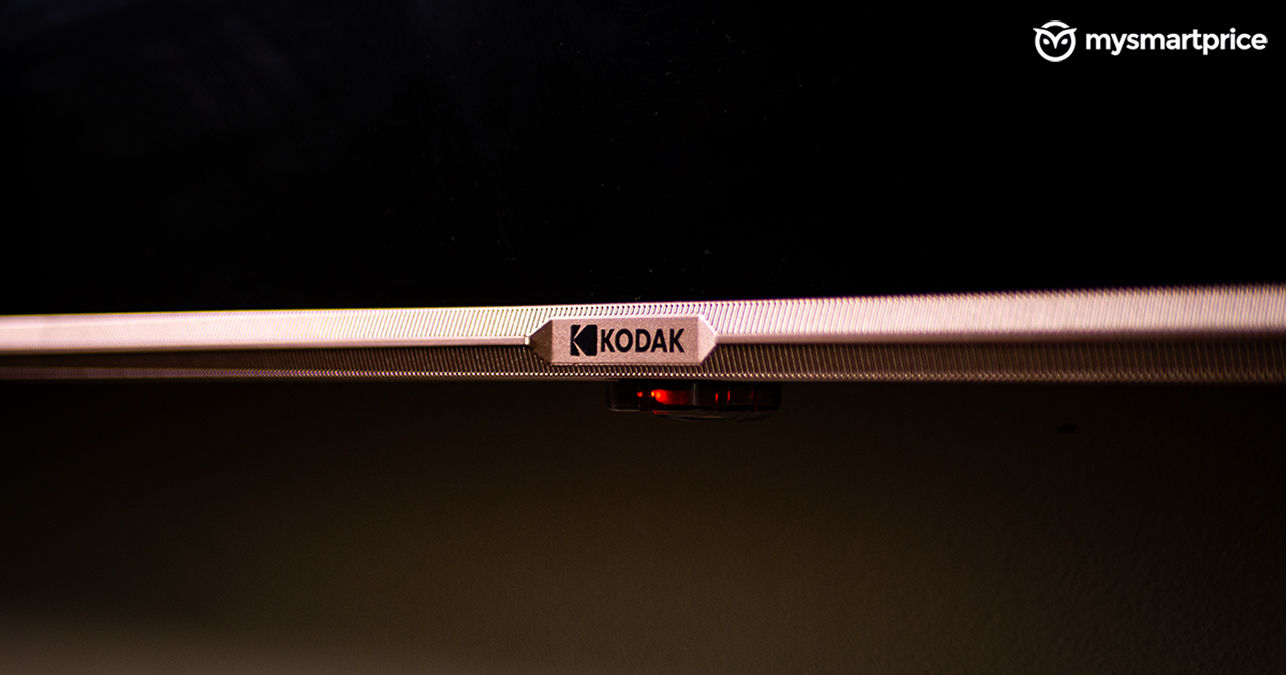 The Kodak branding sits in the middle, underneath which you'll find a transparent module that has a red LED indicator and a multifunction button for times when you can't find the remote. The included tabletop legs are made out of metal and are quite sturdy. It's quite easy to assemble and doesn't require a service centre person with you. But, if you go the route of wall mount, Kodak will happily send someone for the placement.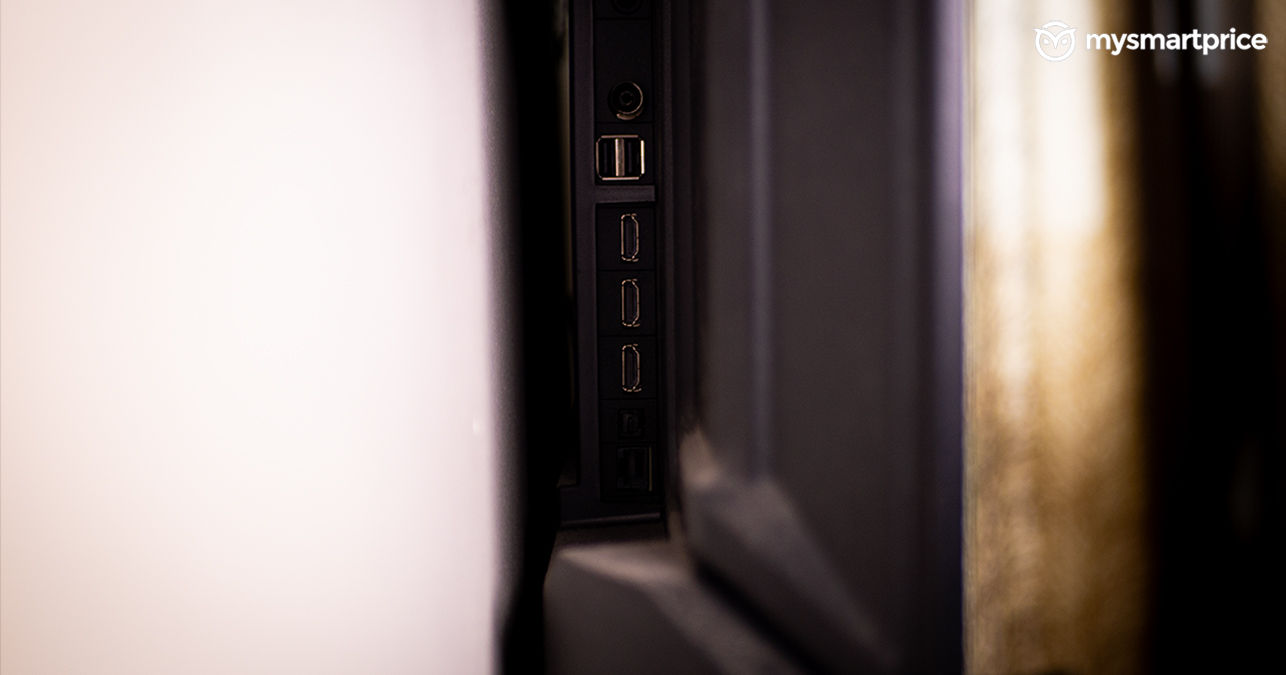 The CA Pro has a rich set of ports on the left side of the TV, but it can take a lot of work to reach them. We usually lifted the TV from the bottom to plug in the cables. Anyway, you get an AV input, an antenna port, two USB ports, and three HDMI ports, out of which one supports ARC. You also get an RJ45 jack and an optical audio output. The TV supports dual-band Wi-Fi and Bluetooth 5.0.
Kodak CA Pro 65-Inch TV Review: Display and audio
It uses a DLED (Direct LED) panel

The CA Pro has support for HDR10+ and Dolby Vision playback
Our particular configuration of the Kodak CA Pro came with a 65-inch DirectLED (DLED) panel running at 4K resolution and 60Hz refresh rate. If you're wondering what a DLED panel is, it's essentially a good-old LED-backlit display but with a more spread-out array of LED lights.
This essentially means the TV has better control of dimmable zones as compared to conventional edge-lit panels that come with skinny-little LED strips on the edges of the display. DLEDs are also less susceptible to edge-blooming artefacts because much of the light is dispersed in the middle of the panel.
All the variants in the CA Pro cavalry come with the same resolution, which is nuts if you think about it. Kodak advertises MEMC (Motion Estimation Motion Compensation) support, although there's no manual option to enable or disable this. Ideally, an option in the settings tab would have been the way to go.
Overall, the display is great for the asking price. It has support for Dolby Vision and HDR10+ — almost all the OTT platforms like Netflix, Amazon Prime Video, and more take good advantage of it. The 65-inch model that we have for review has a peak brightness of 500 nits and can produce up to 1 billion colours. While we didn't count, the colours produced are rich.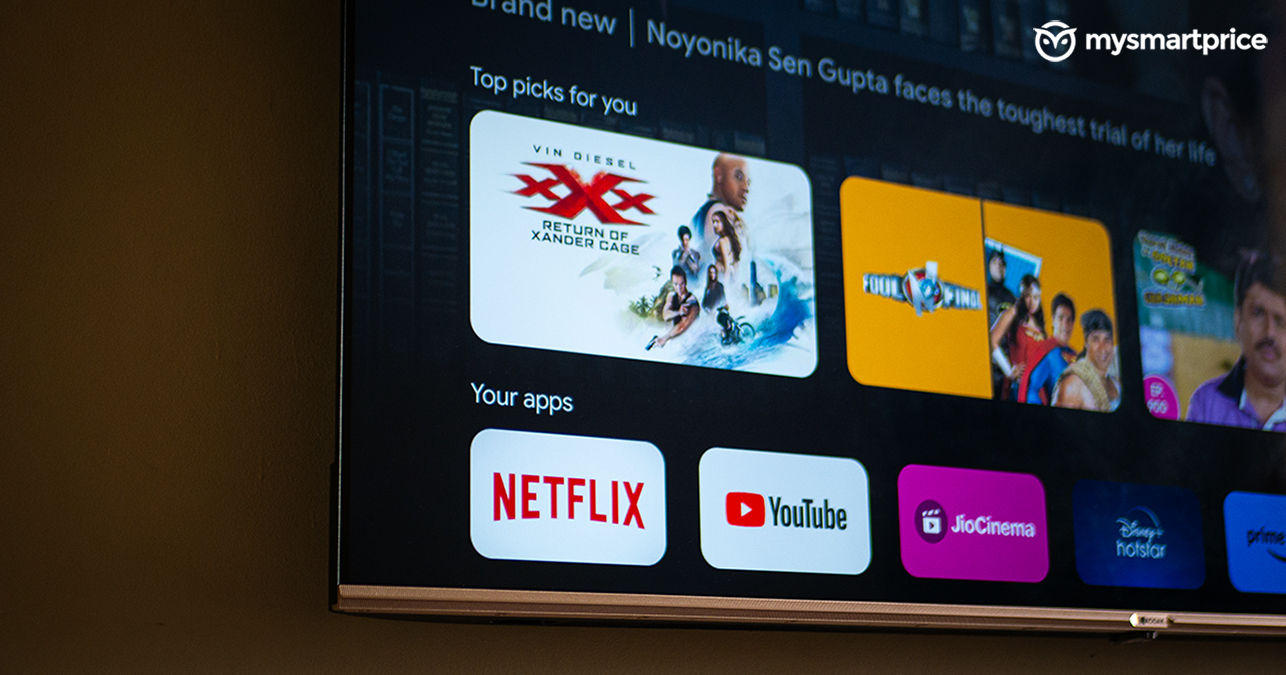 However, the default settings out of the box were a bit too over-the-top for our liking. We stuck with the "User" profile, which has neutral colours. The "Vivid" preset could be a good choice if you want something vibrant. You can mess around with each setting, such as brightness, hue, saturation and more. Additionally, tweaking the colour space is allowed, which is great if you want to experiment further. Moreover, there are a bunch of other advanced settings which have been explained in detail in the Kodak Matrix QLED TV review; you can read it here.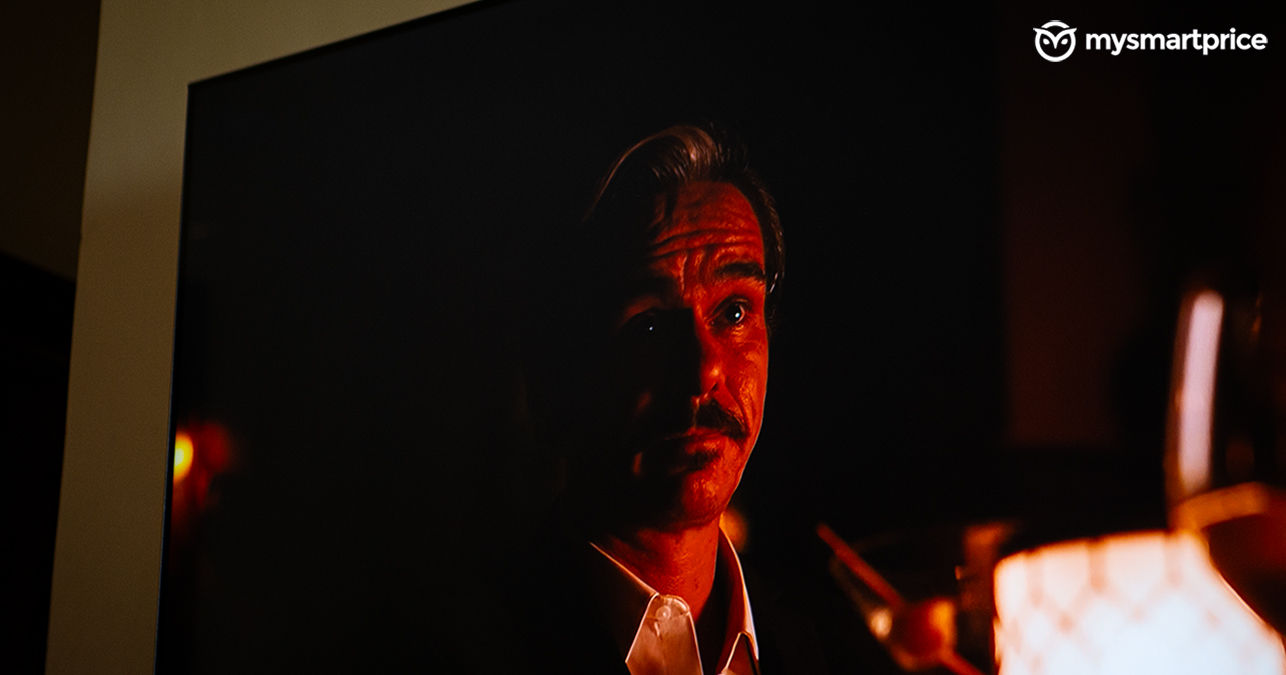 In general, DLED panels are not capable of producing rich blacks, which was evident during loading screens, especially in a dark room. But while watching content such as Better Call Saul, Adhura, Smile, and more — we did not notice any kind of irregular blooming. Of course, you can see some light bleed around the edges, but it doesn't hinder your viewing experience.
We also hooked up our PlayStation 5 to the TV, which worked well with HDR enabled. HDMI Device Link is also supported so that you can be lazier.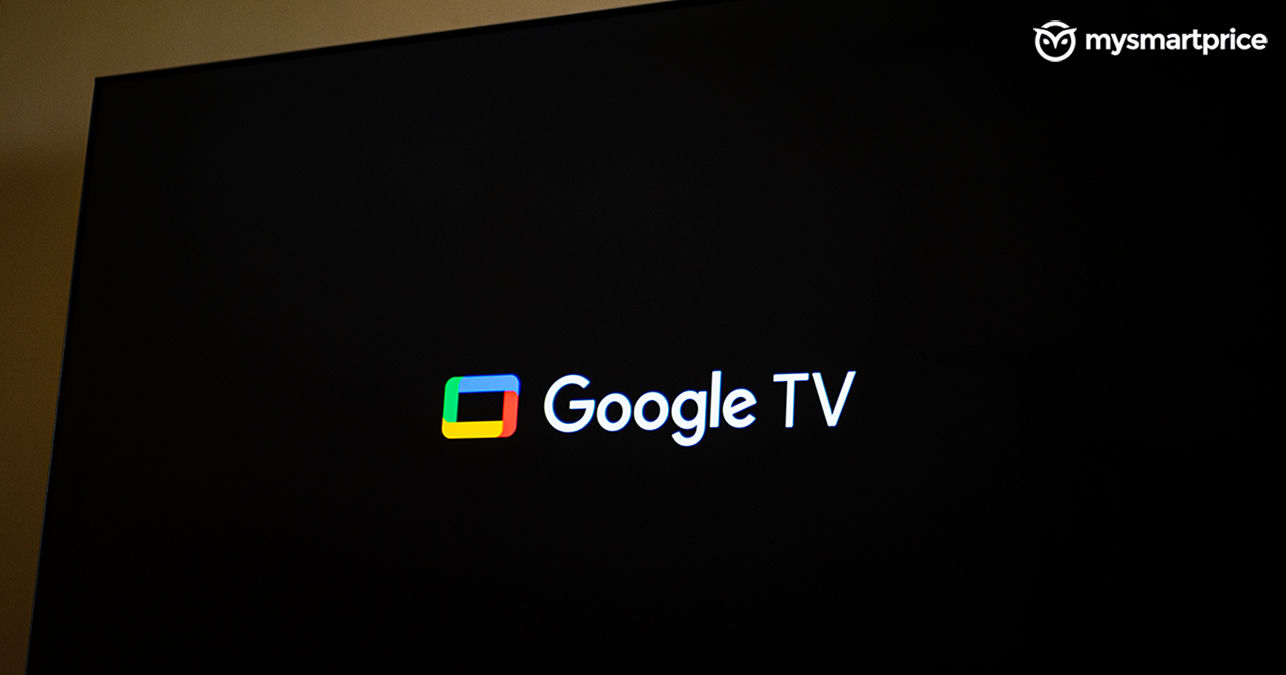 Accompanying all this is a stereo speaker setup with 40 watts of output. It supports Dolby Atmos and DTS TruSurround, which can be enabled from the settings. The latter has a bunch of settings, such as TruVolume, which balances the entire output. You get to tweak with a few Dolby Atmos presets, but we did not notice any groundbreaking differences between them. Overall, the speakers are great for movies, games, and music. It gets loud enough to fill up your entire room with a decent thump.
Kodak CA Pro 65-Inch TV Review: Software and remote
The remote is well-equipped with the necessary buttons
You get 2GB RAM and 16GB of storage for apps
Inside, you get 2GB of RAM and 16GB of storage, out of which 11GB is available for you. The CA Pro uses a MediaTek processor to run the entire thing. It runs on Android TV OS version 11. Our unit has the September security patch as of writing this review. The software is quite clean, with no unnecessary apps pre-installed.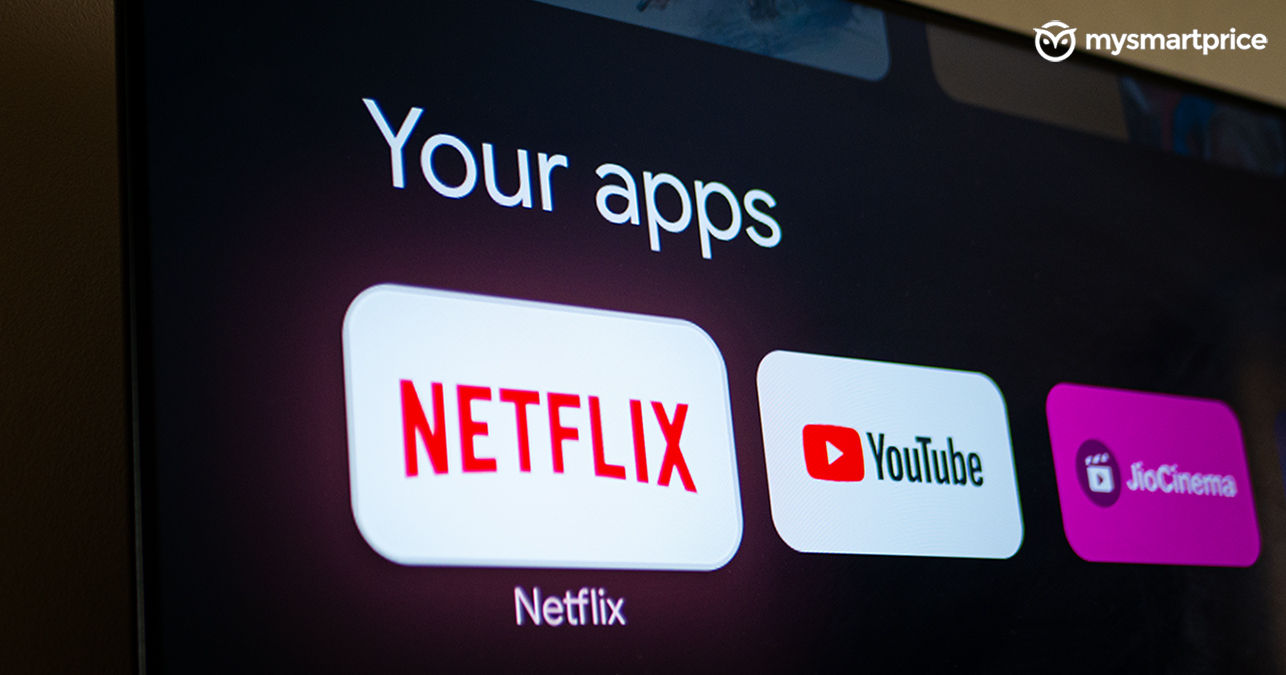 The "For You" page recommends content depending on your watching habits; so far, it has been spot-on. This page also has a "continue watching" tab, which is godsent for lazy people like us. You can download third-party apps from the store, such as Spotify, JioCinema, Crunchyroll, and more. Apps like File Manager can also be downloaded in case you plan on watching movies from a pen drive.
While all that sounds good, we noticed some sluggishness in the UI when switching between apps. This was more prominent when changing inputs and can get frustrating real quick. The smaller memory could be the culprit for this, but it shouldn't be a dealbreaker since it's not very consistent.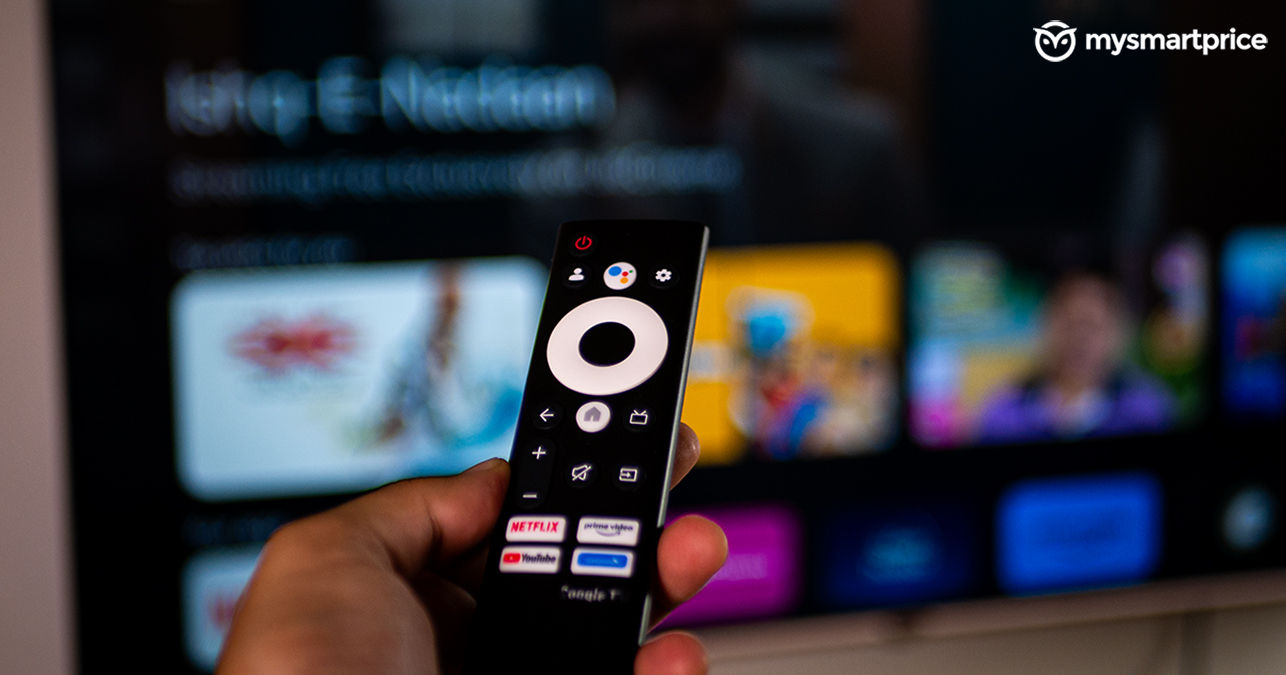 The included smart remote comes with two pencil batteries inside. It's a well-equipped remote with all the necessary buttons at thumbs length. The form factor follows the norm with other remotes in the market. It's tall and ergonomic with curved sides. The buttons are clicky and made out of good-quality materials.
You get dedicated Netflix, Prime Video, and YouTube buttons. An unassigned button is also available for you to customise. Rest, you get a button to switch between sources, a mute switch, and more. Since it's connected via Bluetooth, you don't need to point it towards the TV for it to function properly.
Kodak CA Pro 65-Inch TV Review: Verdict
If you are someone who has always dreamt of having a huge LED TV in your hall, this could be a great purchase. While it surely cuts some corners to place itself in this range, it also offers quite a lot of features that were exclusive to flagship televisions a few years ago.
The DLED panel might not emit good contrast or rich blacks, but the colours on the panel look decent. Matching that is the 40W speaker output which gets fairly loud. The Google TV software may be heavy on limited memory, but considering the price, some compromises are expected.
Kodak promises a one-year TV warranty and six months for the accessories. If you want alternatives in this price segment, you can check out options from Thomson, Blaupunkt — however, it also uses the same display maker as Kodak.
Xiaomi's Mi TV 4X is another alternative with a 65-inch display, but you would have to shell out 10 grand more. But, if you want to stick to this price range, Samsung's Crystal 4K is another option, but you will have to adjust with a 55-inch variant.