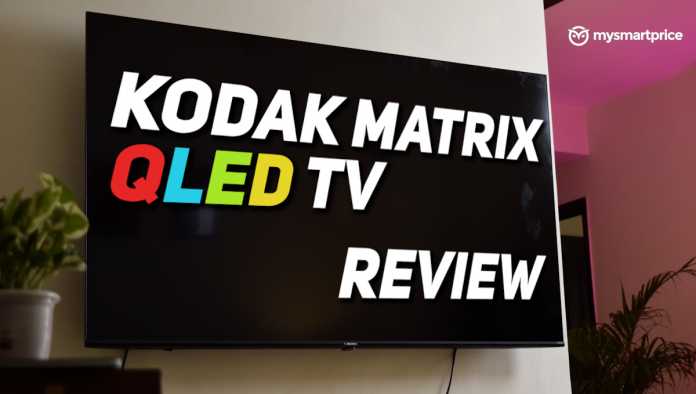 Kodak's legacy lies with cameras, but after calling it quits from the photography industry in 2012, it made somewhat of a comeback with consumer electronics. Kodak started partnering with OEMs to create some quality products at affordable prices. The brand recently launched a new series of QLED TVs in conjunction with Indian panel maker Super Plastronics.
There's no complicated nomenclature here, just a simple 'Kodak Matrix QLED TV' which comes in three sizes of 50, 55 and 65-inches.
In essence, it redefines the classic undercut – the same phenomenon that propelled brands like OnePlus, Poco and Xiaomi into the mainstream market, turning them into household names. Kodak's TVs have been around for about four years, but we believe the new QLED range beholds something special for the brand.
It boasts a gorgeous 4K, 10-bit, QLED panel with HDR10+ and Dolby Vision certifications. It doesn't cheap out on sound either, providing 40W speakers that are compliant with Dolby Atmos and DTS TruSurround. It runs stock Google TV and has decent performance headroom as well.
What truly sets the series apart from the competition is its pricing – Rs 32,999 for the 50-inch variant, Rs 40,999 for the middle child and Rs 58,999 for the largest offering.
Having used the 65-inch variant for a couple of weeks, we can tell you right off the bat that this is the best value proposition we have seen in the TV space in quite a while! So, if that's gotten you hooked, here's our full review of the Kodak Matrix QLED TV.
Kodak Matrix QLED TV Review: Design and Build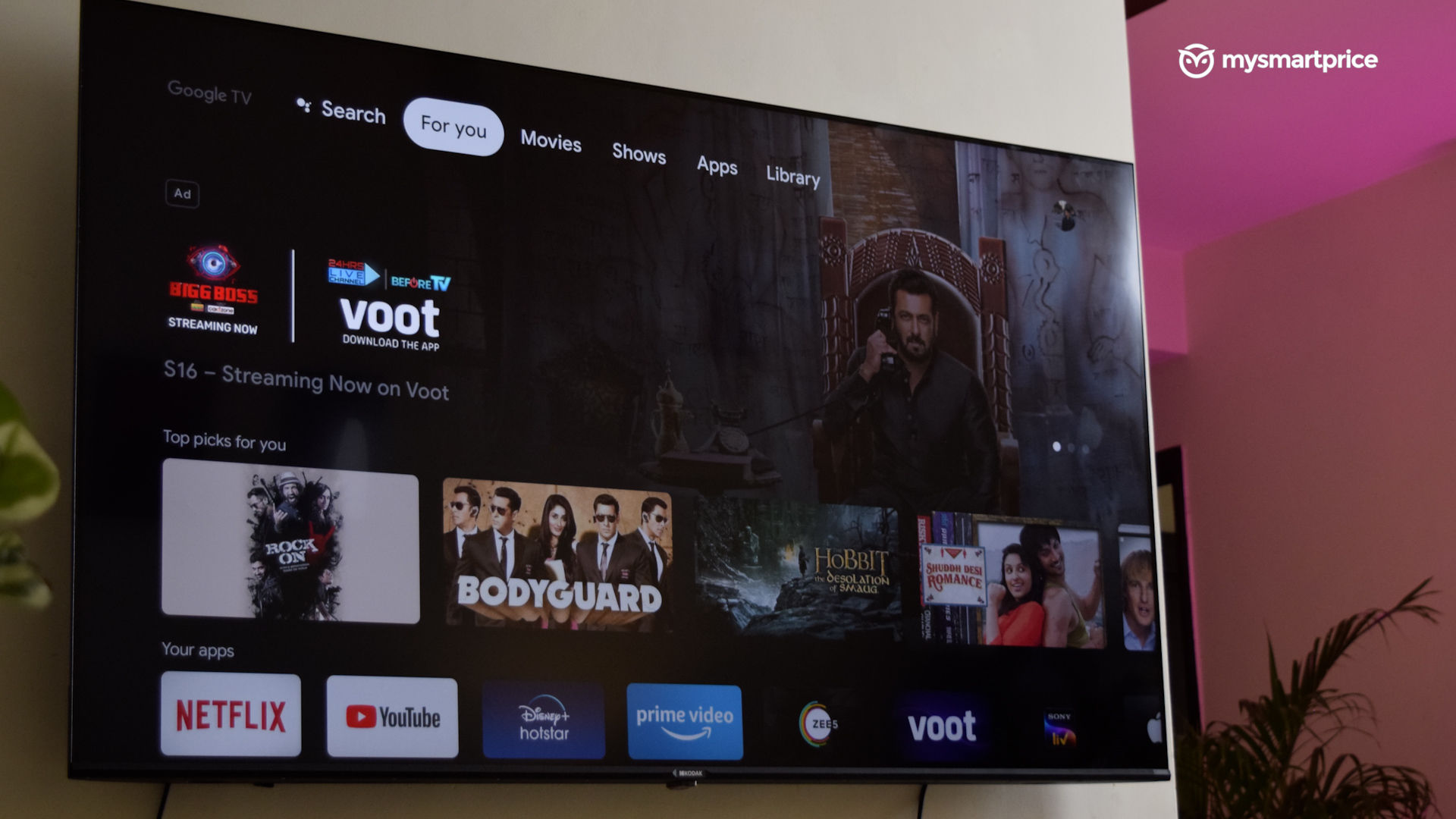 The Kodak Matrix QLED TV comes in a single, black colour variant. Three of its bezels are equally thin at just 10mm. The left and the right bezels have a ridge that's prone to catching thermocol particles, so be a little careful when you unbox the TV. The bottom bezel, or the chin, is slightly thicker at 2cm and is bevelled outwards. The middle of the chin houses the Kodak logo, underneath which lies a red LED indicator and a multifunction button for those times you can't find your remote.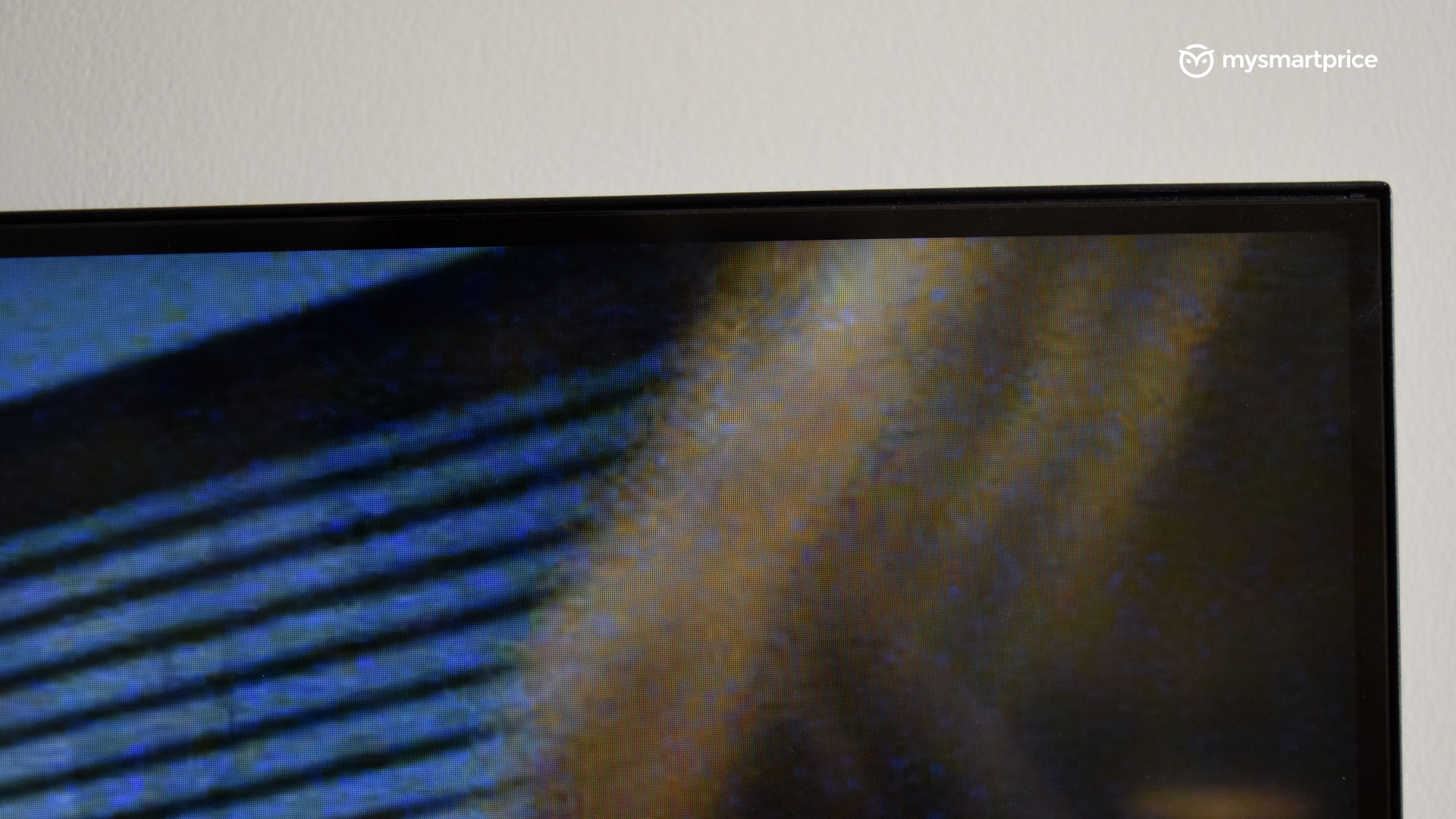 Within the box, you'll find the mounting kit as well as two metallic legs. The 65-inch variant isn't lightweight and requires at least two people to unbox, assemble and mount. The smaller variants may be lighter, though.
While it has thin bezels, the TV is still thick behind, and it's a reasonable trade-off for accommodating such a gorgeous display. The hump behind the TV accommodates the power cord and provides easy access to three HDMI inputs, two USB ports, one coaxial port for cable TV, one TOSLINK for optical audio and a 3.5mm audio port which we nearly missed because it was black.
The TV aesthetics were acceptable for us, the bezels aren't as thick, and the black colour is understated enough to go with most home decor.
Kodak Matrix QLED TV Review: Display and audio
Getting down to the brass tacks of the viewing experience of the Kodak Matrix QLED TV, the Indian-made Super Plastronics panel is a thing of wonder simply because of the picture quality it delivers for literally peanuts. All variants have 4K/UHD native resolution, so the built-in Google Chromecast and all of its apps are rendered super-crisp. Hotstar, Netflix, Amazon Prime and YouTube all take full advantage of this.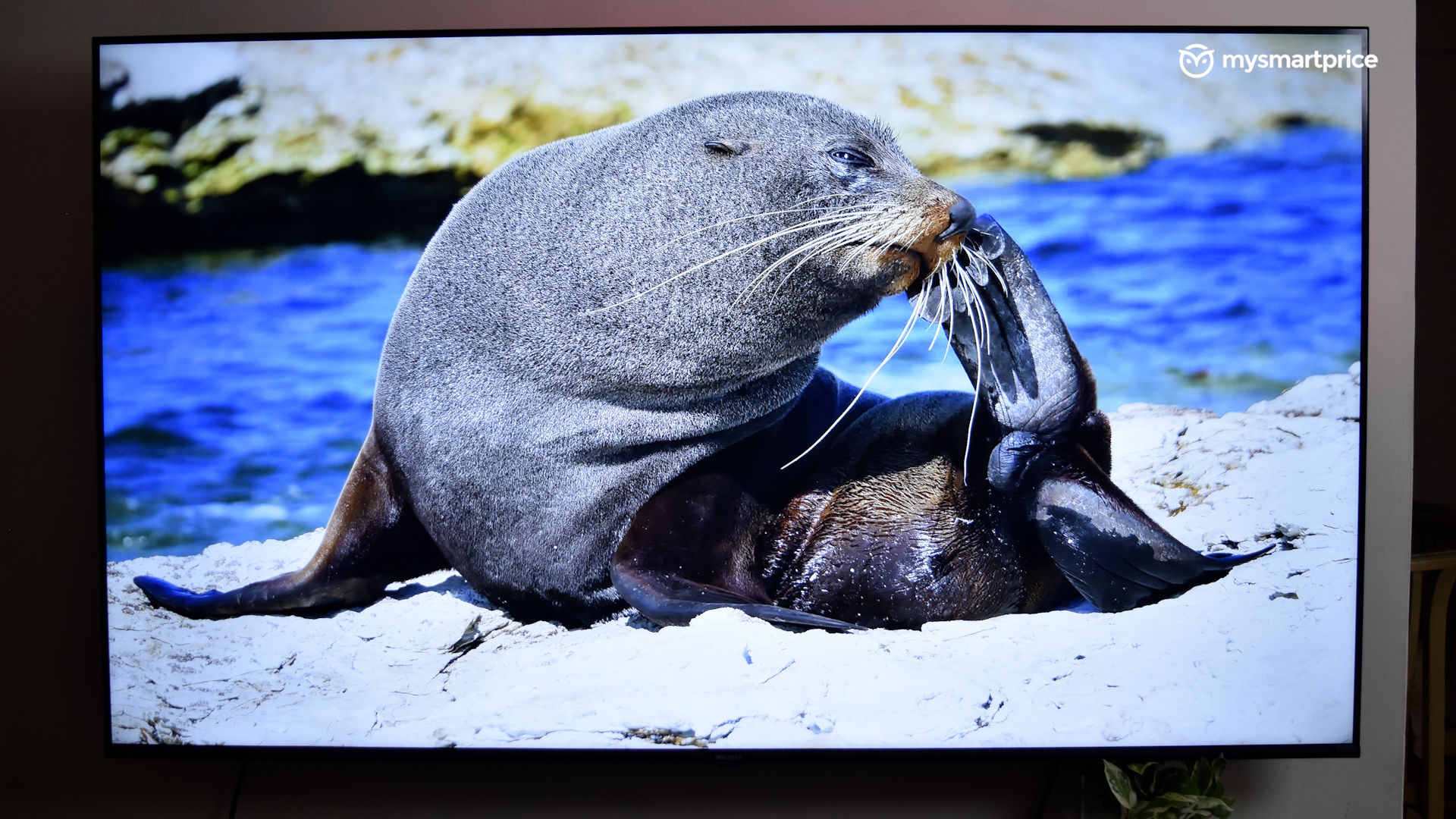 The 65-inch variant has 600 nits of brightness and the capability of producing 1.1 billion colours, thanks to its 10-bit panel. As a result, it has support for a wide variety of colour gamuts, including DCI-P3, BT.2020, sRGB and Adobe RGB. However, even without turning on the vivid picture mode, the overall saturation of anything tossed on display was much higher than a plain-jane LED panel.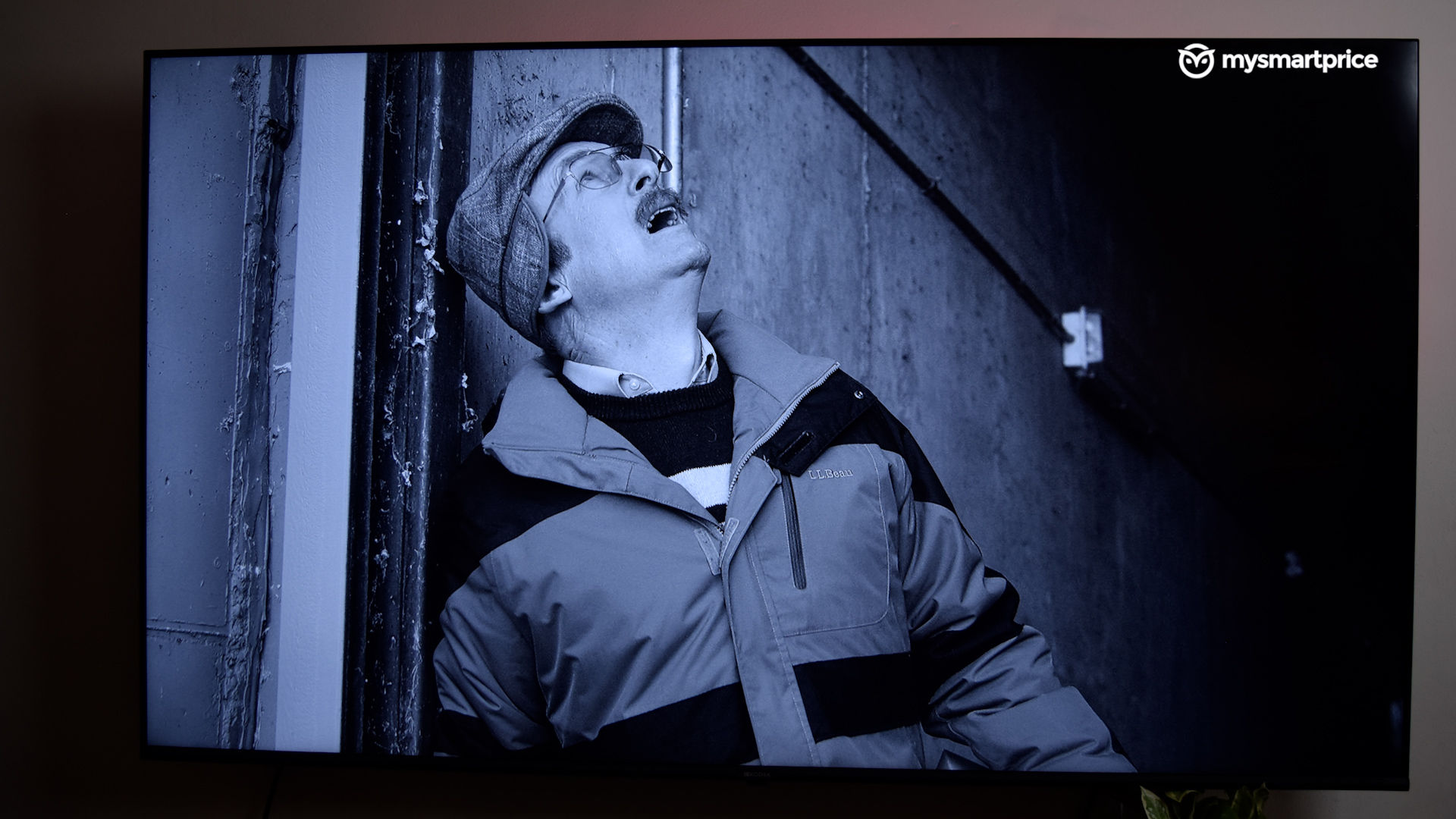 In terms of contrast, QLED panels have darker blacks than LEDs—this aids in watching dark content on display. We could observe a noticeable difference while watching movies like The Batman and TV shows like You, Ozark and Better Call Saul on the Kodak Matrix QLED TV. When combined with the 10-bit colour depth goodness, you can view lowly-lit scenes without noticeable colour banding. A little bit of light bleed was also noticeable around the corners, but it wasn't so bad that dark TV shows became unwatchable.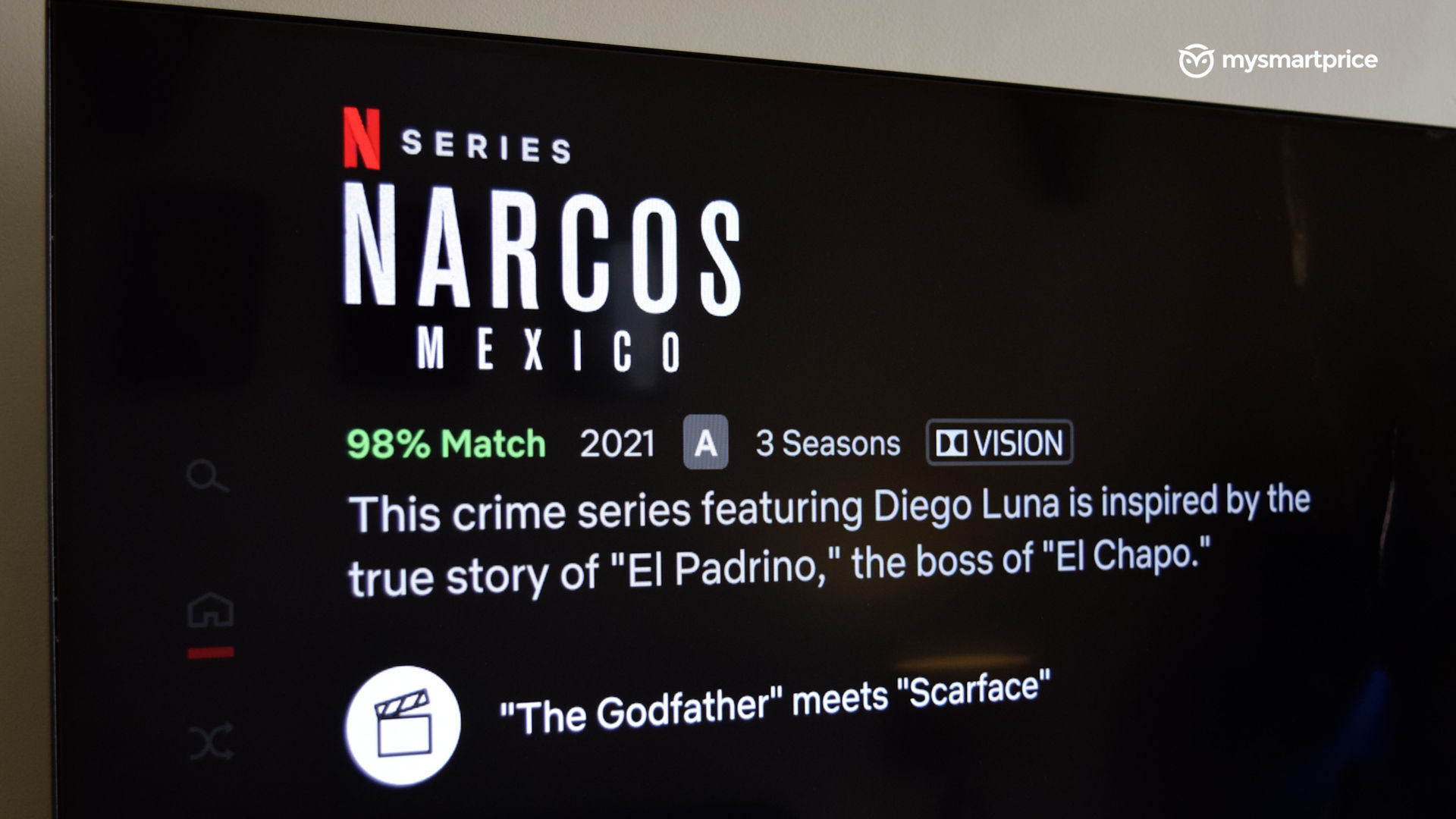 Further, there's compliance for both HDR10+ and Dolby Vision. While most of the shows on Netflix and Hotstar can be viewed in Dolby Vision painlessly, HDR takes a little bit of time to kick in when watching stuff on YouTube and Prime Video, which is weird.
Accompanying the visuals are two speakers amounting to a total sound output of 40W. Here too, you have the option between Dolby Atmos and DTS TruSurround. While the default tuning of TV speakers is fine, turning on DTS TruSurround opens up the soundstage and loudness. It also makes dialogues far more audible and the bass punchy. With DTS turned on, you can even listen to music with ease to 25% volume. Till this level, a medium-sized living room can be filled with decent sound, but anything larger than that will require a soundbar. Enabling Dolby Atmos didn't have that big of a difference, at least on the TV speakers. We also saw a similar DTS effect in the Xiaomi Smart TV 5A (review).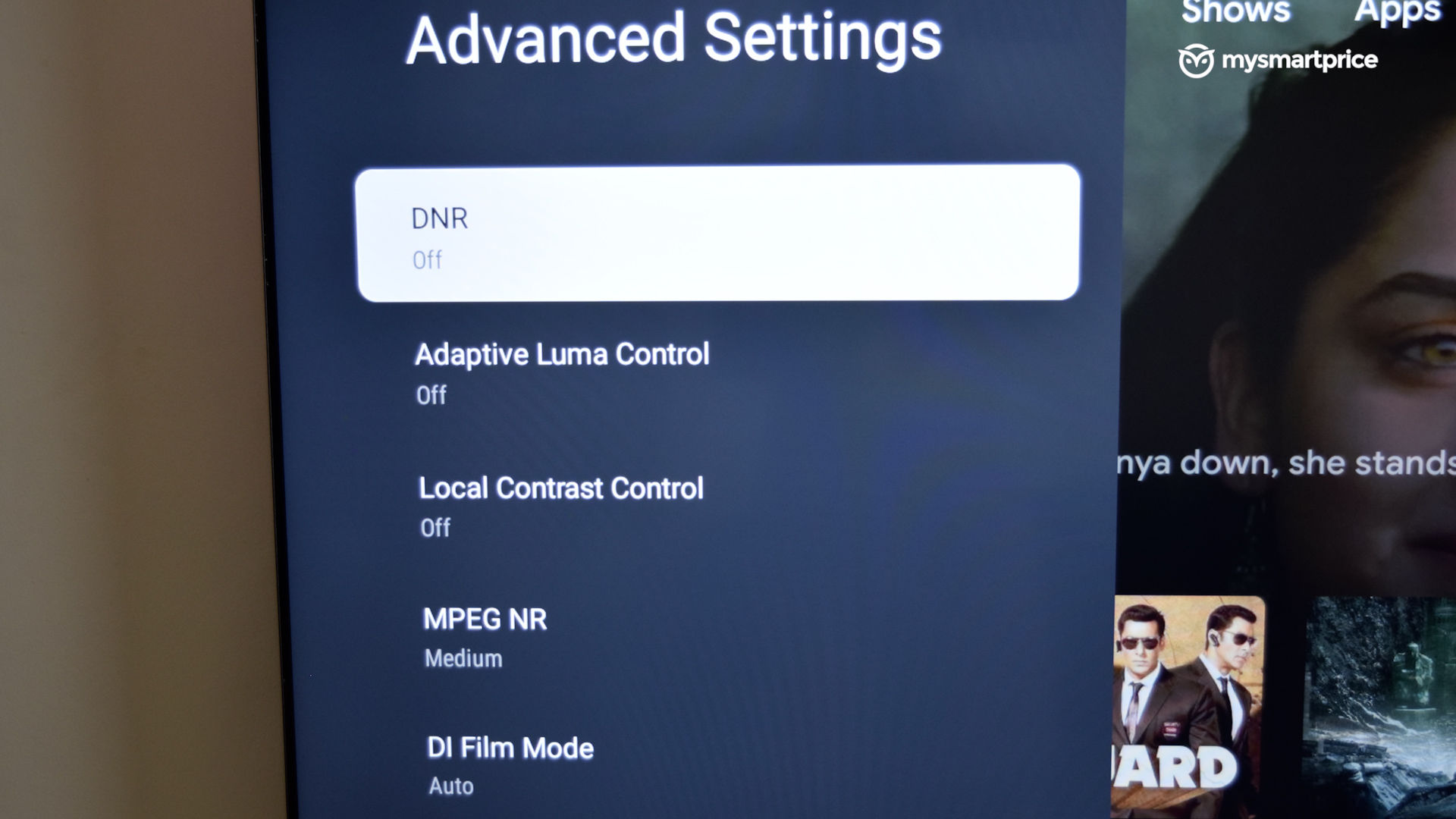 In terms of special picture settings, you get a toggle for dynamic backlight, which is essentially local dimming, 20-point white balance correction, dynamic noise reduction, adaptive luma control, local contrast control, MPEG noise reduction and DI Film mode, which recognises cinema in 24fps refuses to apply motion smoothing to it. Honestly, we would recommend setting these too low or turning them off altogether, as the difference is nearly unnoticeable. We haven't come across any upscaling options or specific motion interpolation options, which can be a bummer at this price. Full HD content seems stretched out on a 65-inch display due to the lack of upscaling.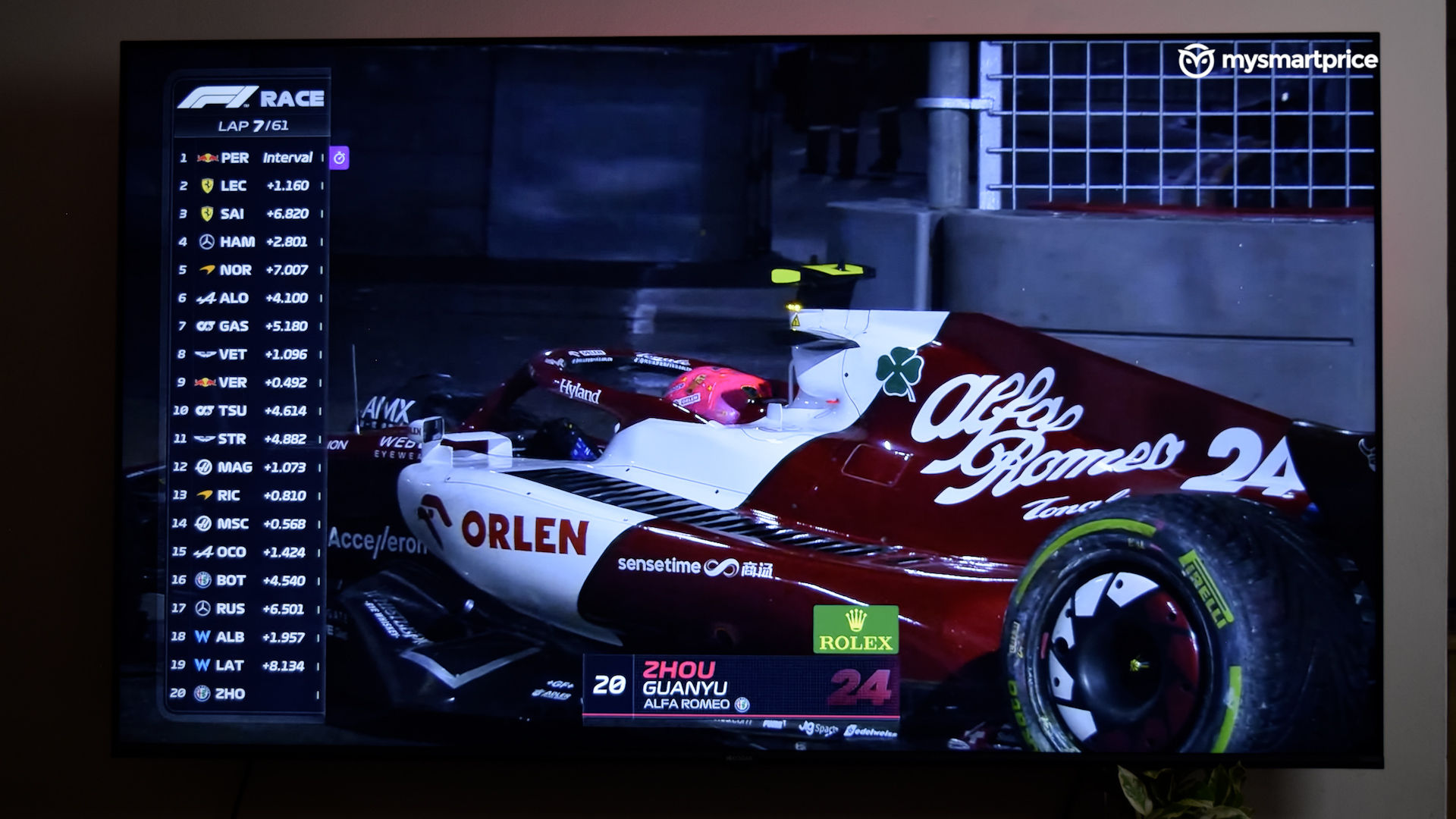 We gamed on the Kodak Matrix QLED TV a lot during the review period, and it was a decent experience with minimal input lag.
Sadly, we couldn't connect a set-top box to check its quality.
Kodak Matrix QLED TV Review: UI and remote
To interact with the smart nature of the Kodak Matrix QLED TV, you're given a smart remote and Google TV UI. The remote is not sleek, although it bears quick access shortcuts for Netflix, Prime Video and YouTube. There's also a quick access button; holding it down reveals the number pad, play/pause/stop/skip, delete and enter commands. This is a nifty feature, but we wish we could also allot a single press of it to an app of our choice.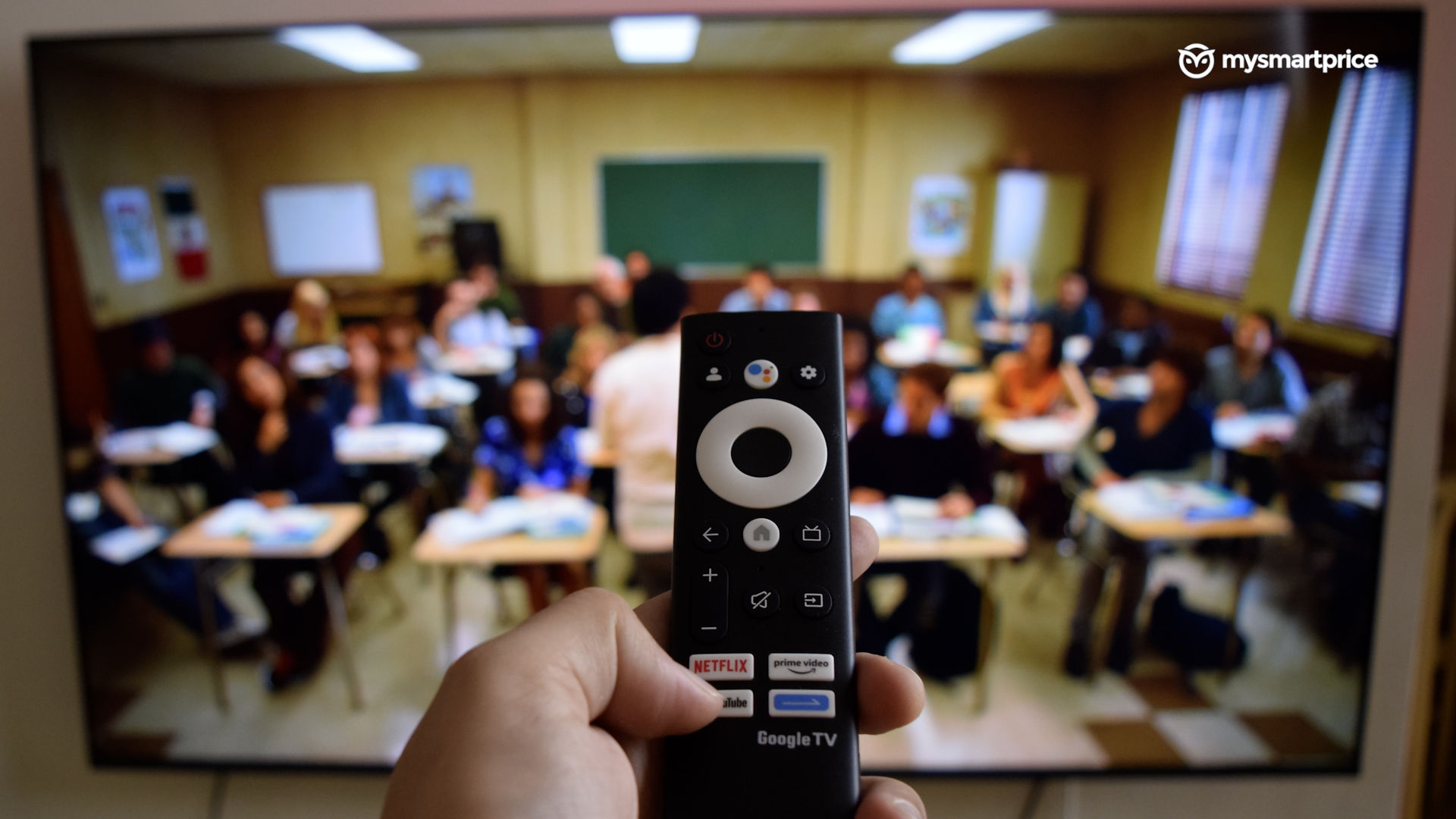 There's a Google Assistant button as well. You can interact with it by holding it down and then blurting a sentence. We feel this is a more natural way of interacting with Assistant, unlike the tap-speak-tap method on Xiaomi remotes.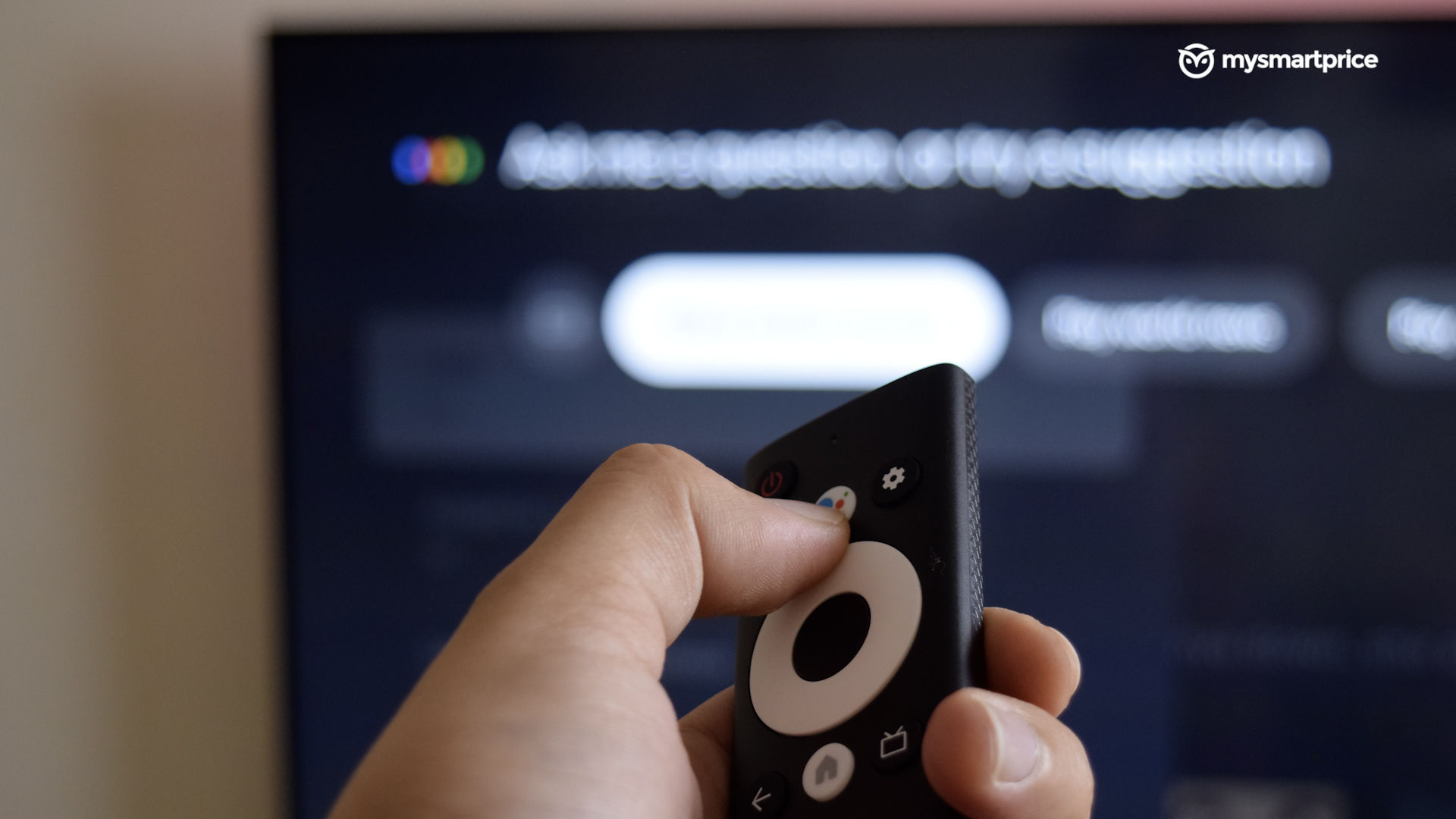 The UI is stock with absolutely no bloat, although it can sometimes be a little sluggish. The 2GB of RAM is the culprit for this, but hey, it doesn't cascade onto the content you're watching. Given the price and picture quality, we feel that this compromise can be overlooked.
There are things we like about the UI, though. One is that accessing Quick Settings doesn't pause content being played on the screen. So you can change picture and sound settings while stuff is being played in the background. This is great because the picture and sound often need to be experienced while you're tweaking some parameters. Most other TVs in the price range tend to pause the content you're watching while you're accessing quick settings.
Google TV also tends to arrange content from all the subscribed streaming platforms on your home screen. So, you can get new series and film recommendations across apps.
You can also resume watching content but only from Hotstar and YouTube. We wish this could be extended to Prime Video and Netflix as well, but that's a Google problem, not a Kodak problem.
Kodak Matrix QLED TV Review: Verdict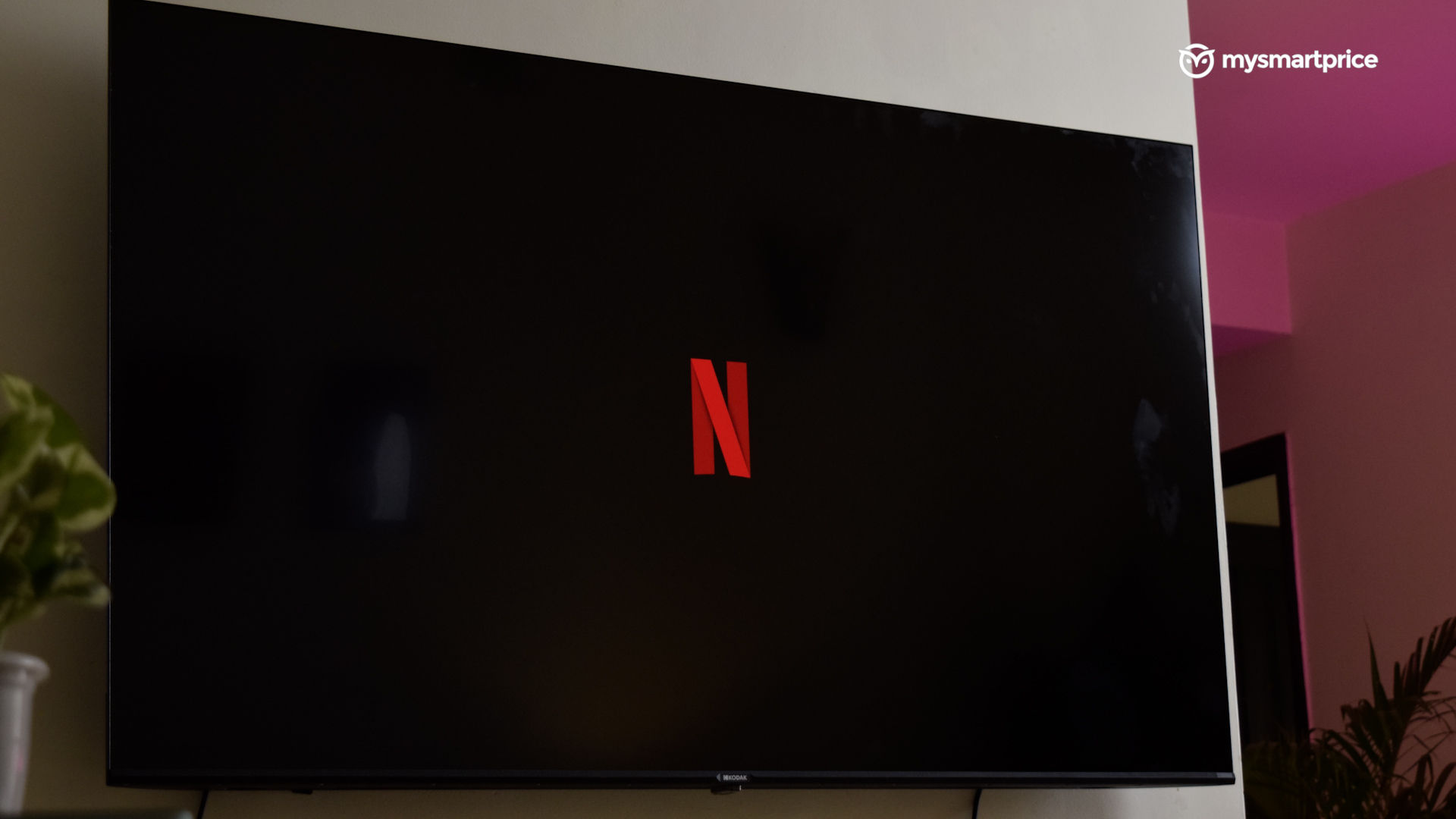 We are smitten by the quality of Kodak Matrix QLED TV's panel and its price, but keeping that bias aside, the overall package seems decent for the starting price of Rs 32,999. This makes it a steal deal over the Mi TV 5X of the same size, which starts at Rs 39,999. Moreover, the Kodak Matrix QLED TV provides superior colours and contrast and also the fanciness of a QLED panel. Sure, the upscaling and motion interpolation tech seems to be missing here, but you also get the latest Google TV interface.
Super Plastronics (SPPL) also delivers its panels to Thomson and Blaupunkt, and their QLED TVs also cost about the same as this, although we can't say much about their UI experience. The closest non-SPPL QLED contenders we could find were Xiaomi and Hisense, both starting at 49,999.
We can't wrap our heads around the SPPL-powered TVs' pricing, but we are positive that this will start a skirmish among popular TV brands to make QLED panels more affordable.
Kodak Matrix QLED TV
₹32,999
CONNECTIVITY OPTIONS
8.0/10
What Is Good?
Affordable as heck for a QLED
Great picture quality
Wide support for Dolby, DTS and HDR
Decent connectivity options
No frills Google TV UI
Ships with mounting kit
What Is Bad?
UI is a little slow
No motion interpolation
No 4K upscaling
Thanks for reading till the end of this article. For more such informative and exclusive tech content, like our Facebook page