Highlights
Kushi was released in the theaters on September 1
Vijay Deverakonda and Samantha Ruth Prabhu are the lead pair
Audiences are loving the story and the music of the movie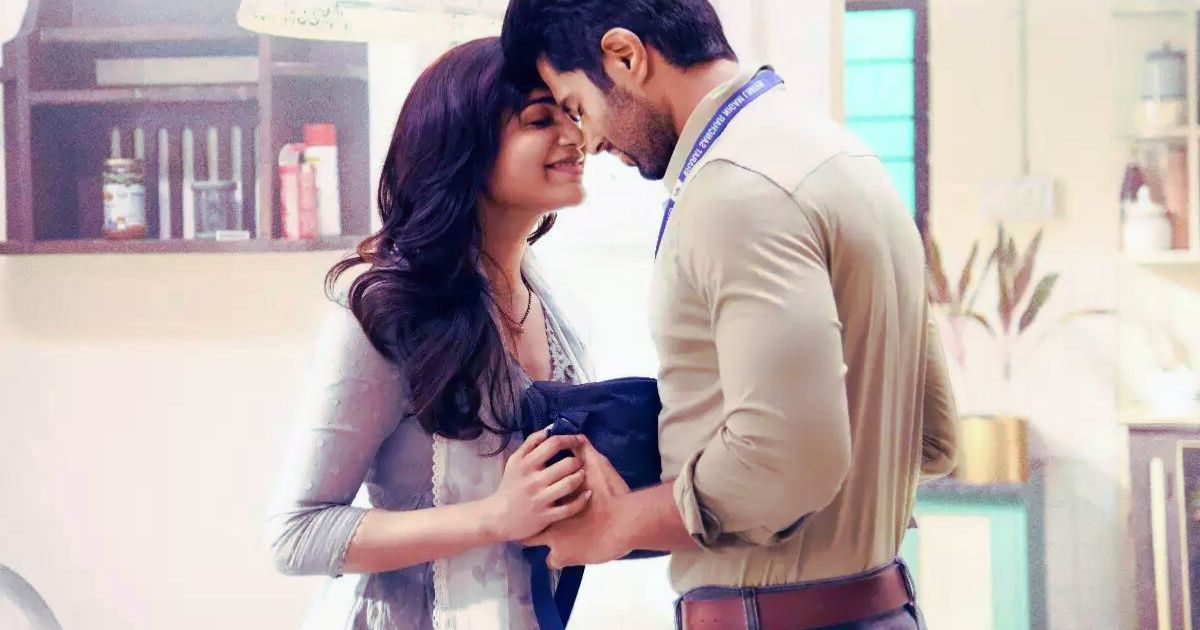 Kushi, starring Samantha Ruth Prabhu and Vijay Deverakonda, debuted in theatres today. One of the most eagerly awaited films this month is Kushi. Vijay is placing a lot of thrust on this movie because his previous releases were deemed box office duds. It remains to be seen if the Kushi lead performers will be successful in their promotion of the film, as the movie was released in theatres on September 1. Shiva Nirvana is the director of the movie.
The director has a reputation for producing blockbusters. Samantha played the female lead in one of his smash flicks, Majili, which was an instant hit. Even Genelia and Riteish appeared in the Marathi remake of the movie.
Kushi benefit shows were released in the morning, and fans have since posted reviews of the film online. The movie is deemed a "full family entertainer," and fans of the lead pair are over the moon in their praises.
Kushi Movie Details
The story revolves around a couple named Viplav and Aradhya, who fall madly in love with one another. Both before and after their marriage, they encounter challenges.
Viplav and Aradhya will overcome these challenges or not, is the question around which the story revolves. Kushi has a lot of anticipation for being a romantic story, touching the chord of the viewers.
With all of the promotional content, including the trailer, songs, and other activities, the creators have successfully generated a significant amount of talk. The aesthetics and the narrative in the trailer and all the ads give off a feeling of being a fresh story. Samantha's partnership with Vijay Deverakonda has been long overdue, especially after their performance together in Mahanati (2018).
Jayaram, Sachin Khedakar, Murali Sharma, Lakshmi, Ali, Rohini, Vennela Kishore, Rahul Ramakrishna, Srikanth Iyengar, and Saranya Pradeep are some of the supporting actors in the movie.
Shiva Nirvana is the director, and Naveen Yerneni and Ravi Shankar Y produced the movie under the umbrella of Mythri Movie Makers. Hesham Abdul Wahab created the music, and G. Murali shot the movie. Prawin Pudi edited the movie.
Netizen's Reaction to Kushi
The reviews from the fans of the movie billed the movie as a complete family entertainer on X, formerly Twitter. Let's see what the netizens are saying about the movie.
Just Now Completed My show 🤩

What A Comeback From Rowdy Boy 🥵💥💥💥
First Half Is Good 👍👍
Second Half Excellent 💥💥
Sam and Vijay Chemistry 🤯👌👌
Interval and Pre Climax 🛐
Block Buster Confirm 💥💥

My Rating – 3.5/5 #Kushi #VijayDeverakonda #Samantha #KushiReview pic.twitter.com/BF0GcpdeDh

— Srinivas (@srinivasrtfan2) September 1, 2023
The #VijayDeverakonda is back & how😭🔥

I still have happy tears in my eyes when I'm typing this🥹

It's worth the wait & I really can't put it in words how happy I'm..what a performer you are man🤌🫶
Loved d movie to bits & pieces❤️😫

Finally hit kottesam babe #Kushi tho❤️🫶 pic.twitter.com/q7Bq2fFP68

— THE YoLoh (@Lohithaaaa) September 1, 2023
Then Majili Now Blockbuster #Kushi

Lady Power Star #Samantha ❤️ pic.twitter.com/BVOzBu2gYU

— Dec 21 (@NameisS_a_i) September 1, 2023
Beneath the hijinks of mainstream humour, multiple tributes & some strictly okay-ish music, #Kushi is a warm, sincere and wholesome tale of the triumph of love over differences. Much needed win for VD, Sam and Shiva Nirvana ♥️. I thoroughly enjoyed watching the film.
3.5/5 pic.twitter.com/DVDqlDoMsX

— Abhilasha Cherukuri 🇮🇳 🎬 (@whyderabadi_) September 1, 2023
Some of the viewers found the movie a blockbuster while there were also who found the movie an average and regular movie.
Pro players

Movie was average ❤️ but families ki nibbi laki connect avudi 😅😅

#Kushi pic.twitter.com/wgmFvu7jnD

— Director 𝕏 (@Ghambira1) September 1, 2023
Just Watched #Kushi! Nothing Special About The Movie. Average Story. Slow Narration, Weak Screenplay, Poor Cinematography, Meaningless Songs. Seems Like Another Flop is Loading For #VijayDeverakonda.

My Rating – 1.25/5#KushiReview #KushiOnSep1st #Kushi

— Box Office – South India (@BoSouthIndia) September 1, 2023
#Kushi #OnePieceNetflix#Kushireview#KushiOnSep1st
Watched premiers in London
1st half- decent and normal
2nd half – somewhat interesting💥
I would say above average movie 🎥🍿

— Vinay sura (@Vinaykumarsura) August 31, 2023
#Kushi Review: Part 3

Overall it's a Average movie where it is having boring & unwanted scenes in 2nd half.

But as there is no big movies in coming days it may work well.#Kushi #KushiReview #KushiOnSep1st

— DEEPAK TALKS (SaiDeepak Mucharla) (@DeepakMucharla) September 1, 2023
Overall the movie seems to be going to be a blockbuster on the box office ending the wait of five years for Vijay Deverakonda. His fans are swooning over his looks and harmless face, which strikes a chord with the viewers. The Twitter reviews are making it clear that the movie is going to be a hit. The music of the movie is a hit among the audience and everyone is giving a thumbs-up to the songs.
My Review #Kushi – 2.5/5
PLUS POINTS-
Music
Vijay Devarakonda
Songs
First half
MINUS POINTS-
Second half
Draged many scenes
Climax

Overall – AVERAGE#KushiOnSep1st #Kushireview #VijayDevarakonda

— TOLLYPOLITICS (@nagesh_2104) September 1, 2023
The first half is good and entertaining, but the second half is below average as it banks only on writing.The background music and songs are a big plus.VD is looking good on screen.

Overall, it's a decent rom-com flick.#Kushi https://t.co/OaZXZvGYFW

— Ajith Kumar (@Ajith_Kumar666) September 1, 2023
Lyrics average kani female chorus 👌
Music 👌👌👌❤️
Added into Playlist#Kushi https://t.co/XgAV3PMOWd

— BAGWELL (@bagwellllllll) May 9, 2023
Overall the movie is a hit among the audience but IMDb has given the movie a ranking of 5.7/10 with 246 votes till now. Google users have also given the movie good reviews and Google says that 57 per cent of its users have liked the movie. In a nutshell, the movie is going to be a hit and end the drought of hits for not only Vijay Deverakonda but also Samantha Ruth Prabhu, whose last movie Shakuntalam failed drastically at the theaters.