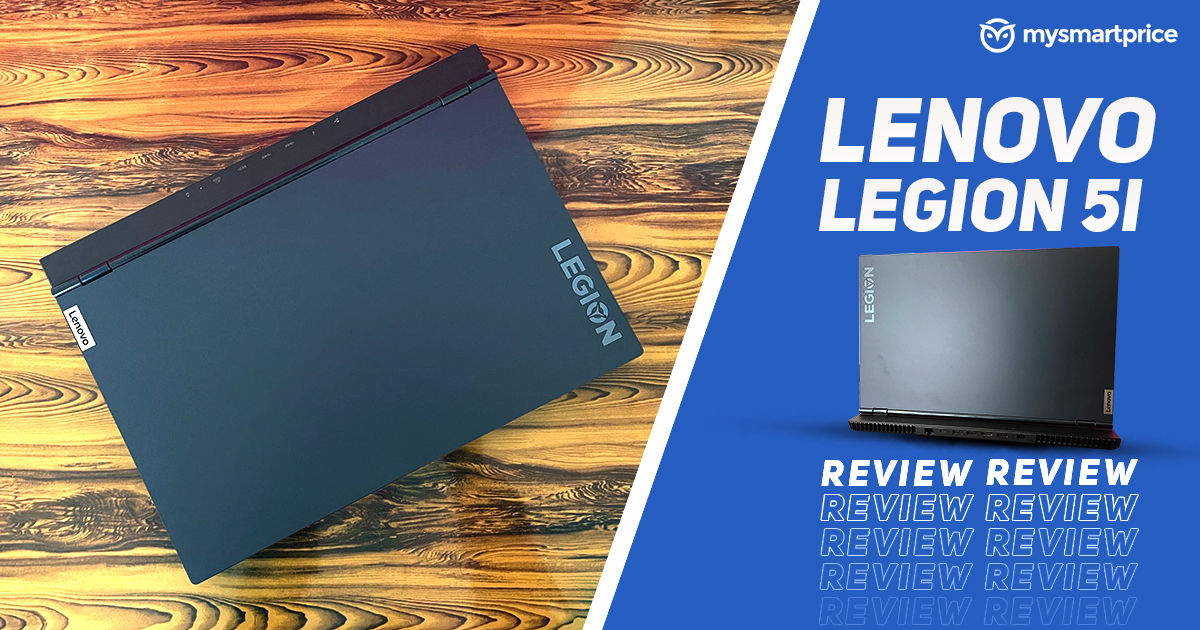 There's not too much of an aesthetic difference in the new Legion 5i that Lenovo launched this year with 11th Gen Intel processor. However, under the hood, the Legion 5i has a few exciting new additions. That obviously includes the current gen Intel processor combined with RTX 3000 series GPUs from NVIDIA, but also things like faster RAM, PCIe 4.0 storage and more, that enables smooth, high-definition gaming. There's also an expected price bump over last year's model, which could be due to the ongoing chip shortage, which would also explain why only two variants of the Legion 5i has made its way to India. So is the Legion 5i still a compelling option in the budget gaming segment? After testing it for a week, I think I have an answer. Here's our review —
Lenovo Legion 5i: Specs and Features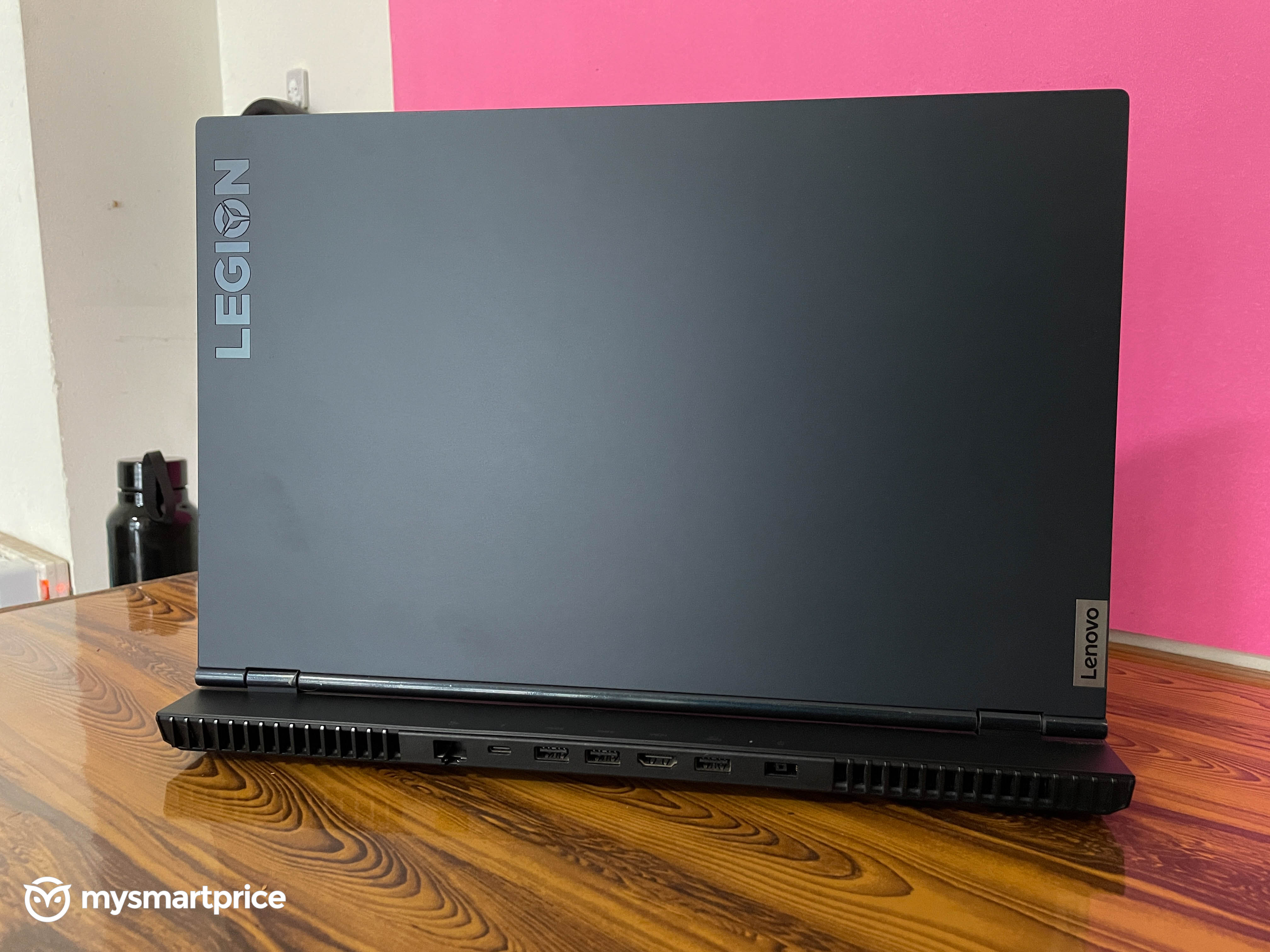 While the Legion 5 lineup is now powered by AMD, Lenovo carved out the Legion 5i variant for those who prefer Intel processors. They are a bit more expensive than the Legion 5 models, but that's only because Intel-based laptops this year are using more cutting-edge components like PCIe 4.0 storage, Thunderbolt 4, and such.
We got the base variant for review, priced Rs 1,19,990, which mostly has all the right stuff for gaming. That includes the 11th Gen Intel Core i7 11800H ith 16GB 3200Hz RAM. Powering the graphics is the NVIDIA RTX 3050 with 4GB of video buffer. The higher variant, priced Rs 1,24,990 has all the same stuff, except for a more powerful RTX 3060 GPU.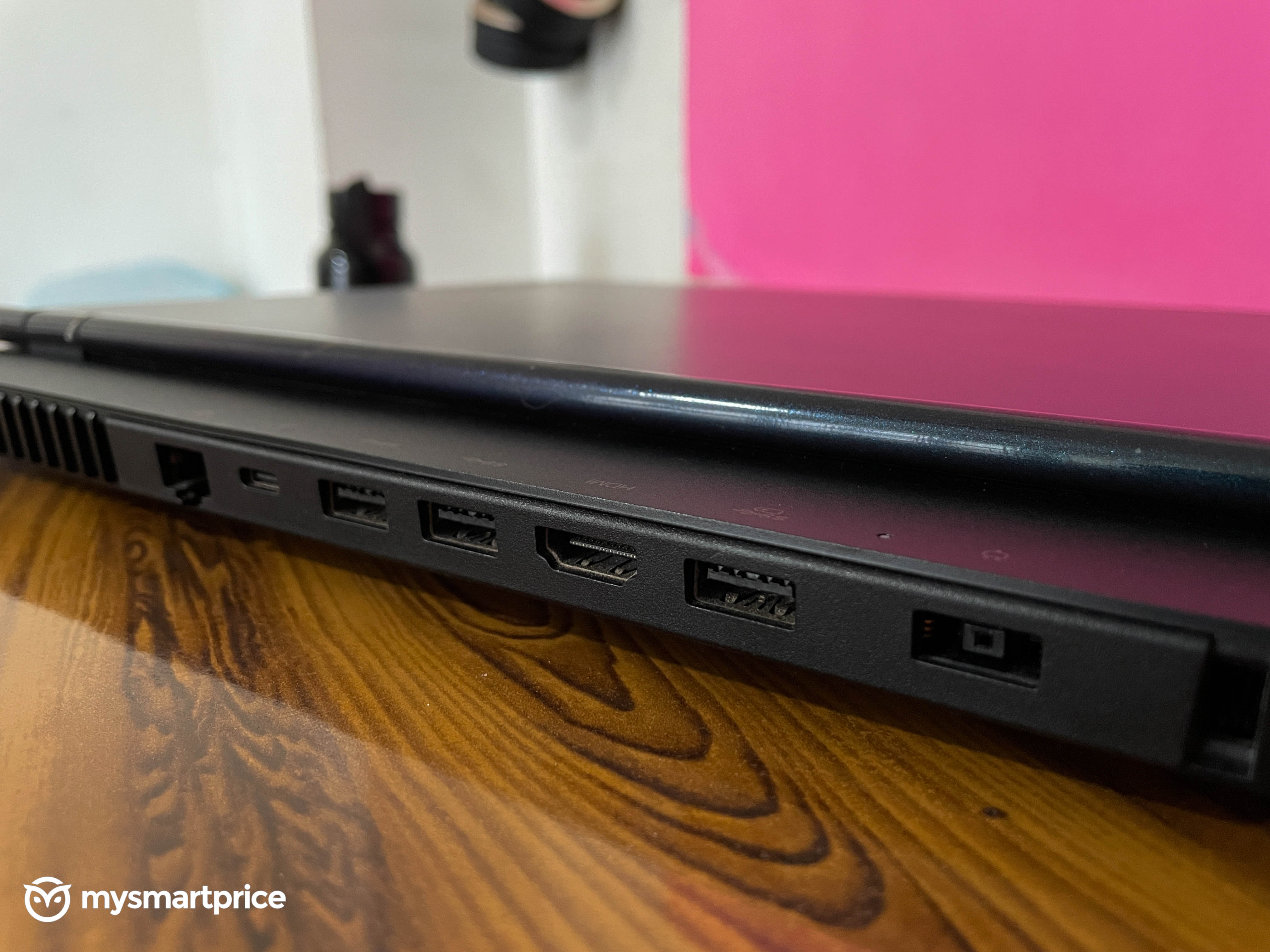 There's also the latest Thunderbolt 4 ports, USB 3.2 Type-A, HDMI 2.1, ethernet and headphone jack, offering a lot of room to connect your peripherals like a 4K monitor, mouse and such. The keyboard on the Legion 5i is a single-backlit chiclet type, while the 15.6-inch panel features 120Hz refresh rate.
The spec-sheet feels robust enough to run AAA titles, if not at their highest graphics settings, but just a notch below, even with the RTX 3060 GPU. And for most budget gamers, that should be enough. Because laptops with higher specs tend to be prohibitively expensive.
Lenovo Legion 5i: Performance and Gaming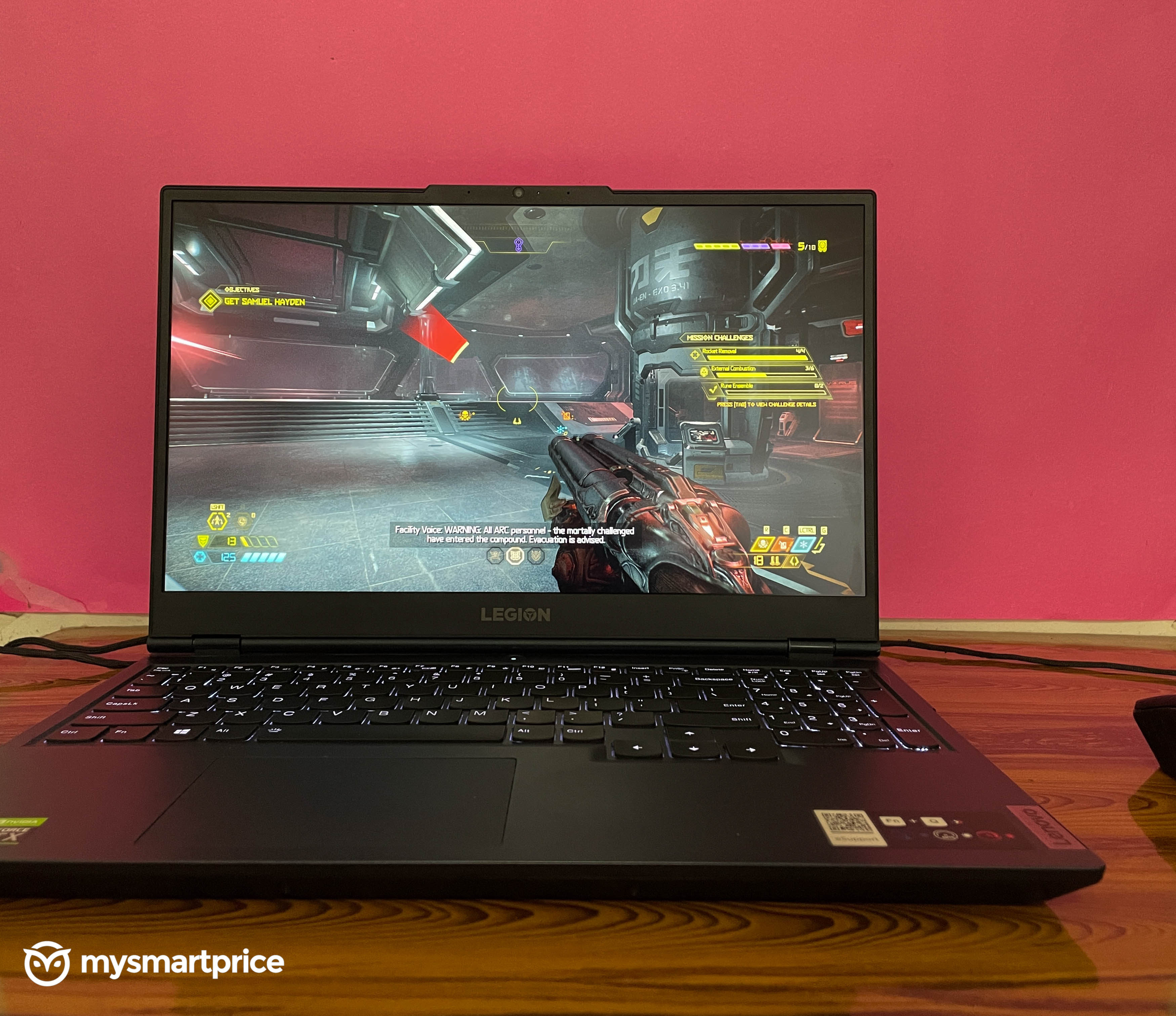 The Legion 5i lineup was carved out to accommodate Intel processors to a growing mix of AMD options, and the Core i7 11800H is powerful and arguably a little better for gaming than the Ryzen 7 5800H. Having an Intel processor in the laptop also means the GPU is able to take full advantage of PCIe 4.0 lanes and the Legion 5i uses a Samsung NVMe SSD. It's also uses a faster RAM over last. The 16GB SO-DIMM sticks are clocked at 3200MHz this time, but that's at par with what most gaming laptops are packing this year.
The RTX 3050 with 4GB GDDR6 memory is also quite a big upgrade on paper over last year's GTX 1650. It has double the number of CUDA cores, higher power intake and a faster boost clock. Plus it includes ray-tracing cores and DLSS support, but the former feature will hardly ever come to use while gaming (3DMark's Port Royal ray tracing test didn't even run on this one), because of the lower memory buffer.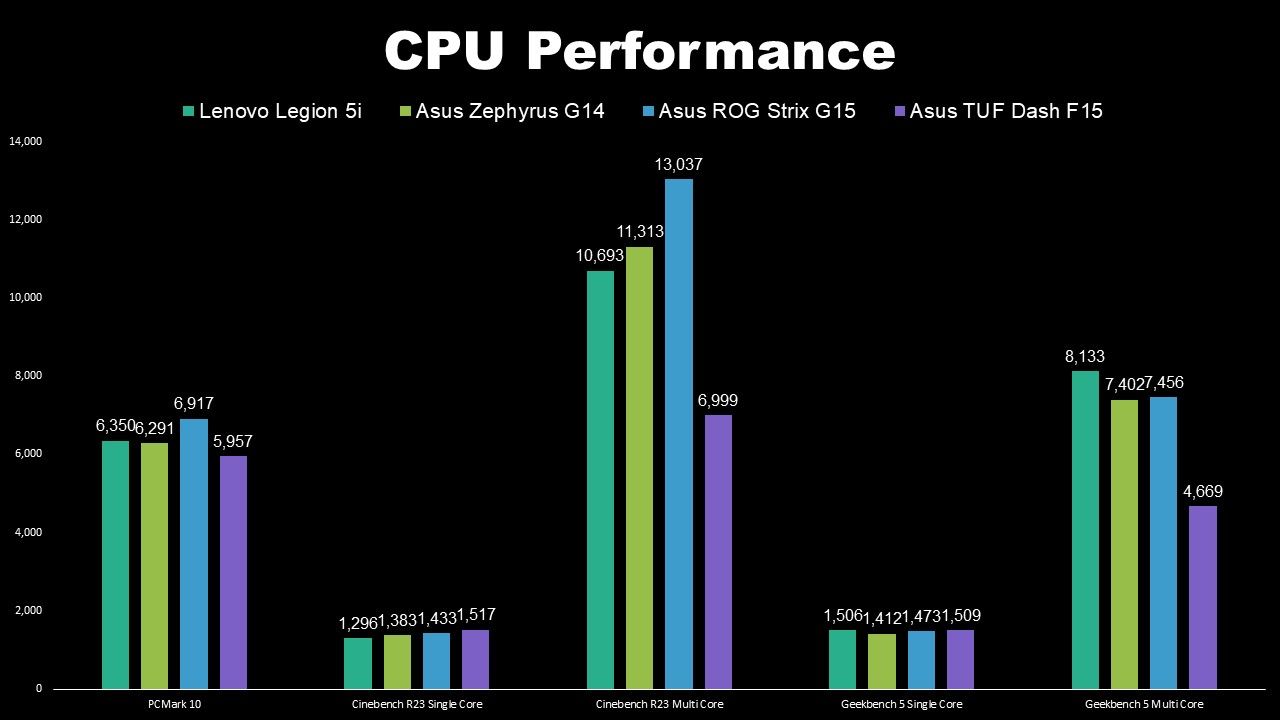 In this context, the Legion 5i achieves a big boost in performance over last year, but couldn't quite beat competitors in synthetic benchmarks. It's competition includes the mid-range configs of the Asus TUF Dash F15, ROG Zephyrus G14, and the ROG Strix G15, and the Legion 5i scores high in single-core CPU benchmarks on Geekbench and Cinebench R23, outscoring the H35 Core i7 on the TUF Dash F15 but couldn't come close to the Ryzen 9 or the Ryzen 7. The multi-core scores are almost double in AMD-based gaming laptops.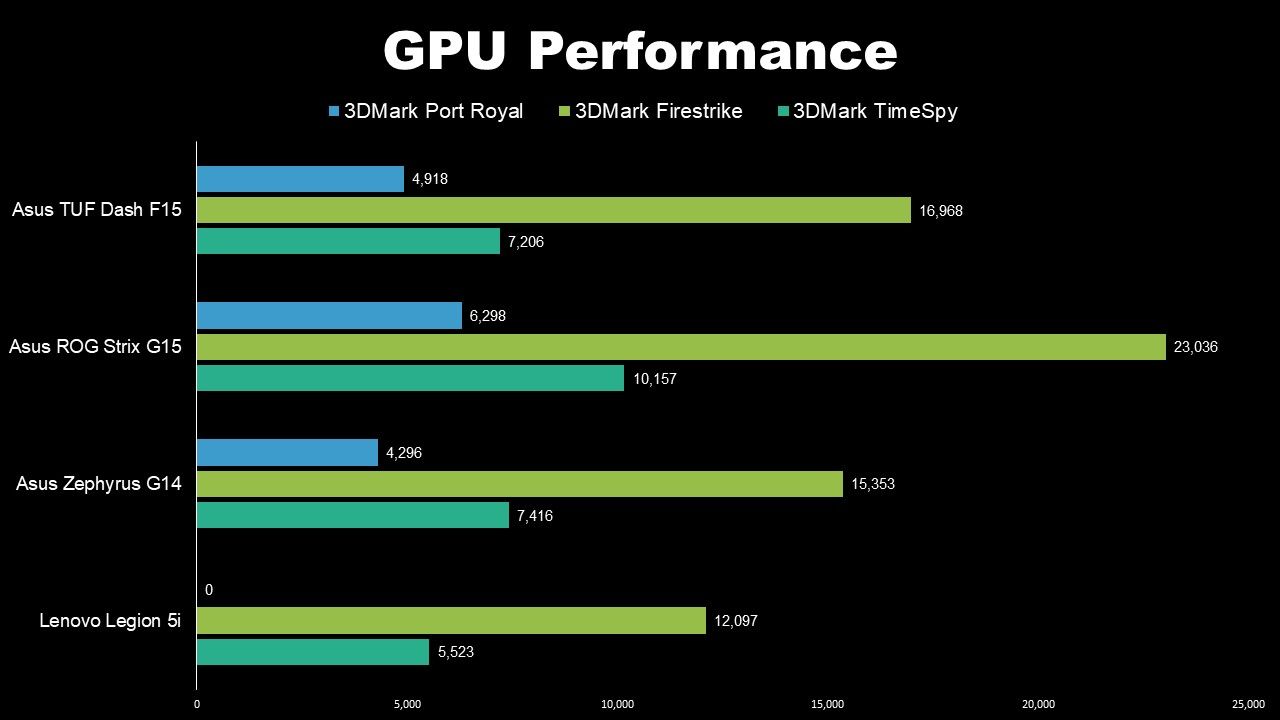 The RTX 3050 on the Legion 5i maxes out at 95W, which is the highest it can be configured to, so there's no bottleneck in terms of power intake. Even then, the 4GB RTX 3050 is still quite entry-level despite being a significant upgrade over the GTX 1650. The RTX 3060 is a better option since it has enough video memory to enable ray-tracing. The 3050, despite having RT cores will overshoot its memory buffer if it has to enable ray-tracing in popular games like Doom: Eternal, Metro Exodus, etc. It couldn't even run the Port Royal test for ray-tracing in 3DMark.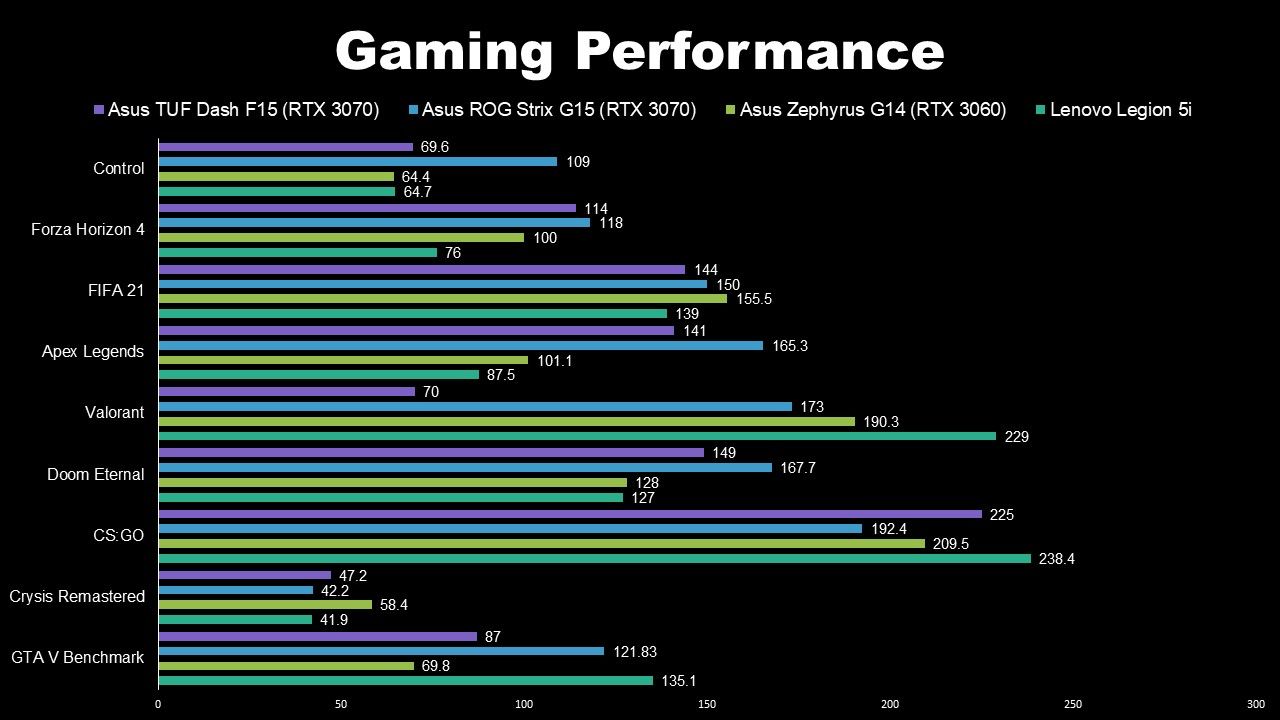 Does that mean it's bad for gaming? Not really. eSports titles like Valorant, FIFA 21, Apex Legends and the likes run at above 100 FPS, some times even beyond the screen's 120Hz refresh rate, with everything maxed out. But richer titles like Watchdogs: Legion, Forza Horizon 4 couldn't cross the 100 FPS mark. They still run above 60 FPS though, but on games like Doom: Eternal, you can't even enable the Nightmare or Ultra Nightmare mode. You have to play at High graphics sans ray-tracing, but with smooth 127 FPS.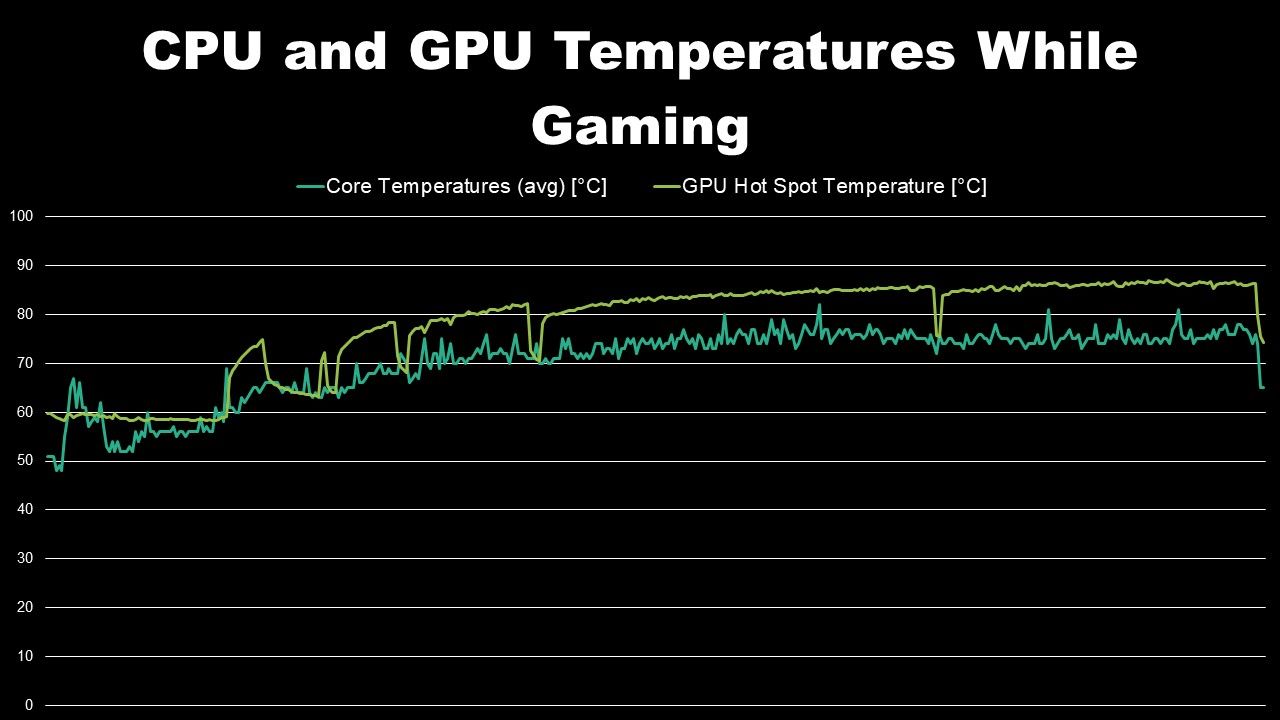 I'm not sure whether it's the low-power hardware under the hood, or an extraordinary cooling system, but the Legion 5i just doesn't get hot on the surface. Inside, the CPU does sometimes touches 100 degrees, and the GPU stays at a constant 80 degrees, but the keyboard only ever got slightly warm, but never scalding hot.
Lenovo Legion 5i: Display and Audio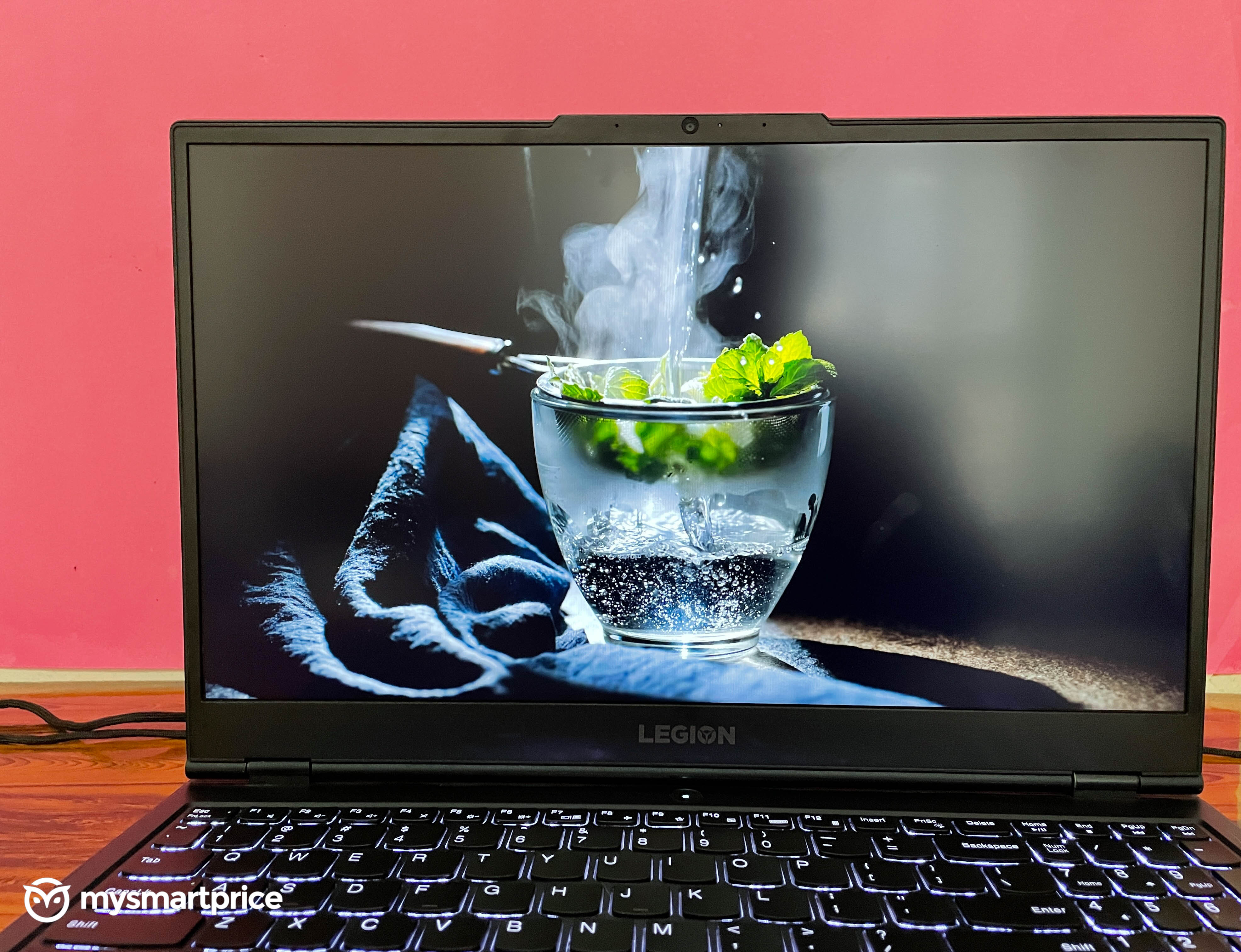 The Legion 5i's performance is decent enough to run most games and software, but where it falters is in the display. The 15.6-inch panel on the base variant is poorly tuned. Primary colours appear dull and washed out, and the 250 nits brightness feels inadequate for enjoying feature-rich games in a bright environment. Good thing is, the contrast ratio is not too high, so even the dimly lit areas under shadows are visible in games, unlike the HP Victus where the contrast ratio is too damn high to make out anything in the dark edges.
The 120Hz refresh rate is actually quite useful. Unless you're running old games, the hardware can't crank up the FPS beyond 120 anyway, so it made sense to be economical with it. But it's the overall visual fidelity that leaves a lot to be desired.
The audio output, on the other hand, is quite alright. The twin speakers are bottom-firing and fill up the immediate surrounding with loud, decipherable audio. Expecting bass from this setup would be too much, but you do get good stereo separation, and clear mids. Connect the headphone, however, and Steelseries' Nahimic 3D audio comes into play. You can configure the preset according to the content you're listening to with distinctly different results for each.
Lenovo Legion 5i: Keyboard and Trackpad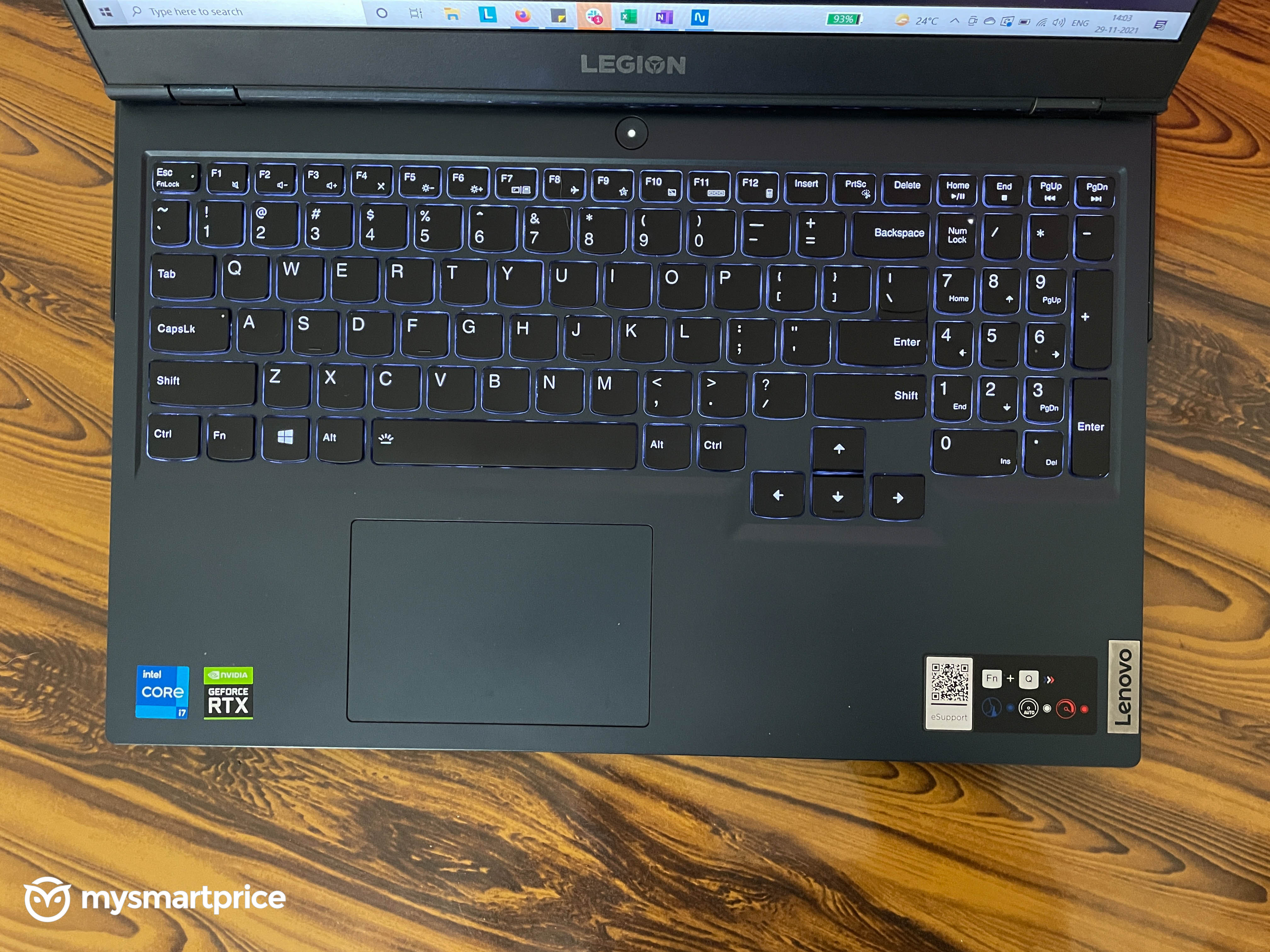 The Legion 5i features a full-sized keyboard, but with a single backlight much like mainstream laptops. However, despite making space for the number pad, the keys never felt cramped together. Lenovo has copy-pasted the design of the ThinkPad keyboard on this one, and it works wonders. There's a satisfying travel with quick actuation and instant feedback making it excellent for typing out long essays as well as hitting those quick keystrokes for gaming.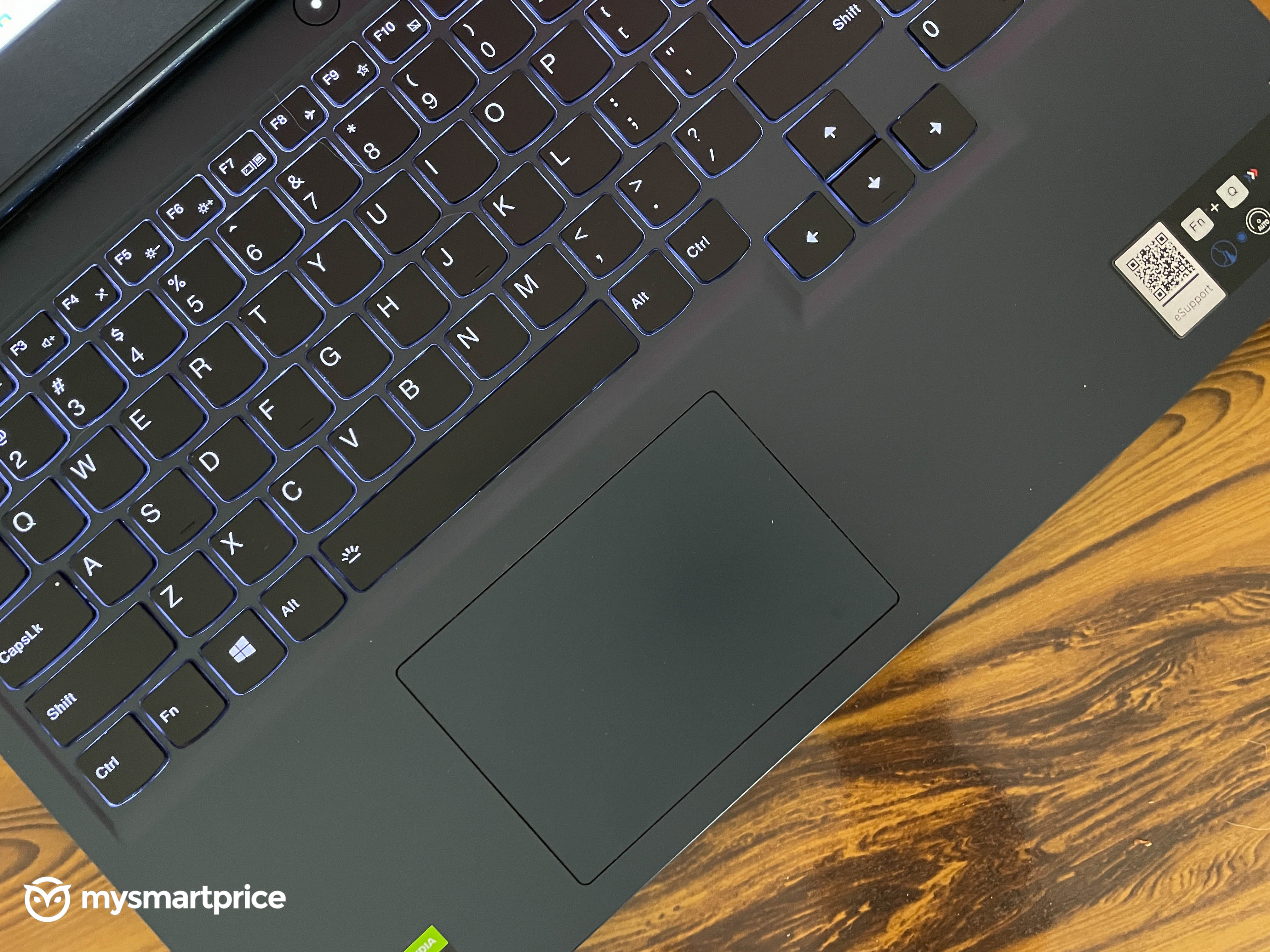 The trackpad however could have been much better. It's much smaller than the one on the Legion 5 Pro, and is slightly resistive to sliding fingers. It's not as smooth as I would have liked. It also makes an ugly click sound every time you press down on it, making the experience all the more disappointing, but considering how gamers will likely use a mouse most of the times, this shouldn't be a deal-breaker.
Lenovo Legion 5i: Battery Life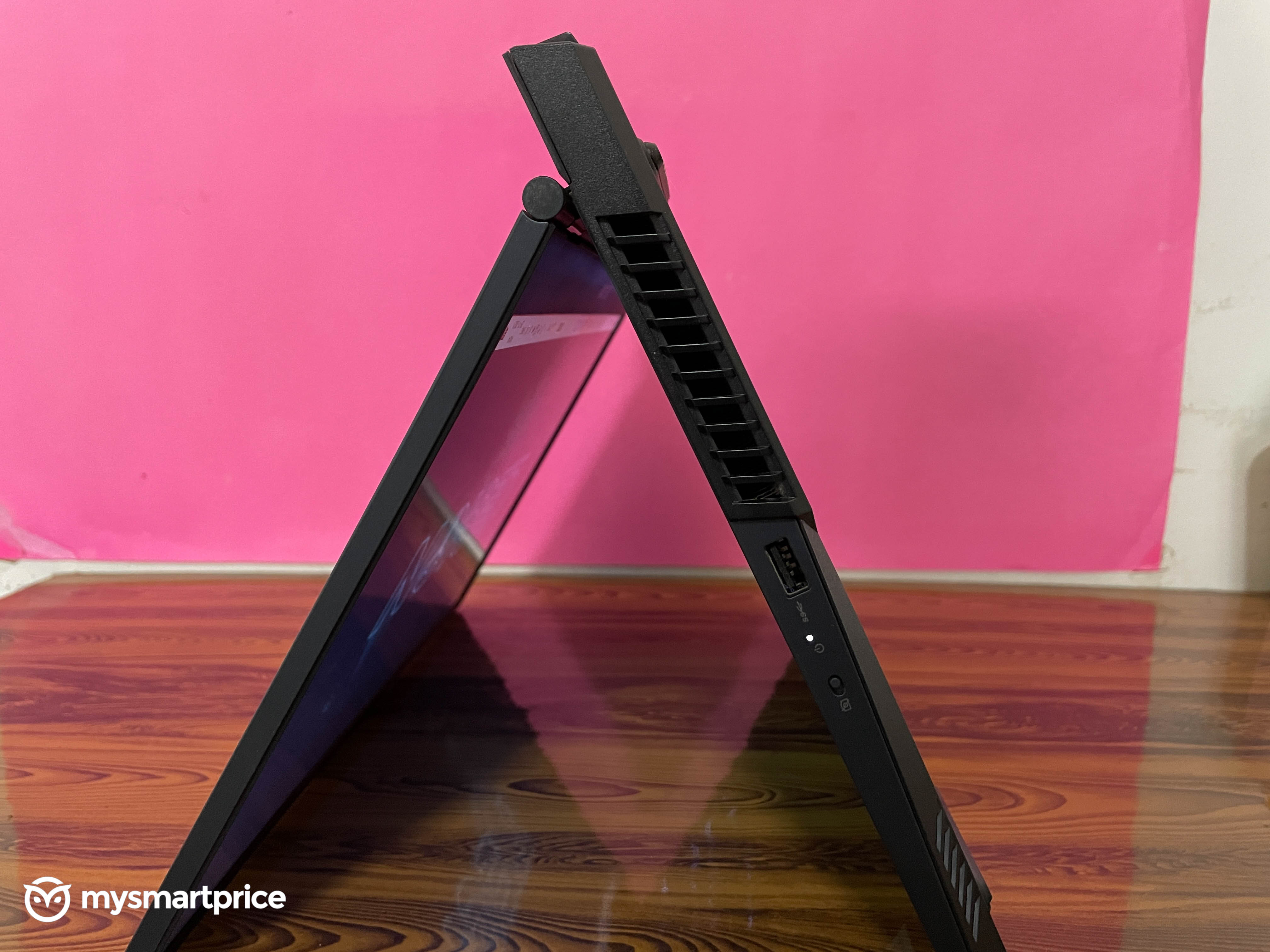 The Legion 5i packs a 60Whr battery with Lenovo promising 5 hours of battery life. The actual battery life is much lesser, and you won't be able to hit max performance on battery. I only managed a meager three hours of usage sans gaming, which is quite disappointing in 2021. It also takes a bit of time to charge up, around 2 hours to hit full capacity. As a result, you will get the best experience keeping this docked on the desk, plugged in to power. There is support for Type-C charging, but you will have to default to the including power brick to run the GPU at peak power, and the power brick itself adds another kilogram to the overall package.
Should you buy the Lenovo Legion 5i?
So summing up, the Legion 5i has a lot going for it, but there are a few crucial things that keeps this from becoming the best budget gaming laptop this year. Gaming performance and thermals are excellent on the Legion 5i, but the display and battery life leaves a lot to be desired. The keyboard is just fantastic, and so is the audio output. The design is more of an iteration of its predecessor with very little changes.
Buy the Legion 5i if you don't mind dealing with a poorly-tuned panel. Having said that, it's a far better option than the Acer Nitro 5 or the HP Victus, but the ROG Zephyrus G14 and the Strix G15 are equally good choices to go for.
Keyboard and Trackpad
4.9/10
Gaming Performance
7.2/10
What Is Good?
Lightweight for a gaming laptop
Runs all major eSports titles above 60 FPS
Loud, clear audio
What Is Bad?
Bland display tuning
Poor battery life
No RGB lights.