Xiaomi is all geared up to launch the Xiaomi Mi 10 smartphone soon. As a matter of fact, if the recent rumours are anything to go by, the device could very well launch ahead of the Samsung Galaxy S20 launch. Now, a new post made by one of the company officials has shed some light on the possible price of the device. The post also gives us a hint about the potential launch date of the Mi 10. Let's have a look at what all intel the post provides us.
Xiaomi Mi 10 Launch and Pricing Details Hinted by the Company Official via an Official Post (Now-Deleted)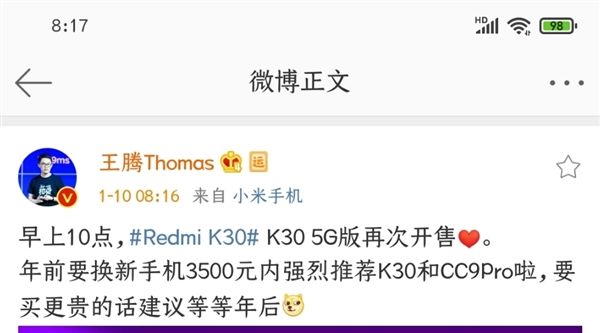 As seen in the picture above, Thomas, the Product Director for Xiaomi, made a post on his official Weibo account (which was taken down later for some reason) that suggests that the price of the Xiaomi Mi 10 could very well exceed CNY 3,500. This should not come as a surprise to anyone because the previous generation Xiaomi Mi 9 5G smartphone is priced at CNY 3,699. So, the Mi 10 could be expected to be priced somewhere around CNY 3,500 to CNY 4,000. Plus, it is being speculated that the top-of-the-line variant of the Xiaomi Mi 10 could cross the CNY 4,000 mark. As a matter of fact, it could very well touch up to CNY 5,000. As for the launch date, the device is expected to launch in February.
As far as the specifications of the device go, the Mi 10 smartphone is confirmed to be powered with the flagship Qualcomm Snapdragon 865 chipset which could be coupled with up to 12GB of RAM. On the display front, the device is expected to sport a 6.5-inch OLED display with a 90Hz refresh rate. The device is tipped to feature a battery ranging from 4500mAh to 4800mAh. For now, this is all we know about the Xiaomi Mi 10, but given that the launch date is approaching, we are likely going to know more about the same in the coming days. To know more about the Xiaomi Mi 10 series of smartphones, you can head to our previous coverage of the same.
What are your thoughts on the upcoming Xiaomi Mi 10 smartphone? Do let us know in the comments section below.