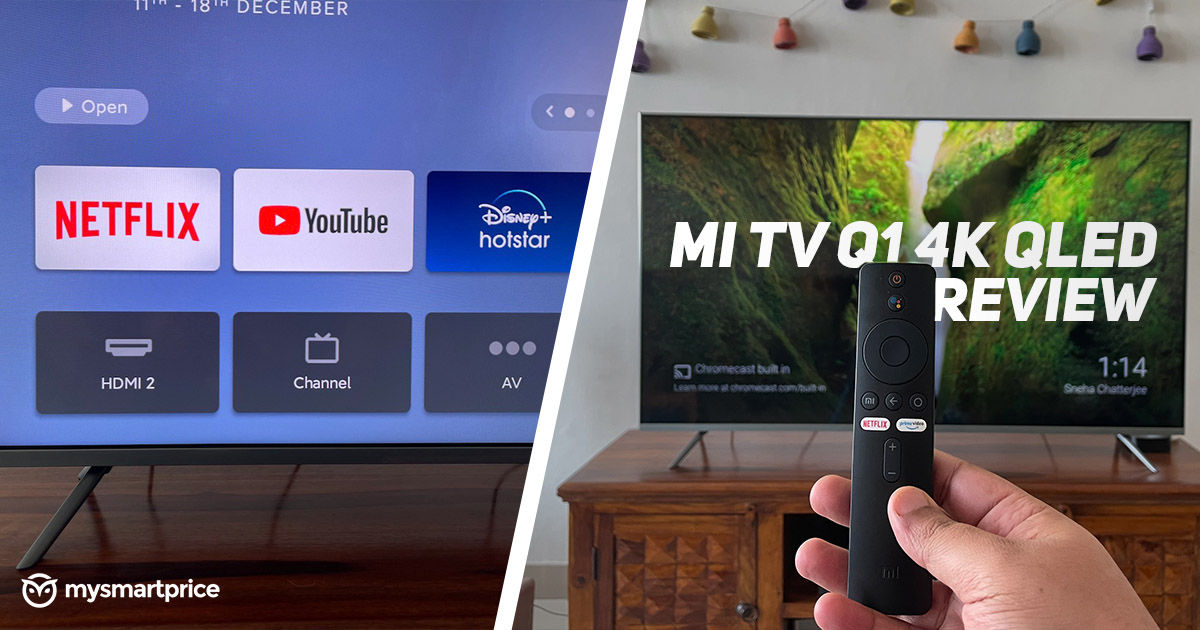 I've already waxed eloquent about Xiaomi's foray into the premium QLED segment – and the urgent need for it right now – in my first impressions piece. The timing is just right for an affordable QLED TV from Xiaomi's stables to disrupt the QLED TV market in India. Presenting the Mi TV Q1 QLED 4K TV!
Without further ado, let's just jump right into what I think about this new TV.
Mi TV Q1 Display Quality: the tight-rope master
The Q1 has a 55-inch QLED Panel on the front with 4K resolution and 60Hz refresh rate. By the way, this is a VA panel, which means you can expect deeper Black levels. However, as is the case with most VA panels, the viewing angles are not great. So, even if you or your guests are sitting slightly off centre, the discolouration becomes immediately apparent. Actually, Xiaomi can't do much to avoid this because this is a characteristic of VA panels. To win some (deep Blacks), you have to lose some (viewing angles).
Now, let's break down the image quality one by one.
Unfortunately, the peak brightness level for this TV is unknown as of now. This spec is vital to achieve good HDR performance. Talking about HDR, the TV supports every single format that you can think of – HDR, HDR 10+, HLG and Dolby Vision. And, if you were wondering, the TV doesn't support Full Array Local Dimming and sticks to Global Dimming. For those who don't know it essentially means that the TV cannot assign individual dark areas to go dark and keep the bright parts bright. And you guessed it right, it is not the best kind of dimming effect. The OnePlus TV Q1 Pro offers Local Dimming.

The more expensive OnePlus TV offers you dynamic range with better control over the highlights and the shadows. But, the dynamic range performance of the Mi TV Q1 is no slouch. Only that, it is not as exciting as the OnePlus TV Q1. Consistently, I noticed that the Q1 Pro managed to bring out more details from the shadows. This was evident while watching Queen's Gambit or Dark. By the way, when you play Dolby Vision content, you get the option to switch between Dolby Vision Bright and Dolby Vision Dark. I prefer switching off all the lights and watching Netflix in Dolby Vision Dark actually. Oh also, I tried playing a Dolby Vision video shot on the iPhone 12 and it was fine.

As for the HDR 10+ performance in the Amazon Prime app, it was pretty decent Overall, HDR performance is good for the price and better than Realme's SLED tech for sure.

But, the one area where Mi TV Q1 just shocked me was in the Deep Black reproduction. No, no. It is not better than an OLED or a Samsung QLED even. But, it is way better than the edge light bleeding mess that is the OnePlus TV Q1 Pro. I was sincerely taken aback.

But, as far as colour reproduction goes, the Mi TV Q1 definitely has a red bias overall but it is far more apparent especially in flesh tones. Yes, you can control flesh tones for non-HDR content but it doesn't help much. I compared the colours to the OnePlus Q1 Pro and, while it had a green bias, it looked far more natural in comparison. For your information, both the TVs can go as wide as BT.2020 colour gamut and the Mi TV Q1 definitely offers a whole lot of granular tuning settings. This is definitely a first for the Mi TV Q1.

Now, there's also support for MEMC or Motion Smoothing. This is essentially where the TV's software algorithm upscales regular 24fps or 30fps content to 60fps to make it look smoother. It works well for sports coverage but for anything else, I hate it. It creates a soap opera effect and takes the life out of the cinema experience. But, a lot of folks like it and honestly, of all the MEMC implementations, I find Xiaomi's far less annoying and cleaner too.

One test that I couldn't do because it's been a while since I cut the cord, and that is to test the upscaling of Standard Definition Cable/Dish content. However, I did check 1080p and 720p YouTube videos and it was pretty good. No problem there.

Finally, I want to talk about gaming. By including three HDMI 2.1 ports, Xiaomi derives the benefit of ALLM or Auto Low Latency Mode for gaming. With my PS4, the TV automatically switched to a very low latency of 5ms. It was a sweet, sweet experience gaming on the TV at 60fps. But, if you want to enjoy 120fps gaming on a next-gen console, the 60Hz refresh rate is going to be a limiting factor anyway.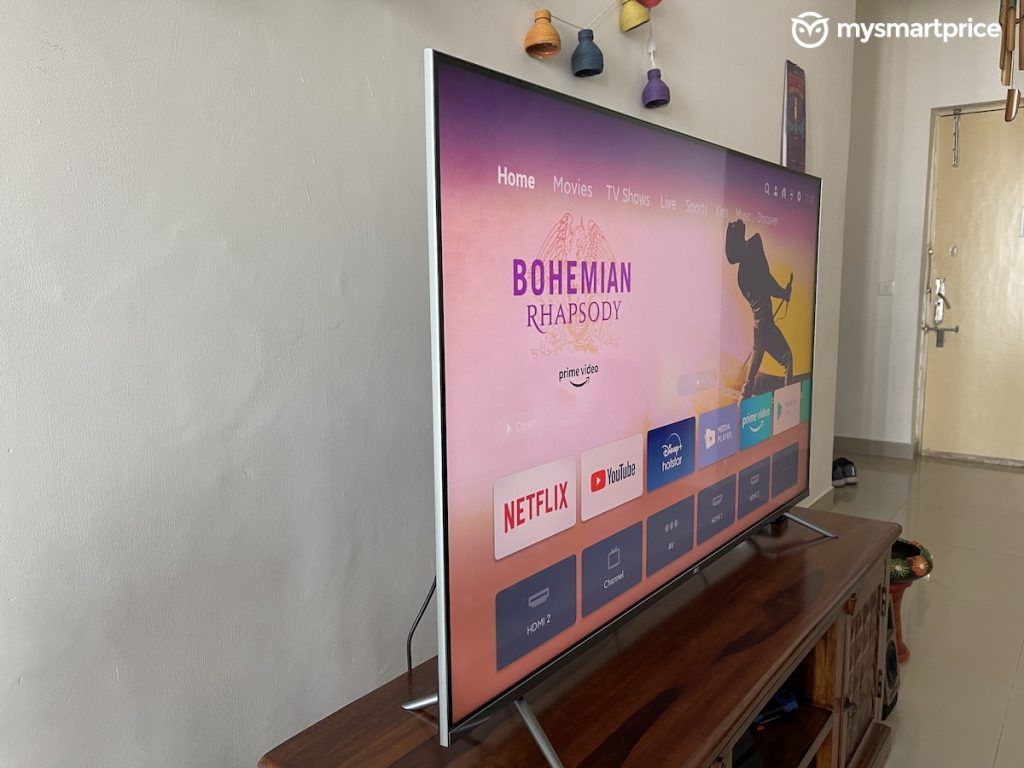 Overall, for its asking price, I genuinely feel that Xiaomi has done a bang up job of maintaining the right balance of colour, dynamic range performance, and features. It is definitely value-for-money picture tuning.
Mi TV Q1 Sound Quality: smart engineering
I generally gloss over the speaker segment of my TV reviews because they generally suck, especially in budget TVs. Thankfully, the Mi TV Q1's new speaker engineering is not half bad. This TV has four full range drives and 2 tweeters all inside a much, much larger cavity. This means, you get a louder and fuller sound. I found the bass to be sufficient and the vocal reproduction to be good too. As long as you don't expect crazy surround sound experience, this speaker will not disappoint you.
Mi TV Q1 Design: tailored for distraction-free viewing
I've said a lot about the design in my first impressions but here's a quick gist:
The stands are too wide apart, so if you are table topping it, you will need a table with a wider base.

The sandblasted aluminium alloy stands and frame look good and feel super sturdy too.

The rear is made of regulation plastic and I was slightly disappointed at the lack of attention to detail. For example, the circular cutout in the plastic body for the metal pipe for your 3.5mm jack was misaligned in my TV. I wish the Make in India assembly is more careful about assembly line issues like these.

Xiaomi should've added a USB 3.0 port.

Apart from these tiny nitpicks, the Mi TV Q1's design is pretty good and extremely functional.
Mi TV Q1 Remote: why fix something that ain't broke?
The remote has the same design. No change whatsoever here. But, there are a few new tweaks here. For example, you can now double tap the volume down button to mute the TV. It is not very seamless, however, at the moment and has its moments where it keeps failing. But, it is definitely a step in the right direction.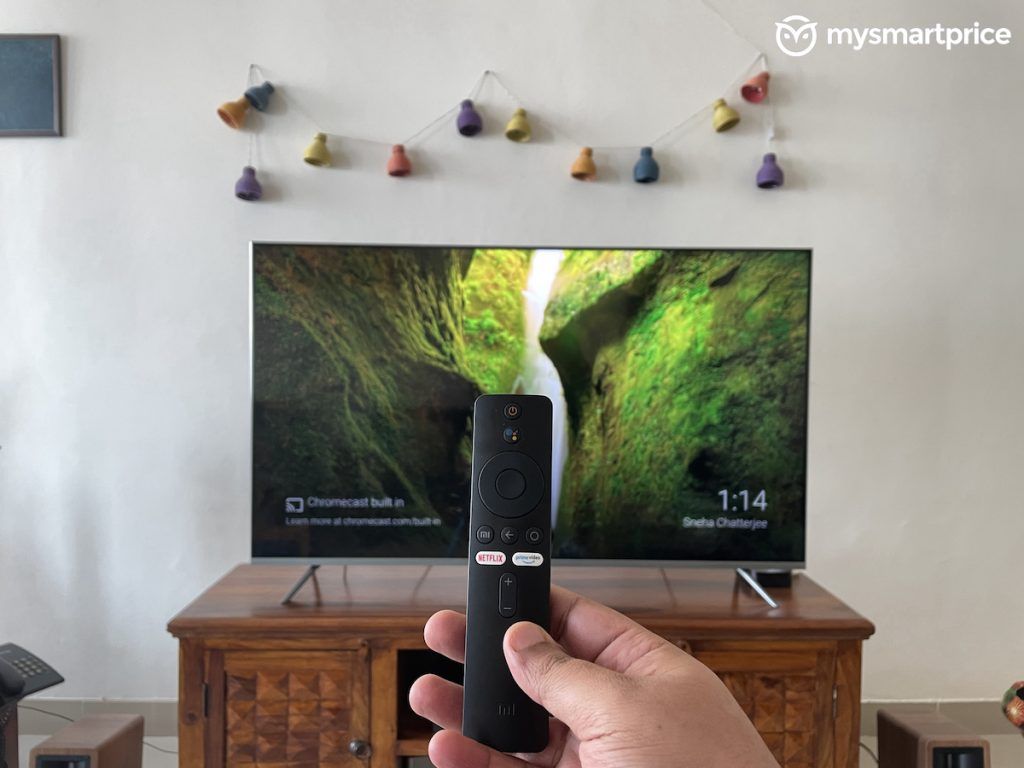 The second new addition is Quick Wake, which as the name suggests is you can quickly wake up the screen by hitting the power button. This comes in pretty damn handy, for sure. But, my favourite new feature is the Mi Quick Setting option. All you need to do is long press the Mi button and Voila!
Mi TV Q1 Performance: blazing fast
The new Mediatek 9611 TV SoC coupled with 2GB of RAM and a whopping 32 gigs of storage, makes it the fastest, most responsive Mi TV ever made. The UI just flies and responds to the remote's command very fast. As a matter of fact, despite offering just 2GB of RAM, the Mi TV Q1 actually kept apps open in the memory compared to the OnePus TV Q1.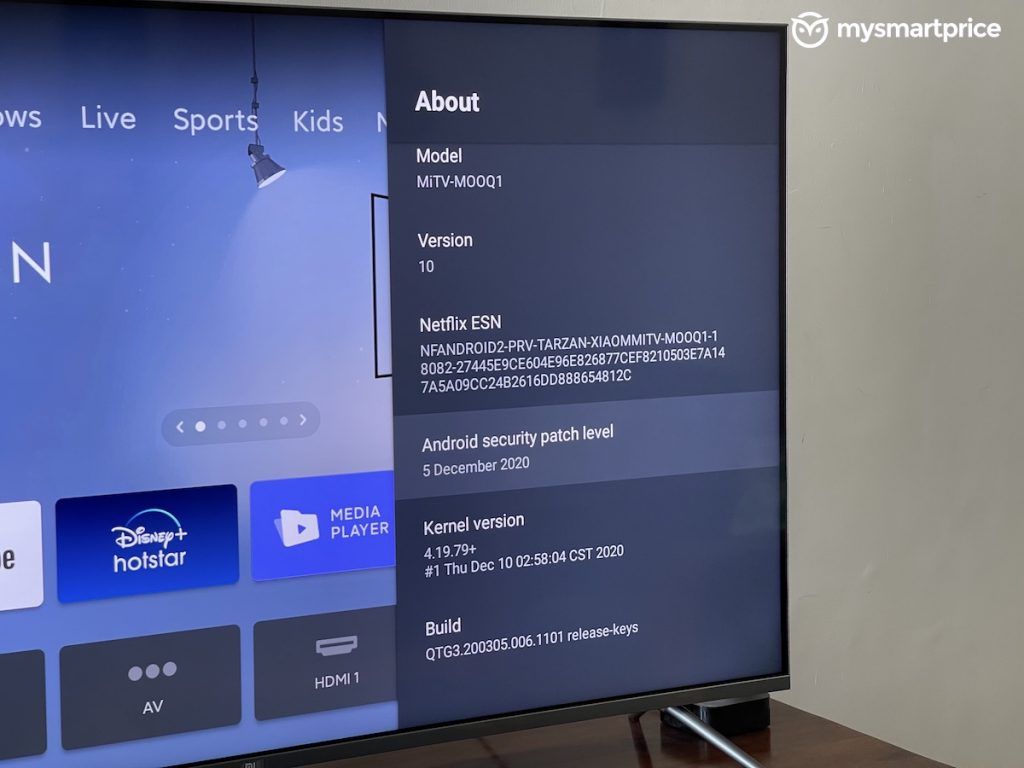 You can also play casual games on the TV, if you so wish. So yeah, performance is definitely the Q1's strong suit.
Mi TV Q1 Software: Patchwall is genuinely improving every iteration
The Mi TV Q1 is one of the very few TVs in India to come with Android 10 out-of-the-box. I mean, the new version doesn't really matter, Android TV continues to be a very average TV user interface. And, I actually preferred Xiaomi's homegrown Patchwall UI over Android TV Q1. Yes, it is not perfect, but at least it does a better job of curating and showing you content that you might just actually watch.
It has almost every single streaming service integrated into its core UI, except for Netflix, of course. So, you get 4K HDR and Dolby Vision content directly from the app. The Universal app lets you search for any movie/TV show you want to watch, with ease. The Kids mode is pretty damn useful too.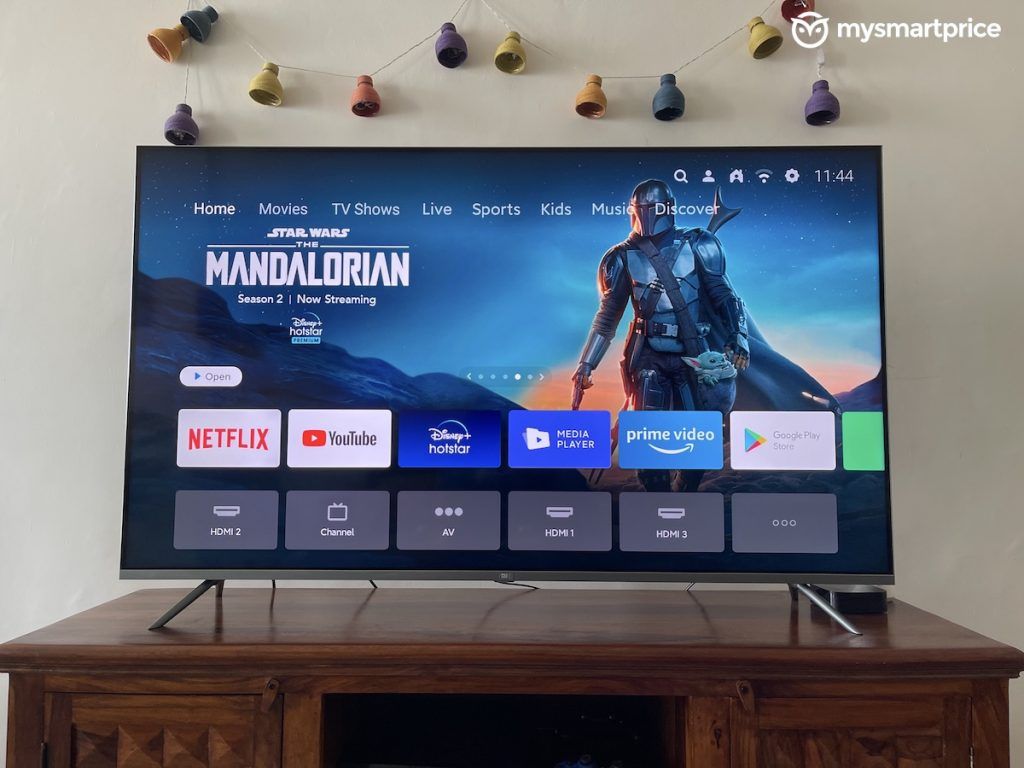 Yes, you still can't move around apps in the apps row to place it according to your preference. But, that's okay. Things should improve soon considering the pace of development and the community input that the Mi team keeps getting.
Should you buy the Mi TV Q1?
The Mi TV Q1's Rs 54,999 pricing is definitely not disruptive. For it to be disruptive, it'd have had to be at least Rs 49,999 or 44,999 or something. But, if you consider the launch pricing of all the QLED TVs in India, the Mi TV Q1 can be considered as the lowest of the lot. However, unlike the phone market, in the TV market the prices keep fluctuating.
So, you can currently buy something like the TCL C715 55-inch QLED for about 57k. In fact, I've seen it priced even lower at times. Similarly, the iFALLCON 55H71 QLED TV can be picked up for about Rs 52,000 now. But thankfully, the Mi TV Q1 offers a better picture quality and a far better hardware+software experience to be my pick of these TVs.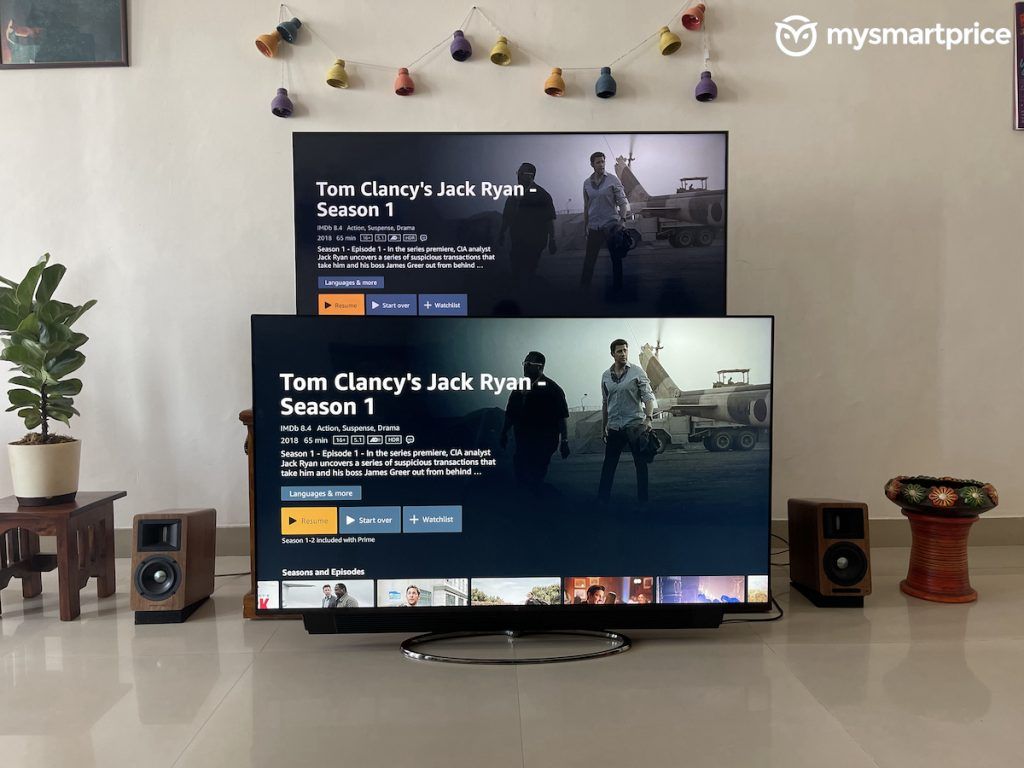 Compared to the OnePlus Q1, which can be picked for about Rs 63,000, the Mi TV Q1 definitely offers a better value for sure. Yes, the Q1 feels more premium and offers a slightly better picture quality, but is it worth 8K more? Maybe not. Also, Patchwall is definitely a better software experience for sure.
What about the Realme SLED TV, you ask? Well, I am 100% convinced the Mi QLED TV's price differential is justified for the better picture quality, sound, Dolby Vision support, and more.
So yeah, among its peers, the Mi TV Q1 does shine for the excellent value that it offers. No, it does not offer the best picture quality or the best sound or the best design. Just the sum of its (very good) parts makes it a winner. Xiaomi's TV product team has clearly mastered the art of balancing the specs-to-price ratio really well.