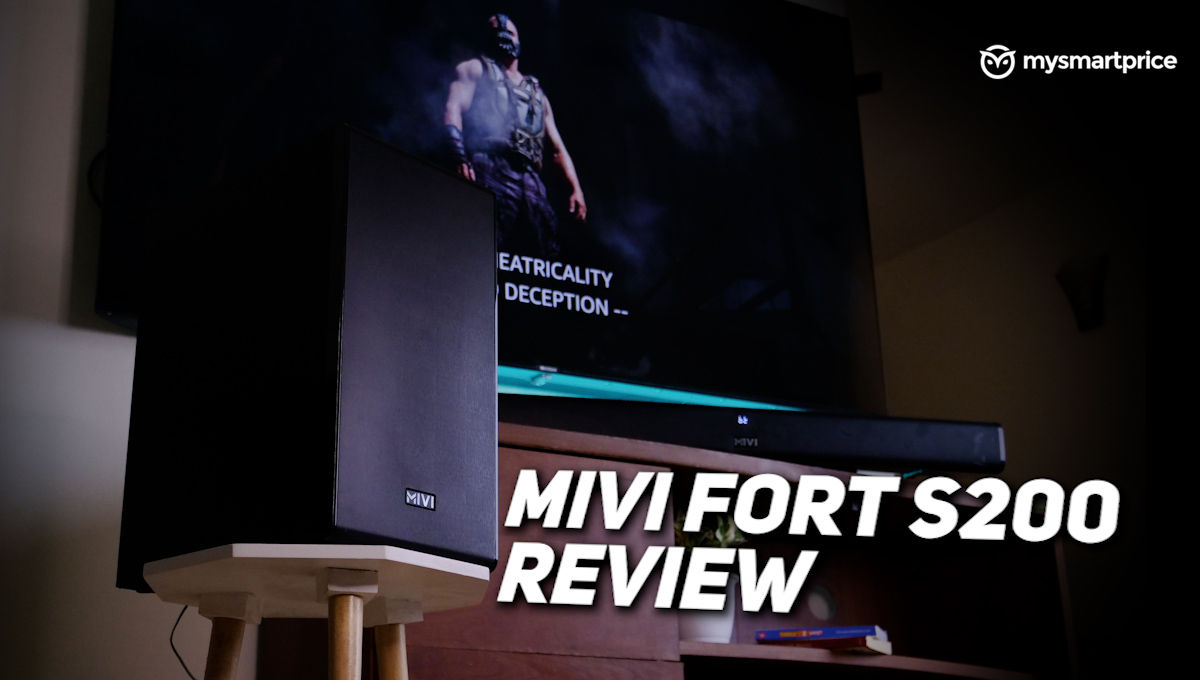 Earlier this year, we reviewed the Mivi Fort S100, and we were in awe of its price-to-feature ratio. Sure, it had a few first-generation teething issues, but it showed promise as an all-in-one soundbar. Now, the company has launched a bigger sibling of it, the Fort S200, in the form of a subwoofer-soundbar combo. Priced roughly twice as much as the S100, the S200 also has double the power and oomph. Not to forget, it also plays on the 'Made in India' sentiment.
So has the Mivi Fort S200 got it all under control? Is it the best 2.1 soundbar combo you can buy? Find out in our review.
Mivi Fort S200 2.1 Soundbar Review: Design and build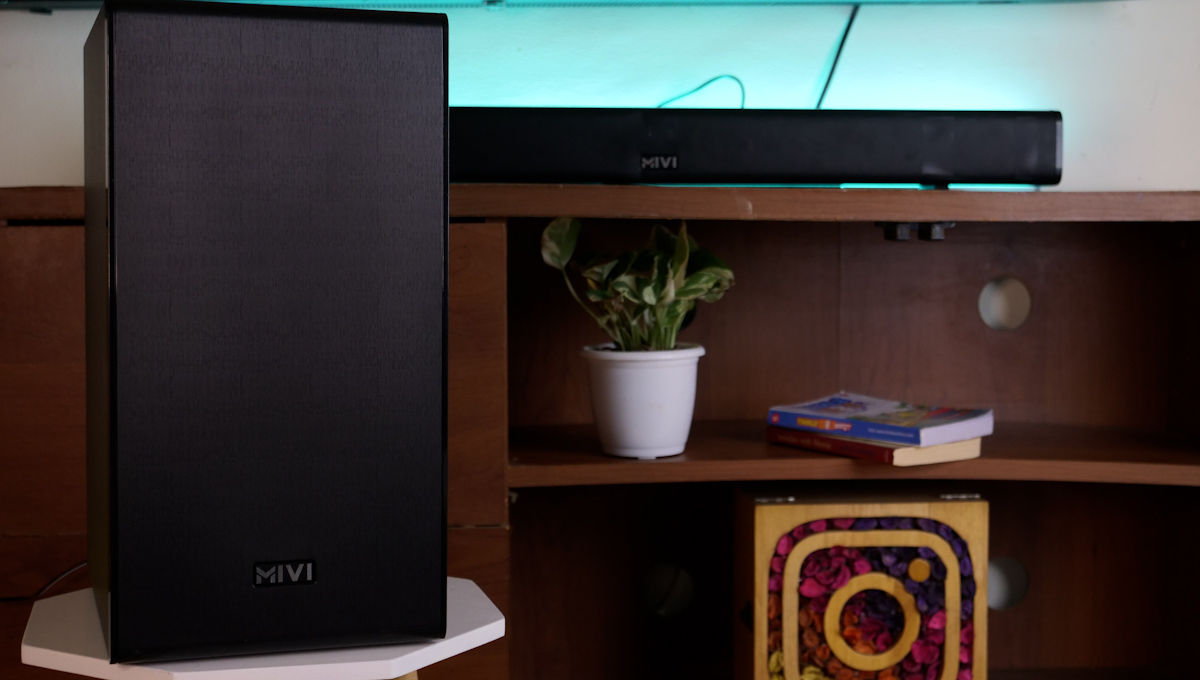 The soundbar unit of the Mivi Fort S200 has a slightly smaller footprint compared to the S100. It is also more rounded off on the corners and has a tiny LCD display at the front instead of physical buttons. The front, top and back of the soundbar are covered in a metallic grill, but its fit leaves a lot to be desired. Our unit came with a dented grille, so you'll have to be careful not to drop it even by accident.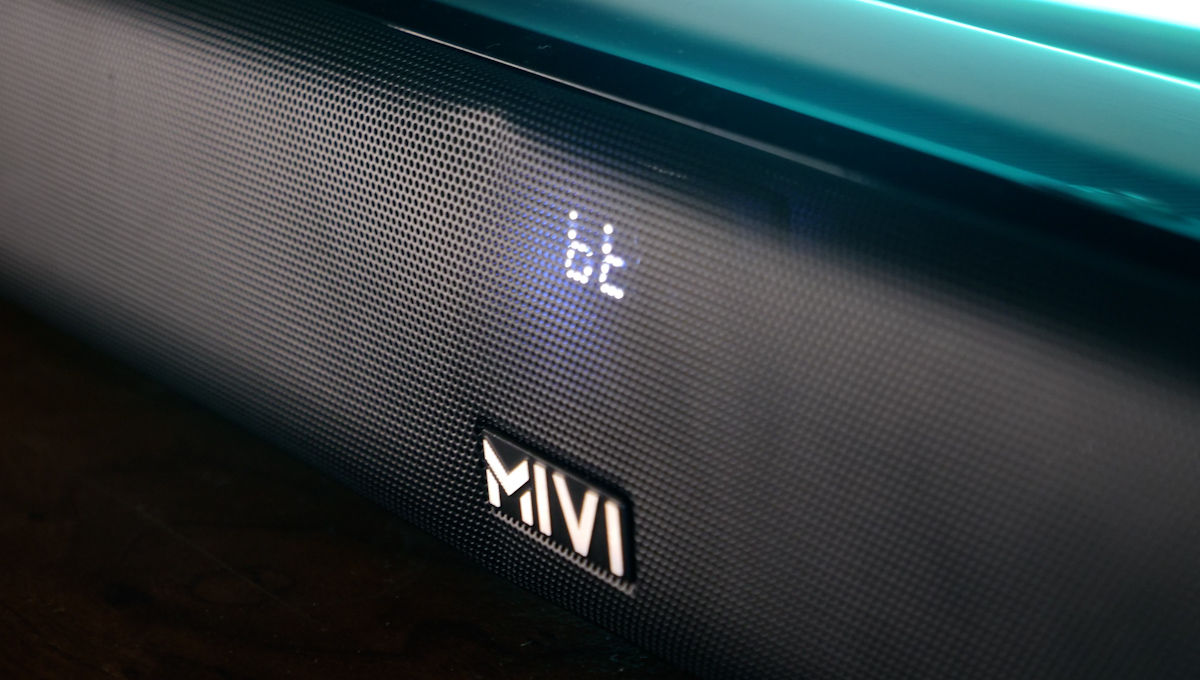 The tiny LCD display hosts two old-fashioned matrix-style letters, and its light is dispersed from the metallic grille itself. It looks a little dated if you ask us. The reason to skip physical buttons is that Mivi chose to make the remote control the only way to interact with the combo.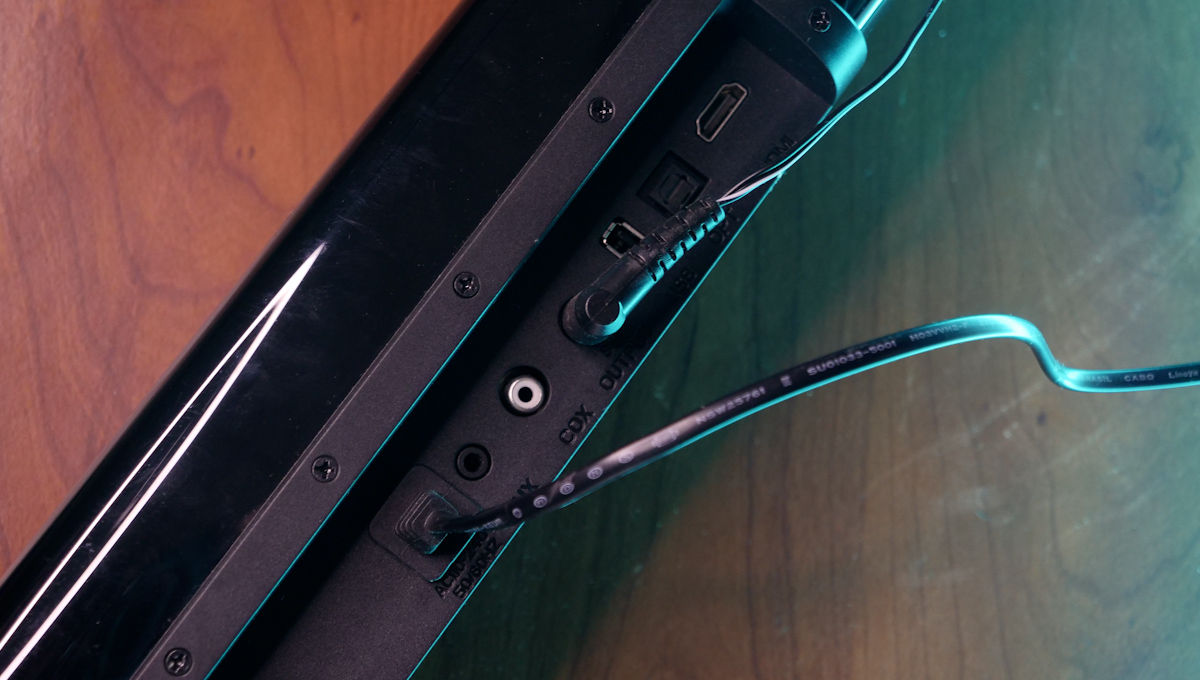 The back of the soundbar hosts the I/O. So we have a fixed power supply, an outlet for connecting the subwoofer, a 3.5mm jack, a coaxial digital audio input, a USB Type-A port, TOSLINK and HDMI. You also get Bluetooth 5.1 support for connecting audio wirelessly. We absolutely love the wide variety of connectivity options here.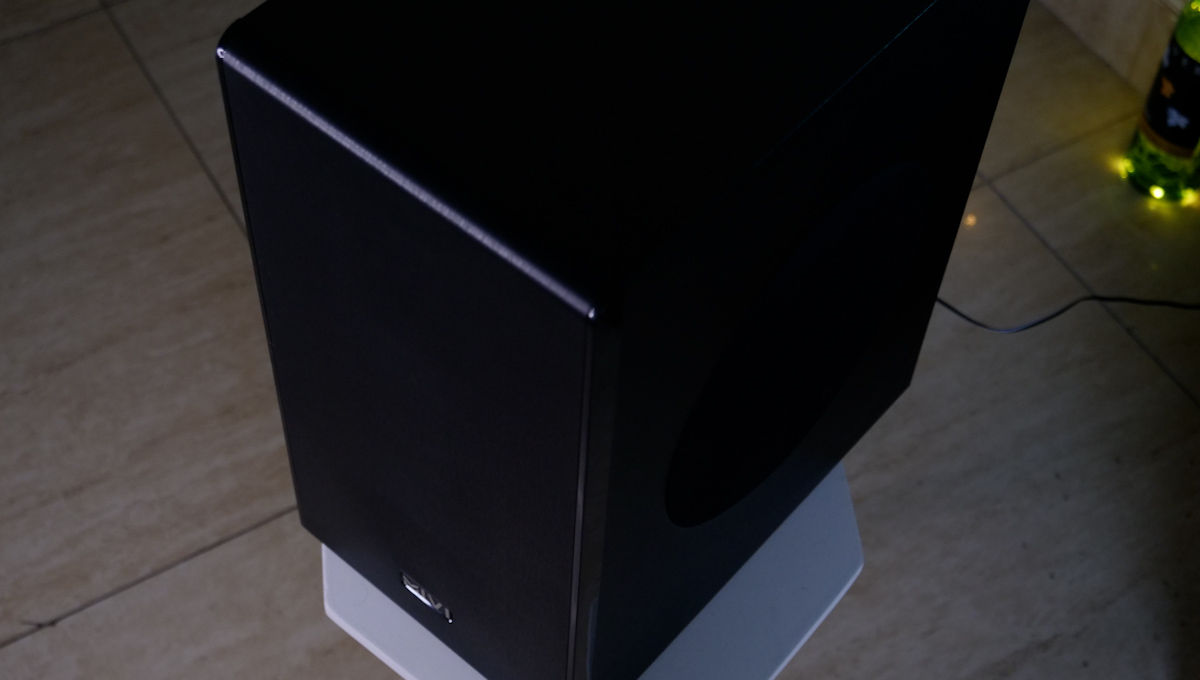 Moving on to the subwoofer, it's a cuboidal box standing 15 inches tall and 8 inches wide. It's made entirely out of wood except for the giant circular soft fabric mesh covering the driver on the right side. It has an unassuming design, with a small metallic Mivi logo at the front, and is built like a tank.
The remote has a ton of buttons populating its front face. So, not only do you get individual buttons for sources but you get simplified equaliser and sound modes as well. You also have a skip, pause, play, mute and input source buttons.
Mivi Fort S200 2.1 Soundbar Review: Sound and day-to-day use
The subwoofer unit of the Mivi Fort S200 has a single 6.5-inch driver. The soundbar unit has four tweeters spanning 2.25 inches. The subwoofer has a frequency range of 70Hz to 5KHz, whereas the tweeters in the soundbar deal with higher frequencies ranging between 150Hz and 15KHz.
This is a great setup for watching movies and occasionally listening to music. The sound is lively, and the low-end vibrations can fill up an average-sized living room. We recommend keeping the soundbar and the subwoofer close, or the distance between the two units becomes too obvious.
The S200 can get mighty loud, with the volume maxing out at 16 notches in Bluetooth mode. At high volumes, we noticed a little bit of distortion. To be fairly honest, 8 was the highest volume we needed for everyday use. Even at house parties, we never went beyond 10 notches, and everything sounded crystal clear within this range.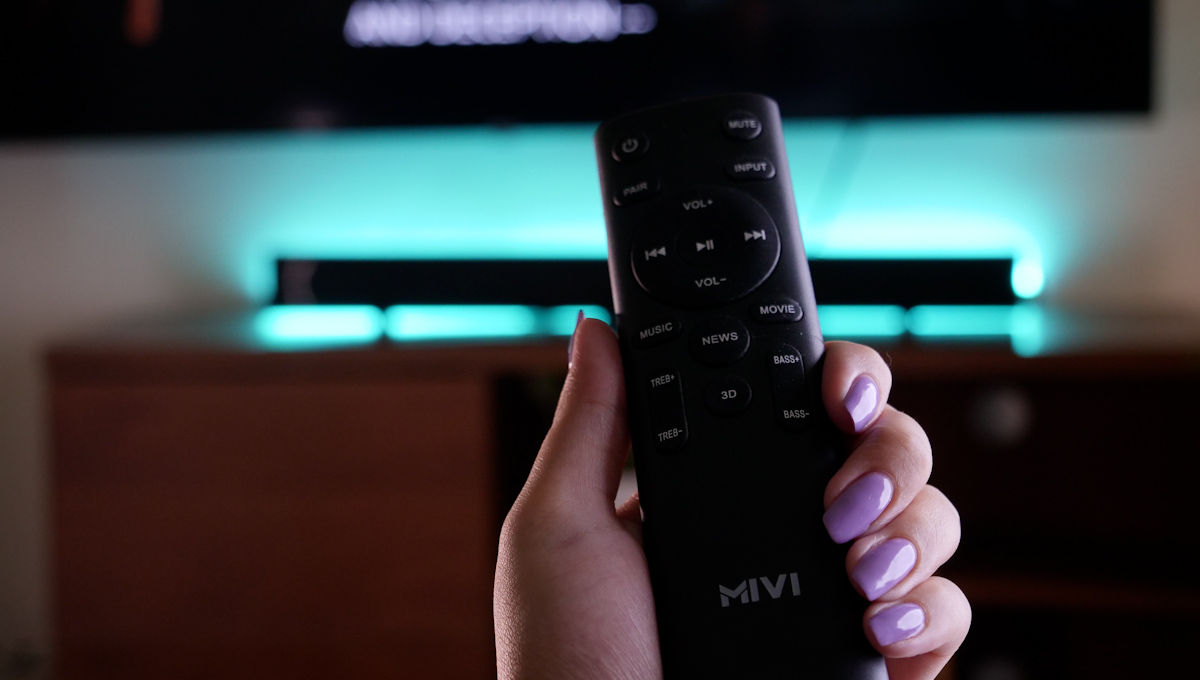 To enjoy movies and TV shows, you can easily select the 'Movie' mode, which turns down the bass frequencies a little so you can focus more on the dialogues. This doesn't mean scenes with heavy sound effects, like those from Avengers movies, are compromised. Dialogues can still be heard clearly over the crushing bass heavy crash effects.
To be clear, this isn't a be-all, end-all solution for listening to music simply because the frequency range isn't wide enough to reproduce music as it was intended to be heard, and that's totally fine for a soundbar-subwoofer combo at this price.
We complained about Mivi Fort S100's remote latency issues. Guess what? They fixed it! It's a nice, snappy experience this time around. But then, they introduced some new quirks this time around.
Mivi Fort S200 2.1 Soundbar Review: Oh, the quirks
To begin with, whenever you turn the Fort S200 on or change its input or sound mode, the audio prompt is blasted at full volume, regardless of what volume you're listening to. It's a really jarring, startling and annoying thing to hear the speaker yell 'BLUETOOTH MODE – CONNECTED' or even 'MOVIE MODE' on full volume. The only way to avoid letting this happen is by muting the speaker before changing to a mode.
Next, they did nothing about the input memory issue. This means whenever the speaker is turned on, it starts with the Bluetooth input source by default. Also, unlike the Fort S100, there are no dedicated input source buttons. Instead, there's a single Input button that requires you to cycle through different sources, which can get maddening after a while, especially if you use a wired input to connect.
Also, while the soundbar has Bluetooth 5.2 connectivity, it has no dual-device pairing.
Mivi Fort S200 2.1 Soundbar Review: Verdict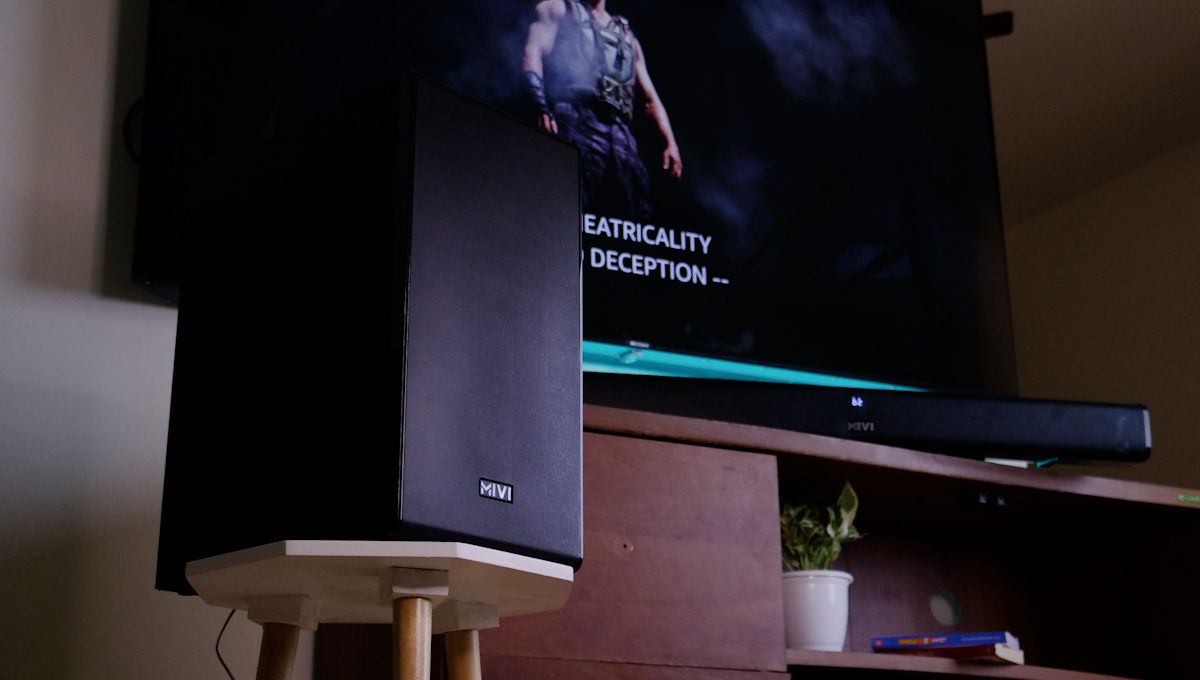 The Mivi Fort S200 is a proud Indian soundbar offering many audio power and connectivity options. It is slick, blends in with most TVs, and can rattle your windows when it's yanked all the way up. But, it has a certain quality-of-life issue that can make you mad, especially the audio prompt volume. Nevertheless, at Rs 9,999, it delivers a sound that punches way above its weight class.
There are few alternatives to the Mivi Fort S200, given its insane power output figures. Samsung's HW-T420/XL and Phillips HTL8162/94 come to our minds. Both have lower output figures and higher prices than the Mivi Fort S200, but they offer much better UI experiences.
What Is Good?
Powerful 200W sound
Clear vocals
Responsive controls
Slick design
Plenty of I/O options
Value for money
What Is Bad?
Audio prompts are always at the loudest volume
The grille on the sound fits poorly
Can only be controlled by a remote
No input memory