Highlights
The Razr 40 is the most affordable clamshell foldable on the market

It comes with an interactive outer display

The phone secured 8.1 out of 10 in our review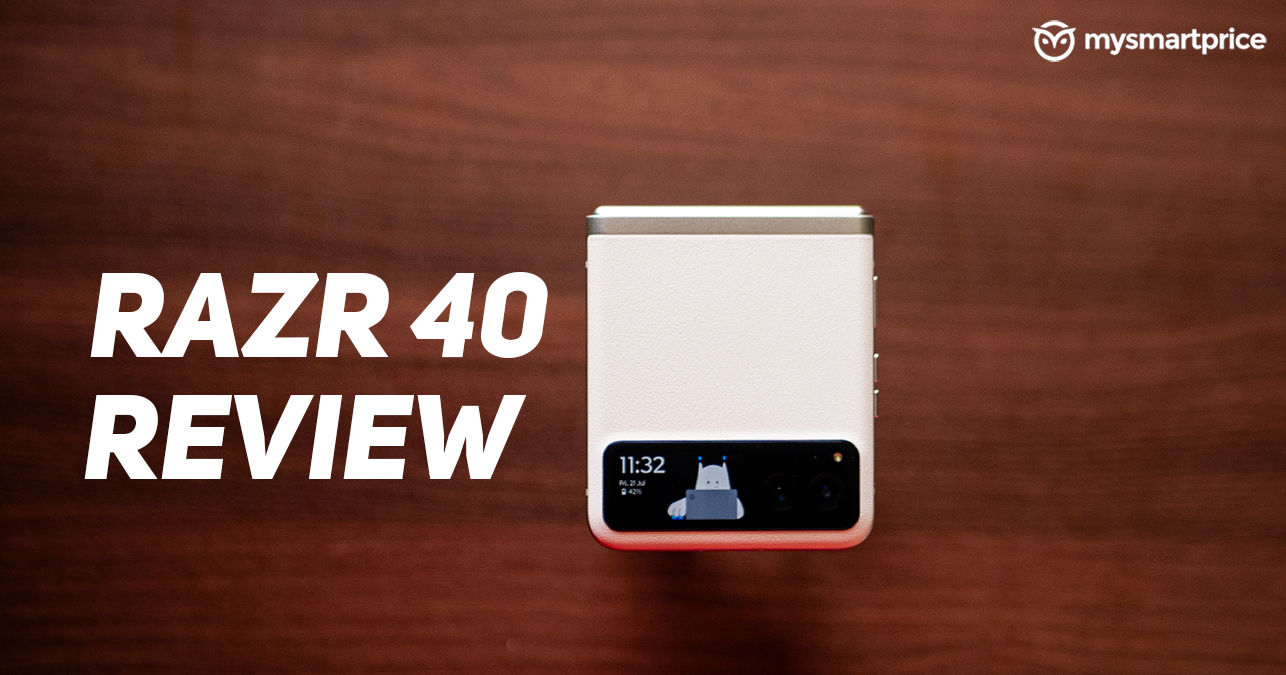 Motorola launched two clamshell foldable in the market earlier this month. While the elder sibling, Razr 40 Ultra, stole the show with its massive display on the exterior, the Razr 40's market-disrupting price upped the game. The Razr 40 sports a smaller screen on the outside, with a rather tall one on the inside.
What Is Good?
Fashionable, good colour options
Good quality hinge
Interactive outer display
Fast, good main display
Decent battery life
Adequate rear cameras, good low-light performance
What Is Bad?
No Widevine L1 certification
Average selfie camera, photo processing takes time
Slow charging
Inside, the Snapdragon 7 Gen 1 takes charge, while you get a decent set of rear cameras. At Rs 59,999, Motorola is aiming the phone at people wanting to try their hands on a clamshell foldable at a fairly affordable price. So, should you get it? We've been using the phone for over a week; here's our full review.
Moto Razr 40 Review: Design and display
The Razr 40 is IP52 rated for water and dust resistance.
It sports a 1.5-inch OLED display on the outside.
We have the Razr 40 in the Vanilla Cream colourway, and it looks pretty classy, but as you might have guessed, it is also very susceptible to dirt. The Sage Green and Summer Lilac hues could be a better choice if you prefer something more flashy. The Razr 40 joins the league of smartphones for the back panel to flaunt a faux leather finish. This gives it a premium look and feel while helping with the grip. Like the costlier variant, the Razr 40 also features a half-folding hinge that helps you set the phone at different angles.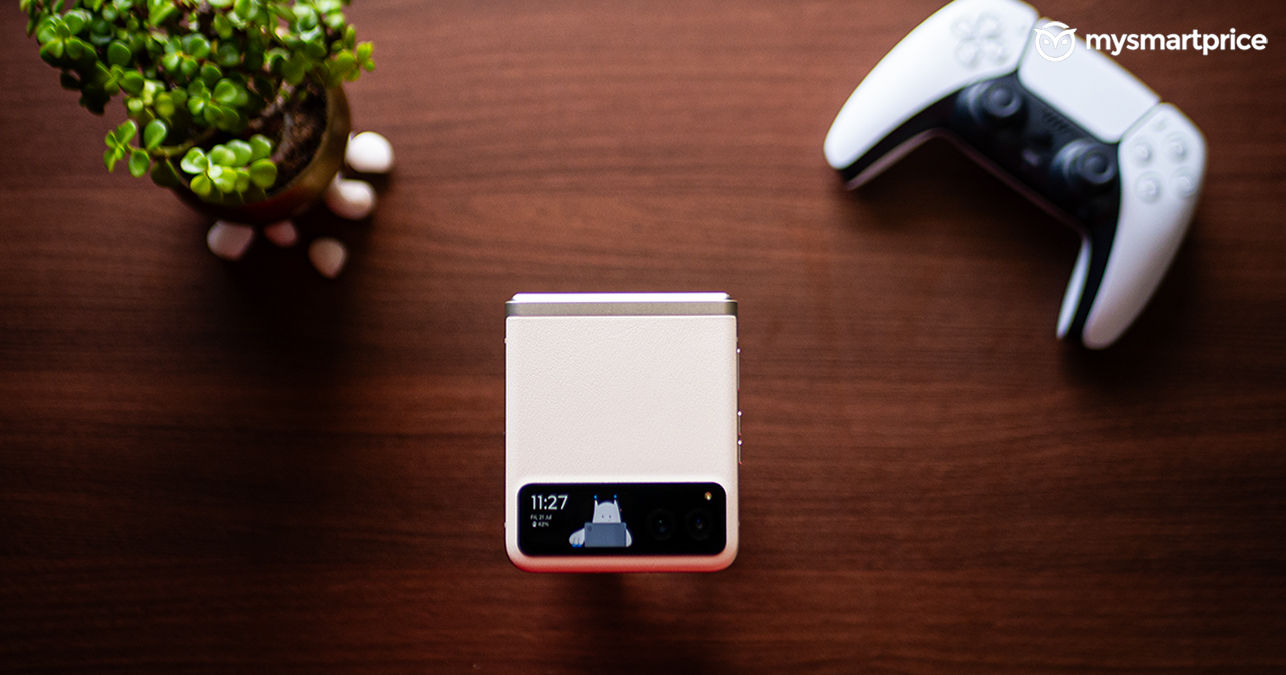 This means you can place the phone on a flat surface to record videos or take photos. This convenience is key to the charm behind the clamshell foldable. It's also a fun phone to flaunt around, grabbing eyeballs from all kinds of people at all sorts of places.
You feel this feeling of immense joy and a pinch of nostalgia when you flip it open. However, opening it up with a single hand isn't an easy affair and not a pretty sight.
While the phone adds a fashion statement, it is also reasonably practical in daily use. When folded, the tiny form factor is very convenient to carry around in your hands or in your pocket. It folds completely, leaving no space for dust or lint to enter. The button placements are standard, with the power button doubling up as a fingerprint sensor as well.
It took us some time to get used to the placements in the folded state, as the volume rockers are reversed. The Razr 40 tips the scales at 189 grams and is fairly light in daily usage.
External Display
Because the Razr 40 offers two screens, we figured let's delve into them individually. It sports a 1.5-inch OLED display on the outside with a resolution of 368×194 pixels. In comparison, the Galaxy Z Flip 4 comes with a 1.9-inch display, which is wider. The external display is quite useful if you want to check up quickly on recent notifications. However, it is painfully limiting. Swiping up from the home page gives you access to the notification bar. You can read messages from WhatsApp, Instagram, and more.
But, to reply, you'll have to flip open the phone. Motorola has also come up with a very funny, interactive, and cute clock face — Moo. There are a bunch of other clock styles that you can set from the settings.
Swiping down lets you access the control centre, which has proved to be very handy for us. You can customise the shortcuts in the settings. Rest assured, and you'll find actions such as weather details, timer, favourite contacts whom you can call, music, and more.
You can also pick up normal calls using the outer display, but WhatsApp calls require you to unfold the phone. Speaking of which, some very interesting settings in the app let you fiddle around with the call settings. For instance, you can shut the phone to cut a call, which is very 2000-esque, and we absolutely love it.
Moreover, the best part about an external display is that it can act as a viewfinder while taking high-quality selfies using the rear cameras. We tried widening the use of the external display with the CoverScreen OS app, but sadly, there is no support for the Razr 40 yet.
Main Display
When unfolded, the Razr 40 features a tall 6.9-inch pOLED display with a resolution of 1080×2640 pixels. The display refreshes at 144Hz with an aspect ratio of 22:9. It does have some residues of a crease, but in daily usage, it's not at all distracting. However, the indent can be felt when scrolling. The panel has a peak brightness of 1000 nits, so using the phone outdoors is not an issue. The Razr 40's display has been certified for HDR10+ and covers 120% of the DCI-P3 colour gamut.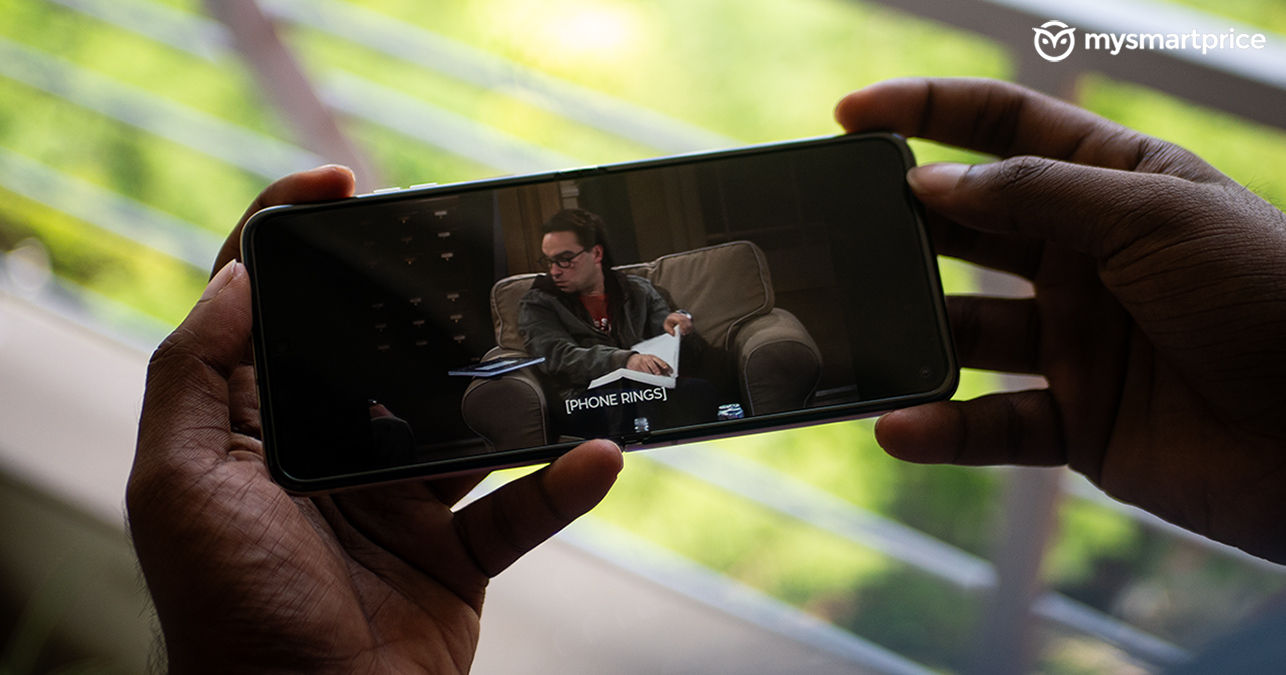 Watching content on YouTube was a fun affair. Videos on the screen look crisp and detailed, with colours close to reality. If you prefer something more punchy, the saturated preset should help you. One of the big upsets with the Razr 40 is that it does not have Widevine L1 certification.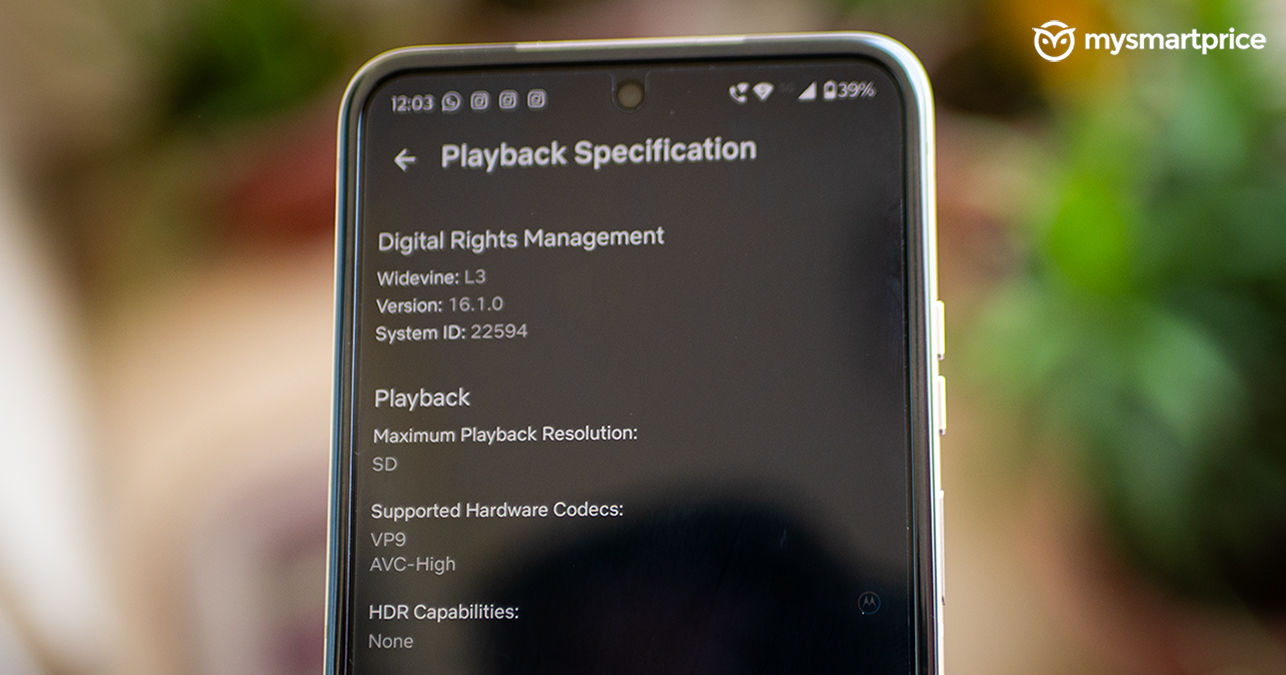 This means you can only watch movies and TV shows on Netflix or Prime Video at standard resolution. It's a missed opportunity for a display capable of producing good colours. Accompanying this is a stereo speaker setup, which is loud and crisp. Dolby Atmos support is also available on the Razr 40. It also lets you create custom profiles for Bluetooth and USB-C audio devices.
Moto Razr 40 Review: Performance and software
It is available in a single 8GB RAM and 256GB storage variant.

The Razr 40 runs on Android 13 out of the box
The Razr 40 is powered by a Snapdragon 7 Gen 1, built on the 4nm fabrication process. This is the first phone in India to be backed by this SoC. The Razr 40 uses LPPDR4X RAM and UFS 2.2 storage technology to keep the prices in check. It supports 5G, Bluetooth 5.3, GPS, eSIM, and NFC.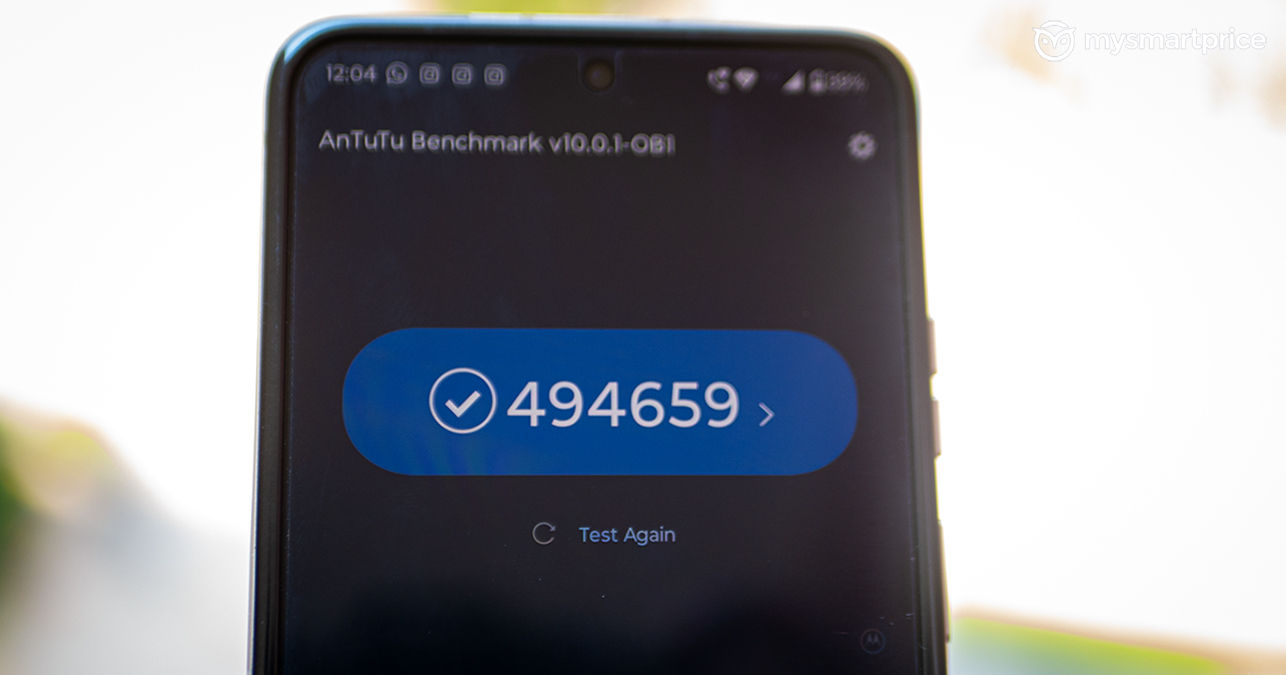 In daily usage, the phone has no issues whatsoever. Switching between multiple apps is quite easy for the Razr 40. The AnTuTu tests returned a score of 494,659, which is pretty average. Geekbench 6 managed 912 and 2522 single-core and multi-core scores, respectively. In Sling Shot Extreme tests, the phone returned an overall score of 5,335.
As for gaming, the Razr 40 can go up to HDR graphics and Ultra framerates in BGMI. This should let you game at 40fps tops. If you want to play at 60fps, you will have to cater to the Smooth graphics preset, which unlocks the Extreme frame rate option. There are no significant frame drops when playing at these settings, but the top half of the phone gets slightly warm to the touch.
The Razr 40 comes with Gametime, which has a bunch of nifty features. Out of the lot, we found acoustic lights to be quite fascinating. This feature is helpful when you are playing games without a headphone. The edges of the screen bloom in an orange shade, indicating that a sound cue is being created from that side. Neat.
The Razr 40 runs on MyUX based on Android 13 out of the box, with a slightly dated security patch. It comes with gestures such as chop to turn on the flashlight, swiping left and right to enter the split screen mode, flip for DND, and more. These have proven to be quite useful in daily life. A flex mode-esque feature that you can find on the Galaxy foldable is missing. The overall UI experience is clean, with no unnecessary pre-installed apps.
Moto Razr 40 Review: Cameras
You can use the rear cameras for higher-resolution selfies

It can shoot videos at up to 4K 30fps
The rear is graced by a 64-megapixel primary camera and a 13-megapixel ultrawide angle camera. The hole-punch cutout at the front packs a 32-megapixel selfie camera. Well, to be fair, the rear cameras also act as selfie cameras. You can access this by twisting your wrist twice rapidly. The viewfinder is interactive, which means you can switch modes. You can only switch between photo and video mode — for portraits- and you will have to flip open the phone.
Additionally, using it in a half-folded state turns the phone into a tripod. This is great when you want to take selfies with a group or just try shooting a video as if it were a Handycam.
Shots from the primary camera were pixel binned. The colours lean towards warm tones, while the details are crisp. In certain situations, the phone takes an unusual amount of time to process photos. Colours are not very vibrant or overly saturated; instead, it's neutral, which means there's more scope in the editing room. Portrait mode works decently, with an option to choose the blur intensity.
There's a clear distinction between ultrawide photos and main camera photos. For starters, it crushes shadows in most scenarios. Photos have a cooler tone on them, and the downgrade in details is pretty obvious. Distortion at the edges is minimal, which is good.
In low-light situations, the main sensor has impressed us quite a bit. It makes extremely dull conditions bright, thanks to the night mode. It does it with almost zero noise around the edges. We captured most of our selfies using the external display (call us lazy), and it was quite fun.
Low-light and selfie samples
Selfies captured with the actual selfie camera were decent, but HDR is a letdown. The images had decent details. The Razr 40 can shoot videos at up to 4K 30fps. A tab in the camera settings allows you to shoot HDR10+ videos.
Moto Razr 40 Review: Battery and charging
It packs in a 4,200mAh battery

You get a 33W charger inside the box
Flip phones have historically featured batteries with lower capacity when compared to your run-of-the-mill 2023 phone. But the Razr 40 outclasses the Galaxy Z Flip 4 by a margin. It packs in a 4,200mAh battery and comes with a 33W charger in the box. The phone could last an entire day without extra juice required. However, this is on moderate usage with AOD turned off. We managed to bag roughly five hours of screen time. As for charging, the phone takes about an hour and five minutes to charge completely from dead.
Moto Razr 40 Review: Verdict
The Moto Razr 40 is an excellent option if you have always wanted to get your hands on a flip phone. It gets most things right, with a few misses. The Razr 40 looks fashionable, which is part of the selling point of a flip phone. The display is great, but we hope it gets an update for Widevine L1 certification. The performance is good without any stuttering. As with most Motorola phones, the software experience is also great. For a flip phone, the battery life and the cameras are decent.
At Rs 59,999, the Moto Razr could be your next phone if foldable is your thing. However, if you feel the outer display is limiting (it is), maybe try the Razr 40 Ultra (First Impressions), but you will have to splurge more. Other options include the Galaxy Z Flip 3, which can be grabbed at Rs 47,999. But that is the previous generation and has caveats of its own.