Highlights
The PVR Passport Offer is available across four cities in India.
You can also get an FnB voucher worth Rs 200.
The plan will be valid for 30 days.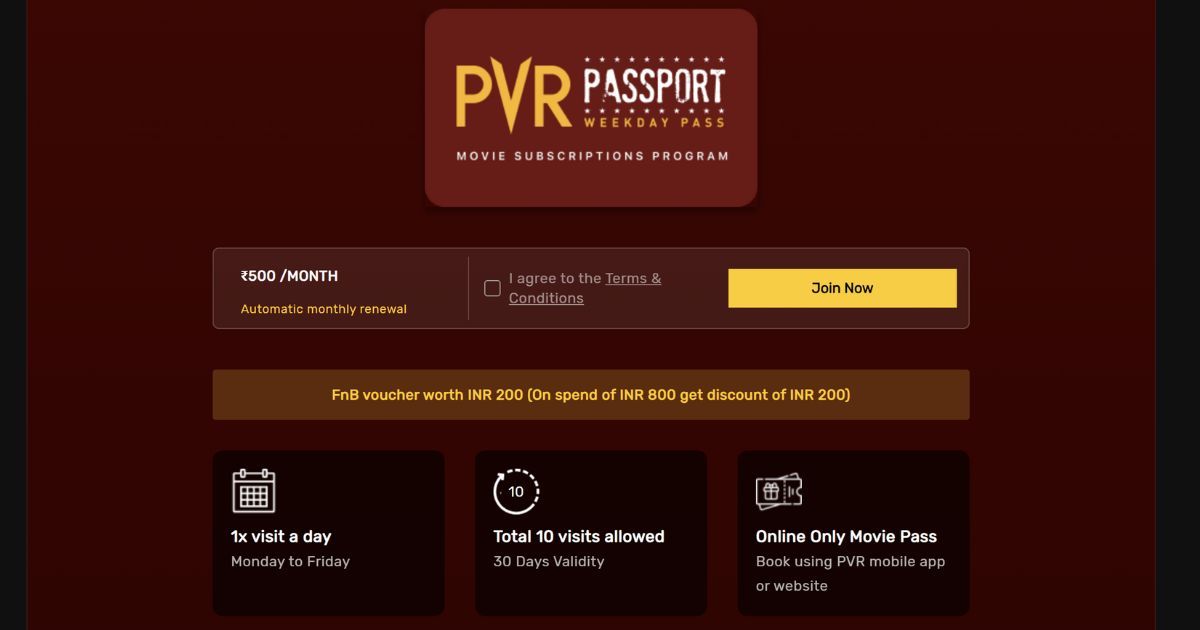 PVR Cinemas, one of the largest multiplex chains in India is now offering a new passport offer in the country. This new plan will cost Rs 500 and will allow users to watch up to 10 movies 一 bringing down the effective cost per movie to just Rs 50. However, there is a catch here. The new Rs 500 passport offer is available across four cities in India and you can only watch movies during weekdays and not weekends.
The all-new PVR Passport Offer worth Rs 500 is now available across Pune, Kolkata, Lucknow and Ahmedabad. If you are one of the lucky ones staying in any of the aforementioned states, you can visit the company's passport site and get the pass. Let us take a look at the details of the new PVR Passport movie pass.
PVR Rs 500 Passport Movie Pass
As said earlier, the new Passport plan costs Rs 500 and you can visit the PVR passport page and join the plan. Once joined, you will have 30 days of validity and you can watch up to 10 movies in any of these four states. The passport plan can be used only on weekdays, (Monday to Friday). Here are all the details of the Rs 500 PVR Passport offer:
One visit per day from Monday to Friday.
The offer is valid for 30 days from the day of purchase.
This is an online Only Movie Pass and can be booked using PVR mobile app or website.
Food and Beverages voucher worth Rs 200 (On spend of Rs 800 get discount of Rs 200).
Applicable currently for bookings made in Pune, Kolkata, Lucknow and Ahmedabad.
Only one booking is covered by a Passport under a booking session.
The ticket price limit is Rs 400. If the ticket price is more than Rs 400, the difference shall be payable.
You will be auto-enrol into PVR Privilege Program and start earning privilege points, which can be redeemed for FnB or movie tickets later.
Advance booking will be available for all movies.
This new PVR Passport plan is a great way to watch movies at a cheaper price if you are a true movie lover. This offer basically appeals to moviegoers but, is available in limited cities.
[Explained] PVR Passport: What is it, How to Buy and Use PVR Passport Online?