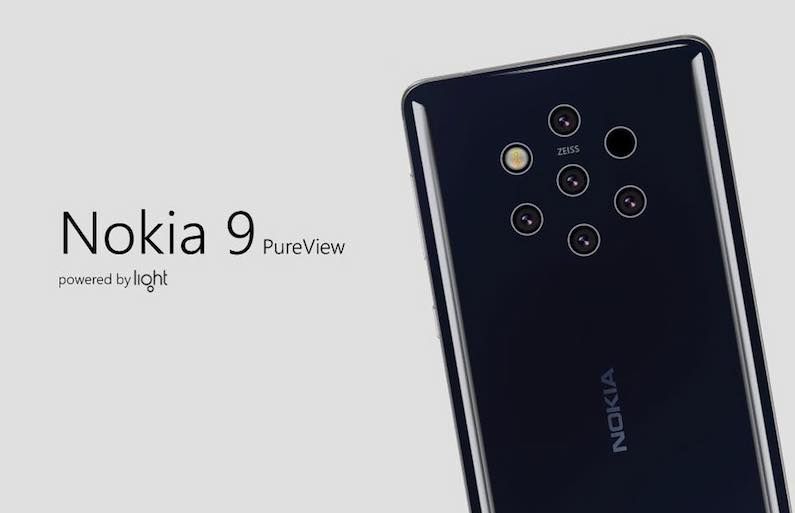 A Nokia handset set to debut shortly has been in the news for the past few weeks, all thanks to its wild and audacious approach to mobile photography. We now know for sure that the said handset will be called Nokia 9 PureView and that it will be sporting a Penta rear camera, but the more important bit is that it is confirmed to launch and soon.
There have been several experts and news outlets that pointed out that the handset seems to have a bit too much of camera gear, and that it could only mean that the mobile phone will look like anything but. However, it seems that Nokia is not paying heed to the naysayers, and in fact plans to launch the phone sooner rather than later.
Nokia 9 PureView: Teased on Facebook
Nokia Malaysia Store on Facebook today teased a poster of the new Nokia 9 PureView, making it quite clear that the handset is coming soon. The text accompanying the photograph of the handset read: "Coming soon. Nokia 9 with 5 Camera Zeiss Lenses & Pureview". The status was a 'feeling excited' type, and sure enough, the followers were seen reacting in excitement.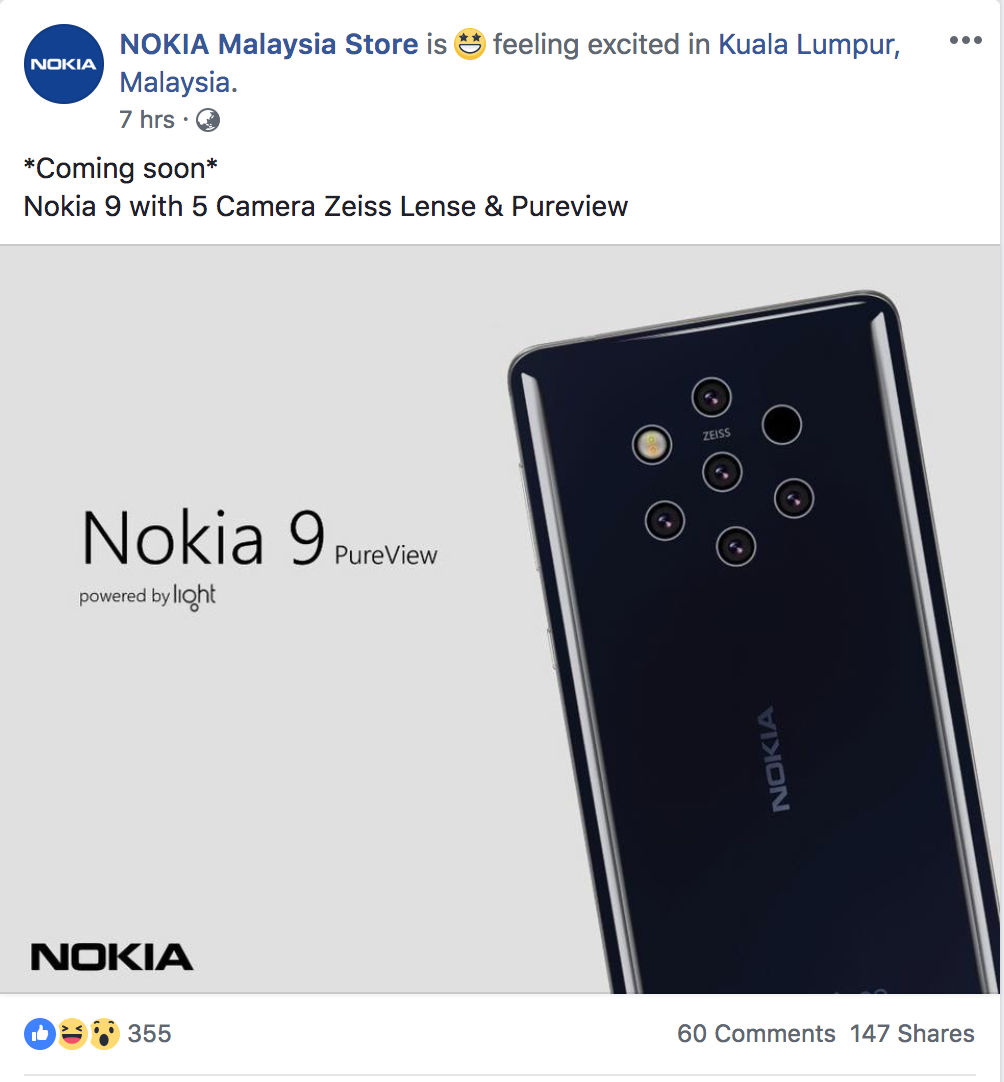 To add some context here, the Nokia 9 was earlier reported to have been delayed by a year, but then the leakster Roland Quandt said the mobile phone would come soon and the marketing was about to begin. It is expected that this mobile phone would be Nokia's new flagship model, and that it will mark the re-birth of the PureView brand.
Also Read: Nokia 9 Complete Front Design Leaked in New Real-life Images, Expected to Launch in October
What is PureView?
Those with a thing for mobile photography will remember the PureView camera phones from Nokia and later from Microsoft, such as the Nokia 808 PureView, the Nokia Lumia 920, and the Microsoft Lumia 950. As Microsoft failed to keep Nokia up with the shifting sands of the global smartphone market, HMD Global came in and purchased Nokia. Nothing was heard of Nokia's camera technology brand called PureView after that, but it has recently surfaced that HMD Global has acquired the rights to the PureView brand and its technologies.
A PureView badging means that the mobile camera is next-level, and to accomplish this feat, HMD Global is working not just with PureView but also Light, which is known for its multi-aperture computational camera. There have been reports suggesting a Penta-lens mobile camera setup by Light and PureView for the Nokia brand, but it has all come to fall in place only now.
Also Read: Nokia 9 PureView Could Be the HMD Global's Next Flagship Phone With Five Rear Cameras
Nokia 9 PureView: Rumoured Specifications
Nokia 9 PureView, powered by Light as it is officially confirmed now, will have five Zeiss lenses on the rear panel, with one accompanying dual LED flash, and a mock lens. That makes for six camera bezels in a rotational setup, with one more in the centre. There is speculation that optical zoom and the megapixel count could touch unprecedented levels, by which we mean a 50MP primary lens and more such amazingly crazy camera specs. In other news is the likely-to-happen and exciting idea that the Nokia 9 PureView will sport an in-display fingerprint sensor.
This is even more likely, assumed by the poster teased by Nokia Malaysia today, as it shows a Penta-lens rear camera and nearly the full back of the Nokia 9 PureView but no fingerprint sensor is to be spotted. Also likely are Snapdragon 845 processor and 8GB RAM, and since the handset is now reported to be the next Nokia flagship model, we can expect wireless charging too. Also speculated is a 5.7-inch Quad HD+ Optic OLED display.
Nokia 9 PureView: Launching Soon?
While there is no word from Nokia on launch dates, we have seen the first teaser come out, and since the handset is 'coming soon' according to Nokia Malaysia, we can expect it to come out this year itself, rather than 2019.
Nokia 9 Pureview. That's the actual marketing name of what will come soon from HMD Global. (I know the bought the rights to the Pureview moniker, but can now confirm it'll be part of the device name.)

— Roland Quandt (@rquandt) October 1, 2018
In response to comments on his Twitter post about the PureView badge for the Nokia 9, Roland Quandt said he would be very surprised if Nokia postpones the launch to 2019. Stay tuned, friends.