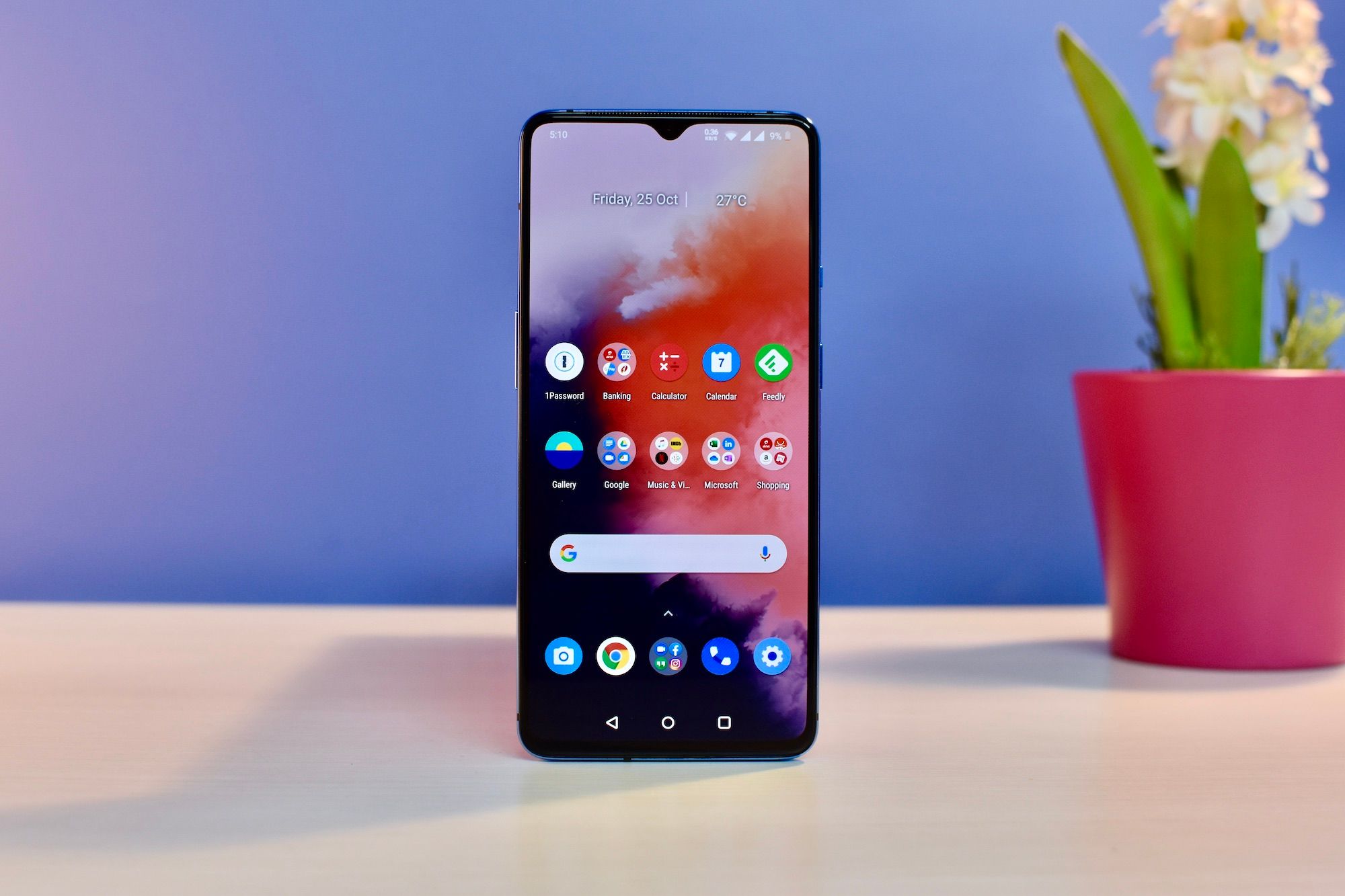 After the incredibly successful launch of the OnePlus 7 (Review) and the OnePlus 7 Pro, the company launched two more phones: OnePlus 7T and OnePlus 7T Pro. A company that used to launch just one phone each year has now launched four phones in 2019. Loyal OnePlus fans who purchased the OnePlus 7 or the OnePlus 7 Pro are already disgruntled as their phones are already outdated in just four months.
Front-Facing Camera
7.0/10
Rear-Facing Camera
8.5/10
What Is Good?
90Hz AMOLED screen with HDR10+ is really good.
Stereo speakers sound good.
Premium build with a matte finish and water splash-resistance.
Fast and smooth performance.
Accurate and really fast fingerprint reader.
OxygenOS 10 is feature-rich without being overbearing
Good battery life, excellent charging speeds with Warp Charge 30T.
What Is Bad?
Notched screen.
No IP68 certification for dust and water resistance.
No 3.5mm headphone jack or bundled adapter
Some weird bugs in the software
Rear camera design looks bulky.
While the company's decision to launch the OnePlus 7T Pro seems questionable, the OnePlus 7T looks like a much better phone when you look at various upgrades it got over the OnePlus 7. It grabbed most of the good things from the OnePlus 7 Pro, including a triple camera on the rear, a 90Hz refresh rate screen, UFS 3.0 storage, and 30W charging. Then there's a slightly fast processor and more RAM in the base variant, but it also comes with a steep increase in its price (now starting at Rs 37,999).
Is it worth buying the OnePlus 7T or does it make sense to save your money and get the OnePlus 7 instead? Should OnePlus 7 owners be worried about to the OnePlus 7T? Let us find answers to all these burning questions in my OnePlus 7T review.
[P_REVIEW post_id=168167 visual='full']
OnePlus 7T: Box Contents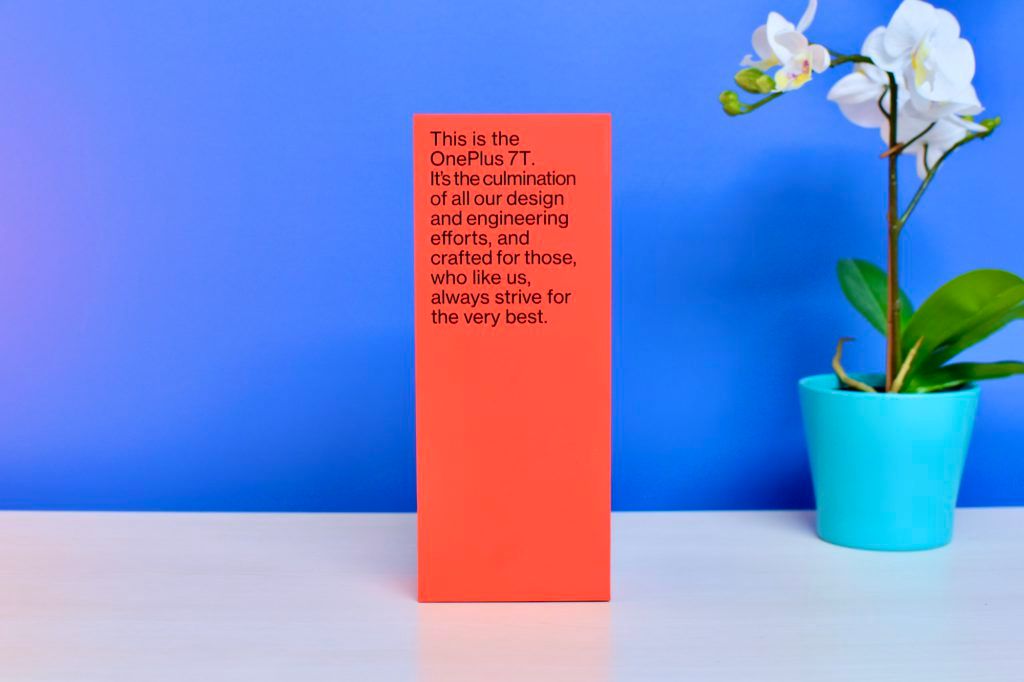 I used the 8GB RAM+256GB ROM variant of the OnePlus 7T (Glacier Blue) for four weeks before writing this review. I used it in Hyderabad, Telangana, India with two SIM cards (Reliance Jio and Airtel) in dual-4G LTE + dual-VoLTE mode. I had two email accounts synced to the phone along with a bunch of IM apps and social media apps. Here's what consists inside the OnePlus 7T's box: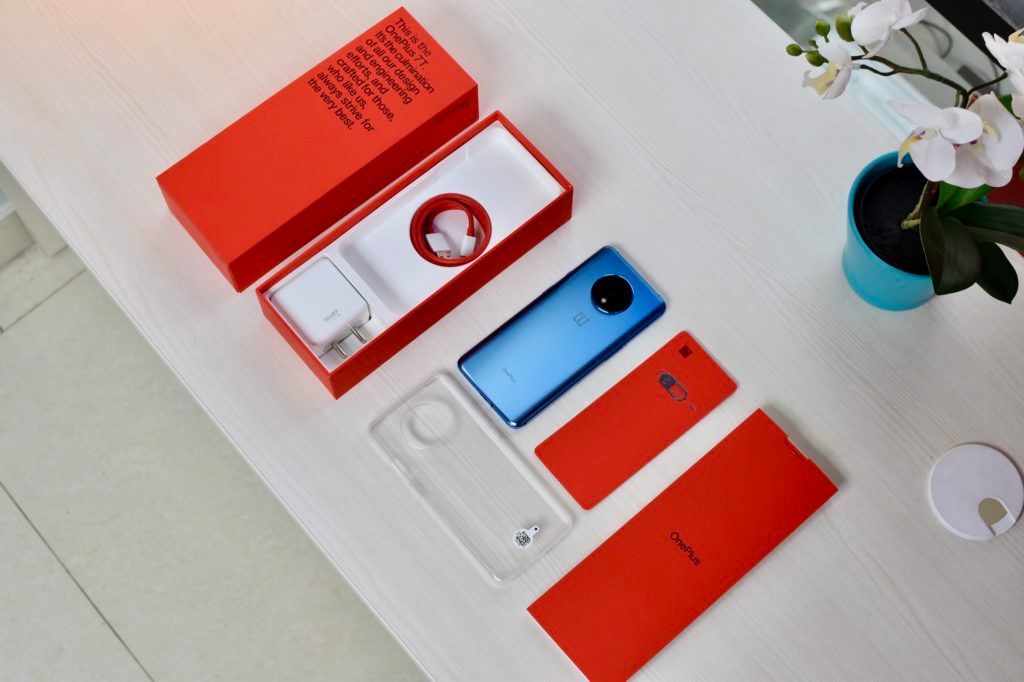 OnePlus 7T
Transparent Silicon Case
30W Warp Charge 30T Charger (White)
USB Type-A To USB Type-C Cable (White+Red)
SIM Ejector Pin
OnePlus 7T Design
The OnePlus 7T uses the same aluminum-and-glass build from the OnePlus 7, but there's a radical change in its rear design. Now there are three cameras on the rear, an upgrade from two cameras on the OnePlus 7, and they are arranged in a circular housing that looks a lot like what can be found on various Motorola phones. Did the company poach a few designers and engineers from Motorola? We are not sure, but it surely doesn't look like a fresh design. Plus, the circular camera hump makes the phone look bulky.
The phone feels well-built, looks premium, its buttons feel clicky, and I just love the 3-way alert slider. The matte finish on the glass makes it a bit smudge resistant, but I would suggest using a case since there's always a chance of shattering thgbe glass back, no matter which version of Gorilla Glass panel it uses. If you're thinking of buying a case for the OnePlus 7T, go have a look at the company's official full-cover cases. They are really good in terms of quality. The notch on the screen makes the phone look old as much cheaper phones now come with screens that have no notch at all. It would've been better if the company had gone with the centered punch-hole for the selfie camera.
OnePlus 7T Display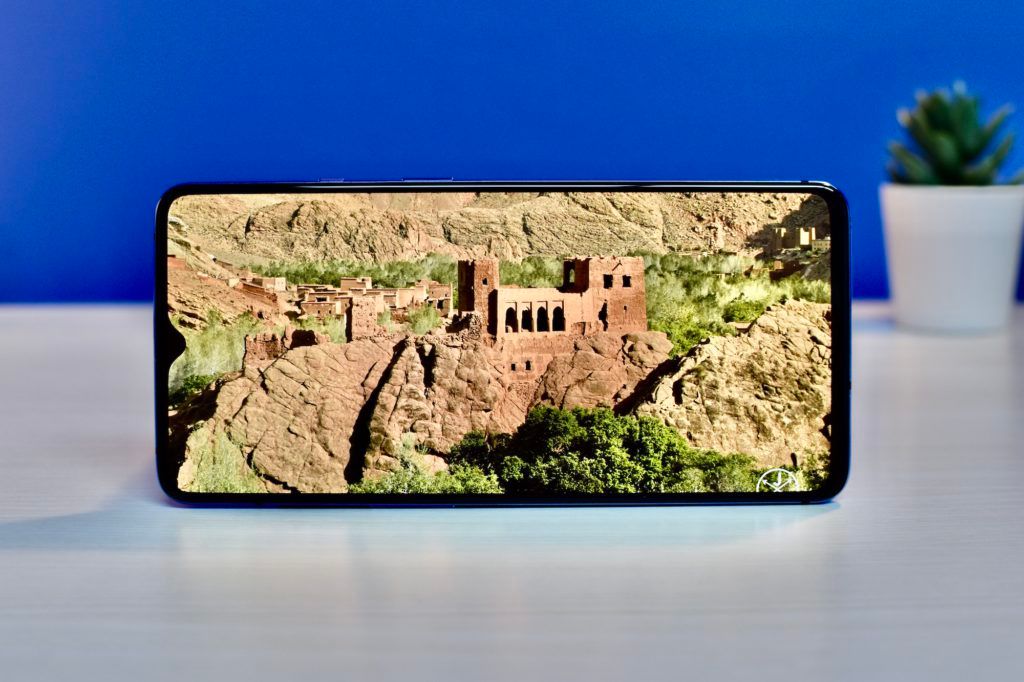 OnePlus 7T's 6.55-inch AMOLED screen has a 90Hz refresh rate and Full HD+ resolution. It even features HDR10+ playback certification. Except for the notch at the top, the screen is every bit as good as screens on much more expensive smartphones such as the OnePlus 7 Pro and the Galaxy Note 10+. Yes, it's just 1080p compared to QHD and even 4K screens on other phones, but most users won't be able to notice the difference between Full HD and higher resolutions. However, they will most certainly be able to differentiate between a 60Hz and a 90Hz display. 90Hz refresh rate makes the display so smooth that you might not be happy with 60Hz displays ever again. Things like swiping and scrolling appear extra fluid and extra smooth.
The screen can go really bright, as high as 800 nits under sunlight and 1000 nits while playing HDR videos. You can watch HDR10 and HDR10+ videos on Netflix, Prime Video, and YouTube. No matter how harsh the sun is, you will be able to see what's on the screen. Color accuracy is spot on, too. You can select between Vivid, Natural, and Advanced screen calibration modes. The Vivid mode boosts contrast and skews whites towards colder tones, and most people might like this over the Natural mode, which tries to stay close to truer colors. If you are not satisfied with either of these modes, you can select the Advanced screen calibration mode which allows changing the color gamut (AMOLED Wide Gamut, Display P3, sRGB) and adjust the display color temperature using a slider.
There are stereo speakers and Dolby Atmos audio on the OnePlus 7T, but a more important feature, the 3.5mm headphone jack, is missing. While I am accustomed to using a USB Type-C to 3.5mm jack adapter with a built-in Hi-Res DAC (Hidizs Sonata HD), most people who are upgrading to the OnePlus 7T might feel an inconvenience. It's too bad that the company isn't even bundling a passive USB Type-C to 3.5mm jack adapter with the phone. Is OnePlus being a miser with such a decision? I certainly think so. Coming back to the phone's loudspeakers, they are loud and quite enjoyable. I had to keep its volume reduced to 50 percent or 60 percent in the office as audio and ringtones would play too loud for the indoor environment.
OnePlus 7T Cameras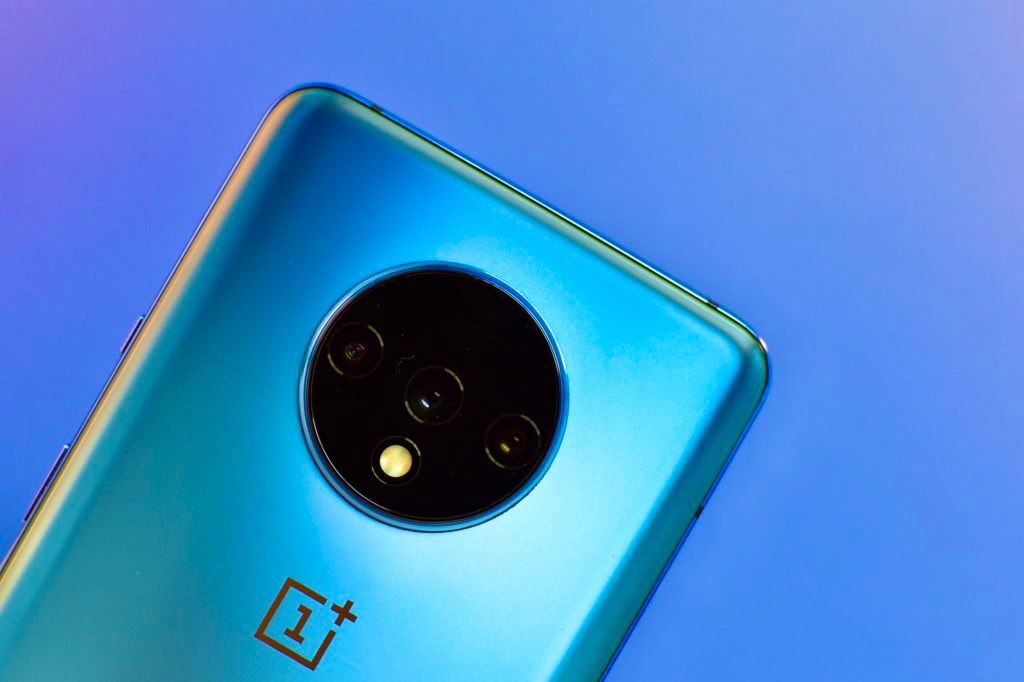 OnePlus 7T's biggest upgrade is its triple-camera setup, similar to the one found on the OnePlus 7 Pro, but it is arranged in a circular hump. There's a 48MP primary sensor, a 12MP sensor with a 2x telephoto lens, and a 16MP sensor with an ultra-wide-angle lens. The 48MP sensor is aided by OIS, PDAF, and has an F1.65 aperture. The camera app is pretty straight forward and works as intended.
The OnePlus 7T has a pretty versatile camera setup and a good one at that, but still can't quite match more premium phones like the iPhone 11 series, Galaxy S10 series, and the Galaxy Note 10 series in terms of image and video quality.
OnePlus 7T Camera Samples In Daylight Conditions
The primary rear-facing camera clicks good quality images in daylight conditions. If I have to point out a few things, the dynamic range in images clicked by the iPhone 11 and the Galaxy S10 might be better, but only by a slight margin. Colors have the right amount of pop, but the details could've been better. OnePlus 7T also has a tendency to overexpose images sometimes and I could also notice some degree of softness in the corners of images.
Quality of ultrawide and telephoto cameras isn't as good as the primary sensor, and that is true about most phones which have such sensors. Colors look good, but images shot using those sensors look dimmer in comparison and have higher noise due to narrower aperture and smaller pixel size. Details are much lower as well. The dynamic range comes to the rescue as it matches that of images clicked using the 48MP camera.
Portrait images turn out good, but not great. I can say that the OnePlus 7T does the job without any glaring issues. Yes, the background blur can appear artificial and the dynamic range is limited (highlights like sky appear blown out), but the separation of the subject from the background works as intended.
OnePlus 7T Camera Samples In Low-Light Conditions
Low-light images shot using the primary rear-facing camera in the Photo mode are usable but it is better to use the Nightscape mode for images that have higher brightness, lower noise, wider dynamic range, and more details. The phone doesn't take as much time as some competing phones do in the night mode to capture an image. OnePlus intelligently recognizes how much time it needs to capture an acceptable image and adjusts how many frames it needs to capture and how much time it requires depending on the scene and situation. All of this happens in a fraction of a second so you won't notice any lag. The Nightscape mode can also be used with the telephoto and wide-angle cameras, and it improves the image quality by quite a lot in low-light conditions. The Galaxy S10 series, Galaxy Note 10 series, iPhone 11 series, Huawei's recent high-end phones, and the Pixel capture better images in low-light conditions.
The OnePlus 7T can record 4K 60fps videos, but only with the primary sensor. The ultra-wide-angle camera can go as high as 4K 30fps, but it strangely can't record 1080p 60fps videos. The telephoto camera can record only 1080p 30fps videos. The camera UI shows an option of 2x zoom in the 4K 60fps video recording mode, but it simply does a digital zoom using the 48MP sensor. Videos are smooth and sharp but lack the level of brightness and dynamic range that is seen in videos recorded using Apple's and Samsung's high-end phones. 4K 60fps videos appear too dim in indoor environments as the phone doesn't take the full sensor readout. Rather, it uses a 4K (8.3MP) crop from the center of the 48MP sensor. Maybe that is the reason why Apple, Google, and Samsung are still using 12MP sensors in their phones as they can take full sensor readouts and 12MP sensors have larger pixels even without pixel binning.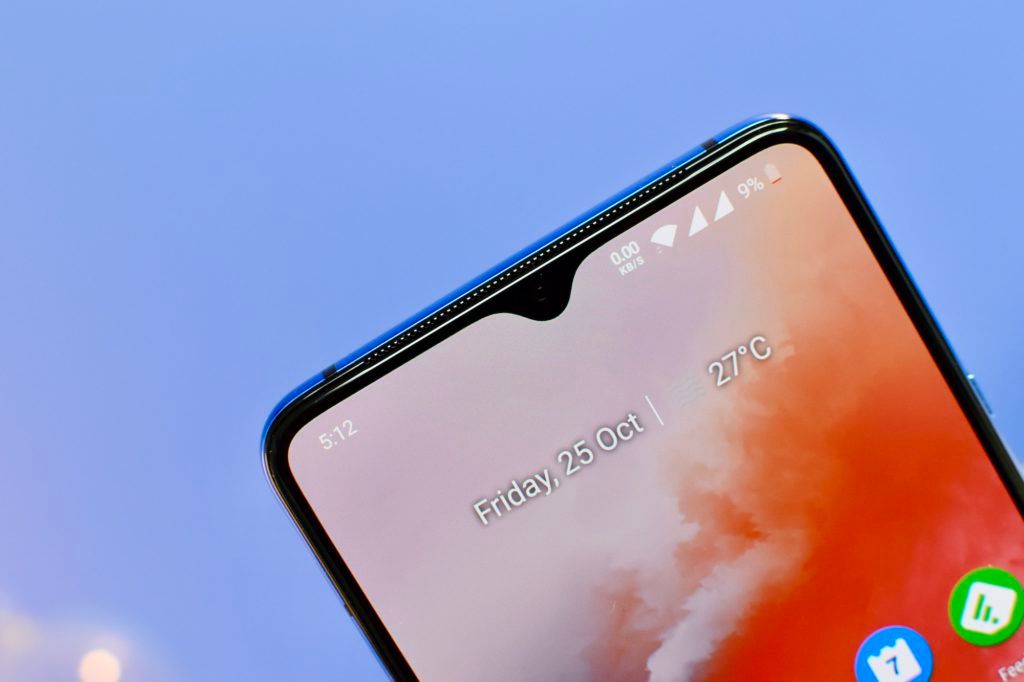 The selfie camera on the OnePlus 7T takes good selfies. They don't smear details on the face as some phones from Xiaomi (the Redmi K20 series which we reviewed recently) do. The skin tone remains closer to reality. But there's slight softness in images and the dynamic range could see a slight improvement.
There's no option to capture selfies using the Nightscape mode, something that's available on the latest Samsung high-end phones as well as phones from Huawei. The selfie camera can only record 1080p videos, which is a shame. Apple and Samsung's phones can go as high as 4K resolution in the video recording mode using the front-facing camera.
Overall, I think OnePlus 7T's cameras do a good job of capturing still images and videos, and the company has closed the gap between the imaging quality of its latest phone with some more established competitors. However, there is room for improvement, especially in terms of video recording, be it using the rear-facing cameras or the front-facing one. You would be satisfied with the OnePlus 7T's cameras unless you capture a lot of videos.
OnePlus 7T Software: OxygenOS 10 Based On Android 10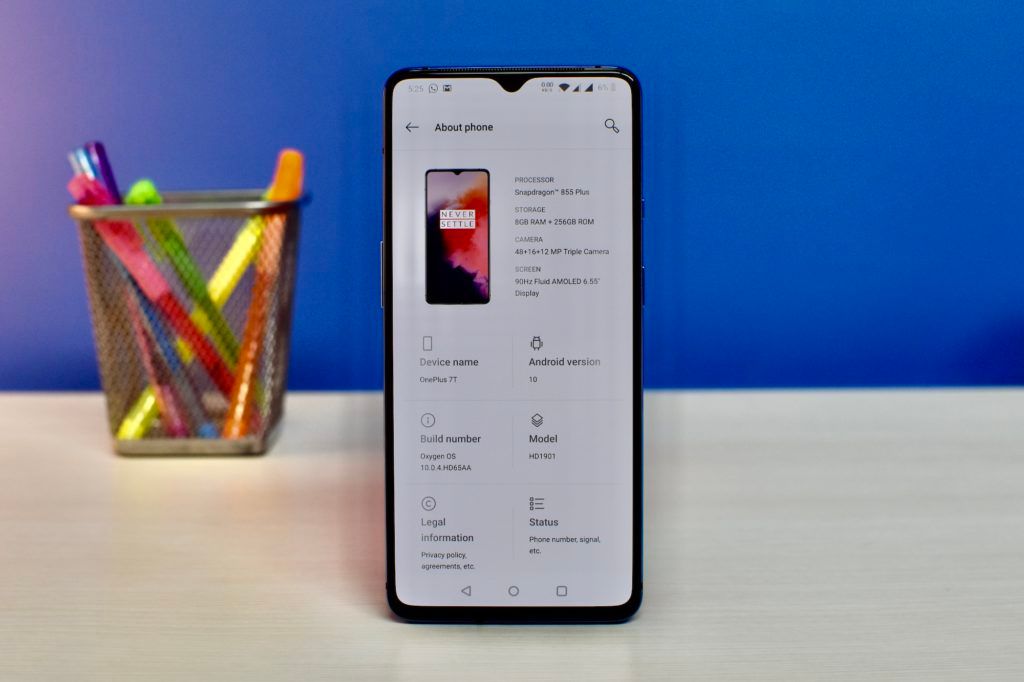 Android 10-based OxygenOS 10 comes running out of the box with the OnePlus 7T. The UI is close to stock Android in terms of design language, but there are a lot of features and customization features crammed into OxygenOS.
There's an option to change the icon pack, and it works with most icon packs available on the Play Store. You can use Light and Dark themes, change the always-on mode clock style, customize the way fingerprint animation appears, switch between various accent colors, use a different font, set which icons can appear on the status bar, and even change the shape of quick setting toggles.
OxygenOS comes with various features that aren't found in stock Android, but all these features have a stock Android-like look and feel, and that's OxygenOS's best advantage, something most other smartphone OEMs don't have. Here are some of the custom features you can find on OxygenOS:
Game Space is an area where you can find all the games installed on the phone, and you can control how notifications appear while gaming, optimize CPU and GPU, and turn on Fnatic Mode while playing games.
OnePlus Shelf is a screen dedicated to widgets, and it lies on the left side of the home screen. There are special widgets like OnePlus Connect for remotely controlling OnePlus TVs, step counter, Cricket score widget, recently used apps widget, recent contacts widget, Dashboard (shows usage of mobile data, storage, and remaining battery capacity), weather, and toolbox (collection of app shortcuts).
Smart SMS, OnePlus' made-in-India messaging app scans for important bits of information and arranges them into useful and useless sections. It can quickly fetch one-time passwords from transactional messages so that you can quickly copy them and use them during transactions or logins.
Reading Mode turns the screen into a monochrome like color effect with chromatic background. It is helpful while reading. You can set which apps start in Reading Mode.
Various Quick Gestures can be set to turn on a feature or launch a particular app from the lock screen. This feature also includes flip the phone to mute, three-finger swipe for taking a screenshot, raise the phone to answer a call, double-tap the screen to wake the phone and music controls from the lock screen.
Video Enhancer does what its name suggests. It tries to make colors in the video pop a bit more for a more dramatic effect.
Ambient Display shows the clock and date widget on the screen when the phone is in sleep mode. It also shows icons of apps that have unread notifications.
Dolby Atmos tries to enhance the audio quality of the phone while using loudspeakers as well as headphones. It does so by trying to widen the soundstage and improve the surround sound effect. You can set Dolby Atmos audio feature in Movie, Music, or Dynamic mode. I set it to the Dynamic mode and it worked well and switched between movie and music modes whenever it detected me playing videos and music, and switching between them dynamically.
Cloud Service is a new feature that lets you backup images and videos on the phone to OnePlus' own cloud storage service. You get 50GB cloud storage but it will most probably be limited to 5GB of free cloud storage for every user.
Parallel Apps lets you create two separate copies of apps. I used it to use two WhatsApp accounts and keep my work and private communications separate.
When the Quick Launch feature is turned on, you can long-press the fingerprint reader area (continue pressing the fingerprint reader even after the phone is unlocked) to open an app or a section of your favorite app that you need to access frequently.
App Locker locks apps of your choice. They can only be accessed using a fingerprint or any other regular unlocking method like PIN, pattern, or face unlock.
OnePlus Switch lets you switch data to and from OnePlus smartphones or smartphones from other brands.
File Dash is a quick and effective method to transfer files between OnePlus smartphones via Wi-Fi Direct
The Quick Reply In Landscape feature lets you quickly reply to notifications even when you are watching a video in full-screen mode or playing a game.
OxygenOS is among the best Android interfaces for smartphones. It has just the right amount of features, customization options, and smoothness. Samsung goes two steps ahead in terms of customizations and features but misses out by a mile in terms of UI smoothness.
OnePlus 7T Performance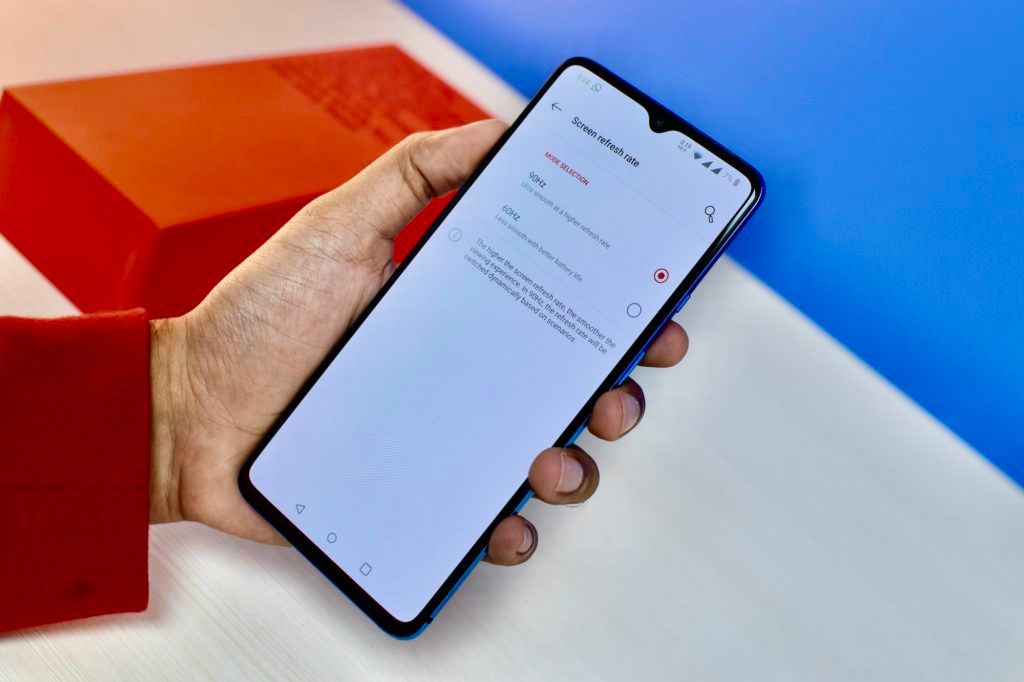 Thanks to the Qualcomm Snapdragon 855+ chipset, which works in combination with 8GB LPDDR4X RAM and UFS 3.0 storage, the OnePlus 7T is one of the fastest phones I've used this year. It is fast and feels extremely fluid and smooth, no matter the task at hand. A large part of the fluidity in performance is also because of the 90Hz screen. Weirdly, when I connected it to my Volkswagen Vento's head unit and used it in the Android Auto mode, the UI felt sluggish. It could be due to the new Android Auto interface, but then the UI felt zippier when other phones were connected.
The #OnePlus7T throwing up a "temperature of your phone is too high" notification when the weather is relatively cool. pic.twitter.com/UPon5kat2Z

— Asif Iqbal Shaik (@AS1F_IQ) October 21, 2019
Except for the one time where the OnePlus 7T threw a "your phone's temperature is too high" message while it was connected to my car's infotainment unit, the device didn't feel too warm. I think the phone warmed up to temperatures higher than expected due to its silicon cover and it wasn't able to dissipate generated heat, but that's just my assumption. OnePlus 7T's fingerprint reader is by far the fastest I've ever used on a smartphone, and it is accurate, too.
OnePlus 7T Battery Life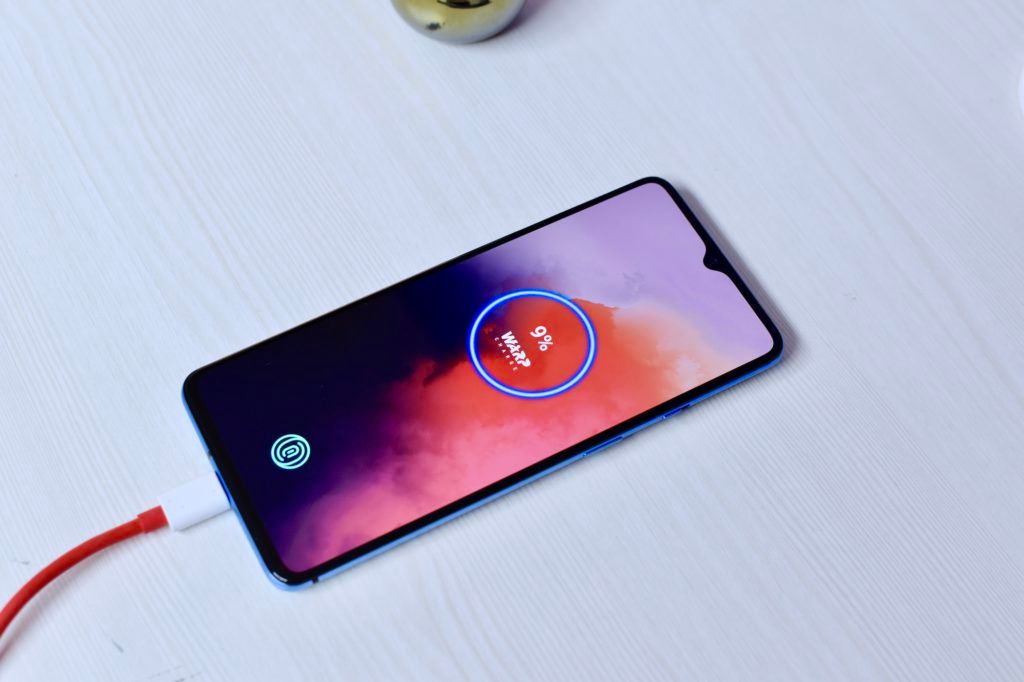 While not chart-topping, the OnePlus 7T won't give you battery life-related phobia and you can expect it to last one whole work day even with heavy usage. There's no wireless charging, a feature I expected with the phone, especially at Rs 37,999, and with that glass body. The 3800mAh battery inside the phone easily lasts an entire day even with the screen refresh rate set to 90Hz. Dropping refresh rate to 60Hz improves the battery life by a small margin. I was consistently getting around 5-6 hours of screen-on time, which is similar to the battery life I experienced while using the OnePlus 7 Pro.
Battery charging is really fast, too, topping up (from 0-100 percent using the bundled Warp Charge 30T charger) in just 65 minutes, which is exactly how long the Galaxy Note 10+'s battery takes to fully charge. I was really happy with the fast-charging aspect of the OnePlus 7T as I was able to charge the phone's battery to 60 or 70 percent, enough for a day's worth of usage, in just half an hour.
Is OnePlus 7T Worth Buying?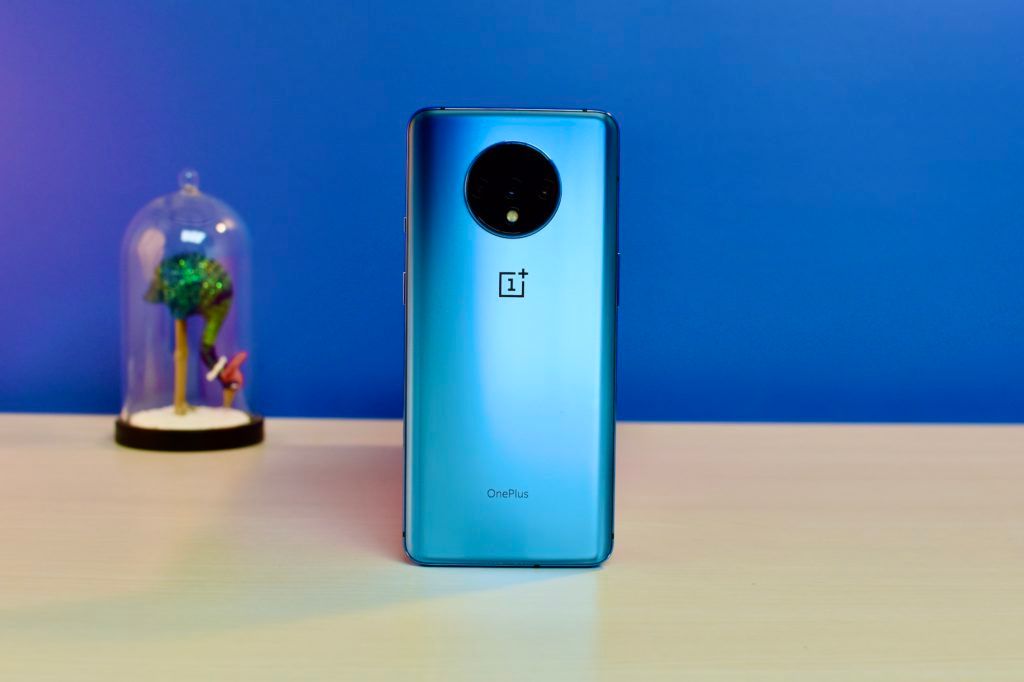 The OnePlus 7T feels like the more logical choice between the company's new phones. Be it the latest processor, fastest storage, HDR10 screen, the almost similar triple-camera setup, or the fastest OnePlus battery charging tech, the OnePlus 7T has all the best features of the OnePlus 7 Pro and the OnePlus 7T Pro. Unless you really hate the notched screen (by the way, OnePlus reduced the size of the notch on the OnePlus 7T compared to the OnePlus 7), you should choose the OnePlus 7T over the OnePlus 7T Pro. It makes more sense for your hard-earned money. You simply don't get much of an upgrade with the OnePlus 7T Pro. I don't think the notch-less QHD screen and 3x optical zoom (compared to 2x optical zoom) camera justify the price hike of the OnePlus 7T Pro over the OnePlus 7T.
As far as the competition is concerned, the ASUS ROG Phone II seems like the closest competitor to the OnePlus 7T, but ASUS's camera is slightly inferior to that of the OnePlus 7T's (especially in low-light conditions). And, the Taiwanese company's track record isn't reliable when it comes to software updates. But if you're going to upgrade in a year's time, ASUS ROG Phone II's 120Hz HDR AMOLED screen, 3.5mm headphone jack, and 6000mAh battery might seem really tempting. Then there's the Xiaomi Redmi K20 Pro (Review), which is available for a much lower price and comes with a 3.5mm headphone jack, but it lacks the OnePlus 7T's software finesse and Android 10 (as of now). The Realme X2 Pro is coming to India by the end of next month, and it might give the OnePlus 7T a tough fight in terms of performance and value.
The OnePlus 7T is a really good smartphone and it offers a satisfying experience. It has solid build quality (albeit a bulky design), an awesome screen, powerful speakers, a good set of cameras, fast and smooth performance, fastest in-screen fingerprint reader, zippy and bloatware-free software, and reliable battery life. I just wish it had a pop-up selfie camera for a notch-less screen and a slightly lower price tag so that I could call it the perfect flagship killer smartphone.