Highlights
Qualcomm Snapdragon X Elita PC chipset launched for Windows on ARM laptops.
The newest chipset uses 4nm TSMC fabrication and 12 high-performance Oryon cores.
The new processor is expected to be available in Microsoft, Lenovo, Dell, and HP laptops by mid-2024.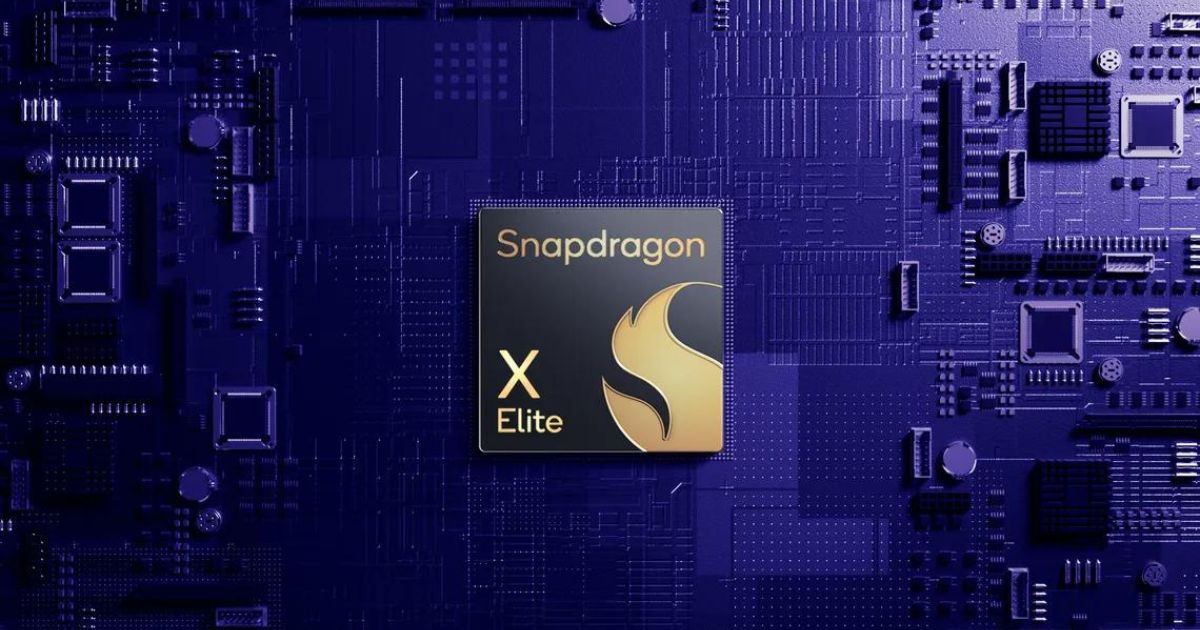 Snapdragon X Elite launched as the next-gen high-end chip for Windows on ARM laptops from Qualcomm. The latest Windows chipset launched alongside the Snapdragon 8 Gen 3 mobile processor launched at the Snapdragon Summit in Maui, Hawaii. The new Snapdragon X Elite is the most powerful computing processor to date from Qualcomm.
According to the brand, the latest Windows chipset will take on 13-Gen Intel Core i7 processors as well as the Apple M2 chip. Laptops with Snapdragon X Elite processor will start shipping in mid-2024. Let's take a look at all details of the Qualcomm Snapdragon X Elite chipset.
Snapdragon X Elite Launched to Take on Intel Core i7 and Apple M2 Processors
The Snapdragon X Elite is the most powerful laptop chipset from the brand so far. Qualcomm says that the Snapdragon X Elite is built for Gen AI or generative AI to make Windows PCs powerful. It comes with an onboard Hexagon NPU rated for 45 trillion operations per second (TOPs). This is a big jump over Apple's M2 with a peak performance of 16 TOPs. Qualcomm states that the latest SOC can focus on resource-hungry Gen AI while maintaining efficient cooling and battery efficiency.
This comes down to the ARM64-based CPU itself, which is built on the 4nm TSMC process. The chipset features an Oryon three-cluster CPU configuration with four 3.8GHz cores in each cluster. When handling heavy processes like Gen AI, the 12-core Snapdragon X Elite can boost the clock speed to 4.3GHz for two cores at a time.
According to Qualcomm, the Snapdragon X Elite offers the same multi-threaded performance as a 13 Gen Intel core processor with 68% less battery usage. Additionally, the latest launch offers 50% faster peak multi-threaded performance compared to Apple's ARM-based M2 processor.
As for the graphics, the Snapdragon X Elite comes with an integrated Adreno GPU rated at 4.6 TFLOPs and support for DirectX 12 API. It means the new CPU can support three external UHD displays or two 5K external displays simultaneously. The chipset can also support 4K displays at 120Hz. This makes it one of the best options for those who need to set up a larger workspace through a laptop. Moreover, there's an Adreno VPU with support for 4K 60fps 10-bit encodes and decodes for H.264, HEVC (H.265), and AV1 files.
The Snapdragon X Elite also comes with support for LPDDR5x RAM with up to 136 GB/s memory bandwidth and 42MB total cache. It also has PCIe Gen4 or UFS 4.0 storage. These are the fastest available memory and storage configurations in the market. Other features of the latest Snapdragon PC SoC include Wi-Fi 7, Bluetooth 5.4, 10Gbps 5G, Qualcomm Aqstic DAC for lossless audio, and Qualcomm Spectra ISP (support for up to 36MP dual cameras and 4K HDR video recording).