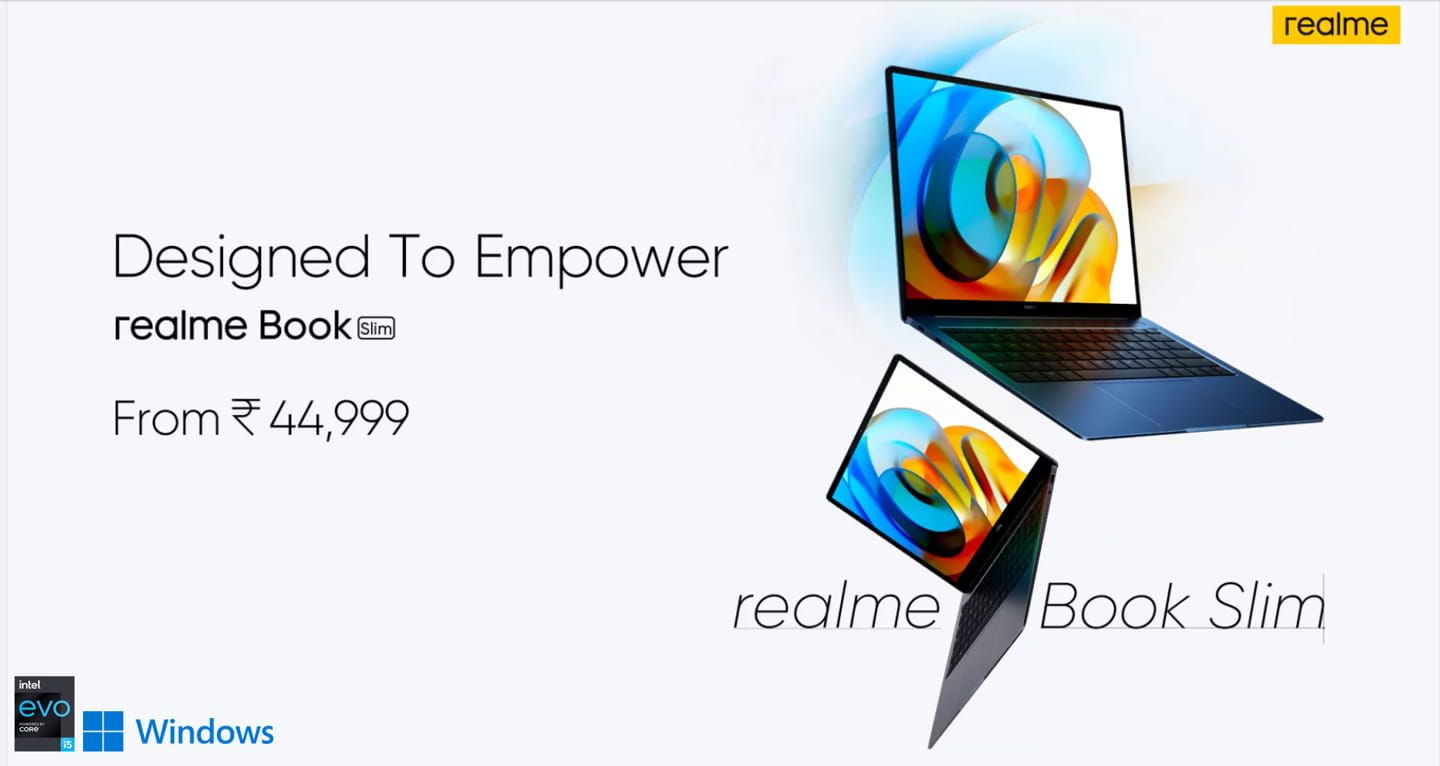 Realme has just announced that their Realme Book Slim laptop is now Evo certified. This announcement is surely exciting for Realme fans. Realme Book Slim has recently got quite some attention, due to some of its distinct features like the 2K display and the affordable price tag of Rs 44,990 for the base model.
The #realmeBook Slim's powerful performance is now #IntelEvo Certified!

Built on the Intel Evo Platform, it is truly #DesignedToEmpower. @IntelIndia

Coming Soon on https://t.co/n3vAbwuqXx and @Flipkart.

Know more: https://t.co/blk1ohoW4b pic.twitter.com/vKTcbpax7T

— realme TechLife (@realmeTechLife) September 27, 2021
However, that base model isn't going to be Evo certified. To know why Evo certification matters so much these days and why only specific models of Realme Book Slim are Evo certified, you will have to know first what Intel Evo Platform is.
Intel Evo Platform
Laptops Powered by the Intel Evo Platform have some distinct features due to which they are certified by Intel. There are a few conditions that a laptop much fulfil to get Intel Evo certified. First of all, the laptop must be powered by 11th Gen Intel Core processors, paired with Intel Iris X graphics. Apart from the processor, the laptop must have Wi-Fi 6 connectivity and it should wake from sleep in less than a second. Also, the laptop must provide 9 hours of battery life with a full HD screen resolution and it must have a Thunderbolt port. These are the conditions a laptop must fulfil to be Intel Evo Certified.
Does Realme Book Slim quality for Evo badge from Intel?
Yes and no. First of all, as I mentioned earlier, the base model with 11th Gen Intel Core i3 won't be Evo certified at all. However, the top model, priced at Rs 56,990 surely meets the requirements to be Evo certified. The Realme Book Slim is powered by an 11th Gen Intel Core i3 or i5 processor, coupled with 8GB of RAM and Intel Iris X graphics. There is a 512GB PCIe SSDD for superfast read and write speed, along with a very fast boot-up time. There is Wi-Fi 6 connectivity and a Thunderbolt port on board as well. so, it's quite obvious that Realme has got the Evo certification from Intel for the laptop.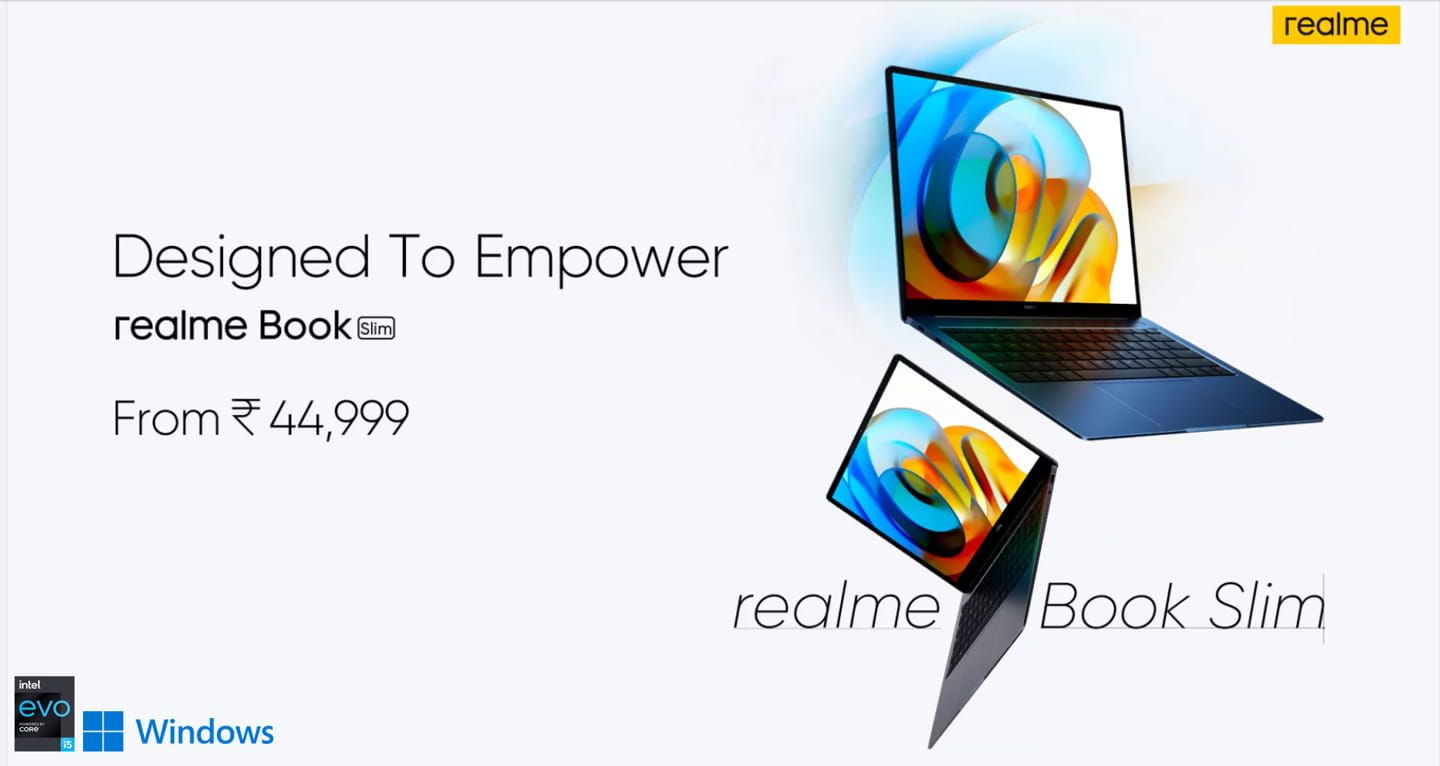 Apart from these, the Realme Book Slim also features a 2K display with very think bezels around it and Harman stereo speakers with DTS audio processing. The screen-to-body ratio on the laptop is excellent at 90%. The laptop comes with a 55Wh battery that is rated to last for up to 11 hours while playing back full HD videos. The laptop ships with a 65W charger. Users can get 0% to 50% charge under half an hour.
The Realme Book Slim ships with Windows 10 and Microsoft Office Home and Student pre-installed at no extra cost. Users will also be able to upgrade to Windows 11 next month for free. In terms of processor, there are two variants- one with 11th Gen Core i3 and another one with 11th Gen Core i5. In terms of colour, users get to pick between Real Blue and Real Grey. However, only the variant with 11th Gen Core i5 will be Intel Evo certified. So, if you're looking for a powerful and lightweight laptop for work or education, you should head over to Flipkart and check it out. You can also check our review of Realme Book Slim before you decide to go for it.