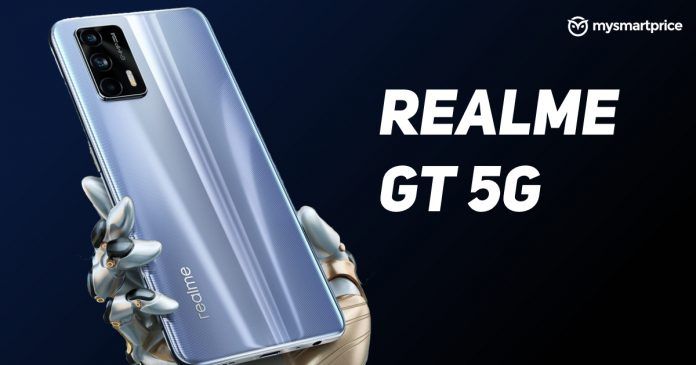 Realme launched the Realme GT 5G earlier this month in China. The performance-specific premium smartphone comes with the top-of-the-line Qualcomm Snapdragon 888 SoC and a Super AMOLED 120Hz display at a starting price of CNY 2,799 (approx Rs 34,000). Prior to its launch, Realme's VP Xu Qi Chase had shared the 7,50,000+ AnTuTu score of the Realme GT 5G. Now, AnTuTu has banned the GT 5G for fudging with benchmark testing. The benchmarking software company took to Weibo to make the announcement. It accused Realme of cheating while carrying out the benchmark test. Let's take a look at more details on the Realme GT 5G ban on AnTuTu.
Realme GT 5G banned from AnTuTu following benchmark cheating
Realme GT 5G has been banned from the AnTuTu benchmark test. The company apparently cheated while performing AnTuTu tests to achieve the reported scores.
Prior to the launch, Realme's VP Xu Qi Chase claimed that the device scored 7,70,221 points in AnTuTu testing. This was significantly higher than the Mi 11's score of roughly 7,08,000 points. AnTuTu itself questioned the numbers but Realme did not respond at the time.
After the launch, the benchmark company carried out the test using the 12GB + 256GB variant. It found that Realme fudged the test to achieve the AnTuTu score. AnTuTu said that (translated) "it is not a reflection of real strength but through cheating and other means".
Realme apparently used thread delay tactics to run the multithreaded test on its fastest CPU cores as much as possible. This resulted in getting higher scores. In addition, the reference JPG image used by AnTuTu was also modified and a large mosaic colour block was used to compress the size and quality of the image. This further led to lower processing time.
AnTuTu has now removed Realme GT scores of 7,50,000 points from the benchmark for three months. It has also issued a warning to Realme of a permanent ban if the company continues to follow such ill practices. In the upcoming V9 version, Antutu will further optimise the anti-cheating scheme, which will trigger points deduction.
[Update] Realme responds to cheating allegation
Soon after the article went live, Realme reached out with the following statement –
"Realme GT is equipped with the latest Snapdragon 888 5G platform, bringing users high performance. Benchmark scores of Realme GT are all accurate data under the current versions of the Antutu benchmark. realme has always been committed to bringing users excellent performance, the actual user experience is the top priority for Realme"
Thanks for reading till the end of this article. For more such informative and exclusive tech content, like our Facebook page