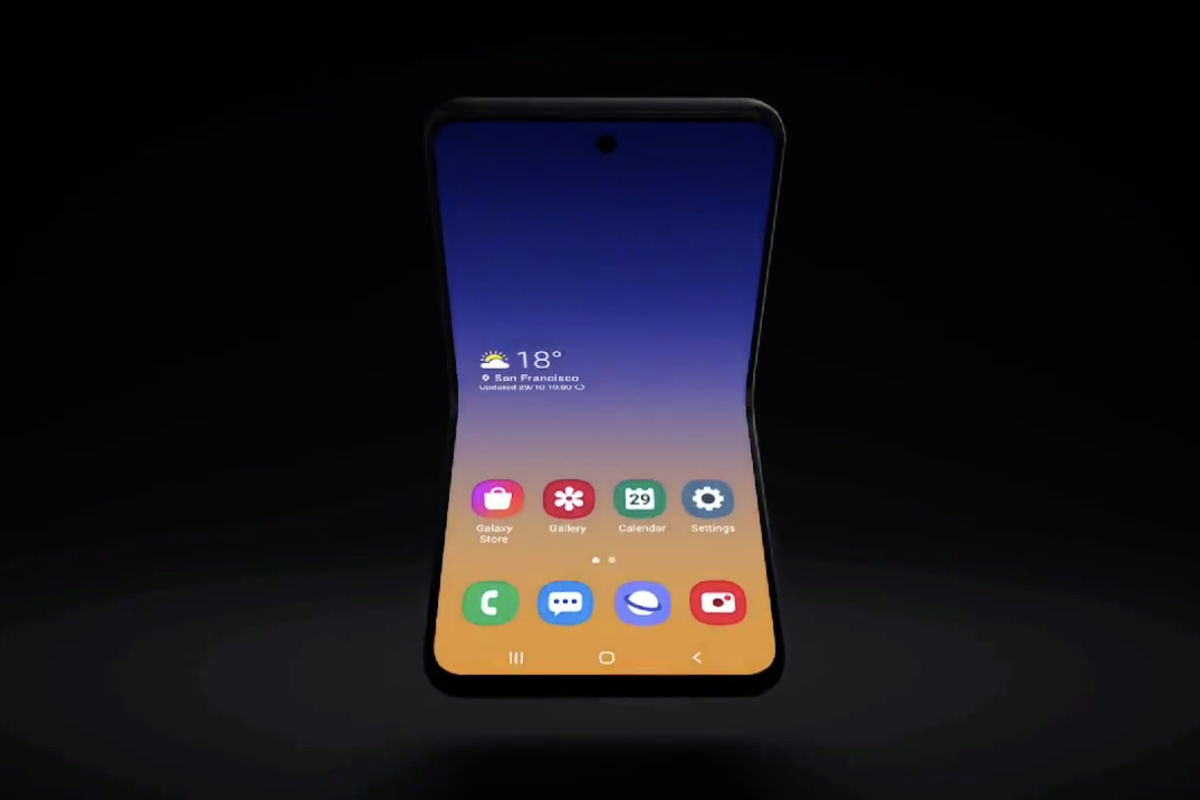 Samsung's allegedly upcoming foldable smartphone, the Galaxy Fold 2, has been in the news from the last couple of days, especially since a set of live images of the handset were leaked online, showing that the Galaxy Fold 2 has a Moto Razr-like clamshell form factor.
Today, we have some exclusive information regarding the Galaxy Fold 2. According to our source, Ishan Agarwal, the upcoming foldable phone from Samsung will pack the Snapdragon 855 chipset, and not the Snapdragon 865 as everyone is expecting. Courtesy of our source, we can now also confirm that the Galaxy Fold 2 will have a 10MP front-facing camera – it might most probably be the same image sensor that is in the Galaxy Note 10.
Usually, the development of foldable smartphones takes more time than that of the handsets with the regular form factor. Now, the leaked images of the Galaxy Fold 2 show that the device is almost ready for its primetime. So, it is safe to say that Samsung was working on the device from at least the last six months – from a time when Qualcomm Snapdragon 865 wasn't even in the scene. Therefore, Samsung might have had only Snapdragon 855 on its hand to put it in the Galaxy Fold 2.
Sure, Samsung could have opted to replace the Snapdragon 855 in the Galaxy Fold 2 with the Snapdragon 865 when Qualcomm had announced the new chipset back in December. However, that would mean Samsung would have to make plenty of internal design changes, which will take a lot of time. And the brand couldn't afford it, especially when you consider that the Galaxy Fold 2 is expected to make its debut alongside the Galaxy S20 series in February. Well, at least that is my theory.
Samsung Galaxy S20 Series, Galaxy A51, and Galaxy A71 Production Has Started in India
Speaking of Galaxy S20, our source reveals that Samsung has started the production of the upcoming Galaxy S20 5G and the Galaxy S20+ 5G smartphones in its production plant in India. So, does that mean India won't get the 5G versions of the Galaxy S20 series devices? Well, that's likely to be the case as it won't do anyone any good launching a 5G smartphone in a country that doesn't have a 5G infrastructure ready at the moment.
What we can also confirm, thanks to our source, is that Samsung has started manufacturing the recently-launched, Galaxy A51 and the Galaxy A71 handsets in its manufacturing facility in India, suggesting that both the smartphones could launch in the Indian market soon.