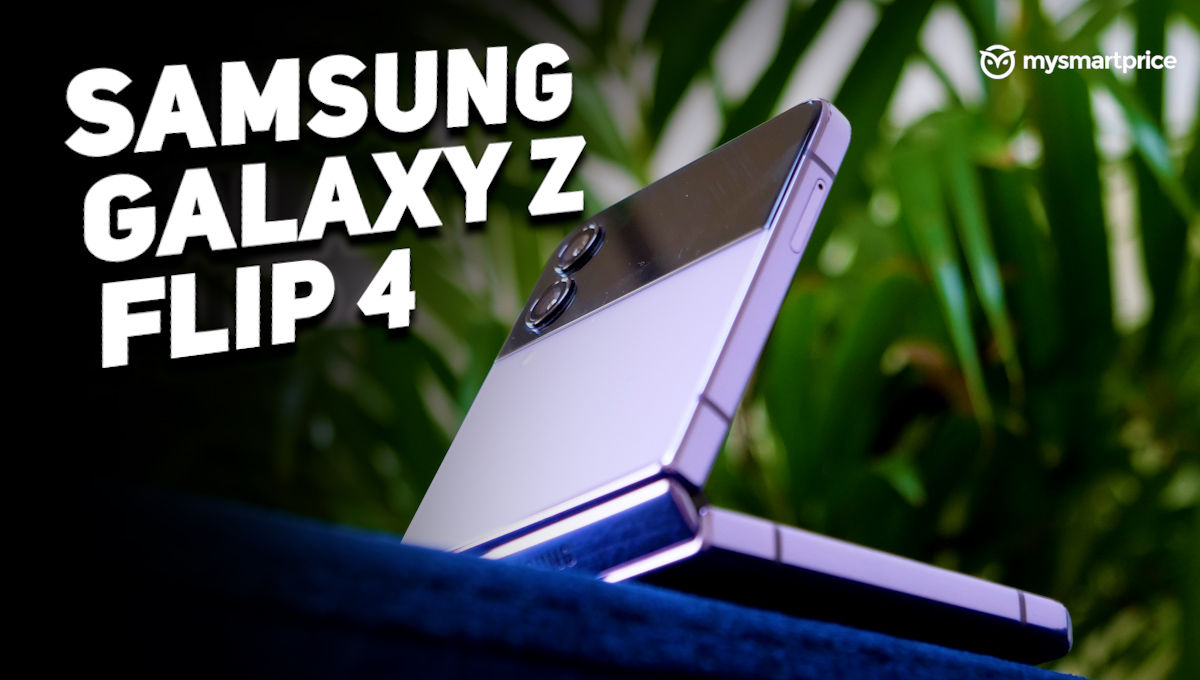 The Samsung Galaxy Z Flip 4 has a very simple proposition for you – it's the most affordable flexible smartphone money can buy, at least here in India. More importantly, it packs the latest and greatest specs that can be squeezed into a smartphone its size. With a starting price of Rs. 89,999, it's a very lucrative purchase for those who want something unique, flaunt-worthy, powerful and polished without the liability of spending something north of a lakh rupees on something like an iPhone 13 Pro.
It's also the go-to smartphone for fashionistas, influencers, K-Drama bingers and BTS Army. So, after three generations, is it finally a sensible luxury purchase? Can it pull the current iPhone-obsessed audiences by their horns into buying foldable smartphones? Here's our review of the Samsung Galaxy Z Flip 4.
Samsung Galaxy Z Flip 4 Review: A sensible design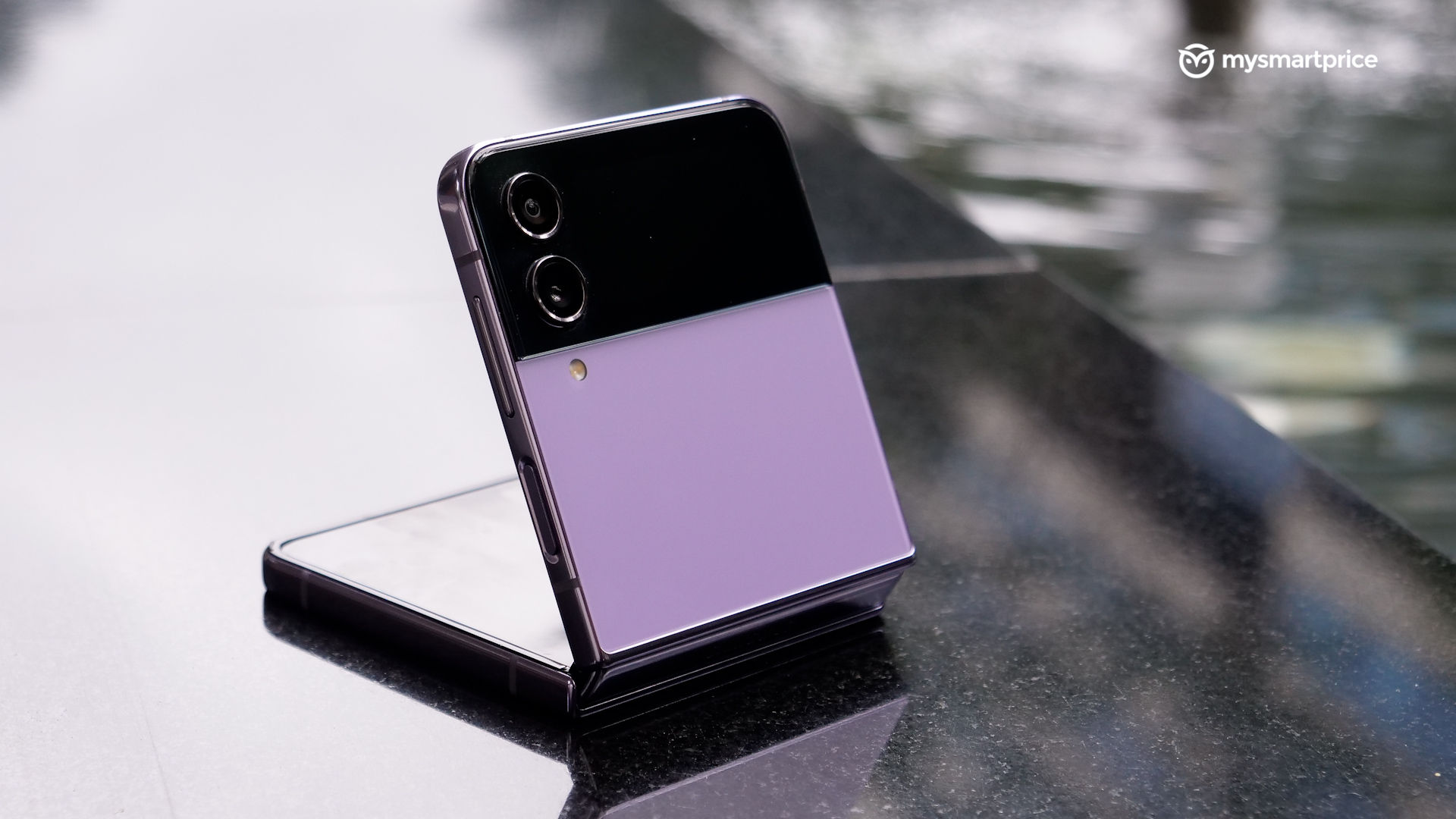 This year's Z Flip 4 is essentially identical in looks to the previous generation – it carries forward the major overhaul the Z Flip 3 received in the form of a larger secondary display and a more durable build.
The only two tiny physical differences we could spot include a smaller hinge and a narrower frame around the hinge. These give the Z Flip 4 a slightly smaller footprint than its previous iteration, by roughly a millimetre. The weight has been increased by a couple of grams, though, but in real life, it's barely anything.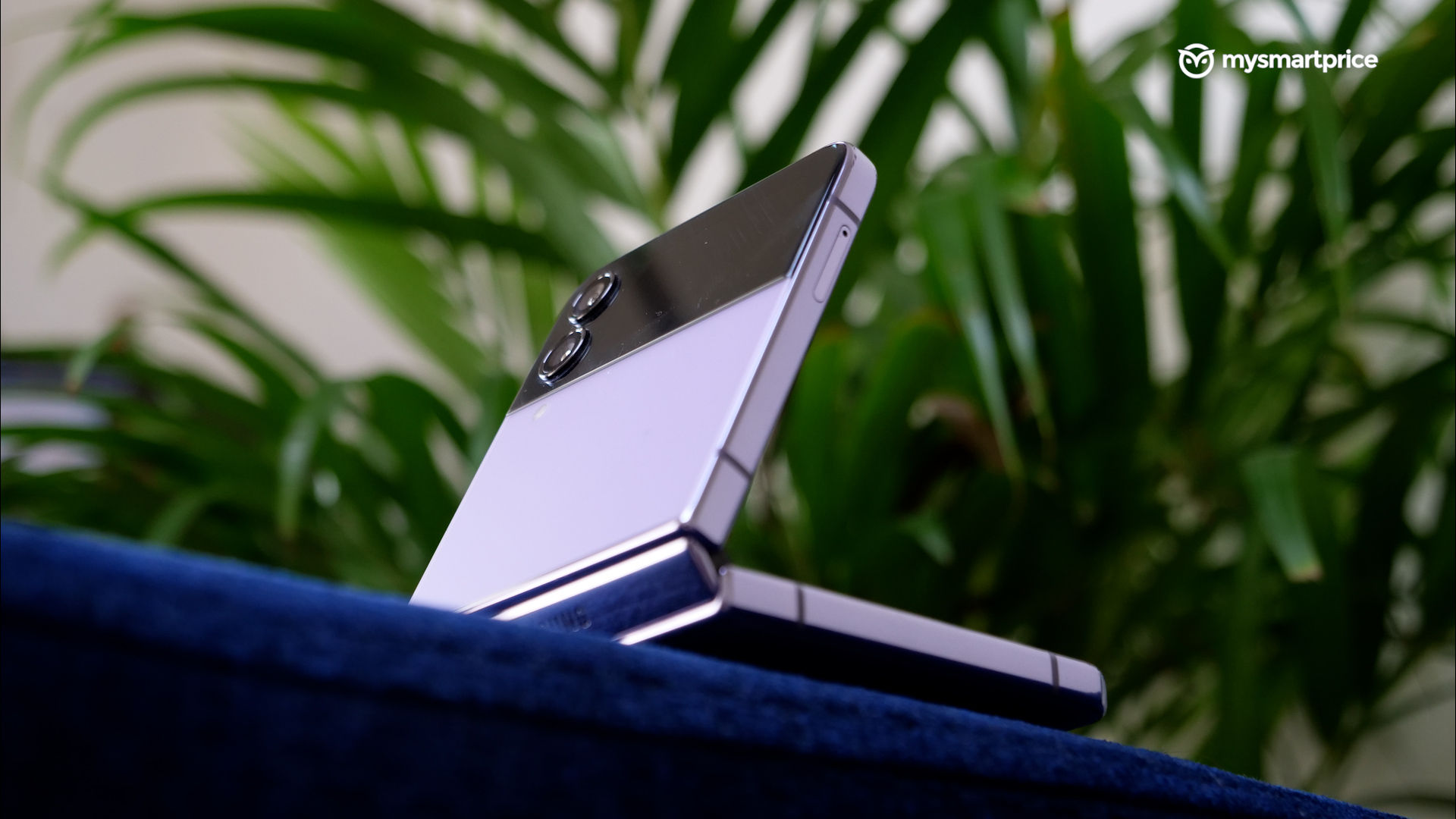 It was a joy to carry it around in our pockets, and this convenient form factor was easy to use daily.
The build quality is still top-notch. The glossy Armor Aluminum in the frame and hinges yields a nice, premium touch and the Haze Glass finish made of Corning Gorilla Glass Victus+ looks trendy yet classy. The phone is available in three regular colour variants: Graphite, Pink Gold, and Bora Purple, donned famously by BTS V. Then, to make things more exclusive for the trendy buyers, you also have the Bespoke Edition colour variants, available only in the top storage and RAM variant. Colours in this edition include gold, olive green, white, navy blue and gold. In addition, the glass enclosure of the dual cameras and the secondary display is black in colour, adding a bit of contrast to the mix. Clearly, there's something for everyone here.
While the frosted glass back doesn't catch fingerprints, the Z Flip 4 catches eyeballs – even more than the Z Fold 4 we recently reviewed. That is simply because the foldability is far more apparent in a vertically folding smartphone like this one. In fact, there was a time when the airport security in Bengaluru took a couple of minutes off their hectic schedule to chit-chat curiously about the phone kept in the plastic tray.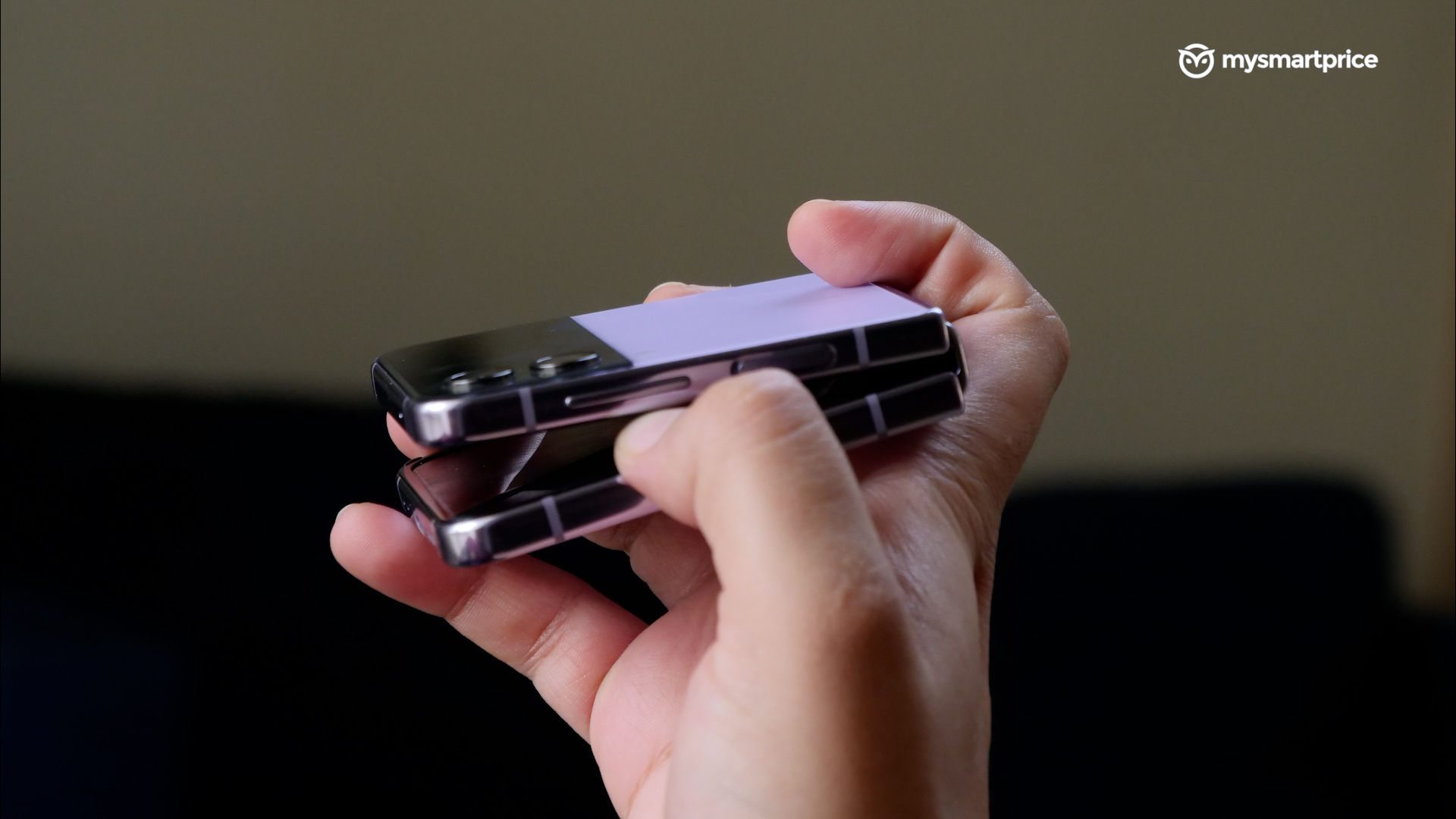 While we still find it a little tricky to unfold it single-handedly, it's far more doable than the Z Fold 4. Folding the Z Flip 4 also makes a nice resounding clap and gives you some serious main character vibes. But it got annoying on a busy workday when we kept getting unsuspecting calls, messages and emails because we had to keep unfolding and folding the smartphone.
We wish there were an easier way to open the phone with a single hand. Even something as simple as a lip or indentation on the frame would do.
In its unfolded state, the volume rocker sits above the power button to the right of the foldable display. When folded, the button placement reverses, and cleverly, so does the orientation of the volume rockers. It takes some time to develop muscle memory and awareness for the buttons when they are 'flipped' around.
The power button also doubles up as a fingerprint sensor, which makes sense for a foldable device, but it's placed a bit too high compared to conventional smartphones, and we still haven't gotten used to it.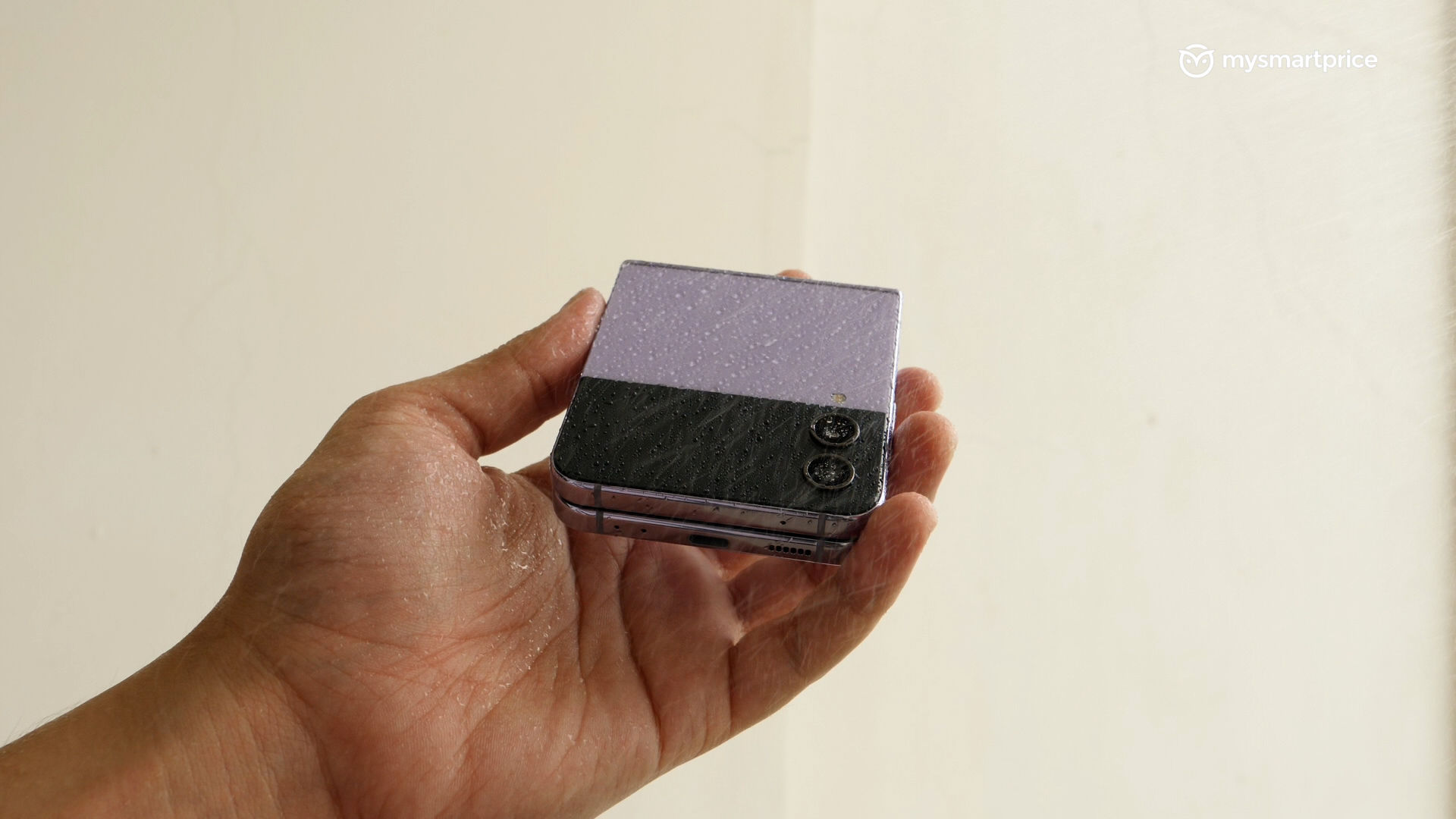 In terms of durability, the Z Flip 4 brings the IPX8 certification from its predecessor, but there's still no dust resistance rating of any sort. We have taken the phone to the shower and even in the rain, and so far, there's been no damage of any sort. Both displays are pristine, and unlike the Z Fold 4, this doesn't creak when opened. During our usage, the Z Flip 4 also fell from our pocket on a tiled floor, and it didn't have a single dent or crack on it.
We would still recommend getting a case for the phone, and Samsung has made some really cute and functional designs this time. Apart from the plain-jane transparent case, you also have a case with a ring and strap that resemble a pop socket, so you can insert your index finger through them to have a secure grip. There's another interesting flap case that covers the hinge. We didn't receive the cases with our review unit, but we tried them briefly at the Opera House in Bengaluru.
Overall, the design and durability of the Z Flip 4 haven't changed or upgraded significantly, but the incremental evolution does make it more streamlined than ever before.
Samsung Galaxy Z Flip 4 Review: If ain't broke, why fix the displays?
About 99% of our interaction with the Galaxy Z Flip 4 took place via the 6.7-inch, 120Hz foldable AMOLED 2X display. Its variable refresh rate chops have been improved. It can now go as low as 1Hz, much like the S22 Ultra. The crease is there, but just like the Z Flip 3, it's not that prominent when the phone is entirely unfolded. When the phone is in a semi-folded state, the colour shifting of the bottom display becomes very apparent. The good thing is you can force the Flex mode, which we will get to in just a moment, to turn the bottom half of the display black.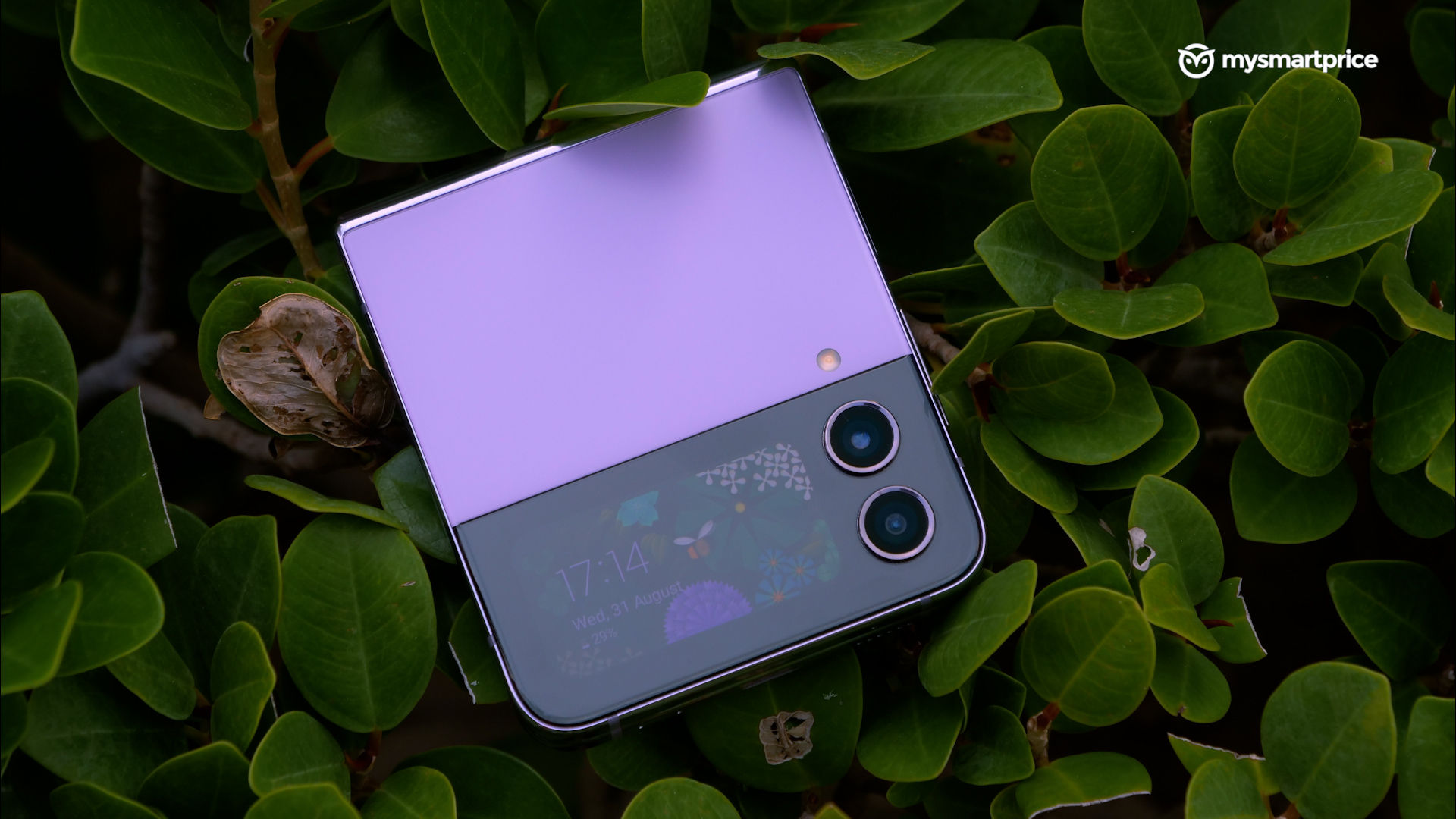 Otherwise, it's a gorgeous display, with fantastic vibrance, contrast and saturation. Its tall aspect ratio is excellent for viewing vertical content, although videos have big letterboxes.
The one thing we didn't like about it is the pre-applied screen protector you're not supposed to meddle with. It's prone to catching grease from your fingertips and lint from your trouser pockets. The protector has also started coming off from the bottom of the display and around the camera notch. We are a bit alarmed, but it'll take us a bit more time to figure out the extent of this issue. Otherwise, the Ultra Thin Glass seems to be pretty durable, but take care if you have pointy nails. Even slight pressure with nails is enough to make a lasting dent on display. This is not a phone to be handed over to kids and temperamental teenagers.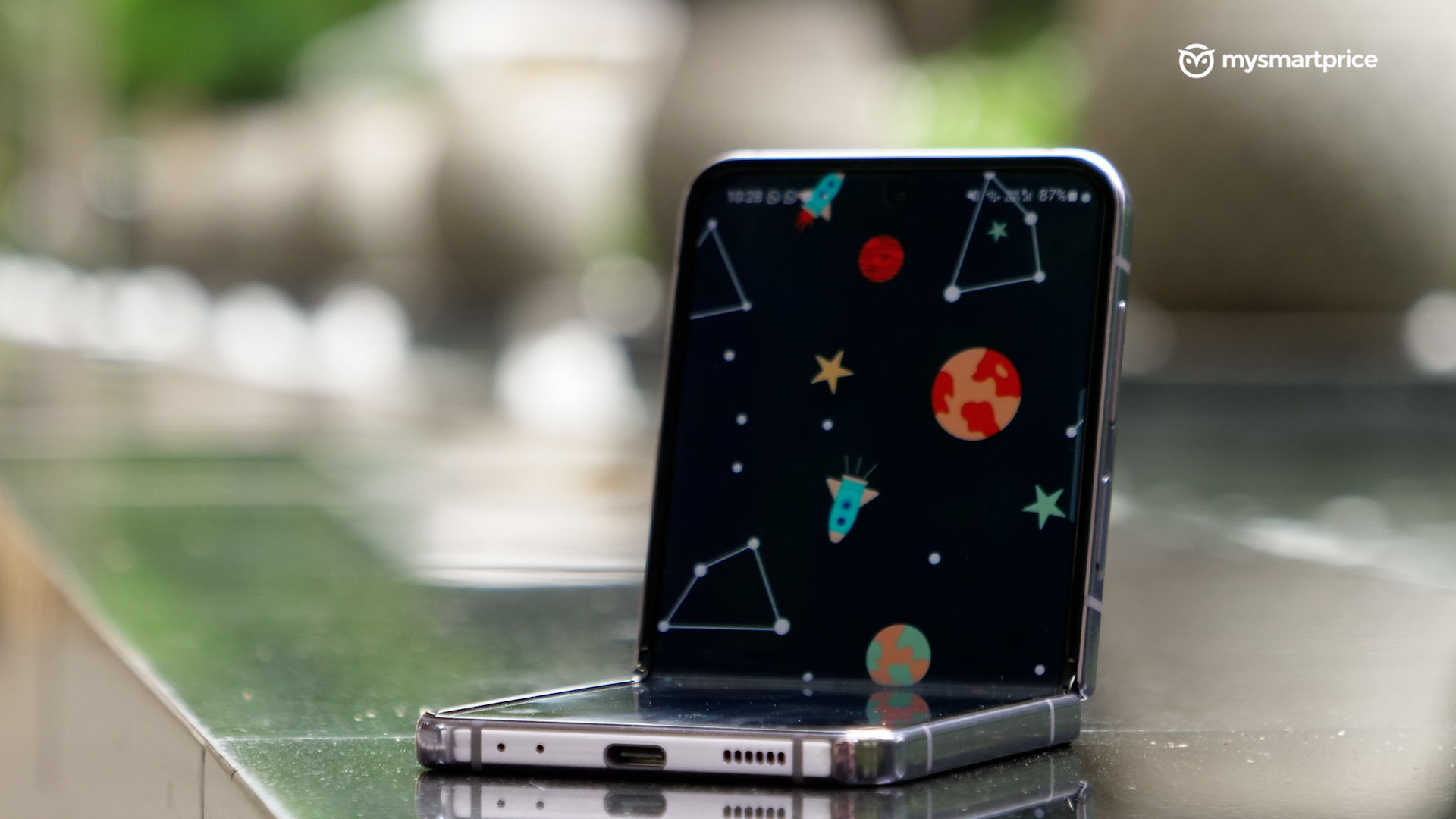 The 1.9-inch cover display is plucked straight from the Z Flip 3, though, with some software enhancements that supposedly make notification management more efficient. The display now supports a few more widgets and can click portrait selfies in a jiffy. But, if you ask us, it's just there to sit and look pretty with some dynamic wallpapers that show you the time and, sometimes, to check a notification or two and turn on or off your WiFi or Bluetooth, but forget about typing a response from here. We have seen a few smartwatch displays do more work than this.
Samsung Galaxy Z Flip 4: Powerful hardware, polished software, but…
The Z Flip 4 is a mid-year refresh, meaning it packs the upgraded version of the most powerful chipset this year, the Qualcomm Snapdragon 8+ Gen 1. This is paired with two storage variants of 128GB and 512GB, with the RAM being constant at 8GB.
All this is run by One UI 4.1.1 based on Android 12. There is no special taskbar here – this phone just doesn't cater to that kind of audience. Instead, the emphasis here is more on the Flex mode features that help push important elements to the top half of the display and the supporting stuff on the bottom. Ever since its inception, the Flip-series has been unique for its semi-folded capabilities, which the Moto Razr couldn't provide, and we can see how useful it is.
While working eight-hour shifts, we often found ourselves keeping the Z Flip 4 in Flex mode while using Slack, WhatsApp and YouTube on the side. It's such a handy thing to just glance over a standing display to your side.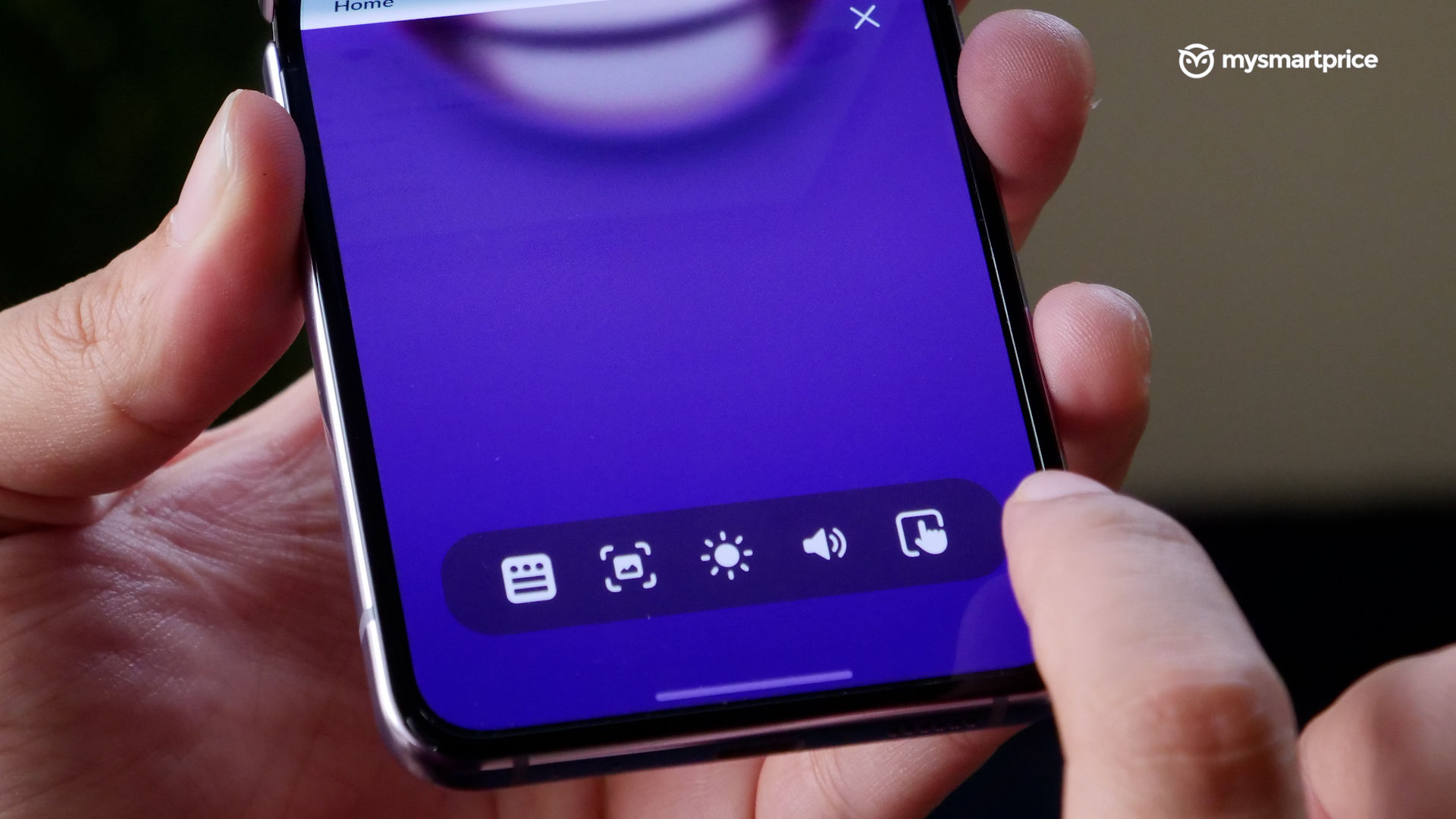 Also, you can force the Flex mode panel into several apps this time. This gives you shortcuts on the bottom of the display to pull the notification shade down, take a screenshot, increase or decrease the brightness and volume and turn the entire bottom half into a touchpad. That's right; you get the mouse pointer and everything on the top half. It's cool but only useful sometimes.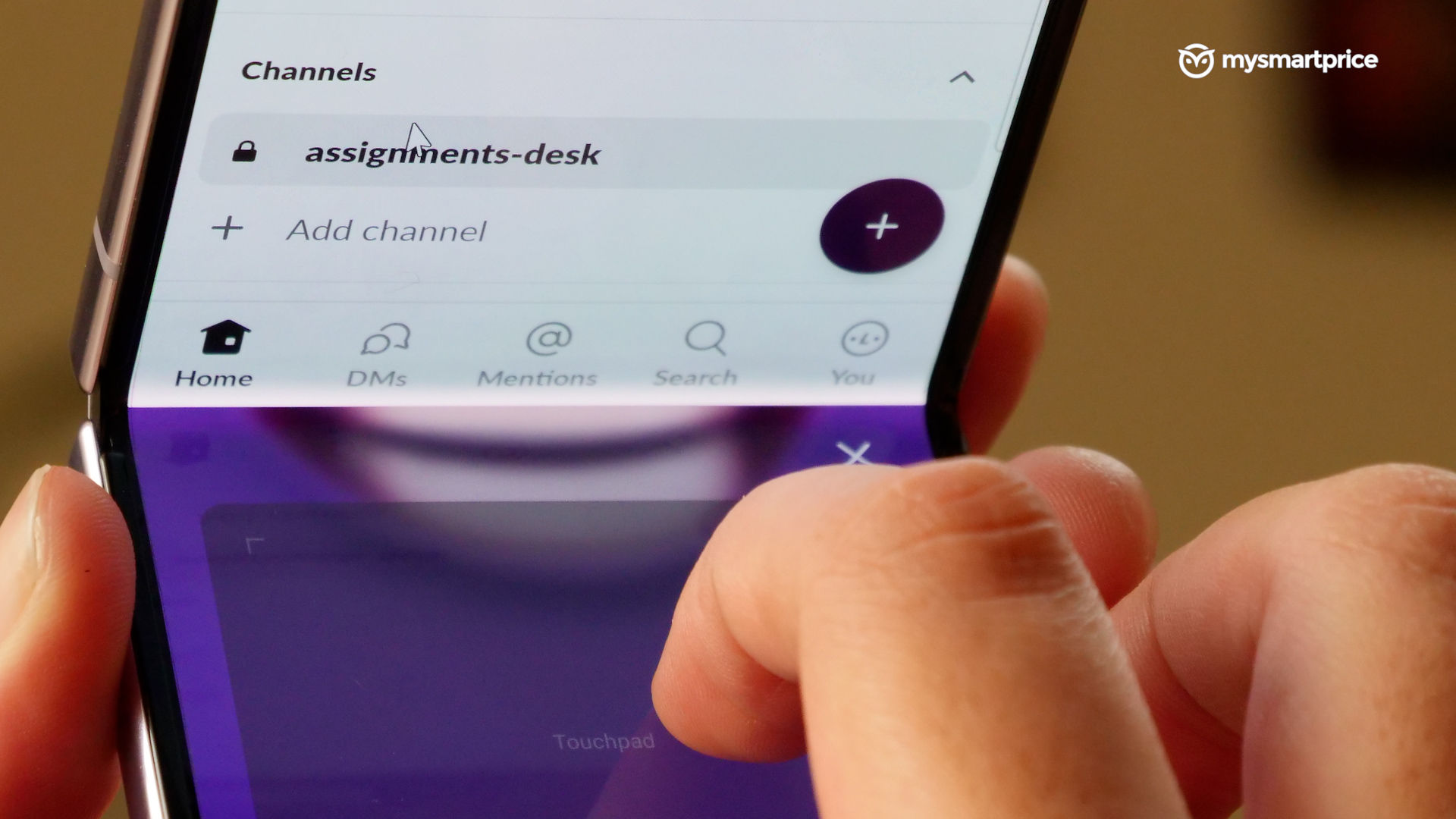 For the majority of our review, Instagram was buggy as hell, and it deterred us from using the phone altogether until the phone received an update a few days before it went on sale. Instagram works fine now, but the same update seems to have introduced a few performance issues.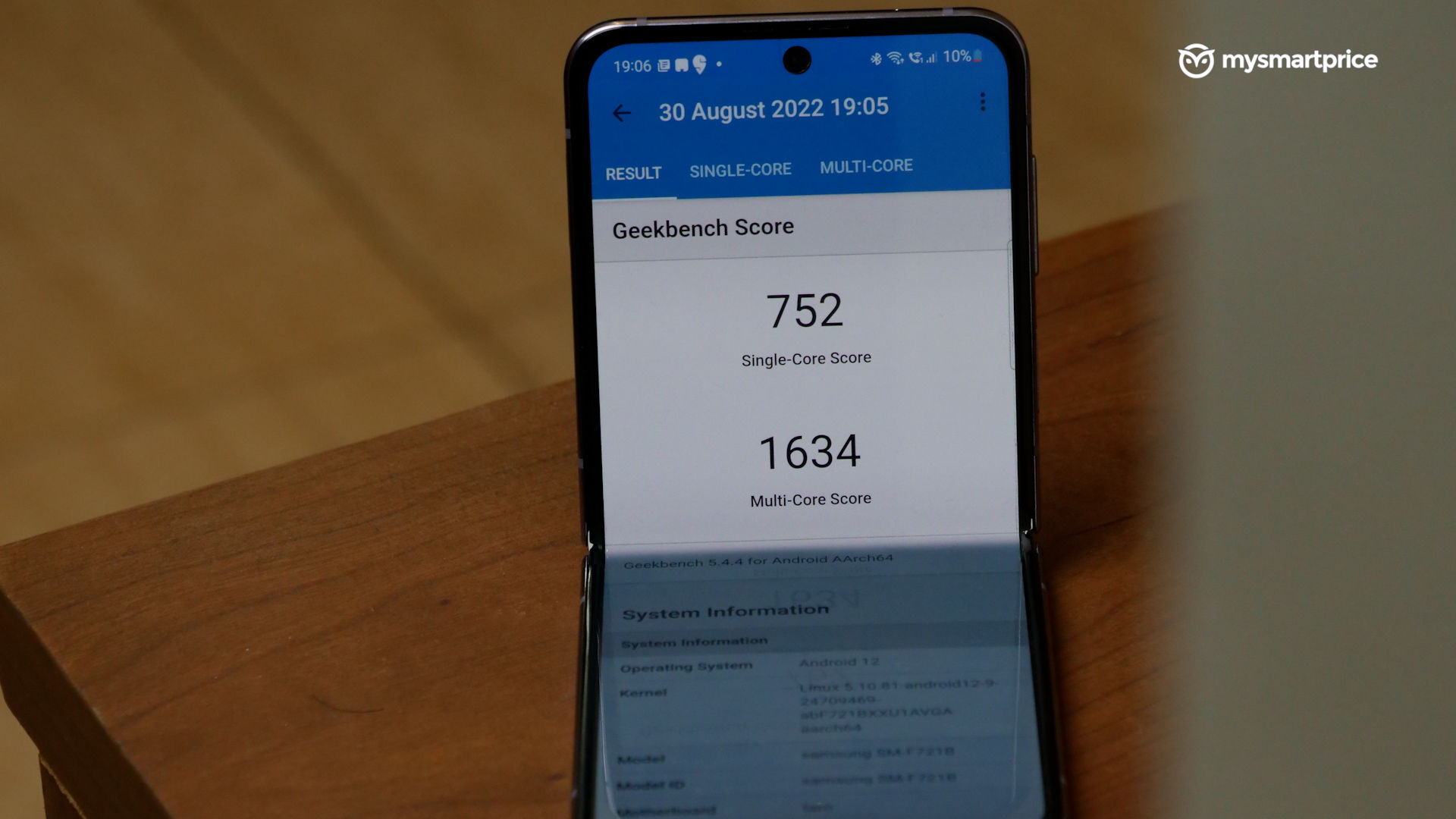 Our device, fresh out of the box a couple of weeks ago, was pretty snappy and gave us no grief while using the camera or navigating through the UI. But now, we have random heating issues and performing the simplest of chores seems to be slow. Benchmarks revealed numbers that shocked us – 769 and 1526 single-core and multi-core scores, respectively, in Geekbench v5. To make things worse, there's no high-performance mode in the battery settings here, like the one in Galaxy S22-series. The benchmark figures put this against the Moto G62, which is about 60 grand cheaper.
We understand that benchmarks aren't everything, but in this case, they helped us diagnose a key update issue that needs to be fixed immediately.
Before the update, everyday performance was top-notch, comparable to that of the Z Fold 4, if not better. It passed our multitasking test without breaking a sweat. It consisted of running navigation in Maps, YouTube Premium in picture-in-picture and shuffling between Instagram, WhatsApp and Gmail consistently for about 15 minutes. Sure, the part around the rear camera module did heat up, but it never slowed down this much.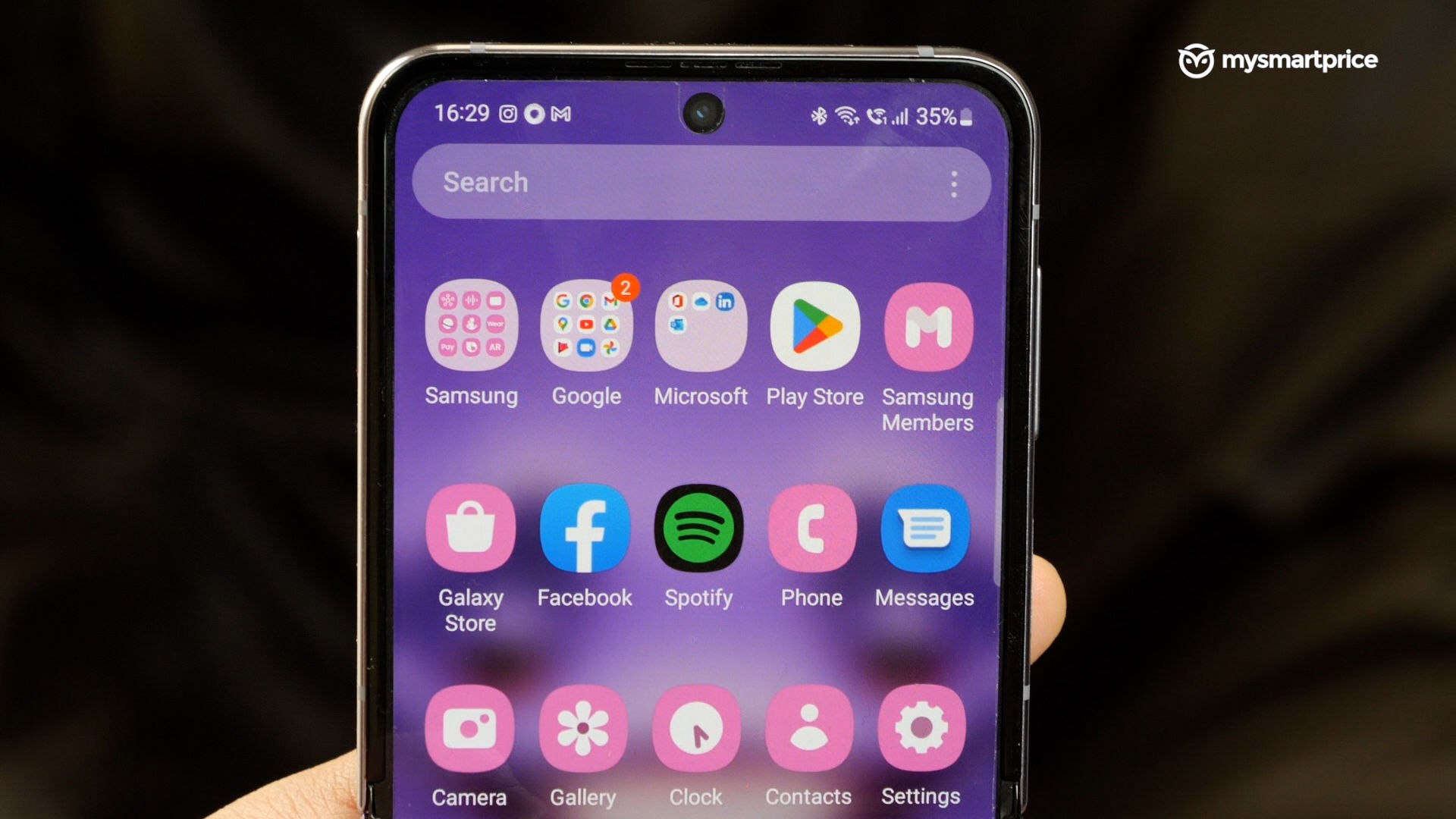 Otherwise, the UI experience is polished, although you do get the standard pre-installed apps like Facebook, Spotify and My Galaxy, Samsung Global Goals (a wallpaper feed), Samsung Free, Outlook, LinkedIn and other Samsung apps that let you connect to wearable IoT devices. It operates in a grey area where these apps cannot be called bloatware because many of these are actually useful.
Samsung Galaxy Z Flip 4: Same cameras with some tweaks
Dual 12-megapixel cameras bless the outside of the Galaxy Z Flip 4. Calling them rear cameras might be misleading because they can also face you if the cover display is used. The foldable display houses the 10-megapixel selfie camera within a circular cutout. On paper, it's the same camera module as before, but this time around, Nightography makes a debut on the Flip. Also, the selfie camera has a slightly larger sensor. Sadly, because there's no telephoto camera here, there is also no Telephoto Portrait mode, which is a ton of fun.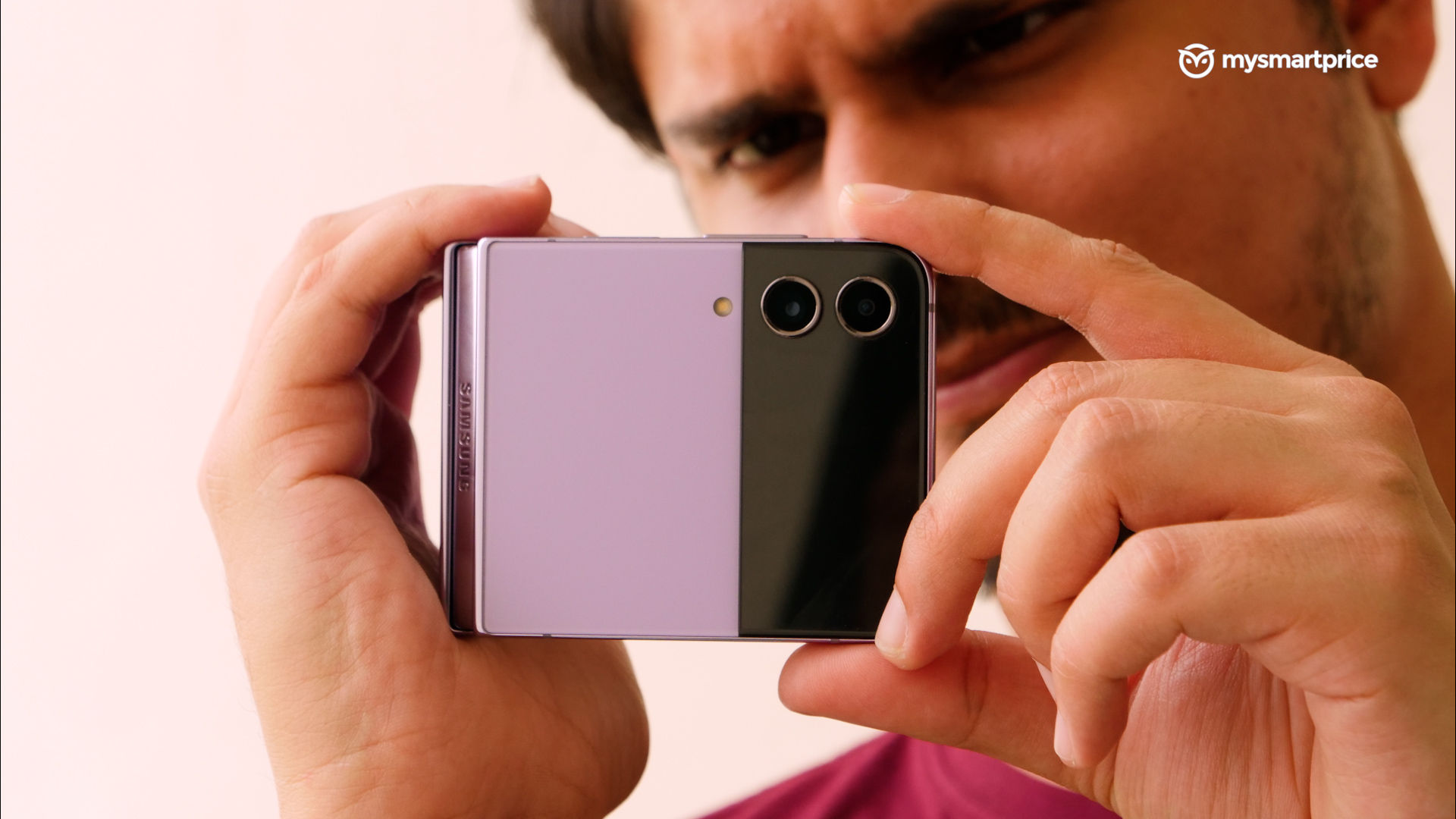 Flex mode in the camera and the viewfinder in the secondary display can be extremely useful if you're trying to vlog. It eliminates the need for a tripod. Samsung has also tuned accelerometers for the app in a way that when you hold the phone in a Handycam grip, the UI elements fall within reach of your thumb. The Handycam grip can be useful when making vertical content, so full points to Samsung for out-of-the-box thinking.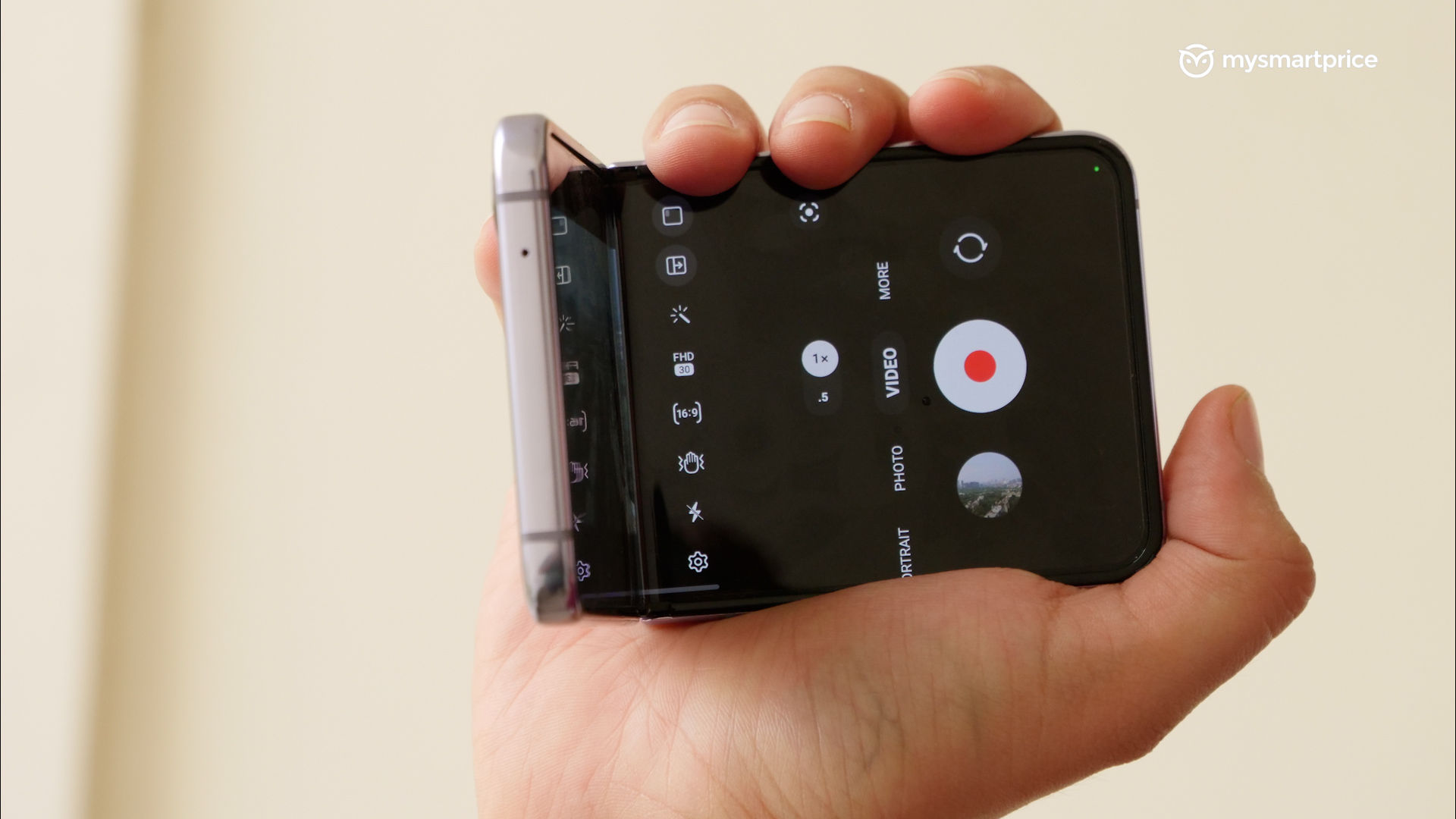 In the daytime, the photo clicks nice, detailed shots with slightly punchy colours in typical Samsung fashion. Colour tuning is similar in both cameras during the day, just like the Z Fold 4. However, it tends to soften skin textures even when the feature is turned off.
There's a huge difference between what the viewfinder shows you and what the final images look like when HDR is turned on. It does a great job of recovering lost blown-out highlights when there's a backlight present. We couldn't spot the characteristic HDR halo around our subjects.
Portraits have good foreground and background defocus, and the outlines are properly detected even in tricky poses. HDR is also available in portraits.
We would rate indoor shots to be fine. Very rarely would you find a picture without blur, especially with human subjects. This is partly due to how slow the phone has become after the recent update because it makes the camera shutter extremely unpredictable. Otherwise, if you throw even a little bit of light into your frame, you will get good photos even in dark indoor scenarios, with decent details even in the ultrawide.
Night photography is hit-and-miss. Some photos come out to be nice, whereas others have the same blur issue with low shutter speed. The differences in colour tuning between the ultrawide and primary cameras become apparent during the night, though – the primary lean towards warmer shades, whereas the ultrawide gives a slightly purple-ish output. You tend to lose out on some major details while using the ultrawide, and noise is present in photos from both cameras. Also, Night Mode sometimes fails to activate when the surroundings are dark.
The 10-megapixel selfie camera takes very similar photos to that of the Z Fold 4. However, at night, there's a bit of noise in the images, and the processing takes some time. But, the selfies taken by the primary camera via the viewfinder on the cover display were considered better by them, so there is a saving grace here.
Samsung Galaxy Z Flip 4: Battery backup required at all times
The Samsung Galaxy Z Flip 4 features a rather tiny 3,700mAh battery that can be charged via a USB-PD compliant 25W charger. Just like its other flagships, Samsung will not bundle the charger in the box.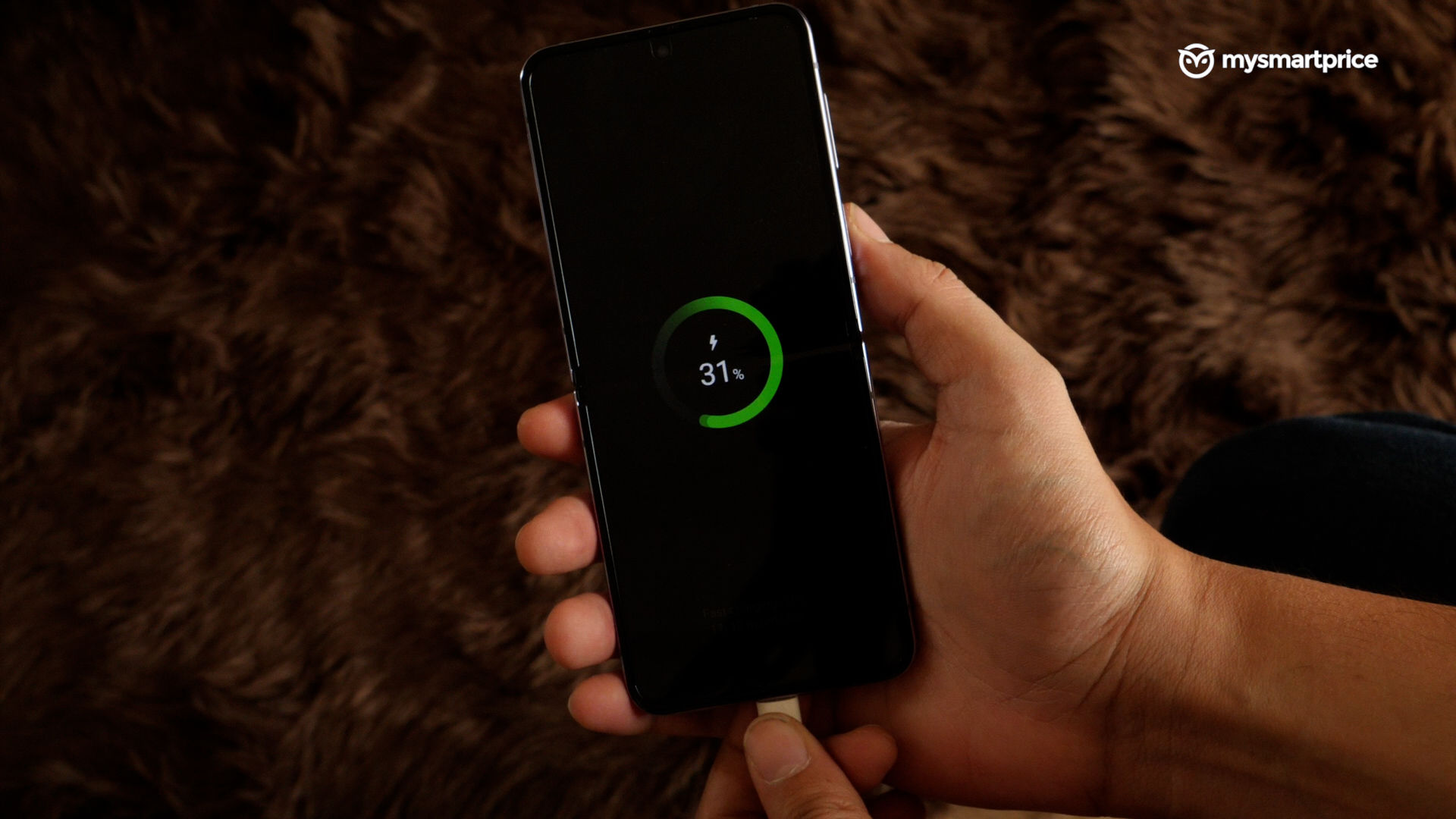 There's no way you could stretch the battery an entire day, but it is still impressive, given its size and how good the display is. A mid-day charge is important for the Z Flip 4, so if you're travelling, you better carry a portable charger. Charging times are terrible, it takes nearly one hour and 20 minutes for a full charge, and charging while using the phone is even worse. So, just make sure you keep at least 30-40 minutes dedicated to charging your phone sometime in the afternoon.
Samsung Galaxy Z Flip 4: Verdict
Unlike the Z Fold 4, the Samsung Galaxy Z Flip 4 has very few compromises in terms of 'foldable tax'. The only compromises in terms of the foldable display are the tendency to attract dust and grime and anxiety-inducing single-handed opening and closing manoeuvres.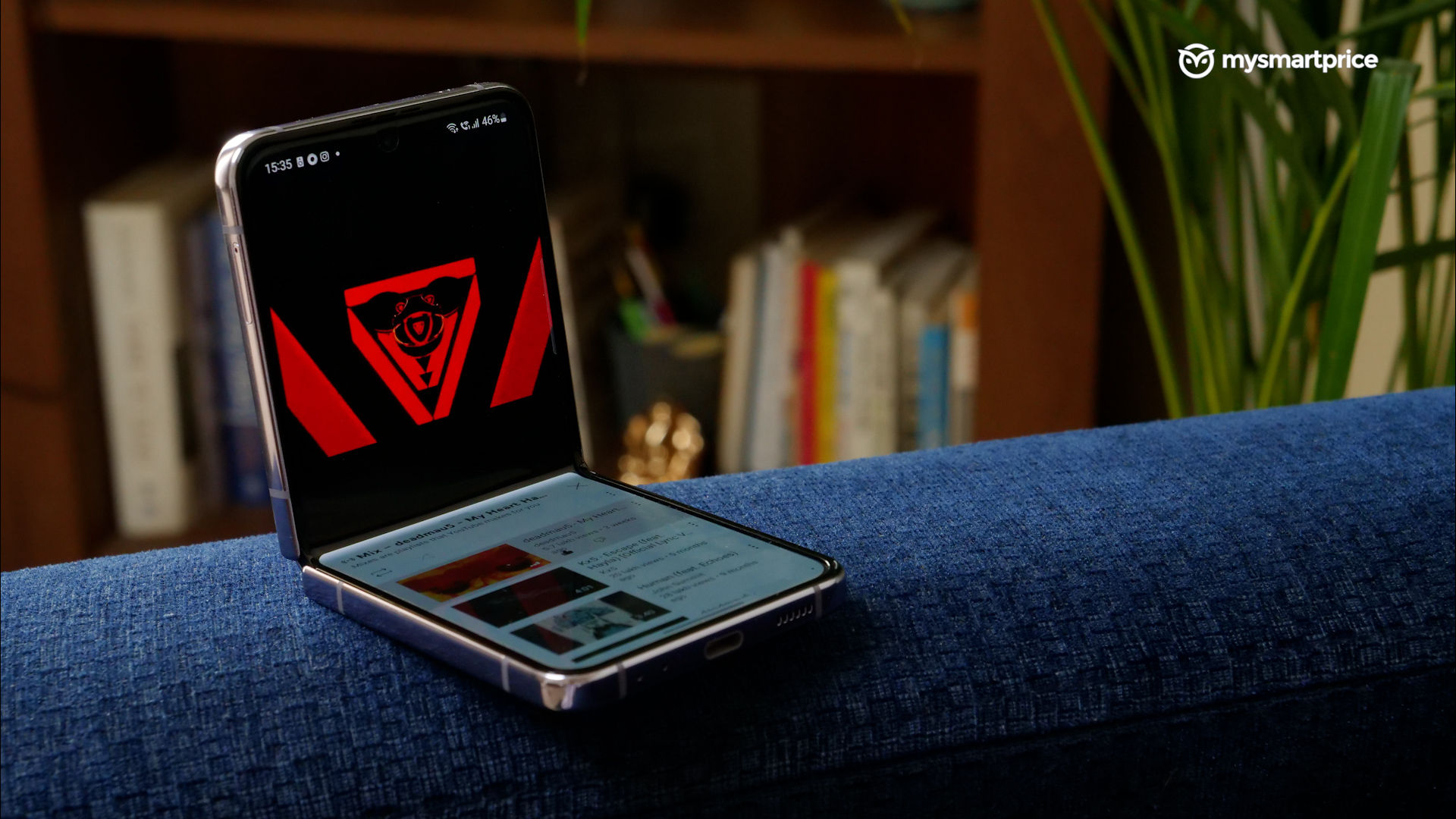 In every way, be it price or form factor, it's a way more sensible purchase decision over the Fold. The display is fantastic, and the Flex mode can be genuinely useful for creators and vloggers. Plus, it's a total attention magnet, with the ability to make you feel unique among a crowd with boring glass sandwich smartphones.
However, the recent software update has slowed it down, at least for us, and we hope it will regain its original performance soon. The cameras aren't technically a massive upgrade, and the battery life can be stressful if you're always on the go. Also, it makes more sense to go with the Z Flip 4 instead of the Z Flip 3 because the latter hasn't received a price drop.
Wrapping it up, if you lead a relatively chilled-out lifestyle but want to be unique, go for the Z Flip 4. Just make sure you don't have any kids around.
We miss the Z Flip 4 for how it turned us into something of a celebrity among our friends overnight. But we can't forget how tiring folding and unfolding the Z Flip 4 on a hectic day was. It's almost like owning an Italian sports car – it'll get you notoriety, but maintaining and living with one is going to be an experience of a lifetime.
Samsung Galaxy Z Flip 4
₹89,999
What Is Good?
Fantastic foldable display
Lightweight and ultra-portable
Flex mode is useful
Optimised for Handycam grip
Attention magnet
Affordable for a foldable device
What Is Bad?
Awkward fingerprint reader placement
Short battery life
Slow charging
No substantial improvements in camera