Highlights
The Galaxy Z Flip 5 features an all-new Flex Window display outside its clamshell
The Galaxy Z Flip 5 starts at Rs 99,999
MySmartPrice score: 8.4/10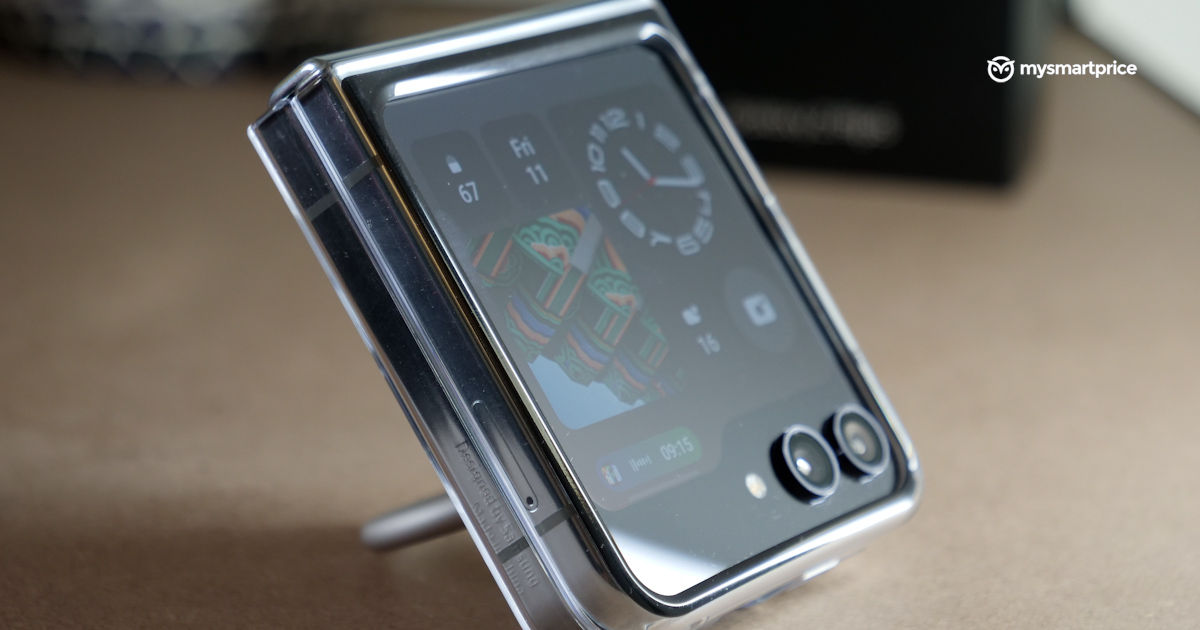 The Samsung Galaxy Z Flip 5 is the most expensive Flip ever at a time when every brand focuses on making foldables cheaper! It's a masterstroke because Samsung knows that they are the go-to brand for foldables. But the bigger picture reveals that they also had to reinvent the wheel. The Flip 5 has a completely redesigned hinge mechanism, an outer display stretched further to the edges and a brand-new interface to take advantage of. It also helps that when you think of foldables, you think of Samsung. Is it worth a shot? Find out in my review.
Samsung Galaxy Z Flip 5
Rs 99,999
What Is Good?
Unique Flex Window interface
Great performance
Convenient to carry around
Nothing short of a style statement
Good low-light photography
What Is Bad?
Slow charging
Battery life still falls short despite improvements
Pricey
Samsung Galaxy Z Flip 5 Review: How new is the experience?
The Galaxy Z Flip 5 features an all-new Flex Window display outside its clamshell.
Samsung has designed a dedicated interface to interact with it.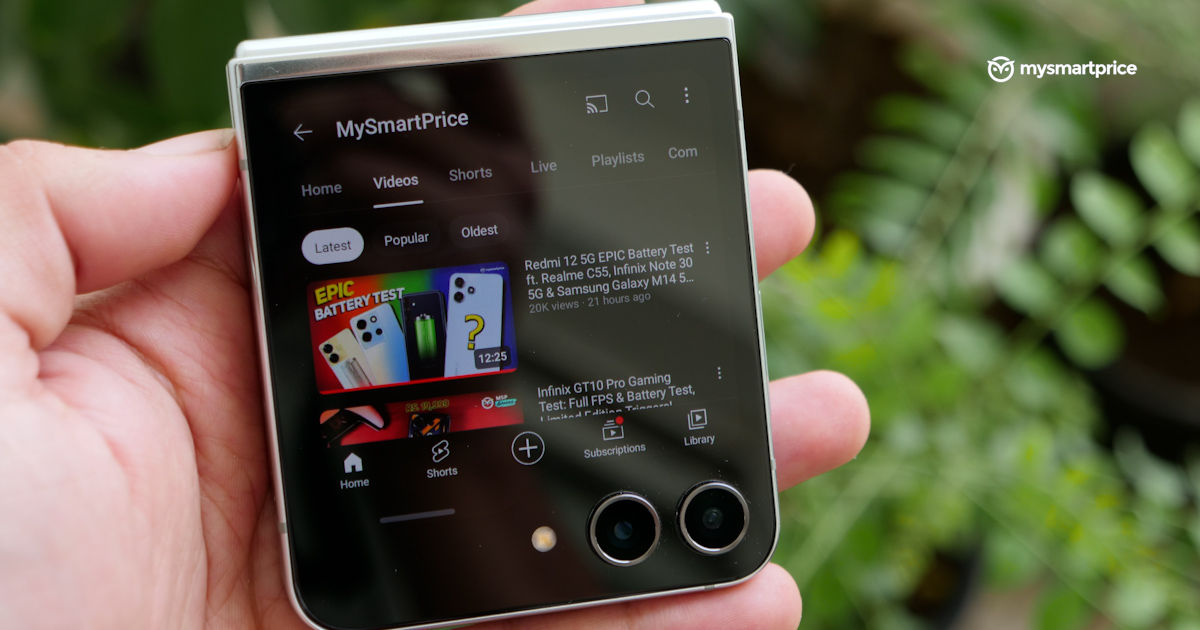 This may seem like a marketing tagline, but Flip 5 changes how you approach a smartphone without noticing it. I would like to believe that Samsung made a deliberate, conscious choice to develop an all-new interface for the new 'Flex Window' (Samsung's fancy jargon for the cover display). If they wanted to, they could have just mirrored the entire Android interface and rescaled it much like they did with the Fold. Several third-party apps, such as SamSprung and GoodLock, let you do just that.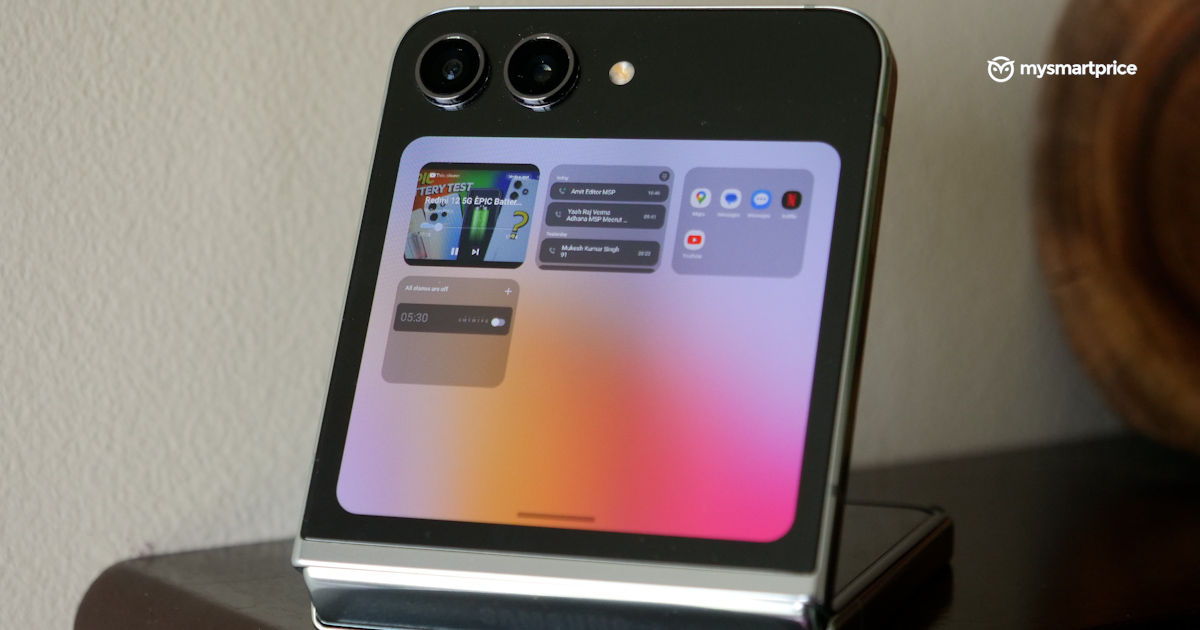 But it's an important step in providing a unique experience. While the previous iterations of the Flip attempted to reduce your screen time with the limitations of a tiny display, the new Flex Window attempts to segregate the experience of using your smartphone altogether with the limitations of the interface. You can view notifications at a glance and even respond to them using a full-fledged QWERTY keyboard, a huge upgrade from the Flip 4.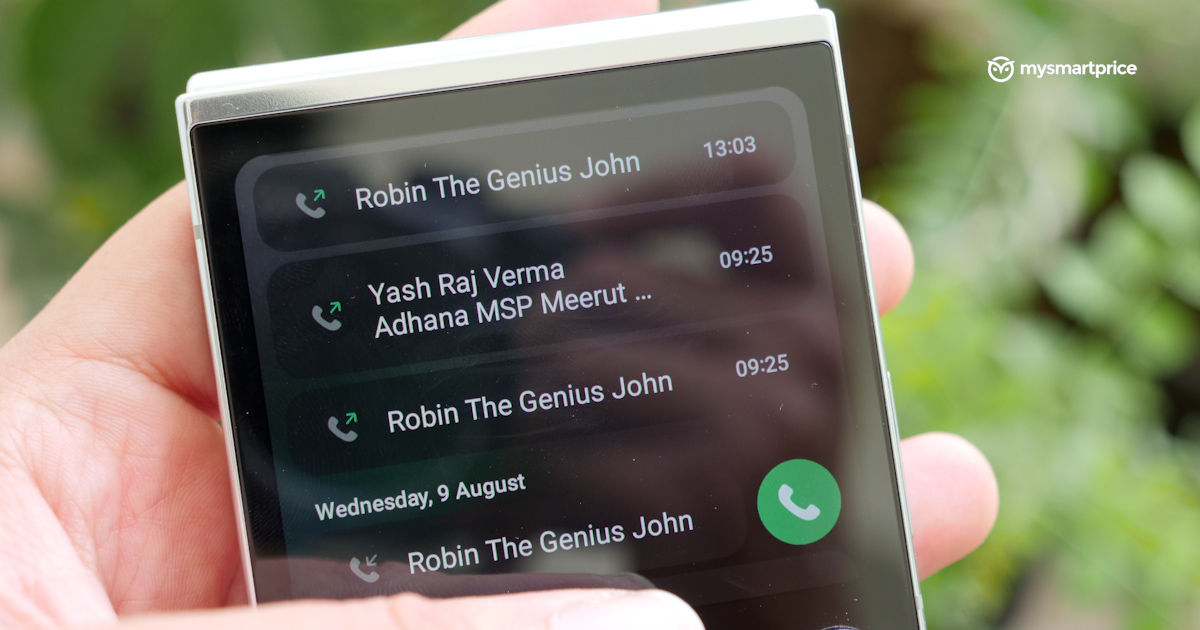 You can also view the dialer and make calls, keep track of your fitness data and stocks (you'd need to have a decent portfolio to be able to afford a phone this expensive, of course), change the settings of your buds, interact with your music and even click photos. While this is something that the previous iterations of Flips allowed you to do, it's done in a way more immersive fashion by taking advantage of the large display.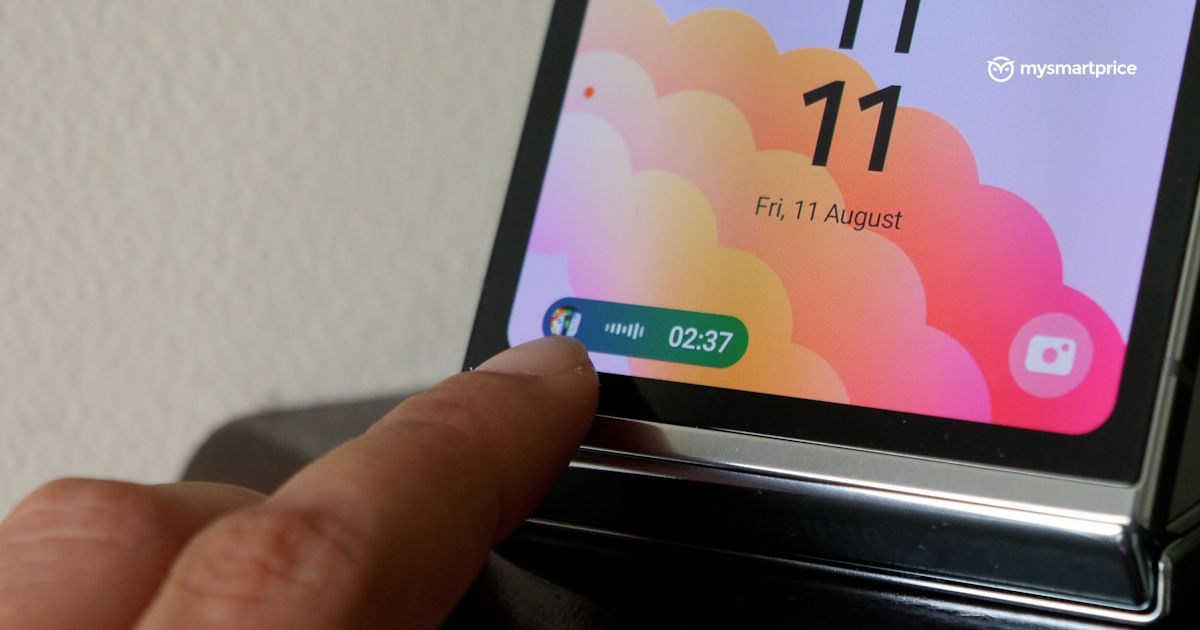 But the ability to use full-fledged apps sets the Flip 5 apart from its predecessors. You can run Maps, Netflix and YouTube on the Flip 5's cover display the same way you'd run it on any other normal phone. The Razr 40 Ultra lets you do the same, but it's far more optimised and polished here.
The key difference here is you can use only a few selected apps. Need a quick look at stuff without mindlessly scrolling social media? Use the Flex Window. For everything else, commit to unfolding the phone. The best thing is you don't even realise adopting this jarring change.
Samsung Galaxy Z Flip 5 Review: Design and build
Despite a larger cover display, the Galaxy Z Flip 5 carries forward the visual identity of Samsung's Flip series
It boasts a new hinge mechanism that ensures zero gaps when the phone is folded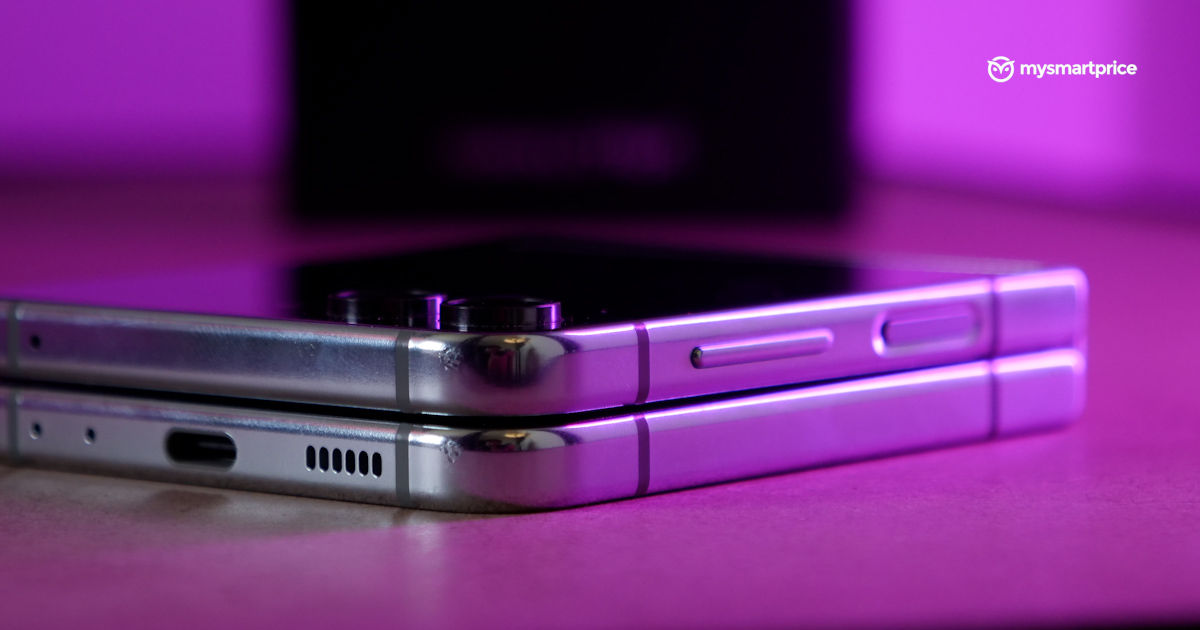 Over the last three years, Samsung has made a concrete visual identity for its flip phones. It's easy to distinguish Flip 5 from other flippables thanks to an all-glossy, all-flat design. Only the corners of the frame and the display have a very obvious circular curve, yielding a modern, material design vibe. It's crafted from very high-quality materials. Whatever you touch is either glass or metal. The only thing made of plastic here is the protector on the foldable display.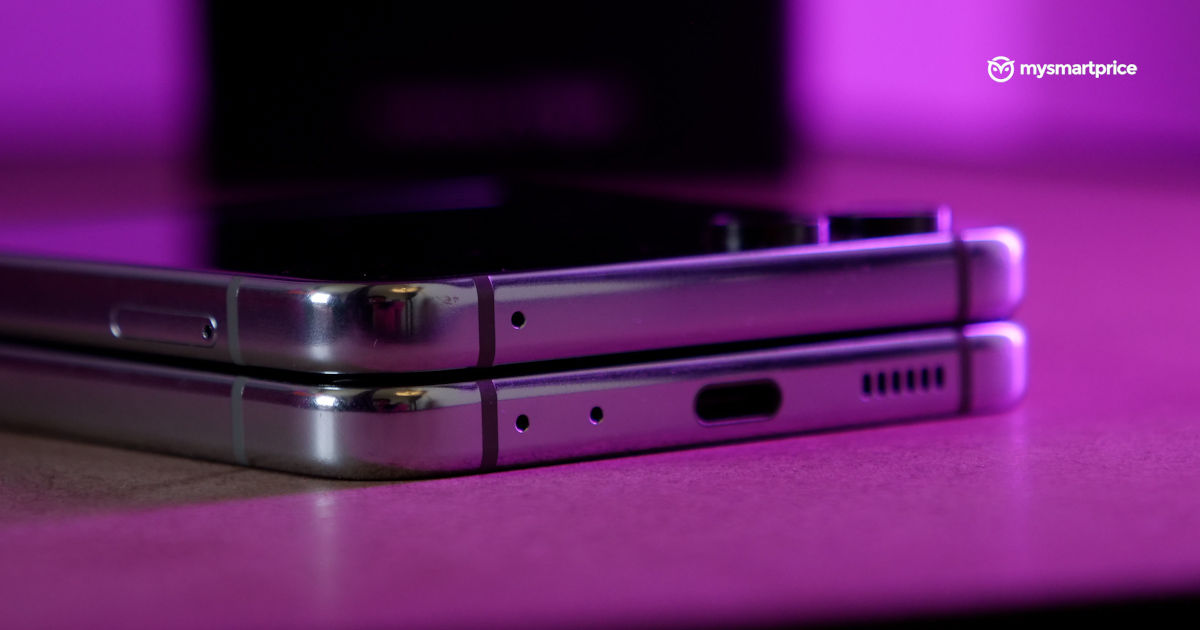 I honestly wanted to see some certified dust resistance, but this time, too, we have an IPX8 rating. I have taken the phone to the shower and even navigated dusty Delhi traffic with the phone mounted on a holder, and so far, I haven't had any issues.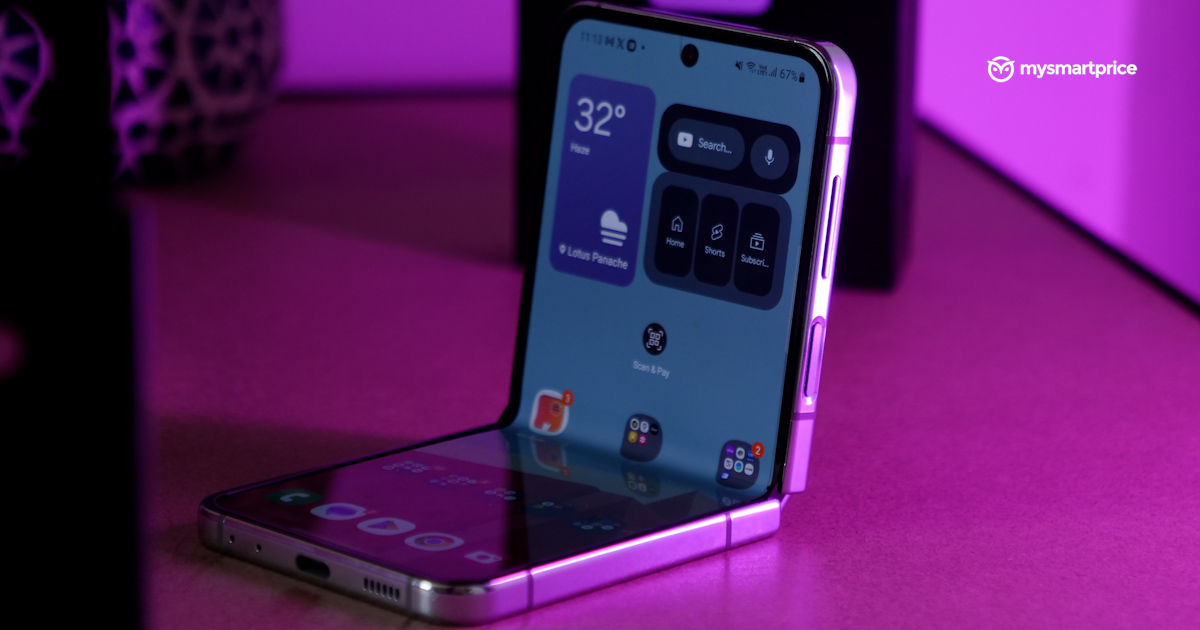 The overall port and button placement are identical to the previous generation. The top right of the phone (in its unfolded state) hosts the volume rockers and power buttons. The bottom hosts a speaker, USB Type-C port and the primary mic. The SIM slot is on the top left of the frame.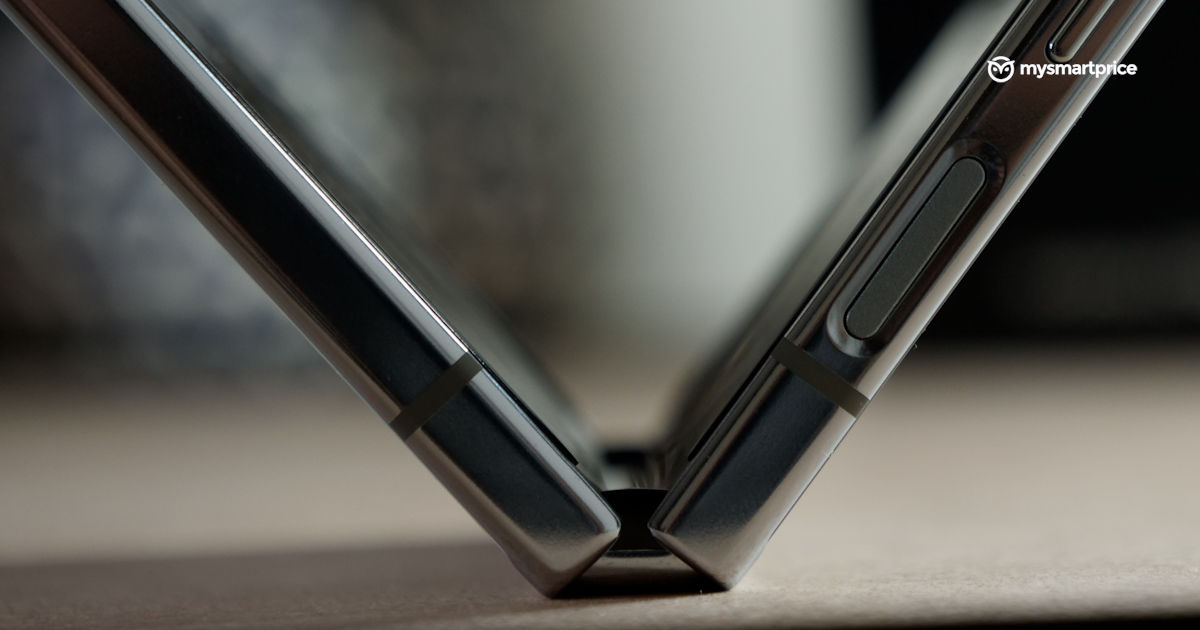 The hinge mechanism has been completely redesigned to ensure there are zero gaps between the two sides of the phone when it's folded. It's also got the most springy and reassuring shutting action I have seen on a flippable – you know exactly when you're in the semi-folded state and exactly when the phone is going to snap shut. This predictability is crucial for a phone like this, which goes through at least 50 open and shut cycles a day.
Samsung Galaxy Z Flip 5 Review: Display(s)
The Flex Window spans 3.4 inches diagonally and refreshes at 60Hz.
The internal folding display has the same specifications as before but has a higher peak brightness.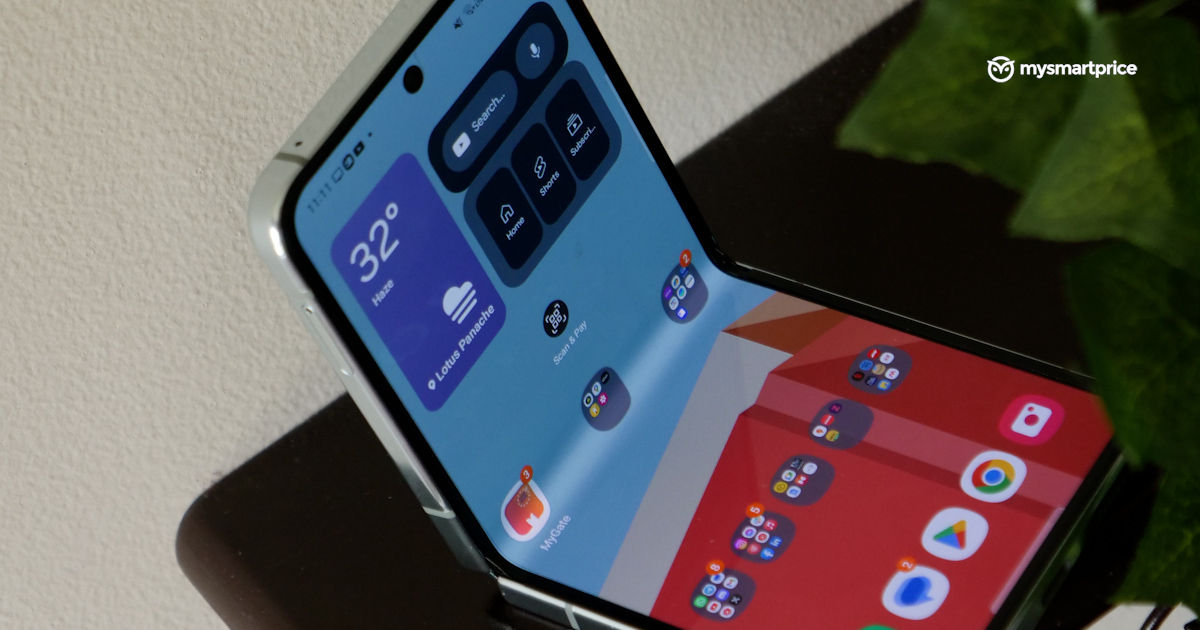 The Flex Window spans 3.4-inches, which is about 80% bigger than the tiny cover display of the outgoing Flip 4. It still refreshes at 60Hz but is way more fun than ever. One thing I felt was lacking in the Flex Window was the ability to change orientation. Samsung also makes a kickstand cover for the phone, and I often found myself keeping the Flip 5 on the table with the Flex Window in a vertical position. This can easily be addressed in a future software update. On the flip side, the internal foldable display is about the same as the last time – it's still a 6.7-inch 2X Dynamic AMOLED display. It has Full HD+ resolution and refreshes at 120Hz but has a much higher peak brightness of 1750 nits.
I've already shared most of my views on the Flex Window, but internally, I'd stick to what I said last year – it's a gorgeous display, and its tall aspect ratio is excellent for viewing vertical content, although regular 16:9 videos appear with giant letterboxes. The crease is there but grows on you after a few minutes of using the phone. I have only seen bystanders complain about the visible crease, not the users themselves.
Its pre-applied protector still catches fingerprints and grease just as quickly, but that's just a price you've to pay for every foldable. The only difference from the last generation is that it's more legible under sunlight now.
Samsung Galaxy Z Flip 5 Review: Performance and software
The Galaxy Z Flip 5 is powered by Qualcomm Snapdragon 8 Gen 2 SoC.
It is available in 8/256GB and 8/512GB variants.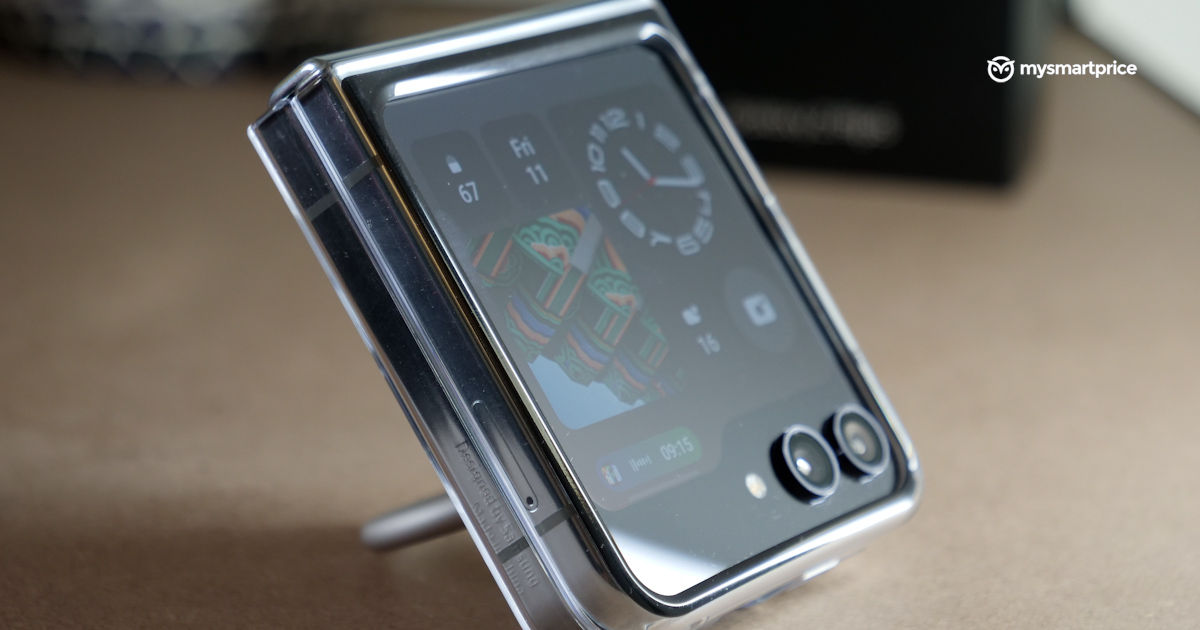 Last year's Flip 4 was one of the first smartphones to be powered by the Snapdragon 8+ Gen 1, which was way more power efficient and thermally stable than a stock 8 Gen 1. It still struggled with battery efficiency sometimes.
This year, Samsung has stuck to the Snapdragon 8 Gen-2, custom-made for Samsung – yep, the same one in the Galaxy S23 series. It is a mighty capable chip with excellent power efficiency. It offers smooth, reliable performance on the tap almost all the time with very little thermal throttling. In fact, we only saw Flip 5 gasping for breath while navigating the streets for more than half an hour.
The overall UI experience is one of the best out there – it's not stock, but all the custom goodness, such as Samsung's apps, is really good. I rate Samsung's dialer as one of the best in the business, offering a ton of functionality.
While we are at it, the legendary Flex Mode is also here, which is activated when you keep your phone in a semi-folded state. The top half of Flip 5's display shows you the app, whereas the bottom hosts the touchpad and a bunch of other quick shortcuts. It's been reworked a little, and there seems to be no way to customise it.
I, for one, loved the brightness quick shortcut, but now it's been replaced by a shortcut that lets me do dual-app multitasking. Some degree of customisability would have gone a long way here.
Software support is top-notch here. After all, this is a Samsung flagship. You can expect your phone to be updated till at least Android 17 and monthly security updates for the next three years. Post that, you'll receive one security update every three months or so.
Samsung Galaxy Z Flip 5 Review: Cameras
The Galaxy Z Flip 5 features dual 12-megapixel primary and ultrawide cameras.
It takes advantage of the new SoC to do better and faster image processing.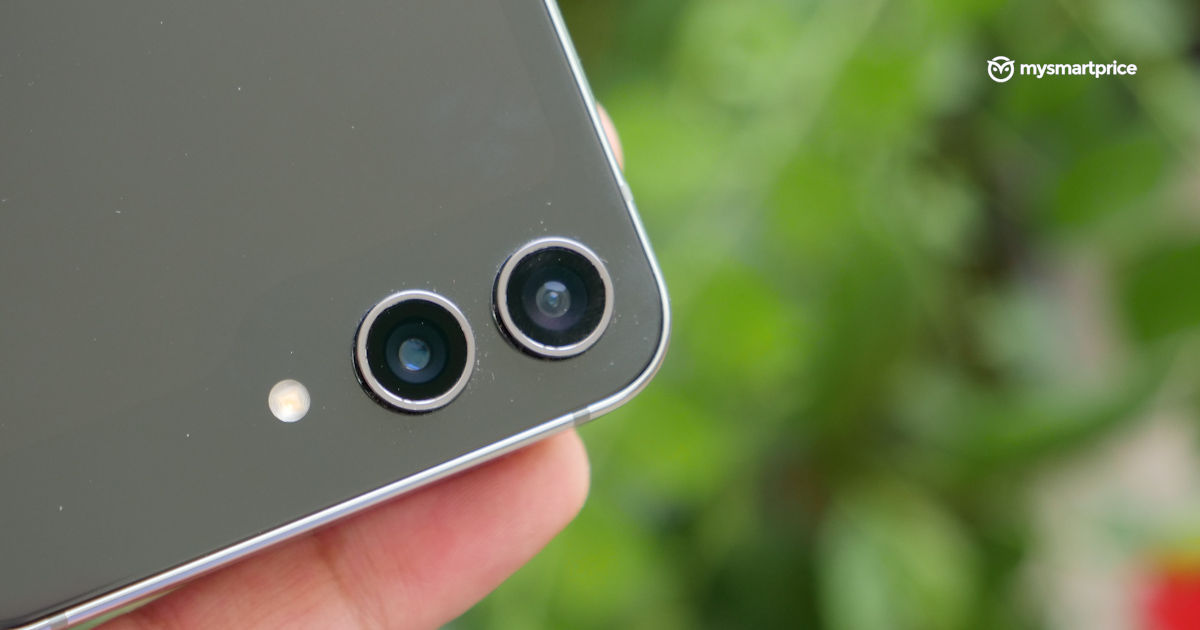 The Galaxy Z Flip 5 carries forward the same configuration that's kept Samsung's pot boiling for the last two years – two 12-megapixel sensors, one primary and one for ultrawide duties. What's changed is the image post-processing that takes advantage of the new SoC's chops.
The difference is immediately noticeable in nighttime photography, where it's not just the primary camera that shines but also the ultrawide. Photos have much better contrast than the ones clicked by Flip 4, and I personally never felt hesitant to pull the Flip 5 out at a dinner or party.
The processing is also quick and snappy, so much so that I clicked a photo of a plane that seemed impossible to frame sitting as a pillion rider on a bike. It's crisp, well exposed and processed so quickly that I could click the next picture without missing a beat.
On the downside, there's some noticeable distortion around the corners when clicking low-light shots. You will also need to protect the Flip 5's lenses at all costs because it's extremely prone to scratching as it protrudes out of the camera body. We faced this last year, and as a result, it started clicking soft photos.
Daytime shots have always been very good (to my taste) on the Flip series, and it's no different this time. I like punchy, vibrant photos that don't require tweaks to be posted on social media. The Flip 5 will definitely spike the greens, blues and magentas to make your photos stand out. If you're a person who likes a more subtle colour palette, it'll take some time to get used to it.
Just to keep you covered on all screens, the Flip 5 comes with a 10-megapixel selfie camera that sits within a punch-hole cutout on the foldable display. For such a 'low-resolution' sensor, the photos are surprisingly good in decent outdoor and indoor lighting. You'd expect a phone with
Samsung Galaxy Z Flip 5 Review: Battery life
The Galaxy Z Flip 5 has a 3,700mAh battery.
It can charge at 25W (wired) and 15W (wireless).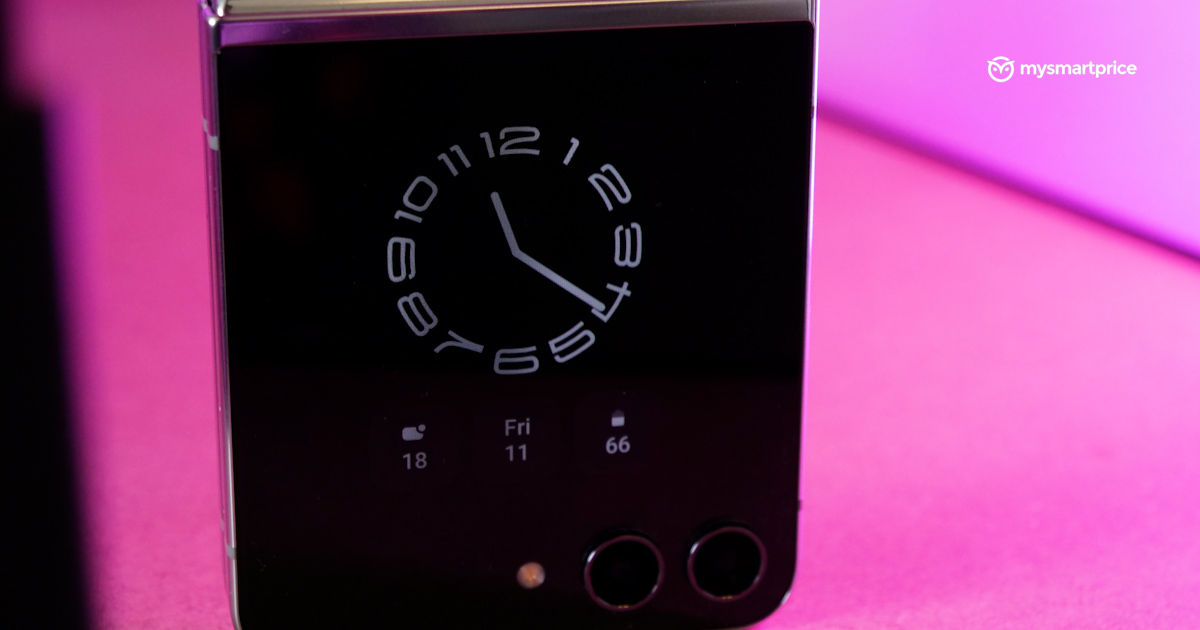 Samsung didn't meddle with the battery capacity or the charging speeds of the Flip 5. It still draws power from the 3,700mAh battery pack and charges up at a peak wattage 25W with a brick-and-wire and 15W wirelessly.
I noticed slightly better battery backup on the Flip 5, which may have something to do with the efficiency of the processor and the overall app management of One UI. Instead of looking for a wall socket mid-day, I found myself boosting the phone a little somewhere around the evening as the 15% reminder showed up. In terms of screen-on time, the Flip 5 has the capability to last five hours at most, which is tremendous progress compared to the previous generation without any bump in battery capacity. Keeping the always-on display will significantly lower your battery life. Just saying.
Charging is still a painful affair, as it takes an hour and 45 minutes to charge the relatively tiny battery of the Flip 5 entirely. This was done using a 67W Gallium Nitride charger, so we are sure there's no discrepancy in terms of charging speeds.
Samsung Galaxy Z Flip 5 Review: Verdict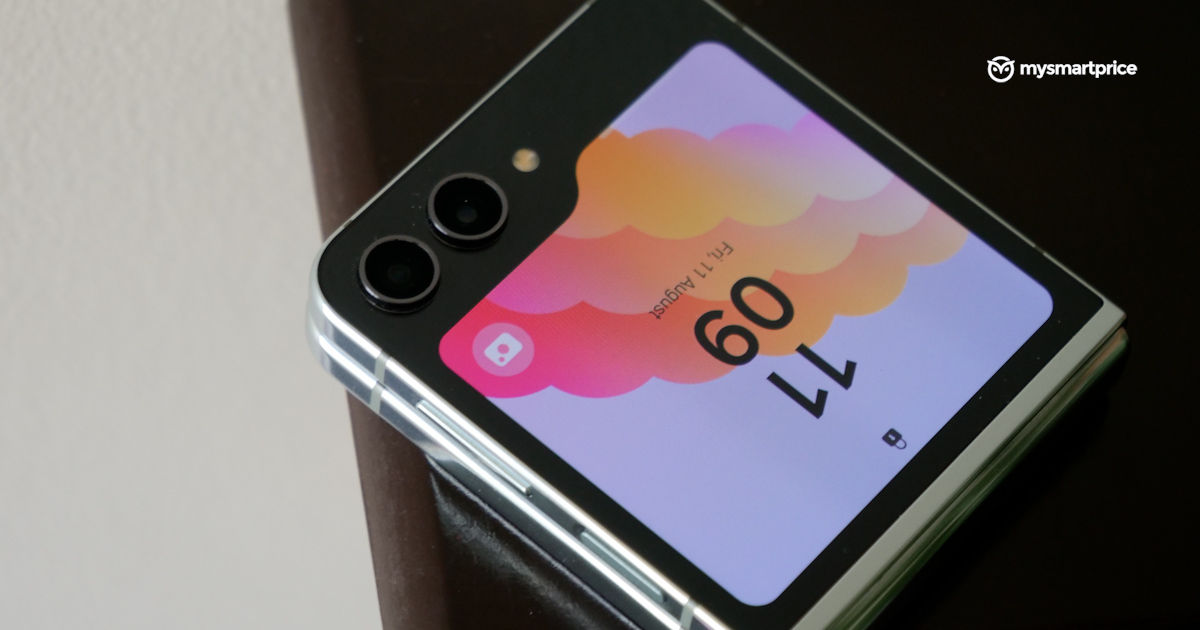 The Samsung Galaxy Z Flip 5 offers an all-new experience, thanks to the new Flex Window, that changes the way you use a smartphone. It's a very delicate balance between opening and closing the Flip for different purposes so that you aren't distracted by the work that you're doing. It's still extremely fashionable, grabbing eyeballs and turning heads everywhere you go. The new image processing algorithm gives you the confidence to pull out your phone at a late-night party and still click some stunning shots. It's one of the best flip phones you can buy in India.
Sure, from the outside, it may seem that there's a ton of old baggage that the Flip 5 still carries, such as the same-old 3700mAh battery, 25W charging, dual 12-megapixel cameras and a 10-megapixel selfie camera. To this, we'd say that except for the charging, everything else is acceptable.