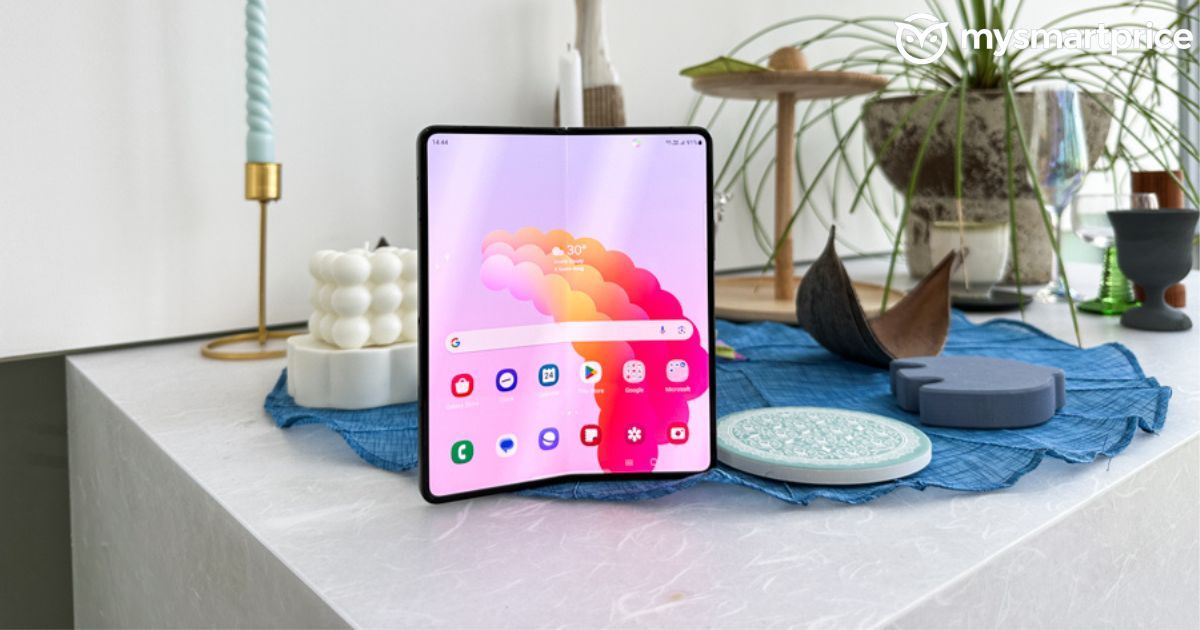 Galaxy Z Fold 5 is Samsung's successor to the Galaxy Z Fold 4, and it brings some upgrades that refine the overall package. It's worth mentioning that Samsung is the leading global foldable market with a 63% share. The company has barely scratched the surface in terms of foldable design, and it is already leading the way in the category. Out of the total global foldable shipments of 2.52 million units recorded in Q1 2023, Samsung single-handedly dominated with 1.58 million units, as per the Counterpoint Research report. Numbers aside, what are the big changes on the Galaxy Z Fold 5? Under the hood, you get the new processor, and visibly, there's an all-new hinge that enables flat fold (finally).
Samsung Galaxy Z Fold 5 Key Specifications
Display: Main screen – 7.6-inch 120Hz QXGA+ Dynamic AMOLED 2X display with Infinity Flex Display (1812×2176 pixels) and 120Hz refresh rate.
Cover screen – 6.2-inch Dynamic AMOLED 120Hz Display with 904×2316 screen resolution and 402PPI pixel density.
Processor: Snapdragon 8 Gen 2
Memory and Storage: 12GB RAM with 256GB storage, 12GB RAM with 512GB storage, and 12GB RAM with 1TB storage
Software: One UI 5.1.1 based on Android 13
Camera: Cover – 10MP Selfie Camera, Under Display Camera – 4MP Under Display Camera and Rear Dual Camera – 12MP Ultra Wide Camera
Rear – 12MP Ultra Wide, 50MP Wide-angle, and 10MP Telephoto with PDAF, OIS
Battery and Charging: 4400mAh battery and 25W charging supported
Security: Capacitive Fingerprint sensor (side)
Thickness: 13.4mm (folded) and 6.1mm (unfolded)
Connectivity: 5G, LTE, WiFi 6E, Bluetooth 5.3
Colour Options: Icy Blue, Phantom Black, Cream
Water Resistance: IPX8
Weight: 253 grams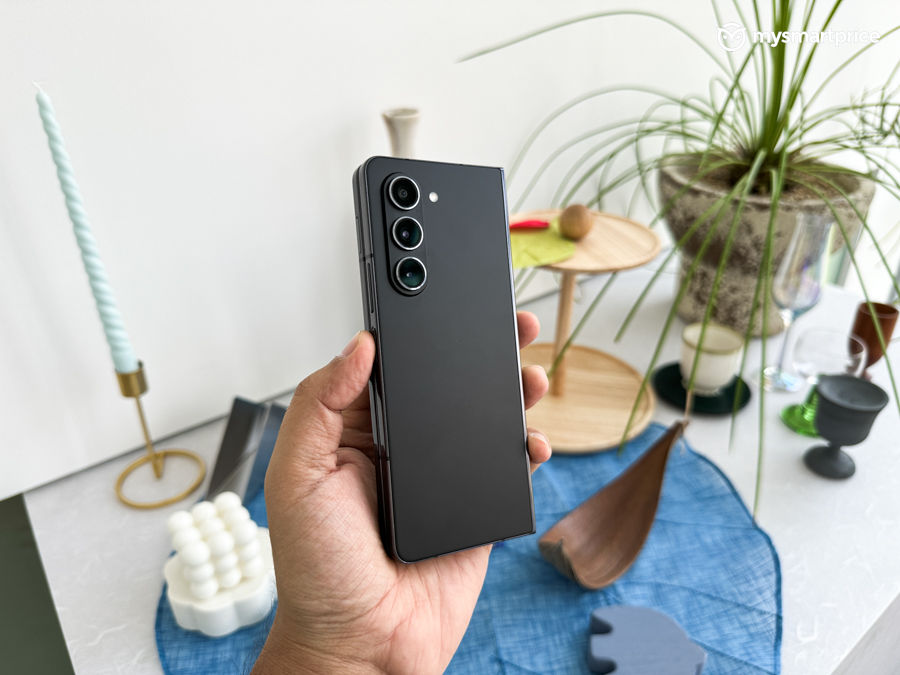 Samsung Galaxy Z Fold 5: What's good?
Samsung's Galaxy Z Fold series has always been marketed as a device that prioritises productivity with its generous screen real estate, and the newest addition to the lineup, the Galaxy Fold 5, continues this trend. What makes the Fold 5 unique is that it is the thinnest and lightest Fold yet, with a revamped Flex Hinge that allows it to fold completely flat. Samsung boasts that this new hinge design offers a visually balanced and seamless foldable experience. The hinge module is integrated into the device and features dual rail structures that diffuse external impacts, which is a thoughtful addition.
Samsung has also significantly upgraded the Fold 5, making it more gaming-oriented. The device now boasts a larger cooling system than its predecessor, which is a welcome addition for those who love to game on their mobile devices. The display has also been updated, with the main cover screen reaching a peak brightness of 1750nits, the same as the Galaxy S23 Ultra.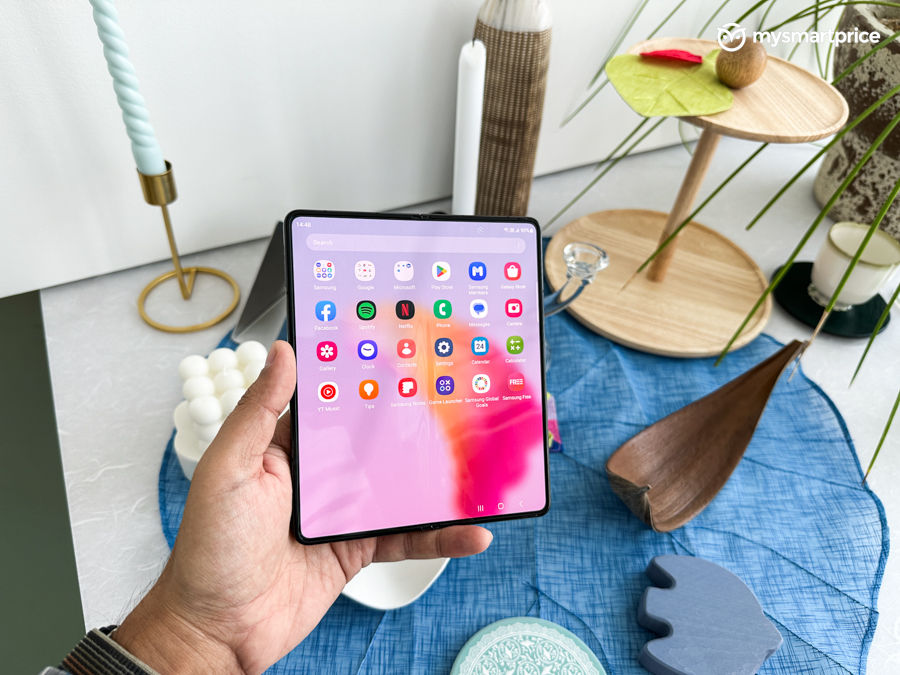 The camera is another aspect that Samsung has improved with the Fold 5. Although the figures are the same as those of the Fold 4, Samsung has optimised the camera for better colour accuracy and faster response times. Our limited time spent with the Fold 5 showcased stunning colours with precise details. However, we will reserve our final verdict on the camera until our review.
Samsung has emphasised the improved Taskbar on the Fold 5, along with two-handed drag-and-drop functionality, which makes multitasking easier on a device like the Fold 5. The display is top-notch, with no significant changes from Fold 4.
Our brief time spent with the Fold 5 revealed that the device easily handles multitasking and boasts a super smooth UI. However, we will reserve our final verdict on the device's performance until we conduct a full review.
What sets the Galaxy Z Fold 5 apart from its predecessor is its weight reduction. It now weighs 10 grams less than the Fold 4, which may seem insignificant on paper but can make a significant difference in day-to-day usage. Samsung's attention to detail is evident in the Fold 5, making it a great product overall.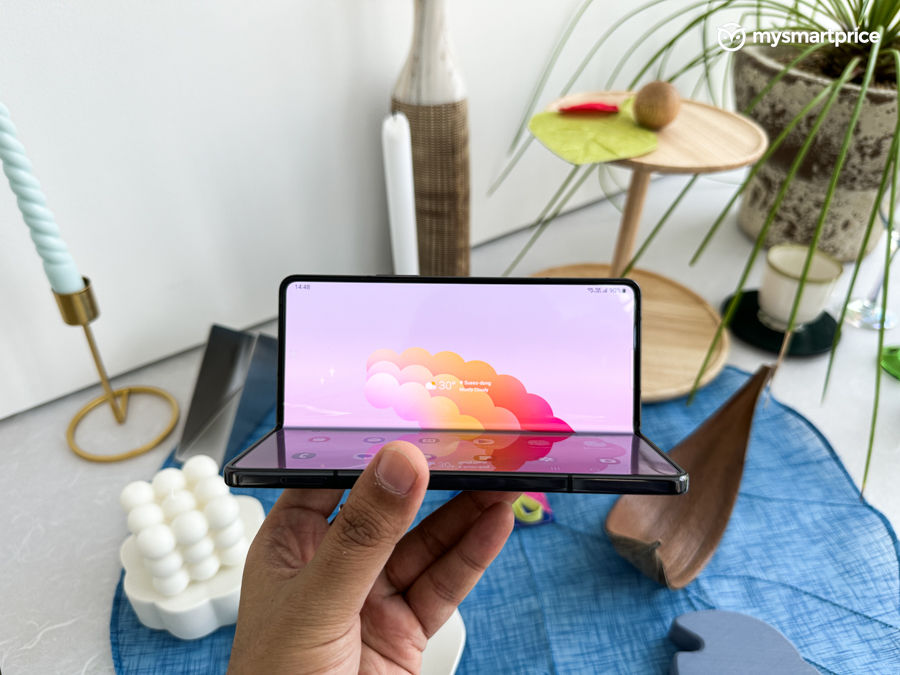 Samsung Galaxy Z Fold 5: Price in India
The Samsung Galaxy Z Fold 5 India price starts at Rs 1,54,999 for the base variant with 12GB of RAM and 256GB of storage. The company has also introduced a 512GB storage option for Rs 1,64,999 and a 1TB option for Rs 1,84,999.
Samsung Galaxy Z Fold 5: Initial thoughts
The Galaxy Z Fold 5 has brought some much-needed improvements to the overall package that not only refines the overall foldable experience. But also enhances it. The new Flex Hinge will likely be part of the Fold now for the long haul, and that's good. As usual, the internals is excellent, and Samsung's software optimisation is the best in the industry for a foldable experience. The Samsung Galaxy Z Fold 5 ticks all the boxes when it comes to a device that offers more, but the price is also on the higher side when compared to other foldable in the market and rightly so.