Highlights
The Samsung Galaxy Z Fold 5 starts at Rs 1,54,999
It is powered by a custom-tuned variant of Qualcomm Snapdragon 8 Gen-2
MySmartPrice Rating: 8.4/10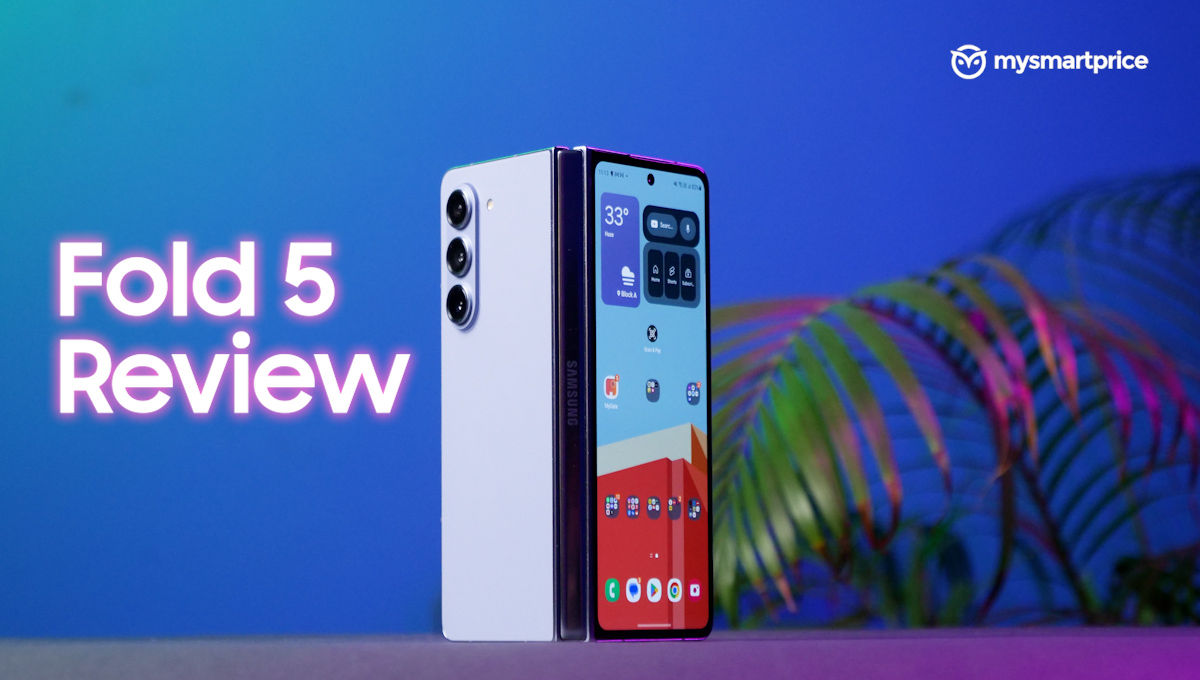 There's no denying that Samsung's the big daddy of foldables. It started the arms race of folding phones in 2019, prompting all the big guns, including Google, to get into the game. Over the last four years, the Galaxy Z Fold series has turned its fortunes around with a waterproof enclosure, sturdier hinge and, more importantly, a fluid user interface that focuses on multitasking. Even with the competition quickly catching up, Samsung seems confident that the Galaxy Z Fold 5 is the only full-fledged foldable you will ever consider. But is it so? Find out in our review.
Samsung Galaxy Z Fold 5
Rs 1,54,999
What Is Good?
Unbeatable performance
Fantastic multitasking abilities
Gorgeous foldable display that's now even brighter
Precise, balanced speaker output with a ton of depth
Most apps currently support the unconventional aspect ratio
Great rear cameras
Gapless hinge
Status symbol like none other
What Is Bad?
No official dust resistance
Crease is still prominent
Slow 25W charging
Ungodly expensive for a smartphone
S-Pen support is only for inner display
Samsung Galaxy Z Fold 5 Review: Design and build
Samsung Galaxy Z Fold 5 features the same metal and glass design with a foldable display sandwiched between its predecessors.
Durability rating: IPX8, Corning Gorilla Glass Victus 2 on cover display and rear panel.
The new water drop hinge ensures gapless folding.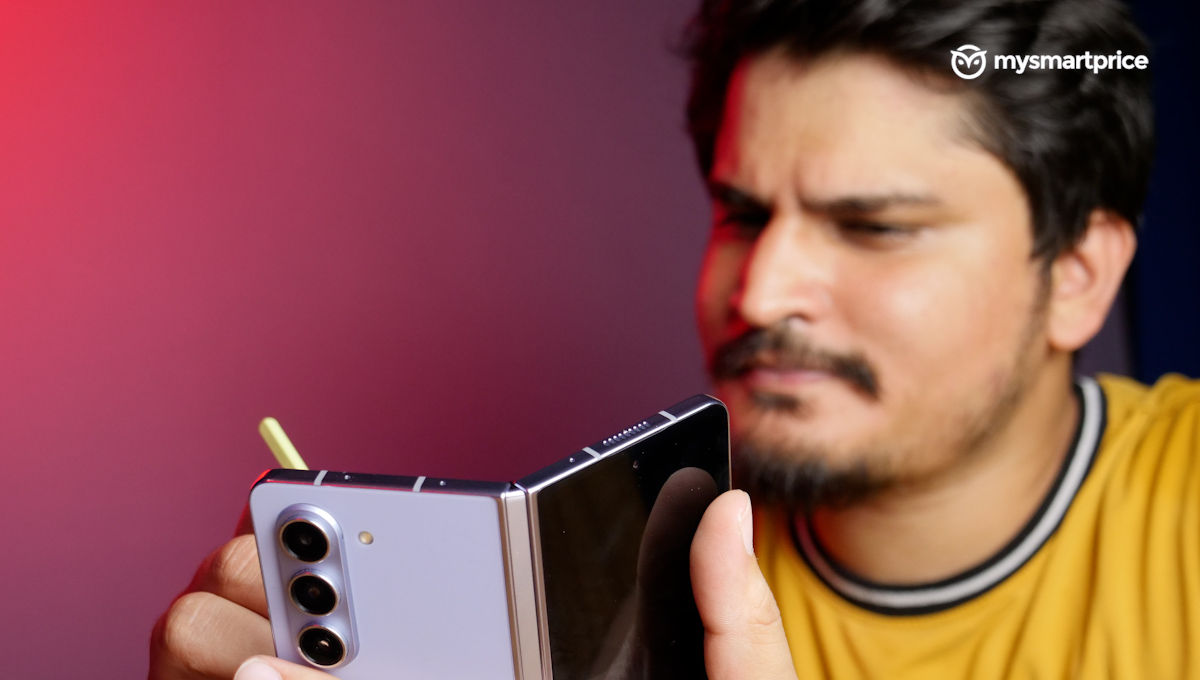 Despite being around for four years, the Galaxy Z Fold 5 still commands an extremely high aspirational value. Opening it up in a public setting creates an event that captures gazes magnetically. Be it the highly reflective metallic frames that shine brightly on a sunny day or the elegant, velvety rear glass panel, and it's a phone that shouts 'status quo' like nothing else on the market.
But, if you belong to the elite crowd who's lived and breathed a foldable, the first thing that'll catch your eye is the gapless hinge. It took them long enough to develop a 'water-drop' hinge to achieve this feat, but Samsung finally did it! It's probably one of the biggest reasons to upgrade if you're coming from a previous generation because it doesn't catch stray lint from denim pockets.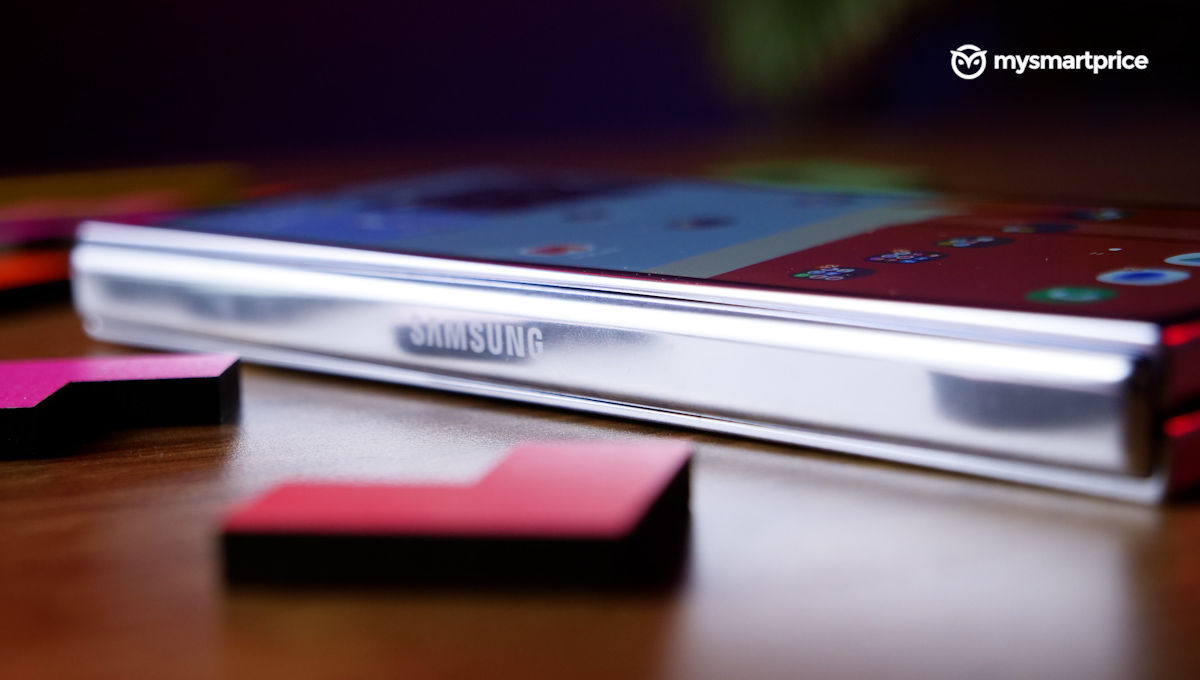 The Z Fold 5 is water resistant with an IPX8 rating, just like its predecessor, but it still belongs inside a Bentley rather than a beach because there's no guarantee against dust. Drop resistance has been upgraded, and the cover display and rear panel are reinforced with Corning Gorilla Glass Victus 2. The flexible display is made of flexible glass, which comes with a pre-applied plastic protector.
The port and grille placement are identical to its predecessor, and so are the overall dimensions of the phone. It's still big, at 13.4mm thick when folded, and heavy, at 253g, for average-sized hands.
Its tall dimensions and sharp corners can easily give you a repetitive stress injury on your pelvis if you keep it in your trouser pocket for too long. But that's a first-world problem we'd happily be able to live with.
Samsung Galaxy Z Fold 5 Review: Display and audio
It carries forward the same displays from its predecessor, except that the brightness of the folding panel is increased to 1750 nits.
The crease around the hinge is still prominent.
Except for the brightness of the bendy panel on the inside, Samsung has kept both displays untouched in terms of dimensions, resolution and refresh rate.
| | |
| --- | --- |
| Cover Display | Specifications |
| Type | Dynamic AMOLED 2X |
| Size | 6.2-inches |
| Resolution | 904 x 2316 |
| Aspect Ratio | 23.1:9 |
| Refresh Rate | 120Hz |
| Brightness | NA |
| | |
| --- | --- |
| Foldable Display | Specifications |
| Type | Foldable Dynamic AMOLED 2X |
| Size | 6.2-inches |
| Resolution | 1812 x 2176 |
| Refresh Rate | 120Hz |
| Aspect Ratio | 21.6:18 |
| Brightness | 1750 nits |
While both the displays are nothing short of fantastic, with excellent viewing angles, lively colours and contrast, they do struggle with letterboxing. Still, if you plan on enjoying some good-old anime action on the primary display, such as Naruto – Netflix still shows that in 4:3 – you're in for a treat.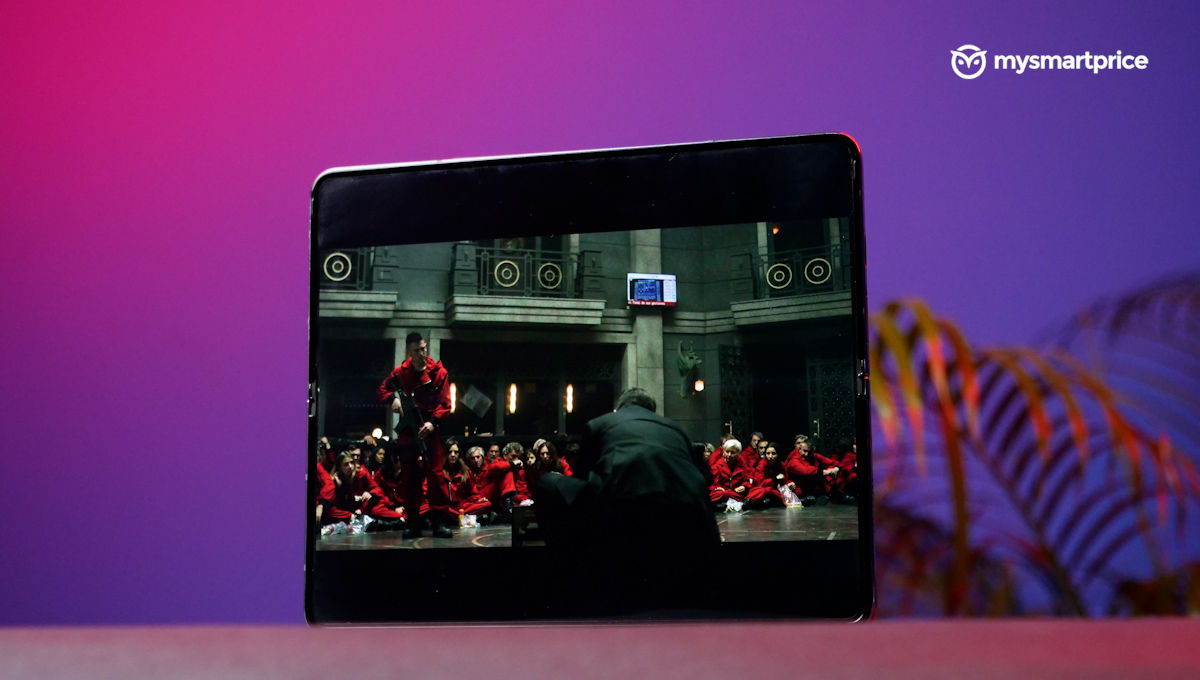 Both displays are also incredibly smooth, and every touch input feels like butter. Samsung has worked hard to optimise the most commonly used apps for the uncommon aspect ratios of the Fold 5's display. There's no other phone in the market that offers satisfaction as profound when scrolling mindlessly through Instagram or even during online window shopping.
But, the crease between the new hinge is just as prominent as the previous generation, which is something Samsung should have worked on. We didn't mind it all that much because it grew on us within 15 minutes of using it, but it does put off many people.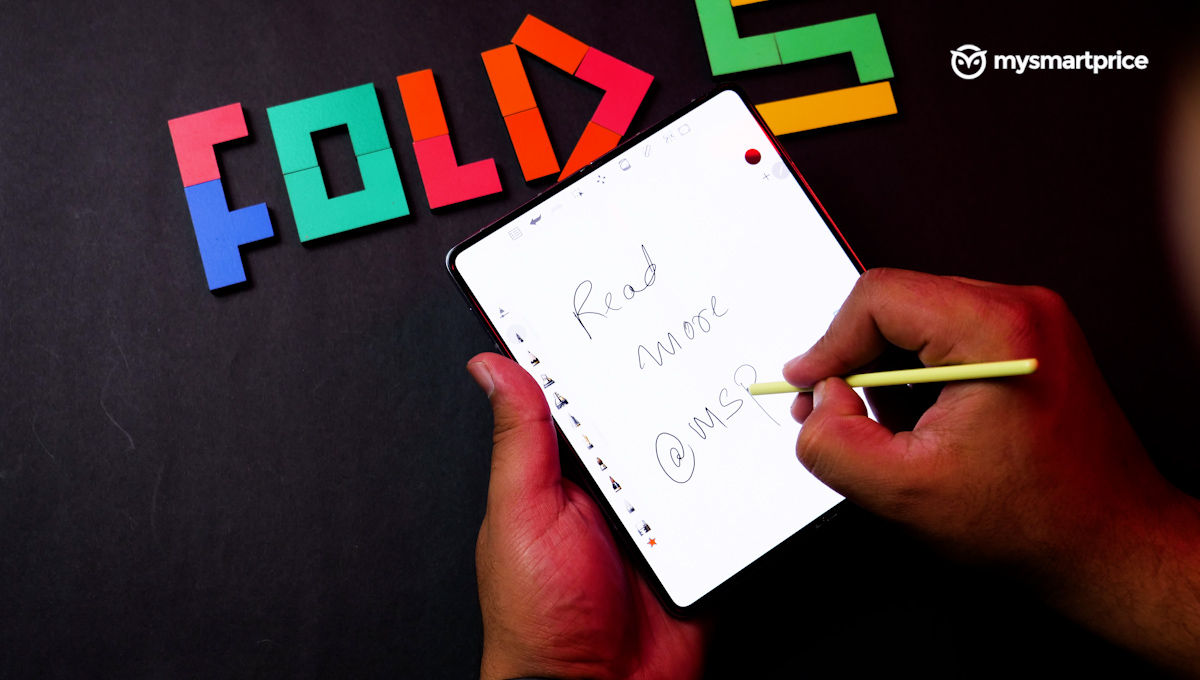 The Z Fold 5 also supports an S-Pen, but it still comes with a case and doesn't work with the outer display.
On the upside, the Z Fold 5 easily packs the best speakers we have heard on a smartphone. The sound is loud and crisp, with a surprising amount of bass because of how much space the drivers take up around the frames.
Samsung Galaxy Z Fold 5 Review: Hardware and software
The Galaxy Z Fold 5 is powered by a custom variant of the Snapdragon 8 Gen-2.
While it runs the latest version of Android 13, there are only a few software tweaks, one of which lets you use two fingers to drag and drop content across apps.
We come across a lot of 'gaming-focused' smartphones every year, all trying to beat that elusive 1-point-something-million score on AnTuTu benchmarks. Well, the Z Fold 5 can be a fantastic gaming phone (if it wanted to), but its elevator pitch is – a smartphone, a laptop and a tablet, all in one.
Hardware specifications:
Processor: Qualcomm Snapdragon 8 Gen-2 for Galaxy
RAM/storage configurations: 12GB/256GB, 12GB/512GB, 12GB/1TB
So, Samsung took the same chipset from the S23 Ultra, injected it with industrial-grade steroids, and the result was record-breaking.
| | |
| --- | --- |
| Benchmark | Score |
| AnTuTu v10 | 1407569 |
| Geekbench 6 | 2011 (single-core), 5229 (multi-core) |
Yep, you read that right… 1.4 MILLION on AnTuTu! It could send a rocket ship to space, let alone fly through a few apps on a bendy screen. We have thrown every intensive app in our arsenal at the Z Fold 5, and except for one, it hasn't ever faltered. Funnily enough, the one app that the Fold 5 struggles to run smoothly is Blinkit and that too only when it's being used on the big display – it's a software bug that we have reported to Samsung.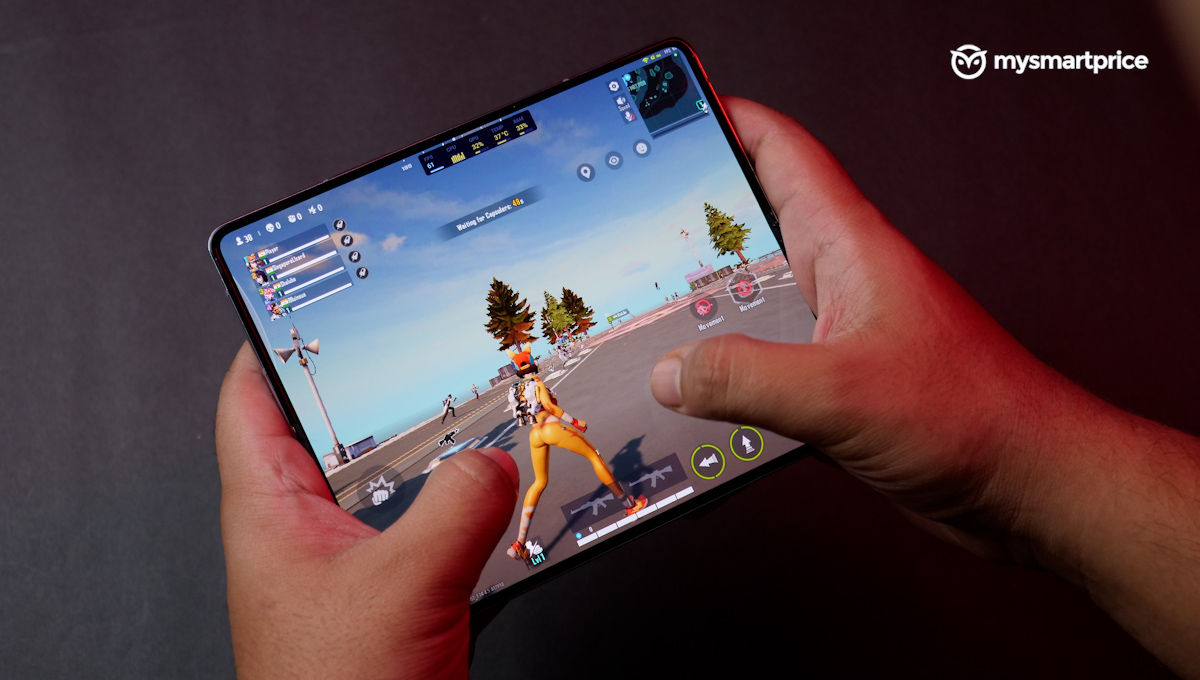 Speaking of the software, Samsung has been very conservative with new features here. The Z Fold 4's intuitive taskbar is here and so is the Flex mode; in fact, the only 'new' feature we could spot was a two-finger drag and drop gesture.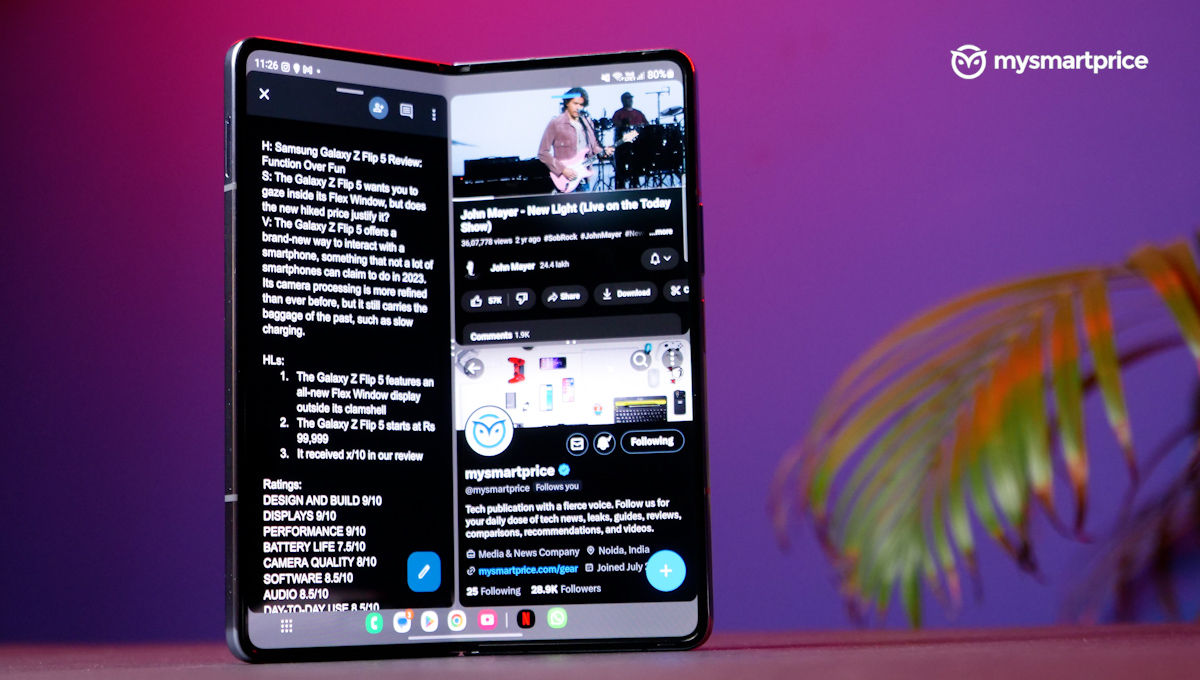 It's pretty cool – you can select a bunch of photos in the Gallery app, press and hold them using one finger and then, using another finger, you can open another app from the taskbar, let's say WhatsApp, and then send the selected photos to any contact. It's a bit strange to explain, but it saves a lot of time.
Still, software support is clutch here – the Z Fold 5 will receive OS updates till Android 17 and five years of security patches – that's more than the life cycle of most phones these days!
Samsung Galaxy Z Fold 5 Review: Camera
It features the same camera configuration as the Galaxy S23 series.
A total of five cameras can be found on the Z Fold 5, including the ones on the cover and inner displays.
| | |
| --- | --- |
| Camera | Specification |
| Primary (rear) | 50MP, ƒ/1.8, 23mm (OIS) |
| Ultrawide (rear) | 12MP, ƒ/2.2, 12mm, 123-degree FoV |
| Telephoto (rear) | 10MP, ƒ2.4, 3x Optical Zoom, (OIS) |
| Selfie Camera (in-display) | 4MP, ƒ/1.8, 26mm |
| Selfie Camera (cover screen) | 10MP, ƒ/2.2, 24mm |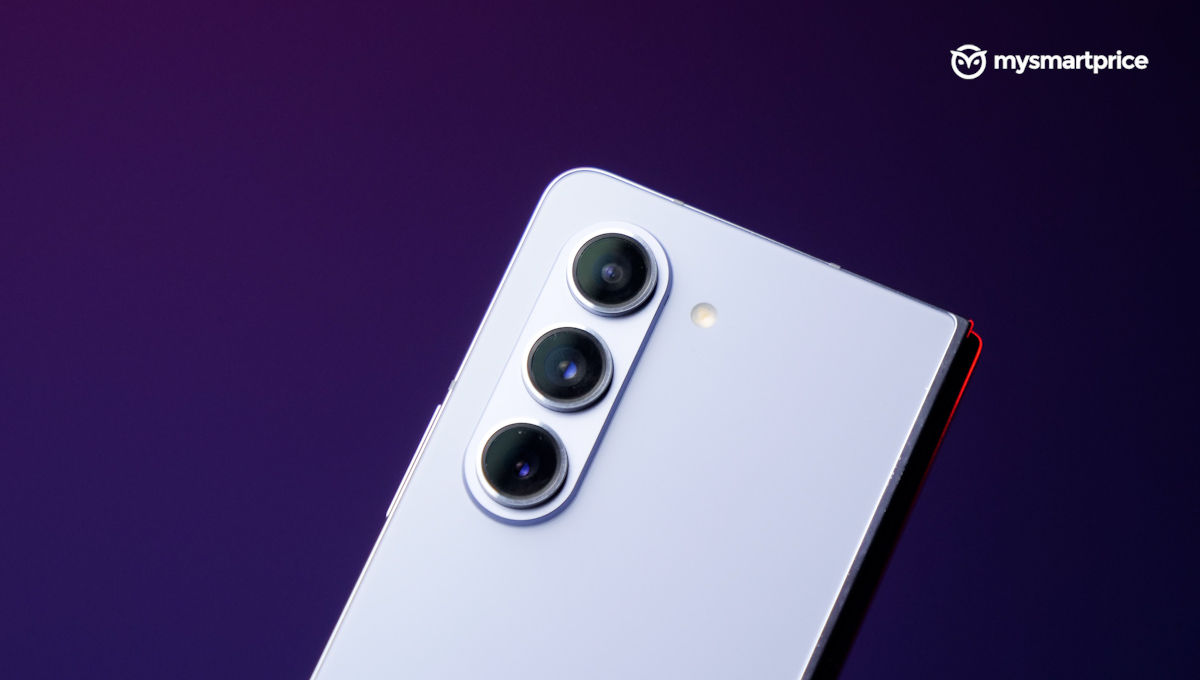 The Z Fold 5 gives you the luxury of having a camera on every glass surface you can touch, so you have a total of five cameras. The camera hardware is taken straight off the Z Fold 4, and the output is roughly the same.
Daytime output is nice and clear on all the rear cameras, with some Samsung goodness sprinkled on top that boosts saturation and highlights.
The nighttime photography experience can be annoying when clicking human subjects because to click a decent-ish shot, the subject must wait patiently for at least three seconds. So, expect to get some deathly stares from your friends.
Luckily for Samsung, retro-style flash photography is in trend now, and the fact that we could frame and click rear camera selfies using the cover display saved us from getting smacked in the face by some of our buddies at a night party.
We were pleasantly surprised by the performance of the selfie camera on the cover display in the day and night, given it's just a tiny 10-megapixel sensor. But the in-display selfie camera needs an upgrade because it's only usable for a video call with someone you're trying hard to break up with.
Samsung Galaxy Z Fold 5 Review: Battery and charging
The Z Fold 5 is backed by a 4,400mAh battery and can be charged via peak wired wattage of 25W.
It had an average screen-on time of about four and a half hours in our usage.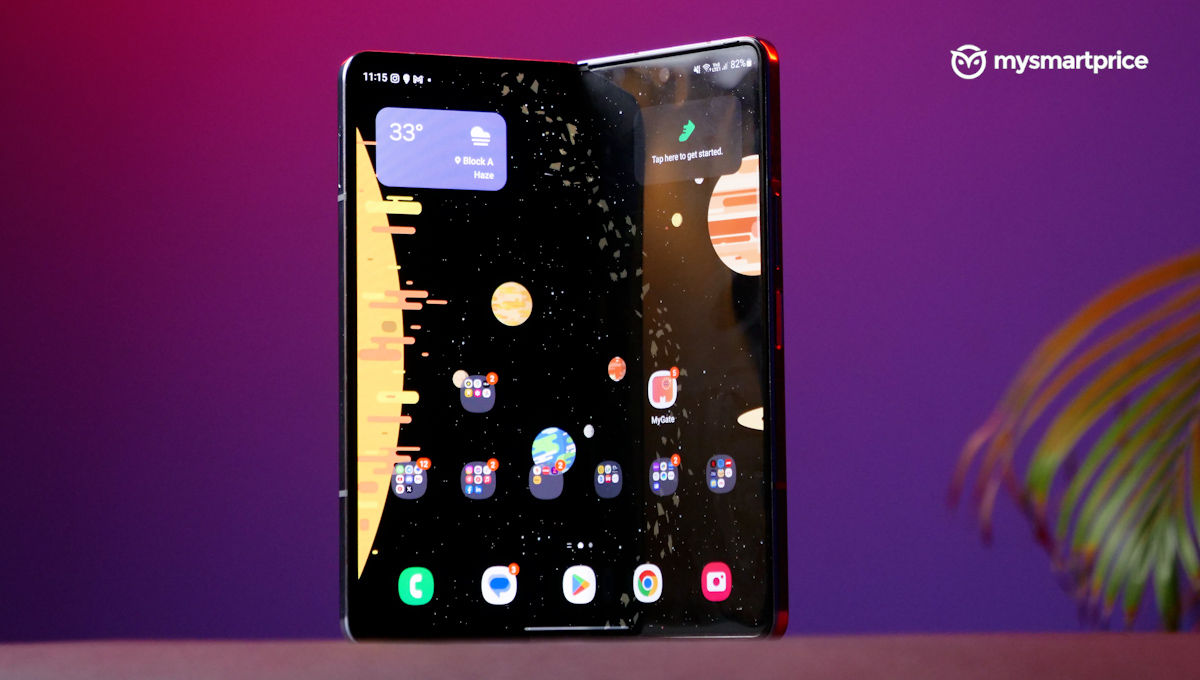 The Galaxy Z Fold 5 is the most mercurial smartphone we have come across when it comes to battery life, simply because it offers so many different ways to use itself. On a typical work-from-home day, in which we found ourselves slacking (read as 'finding inspiration') on Instagram and YouTube, the Z Fold 5 only managed half a day's worth of battery life. The interior display can stress the battery significantly, so try using it with low brightness indoors and at 60Hz – something we tried and helped bump our overall battery performance.
Then, there were days when we had to travel between Noida and Gurgaon, and the Z Fold 5 behaved like a real good boy. We started the day at 7:30 am and went to bed around midnight, and we could still see our battery percentage at 15%. Our usage included everything from Uber, Spotify, Outlook, Gmail, camera and YouTube. On such a day, we barely used the folding screen.
Having said that, we are a bit ticked off by the fact that the Z Fold 5 still charges at an archaic 25W speed, that too, with a cable attached. It takes about an hour and 45 minutes for a full charge, which can be painfully slow for a smartphone with such high calibre (and price).
Samsung Galaxy Z Fold 5 Review: Verdict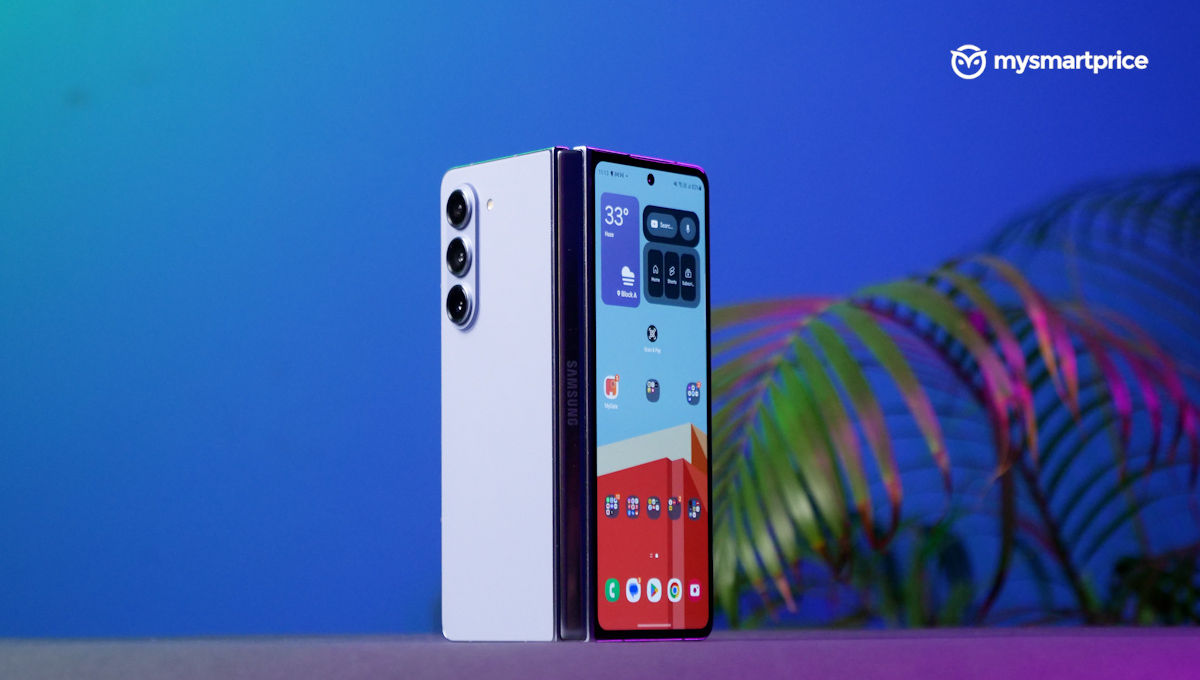 Till next year, the Samsung Galaxy Z Fold 5 remains the best, crazy powerful and well-rounded foldable you can buy in India. That's because the only competition it has at the moment is the TECNO Phantom V Fold (first impressions), which, let's be honest, can't hold a candle to the power, practicality and panache the Z Fold 5 presents.
Yes, it has the same display, cameras, software, battery and charging speeds as its predecessor, but that's a luxury Samsung can afford because there's no other apex predator in the forest.
In case you're wondering, the Z Fold 4 doesn't appear on Samsung's official website but is now 37% cheaper, offering much better value for money, but hey, it doesn't have the gapless hinge. Well played, Samsung!