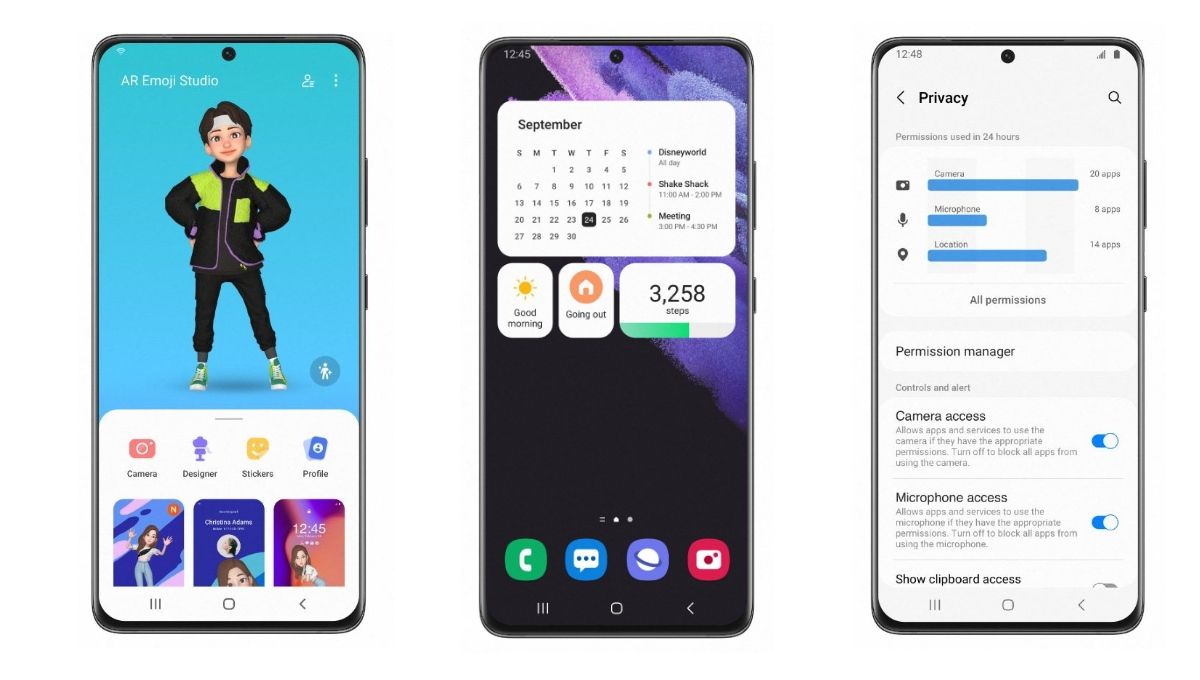 Google officially launched Android 12 a few days back. All eyes are now on the smartphone manufacturers who will be rolling out Android 12-based updates for their custom skin.  Among them is Samsung, who is currently testing its latest One UI 4.0 based on Android 12. Compared to the current One UI 3.1, the new One UI upgrade comes with new customization options, privacy features, nifty design changes and a lot more. In this article, we will look at some of the best features of One UI 4.0,  supported devices and when One UI 4.0 is coming out.
Also Read: Android 12 Update Tracker
One UI 4.0 Update Release Date
Google pushed the source code of Android 12 to the Android Open Source Project (AOSP) on October 4th. However, the Android 12 roll-out for Google Pixel devices has yet to begin.
Samsung, on the other hand, is running the Android 12-based One UI 4.0 beta programme and the second beta is out for certain Galaxy devices. But at present, there is no telling when Samsung will release the final version of One UI 4.0. If we take notes from last year's One UI 3.0 release, we can expect Samsung to launch the One UI 4.0 in December, or at least by the end of the year.
Also Read: MIUI 13 Update Tracker: India Release Date, Top Features, List of Compatible Xiaomi Mi, Redmi and POCO Mobiles
One UI 4.0 Top Features
Here are some of the top features that are expected to be a part of the upcoming One UI 4.0 update.
UI enhancements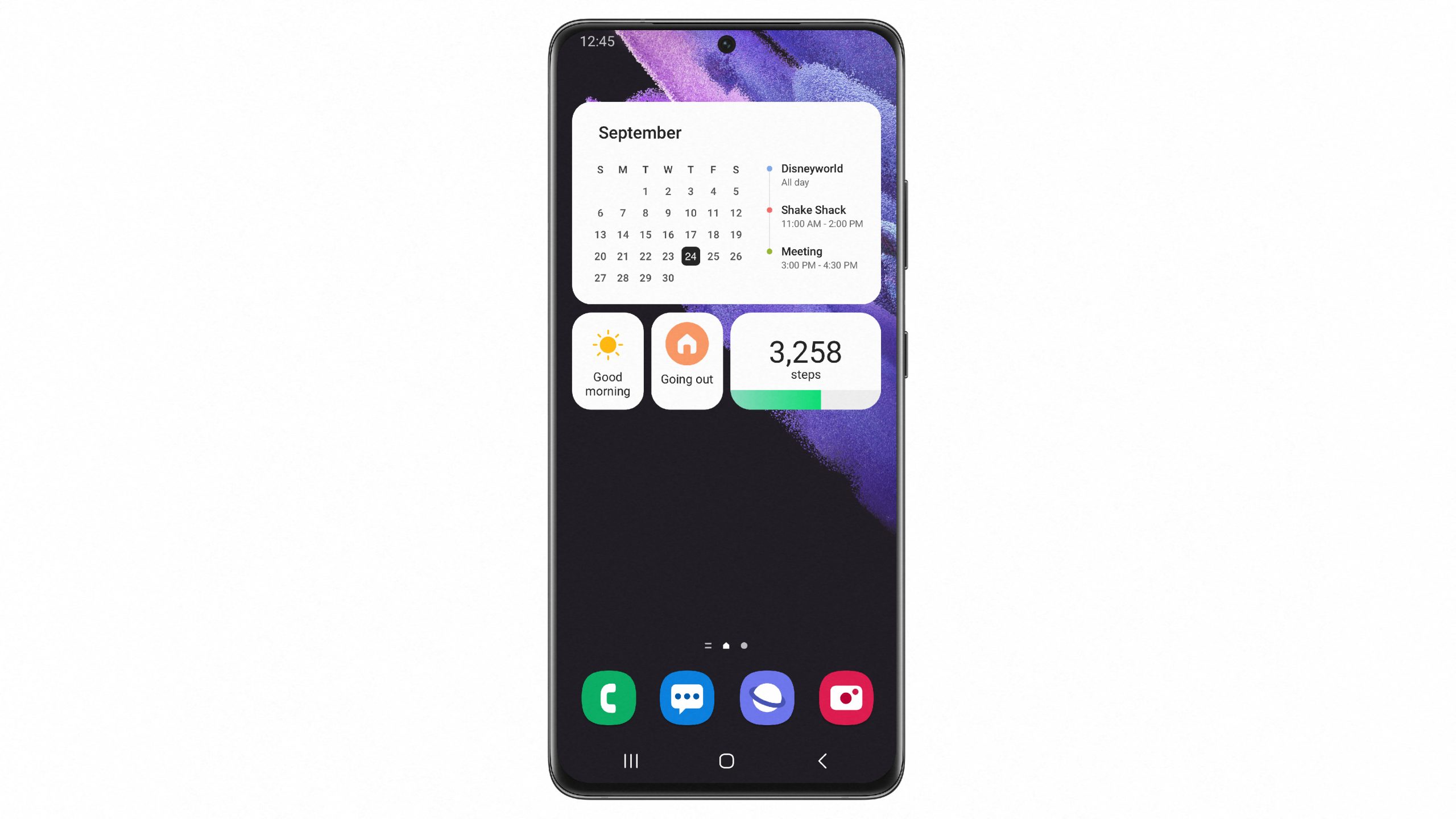 As with every One UI upgrade, Samsung has again added some design changes to the UI for enhanced user experience. First of all, the overall UI is now smoother and faster.
The widget section is now stacked vertically, taking direct inspiration from the Android 12's widget look. You can now apply dark mode to the wallpaper in case you want a consistent look when the device is set to a dark theme. Also, there is a new charging animation.
In the home screen settings, there is a new Add media to home page option where you can choose between adding a Google discover page or Samsung Free.
Also Read: Realme UI 2.0 Based on Android 11 Announced in India: Here's When Your Realme Smartphone will Get the Update
Color Themes
Similar to Android 12, Samsung has introduced color themes in One UI 4.0 in which the OS extracts color pallets from the wallpaper. You can choose between the color themes that will apply to the entire UI. However, the feature is still in beta stage and doesn't apply the color scheme as effectively as you would see in Android 12. Color Theme is available in the Wallpaper section which you can find by long-pressing on the home screen
New Privacy Features
Android 12 has several new privacy features, and Samsung is trying to bring all of them to One UI 4.0.
To start off, there is a new permission history under the privacy settings where you can see app usage permissions over the last 24 hours. You can go back as long as seven days for sensitive permissions including Camera, Location and Microphone.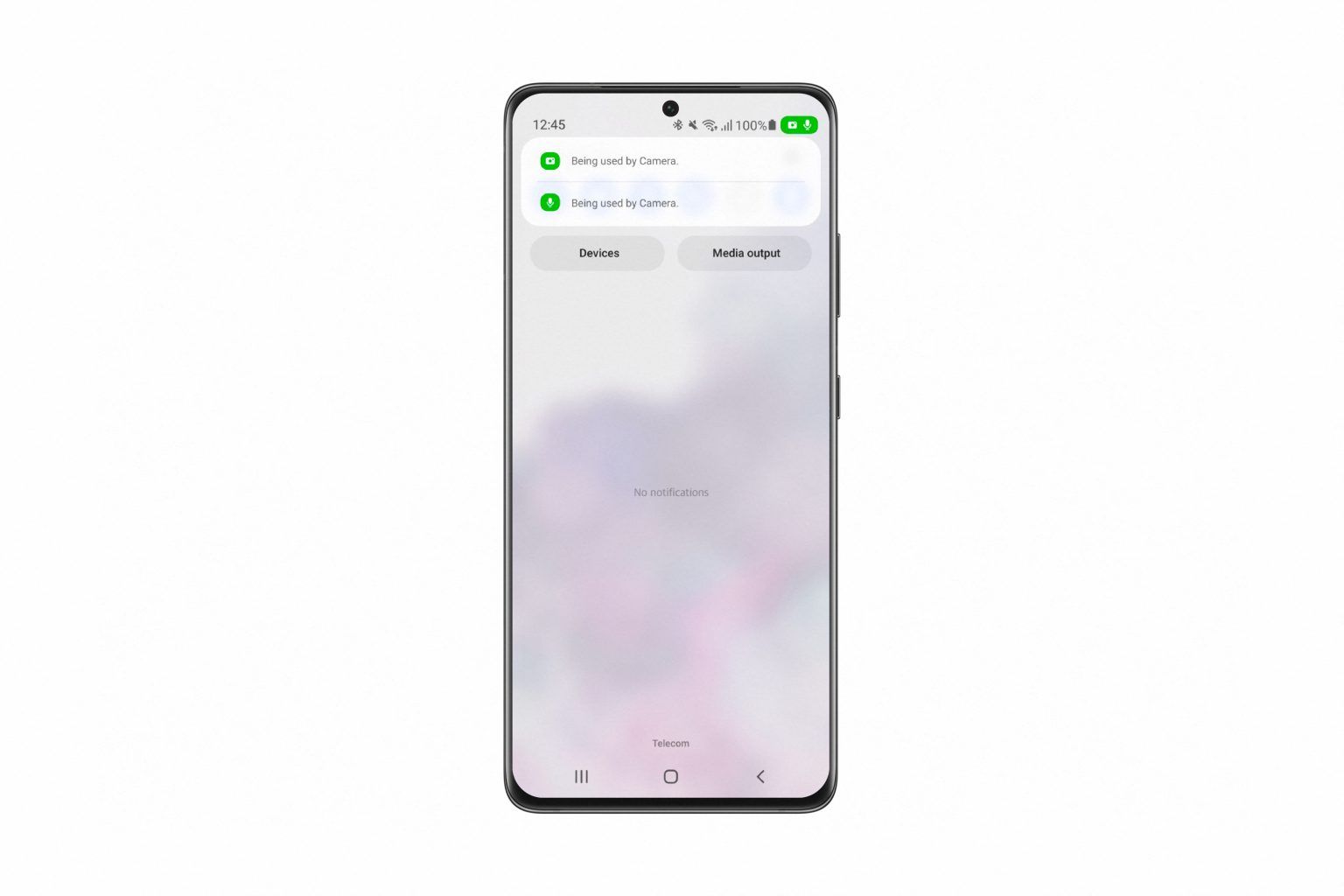 Speaking of sensitive permissions, the One UI 4.0 also features Android 12 privacy indicators. If an app tries to access your camera or microphone, you will immediately see an indicator in the top right corner of the screen.
Under privacy settings, there are toggle buttons for camera and microphone access. Once disabled, all apps with access to the camera or microphone will have their permission revoked. The same toggles are available in Quick settings as well.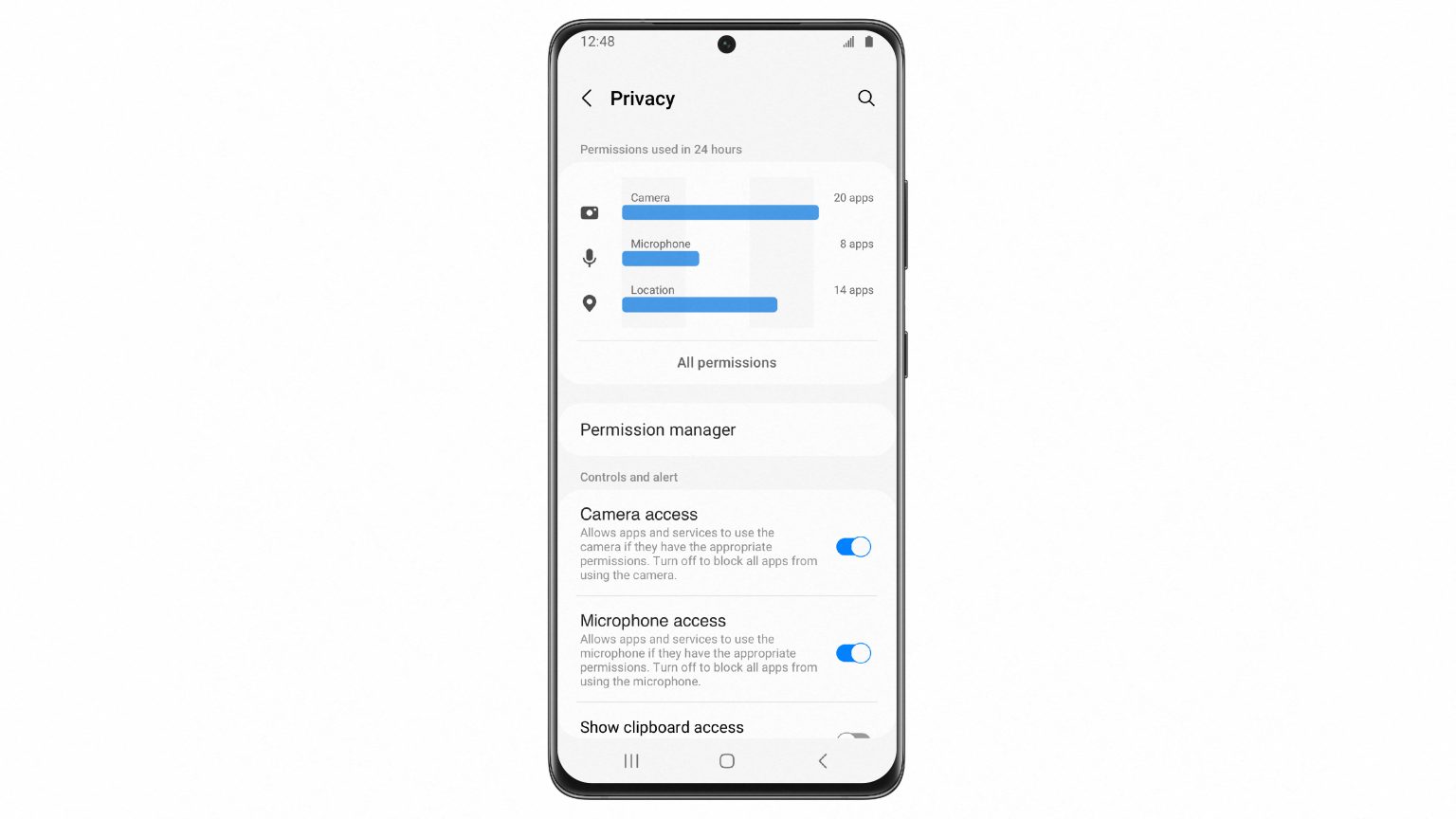 Also, you now have the ability to give an approximate location to apps. The toggle is available with location permission for each app.
Also Read: How to Hide Apps in Samsung, Vivo, OPPO, Realme and Xiaomi Android Mobile Phones?
Extra Dim
Straight out of Android 12, the One UI 4.0 has a new feature called, "Extra Dim." As the name suggests, you can dim the screen beyond the minimum screen brightness.
The feature is available in One UI accessibility settings, where you can turn it on and change its intensity. You can also toggle it from the Quick settings menu.
Multi-Window Support 
Under Advanced Features, you will now find the Force multi-window option. As the name suggests, it allows you to force split-screen view and pop-up view on apps that do not support the same.
RAM Plus
Virtual RAM feature the is getting popular, and now Samsung is adding the feature to the Galaxy phones in the One UI 4.0. As the name suggests, the feature uses external storage and uses it as virtual RAM to improve the overall app performance. Currently, we don't know which smartphones will get the feature.
Lock Screen and Always-On Display
The Android 12 One UI 4.0 has brought a few changes to the lock screen as well. There are new media controls when playing music. You can change the audio output right from the lock screen. Also, you will see customized controls depending on which music app you're using.
You can now add a recorder widget to the lock screen that allows you to create voice memos without unlocking your phone.
Coming to Always-on display or AOD, there are new animation stickers. You can set AOD to only awake when you receive a notification.
Camera and Gallery
The One UI 4.0 introduces a number of changes to the camera app as well as the gallery app. Now, you can touch and hold the shutter button to start recording a video in Photo mode. You can also drag your finger to the lock icon to keep recording.
In video mode, you can start recording as soon as you touch the record button. While scanning a document, you can now zoom in to edit the document.
Similar to Google Photos, you can revert an image in the Gallery app to its original version even after they are saved. Also, you can now edit the date, time and location of a picture or a video.
Samsung Keyboard
The latest changelog reveals that Samsung will be bringing in a new Samsung Keyboard with the One UI 4.0 update. The update will allow users to get emojis, GIFs, and stickers directly from the keyboard with a single button. One can also combine two emojis and add animation with the keyboard application. It also brings in a new writing assistant, which will be powered by Grammarly.
One UI 4.0: List of Compatible Galaxy Smartphones and Tablets
Undoubtedly, all recent and high-end Samsung devices will be the first to get the One UI 4.0 stable update. The One UI 4.0 beta is available on the Galaxy S21 lineup. So here is a preliminary list of devices supported by the One UI 4.0 – 
Galaxy S21, 

Galaxy S21+ 

Galaxy S21 Ultra 
While the One UI 4.0 device list is short, we expect it to get bigger as the One UI beta program moves forward.
Here is a list of Samsung devices that will likely support the One UI 4.0 based on Android 12. The list is based on Samsung's update policy of providing three years of major Android upgrades to its devices.
Galaxy S21 Ultra (LTE/5G)

Galaxy S21+ (LTE/5G)

Galaxy S21 (LTE/5G)

Galaxy S20 Ultra (LTE/5G)

Galaxy S20+ (LTE/5G)

Galaxy S20 (LTE/5G)

Galaxy S20 FE (LTE/5G)

Galaxy S10 5G

Galaxy S10

Galaxy S10+

Galaxy S10e

Galaxy S10 Lite

Galaxy Note 20 Ultra (LTE/5G)

Galaxy Note 20 (LTE/5G)

Galaxy Note 10+ (LTE/5G)

Galaxy Note 10 (LTE/5G)

Galaxy Note 10 Lite

Galaxy Fold (LTE/5G)

Galaxy Z Fold 2 5G

Galaxy Z Flip

Galaxy Z Flip 5G




Galaxy Z Fold 3

Galaxy Z Flip 3

Galaxy A71 5G

Galaxy A71

Galaxy A51 5G

Galaxy A51

Galaxy A52

Galaxy A52 5G

Galaxy A52s

Galaxy A72

Galaxy A90 5G 

Galaxy A01 

Galaxy A11 

Galaxy A31

Galaxy A41 

Galaxy A21 

Galaxy A21s

Galaxy A Quantum

Galaxy Quantum 2

Galaxy A42 5G

Galaxy A02

Galaxy A02s

Galaxy A03s

Galaxy A12 

Galaxy A12 Nacho

Galaxy A32

Galaxy A32 5G

Galaxy A22

Galaxy A22 5G

Galaxy M42 5G

Galaxy M12

Galaxy M62

Galaxy M01

Galaxy M02s 

Galaxy M02 

Galaxy M21 

Galaxy M21s 

Galaxy M22

Galaxy M31

Galaxy M31 Prime Edition




Galaxy M32

Galaxy M32 5G

Galaxy M51 

Galaxy M31s

Galaxy F41 

Galaxy F62

Galaxy F02s 

Galaxy F12

Galaxy F22

Galaxy Xcover Pro 

Galaxy Xcover 5

Galaxy Tab S7+ (LTE/5G)

Galaxy Tab S7 (LTE/5G)

Galaxy Tab S7 FE

Galaxy Tab S6 5G

Galaxy Tab S6 

Galaxy Tab S6 Lite

Galaxy Tab A 8.4 

Galaxy Tab A7 

Galaxy Tab A7 Lite

Galaxy Tab Active 3 
We will update the article as we hear new information about more One UI 4.0 features and its supported device.
Frequently Asked Questions (FAQs)
When Will My Samsung Smartphone Get One UI 4.0?
As you know, the company has started beta testing for its latest Galaxy S21 series. So, it is safe to assume that these devices will get the stable update first as compared to other Samsung smartphones and tablets. It is important to note that Google is yet to roll out the stable version of the Android 12 operating system. Once it does, Samsung might start rolling out the new One UI 4.0 update to its flagship series, followed by other Galaxy devices in its A-series, M-series, and so on.
How to Become a One UI 4.0 Beta Tester?
The company has revealed that the One UI 4.0 beta programme is live in some countries. These include China, Germany, India, Poland, the Republic of Korea, the United Kingdom, and the United States. If you reside in the above-mentioned countries, you can apply for beta testing. In order to do that, you need to do the following:
Download and install Samsung Member applications from the Galaxy Store or Google Play Store.
Log in to the app using your Samsung account. On the homepage, you will see an option called 'Registration for One UI Beta Program'.
Click on it and follow the on-screen instructions to register yourself for beta testing.
Once you have applied, you can download the latest One UI 4.0 beta version by going to Settings > Software Update > Download and Install.
One UI 4.0 Latest News
One UI 4.0 Android 12 Beta Program Goes Live in India (October 6th, 2021)
After months of waiting, Galaxy owners in India are finally going to be able to test the One UI 4.0 based on Android 12. The upgrade is available for the Samsung Galaxy S21, S21+ and S21 Ultra owners in India. To enroll for the beta, go to the Samsung Members app. Go to the notice section and select the beta notice. Now, tap on Enroll and download the update from the Software update section in the Galaxy device settings.
One UI 4.0 Beta 2 Is Out for the Galaxy S21 Series (October 5th, 2021)
The second beta of Android 12-based One UI 4.0 is out for the Galaxy S21 series. The new brings a ton of bug fixes and introduces new features. One of them is the new Virtual RAM feature that extends the RAM to improve the app performance. The beta also brings the Android 12 wallpaper-based theming feature for Galaxy devices.
One UI 4.0 Internal Testing Reaches Beta 9 Version
Samsung is testing its One UI 4.0 update internally and it could be rolled out pretty soon. Known tipster Ice Universe has revealed that Samsung's internal One UI 4.0 has reached the Beta 9 phase. The tipster also claims that the latest One UI 4.0 Beta 9 version brings multiple bugs. One could expect Samsung to roll out the new beta version to the Galaxy S21 series once it is ready for public testing.
One UI 4.0 Will Allow You to Use Icon Packs From the Play Store (17th September 2021)
Android users have always been able to customize the app icons with the help of icons packs on the Google Play Store. With One UI 4.0, the functionality finally extends to Samsung devices.
In the latest One UI 4.0 beta, you can now download and install icon packs from the Google Play Store. For now, only beta testers who have access to Good Lock can download the icons via the Theme Park module.
One UI 4.0 Beta Update Brings eSIM Support to the U.S. (15th September 2021)
The Galaxy S21, S21+ and S21 Ultra have received support for eSIM in the U.S. with the One 4.0 beta. The entire Galaxy S21 lineup has eSIM support in other markets since their launch. Now, the feature has finally arrived for U.S. citizens.
The T-Mobile Galaxy Note 20 and Note 20 Ultra received eSIM support earlier this year. If you want eSIM support on your Galaxy S21, simply sign up for the Android 12-based One UI 4.0 beta program and install the new update. Alternatively, you can wait for the One UI 4.0 stable update that will likely arrive by the end of the year.
Thanks for reading till the end of this article. For more such informative and exclusive tech content, like our Facebook page