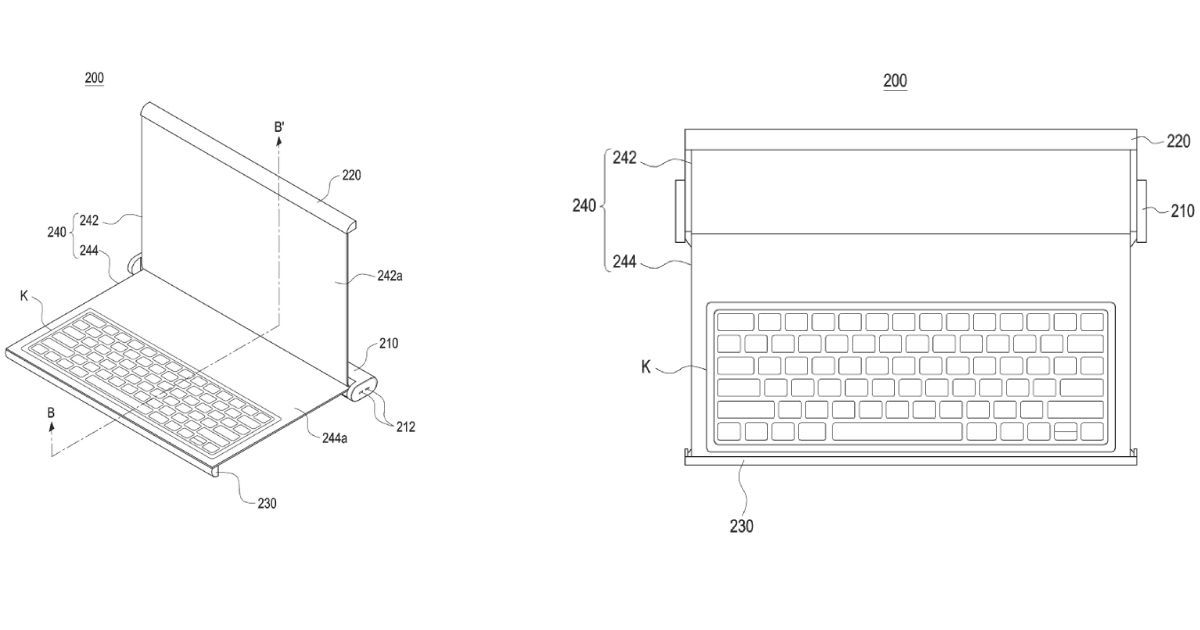 Samsung has been working on a bunch of foldable devices and over the past few months, we have seen Samsung's Flexible display phone, sliding display phone, slidable display with S Pen support, and much more. All these phones were spotted on World Intellectual Property Organisation (WIPO). Now, we have spotted a new Samsung laptop on the same platform.
The upcoming Samsung rollable laptop has been listed on the WIPO platform, which is a patent platform. This listing has given a glimpse at what the upcoming laptop's design from Samsung might look like. Let's take a look at the same in detail.
Samsung Roller Laptop Spotted on Patent Website
According to images and descriptions posted on the WIPO patent website, the new and upcoming Samsung laptop will come with a roller design. This means the laptop will fit inside a cylindrical roller. Going by the patent images, to make use of the laptop, it looks like a user has to pull up to bring up the laptop's screen (similar to a projector screen maybe?) and to access the keyboard, a user will have to pull forward to the keyboard. Once the screen and the keyboard are pulled out, it will offer a full laptop experience.
Once the work is done, we assume that sliding down the screen and keyboard will screen back will put out the whole laptop component to the roller and users can be just able to carry the small cylinder-like roller along with them in the bag or just carry it around in the bare hands. This design gives us a hint about what Samsung could possibly be working on to make the laptops more portable in the future. As of now, we are not aware of the material or the screen type used on the Samsung roller laptop.
The description also says the display can be extendable in two directions using a display wound in two layers around a roller, which means we can expect the machine to come with an extendable/flexible screen as well. As for the keyboard, we are unaware if this will be a physical keyboard or a virtual keyboard as of now.