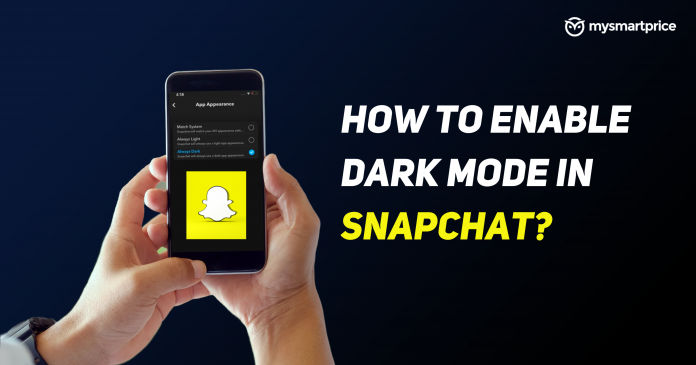 Snapchat is one of the popular photo and short video sharing apps. It also allows you to chat inside the app as well. Currently, Snapchat has over 319 million users across the globe. Among these 300 million+ users, India alone has over 74 million users, right behind the US. who's leading with 108 million users. While these numbers are still way behind the numbers of its rivals like Facebook, Instagram, and Tik Tok. Snapchat is popular among youths as it offers a bunch of features like snaps, stories, custom stories, snap streak, filters, lens, geo finder, disappearing messages, and much more. 
Also Read: Snapchat Streak Ideas: Best and Unique Snapchat Streak Ideas To Try in 2022
If you are a long smartphone user, you'd have seen over the years that many apps have adopted dark mode or dark theme to their app. Similarly, it is normal for users of Snapchat to ask for a dark mode on the app. But, Snapchat took a long time to roll out this in-demand feature. It was only in May 2021 that the company started rolling out the dark mode feature to iOS users.
However, Android users are still waiting for the official rollout (But, there are a couple of ways to enable it on Android). The main advantage you get when dark mode is used is that the power consumption will go down on phones with AMOLED screens and this will avoid any eye strain. In this guide, we will take a look at how one can get dark mode on both Android and iOS devices. 
Also Read: Snapchat Account Locked? Here's How to Unlock Snapchat Using Different Methods
How to Turn on Dark Mode in
iOS Mobile
On the iOS app, you can enable dark mode on Snapchat with a few simple steps using the in-app setting options. 
Open the Snapchat app on your iPhone

Tap on the Bitmoji icon on the top left of the screen (profile picture)

Click on the Settings icon on the top right corner

Under the "My Account" settings, tap on "App Appearance"

Under this menu, tap on the "Always dark" option

Your Snapchat app will turn on 
If you prefer, you can set it to "Match System", which will match your iOS appearance setting. 
How to Turn on Dark Mode in Android 
Like iPhones, there is no in-app option to enable the dark mode on Snapchat. So, we will be using a setting under the display settings of the phone to enable the dark mode. These steps work only on OnePlus, Oppo, Reamle, and Vivo smartphones. 
Open Settings

Go to "Display and Brightness"

Tap on "Dark mode settings"

Tap on "Dark mode for third-party apps (Beta)"
Scroll down and enable the toggle for Snapchat

Dark mode will be applied to the Snapchat app
Note: We tested this method on OnePlus, Oppo, Vivo, and Realme phones and it worked on all. In case you have other phones, you can try following the same steps, but if that does not work, you can use the below-mentioned method and enable the dark mode. 
Also Read: Delete Snapchat Account: How to Permanently Delete Snapchat Account or Temporarily Deactivate it
How to Turn on Dark Mode on Any Android Phone
If you are using any other smartphones apart from Oppo, OnePlus, and Vivo, you force enable the dark mode by following the steps mentioned below: :
Open Settings

Go to "About phone"

Scroll down and find "Build number"

Tap on the Build number seven times continuously 

You will get a toast message saying "You are now a developer"

Go back to Settings 

Go to System and tap on Developer options

Scroll down and find the "override force-dark" option

Enable the option by turning on the toggle 

Once this is enabled, your Snapchat app will be turned to the dark mode
Enabling the override force-dark option will essentially invert the colour scheme on your phone and the apps on the phone will come with dark with bright text. This will impact all the apps and not only the Snapchat app. 
Note: After the new update, the Snapchat app changed the theme to dark. So, the only workaround for this feature as of now is to install the older version of the app. To do so, you can head to APK Mirror or any other trustable APK download sites and download Snapchat version 10.72.0.0 on your phone. Once you install this version of the app, you can follow the aforementioned steps and enable dark mode on the Snapchat app. 
Also Read: Snapchat Streak Restore: How To Get Snapchat Streaks Back After they Disappear
Thanks for reading till the end of this article. For more such informative and exclusive tech content, like our Facebook page