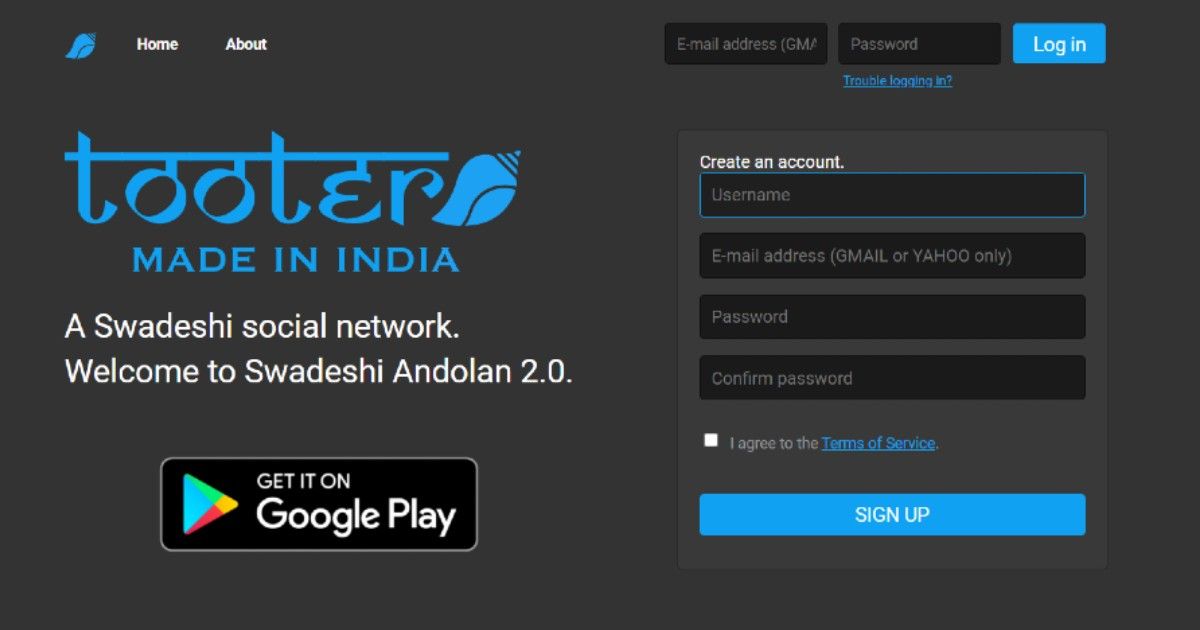 It seems Twitter is going to get a new competition from India as a Swadeshi social media platform has appeared on the internet. The social network is called Tooter which is said to be a big competition for American-based social media portals. According to the reports, Tooter is derived from the Mastodon project. Just to recall Mastodon is a free and open-source self-hosted social networking service. It allows anyone to host their own server node in the network. Let's have a closer look at what is Tooter, how you can set up your account and more among the others.
What is Tooter? 
Tooter is a social media platform where users can sign up and share their views on different topics, share images, videos, follow others, contact their friends and family, and more. Tooter was active in July this year, but it seems that the platform has now become a prime topic of discussion. You can post toots on tooter just like the way you tweet on Twitter.
"We believe that India should have a Swadeshi social network. Without one we are just a digital colony of the American Twitter India Company, no different than what we were under the British East India Company. Tooter is our Swadeshi Andolan 2.0. Join us in this Andolan. Join us!" reads Tooter official website.
How to Sign Up on Tooter
First, you need to head to tooter.in or you can also download the app from Google Play Store.
On the main page, you can see a Sign-Up form which you have to fill.
You need to fill Username, E-mail Address, Password, Confirm Password.
Once you're done with this, check the 'I agree' box and click on the Sign-Up button.
Do note that you can sign up with Gmail and Yahoo accounts only. We have tried Signing Up on the portal even with Gmail account, but it was showing some error (error: Throttled). So our attempt for making an account on Tooter was unsuccessful. We have tried on Tooter App as well but the attempts were for no use. Let's us know in the comment section whether you are able to create accounts on Tooter or not.
Notably, verified profiles of Prime Minister Narendra Modi, Home Minister Amit Shah, Defence Minister Rajnath Singh and Sadhguru are already there on Tooter. The BJP also have an official account on Tooter. However, there are no words on accounts of Rahul Gandhi or other Congress leaders.
How to Use Tooter
You can do everything on Tooter what you do on Twitter, in fact, the interface design of the Swadeshi Tooter is similar to Twitter. If you manage to make a profile on the platform then you can follow people, like others toots, post toots, share images and videos, and more. The blue colour of the interface is also similar to Twitter, which means you will never miss Twitter if you're on Tooter.
How to Upgrade to Tooter Pro
If you're able to make a profile on Tooter then you can upgrade to a better version called Tooter Pro. It comes with a yearly subscription of Rs 1,000. But the catch here is, the site didn't mention any information about the payment procedure. If you solve the mystery of finding the payment method then you have to take a screenshot and send an email to upgrade@tooter.in along with your Tooter ID. Once it's done, you will be upgraded to the Pro version. However, we don't have any clue about the facilities offered by Pro version and Tooter developers have also forgotten to mention anything about it.