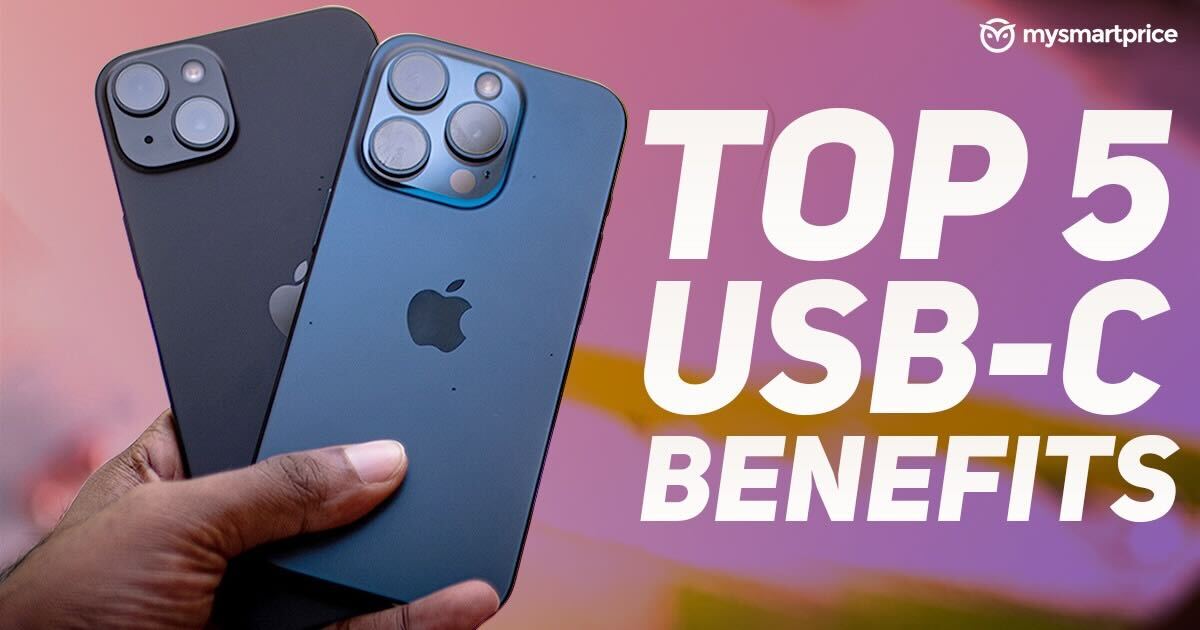 The lightning port has finally made way for the versatile USB-Type C on the new iPhone 15 series. This is a big deal because it opens up many possibilities for the end user. Now, the vanilla iPhone 15 and 15 Plus are sadly limited to USB 2.0 speeds, but the Pro series enjoy USB 3.0 speeds — which means you can exploit high transfer speeds and more. If you are unaware of what capabilities your iPhone holds with USB-C connectivity, let me help you. Here are the top five things you can do with it on the iPhone 15 Pro (First Impressions) series.
Connect External SSD or Record Videos to a Storage Device
With USB-C connectivity, you can use any external storage device that supports USB-C. This has proven quite fruitful for me. I have a Samsung T7 Touch SSD which has in store a bunch of movies, TV Shows, and office files. This way, if I have to access them, I can just plug it into the iPhone 15 Pro instead of reaching for my laptop.
The process is also very simple. The SSD simply just shows up in the 'Files' app. Moreover, if you happen to record 4K or ProRes videos often, and own the base variant of the iPhone — you can simply plug in the SSD and record straight to it and skip storage scares.
Charge Other Smartphones
The iPhone 15 series can now reverse charge other phones — be it Android or iPhones. While it's not very fast, it can save you in emergencies. That being said, I found out some things about it; here's a quick breakdown.
If you connect the newer iPhone to any older iPhone by using the USB-C to lighting cable, the USB-C device (iPhone 15 Pro in this case), will charge the other phone, no matter the battery level.
If you connect two iPhones using the USB-C cable, the iPhone with a lower battery level will receive the juice.
If you connect the iPhone 15 to any Android phone, you can charge either device. But, I found it to be a bit vague. The Motorola Edge 40 Neo gave us the option to choose which phone would receive the charge, but the OnePlus 9R didn't give us any choice. So, it seems like this depends on the manufacturer.
Connect SD Card/microSD Card
This can help you massively if you are a content creator or someone who delves into photography and videography. You can get any USB-Type C-supported SD card reader from the market. Ideally, one that supports faster write speeds is suggested.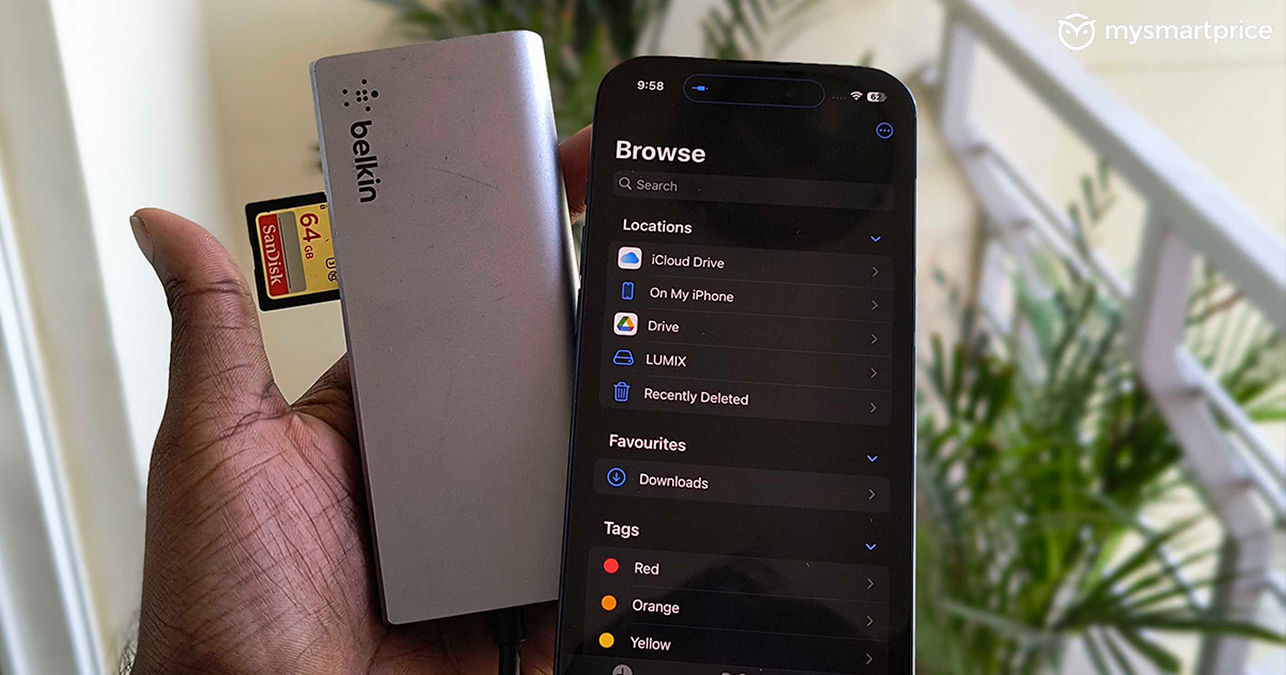 Once connected, you can access the images and videos by just going to the Files app > SD Card. Transferring those files to your iPhone is also quite easy. Just hit the share button on the bottom left and save the image or video.
Connect Ethernet Cable For Wired Internet Connection
This is an extreme measure and at this point might be considered a showoff. Regardless, this can be used when your router is having issues with wireless connectivity and you need a stable connection for transferring or downloading big files.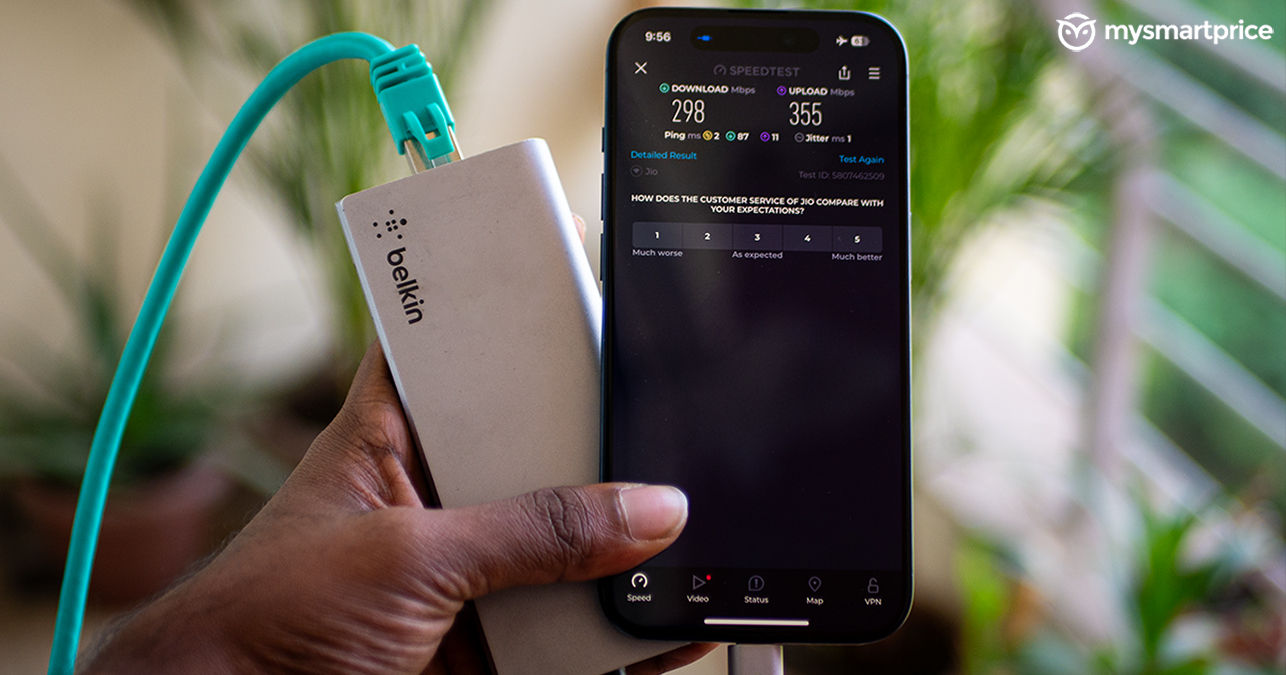 However, some prerequisites need to be met. You will require a USB dock or a dongle with an ethernet jack. Once connected, make sure that Bluetooth is off and turn on Airplane mode. This will enable the wired connection and you are good to go.
Charge Airpods, TWS or Record High-Resolution Audio
The iPhone 15 can also act as a power bank for devices with a rather small battery. This means you can charge your AirPods or any TWS earphone that has USB-C connectivity. Not just that, if you have a smartwatch, say the Samsung Galaxy Watch with a USB-C cable, you can charge that using the iPhone 15 too.
As mentioned before, this marriage of USB-C and iPhones opens up a vast variety of opportunities. You can record high-quality voiceovers with a dedicated wired or wireless microphone using USB-C connectivity.
Above all, the biggest win here is that you don't need to carry an extra cable with you during your trips or ask your friends for an 'iPhone' cable.