Highlights
Vivo has unveiled its Android 14-based OriginOS 4.Â

It boosts performance with a virtual graphics card, reduces background processes, and maximises memory usage.

Customisations include 2,000 redesigned icons and a custom font, while new features offer real-time transcription and offline translation.Â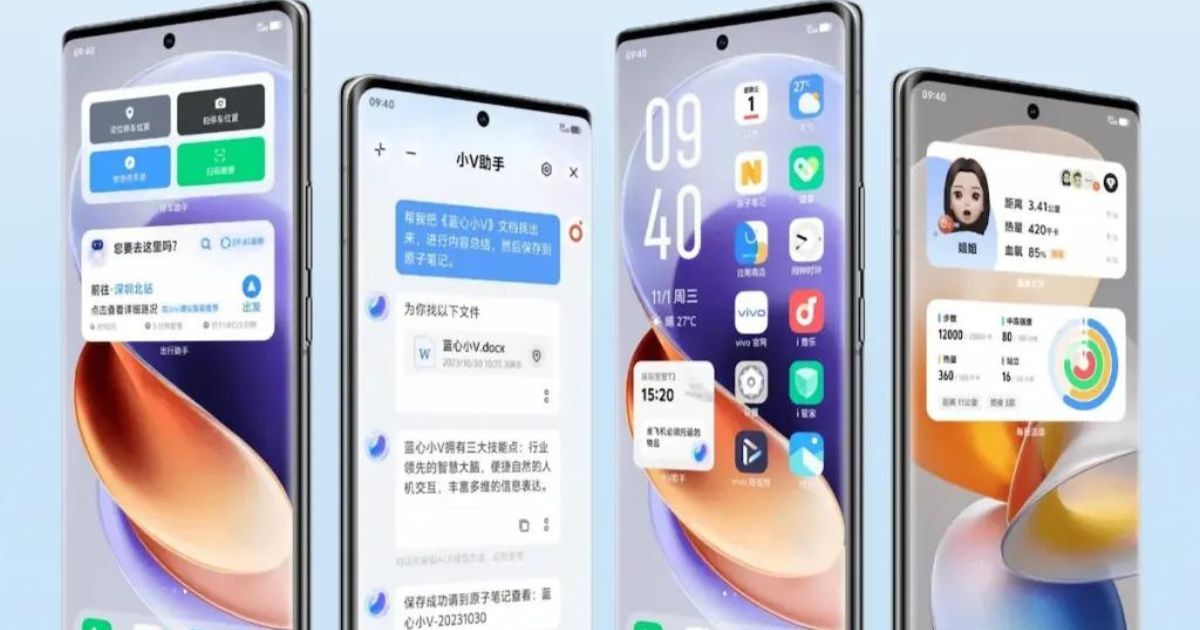 Vivo is hosting its 2023 Developer conference, where the company has unveiled its Android 14-based OriginOS 4. After the launch of Funtouch OS 14 in India for both Vivo and iQOO devices last month, this unveiling guarantees intriguing features and enhancements. Here's everything you need to know about OriginOS 4.
Performance
The OriginOS 4 comes with a virtual graphics card, which is claimed to reduce waiting times when opening and closing apps. It is said to enhance application response time by 36% and boost display frame rate stability by 70%. The virtual graphics card also enables ray tracing, frame insertion, and super-resolution technologies. Which improves graphics with better skin textures and reflections.
Vivo has also made the new OS lightweight, which is claimed to reduce background processes by 20%. According to the company, this will reduce power consumption and provide an additional 15% standby time. The company has also incorporated a dedicated computing space for music, which will allow up to 105 hours of playtime.
Furthermore, the OriginOS 4 has a Memory Fusion 4.0, which maximises memory usage for better app startup and background operation.
Customisation
Vivo has introduced more than 2,000 redesigned icons with a focus on enhancing visual comfort while maintaining recognition. Additionally, it features a custom font called "vivo Sans" to ensure clear text presentation in different font sizes. Besides, there are new real-time blurring effects, contextual wallpapers, and lock screen customisation to provide a more personalised experience.
Other Features
The OriginOS 4 comes with a meeting assistant, which is a real-time sound-to-text transcription. It can automatically take notes from the online meetings for future reference. It also introduces AI Offline Translation, which, as the name suggests, allows offline translation for seamless communication.
Moreover, the company has included a new Super Power-Saving Mode, which is claimed to extend standby time for up to 3 hours or enable a 15-minute call even when the battery is at 1%.
Vivo OriginOS 4 Release Timeline
| | | |
| --- | --- | --- |
| Release Month | Vivo Models | iQOO Models |
| December 2023 | Vivo X Fold 2 | iQOO 11 Pro |
| | Vivo X Flip | iQOO 11s |
| | Vivo X90 Pro+ | iQOO 11 |
| | Vivo X90 Pro | |
| | Vivo X90 | |
| | Vivo X90s | |
| January 2024 | Vivo X Fold+ | |
| | Vivo X Fold | |
| | Vivo X Note | |
| | | iQOO 10 Pro |
| | | iQOO 10 |
| | | iQOO Neo 8 Pro |
| | | iQOO Neo 8 |
| February 2024 | Vivo X80 Pro | |
| | Vivo X90 Pro Dimensity Edition | |
| | Vivo X80 | |
| | Vivo S17 Pro | |
| | S17 | |
| | S17e | |
| | S17t | |
| | | iQOO 9 Pro |
| | | iQOO 9 |
| | | |
| | | iQOO Neo 7 |
| | | iQOO Neo 7 SE |
| March 2024 | Vivo X70 Pro+ | |
| | X70 Pro | |
| | X70t | |
| | X70 | |
| | Vivo S16 Pro | |
| | S16 | |
| | S16e | |
| | | iQOO 8 Pro |
| | | iQOO 8 |
| | | iQOO Neo 6 |
| | | iQOO Neo 6 SE |
| | | iQOO Z8 |
| April 2024 | Vivo X60 Pro+ | |
| | X60t Pro+ | |
| | X60 Pro | |
| | X60t | |
| | X60s | |
| | X60 | |
| | Vivo S15 Pro | |
| | S15 | |
| | S15e | |
| | Vivo Pad 2 | |
| | Vivo Pad Air | |
| | Vivo Pad | |
| | | iQOO 7 |
| | | iQOO Z7 |
| | | iQOO Pad |
| May 2024 | Vivo S12 Pro | |
| | S12 | |
| | | iQOO Z6 |
| June 2024 | Vivo Y100 | |
| | Vivo Y78 | |