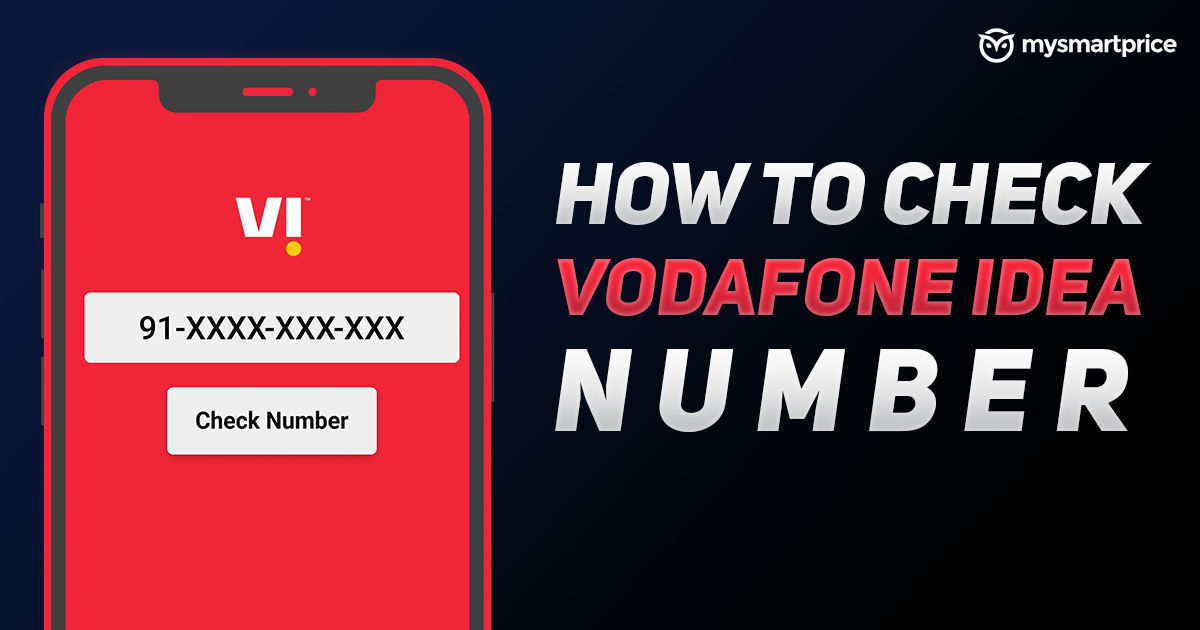 If you are one of those who have recently bought a new Vodafone Idea SIM, chances are high that you will forget your number. This is especially the case when you are about to enter your mobile number to make a recharge or if someone asks for your mobile number. But, you need not worry as Vodafone Idea gives you plenty of options to how to find your own Vodafone number. One can check the Vodafone number using USSD codes or through the application. You can also check the remaining balance, data, validity and more through the USSD codes. So, in order to make things easier for you, we have compiled a step-by-step guide on how to check your number on Vodafone. So, without further ado, let's begin.
Also Read: Vodafone Idea Recharge Plans 2021: List of All New Vi Recharge Plans and Offers with Validity, Data, Calling Benefits
Check Vodafone Idea (Vi) Mobile Number Using USSD Code
Vodafone Idea has made it easier to know your own Vodafone Idea number by entering a simple USSD code. One can use this code to know the mobile number instantly. For those unaware, USSD code stands for Unstructured Supplementary Service Data. The codes help to get the desired information about different services. However, one needs to use the proper code in order to get the right information. Furthermore, every telecom operator has different sets of USSD codes for different services. So, if you need to know the Vodafone idea number, you should follow these steps:
Open your Phone app on your mobile phone and go to Dialer.
Dial *199# on your Vodafone Idea SIM for which you want to know the number
You will see a flash message on your smartphone's screen that will show your number.
Furthermore, it will also show some other USSD codes, which you can use to know other information like balance, data usage, and more. Interestingly, the message will disappear once you press the Ok button. So, do not the number before closing the message. Alternatively, you can also use *111*2# to know your mobile number.
Also Read: Vodafone Idea Balance Check: How to Check Vi Data, Talktime, SMS and Data Balance
Check the Vi Mobile number through Customer Care
Vodafone Idea also makes it easier for customers to know their mobile numbers by simply calling the customer care numbers. Here's how you can do it:
Dial 199 or 198 from your registered Vi mobile number.
Select the preferred language
Now, select option 1 and wait for the IVR to finish giving you details. Then select Option 4 to connect to a customer care executive.
With this, the customer care executive will help you to know your mobile number.
Check Vodafone Idea (Vi) Mobile Number by Calling Others
One of the best ways to know your Vodafone Idea mobile number is by dailing your friends or family's phone. Here's what you need to do:
Get the phone of your friends or family member.
Now, dial their mobile number from your smartphone.
You will be able to see your Vi mobile number on your friend or family's phone.
Check Vodafone Idea (Vi) Mobile Number Online
The telecom operator also makes it easier to find your Vodafone Idea number without much trouble. All you need to do is follow these steps. However, we suggest you follow the above-mentioned steps for the first time to know the mobile number and note it for the following steps:
Open Google Play Store app and search for Vi app.
Click on the Download app and install it on your smartphone.
Also Read: Vi APN Settings for High Speed 4G Internet: How to Set Vodafone Idea Access Point on Your Smartphone for Internet Access
Open the application and log in by entering your Vodafone Idea number (you should know the number to login to the app) using the above method. You will then get an OTP on your registered mobile number. Enter it to log in. When you enter the application, your Vodafone number will be displayed on the home screen. You can simply open the application anytime to know about your Vodafone Idea number.
Frequently Asked Questions (FAQs)
How Do I Know if My Vodafone Number is Valid?
You can download the Vi mobile application to check their VI number is still valid or not. Else, you can simply dial *199#, *121#, or *199*2*1# to know the remaining validity information of your Vi mobile number.
When Do I Need To Check My Own Vodafone Number?
You may need to check our own Vodafone Idea number for multiple occasion. Whether be it for creating an account on any website to checking your Aadhaar card number or any other government-related work, you will be needing your own Vodafone Idea number.
How To Know My Vodafone Number in the simplest way?
Dial *111*2# from your Vodafone Idea number is the simplest way to know your mobile number. You will immediately receive a flash message on your phone's screen with your Vodafone mobile number.