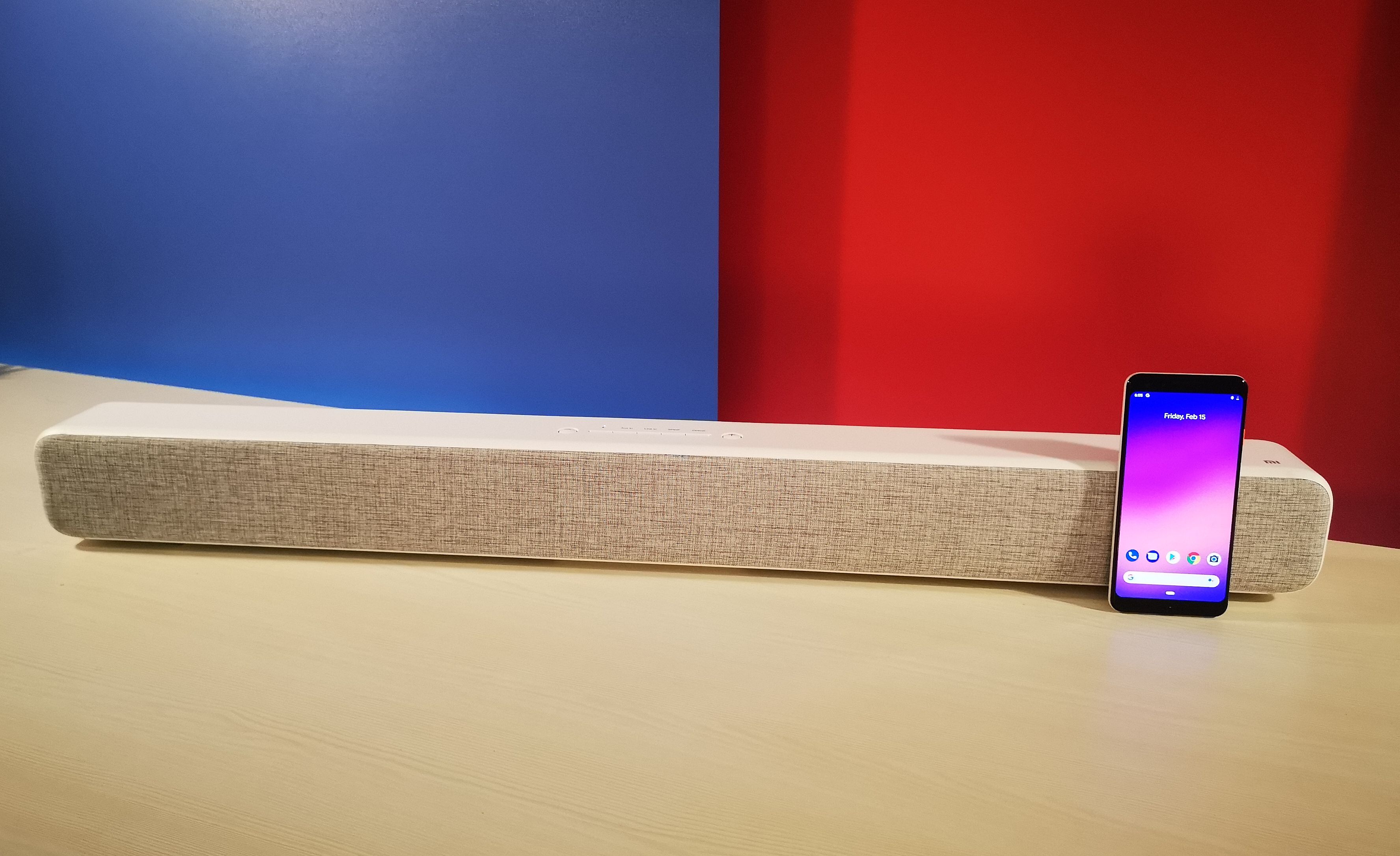 Back in the glory days of CRTs, manufacturers took TV's sound quality quite seriously. Anyone old enough at the turn of the century will never forget the explosive sound of Videocon Bazooka. Unfortunately, the introduction of LCD technology lead to a pointless race to build razor thin TVs. As a result, for most TV brands, onboard speakers reduced to a mere formality. Weird as it may sound, but modern TVs don't sound half as good as they used to almost two decades ago. This is where soundbars come to the rescue. And anticipating a huge opportunity in this market, Xiaomi has launched its Mi Soundbar in India. Like most of its products, Xiaomi's soundbar banks on providing great value for money. It will be unrealistic to expect excellent sound for Rs 5,000. So, let us check if it offers the best bang for the buck.
Design And Build
The Mi Soundbar is a pleasant sight. The device oozes elegance. Instead of doing anything radically new, Xiaomi has focused on refining the conventional soundbar design. And that has worked well for the Mi Soundbar. The choice of materials, such as the grey mesh fabric and white plastic, is reminiscent of Google Home.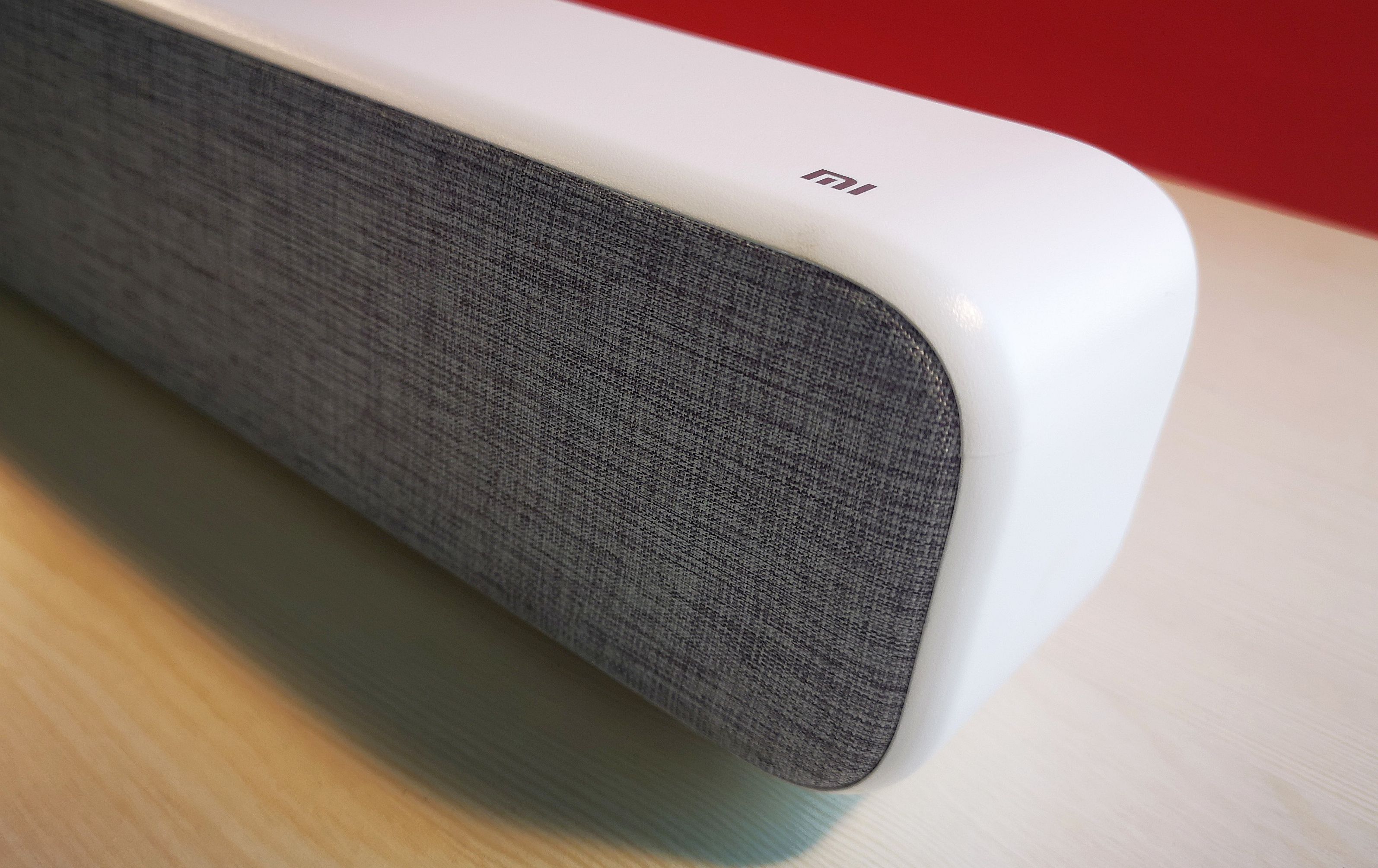 The device's build quality is also top-notch. Its rounded corners, seams, and grooves made for ports are rendered to perfection. Looking at such solid craftsmanship, it is easy to forget that it is budget device. The Mi Soundbar spans across 82 cm. To help you better comprehend its size, I would say that the soundbar's length is close to that of a 40-inch LCD TV. At under 2 kg, it is surprisingly light for its size. Should you choose to place it on a table top, Xiaomi has added rubber grip at the bottom of the soundbar. It can also be wall mounted using the simple screw notches at the back.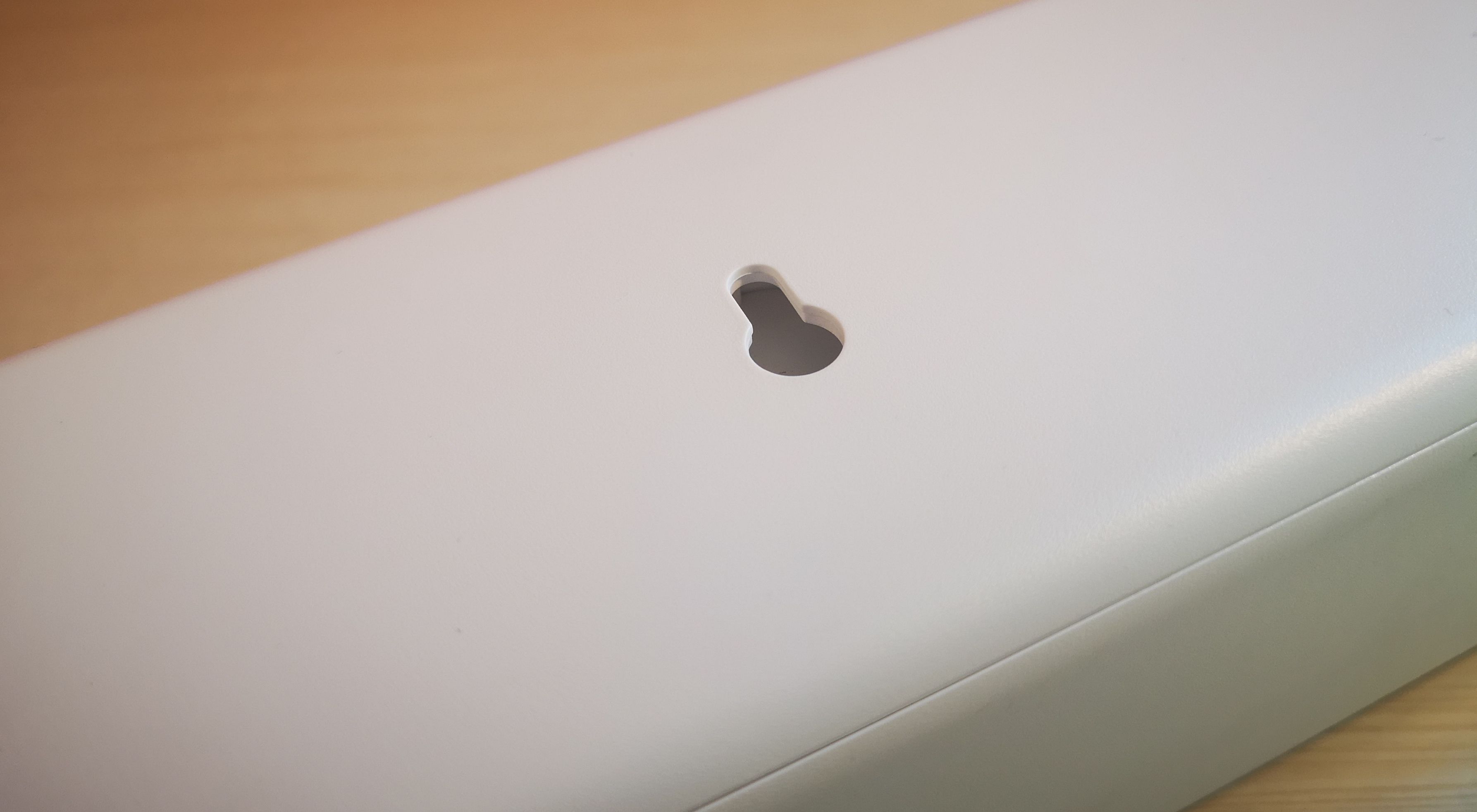 Connectivity And Controls
The Mi Soundbar comes with quite a few connectivity options. For starters, you get line-in and 3.5 mm AUX in for hooking it up to older devices. Then, there's S/PDIF for most modern TVs and Optical port for gaming consoles. Those who prefer HDMI for audio are out of luck. Despite so many options though, most people are going to use it over Bluetooth for the sake of convenience. This wireless connectivity option worked flawlessly with my phone and laptop. Surprisingly though, when paired to the latest Mi LED TV 4A Pro 43, the soundbar makes hissing sound in 20 minutes or so. I'm sure it is not the TV's fault, because it worked fine with other Bluetooth speakers from JBL, Creative, and Blitzwolf.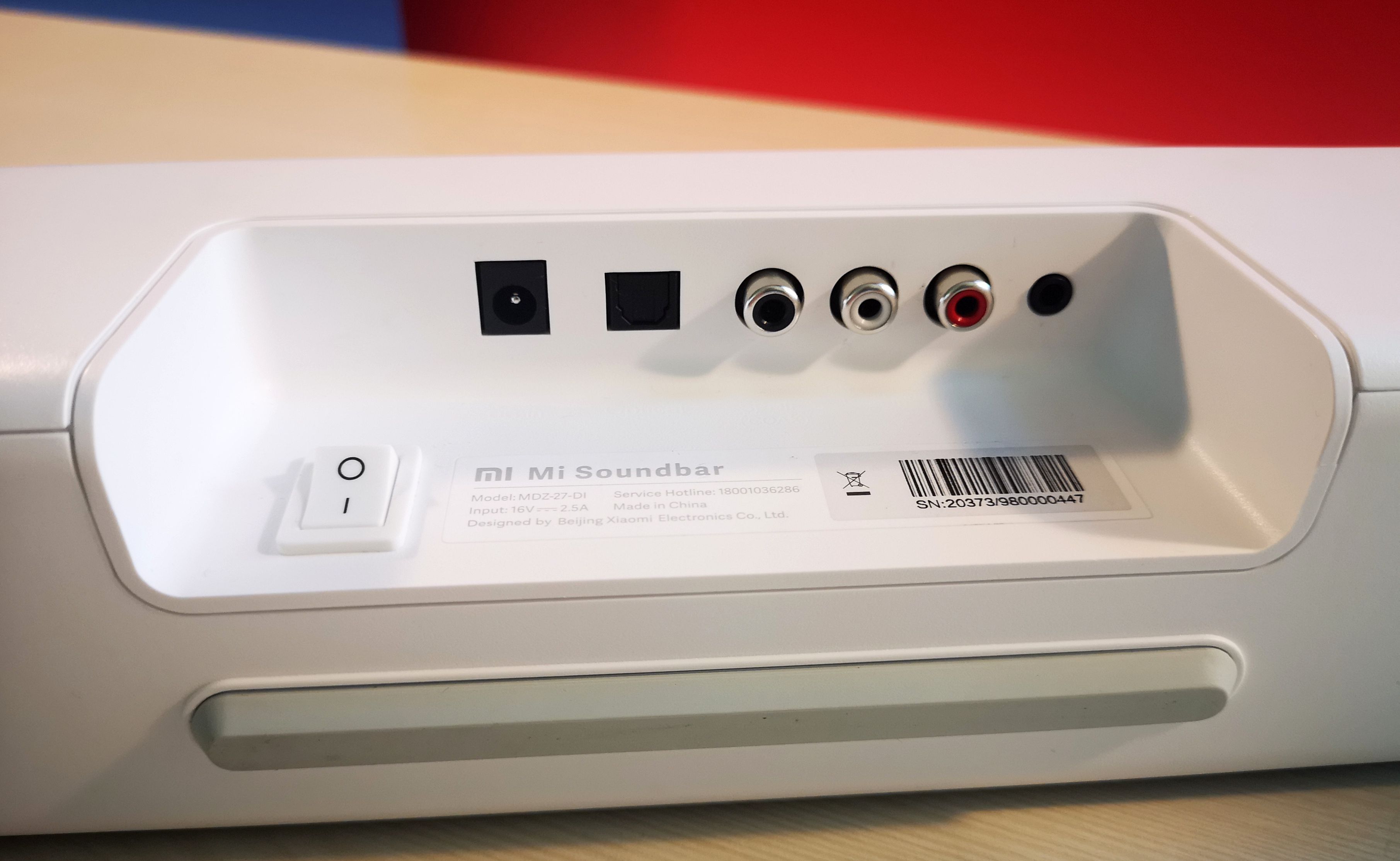 The Mi Soundbar hosts a cluster of buttons on the top side. It comprises of volume controllers and input toggle keys. There's also a small white status light for Bluetooth. However, there's no visual indicator for the volume level. My biggest gripe is the lack of remote control. If your soundbar is connected to a TV or console over using optical or S/PDIF cable, you will have to get up from your couch to make volume adjustments. Same goes for switching the input mode.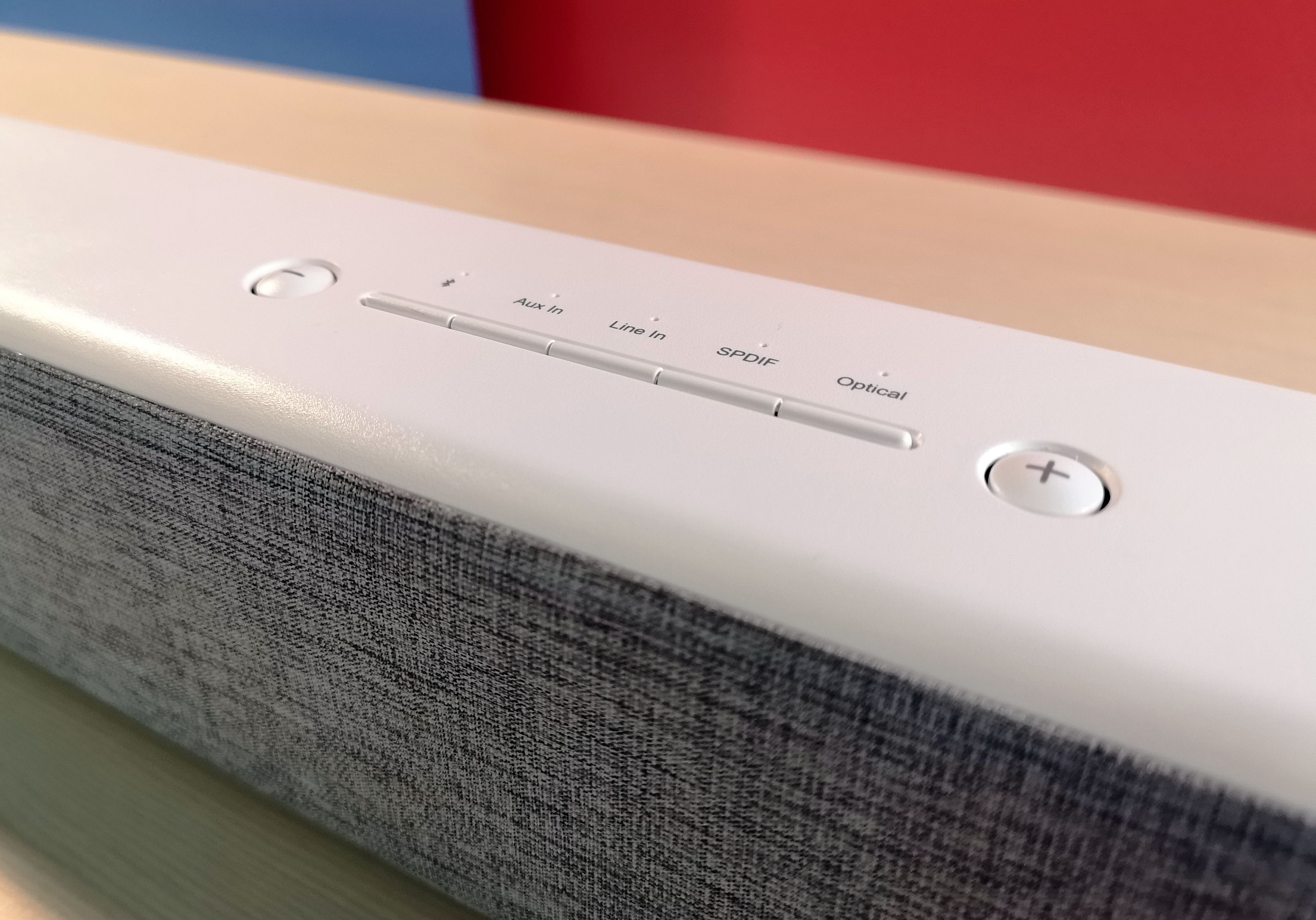 Performance
While testing the Mi Soundbar, I was initially confused by the sound quality. For a speaker with 8 sound drivers, it simply lacked the depth you would expect from such hardware. Upon careful analysis, I could only detect sound from 4 drivers. As it turns out, Xiaomi's claim of "8 sound drivers" is misleading. The soundbar packs-in two 2 cm tweeters and two 2.5-inch woofers. To inflate the numbers, Xiaomi is counting four passive radiators as sound drivers. Anyone with basic knowledge of audio equipment will tell you that a passive radiator simply releases the trapped sound from the enclosure to enhance bass. Unlike a sound driver, it is not connected to a magnet or even electricity at all!

With that out of the way, for a quad driver system, the Mi Soundbar doesn't sound bad. It is quite good for watching movies, sports, and news on a TV. The Mi Soundbar is way louder than your TV's itsy-bitsy speakers. Moving on to the music, the device handles mids reasonably well. High frequencies tend to dominate to a point where sometimes you get unpleasantly sharp sound. On the other hand, despite four passive radiators, lows are inadequate. In short, it is fine for songs with emphasis on vocals or treble like Channa Mereya (Ae Dil Hai Mushkil). However, you won't be enjoying bass heavy tracks such as 80's rock classic Don't Stop Believin' from Journey.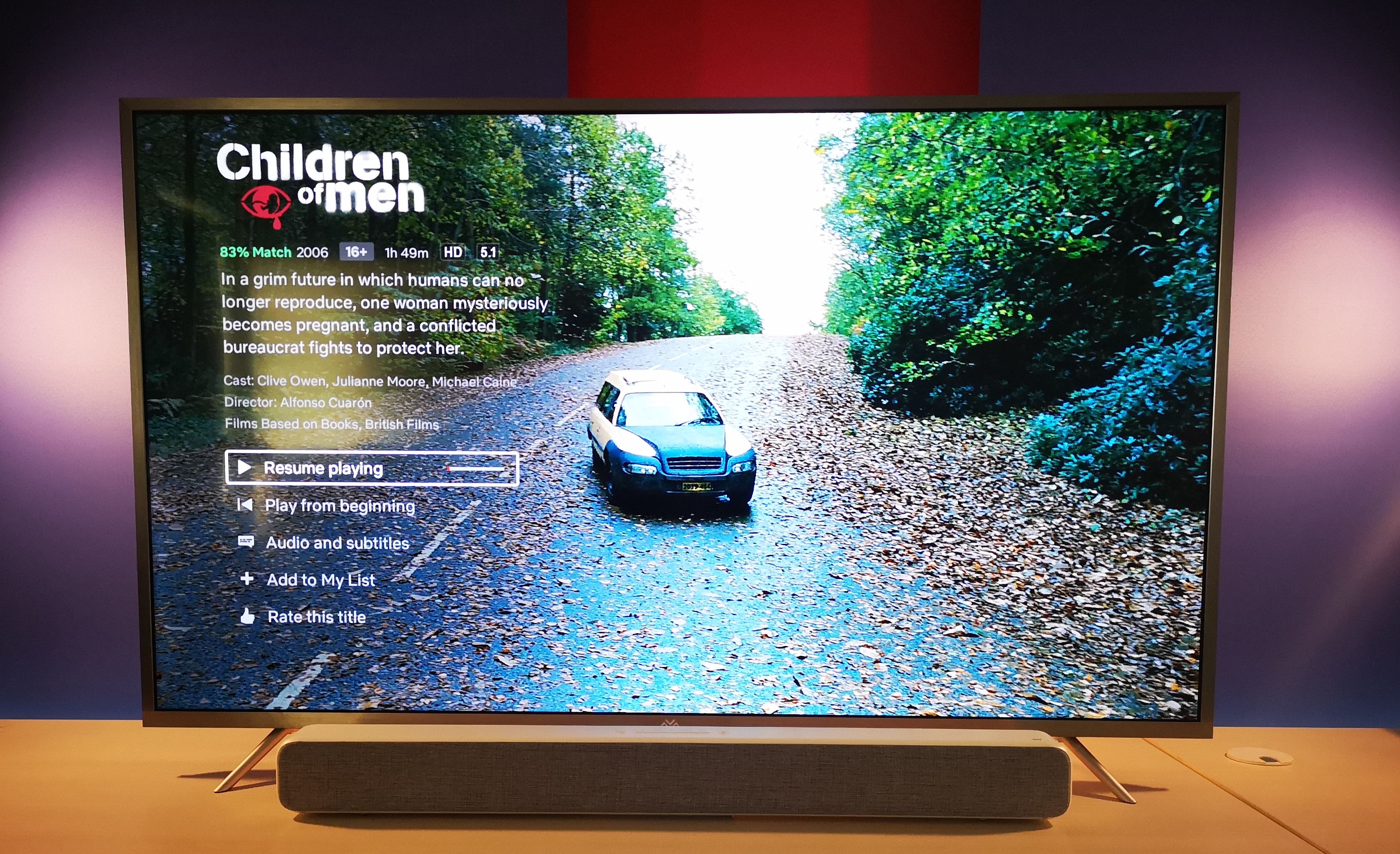 The best way to demonstrate this soundbar's limitations is to play Gin Soaked Boy by Divine Comedy. It is hard to miss how the Mi Soundbar handles vocals and soft music properly till 1:49 mark and then lose it all by delivering muddled sound as bass heavy instruments come into play.
Verdict
The Mi Soundbar has an elegant design. Moreover, you get sturdy build quality. It certainly improves your TV experience with its loud sound output. On the flipside, it struggles with bass and has flaky Bluetooth connectivity. And let's not forget the lack of remote, which is a major annoyance. For the exact same price, Philips DSP-475 U Soundbar offers a much better sound owing to its additional sub-woofer unit. For those who don't mind stretching their budget by Rs 1,000, Blaupunkt's SBW-50 is a no-brainer.