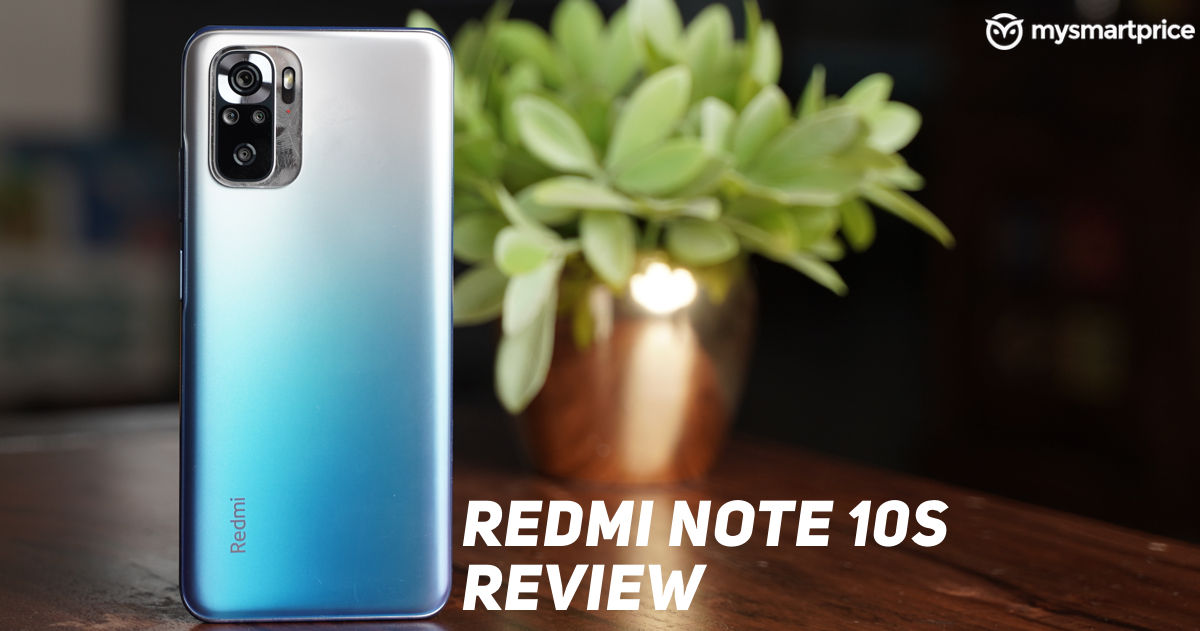 Have you ever been to a 99 Varieties Dosa Stall in Bangalore or in Mumbai? Yes, the same one where a friendly stall owner hands you a copy of an unintentionally misspelled menu with 99 'vertys' of Dosa written on it? I would always struggle to pick one from the smorgasbord of available options. Should I eat the special Suchezwan Masala or a Plain Ghee Roast? Or, should I experiment with the Chocolate Dosa? Decisions. Decisions. Well, the under Rs 20k price range for phones in India has become a spread of different dosas. I am going to call it the Dosa problem. And, Xiaomi's new Redmi Note 10s just adds to the confusion.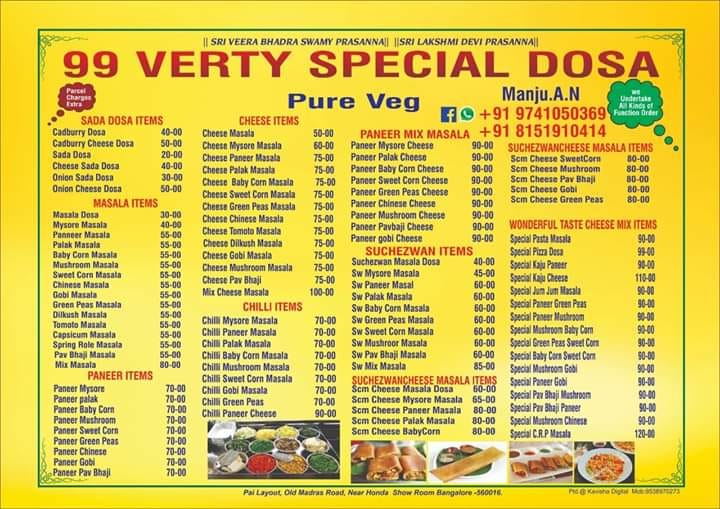 The Redmi Note 10S conveniently slots itself in the price gap that exists between the Redmi Note 10 and Redmi Note 10 Pro. And, has a formidable competitor in the form of the Realme 8. Which one's better? Let's find out.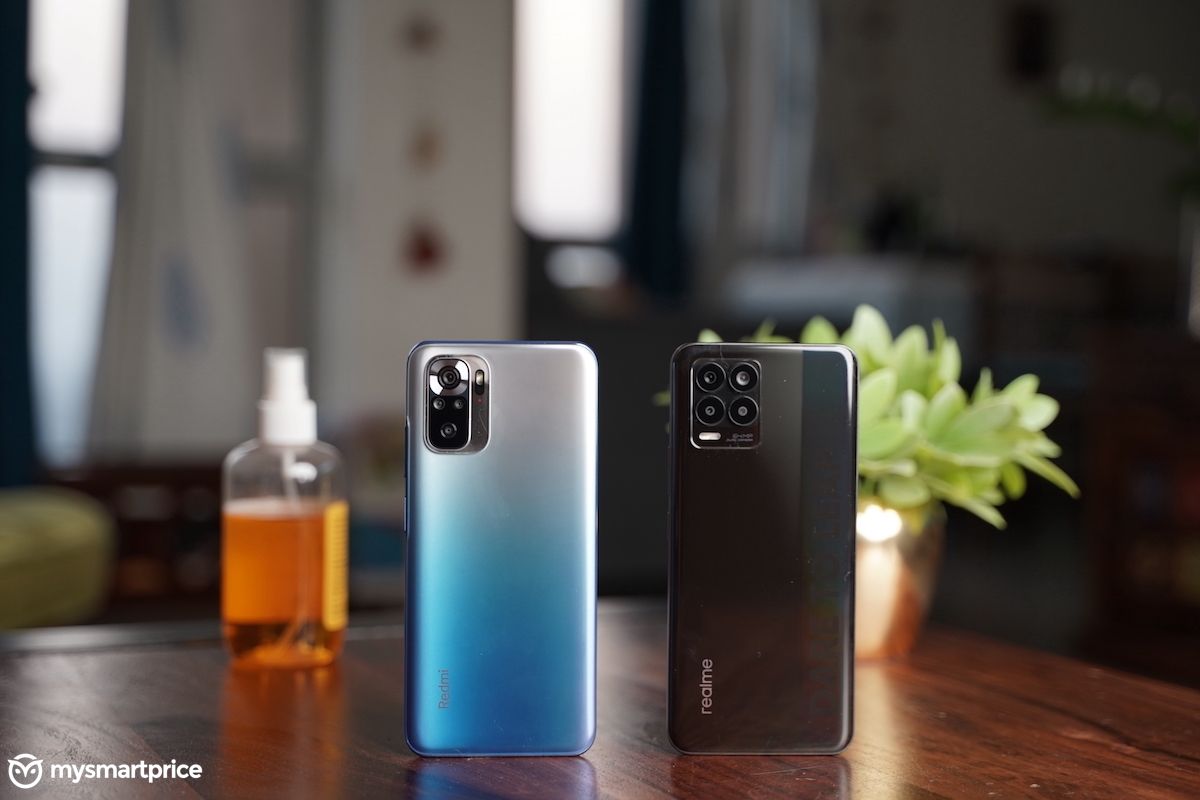 Design
The Xiaomi Redmi Note 10S is basically the Redmi Note 10 in a few different shades. I like the Blue gradient, it looks nice. But, considering the Rs 14,999 price of the Redmi Note 10S, I expected it to use a glass build like the Poco X3 and the Redmi Note 10 Pro, both of which cost similar. This phone has an entirely plastic body and frame. By the way, doesn't the arrangement of the three cameras below the primary one look like a smiley?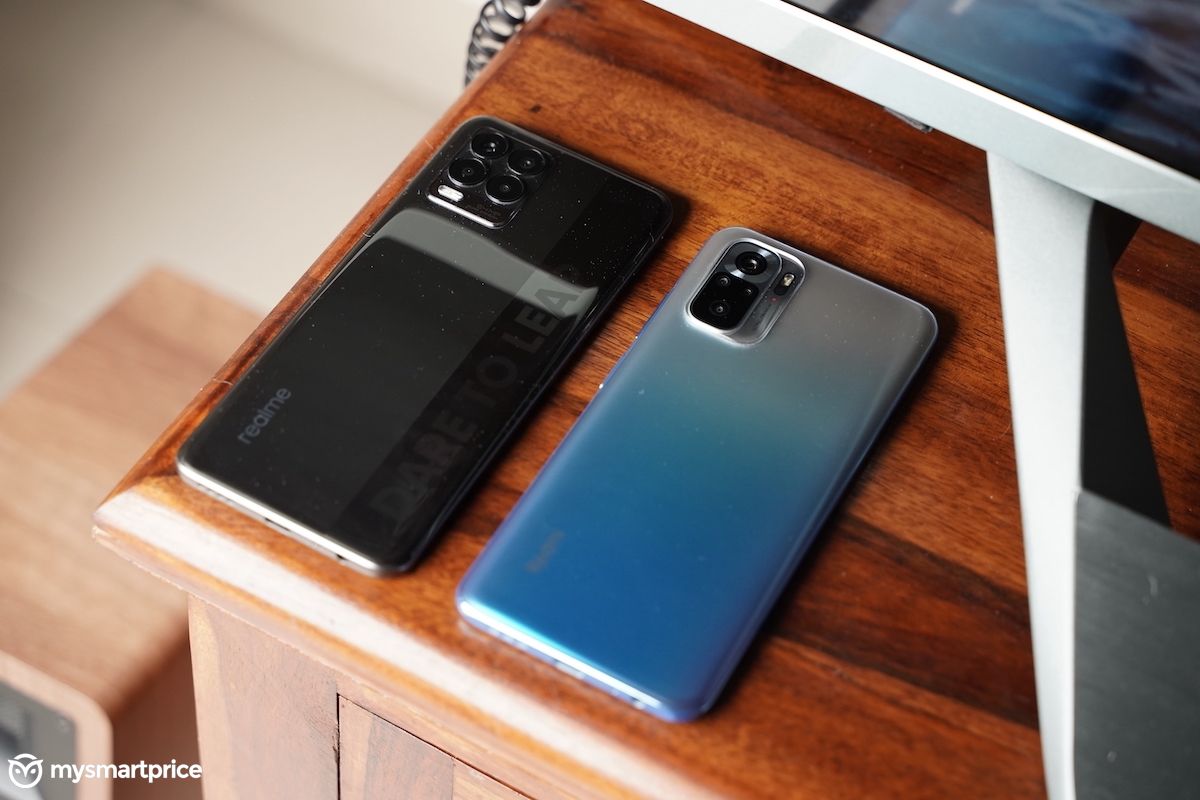 I like the design, though. It does look attractive and fits in your palm nicely thanks to the curved edges on the rear. And, in comparison, the Realme 8 is also equally comfortable to hold and use considering it is almost as slim and weighs very similar too. Basically, both the phones are slim and appropriately heavy. Although, when you compare the design, I am not a fan of the massive Dare to Leap logo on the Realme 8. But, I prefer the matte plastic frame over the Redmi Note 10S' glossy one. 
Both the phones offer a headphone jack at the bottom and a proper triple SIM tray.

But yes, the Xiaomi Redmi Note 10S does offer a stereo speaker setup and an infrared scanner. 

And, the Note 10S also comes with IP53 certification, which makes it more resistant to water splashes than most phones in this price range. 
Overall, thanks to the functional improvements the Redmi Note 10S has an edge compared to the Realme 8. But, the Redmi Note 10 Pro, that costs Rs 1,000 more definitely offers a far more premium finish thanks to its glass body. 
Display and Audio
I really like the compact 6.43-inch size of the display on the Xiaomi Redmi Note 10S. Also it is an AMOLED panel with a 60Hz refresh rate and support for HDR10. You must've seen Xiaomi make a big deal of its 1100nits of peak brightness. Well, it does that only in HDR videos on YouTube. In fact, you don't even get HDR playback on Netflix, which is possible on the Redmi Note 10 Pro. Anyway, in my testing, I actually found the Realme 8's panel slightly brighter with the brightness slider pushed to the maximum.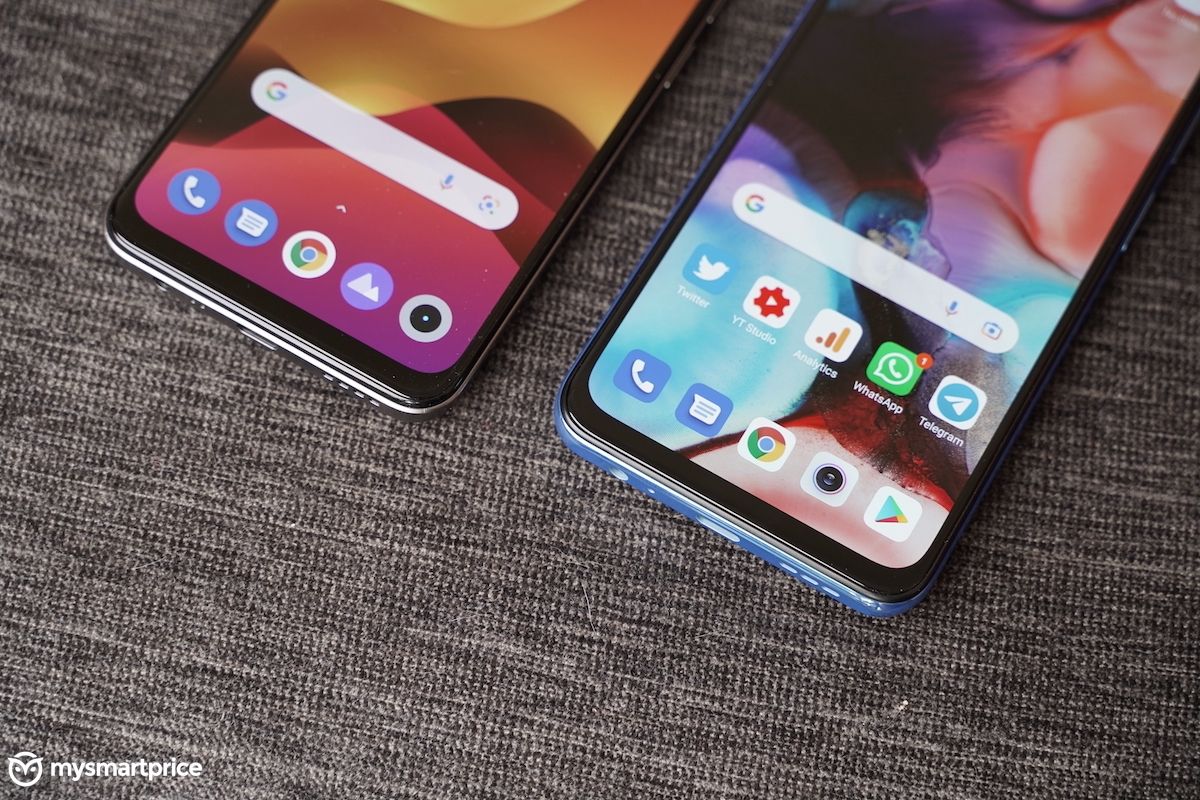 As for the tuning, the Xiaomi Redmi Note 10S has no light bleed and renders colours well too. But yes, I did notice some colour shifting at an angle. Another thing I noticed during my testing is the Note 10S tends to use some sort of algorithm to sharpen low res footage on YouTube and it looks odd. By the way, I like the top left-aligned punch hole on the Realme 8 as it is far less intrusive. But yes, the chin on both these phones are massive!
Also read: Redmi Note 10 Pro Max Review: the Realme 8 Pro Has its Work Cut Out
Anyway, this is still one of the best displays on a phone under Rs 15,000 but you can get a similar display on the cheaper Redmi Note 10. Plus, you get 120Hz refresh rate LCDs in certain phones such as the Poco X3. But, my mind keeps going back to the Redmi Note 10 Pro. Rupees 1,000 more gets you an even better 120Hz panel with HDR in Netflix. By the way, the true stereo speaker setup on the Xiaomi Redmi Note 10S is better.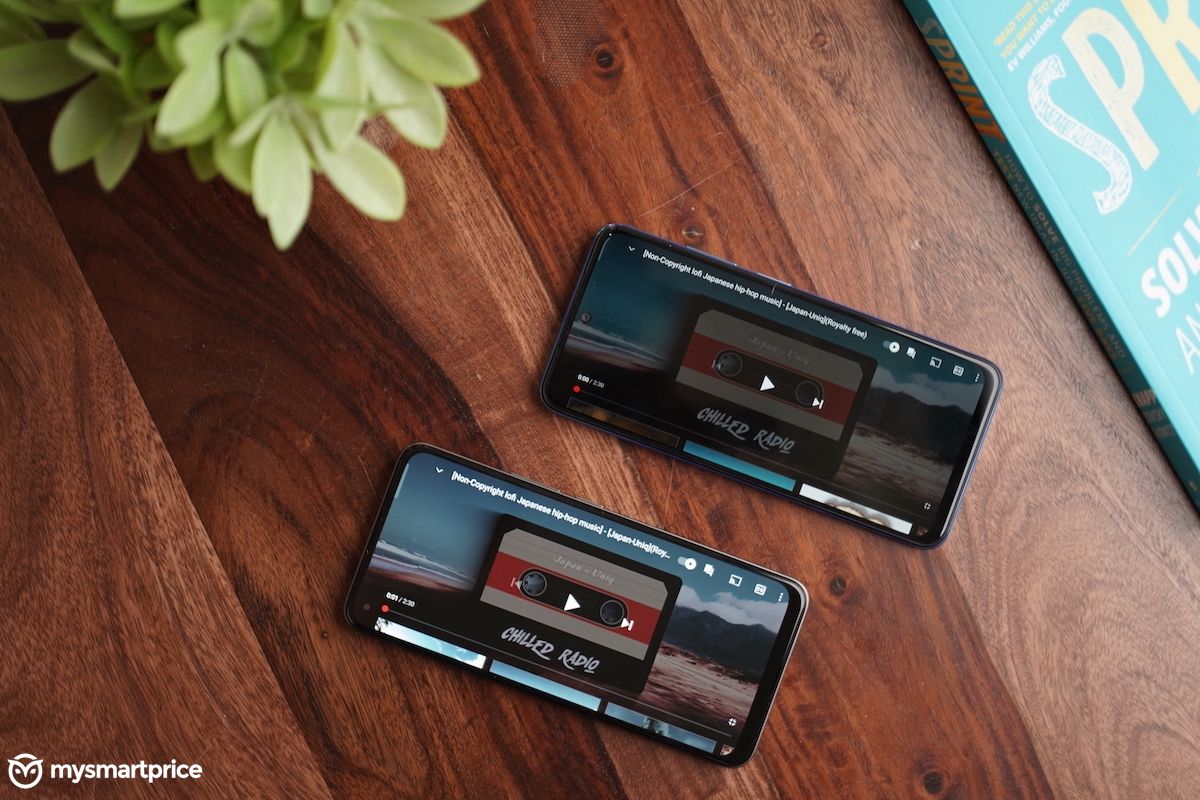 As for the haptic feedback, the Redmi Note 10S' motor is way tighter compared to Realme 8. Redmi and Poco phones under Rs 20,000 offer the best haptic feedback at the moment. The Realme 8 has an in-display fingerprint scanner too. But, it is definitely not as fast as the side-mounted fingerprint scanner on the Note 10S' raised power button.   
Camera
The camera setup on the two phones is identical. You get the same quad camera layout with a 64MP primary camera, 8MP ultrawide, 2MP Macro and 2MP Depth. We asked Xiaomi about the make of the primary camera sensor and the company said it uses multiple vendors. So, it could be Samsung, Sony, or Omnivision.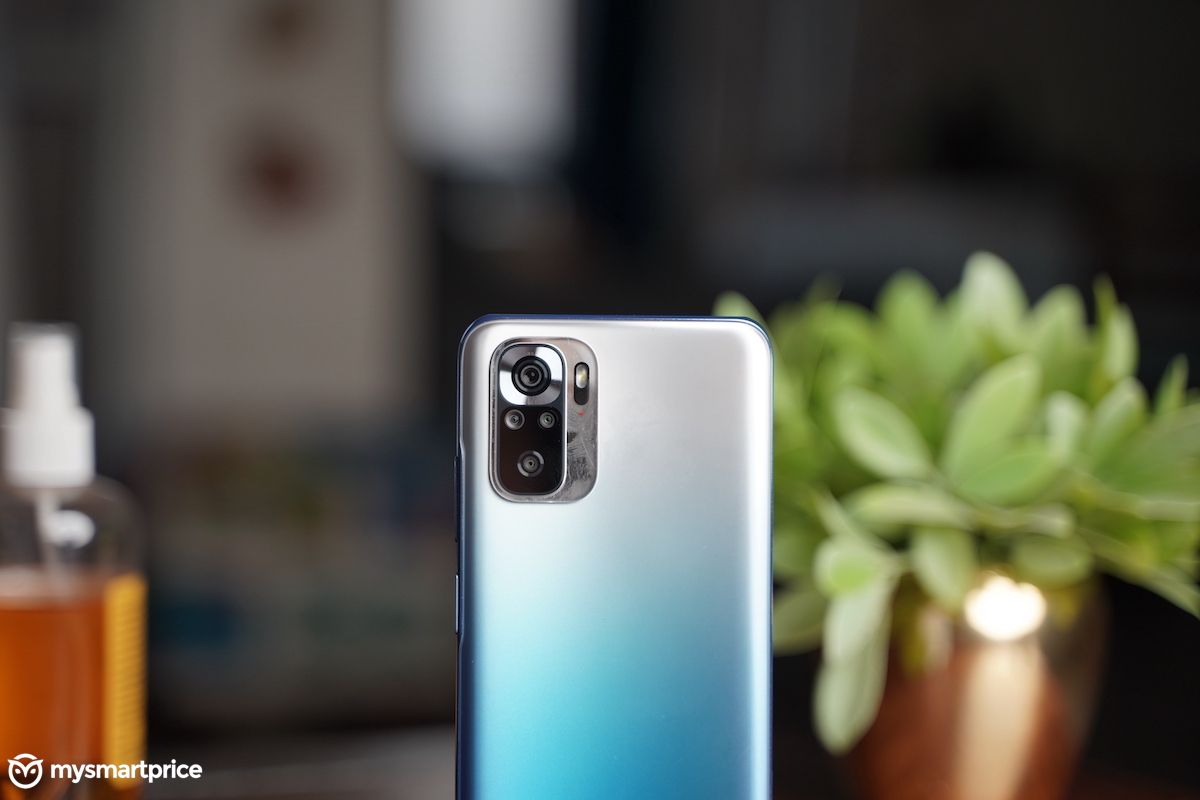 Anyway, let's find out which one of these two takes better pictures. And, for that, I have a more elegant solution for you guys. Linked below is the camera review portion of my video review. You will be clearly able to see the differences as I explain.
All in all, for most use cases, the Redmi Note 10S takes better pictures and is generally more reliable than the Realme 8.
Performance
The Redmi Note 10S has a Helio G95 SoC, which is pretty powerful in this price range. Our review unit is the 6/128GB variant. The internal storage is of the UFS 2.2 kind, which offers slightly better write speeds compared to UFS 2.1, that's all. In AnTuTu, the Realme 8, which has the same processor, but 8GB of RAM, scored higher than the Redmi Note 10S. Not that it matters much because both the phones are plenty fast in daily usage.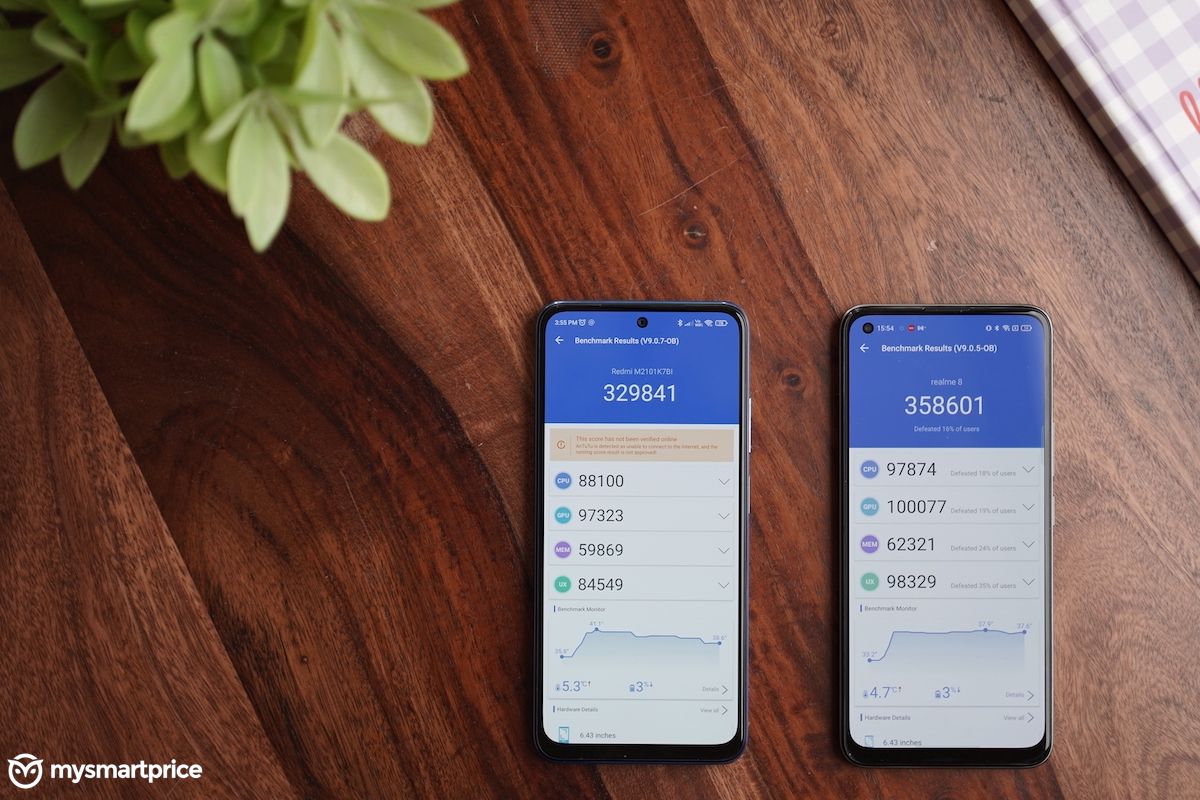 I tried 30 minutes of continuous COD: Mobile on the Redmi Note 10S. It did get slightly warm to the touch, over 40 degrees in the top portion on the rear. I played the game at Very High graphics and frames, by the way. Dropped it to high and Max to get higher frame rates and it started dropping frames often. Don't worry, the performance is similar on the G95-toting Realme 8 as well.
Also read: Realme Narzo 30 Pro Review: Buy This Over the Realme X7!
If you want better sustained performance with good thermals, the Snapdragon 720G or the Snapdragon 732G are better bets. In any case, for a phone that costs Rs 15,000, the Redmi Note 10S' offers pretty competent performance for most use cases. 
Software
The biggest plus point of the Redmi Note 10S is that it is the first phone in India to come with MIUI 12.5. First things first, I found absolutely no ads in system apps or anywhere in the UI for that matter. Also, remember that cool feature in MIUI 12.5 where you could delete certain system apps such as Notes, that is still not available here. It is coming soon.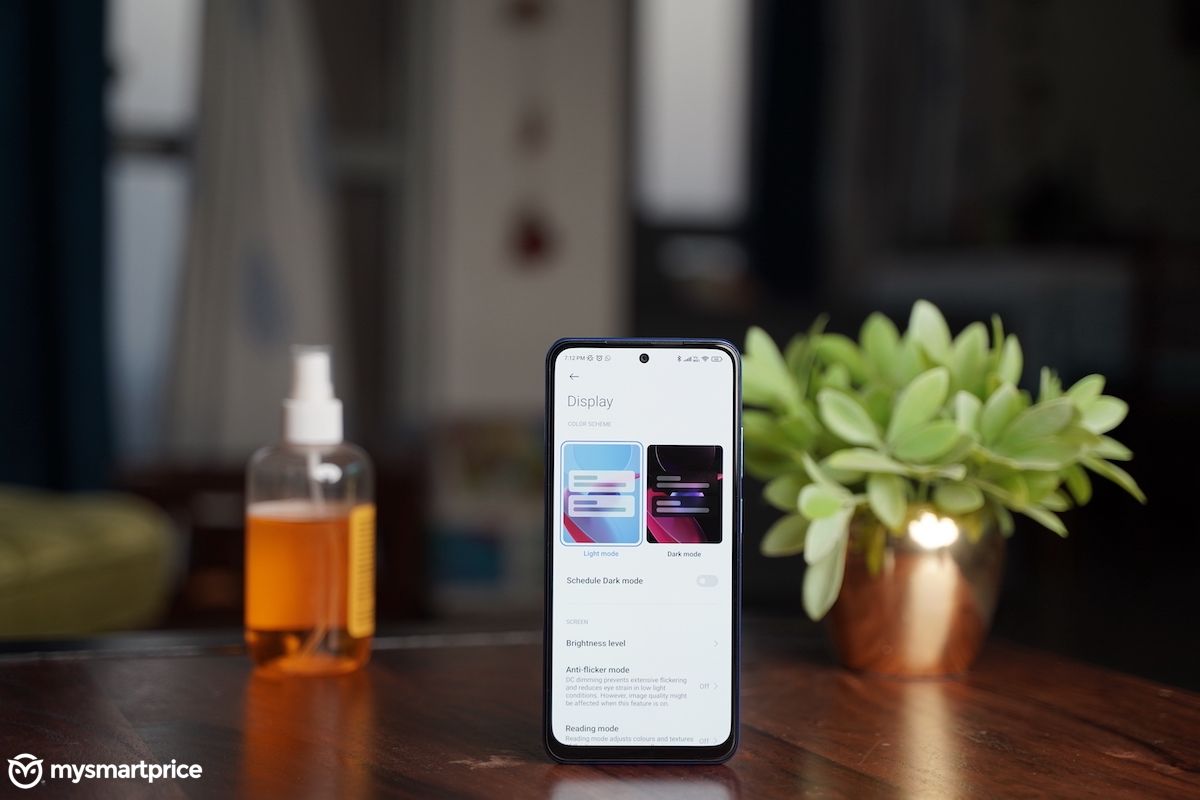 I did notice that the phone was much snappier with zero to no lag, whatsoever. It is the most nimble I've ever seen MIUI. In fact, the responsiveness of the UX and UI elements is as good as Realme UI 2.0, if not better. Furthermore, the gestures are far snappier now, as MIUI 12.5 carves out a special space for gestures in the memory. I can see that there are no stutters now when opening the multitasking carousel and you can have it as a horizontal scroll now if you wish. Plus, now MIUI 12.5 is so paranoid about privacy that it makes you wait 10 seconds even to install apps from an unknown location. 
There are still a few issues that are yet to be ironed out. 
WhatsApp bug with notifications still exists. 

Changing wallpapers is still a cumbersome effort. 

You still don't have support for changing icons. Now that wouldn't be an issue if we could install third-party launches without MIUI killing gesture support. 

Also, it's still a pain to resize widgets. 
I like the direction Xiaomi is taking with MIUI. There's a lot of cleanup happening and I don't see a reason why it should still be criticised.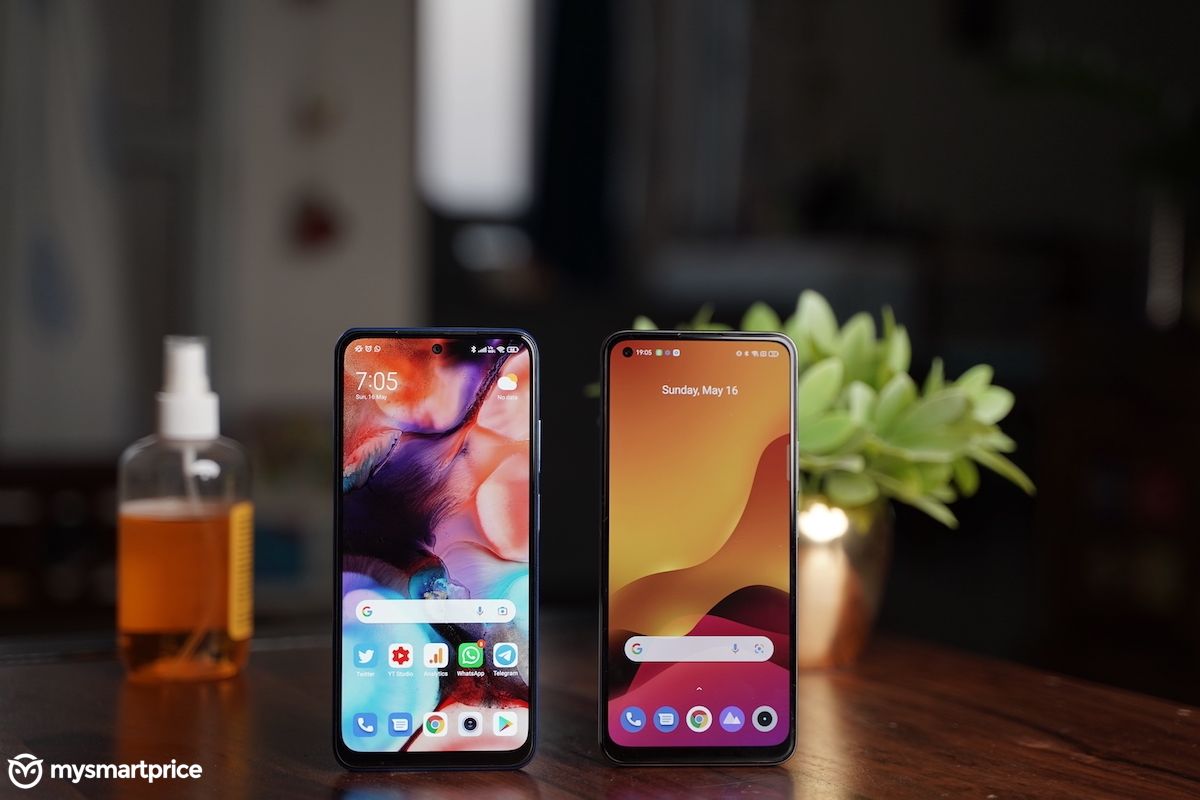 In comparison, I like how Realme UI approaches icons and offers you the option to install your own. Plus, I like the UI design better but that's subjective. But yes, MIUI 12.5 features such as Floating Windows, and the really useful Notes and Calculator apps do make it stand out.
Battery
I really love how Xiaomi and Realme manage to fit in 5000mAH batteries inside such slender frames. And, I easily got anywhere between 7 hours and 8 hours of SoT. The battery would easily last me more than a day's worth of heavy use on the Redmi Note 10S. It is really good battery life, if you ask me. Charging the Redmi Note 10S using the bundled 33W charger takes a little over an hour. The Realme 8 does it slightly faster.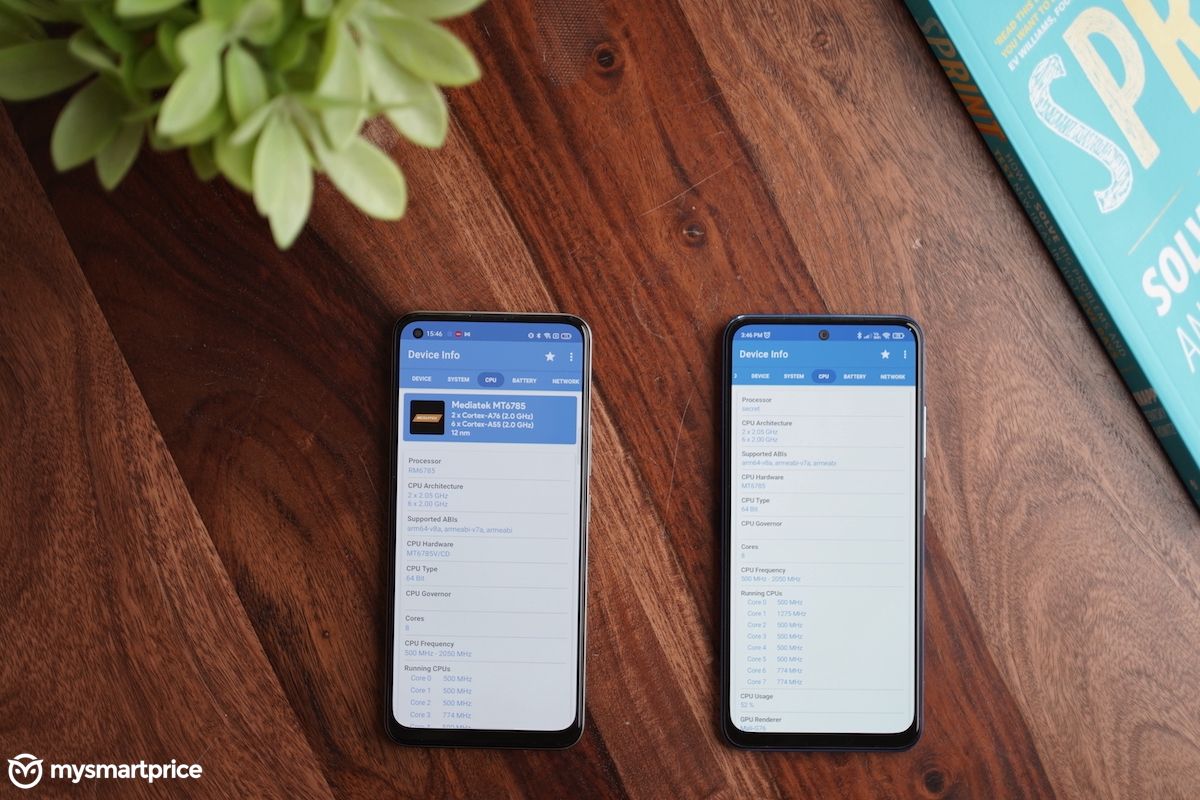 Network
So, the Redmi Note 10S is pretty stable with 4G network and you get decent speeds too. But, I did notice the earpiece was not up to mark in terms of audio quality. Plus, the phone would keep skipping audio in between. Something, I didn't face on the Realme 8. But yes, these are decidedly 4G phones and not 5G ones. There are some other options you can look at if you want 5G in this price range. But, some features are bound to be nerfed to keep costs low.
Should you buy the Xiaomi Redmi Note 10S?
I have no hesitation in saying this, the Redmi Note 10S is in desperate need of a price cut. For just Rs 1,000 more you can get the base 6/64GB variant of the Redmi Note 10 Pro, which is currently on open sale. On that phone, you get a glass build, a better 5MP super macro camera, and that sweet 120Hz refresh rate panel as well. I mean, the value proposition is unbeatable. Yes, in this price category, every Rs 500 matters. But, I mean, come on. Everyone can see how the Redmi Note 10 Pro is a better option here right?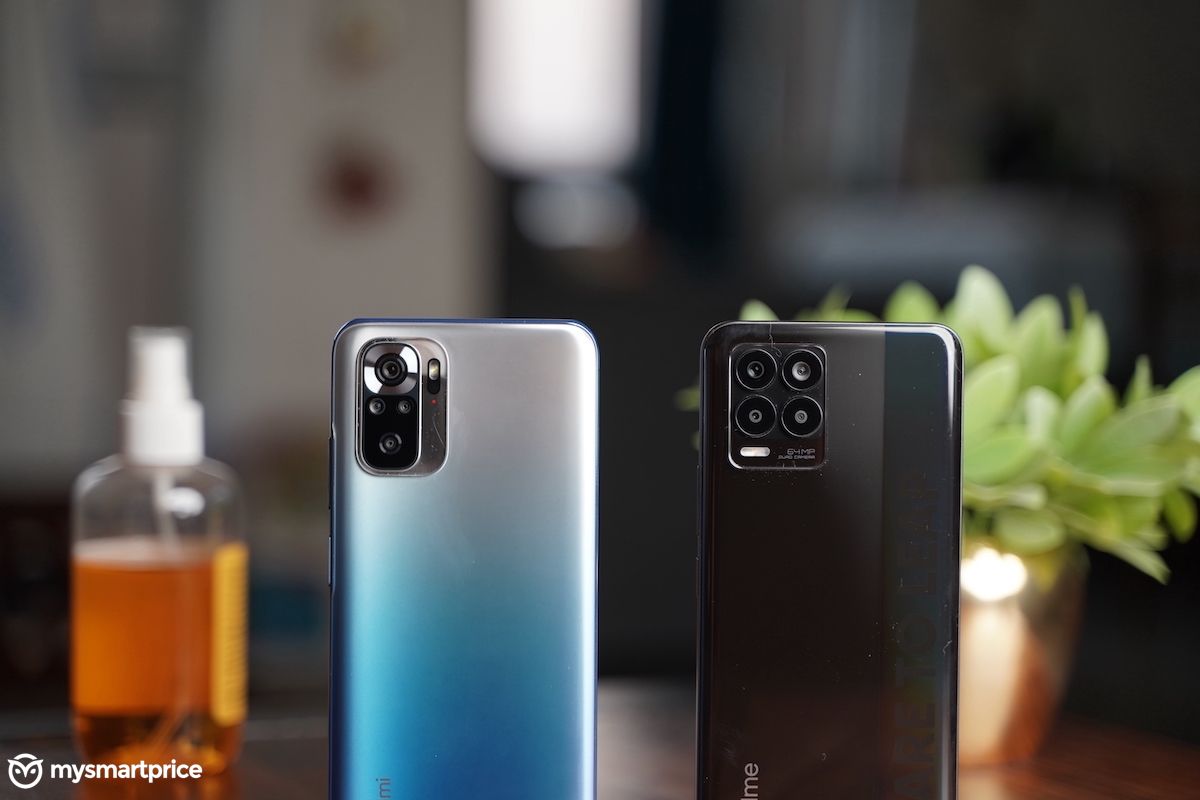 Which is why, I feel the Redmi Note 10S, if priced at Rs 14,000, would've probably made it easier for me to recommend it. Anyway, between the Redmi Note 10S and the Realme 8, I'd say go for the Redmi, purely because you get legit functional improvements such as a stereo speaker and better haptic feedback as well. Although, again, I'd say save up for the Redmi Note 10 Pro. You will not regret it.

As for that Dosa problem, let me present the spread of delectable alternatives:
Moto G40 Fusion 
Poco X3
Redmi Note 10
Realme Narzo 20 Pro
…the list goes on.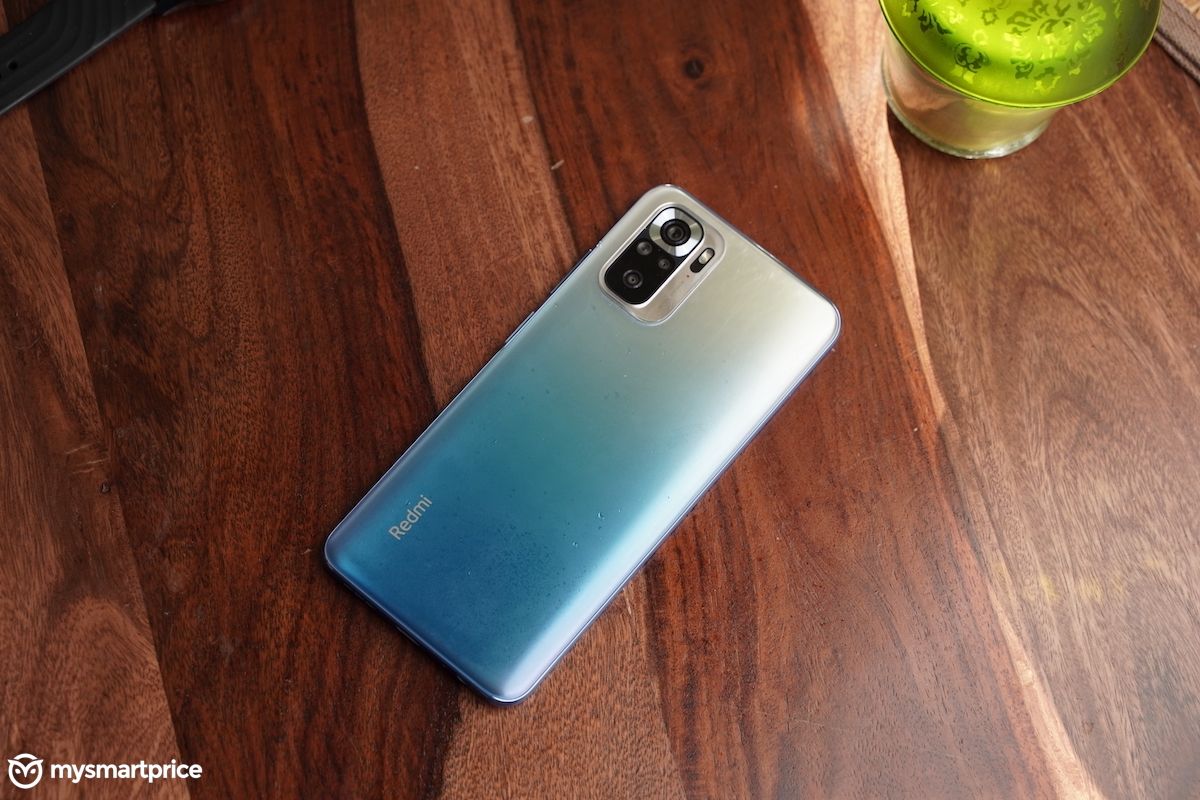 So yeah, I can't really pick one phone as the winner under Rs 15,000. There is a dosa for everyone…I mean…a phone for everyone. 
Xiaomi Redmi Note 10S
Rs 14,999
Battery Performance
7.1/10
Network Performance
7.2/10
What Is Good?
Sleek, ergonomic design
MIUI 12.5 adds under-the-hood improvements
Stereo speakers
Headphone jack
Good battery life
Competent camera quality
What Is Bad?
Laggy gaming performance
Plastic scratches easily
Price needs a correction
Thanks for reading till the end of this article. For more such informative and exclusive tech content, like our Facebook page