Four years ago, the affordable smart TV revolution in India was kickstarted by a single brand – Xiaomi. The Mi TV 4A brought together three display sizes and the goodness of PatchWall UI to spoil Indian TV buyers with digital content streaming on a budget. Since then, a lot has changed for Xiaomi. They have multiple TV series now, and in typical Xiaomi fashion, many of them compete against each other.
The Xiaomi Smart TV 5A is their latest offering now, and it packs considerable upgrades that have incubated over the last four years. At first glance, it seems like a mature smart TV with the latest version of PatchWall, but when you look closer, it's in about the same price range as the Redmi Smart TV X43, making things even more interesting.
Flipkart is full of offers for it, with prices starting at Rs. 15,499 for the 32-inch variant and going up to Rs. 25,999 for the 43-inch model.
After having used the Xiaomi Smart TV 5A daily for a couple of weeks, we have mostly positive things to say about it. So, if you're planning to save up and buy the Xiaomi Smart TV 5A or maybe upgrade from an older generation in the next festive sale, this review is for you.
Xiaomi Smart TV 5A 43-Inch Review: Design and build
The Xiaomi Smart TV 5A has a modern, bezel-less design that seems to appear more premium than it really is. TV aesthetics are actually pretty important in home decor, and this one has the potential to blend in anywhere, thanks to an all-black design. Xiaomi says that this has a metallic frame, but upon closer inspection we figured it is plastic.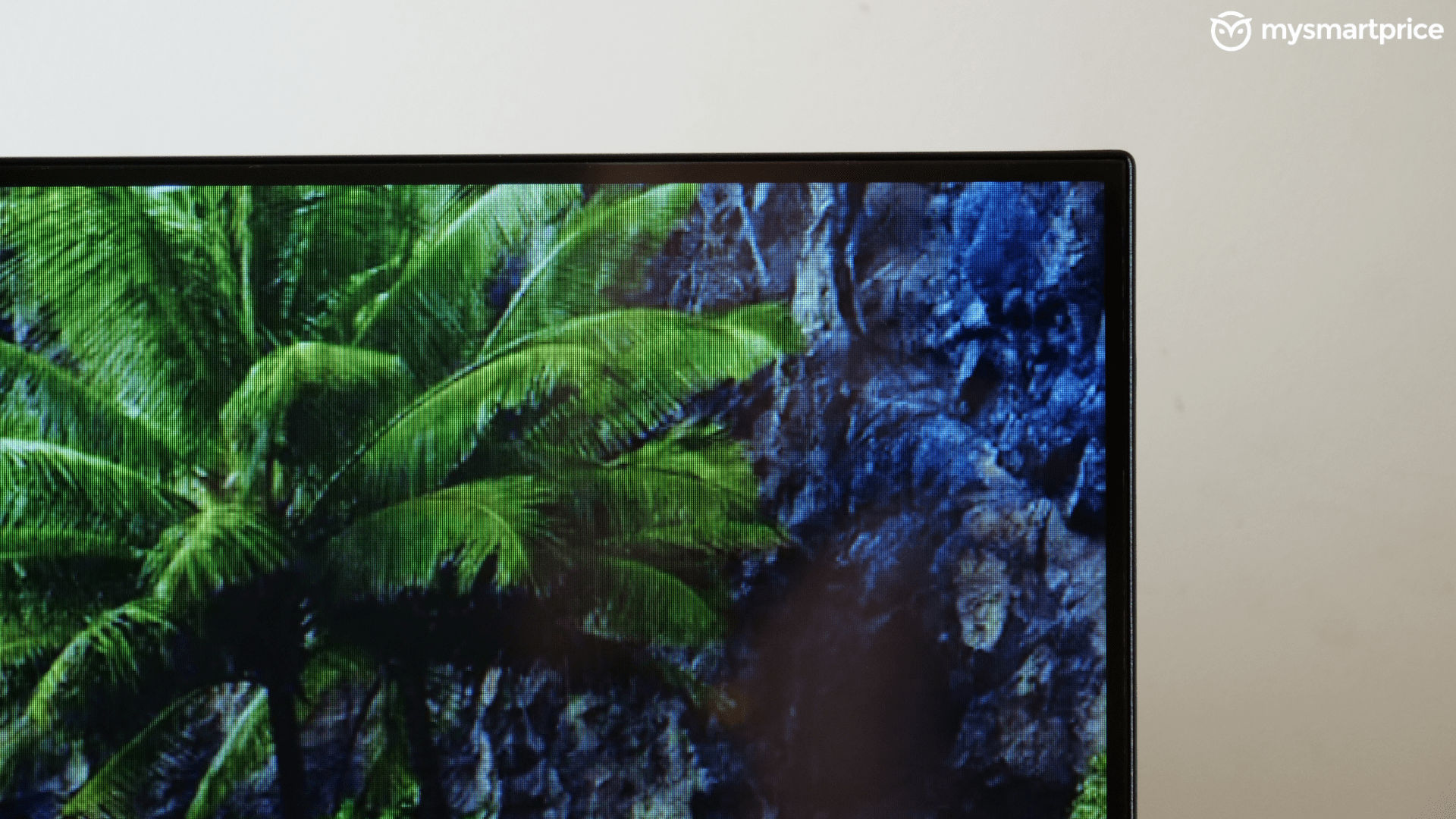 The chin of the TV is made of glossy plastic with a tiny Xiaomi logo in the centre, and just underneath that is a white LED indicator.
The choice of materials yields a tendency to catch dust particles all over, so make sure you have a microfibre cloth. Our unit was covered in white dust in just a couple of days.
Setting up the TV legs is straightforward. You just need a Phillips head screwdriver to secure the four screws that ship with the box. There are also holes at the back to wall mount the TV, but you'll have to buy the bracket and the mount separately. However, at about 4 kg, it isn't all that heavy either, and we had no issues mounting it.
While the panel itself is pretty slim, the back of the TV is a bit chunky. The back protrudes somewhere between the centre to give you access to the ports. If you face the TV's display, all ports will be on your left. The I/O options are nothing crazy – you get two HDMI ports, two USB Type-A ports, an AV input for DVD players, an ethernet port, an antenna socket and a 3.5mm auxiliary port. Wireless connectivity options include WiFi (2.4GHz/5GHz), 2×2 MIMO for better throughput and a reliable internet connection and Bluetooth 5.0.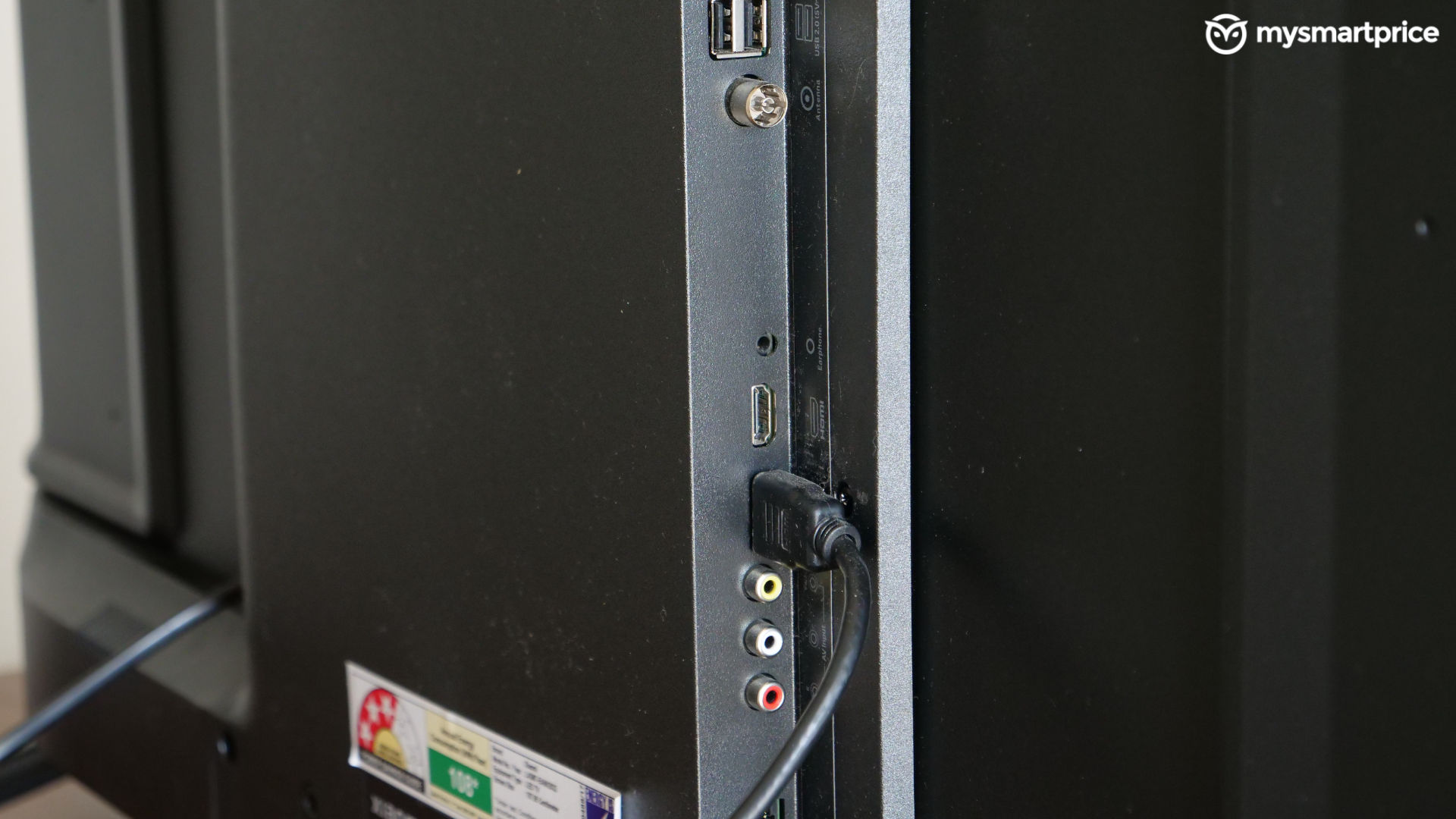 Xiaomi says the ports are spaced out enough to accommodate two HDMI plugs. We tried it out, but they were a little too snug to our liking. Also, reaching the ports is a little awkward, as they sit deep inside behind the TV's back. We didn't have enough dexterity to plug things by taking a single peek. Instead, we had to unmount the TV or move it when it stood on its legs to plug in cables and wished we never had to do it again.
There are no physical buttons except the power switch that sits awkwardly under the white LED. Our unit didn't start regularly with the remote – instead, we had to press the physical button for the first boot after a troubleshooting call, as there was no such thing written in the manual. After that, things sailed smoothly as usual.
Xiaomi Smart TV 5A 43-Inch Review: Display
The front of the Xiaomi Smart TV 5A is lit up by an LED-backlit, IPS LCD panel. The resolution is capped at Full HD, so you can't enjoy 4K content here, nor does it have Dolby Vision or HDR10+ compliance. For this, you will have to consider the Redmi Smart TV X43, which is about Rs. 1,500 costlier.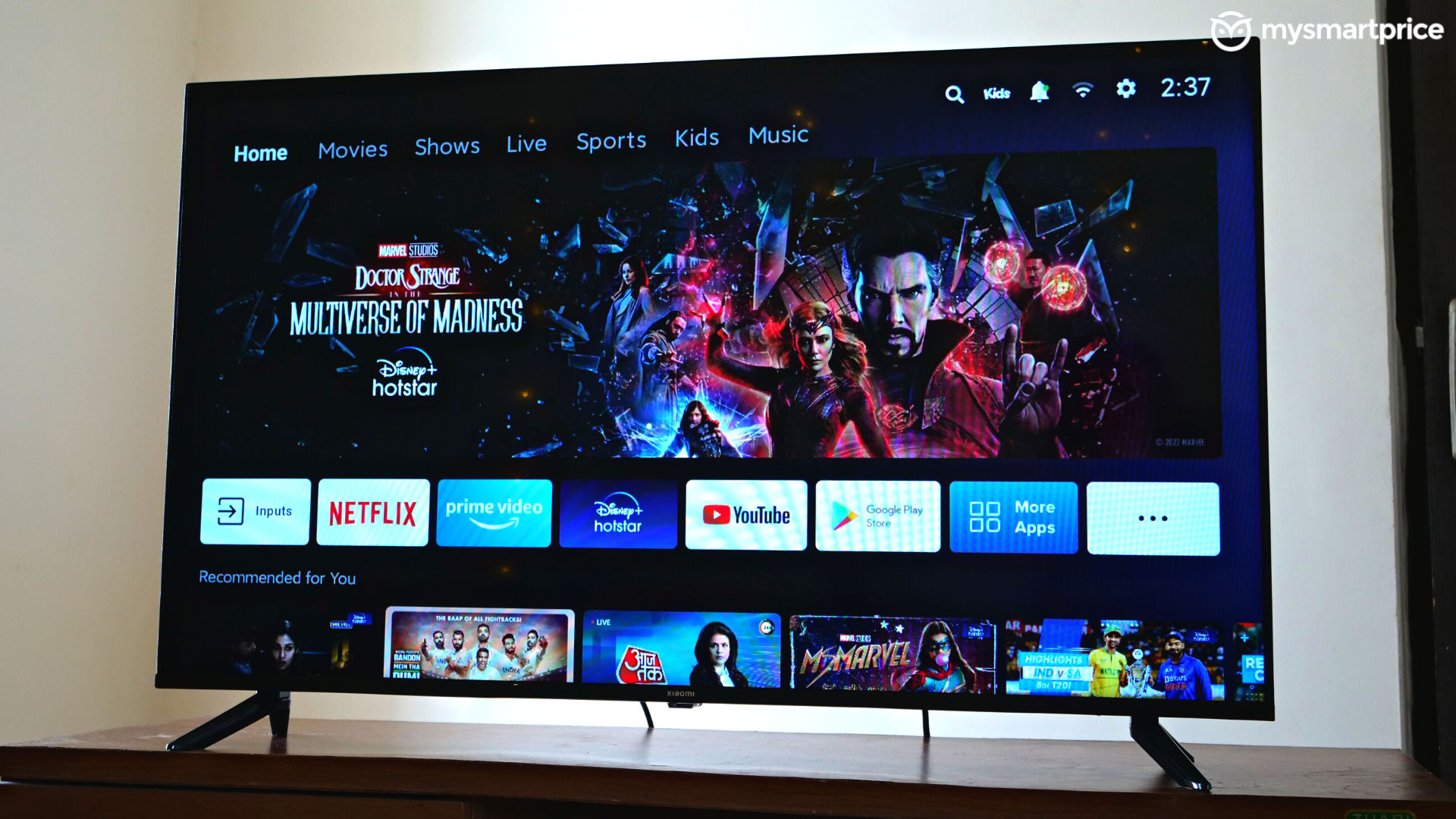 Xiaomi's Vivid Picture Engine does the job of processing colours behind the scenes. While the Redmi Smart TV X43 uses the same engine, the results are ever so slightly different here. Visuals appear more saturated and are more biased towards red tones. This was on the Standard mode, and the Movie mode is even redder.
We found 50% brightness to be a sweet spot for our content consumption. Increasing it even by a little bit would result in washed-out colours. The backlight bleed has been improved massively on this panel compared to its real predecessor, the Mi TV 4A. The top of the panel still had a bleed around the middle, but it didn't bother us too much while watching stuff at night with lights turned off.
Despite the lack of HDR, the Xiaomi Smart TV 5A does an excellent job of reproducing pictures with good colour depth and contrast. Netflix-originals Ozark and Love Death + Robots are notorious for their dark scenes, and this TV tackled them pretty well. Yes, there was a bit of blooming, but it was manageable and didn't make us want to stop watching the episode.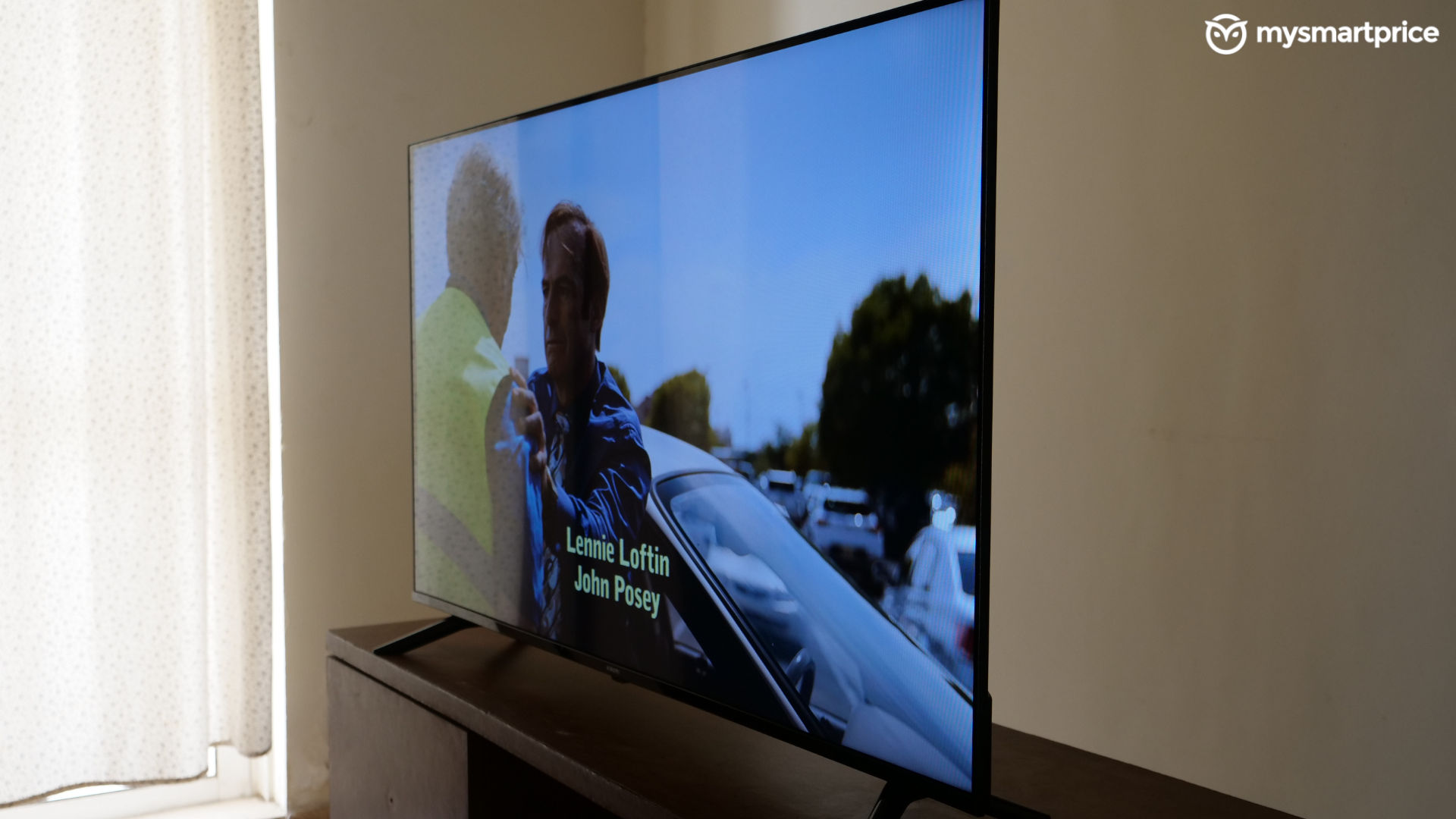 The IPS panel ensured viewing angles were also decent, and we didn't observe any rainbowing artefacts or loss of contrast even at extreme angles.
The thing that bothered us the most was latency. We tried playing F1 2021 connected via HDMI to a gaming laptop, which was a nightmare. It was so off-sync that we had to quit playing. We observed a similar delay with Bluetooth, too, after connecting a soundbar wirelessly.
Xiaomi Smart TV 5A 43-Inch Review: Sound
The Xiaomi Smart TV 5A packs two 12W speakers, which is an increase of 4W over the Mi TV 4A. They have also included Dolby Audio support and DTSX and DTSX Virtual for better sound output.
In its default settings, the speakers sound tinny and lack depth. This is until you dig the menu and discover DTS effects, DTS bass enhancer, to be specific. You can literally hear the transformation when you enable it, and it's a shame it doesn't come enabled by default. It adds depth and makes the sound much richer and louder.
We also tried DTS surround visualiser, which creates virtual surround sound. It's awesome for watching movies and TV shows. Just make sure you turn it off when you want to listen to music. We forgot that the first time we tried and were left scratching our heads thinking why the music sounded so trashy.
Another quirk of the TV is that the volume controls aren't exactly linear when using the TV's speakers. Beyond 20%, it unevenly increased the volume, and 22% was the loudest we usually went.
Xiaomi Smart TV 5A 43-Inch Review: Software, features and performance
Getting down to the innards, the Xiaomi Smart TV 5A is powered by a quad-core SoC that runs Cortex A55 CPUs and Mali G31 MP2 GPU. This is mated to 1.5GB of RAM and 8GB of internal storage. PatchWall UI 4, with its spanking new features, takes care of software duties. It is based on Android TV 11.
The remote is slightly revised, there's an addition of the Hotstar button in the rather minimalist button layout.
In theory, this is a decent combination of hardware and software, and it stays true to reality to an extent. We have a list of strange UI quirks, but let's start with the good stuff.
We love how well organised and deeply integrated PatchWall UI has become. It has universal search capabilities, so you get results from as many as 40 streaming services for every search you make.
The glance screen is such a delight. All streaming services appear in the same place, so you don't have to dig into individual apps to start a bingeing session. Further, the home screen gets updated with a sports widget, and Xiaomi's prime focus is on cricket events.
It also uses machine learning to give you Netflix recommendations. As if that isn't enough, it recommends the best movies using a painfully collected database of IMDb ratings.
A lot of stuff in the UI comes to you by intuition, the rest comes from trial and error. For instance, a lot of our guests were bamboozled by the lack of a settings button on the remote, but almost all of them quickly figured out that holding down the PatchWall icon brought it up.
Now, let's talk about the quirks. While the universal search is brilliant, it's only applicable to searches you make within the PatchWall UI after typing out what you want to search word-by-word, not when you do a voice search. This is such a missed opportunity, but this is more of an Android TV issue than a PatchWall issue.
Next, things can get confusing because PatchWall UI coexists with Android TV, and the remote has two buttons to switch between the two. You only have to log into streaming services once, but having two UIs can be really confusing when navigating. Making voice searches disoriented us after we tried going back.
Also, a single press on the Google Assistant button initiates a voice search. The natural instinct is to press and hold the button to perform a search, and it's for a reason – to avoid accidental presses!
After a couple of weeks, the UI generally started to slow down a bit. Changing volume would sometimes result in choppy playback.
Casting content from your smartphone or laptop is quick and more convenient than searching songs on the TV, but it takes about 15 to 20 seconds for the TV to appear in the casting list of your device after you turn it on.
But despite all these quirks, PatchWall is still miles ahead of the competition and has some serious advantages over vanilla Android TV. We just wish Xiaomi irons out these minor issues.
Xiaomi Smart TV 5A 43-Inch Review: Verdict
The Xiaomi Smart TV 5A is an excellent TV with a really smart interface and a decent display and audio (with DTS enabled, of course). There are very few TVs from other manufacturers that even come close to the software prowess of Xiaomi and can combine that experience with a good display, at least at this price point.
But then, it sits in a tricky spot, where spending a little extra can get you a more colour accurate and higher resolution TV in the form of Redmi Smart TV X43.
Mind you, it's not at all difficult for us to give a shining recommendation for this TV, but only if you have a hard limit on spending or if you can wait till festive deals. If you can afford another grand and a half, get the Redmi Smart TV X43.