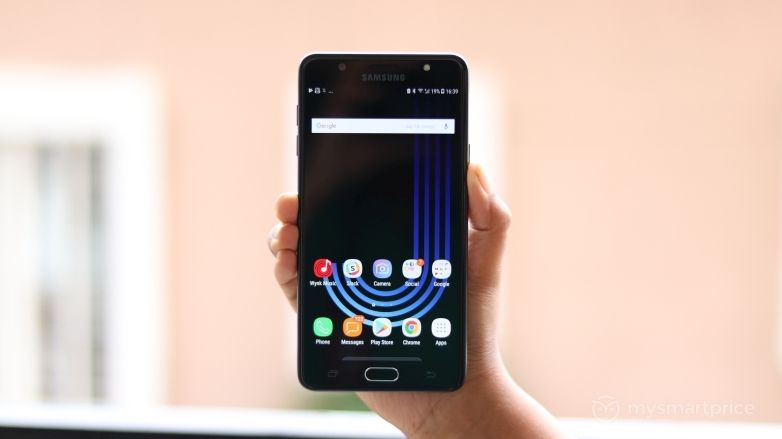 It was around the same time last year that Samsung announced its most premium and feature-packed Galaxy J series smartphone. The Galaxy J7 Prime launched in India as the first budget Samsung phone with a metal unibody, Full HD display, and other features that have become commonplace in the segment thanks to the influx of Chinese manufacturers to Indian shores. We reviewed the Galaxy On Nxt, the J7 Prime's online cousin (with the only difference between the two being double the storage on the On Nxt), and found it to be a well-executed device, even if it was outmatched by many alternatives on the market.
A year later, Samsung has released the Galaxy J7 Max, an unofficial successor to the J7 Prime. Samsung says the J7 Max has a "flagship camera", owing to the rear camera's f/1.7 aperture, which is as low as Samsung's flagship Galaxy S8 and should translate to better low-light performance. The J7 Max also brings back Smart Glow, a rear-mounted notification ring that can be customized for various notifications and was first seen on last year's Galaxy J2 (2016). There's also 4GB of RAM, which is a first for a budget Samsung phone.
What the company doesn't highlight is that the phone's four gigs of RAM are paired with a MediaTek processor. MediaTek chipsets aren't known to be the best performers, and when you couple it with Samsung's software, which can start to slow down after a while, it puts a big question mark over how the device will perform over time in day-to-day usage.
But it's never wise to give a verdict on a smartphone based on its specs, so I used the Galaxy J7 Max as my primary device for a couple of weeks to see what it offers. The spec sheet is certainly interesting and better than anything else Samsung has launched under ₹20,000, so let's see whether the Galaxy J7 Max is worth your hard-earned money.
Galaxy J7 Max review: Design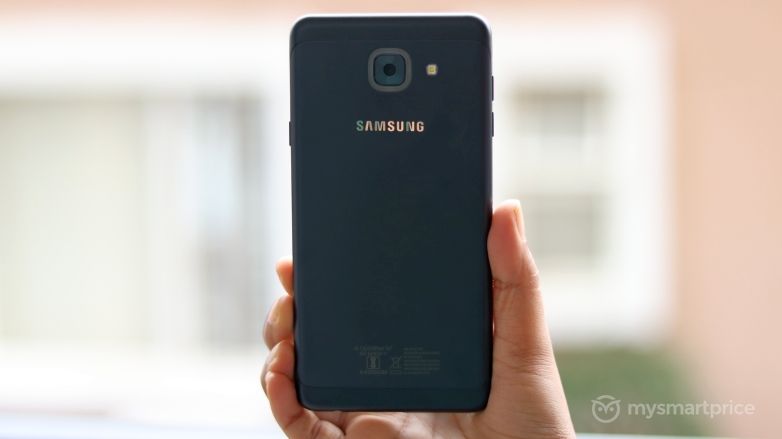 For a phone that is priced at ₹18,499, the Galaxy J7 Max holds no surprises when it comes to design. It looks like any other Samsung phone from the front, and it's well built and feels good in hand owing to the metal unibody. At the rear, the Smart Glow ring around the camera stands out. The back is also a fingerprint magnet. On the black variant, which looks more like dark blue at the back, these fingerprints make the phone look rather dirty and are hard to scuff off, owing to the plastic-like finish (it's not actually plastic, but neither does it feel as metallic as cheaper devices like the Redmi Note 4 or even Samsung's Galaxy J7 Prime).
It's quite disappointing that the back can pick up fingerprints quite easily, because that Smart Glow ring requires you to keep the phone upside down to be useful. Overall, let's just say the Galaxy J7 Max feels premium and well built and, dare I say, even handsome at times owing to the all-black front. Not as handsome or beautiful as the Galaxy S8, but it's still a notable achievement for a sub-₹20,000 phone from the Korean giant's camp.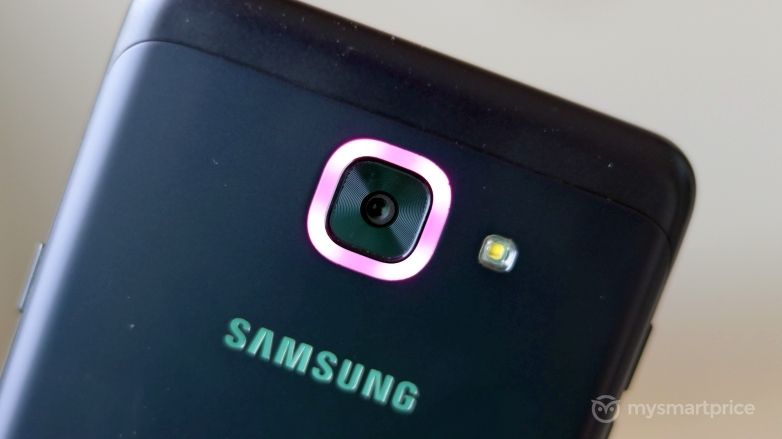 Now, about Smart Glow. Well, let's say it's a nifty idea, with Samsung allowing you to choose random colors through a 10-step RGB scale. You can assign different colors to contacts and apps, and also for alerts such as low battery and high data usage. The thing is, Smart Glow is nice, but it is only useful if you tend to keep your phone upside down — something you shouldn't be doing given how easily smartphone displays scratch these days. I don't, so Smart Glow was useless for me. Thankfully, you can enable or disable Smart Glow with a single tap from the quick toggles in the notifications menu.
Galaxy J7 Max review: Display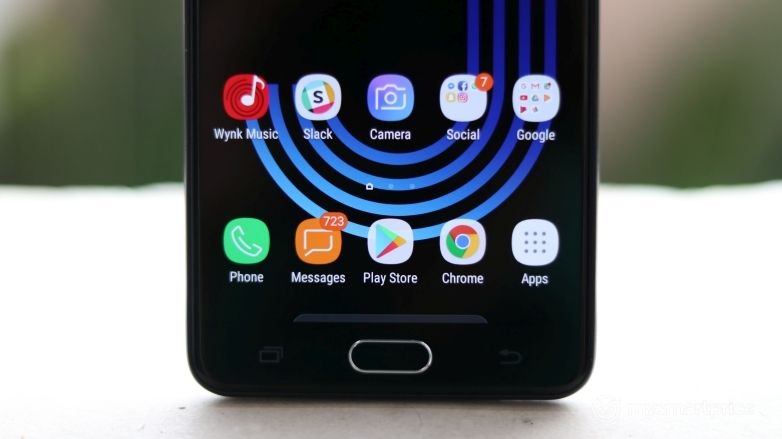 The Galaxy J7 Max comes with a 5.7-inch Full HD display, and it's an LCD panel instead of the AMOLED panels Samsung has employed on the more mainstream Galaxy J series devices since 2015. The display isn't bad. It's got enough colour saturation for an LCD panel, the blacks are as black as you could get on an LCD screen, and the brightness levels, while not the highest, never had me straining my eyes to make out the content on-screen.
But an AMOLED display would have made the J7 Max considerably more attractive, and I can't help but feel it's a missed opportunity for Samsung, especially at this price point. Not a lot of competing phones come with AMOLED displays in this segment, though, so I guess it's not a complete loss. Not unless you consider that Samsung's yesteryear mid-rangers like the Galaxy A7 (2016) can now be purchased for a similar price.
Galaxy J7 Max review: Camera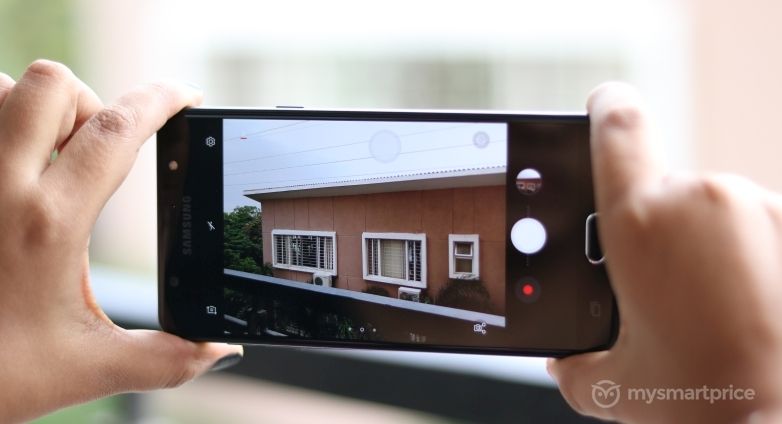 Imaging is one area where the Galaxy J7 Max manages to impress, at least when you consider that Samsung's budget phones have always had mediocre cameras. The J7 Max's 13-megapixel rear camera has f/1.7 aperture, which is the largest seen on smartphones today and usually exclusive to flagship handsets. The large aperture is put to good use here, as the Galaxy J7 Max can capture a good amount of light in dark environments, even though it loses out on detail. But detail is impressive in daylight shots and those taken indoors in ample lighting. The one issue with the rear camera is that the colours can come out a bit drab in some cases.
Pictures taken against the light also suffer unless you turn to the dedicated HDR mode, which does a good job of bringing out the detail in both bright and dark areas. As for videos, there's not much to say. The phone shoots in Full HD as the maximum resolution, captures plenty of detail in good lighting, and reduces jitter as much as is possible without optical image stabilization (naturally, too much movement isn't recommended).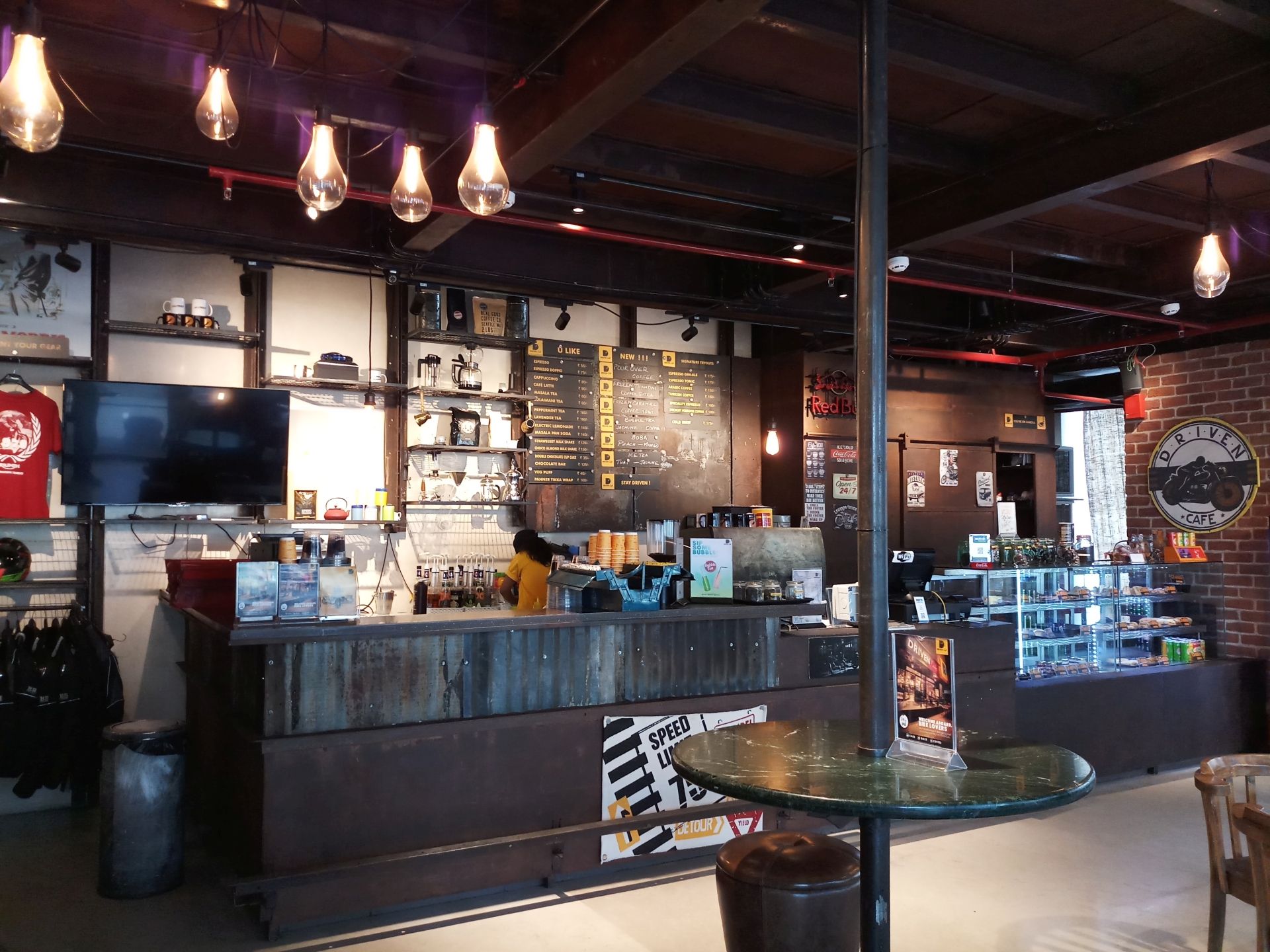 The selfie camera, which is a 13-megapixel sensor with f/1.9 aperture, isn't as good as the rear camera, but it does manage to take clean selfies without a lot of noise. Detail is lost any time you shift to indoor lighting, but again, the result is a clean image. There's a selfie flash next to the earpiece that helps in low light conditions. Instead of washing out the scene, the flash works subtly to help take a balanced image, although like any other front-facing camera flash, it can blind you for a moment if you're holding the phone too close.
The camera app is the same one that is found on Samsung's Galaxy S8 and Galaxy S8+. You can swipe left, right, or up/down on the viewfinder to access the shooting modes, look at filters, or switch between the front and rear cameras. The app itself can be launched with a double press of the home button, a feature common to all Samsung devices released in the last year or so. Shooting modes are plenty for the rear camera, including a mirror selfie mode that lights up the Smart Glow ring to tell you that your face has been detected, followed by a timed capture.
There's also an Anti-fog mode, although I'm not sure how this works and Samsung doesn't offer a description, either. As for the Pro mode, it's a basic one that allows adjustment of exposure, white balance, and ISO. For the front camera, you get a wide selfie mode that works like a panorama mode for selfies. In practice, this doesn't work so well as the phone is usually quite close to you when you take a selfie, but at least one gets the option. Oh, and you can also add a secondary floating shutter button to the camera app, one that can be moved anywhere on the screen. It's incredibly handy when you're trying to take a selfie as it removes the need to wrestle with the default shutter button.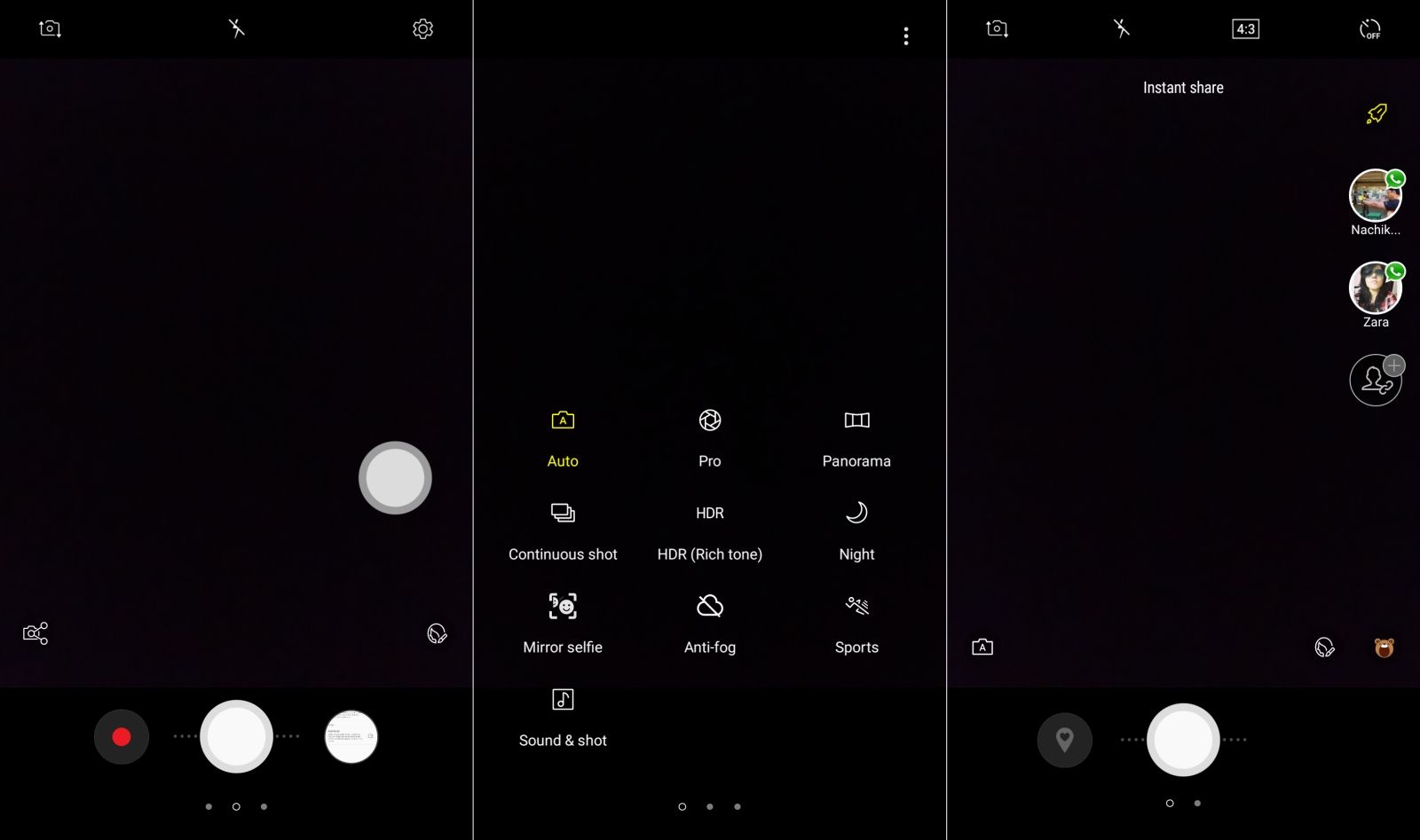 The J7 Max also comes with an Instant Sharing feature for the cameras. With Instant Sharing, you can quickly send photos captured in a single picture-taking session to contacts on WhatsApp or put them on Facebook by selecting these contacts/the Facebook app in the camera app beforehand. Then, once you're done taking pictures, you can tap on a contact's name, and the phone will automatically take you to the image sharing screen of the particular app. It's a few steps less for sending or uploading photos, and while I never found myself using it, I can see it coming in handy for others.
While Samsung's claims of a "flagship camera" are based on the camera aperture and not finer aspects like the camera sensor, the J7 Max does have the best cameras I've seen on a Samsung phone priced under ₹20,000. The cameras are better than even this year's Galaxy A (2017) phones, which cost almost double the J7 Max in the case of the Galaxy A7 (2017). Kudos to Samsung for finally getting down to business and fixing its non-flagship phone cameras.
Galaxy J7 Max review: Software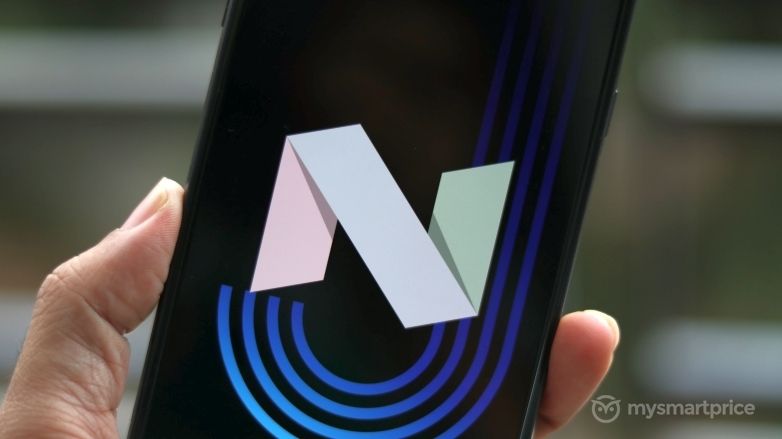 The Galaxy J7 Max runs Android 7.0 Nougat out of the box, with the Samsung Experience 8.1 user interface that debuted on the Galaxy S8 and S8+. It's the most modern-looking version of Samsung's custom Android skin yet, and you get many of the same features as found on the Galaxy S8. There's full support for third-party themes and icon packs, Multi Window multitasking, and also the Secure Mode feature, which allows users to create a secure space for apps and data that is separate from the rest of the phone.
Samsung has also implemented a feature called Dual Messenger (found in Settings » Advanced features). What does it do? Well, it lets you install two copies of social networking apps on the phone, so you can log in to two different accounts. Popular apps like Facebook, WhatsApp, and Snapchat that do not have multi-user support are supported by Dual Messenger. It's similar to the Dual Apps feature introduced by Xiaomi, and you can even run both copies of the app at the same time in Multi Window mode.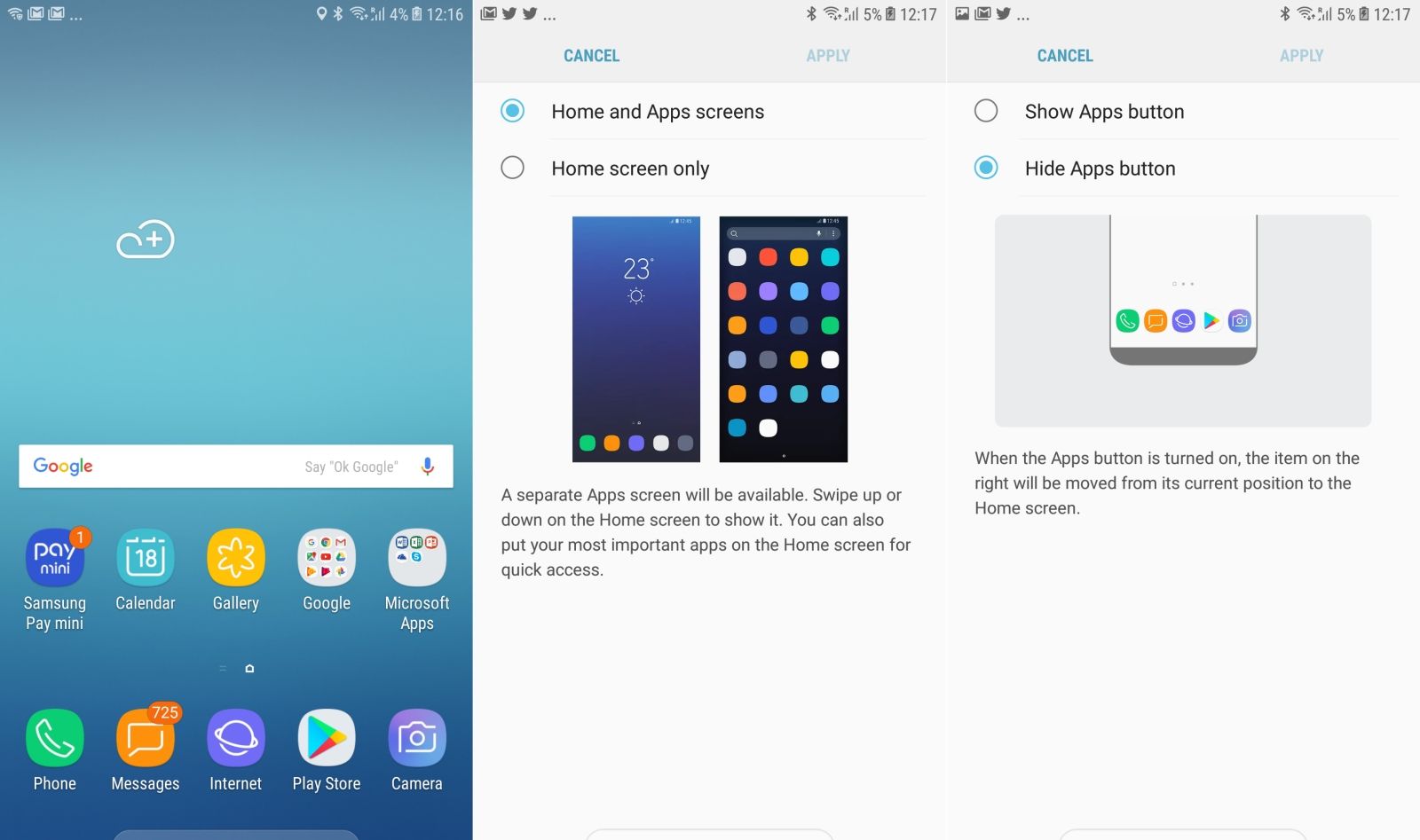 Since the Galaxy J7 Max has the Galaxy S8's interface, the home screen works differently than how it used to on previous devices. There is no longer an app drawer button by default, and the drawer is accessed by swiping up and down on the home screen (the button can be enabled from the home screen settings should you want it). There's also an option for putting all app shortcuts on the home screen pages and disable the app drawer altogether, to emulate how home screen launchers work on Chinese skins like MIUI.
The J7 Max is also the first Samsung phone to come with Samsung Pay Mini. It's a basic version of the payment service that supports only wallets and UPI; the full version of Samsung Pay is available on the Galaxy J7 Pro, so that's the device you need to look at if you want Samsung Pay outside of Samsung's mid-range and flagship phones. As for Samsung Pay Mini, it's great if you're a regular UPI or Paytm user, as it lets you handle all your accounts in a single location. Without support for actual debit and credit cards, though, I found myself ignoring Samsung Pay Mini.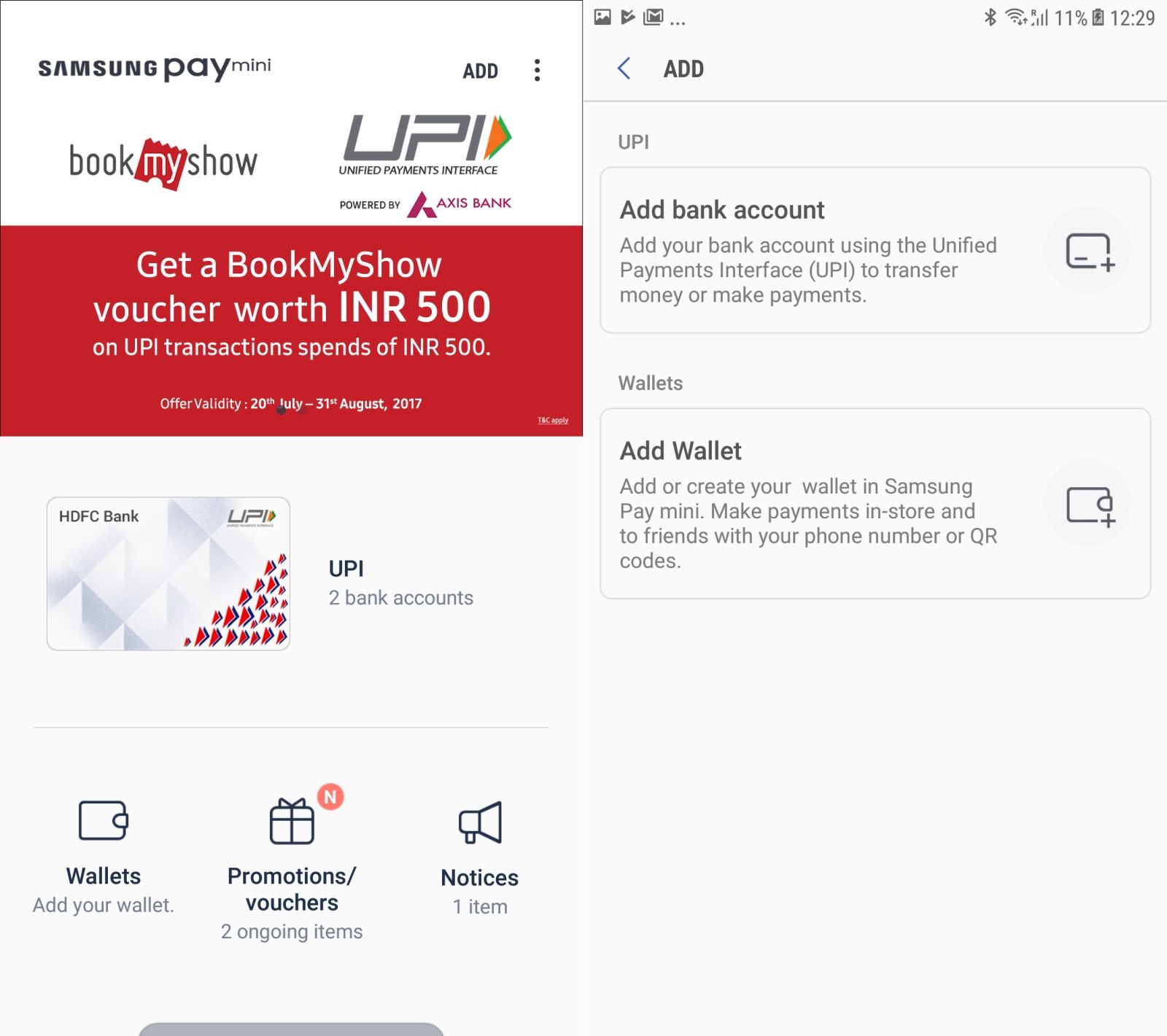 Now, what about an upgrade to Android 8.0? Samsung has offered one major upgrade to every Galaxy J5 and J7, so there's hope for the J7 Max. Of course, it could be almost a year before the update is released, at least if we go by how slow Samsung usually is with updating non-flagship phones, but it should arrive at some point down the line.
Galaxy J7 Max review: Performance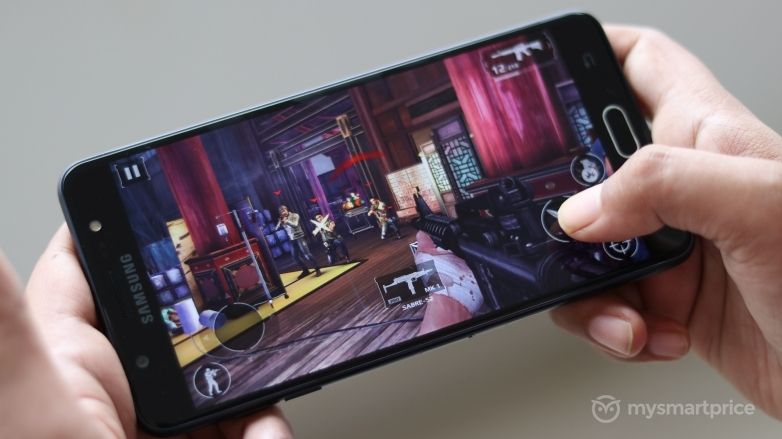 This is where it all comes crashing down for the J7 Max. I was sceptical when I started using the phone, and my fears weren't unfounded: The J7 Max is the laggiest phone I've used in recent memory. It doesn't lag all the time. In fact, its smoothness and speed are all the more notable because of the performance issues it faces at other times, even during regular usage. Going to the home screen from an app that you've been using for an extended period, trying to switch between two apps, or simply waking up the phone using the power button; the Galaxy J7 Max can lag and stutter like it's nobody's business.
It no doubt comes down to the fact that Samsung's Android skin is one of the least optimised out there, and with a MediaTek chip under the hood, the J7 Max cannot hold a candle to devices that cost much less when it comes to software performance. Thankfully, gaming isn't affected, and the Mali-T880 GPU inside the phone can run graphically intensive games like Modern Combat 5 and Asphalt 8 quite well at the default graphical settings. The four gigs of RAM also help keep a considerable amount of apps in memory, and the 32GB of internal storage is good enough to store all your apps as long as you keep your media on an SD card.
Samsung's fingerprint sensor, meanwhile, is as good as the one found on the company's flagships. It's still prone to failure at times, but it's fast when it works. It's always active, so you can simply keep your finger on the home button to wake up the device, although this isn't as quick as devices with rear-facing fingerprint sensors. Samsung has also built in facial recognition for unlocking the device, and in sufficiently lit environments, facial recognition works well, if a little slow at times.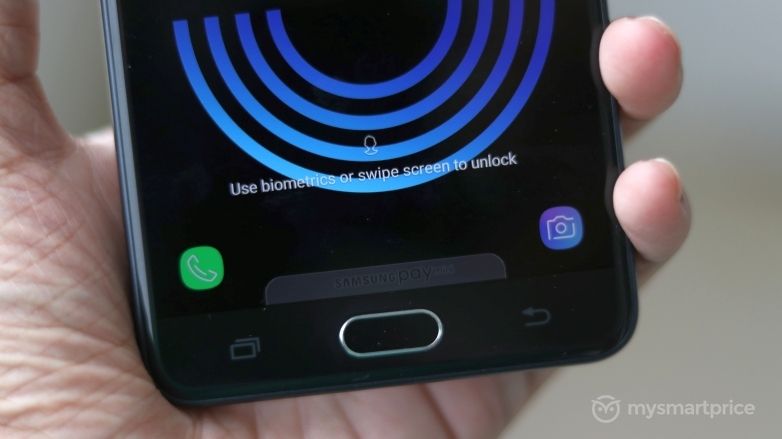 What about audio quality? Samsung continues to offer the same budget-grade headphones as it has on every other sub-₹20,000 phone, but the loudspeaker on the J7 Max is loud and distortion-free at even the highest volume level. There isn't a lot of bass to be heard, high frequencies (treble) have been turned up to 11, and the mid-range is pretty much non-existent, but the speaker is still a good one and does the job for a bit of YouTube viewing and making sure you notice every incoming call.
Call quality is also great, and I had no issues with either Jio or Airtel even in my building's basement car parking. Bluetooth connectivity, however, wasn't perfect. Streaming to my car's stereo had intermittent stutters at times, even when the phone was inside the car. The phone also tends to stop playing audio on the car's speakers and switch to the loudspeaker now and then, prompting me to re-enable media audio playback on Bluetooth via the settings menu. Probably something an update can fix in the future, although it remained an issue even after two software updates.
Galaxy J7 Max review: Battery Life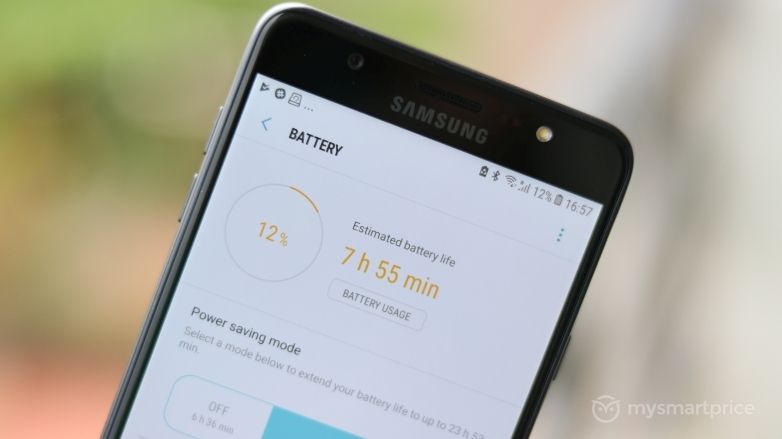 The Galaxy J7 Max doesn't match up to the battery life standards set in place by other phones in the segment, including Samsung's regular Galaxy J5 and J7. Battery life isn't bad. The phone can last a full day, but you will need to connect it to the charger the next morning. I'm not sure if using the phone with a single SIM would help, but with two SIMs inside and a fair bit of 4G LTE usage over the day, the J7 Max can only guarantee a day's battery life and a few hours on the second day before needing a charge.
Samsung builds in a couple of power saving modes, and you might see your mileage with battery life increase with those power saving modes enabled. Sadly, the J7 Max doesn't come with any form of fast charging, and the 3,300 mAh battery inside takes nearly two and a half hours to go from 0 to 100, even with a 2A charger (Samsung provides a 1.55A charger in the box). That's not acceptable in this day and age, not when even the Redmi 4A has fast charging. Hopefully, Samsung isn't going to be keeping such features away from its budget devices for long.
Galaxy J7 Max review: Conclusion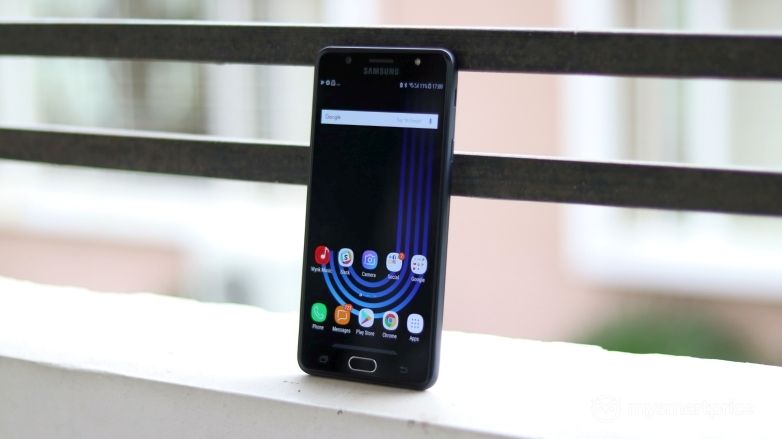 The Galaxy J7 Max would have been the first budget Samsung phone that I would have recommended wholeheartedly, if Samsung hadn't negated all the positives with the mediocre software performance. There's just no excuse for the kind of lag and stutter that the J7 Max suffers from, not in the Indian market, where the sub-₹20,000 scene is filled with powerful alternatives like the Xiaomi Redmi Note 4, the Xiaomi Mi Max 2, and the Moto G5 Plus. The J7 Max does well in every other department (especially the camera), and that's what makes it even more disappointing that the phone can slow down so often even during general usage.
Once again, it's Samsung's wider availability and better after sales service that stand as the reasons for opting for the company's latest budget phone. If you don't care about those, however, you'd do well to spend money on one of the many better alternatives on the market.
Samsung Galaxy J7 Max
Design and Build Quality
7.5/10
What Is Good?
Premium design, well built
Good LCD display
Samsung's best budget phone cameras
Latest version of Android and Samsung UX
Loudspeaker is loud and distortion free
Smart Glow notification ring is a nifty idea
All-day battery life
What Is Bad?
Mediocre software performance
No AMOLED display
Smart Glow useless unless phone is kept upside down
No fast charging
Rear camera can take dull photos at times
Thanks for reading till the end of this article. For more such informative and exclusive tech content, like our Facebook page