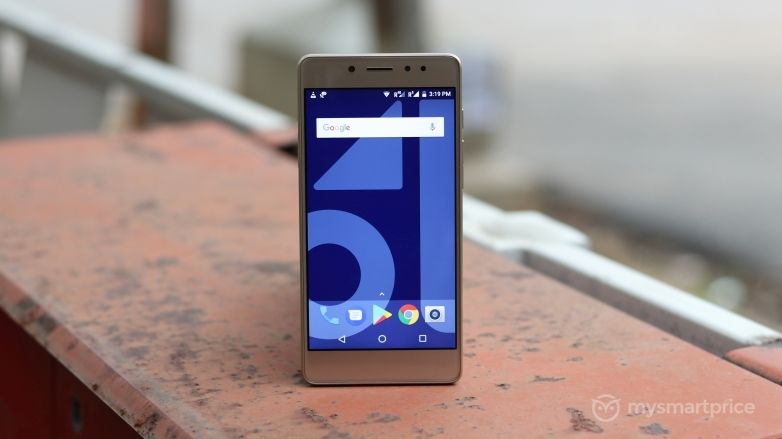 10.or (pronounced Tenor) bears all the markings of a new Chinese company looking to make a splash in the highly competitive Indian smartphone market by offering high-end specifications at an affordable cost. It aims to compete with established market giants such as Xiaomi and Lenovo, which will be an uphill task, considering the sheer number of units already sold and their general popularity among people. The 10.or E is available in two variants, one with 3GB RAM and 32 GB internal storage and the other with 2GB RAM and 16GB internal storage. Today, we'll be taking a deeper look at the 3GB RAM/32GB storage variant.
Now it would only be natural to feel sceptical about an unknown device made by an unknown manufacturer. The company's interesting choice of name and a logo which looks like it has been designed by the Illuminati doesn't help in alleviating that scepticism in the slightest. That being said, let's take a quick look at the specifications of the 10.or E.
10.or E: Hardware & Software Specifications
Display: 5-inch IPS LCD Panel with a resolution of 1920×1080(401 ppi pixel density), protected by a layer of Corning Gorilla Glass 3.
Processor: Octa-core Qualcomm Snapdragon 430 clocked at 1.4Ghz.
Memory: 32GB of internal storage, expandable up to 128GB via microSD card and 3GB of RAM.
Primary Camera: 13-megapixels with a CMOS image sensor, Phase Detection Autofocus, LED flash, HDR, and Panorama.
Secondary Camera: 5-megapixels with LED Flash and facial recognition.
Battery: Non-removable 4000mAh Li-Pol battery.
Dimensions and Body: 154x78x9mm(length x width x thickness), 150g polycarbonate body with 2.5D glass.
Connectivity: Dual-SIM with 4G, Bluetooth, GPS, 802.11 b/g/n WiFi and a micro USB port.
It is well known that the specifications only tell half the story about a device. The real-world performance of a smartphone is determined by a variety of factors, such as software optimization, quality of components used and the amount resources allocated to research and development.
10.or E review: Design & Build Quality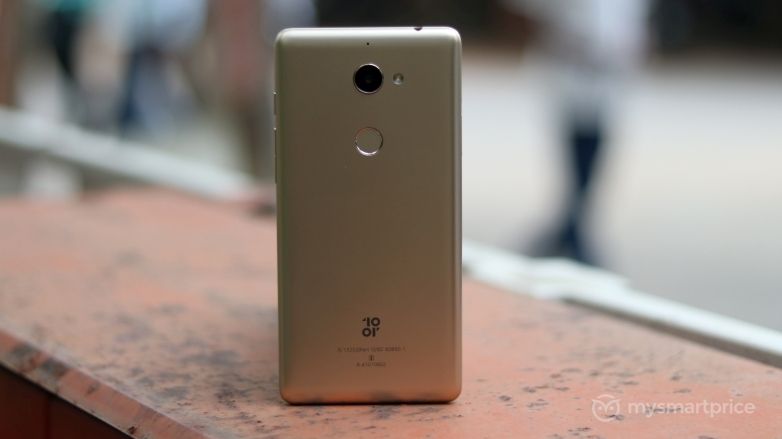 The 10.or E is encased in a polycarbonate body and has a robust feel to it. It has a glossy finish which would get you to think that it's made of metal, but a few minutes of handling the device will tell you otherwise. The 2.5D curved panel at the front feels good to hold and makes for a pleasant typing experience, and the fact that it is backed by Corning Gorilla should give it some protection against tumbles. My only beef with the panel is the fact that it tends to become smudgy after an intense text-a-thon or a few minutes of gaming. The rounded edges help the phone slide right into the pocket. The Aim Gold variant has a glossy look to it while the Beyond Black is rather dull.
The button placement on the device could have been better, with the power button placed right on top of the volume buttons on the right edge of the phone. It is easy to get the two mixed up, especially when you reach for it while looking away. The phone is devoid of any other physical buttons other than the ones mentioned above. On the left edge of the phone lie the removable SIM card and microSD card trays, which are barely noticeable and blend perfectly into the body. One can easily extract them using the tray extractor pin which is included in the box. On the bottom lies the micro USB port and the speakers, which are an absolute travesty and shall be discussed in more detail later. Lastly, the 3.5mm headphone is the sole resident of the top edge.
Despite the phone being fairly light, it feels awkward at times and you're better off putting a case on it for better grip. The experience could vary from user to user and depends on a variety of factors such as hand size and palm sweat. The one-handed operation was a breeze for me, as I have considerably large palms, but it might be a bit of a challenge for many people. The capacitive buttons are placed at the edge of the screen, right below the navigation dock, and are easily accessible. 10.or did a decent-ish job with the body, but it lacks the premium feel offered by its competitors.
10.or E review: Display Quality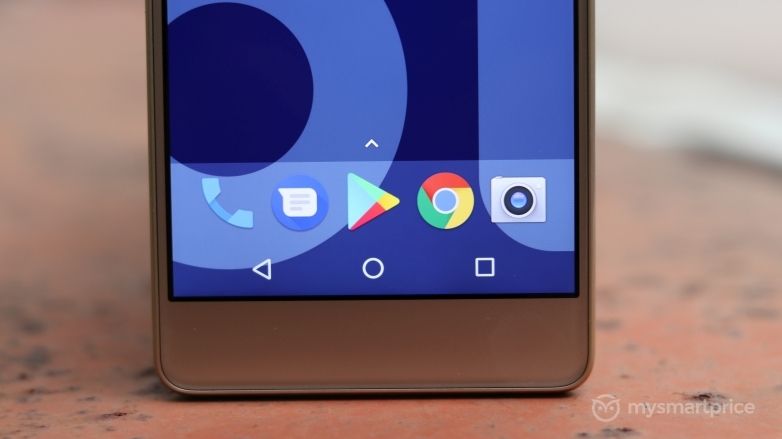 The 10.or E comes with a 5.5-inch IPS LCD panel with a resolution of 1920×1080 with a pixel density of 401 PPI. The automatic brightness adjustment feature does a decent job adjusting the luminosity of the panel under varying lighting conditions, but you're better off making the adjustments manually. The performance under bright sunlight is average at best. Even with the panel set to maximum brightness, one has to squint or adjust the screen a little to read an incoming text. Under normal lighting conditions, the visibility of text and icons are crystal clear at all resolutions.
The colour reproduction of the screen is outstanding, compared to other phones in the price range. The IPS LCD panel does an excellent job of displaying full HD content with negligible loss in image quality from all viewing angles. It's hard to imagine how 10.or managed to keep the cost of the device so low, as it could easily have passed off as something twice its worth, on the basis of its screen alone. The Corning Gorilla Glass 3 protecting the display lives up to its reputation and does a good job protecting the panel from scratches and the occasional drop.
10.or E review: Performance
All the octa-core/3GB RAM spec sheet razzmatazz aside, here's where it all comes down to: the real-life performance of the 10.or E. The phone runs a slightly dated Qualcomm Snapdragon 430 chipset and the effects are visible with the occasional micro stutter every now and then, and that's down to the 430 pushing a Full HD panel. There is a significant amount of input lag, with keystrokes being completely ignored if you're typing too fast. Sometimes, even clearing notifications from the lock screen can take an extra second or two. The navigation through the UI and menus is a lot smoother, thankfully. The fingerprint sensor, despite being quick, fails to recognize an input every now and then, which is mildly annoying. I decided to use a PIN to unlock the device instead.
Multitasking, on the other hand, is a lot more fluid on the device and switching between apps is a breeze, regardless of how many of them you have open simultaneously. Running two apps side-by-side using Nougat's built-in Multi Window mode was no trouble at all, with near instant switching between the apps. The fact that the OS is stock Android with minimal customization also helps in keeping things relatively quick, as there isn't too much bloatware to slow you down. The 3GB of RAM proves to be sufficient in handling resource-heavy applications and multitasking.
To test the gaming capabilities of the device, I fired up two separate titles: Modern Combat 5 and Asphalt 8, both graphically intense games. At high settings, both games experienced a massive decline in frame rates and were nearly unplayable, but after cranking the settings down a little, they ran a lot smoother. Some credit should be given to be given to Gameloft for optimizing their games for a wide range of hardware and making sure that they run well even on older devices. To mix things up a little, I also fired up Square Enix's Hitman: Sniper and DeepSilver's Galaxy On Fire 2 HD. Both games are comparatively less resource-heavy but are known to have performance issues on older hardware. The 10.or E could seamlessly handle both games with no frame rate drop or lag.
Now comes the part that I don't fully understand — the device was capable of handling graphically intensive games with no issues but gave me intermittent stutters in one of the least resource heavy game I know of: Supercell's Clash Royale. To put things in perspective, the game runs perfectly on my four-year-old Motorola Moto G, which packs an ancient Snapdragon 400 coupled with an Adreno 305 and 1GB of RAM.
10.or E review: Camera Prowess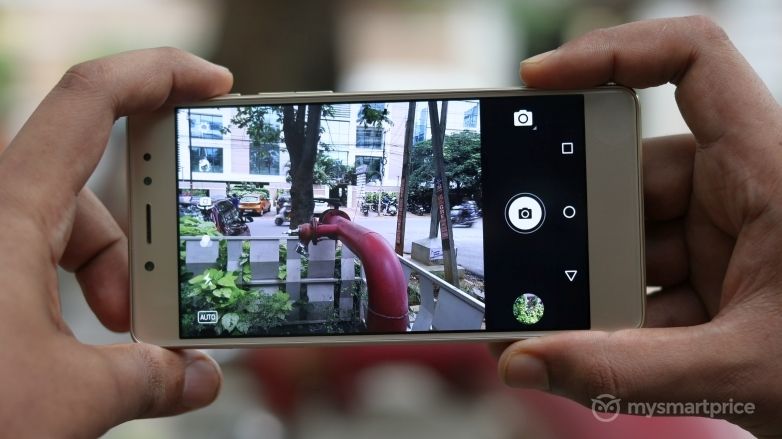 Very often, the camera is the deciding factor when it comes to the purchase of a smartphone. Let's take a look at how well the 10.or E does in the camera department. The primary camera on the 10.or E is 13-megapixels with a f/2.0 lens, a CMOS sensor, phase detection autofocus, HDR, and panorama. The Amazon page for the device claims that it can shoot 4K videos at 30fps and 1080p videos at 60fps, but nowhere within the camera UI could we find an option for either 4K or even 1080p, with 720p at 60fps being the highest resolution a video can be recorded at.
The quality of videos at 720p at 60fps is mediocre and the resulting videos like they're straight out of an '80s cinema reel. The performance isn't significantly better for videos shot at a lower resolution. The quality, however, does improve at 30fps, with the result being significantly clearer than its 60fps counterpart.
The quality of images captured by the primary camera is average at best. The f/2.0 aperture lens tried to aid low-light photography, but the result is by no means stellar. Photographs captured at night look grainy and pixelated. Tinkering with the ISO and other settings only yielded marginally better results. The day-time photos had a good colour reproduction and were devoid of noise. The image processor on the device is quick and there is virtually no delay between clicking a photo and you being able to view it. As expected, photos with HDR enabled take an extra second or three, as multiple images are shot and stitched together in the process.
The secondary camera fared marginally better, with fairly accurate skin-tone reproduction and decently sharp colours. Like its primary counterpart, the secondary sensor's low-light performance is underwhelming. The LED flash causes the images to be slightly grainy and pixelated. The secondary camera also features a beauty mode, which lightens the skin tone by a few hues and yields interesting results.
The camera app is concise and allows you to fine-tune the camera to your specifications. The Auto Mode does a good job of adjusting the settings according to external factors such as ambient light. There is also an option to set the ambience you are in, allowing the camera to adjust its settings accordingly.
It's best to leave the camera settings to its own devices unless you know what you're doing and absolutely have to fine-tune the settings. Apart from a few quirks here and there, both cameras on the 10.or E do a decent job, considering the price of the device. I'd go as far as saying it could even give some similarly priced Xiaomi devices a run for their money.
10.or E review: Software and UI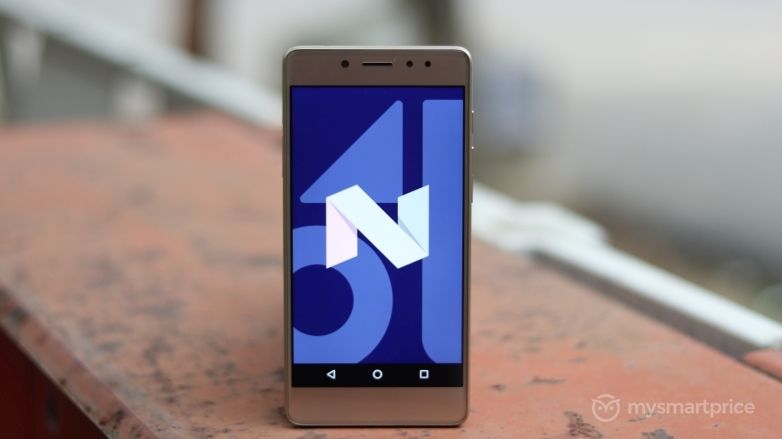 One of the things I liked most about the 10.or E is the fact that it ran Android Nougat with almost zero customization. The phone comes pre-installed with Amazon, Prime Video and Kindle and an Amazon Widget on the home screen. I'm not sure what the purpose of the widget was, as it isn't linked to your Amazon account in any way and does not show you recommendations based on your search history.
The only piece of software it comes with is its own diagnostic app, which can run a series of tests to determine if your device is faulty, and even set up an appointment for a repair. The app is neat and does an excellent job of diagnosing your device end-to-end, even giving you an estimate of how much it would cost to get it fixed. The cost estimation, however, does not consider the price of the actual part being replaced and only quotes labour charges, which is reset to zero if your device is under warranty. Clearly, this was a half-baked attempt to make a native diagnostic app and it could have been done better.
The home screen has the regular Nougat user interface. The app drawer can be accessed by swiping up an arrow right above the dock. After all is said and done, the UI is clean and offers a complete stock Android experience with zero bloatware Another notable feature of the 10.or E is the integration of Google Assistant, which can be accessed by long pressing the home button. The response time is quick and it can recognize a variety of basic commands in different Indian accents.
10.or E review: Audio Quality and Connectivity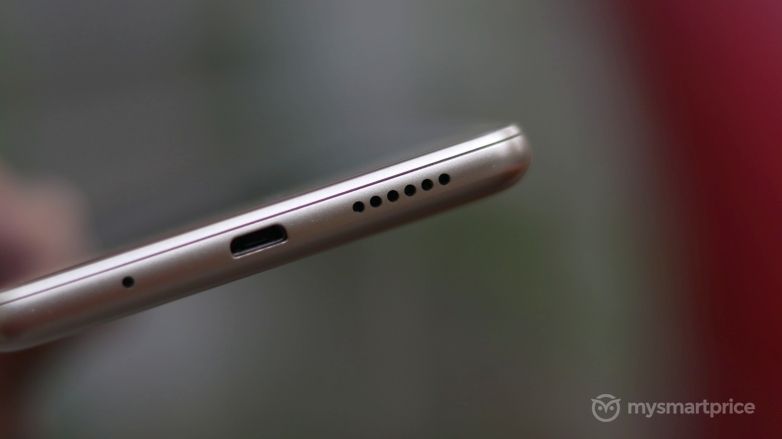 Let's begin by addressing the elephant in the room: the inbuilt speakers on the 10.or E. The sound output of the loudspeaker is horrible. Pretty much anything ranging from phone calls to heavy metal music is almost inaudible on loudspeaker mode. Thankfully, the microphone and the top speaker are significantly better with minimal loss of quality during phone calls.
Another glaring flaw with the device is that it lacks VoLTE capabilities, despite it being advertised on the spec sheet. None of the Reliance Jio SIM cards I tried could make or receive calls, without the use of their dialler app, which allows you to use VoLTE on non-enabled devices. This comes off as a bit odd because, after some digging into the phone settings, the device did have a VoLTE flag enabled, indicating it is VoLTE capable. I'm going to keep an open mind and hope that it's something that will be fixed with a future update.
The wireless connectivity of the device is commendable, as the device gets full reception in areas where many other devices linger around the half bar mark. The device lacks a 5GHz Wi-Fi radio, which is a little disappointing, considering that it is a lot less congested and has lesser interference. The throughput over Wi-Fi capped out around the 40-50Mbps mark, which doesn't come as a surprise as there is bound to be a lot of external factors affecting the connection speed of a 2.4GHz wireless link.
10.or E review: Battery Life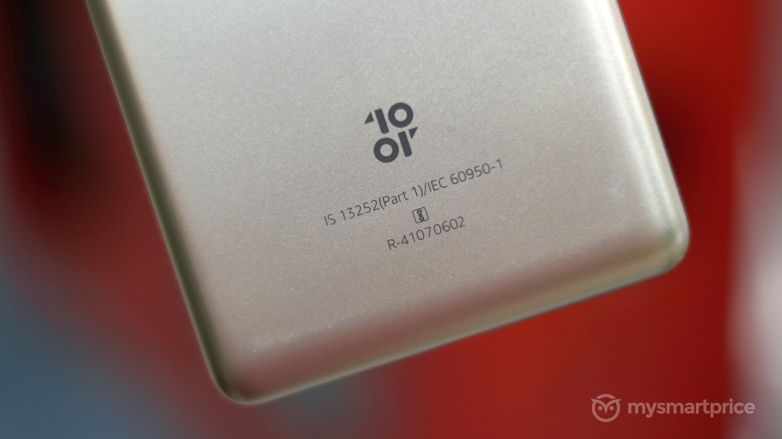 The 10.or E packs a 4,000mAh battery, which is more than that of a lot of devices available in the market. The battery performed exceptionally well, last well over a day on a single charge. The device does not support any version of Quick Charge, and as such, it took an agonizing three hours for it to charge completely from zero to one hundred percent.
It gave around 6 hours of screen on time after approximately thirty hours of operation. The usage was heavy, with regular video streaming of HD content over mobile data and WiFi and the occasional game of Clash Royale every now and then. Unless you're glued to your phone screen all the time, one single charge should last you well over a day. The battery backup on the device is solid, and it is easily one of the best features on the 10.or E.
10.or E review: Verdict
To be honest, I had very little expectations when I initially began using the 10.or E. It might seem like just another budget phone released by a Chinese company, but it will grow on you over time. Despite its flaws — such as no VoLTE and an absolutely atrocious loudspeaker — the device has many positives such as no bloatware, excellent battery backup, stock Android with Google Assistant and an above average LCD panel.
So, my final verdict on the 10.or E is that it's an excellent phone for the price, beating most of its competitors by a wide margin. I'm genuinely hoping that the device does well and the company continues to expand its portfolio, as it truly has the potential to take on the likes of Xiaomi and Lenovo.
Design and Build Quality
6.0/10
What Is Good?
Battery life is excellent
Display is bright and vibrant
Android 7.0 with no bloatware
What Is Bad?
Bad loudspeakers
Average camera
Intermittent microstutters in UI