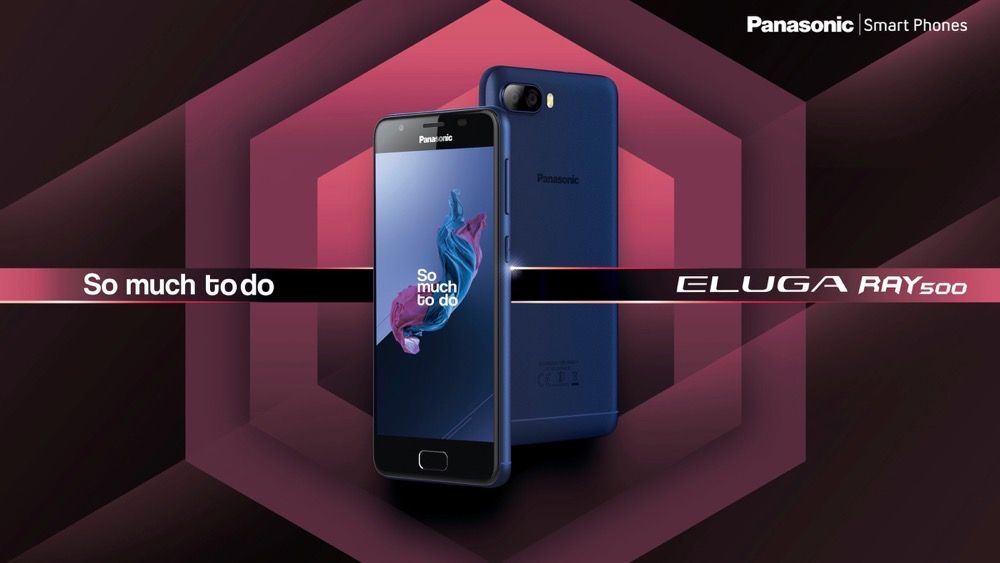 Increasing competition in the smartphone market has benefitted the smartphone buyer in a million ways. However, it has also made it confusing for the smartphone buyer as to which smartphone device to buy. Now, the majority of the smartphone buyers in India are inclined towards buying an affordable smartphone, and that price segment is the most confusing segment in the smartphone market due to a number smartphones with similar hardware and software specifications.
If you are in the market for buying an affordable smartphone device, keep in mind that a smartphone should not only be feature-packed, but it should also be from a reputed brand. Buying a smartphone from a reputed brand is essential because it ensures reliability, good build quality and most importantly it ensures wide service network and spare parts availability. Now ,to provide the smartphone buyers with a perfect balance between features and reliability, Panasonic has launched the Eluga Ray 500. Let us see what the smartphone has to offer.
5-inch HD IPS LCD Display For Sharper On-Screen Content
The Panasonic Eluga Ray 500 has a 5-inch LCD display with HD resolution that results in a pixel density of 294 PPI, which means that the content on the screen is crystal clear without any significant visible pixelation. The LCD display uses IPS (in-plane switching) technology to provide consistent colours even when viewed from extreme angles.
The display also has a 2.5D curved glass over it for smooth and seamless edges. Panasonic has equipped the device with NEG 2 glass over the display to armour it against impacts. The NEG (Nippon Electric Glass) is a reputed Japanese company that produces high-quality protective glass for LCD displays. Therefore, you can be rest assured that the Panasonic Eluga Ray 500 can take some beating.
13MP+8MP Dual-Camera Setup For Wider Use Cases
The Panasonic Eluga Ray 500 focuses mainly on imaging. The device comes equipped with two cameras on the back. Now you may ask why the two cameras? Let us answer that first. We come across many occasions where the subject to be captured is wider than the camera's field of view (FoV). For example, a large number of people on a wedding stage or a monument spread across a wider landscape. In such cases, regular smartphone cameras fail to capture the whole scene, and we end up capturing only the centre part of the subject, and that is where the Panasonic Eluga Ray 500's 8MP wide-angle camera comes in handy. The 120-degree wide-angle camera can capture the entire scenes as mentioned earlier with ease. Hence, you don't miss any part of the scene that is to be captured.
The second camera on the back is a 13MP sensor with normal FoV for capturing day-to-day images, portraits, close-ups, and macro shots with brilliant clarity. Both the cameras on the back are also perfectly capable of capturing images in low-light, as the 13MP sensor has an f/2.0 aperture and the 8MP sensor has an f/2.4 aperture to capture more light. The device can also record Full HD videos. Coming to the secondary camera, the device has a 5-megapixel camera on the front that can capture images in High Dynamic Range (HDR). The images captured in HDR have better colours, more details, and increased dynamic range.
It is not surprising that the Panasonic Eluga Ray 500 comes with a dual camera setup, but what is surprising is that the device provides dual-camera setup at such an affordable price. There are other smartphones which come with similar camera setup, but they are priced at Rs. 14,000 and above. So, the Panasonic Eluga Ray 500's dual-camera setup alone adds up to an excellent value for money to the smartphone buyer.
Just The Right Amount Of Performance With 64-bit Quad-Core CPU
The Panasonic Eluga Ray 500 is powered by the MediaTek MT6737 processor. The processor uses quad-core 64-bit technology CPU and a Mali-T720MP1 GPU. The multi-core CPU on the device helps in running multiple applications at the same time, meaning, you can listen to music and play games, or you can perform various other tasks at the same time, which not only saves time but also enhances productivity. Aiding the multitasking is 3GB of RAM. The device has a whopping 32GB of internal storage, which is abundant for any regular smartphone user. Now, if that's not enough for you, there is also a microSD card slot in the device that supports memory cards up to 128GB.
The Panasonic Eluga Ray 500 ships with Android 7.0 Nougat operating system. The interesting fact about the software is that it has a stock Android user interface. Now, why the stock Android user interface is interesting? Because it is bloatware-free, fast, and good-looking. Many other smartphone manufacturers customise the Android UI and fill it up with bloatware and unwanted features, which not only slows down the device and takes up the internal storage space but also confuses the user with tons of options. So, the Panasonic Eluga Ray 500 has a simple but a sensible approach towards software.
Long-Lasting Battery Backup With 4,000mAh Battery
The Panasonic Eluga Ray 500 has a large 4,000 mAh battery. Now, a 4,000 mAh battery can alone provide with an excellent battery backup even in phones with large 5.5-inch screen size. However, the Eluga Ray 500's combination of a relatively smaller 5-inch screen with HD resolution, a power-efficient processor, and optimised software results in an even longer battery life. The device has a microUSB port on the bottom for charging, and it comes with a 10W charger and a USB cable out-of-the-box. Rest assured, the device can at least provide with one full day of heavy usage on a single charge.
Unibody Design For Premium In-Hand Feel
The Panasonic Eluga Ray 500 has a unibody design that not only feels premium in the hand, but also feels lighter to hold, which means you can hold the device for longer without straining your hands. It is also being offered in three attractive colour options, so that you can choose one as per your liking.
The device comes with a fingerprint scanner on the front, which we believe to be the fastest and the most efficient way of unlocking the smartphone so far. There is a hybrid SIM card slot at the left of the device that can accommodate two SIM cards at once or a combination of one SIM card and a microSD card at once. Thanks to the VoLTE support, the device works flawlessly with a 4G-only network like JIO. The device is available in champagne gold, marine blue, and mocha gold colour variants.
The Panasonic Eluga Ray 500 has all the essential features a smartphone should have such as a 5-inch HD IPS LCD display, a quad-core processor, 3GB of RAM, 32GB of storage, and a 5MP selfie camera. Apart from these essential features, it also comes with a lot of extraordinary features such as a large 4,000 mAh battery, an amazing dual-camera setup, a fingerprint scanner, and stock Android UI.
All these features along with Panasonic's reliability come at an affordable price tag of Rs. 8,999, making this device a great bang for your buck. According to us, the Panasonic Eluga Ray 500 is not fancy, but it is a no-nonsense and sensible smartphone that covers almost every smartphone buyer's needs.
SaveSave