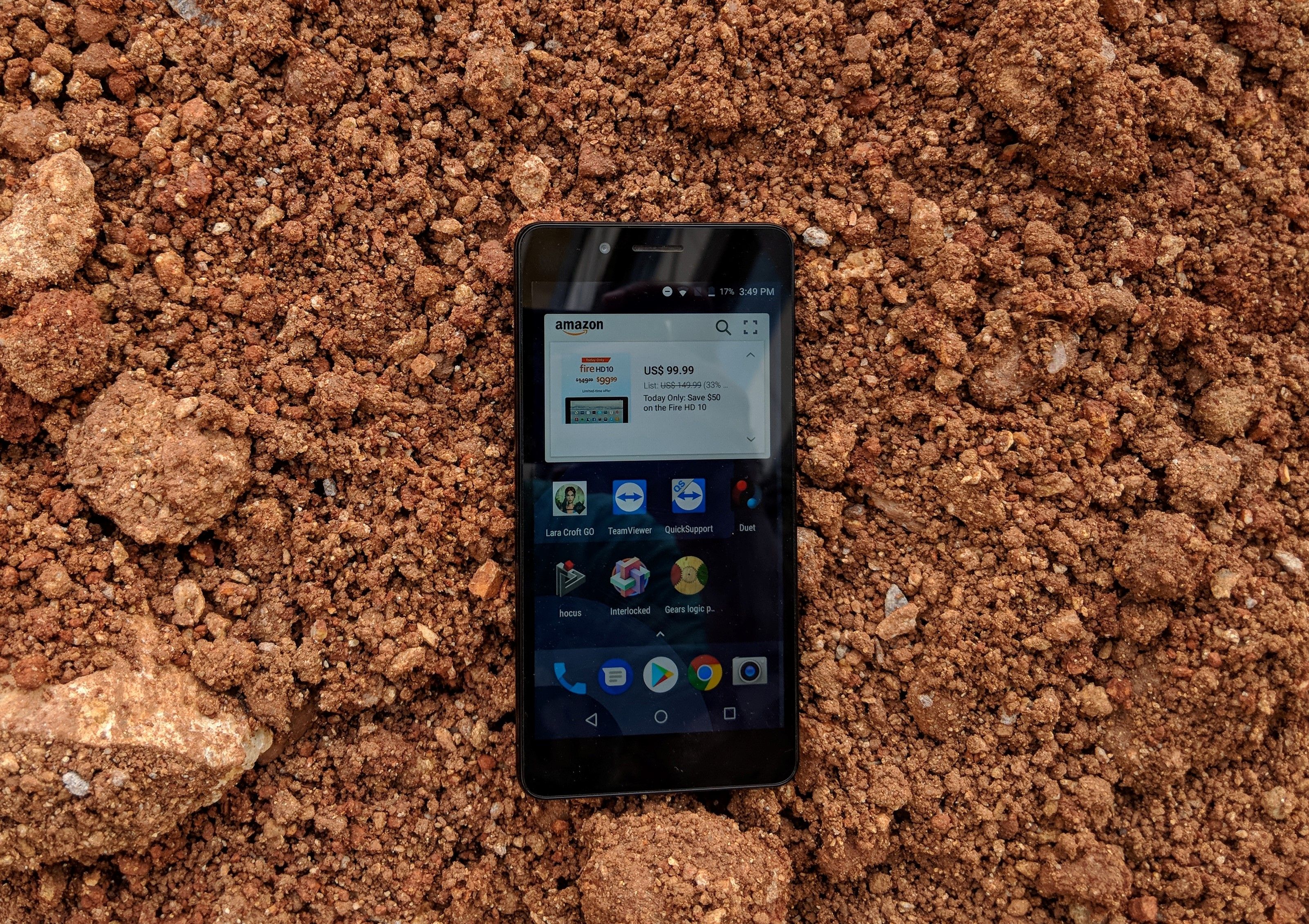 I don't know who came up with the bright idea of naming smartphones after letters, but it needs to stop. I literally cannot take a device seriously if the first thing I see after powering it on is "Welcome to your D" (not kidding on that one). Amazon, under the name of 10.or, has manufactured decent devices before the 10.or D, namely the 10.or E and 10.or G. You can read more about them here and here. The 10.or D, I reckon, is Amazon's answer to the Redmi 5A, attempting to offer a sub Rs. 5,000 solution. The spec sheet is nearly identical to the Redmi 5A, with an addition of a fingerprint scanner. All the D puns apart, I didn't expect a whole lot out of the device, judging by the spec sheet alone. Using the device for ten minutes further lowered my expectations to rock bottom. Let's take a look at why that happened.
Hardware & Software Specifications
Display: 5.2-inch IPS LCD Panel with a resolution of 720×1280(396 ppi pixel density).
Processor: Octa-core Qualcomm Snapdragon 425 clocked at 1.4Ghz.
Memory: 32GB of internal storage, expandable up to 128GB via microSD card and 3GB of RAM.
Primary Camera: 13-megapixels with a CMOS image sensor, Phase Detection Autofocus, LED flash, HDR, and Panorama.
Secondary Camera: 5-megapixels with facial recognition.
Battery: Non-removable 3500mAh Li-Pol battery.
Dimensions and Body: 154x78x9mm(length x width x thickness), 150g polycarbonate body with 2.5D glass.
Connectivity: Dual-SIM with 4G, Bluetooth, GPS, 802.11 b/g/n WiFi and a micro USB port.
Design and build quality
The polycarbonate body on the 10.or D came as no surprise to me. It would be nearly impossible for any manufacturer (even Xiaomi) to offer you anything better at a price. The body feels cheap and doesn't radiate an aura of sturdiness like some other polycarbonate-metal hybrid bodied devices do. The fingerprint scanner rests on the rear, underneath the camera lens and LED flash. There are no visible antenna bands on the device.
Other design aspects are standard, with the micro USB port sitting at the bottom, the 3.5mm audio jack at the top, the SIM/Micro SD card tray at the left and the power button/volume rockers on the right. There isn't a whole lot more I can say about the build quality, as it's your standard, run-of-the-mill budget phone. I never subjected it to any drop tests, but I reckon it should survive a short plunge from table height or two.
Display
The 5.2-inch IPS LCD panel on the 10.or D has a resolution of 720×1280. I'm glad that they went for an HD resolution and not an FHD, as it takes a load off the already underwhelming Snapdragon 425 chip powering it. The panel is devoid of any protective glass, so you're better off installing a third-party protective glass layer. The colour reproduction of the panel is nothing exemplary, with some tones looking a lot duller than they should. Visibility under direct sunlight is sub-par, making it nearly impossible to read pretty much anything when outdoors. I wish that were all that was wrong with the panel but wait; there's more! The touch sensitivity of the screen is mediocre and is reminiscent of the old school resistive touch panels like the ones found in ATMs. Navigating through menus is a Fruit Ninja-esque experience (and no, that's fun only when you're slicing digital fruit, less so when you're trying to accept a phone call) The device also lacks an ambient light sensor, so automatic adjustment of the brightness according to nearby lighting conditions is out of the question.
Camera
Thankfully, the 13-megapixel primary camera on the 10.or D makes up for its dismal panel and build quality. The quality of pictures taken by it is more or less on par with the 10.or E and it looks like they employ the same camera sensor. You can capture an above-average image or two under the ideal lighting conditions. Like the panel, some of the colours look a bit dull. The HDR function works surprisingly well and does a decent-ish job. Despite the LED flash, low light images suffer from noise and loss in detail. The camera UI lets you pick the ambience and does the best it can to adjust the settings accordingly. Other options in the UI include a set of filters and a beauty mode.
The video recording prowess of the camera is nothing exemplary and falters off at high resolutions (1080p, in this case). Very often I found the last few seconds of a clip completely missing from the resulting video. The videos often ended up shaky and incoherent. The included image stabilization mode stymied the jitter to a certain extent. Regardless you'll still need sniper-like hands to capture a proper video recording.
The 5-megapixel secondary camera doesn't fare any better than its primary counterpart. The images can turn out well under some conditions but are mostly lacklustre otherwise. The front camera lacks the flash of any sort, so it's nigh impossible to click selfies in the dark. Despite all its shortcomings, the camera wasn't nearly as bad as I expected it to be and may be the only redeeming quality of the phone. It would be unfair to expect anything more out of the camera, as it one of the first features to get the axe in budget phones. "Beauty mode" is a feature that we've seen in a lot of phones, and its purpose is precisely what you think it is: to make you look beautiful. Pictures shot with beauty mode resulted in my skin getting fairer by several hues, and my face was devoid of any blemishes. Good stuff, for those with body image issues.
Performance
It would be unfair of me to berate the 10.or D for bad performance, given that the chip is a budget offering. Navigation through the menus and UI isn't exactly fluid in the strictest sense of it. You'd have to have a trained eye to notice the micro stutters, which will slip through most of the time. The phone, does, however, have its moments when the lag is significant. Similarly, there is no input lag, but you do have to put in that extra keystroke/swipe now and then. That, combined with the unresponsiveness of the display can result in some frustration.
Multitasking is effortless and largely lag-free, owing to the 3GB of RAM on the device. Switching between apps often takes an extra second or two. I wouldn't call it seamless. What impressed me was the fact that the device was able to handle two apps running simultaneously via Nougat's split-screen mode with relative ease. Both apps performed identically to how they would have when running in standalone mode. Here are some benchmark results: 
Budget phones aren't built for playing even slightly demanding games, and the 10.or D is no exception. Modern Combat 5 and Asphalt 8: Airborne had to have their settings turned down all the way to the minimum to be playable. Lara Croft: Go, fared a little better and was playable with minimal tinkering with the settings. Clash of Clans and Clash Royale ran with no issues, so you could very well get this phone just to run your secondary account. I tried playing PUBG Mobile on it, and the result can be summarized as PUBG.ppt, at the lowest preset.
Xiaomi Redmi 5A: The King Of Budget Phones
Moving on to the most frustrating part of the device: the rear-mounted fingerprint scanner. 10.or has had a history of using some of the worst, most unresponsive fingerprint scanners I've ever had the misfortune of coming across. Somehow, they seem to get progressively worse with each new release, and the one of the 10.or D outdoes the ones on the E and the G, and not in a good way. Attempting to unlock the phone with my fingerprint was a chore and nine out of ten times, I had to resort to inputting the PIN. I've said this before, and I'll repeat it, the fingerprint scanner is little more than a cosmetic and a spec sheet filler, rather than solid medium to unlock your phone.
Software and UI
The 10.or D runs a barebones version of Stock Android Nougat 7.1.2 with virtually no bloatware (unless you count Amazon Shopping, Kindle and Prime Video as bloatware). The only other pre-installed app is the diagnostic app which we've seen on all 10.or devices. The Amazon widget is here to stay, and its contents are as irrelevant as ever. I'd expect it to show me content at relevant to my recent Amazon purchases, considering that the device makes you log in to your Amazon account while you set it up. Instead, the widget tries to sell me crockery that isn't even available on the Indian market. The device also comes with integrated Google Assistant support. While I appreciate a good Stock Android device, there is virtually no word on when the device will get an update to Oreo, and judging by 10.or's radio silence on the matter, it doesn't look like any of their devices will, anytime soon. You might get a security patch every few months, but that's about it. 
Battery and connectivity
The battery on the 10.or D is another redeeming quality of the device. The 3,500mAh Li-ion battery got me through a little over a day with heavy use. I'm fairly certain that it can last you up to a day and a half if used right. I managed to get around four hours of screen time out of the device, with heavy usage that included video streaming, graphically demanding games all over a 4G network. Do bear in mind that the D lacks any fast charging capabilities, so you'll have to wait at least two hours for a full charge. While its predecessor the 10.or E did give me around six hours of screen on time, it would be unfair to compare the two as the 10.or E is powered by a marginally (being the key word here) more power-efficient Snapdragon 430.
The 10.or D's audio quality genuinely impressed me. There is only one speaker on the rear, but it had the intensity of two. The music playback experience was free from excessive noise or static, but the bass was lacking, not that I'm bothered too much about bass, but still. The network connectivity was a hit and miss, with it getting full bars in some areas and diddly squat in others. Call quality was a little on the south side of average, and there was virtually no difference between calls made over a VoLTE network and a conventional 2G network. Credit where it's due, 10.or seem to have upped their speaker game since the 10.or E, which arguably may have the worst speakers I've seen on a smartphone.
Verdict
As stated earlier, when I got my hands on the 10.or D, I didn't have too many expectations, to begin with, so the scope for me to get disappointed was minimal. It's hard to find devices in the sub Rs. 5,000 mark that offers Stock Android and the D is good for that if nothing else. The fingerprint scanner is a mere spec sheet filling gimmick and offers no real-world value. Since I laid my hands on it, the phone is still running the January Android security patch, and it might stay there for a while. Honestly, you're better off getting a Redmi, unless you're a Stock Android purist and cannot do with the metric ton of bloat Xiaomi devices come with. I'd also recommend the D (last time, I promise) to people who are concerned about Xiaomi sending copious amounts of data back to the mothership.
Audio and Call Quality
7.5/10
What Is Good?
Is cheap
Decent battery life
Bloatware-free Stock Android
What Is Bad?
Feels cheap
Fingerprint scanner is useless
No flash for secondary camera
Takes hours to charge
Micro stutters in UI