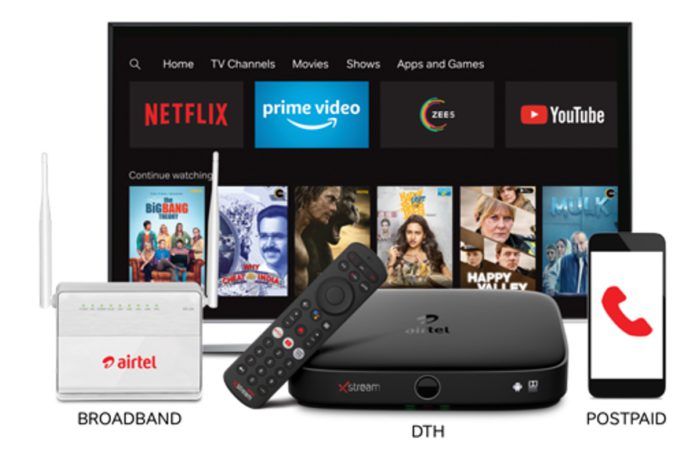 Bharti Airtel is one of India's largest telecommunications services company with footprint spread across various verticals. Apart from being one of the largest mobile services providers in India, it also holds the distinction of being a  major player in the fixed-line, broadband and DTH verticals. It is, therefore, quite common to find people who use most of these Airtel services and pay for them separately. In a move to make the lives of such customers easier — and also to reward their loyalty to the brand, Airtel introduced a service called Airtel Home in Hyderabad back in 2018. The idea behind Airtel Home was to combine multiple services offered by Bharti Airtel and offer them in a single, attractive package. Hyderabad was chosen as the first cit where customers could subscribe to the combo Airtel Home plans. Airtel promised that it would, in due course, add more cities where they shall make Airtel Home packages available, and recently, the company has added five new cities where subscribers can sign up for Airtel Home benefits.
Airtel Home Cities List
As per Airtel's dedicated website for Airtel Home, the service is officially available in the following cities. Interestingly, all five towns surround the Chandigarh metropolitan area. The cities are:
Chandigarh
Mohali
Panchkula
Zirakpur
Kharar
Airtel Home Plans, Benefits
Currently, the Airtel offers consumers three different plans under the aegis of Airtel Home service with prices starting at Rs 899 for the most affordable one — going up to Rs 1899 for the most expensive plan. Let's check out these plans in detail.
Airtel Home 899 DTH + Postpaid Plan
The most affordable plan of the three costs Rs 899 (exclusive of GST) and bundles subscriptions to Airtel DTH as well as two Airtel postpaid connections (one primary connection and one add-on connection). DTH users on this plan get access to 140 HD/SD channels. The primary postpaid user gets 75GB of data per month, 100 SMS per day, and unlimited voice calls across India. The add on postpaid user gets 10GB of data, 100 SMS per day, and unlimited voice calls.
Airtel Home 1399 Fiber + Postpaid Plan
The second option that Airtel Home subscribers can avail is worth Rs 1,399 (exclusive of GST) and offers a subscription to Airtel Broadband as well as two postpaid connections. The broadband plan bundled with this plan offers 100 Mbps speeds and 500GB of FUP and unlimited fixed-line calls. The postpaid plan is identical to the one we saw with the Rs 899 plan and offers a primary postpaid connection with 75GB of monthly data, 100 SMS per day, and unlimited calls across India. The user on the secondary connection gets 10GB of monthly data, 100 SMS per day, and unlimited calls across India.
Airtel Home 1899 All-in-one Plan
The most expensive of the three Airtel Home plans, the all-in-one plan offers subscriptions to three services — Airtel Mobile, Airtel Broadband, and Airtel DTH without having to pay for them separately. Again, the benefits offered with this plan are the same as that of the more affordable ones. It's just that all three services are bundled together here while the other plans only offer to services. The broadband plan offers 100Mbps speeds with 500GB of data and free calls, and the DTH plan offers a subscription to 140 channels. The mobile plans are also the same with the first connection getting 75GB of monthly data, 100 SMS per day, and free calls. The user on the add-on connection gets 10GB of data, 100 SMS per day, and unlimited calls.
Apart from the benefits of the plan, Airtel offers additional services to its Home subscribers in the form of a free Wi-Fi router, complimentary service visits, and extended warranty for tye DTH set-top box. The plan also includes subscriptions to Airtel Xstream and Zee5.
Thanks for reading till the end of this article. For more such informative and exclusive tech content, head over to our Facebook page