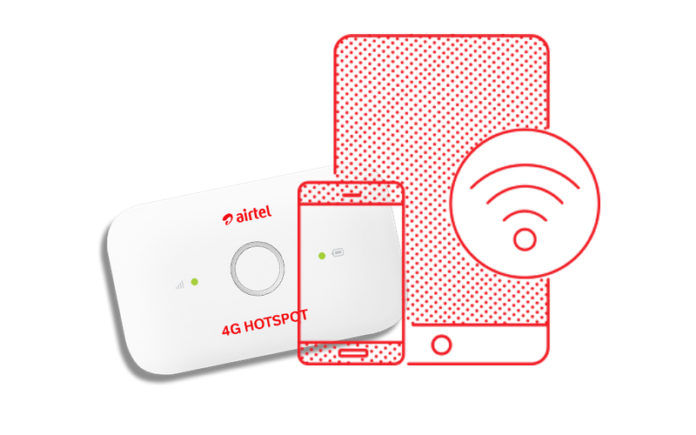 In the times when telcos are launching WiFi hotspot services for their subscribers all across the country, Bharti Airtel is still pushing its 4G Hotspot devices. Airtel's 4G Hotspot debuted at a higher price but the entry JioFi made the telco revise the plans and price for its 4G Hotspot. According to a report by TelecomTalk, Airtel has revised its tariffs for 4G Hotspot and has also reduced the number of plans to two from ten.
Airtel 4G Hotspot Tariffs, Advance Rental Plans With Free Device
With just two tariffs remaining for the 4G hotspot device, Airtel offers two options -INR 399 and INR 599. The INR 399 plan offers 50GB of high-speed data per month, after which the user gets unlimited data capped at 80kbps speed. On the other hand, the INR 599 plan includes 100GB of high-speed data, which similar to the INR 399 gets throttled to 80Kbps after crossing the limit.
Airtel is also offering Advance Rental Plans for the 4G Hotspot device. It has a six-month advance rental plans for the users who want the hotspot device. Under this scheme, subscribers who get the INR 399 tariff for six months will get the device without paying. To simplify, subscribers just have to INR 2,400 for six months of INR 399 plan and also get the device. Similarly, the INR 599 plan will be available at INR 3,600 for the six-month duration along with the device.
Airtel 4G Hotspot Device
As we mentioned in the introduction, Bharti Airtel has revised its 4G Hotspot plans. The telco now only offers two tariffs for the services in contrast to ten tariff plans earlier. Airtel's 4G Hotspot plan offers 4G level speed even to the devices who lack 4G connectivity. The 4G Hotspot device by Airtel is up for purchase via Airtel's official website and Amazon India. Notably, the device is manufactured by Huawei and is equipped with a 1500mAh battery promising up to six hours of backup.
As we pointed in the beginning, Airtel is at war here with Reliance Jio's JioFi device that offers similar 4G hotspot services. JioFi had already become a hit when it debuted as many users wanted to enjoy unlimited 4G data without running out of their smartphone battery. Airtel's 4G hotspot device failed to get similar success, but with the revised plans and offers, we can expect it to gain some momentum.
What's your take on Airtel's latest move for 4G Hotspot? Share your thoughts in the comments below.