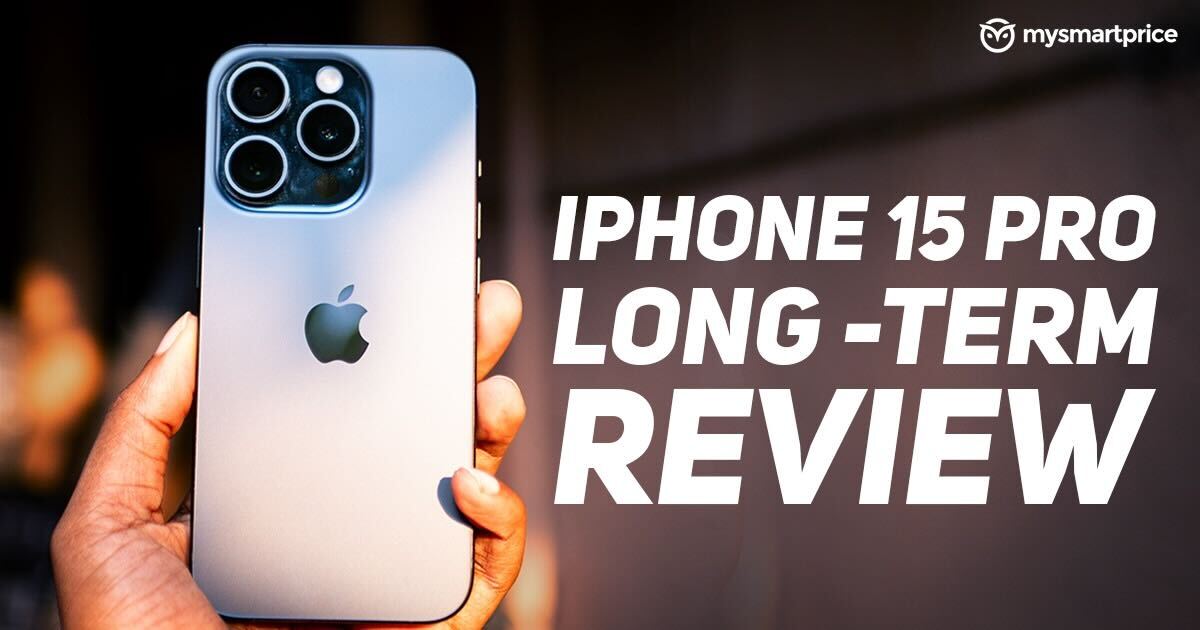 The iPhone 15 Pro, though lacking the 5x telephoto lens and the massive screen of the Pro Max variant, embodies the "Pro-series" flagship qualities in a highly compact design. Unlike last year, this edition marks a significant shift for Apple. The lighter titanium build, new USB-C port, and the innovative Action button enhance usability multi-fold.
Apple iPhone 15 Pro
Rs 1,34,900
What Is Good?
Lightweight and ergonomic
Outstanding display
Loud and clear speakers
Raw power on tap
USB Type-C is finally here!
Action button has potential
Professional-grade video recording capabilities
Amazing daylight, portrait, and night mode camera output
What Is Bad?
Even pricier than ever before
Inconsistent dynamic range in photos
No charger in the box
Average battery life, slow charging speeds
While the vanilla iPhones retain the A16 Bionic chip, the Pro models feature an upgraded A17 Pro, accompanied by a Rs 5,000 price increase (vs the previous iteration) in India. In my one-month use, the iPhone 15 Pro delivered an ideal balance. But the million-dollar question — or Rs 1,34,900 question, to be precise, is — should you get it? Read on to find out.
Apple iPhone 15 Pro Review: Lighter, and More Ergonomic
The titanium build helps cut down on weight
The Action Button is both limiting and filled with potential — depends on how you use it
The new iPhone 15 Pros are forged in titanium — something Apple was very proud of in their keynote. The stainless steel material was already less common in the smartphone industry, the titanium even more. While recent videos on the internet might suggest something else about the durability of the material, we can't attest to it ourselves. What we do know is that it is a massive fingerprint smudge while being slippery too when used naked. But, it has a bunch of pros too.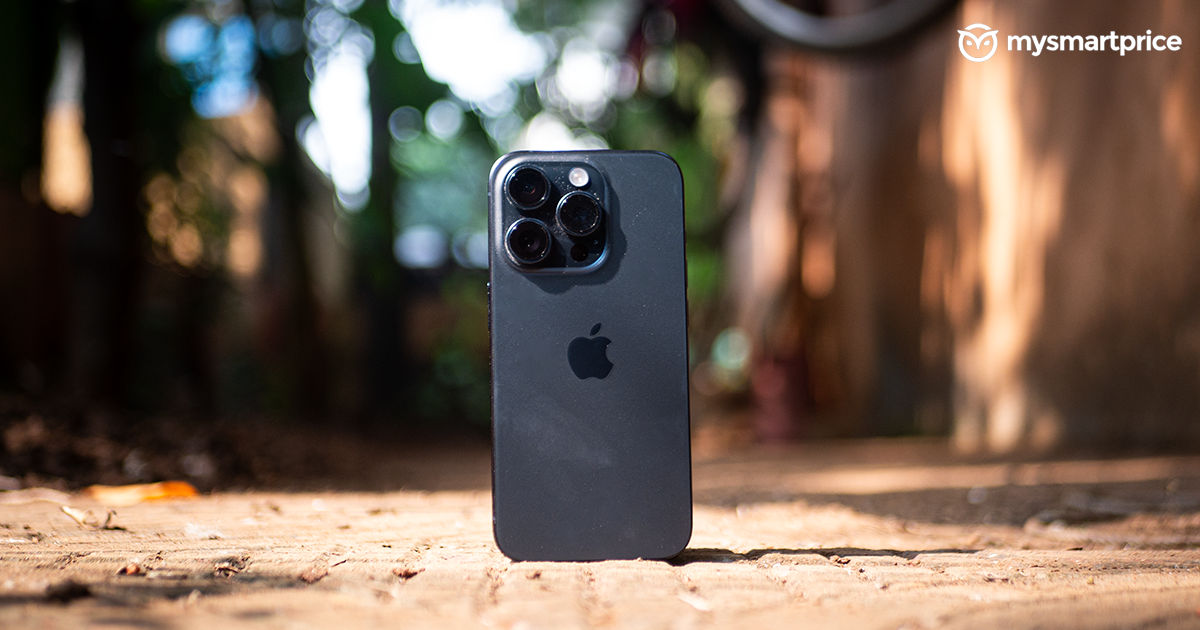 Like the fact that the iPhone 15 Pro weighs a whopping 19 grams less than its predecessor. The subtle changes on the display front have helped with trimming the overall dimension of the phone. This is a massive feat considering how unwieldy the iPhone 14 Pros were. All of the above combined make the iPhone 15 Pro easy to use, and even easier to carry around in the pockets.
| | |
| --- | --- |
| Design | Specifications |
| Dimensions | Height: 146.6mm, Width: 70.6mm, Depth: 8.25mm |
| Weight | 187 grams |
| IP Rating | IP68 |
| Build Material | Titanium |
Moreover, the phone feels ergonomically sane with proper weight distribution, something I stressed upon in my first impressions of the phone too. The flat sides are still here but they are smartly rounded off and do not dig into your palms. The matte-covered back panel and the camera module placement are the same as last year. Apple has also made it easier to repair the back panel with drastically reduced costs compared to the iPhone 14 Pro (Review) series. The back panel repair that would have cost you north of Rs 50,000, will now cost you around Rs 15,000.
The colour options this time include white, blue, black and natural titanium, the last of which can be considered a new hue altogether with a muted gold tone. Blue Titanium is my personal favourite — but I think it's time for Apple to experiment with textures and patterns.
Besides the use of titanium, the biggest difference in this edition is visible on the left frame. The beloved mute switch has been dropped for a more versatile action button. The haptic feedback on pressing this button is quite satisfying.
Sadly, it does not have multiple functions besides a single press. That's it — no double press, triple press. Still, it opens up a new world of opportunities — which I have explored in this article.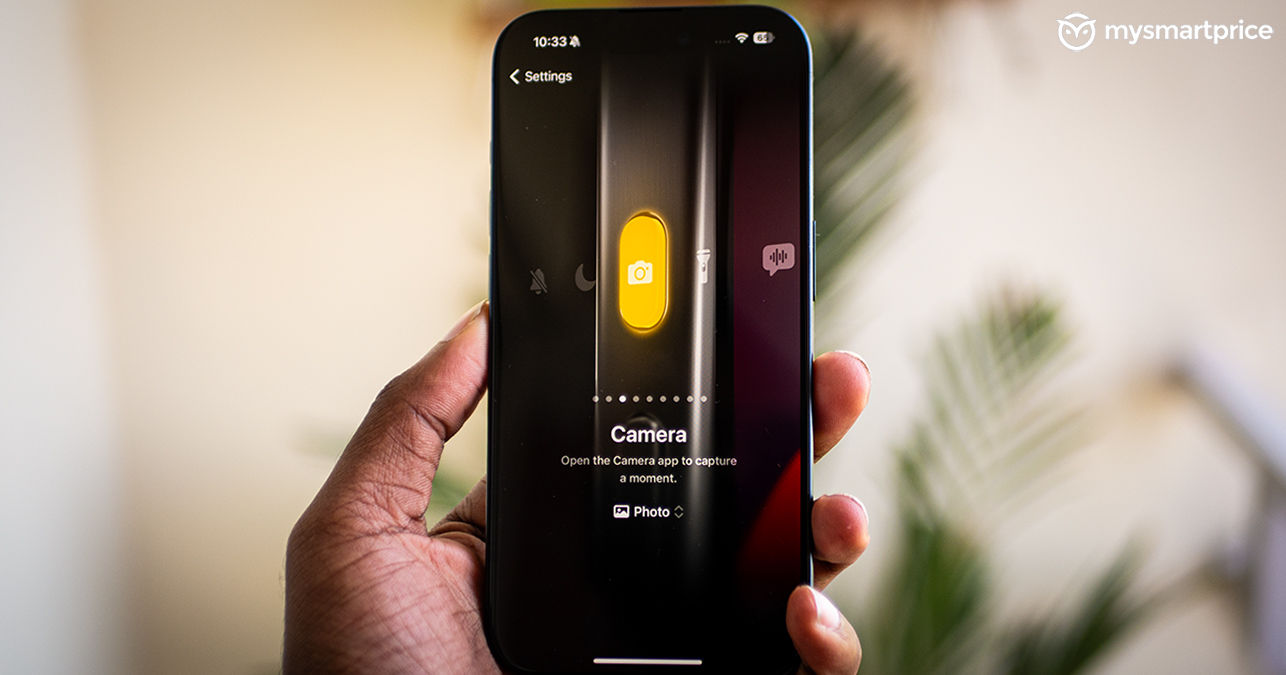 In terms of durability, it can fall in a pond six metres deep for up to 30 minutes and come out just fine — at least that's what Apple's claiming.
Apple iPhone 15 Pro Review: Extraordinary Display and Dynamic Island Goodness
The 6.1-inch display is gorgeous to look at
The dynamic island implementation is still marvellous, but the pill-shaped notch can be distracting at times
| | |
| --- | --- |
| Display | Specifications |
| Type | Super Retina XDR display |
| Size | 6.1-inch |
| Resolution | 2556 x 1179 pixels |
| Refresh rate | 120Hz with ProMotion |
| Brightness | 2000 nits |
| Colour Gamut | Wide colour display (P3) |
| Display Protection | Ceramic shield |
The iPhone 15 Pro carries forward the same brilliant and gorgeous display from last year — with minor and subtle adjustments to the bezels. These are more uniform and thinner. The ProMotion technology, which is sadly still exclusive to the Pro variants can be seen here. The display can go all the way down to 1Hz to save battery when not in use. Dynamic Island is no longer exclusive to the Pros though and can be found on all four of the iPhone 15 siblings. While it is bouncy and interactive, the Dynamic Island tends to come in the way of content consumption more often than not.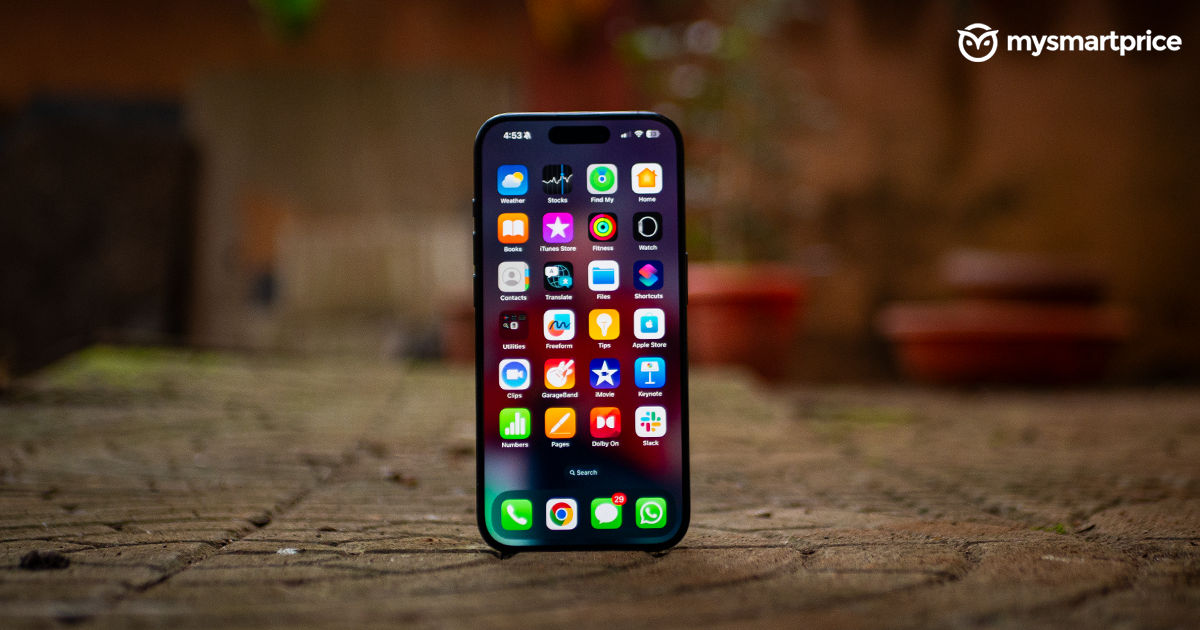 There are also some tiny little tweaks to the always-on display that made me gawk. For example, when kept away for long, the display turns extremely dull, but the moment it detects activity around it, the always-on display turns slightly brighter. This helps me glance at the notifications without the need to switch on the display.
This is also the brightest iPhone display I've ever used, with excellent legibility under direct sunlight. The panel is gorgeous and super responsive when scrolling around the UI, and as always, watching videos on it is an absolute delight.
Simply put, the display on the iPhone 15 Pro is one of the best in the market for all kinds of use cases, and it better be — it is a proper flagship, after all. This immersive experience is further aided by the stereo speaker setup which is loud, clear, and has good details.
Apple iPhone 15 Pro Review: A Performance Powerhouse
The 3nm chipset is an industry first in smartphones
The Apple A17 Pro offers hardware-accelerated ray tracing for the first time
| | |
| --- | --- |
| Hardware | Specifications |
| Processor | A17 Pro |
| RAM/ROM variants | 8GB RAM LPPDR5 3200MHz |
| Geekbench 6 Benchmark Scores | 2832 – Single-Core, 6891 – Multi-Core |
| Software version | iOS 17.0.3 |
Despite the usual claims of being the 'fastest chip ever on any smartphone', which it is by a mile, there is an elephant in the room we need to address – heat management, especially if you have come across various news reports floating around the interwebs.
While iPhone 15 Pro and 15 Pro Max have received massive coverage for overheating issues, my particular unit hasn't given me grief during day-to-day use – yet. But, I did receive an overheating notification while charging it once.
It is worth noting that the A17 Pro is not just an incremental upgrade, but a leap forward in terms of processing power in smartphones. It comes with a new six-core CPU and GPU with a 16-core Neural Engine and is the first chipset ever to be based on a 3nm process.
Here is the sad part though – you wouldn't notice any of this extra horsepower. The phone flies through menial and elevated tasks alike with ease. The smooth animations almost appear like a flawless ballet of pixels. Multi-tasking between apps and even games is a ton of fun. RAM management is also fantastic, as is always the case with iPhones.
And, if it matters, the iPhone 15 Pro beats the Snapdragon 8 Gen 2 For Galaxy on the S23 Ultra (Review) by a mile.
Apple went big on the ray tracing capabilities of the A17 Pro during the keynote – I couldn't personally try out the AAA titles (it feels weird mentioning this in a phone review) such as Resident Evil 4 Remake, Resident Evil Village, and Assassin's Creed Mirage, but this is a big step in the smartphone gaming world.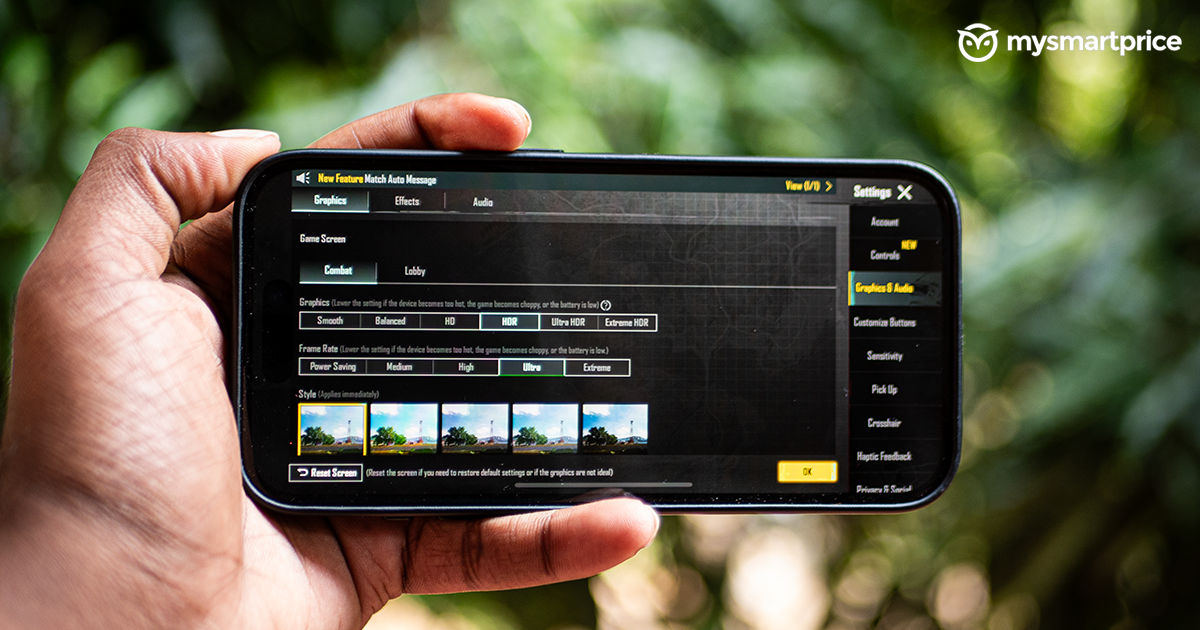 But, I was able to try out some graphic-intensive games on the App Store. BGMI ran smoothly and maxed out on Ultra HD graphics and Ultra frame rate. Genshin Impact, on the other hand, was able to open up all the cores of the chip – making the iPhone 15 Pro's rear panel a bit warm to touch. It was not too alarming, with the back panel barely hitting the 40-degree Celsius mark.
Coming down to the software, iOS 17 does not bring about any revolutionary changes. One of the few standout features is the Contact posters — which got everyone excited. You can just bring two iPhones (running on the latest software) together, and you are greeted with a strong vibration and a contact poster of the other person.
The same works for sharing files, photos, etc over Airdrop. Besides that, you get a new Standby Mode which basically acts as an always-on display on steroids when the phone is charging in landscape mode. Rest, the customisation and widget settings are the same.
Apple iPhone 15 Pro Review : Iterative Camera Upgrades, But Still A Highly Reliable Shooter for All Scenarios
The iPhone 15 Pro clicks some detailed and consistent portrait shots
It supports shooting videos in ProRes 4K at 60fps using external storage
Cameras

Specifications

Primary camera

48-megapixel, 24 mm, f/1.78 aperture,

Ultrawide angle camera

12-megapixel, 13 mm, f/2.2 aperture and 120° field of view,

Telephoto camera

12-megapixel, 3x optical zoom, 77 mm, f/2.8 aperture

Selfie camera

12-megapixel camera, f/1.9 aperture

Video recording capabilities

4K video recording at 24 fps, 25 fps, 30 fps or 60 fps

1080p HD video recording at 25 fps, 30 fps or 60 fps

720p HD video recording at 30 fps

Cinematic mode up to 4K HDR at 30 fps

Action mode up to 2.8K at 60 fps

HDR video recording with Dolby Vision up to 4K at 60 fps

ProRes video recording up to 4K at 60 fps with external recording

Log video recording

Zoom capabilities

3x optical zoom in, 2x optical zoom out; 6x optical zoom range, digital zoom up to 15x
The iPhone 15 Pro sticks to the same camera setup from last year along with the same "flagship barrier" between the Pro Max and Pro variants. The former gets the elusive 5x telephoto lens, while the 15 Pro gets a 3x telephoto camera.
But, to keep things interesting, Apple now lets you choose between 12MP and 24MP binned shots, the latter offering significantly better details. Moreover, the main camera now has different focal lengths: 1x – 24mm, 1.2x – 28mm, and 1.5x – 35mm — these are not physical adjustments but they do give you wider options to play with.
Photos clicked in the day have crisp details, contrast, and vibrancy. A weird post-processing quirk this year makes human subjects appear warmer – that is right, everything non-human appears fine. There is also visible focus hunting when taking close-up shots. The dynamic range situation has improved this time but still remains highly inconsistent.
iPhone 15 Pro Daylight Samples
In contrast, portrait shots have good subject separation. You get to click these in 1x, 2x, and 3x. The first option provides a wider perspective, while the other two are great for head and shoulder captures.
The ultra-wide angle camera helps you shoot photos with a wider perspective. Images captured have visibly lower details, but the colour science remains constant. Distortion at the edges is something Apple needs to work on. It also doubles up as a macro shooter when taken closer to the objects. The shots were excellent, and focusing on the subject was not tough.
The 3x telephoto lens offers good flexibility when capturing zoomed-in shots. There is no major change from last year but the reliability factor remains.
iPhone 15 Pro Low-Light Camera Samples
The post-processing of low-light captures is mostly the same as last year. Photos clicked in night mode are brighter, more detailed, and have less noise. However, the blown-out highlights from light sources and lens flare have the tendency to ruin a well-framed photo.
The selfie camera has us impressed with good details, dynamic range, and skin tones. But, the inconsistency hurdle appears yet again with over-sharpened subjects. Regardless, in good lighting conditions, it captures fantastic and social-media-ready shots.
iPhone 15 Pro Selfie Camera Samples
The video capabilities of the iPhone Pro models are mostly catered to professionals, rather than daily consumers. Footage shot at any resolution has good colours and details. All in all, the iPhone 15 Pro is one of the best options for videographers and photographers alike.
Apple iPhone 15 Pro Review: Finally, USB-C
USB Type-C is finally here, and it is here to stay — thanks EU
Battery life is still pretty average
Apple continues to shy away from revealing the battery capacity of the iPhone 15 Pro. Despite that, some apps have helped us figure out the number. It comes with a 3,274mAh battery, which is up from 3,200mAh from last year. This still remains a chink in its armour, as it's still not a one-day phone. at least with heavy usage. Maybe it's time to up the capacity, Apple? I believe even 4,000mAh would do.
| | |
| --- | --- |
| Battery | Specifications |
| Capacity | 3,274mAh |
| Charging Time | Around 1 hour 30 minutes |
| Other | MagSafe wireless charging up to 15W, Qi wireless charging up to 7.5W, and reverse wired charging. |
But, for now, the iPhone 15 Pro lacks the reliability factor from a battery perspective. In my usage, I could get around five hours of screen time when using the phone extensively. This meant I was searching for my charger by tea time.
The biggest upgrade this year is the inclusion of the USB-C port, and I for one could not be happier — purely from a convenience standpoint. This connectivity change is very useful. I have listed down things you can do with the USB-C on the iPhone 15 series here, do give it a read.
All four iPhones come with the new port this time around. But, only the Pros enjoy a USB 3.0 port with a transfer speed of up to 10Gbps. Sadly, the charging speeds are still pretty much the same.
If you do use a third-party adapter, then the iPhone 15 Pro can be charged in a jiffy. The phone was completely charged in a little over an hour and 30 minutes using a third-party 65W PD charger, for example.
Apple iPhone 15 Pro Review: Verdict
While the iPhone 15 Pro may not have introduced any revolutionary upgrades, minor changes in the form of USB-C, a new build, an Action button, and a powerful processor, make for major usage improvements, making it one of the best phones to own.
The switch from stainless steel to titanium has proved to be fruitful, despite other reports — I say this because the cut in weight and rounded-off edges offer a better in-hand feel. The display quality is breathtaking, and the high brightness levels ensure good legibility. The faster refresh rate ensures a smoother experience too.
The A17 Pro chip inside the iPhone 15 Pro is the best chipset in the market — and the only one, as of now, based on a 3nm fabrication. Daily usage and benchmarks indicate that the iPhone 15 Pro is one of the best performers, if not the best.
The cameras on the iPhone 15 Pro do not see any major spec-based upgrades, but it is surely a reliable module. The portrait mode is fun to play around with and focal length inclusions to the main camera help you frame objects differently. However, the inconsistency in the post-processing is something that needs a rework.
In sum, the iPhone 15 Pro is great but the thing is, it could have been much better. Despite the introduction of a USB-C port, Apple has not taken full advantage of it by yet again ignoring faster charging speeds. Adding salt to the wound is the average battery life. But this might be what the techie in me is saying because for most people out there buying an iPhone is about having a device that is an all-rounder and does not compromise on the user experience.
Now if you want to rationalise the purchase decision, then it goes without saying that at Rs 1,34,900, the iPhone 15 Pro is an expensive affair. If you want to stick to iOS, you can consider last year's iPhone 14 Pro series, but you will be missing out on the goodness of USB Type-C.
And if you are looking for Android alternatives, there are not many in this price bracket. But the Galaxy S23 Ultra (Review) is a good option if you value optics and top-tier performance.
In a nutshell, if you are in the market for a reliable, powerful, and most of all, compact smartphone — the iPhone 15 Pro is your best bet.