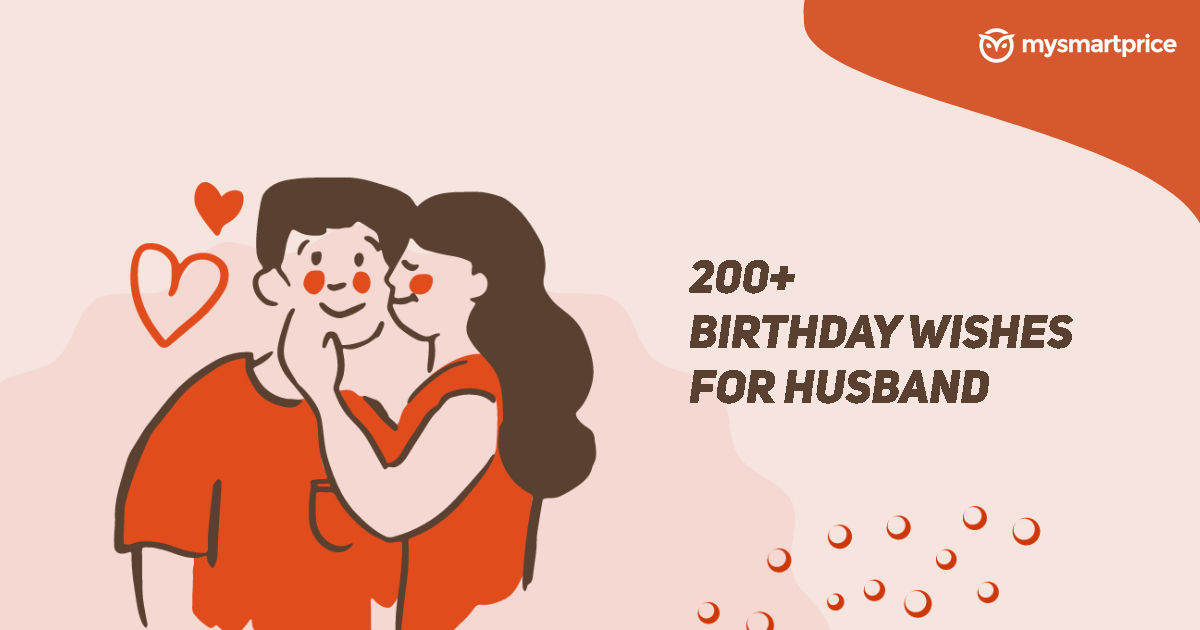 Celebrate your husband's special day with our heartfelt collection of over 200 carefully curated birthday wishes. It's a meaningful occasion to express your love and gratitude for the wonderful person he is. Whether you want to convey deep love, cherished memories, or excitement for the future, our messages are crafted to make his day truly extraordinary. Choose from short, romantic, and uniquely crafted messages to perfectly capture your relationship's essence and show your appreciation.
Best Birthday Wishes for Your Husband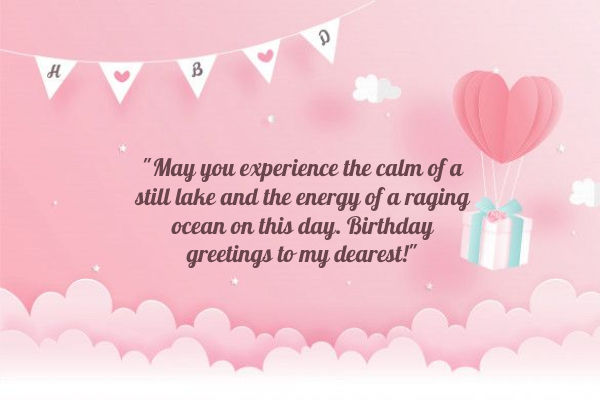 🎉 I wish my seafaring hero a happy birthday! I never want to stop enjoying the adventure that is life with you.
🔥 I'm wishing you a birthday that's just as exciting as the flame you started inside of me.
❤️ Happy birthday to the conductor of my heart, who gave me the type of love I was unaware even existed.
😄 I hope your birthday is as funny and happy as you make me feel every day, my favourite comedian.
🌊 May you experience the calm of a still lake and the energy of a raging ocean on this day. Birthday greetings to my dearest!
🎩 Happy birthday to the magician who, with just a flick of love, miraculously made my life perfect.
🍷 May your birthday be an upscale affair, to my personal cook, sommelier, and love of my life.
😇 With you, each day is like a moment in heaven. Happy Birthday, sweetheart.
🌟 My great existence is a result of you. Enjoy your birthday!
💖 I will always and forever love you. Congratulations on your birthday.
🎈 I hope your birthday is as amazing as my love for you.
🌸 Honouring you is like honouring a love that turns every day into a fantasy. Enjoy your birthday!
⚓ In this turbulent life sea, you serve as my anchor. Enjoy your birthday dear husband!
🎁 I hope your life is filled with the kindness you've shown me on this great day, your birthday.
Read More: 100+ Birthday Wishes for Friend and Best Friend (2023)
Funny Birthday Messages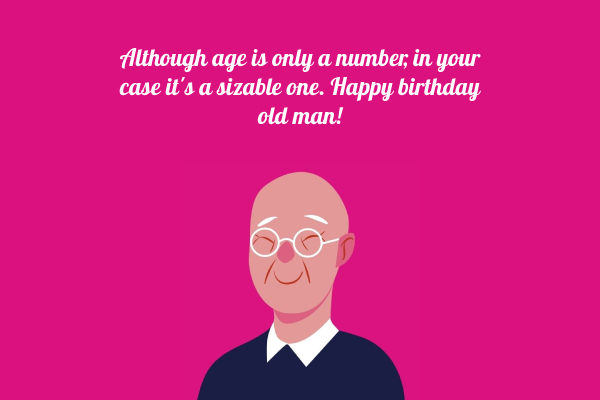 They believe that as you age, you grow wiser. You, my hubby, must be the most knowledgeable person I know! Happy birthday! 🎂🎉🧐
You're another year older, yet you still haven't matured. However, I still adore you for who you are, dear husband! A very Happy Birthday to you! 🎈🤣❤️
Happy Birthday to the man who demonstrates how men can age gracefully as long as they have a witty wife to keep them young at heart! 🎂🎉💑
When the cost of the candles exceeds that of the cake, you are getting older. But don't worry, I've got you covered with affordable candles! Happy birthday, my frugal husband! 🕯️🎂😄
You've made it through another year of my cooking, congrats! Your digestive system should be honoured. I wish my brave partner a happy birthday. 🎂🍳🎉👨‍🍳
Happy birthday to you my better half! Here's to you becoming wiser and me becoming better at pretending to heed your 'wise' advice. 🎂🥂🎉🤷‍♂️
Happy birthday to my dear husband, who is a lot of work but is worth it. 🎂😁🎈🤵
Happy birthday to the guy who still behaves childishly whenever he receives a new gizmo. I adore how you continue to make our house sound like a tech summit. 🎂📱🎉👾
In addition to showing up in your joints and those sporadic groans, age is a state of mind. Happy birthday to my arthritic, lovable hubby! 🎂🎈😅👴
Happy Birthday to the man who is maturing like a fine wine and getting better over time! At least, that's what I tell you to make you feel better about yourself. 🍷🎂🎉👨‍🦳
Although age is only a number, in your case it's a sizable one. Happy birthday old man! 🎂🎈🤣👴
Happy Birthday to the love of my life, who is steadily evolving into a vintage fashion icon. You are and will always be my favourite! 🎂👗🎉❤️"
Heartwarming Birthday Wishes

I'm wishing my life, my love, and my rock the happiest of birthdays. 🎂🎉❤️
Every day is wonderful with you, but today is especially important because it was the day you were born. 🎂🎈🥳
Not only do I adore you for who you are, but also for who I become when I'm with you. Happy birthday to the man of my dreams! 🎂💑🌟
Your birthday is a sign that love still has room to blossom, and I can't wait to do so with you. 🎂❤️🌺
May you have twice the joy you've given me for each candle on your cake. Happy birthday, hubby. 🎂🎈😊
You are the final piece in the puzzle of my existence. Happy Birthday to my ideal match. 🎂❤️🧩
The best is yet to come, and I can't wait to share it with you. May your birthday serve as a reminder of that. 🎂🎉🎁
May you experience a thousand times more of the love you've given me beating back to you on your wonderful day. 🎂❤️🌟
I have the impression that you are the one person I was meant to adore forever. Happy birthday to the person who helped me understand life and love. 🎂❤️🌹
The years I spend with you get sweeter and sweeter. Happy Birthday, sweetheart, lucky to be yours. 🎂🎈😍
Happy birthday to the man who gave me faith in love at first sight and who still gives me that faith today. 🎂❤️👀
My life has become a joyous garden as a result of your affection. Happy birthday, my happy gardener. 🎂🌷🎉
The peace in the turmoil of my life is you. I hope your birthday brings you the same joy and peace as it does for me. 🎂❤️🌅
I want to be the harmony that makes your days great because you've made my life a lovely symphony. Enjoy your birthday! 🎂🎶🎉"
Read More: 100+ ways to say Thank You for your Birthday Wishes
Short and Simple Birthday Wishes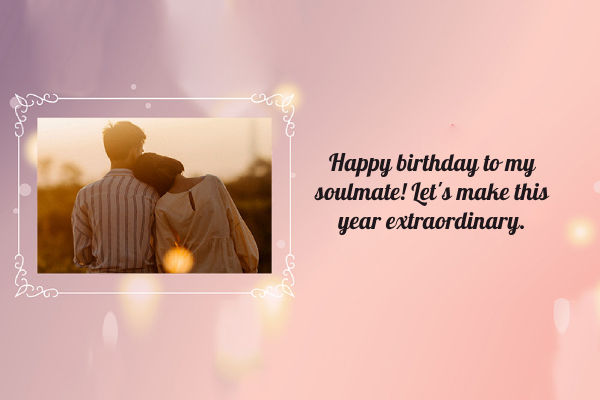 My love, happy birthday! Let's hope for a happy year ahead as a couple. 🎂🎉❤️
Cheers to another year of shared adventures. Thank you for another wonderful year, my charming hubby. 🎂🎈🥂
Transmitting wellness, delight, and all of the affection in the world to you. Greetings on your birthday, my only. 🎂❤️🌟
You are my life's best aspect. My wonderful spouse, happy birthday! 🎂🎁❤️
A day as amazing as you are is what I want for you. Wishing you a happy birthday, sweetheart. 🎂❤️🌺
Happy birthday to my ideal partner! Every day that goes by, my love for you grows. 🎂💑😊
My sweetheart and my rock, happy birthday. You add joy to every day. 🎂🎈😍
I want you to know how much you mean to me on your special day. Thank you and a very happy birthday love! 🎂❤️🎉
Happy birthday to my soulmate! Let's make this year extraordinary. 🎂🌟❤️
May all of your favourite things, including happiness, romance, and tenderness, fill your birthday. 🎂🎈😊
Love, happy birthday. Your joy is my life's goal, and your love is my greatest asset. 🎂❤️🎁
Sweet Birthday Wishes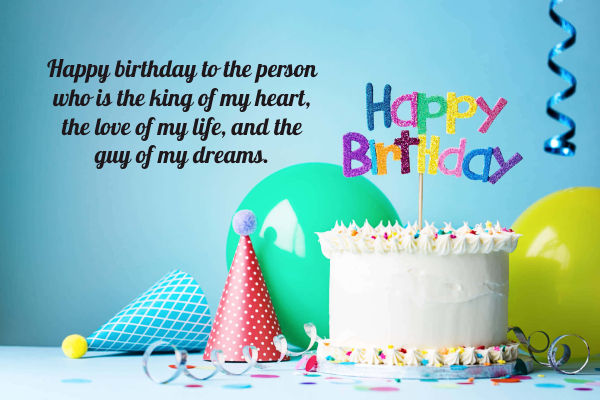 I hope your birthday is just as fantastic as the day we met. To the moon and back, I adore you. 🎂🌙❤️
I hope your birthday is as colourful as the addition of colour you have made to my life. 🎂🌈❤️
I want to make you a lifelong promise of love, laughter, and numerous lovely memories on your birthday. 🎂💍😄
Happy birthday to the person I will love forever and who, only by existing, makes every day better. 🎂❤️🌟
Happy Birthday to the man who still makes me flutter every day! 🎂❤️🦋
Every love tale is unique, but I prefer ours over any love story. To my better half, a very happy birthday. 🎂❤️📖
Wishing a happy birthday to the man who stole my heart and kept it forever. 🎂❤️💖
I hope your day is filled with joy, love, and delectable cake! You must leave room for my affection, so don't eat too much cake. 🎂🍰❤️
Happy birthday to the person who is the king of my heart, the love of my life, and the guy of my dreams. 🎂🤴❤️
It's like me celebrating my own soulmate's birthday when it comes to you. Here's to the most amazing man I've ever met. 🎂❤️🥂
I wish you all the happiness in the world because you have given me mine. Happy birthday dear Hubby! 🎂🌎❤️
May your birthday be as spectacular as our first kiss. 🎂💏❤️
I just wanted to convey how grateful I am to have you in my life on your birthday. 🎂❤️🙏
Another year with you and I am blessed beyond words. Happiest Birthday my love! 🎂❤️🎉
Happy Birthday to my only and only! 🎂❤️🎁"
Read More: Birthday Wishes for Brother 2023
Birthday Blessings for Your Husband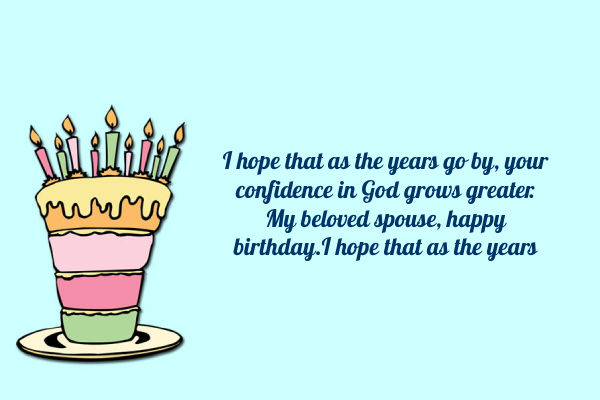 🎂 Every day is blessed by your knowledge and love. My sage and loving hubby, a very happy birthday to you. 🎉
🙏 I pray that you will always be blessed with good health, unending joy, and steadfast love on this great day. Happy Birthday, my dear spouse!🎈
🙌 May God give you every wish of your heart when you blow out the candles on your cake. May He provide you with His unending love, good health, and joy. Wishing you a happy birthday, my wonderful spouse. 🎁
🌟 May God shower you with blessings today and always. May your life serve as a living example of His mercy and grace. Happy birthday, my darling, and may your future be filled with nothing but blessings. 🙏
🙏 I thank God for bringing you into my life as a gift. I pray that He will keep watching over you, keeping you safe, and filling your days with His heavenly love on your birthday. 🌠
💖 May this new year of your life bring you even more joy, success, and lovely moments than the previous one did. May the light of love and prosperity shine upon you. Dear, happy birthday. 🎂
🙏 Every day I give thanks to God for placing you in my life. I thank God for you and ask Him to continue to bless you on your birthday. 🎁
🌟 May all of your wishes come true. I wish my wonderful hubby a happy birthday. 🎈
🌟 May God grant you a year full of possibilities, experiences, and treasured memories. May you constantly be led by His light, and may His love fill your heart. Happy Birthday to my life's love. 🎂
🙏 On this particular day, I pray to the Almighty to give you the fortitude, discernment, and bravery to meet the challenges of life with dignity. 🌠
🙏 I hope that as the years go by, your confidence in God grows greater. My beloved spouse, happy birthday.🎉
🌟 May God's grace and blessings envelop you like a warm embrace as you celebrate another year of life. May you experience peace in your heart and joy in your days. My love, happy birthday. 🎁
Unique Birthday Wishes for Husband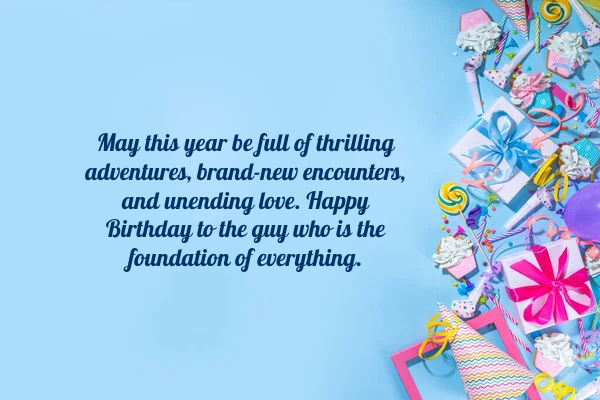 🎂 Know that every candle on your cake signifies a wish I have for you. Remember that as you blow them out. Happy birthday dear Husband! 🎈🎁
❤️ I want to honour all the days that you have touched my heart on this day, not just the day you were born. I wish you a happy birthday, my love. 🎂
💑 You are more than just my husband; you are also my companion in joy, in love, and in the adventures of life. I wish my partner, whom I will be with forever, a happy birthday. 🎉
🌟 May this year be full of thrilling adventures, brand-new encounters, and unending love. Happy Birthday to the guy who is the foundation of everything. 🚀
💖 Our love is only getting deeper and more beautiful with every year that goes by. To the man who completes my universe, happy birthday. 🌌
✨ Happy birthday to the one who makes every regular day into an exceptional adventure. You bring magic into the world. 🪄
🙏 On your special day, I want to express my gratitude for always being a source of joy and inspiration for me. To many more wonderful years spent together. 🌟
💑 Your birthday serves as a poignant reminder of both how old you've grown and how far we've come as a couple. Let's hope for many more years of love. 💑💕
🎁 Happy Birthday to the man who brings joy and love into my life! My greatest gift is you. 🎂🎉
🍷 May you continue to age like excellent wine and get more alluring with time as you celebrate another year. I wish my lovely husband a happy birthday! 🍷
💞 You are the love of my life, the source of all my happiness, and the tune in my heart. Cheers to the birthday of the man who makes me whole. 🥂
🥂 May your birthday be as extraordinary and remarkable as you. We toast to making more special memories together in the next year. 🌠
💏 On your special day, I want to let you know how much I value, love, and cherish you. A very happy birthday to my wonderful spouse! ❤️
🌟 Here's to the individual whose smile and affection make the world a better place. Happy Birthday, my sparkling star! 🌟🎁
🎉 Happy birthday to the guy that makes every moment special. I hope your day is full of joy and special memories. 🎈🎂
Romantic Birthday Wishes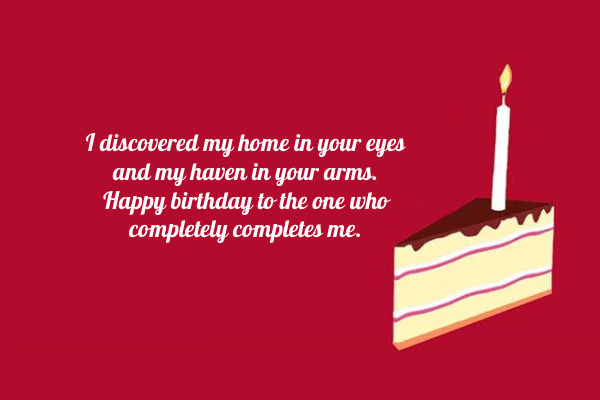 ❤️ "I want to do everything I can to show you how much I love you on your birthday. You are the object of my ardent heart, soul, and one and only love. Happy birthday to my sweetheart, my spouse. 🎂❤️"
🏡 "I discovered my home in your eyes and my haven in your arms. Happy birthday to the one who completely completes me. 🏡🎂"
📖 "Every day I spend with you is a new chapter in my love story. I want you to know that my love for you has no limits on this important day. Cheers to your birthday, my love. 📖🥂"
🎁 "Every day is a gift, every moment is precious, and every birthday is a celebration of our love for you. Happy Birthday to the person that makes me happy and filled with love. 🎉❤️"
🎉 "Happy Birthday to the man who fills my life with his love! I will always be grateful that you are here because you are the best thing that has ever happened to me. 🎈🎂"
🏡 "I have found my home in your arms, and my heart's longing in your love. Happy birthday to the one who completely completes me. 🏡❤️"
🌌 "Knowing that my love for you is unchanging like the stars will help you as you celebrate another year of life. You are everything to me, my love, and my forever. I'm glad you're here. 🌌❤️"
🌟 "On your birthday, I want to express my gratitude for making my world a happy one. I can't fathom my life without you because you are my true love. I wish my loving spouse a happy birthday. 🌟🎂"
📚 "Happy Birthday to the man who has won my heart and makes every day seem like a dream! My happily ever after is with you. 📚❤️"
🌠 "Your birthday serves as a reminder of the amazing journey we have taken together and the affection we have for one another. A lifetime of experiences ahead Love. Happiest birthday! 🌠🎂"
🌌 "Know that my love for you is as wide as the sky and as deep as the ocean as you celebrate another year of life. I wish you a happy birthday, my love. 🌌❤️"
❤️ "Happy Birthday to the man who makes my soul sing and my heart skip a beat! You are my true love, and I will always be grateful that you are here. 🎂❤️"
Inspirational Birthday Wishes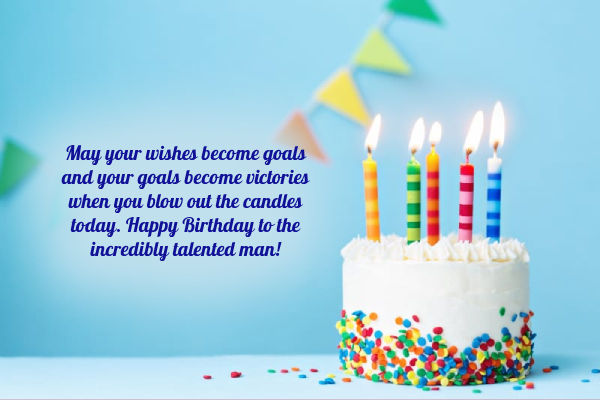 🎂 "The most amazing man I know had a birthday today. Happy birthday dear hubby. May you have the fortitude and resolve to pursue your goals without hesitation this year. 🎉🎁"
🌟 "On your birthday, I'd like to reassure you that you can accomplish anything you set your mind to. My dear, never stop believing in yourself. 💪❤️"
🌠 "As you celebrate another year of life, never forget that each day is a fresh chance to achieve your goals. My best wishes for a successful road ahead. Happy Birthday dear Husband. 🌠🎂"
😊 "I hope that your birthday is filled with the same happiness and inspiration that you give me every day. Keep glowing, my love. ✨❤️"
🚀 "Your birthday is a symbol of the amazing journey that lies ahead as well as a reminder of how far you've gone. I wish you continued happiness and prosperity. 🛤️🎂"
🌟 "May your wishes become goals and your goals become victories when you blow out the candles today. Happy Birthday to the incredibly talented man! 🎈🌟"
🎂 "Older, smarter, and more powerful by one more year. Every day, I am inspired by your tenacity and fortitude. Keep striving to realize your ambitions, and they will come true. Happiest birthday dear husband! 🎂🎉"
🌈 "May your birthday serve as a reminder of your immense potential. The sky is the limit if you put in the effort and believe in yourself. 🌌✨"
💪 "You have the capacity to make aspirations a reality, and I have no doubt that you'll overcome any obstacles that stand in your way in the upcoming year. Greetings on your birthday, my idol! 🚀🎂"
🌟 "I want to appreciate both the fantastic person you are now and the amazing person you are growing into on your special day. Strive to be the best you can be. 🌟❤️"
🌌 "May you have the fortitude to leave your comfort zone and seize new chances as you celebrate the end of another year. My love, the possibilities are endless. 🌈🎂"
😊 "Happy birthday to the man whose willpower, generosity, and love inspire me. Continue being positive and fulfilling your dreams. 🎉❤️"
Playful and Teasing Birthday Wishes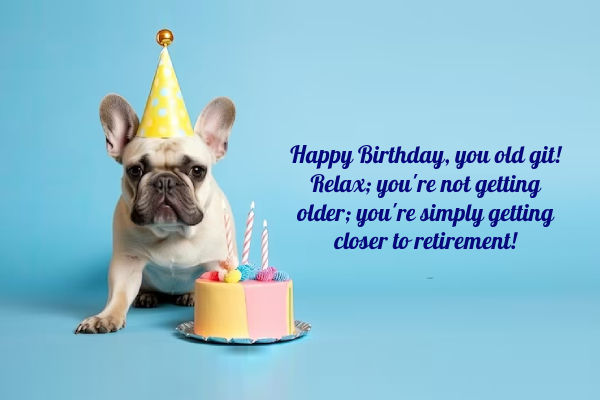 "Greetings on your birthday to the man who is ageing like a superhuman!"
"There are three things that happen as you age: the first is that your memory deteriorates, and I can't recall the other two. Happy birthday dear hubby!"
"They say that age is just a number, but for you, it's a very large number! Greetings on your birthday, old man."
🎉 "Happy Birthday, you old git! Relax; you're not getting older; you're simply getting closer to retirement! 🎂🏖️"
🃏 "You're a year older, and I'm still better than you at dumb charades. I wish you luck and love, birthday boy! 🎉❤️"
😄 "You've made it through another year with me, congrats! In the coming year, I swear to be just as obnoxious. Enjoy your birthday! 🎉🎁"
🎈 "I hope you have a wonderful birthday! May your waistline remain in place and your hairline remains unbroken. 🎂🎈"
😈 "To my favorite troublemaker, happy birthday! You're doing a terrific job, so keep it up! 🎂🎉"
🏅 "You've tolerated me for another year now, which has come and gone. Not simply a birthday cake, but a medal is what you deserve. 🎂🏅"
🎉 "Happy birthday to the person who still believes he is 21. I'm hoping tomorrow your back feels the same way! 🎂🤣"
🤣 "To the man who doesn't mind having wrinkles as long as they don't show on his face, here's to you! Happy birthday dear husband! 🎂❤️"
🌈 "May your birthday be as colorful and joyful as the playing gear of your favorite sports team. Don't wear it today, please! 🌈🎂"
Sentimental Birthday Wishes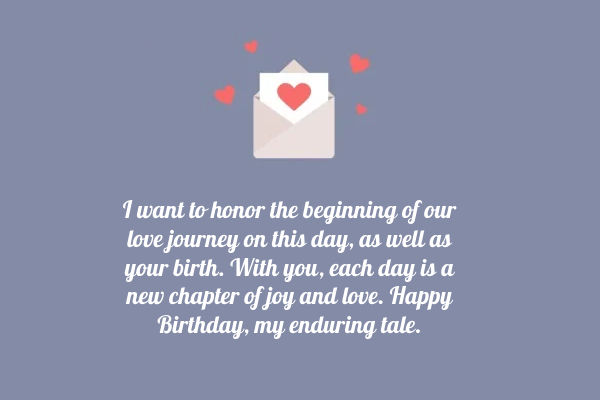 💖 "I want to tell you how much I love and appreciate you on your special day. You are more than simply my husband; you are my greatest treasure and my everlasting love. Birthday greetings to you my love. 🎂❤️"
🌍 "I want you to know that you are the most significant person in my universe as you commemorate another year of life. More than words can express, I love you, and a very happy birthday. 🎂🌟"
🎁 "Happy Birthday, my life's love. The greatest gift of all is that you are in my life. I value every second we spend together. 🎉❤️"
❤️ "I want you to know that you mean the world to me on your special day. My life has been changed in the loveliest manner by your love. Oh, happy birthday, my love. 🎂❤️"
💑 "I am grateful to the universe for placing you in my life as you celebrate another year of life. Not only are you my husband, but you are also my soul mate and my eternal love. Happy Birthday dear hubby! 🌠🎂"
💌 "I want to share with you the many reasons I fell in love with you on your birthday. To me, everything about you is perfect: your warmth, your humour, and your kindness. Love, happy birthday. 🎂❤️"
🌌 "Your birthday serves as a reminder of the wonderful journey we've taken together and the adventures to come. I anticipate every second spent by your side. Greetings on your birthday, my dear spouse. 🌌🎂"
📖 "I want to honour the beginning of our love journey on this day, as well as your birth. With you, each day is a new chapter of joy and love. Happy Birthday, my enduring tale. 📖❤️"
🌟 "Our love becomes deeper and stronger with every year that goes by. You are the centre of my world, and I will always be grateful for your unfailing love and support. My rock, happy birthday. 🌟🎂"
❤️ "Happy Birthday to the man who makes my life full of love and joy! You are everything to me, and I am unable to imagine doing this road alone. 🎂❤️"
🎉 "Greetings for my amazing husband's birthday. You are the best thing that has ever happened to me, and I treasure every moment we have had. 🎈🎂"
🔥 "Because of you, my love for you burns brighter every day as you blow out the candles today. I'd like to wish my heart's owner a happy birthday. 🎂🔥"
😄 "The love, humour, and happiness you bring into my life are all brought to mind on your birthday. I appreciate every second we have spent together and am excited for our future in bliss. 🎉❤️"
🎶 "Happy Birthday to the person who makes my soul sing with joy and my heart skip a beat. I can't adequately convey how your love completes me. 🎂🎶"
🎉 "Every day feels like a celebration when I'm with you. I want to honour you and the lovely life we've created together on your birthday. Love, happy birthday. 🎈❤️"
💘 "Happy birthday to the man who helped me understand the concept of love at first sight and who still helps me understand it now. 🎂💘"
Poetic Birthday Wishes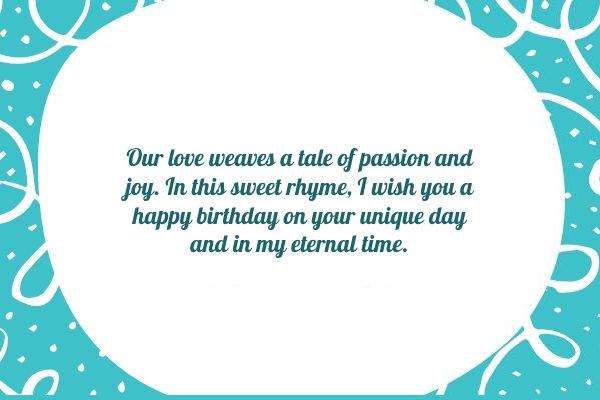 🌟 "I give thanks to the heavens for our love's illuminating light on this day of your birth under the brilliant stars. Happy Birthday, my darling! You are the greatest treasure in my heart, and your grin is the sweetest morning. 🎂💖🌟"
🌼 "You are my most brilliant bloom in the garden of life. On this particular day, let love linger forever. Happy Birthday to the person who brightens my day, every day. 🌼🎂❤️"
🌙 "Your presence in my life makes me cry, just like the moon's gentle radiance in the starry night sky. Happy Birthday, my love, you are where I truly belong. On this day, I celebrate you, my heart's genuine song. 🎂🌙❤️"
💑 "Your love, like a river, calms the anxiety of my life. Happy Birthday, my darling husband! In your warm hug, I find my particular place. You are the grace I have treasured in my heart. 🎂❤️🏞️"
📖 "Our love weaves a tale of passion and joy. In this sweet rhyme, I wish you a happy birthday on your unique day and in my eternal time. 🎂❤️📖"
🌌 "In the pitch-black sky above, while the stars blink, I can't help but sigh on your birthday, my darling. Happy Birthday, my sweetheart. You light up my entire world and satisfy all of my heart's desires. 🎂🌌💖"
🌟 "Happy Birthday, my darling, to you, I belong. As each year goes by, our love becomes so strong. 🎂💑❤️"
🍷 "Like a fine wine, you age with elegance and grace, happy birthday dear husband! Your love, my dear, is an enchanting embrace. 🎂🍷❤️"
🕯️ "Happy birthday, my darling, you light up my night as the candles ignite on your wonderful day. 🎂🕯️❤️"
🌠 "In the realm of love, you're my guiding star. On your birthday, my dear husband, you're never too far. 🎂🌠❤️"
📜 "Every day is a love poetry with you, my beloved. Happy birthday to the person who makes life divine! You will always shine. 🎂❤️📜"