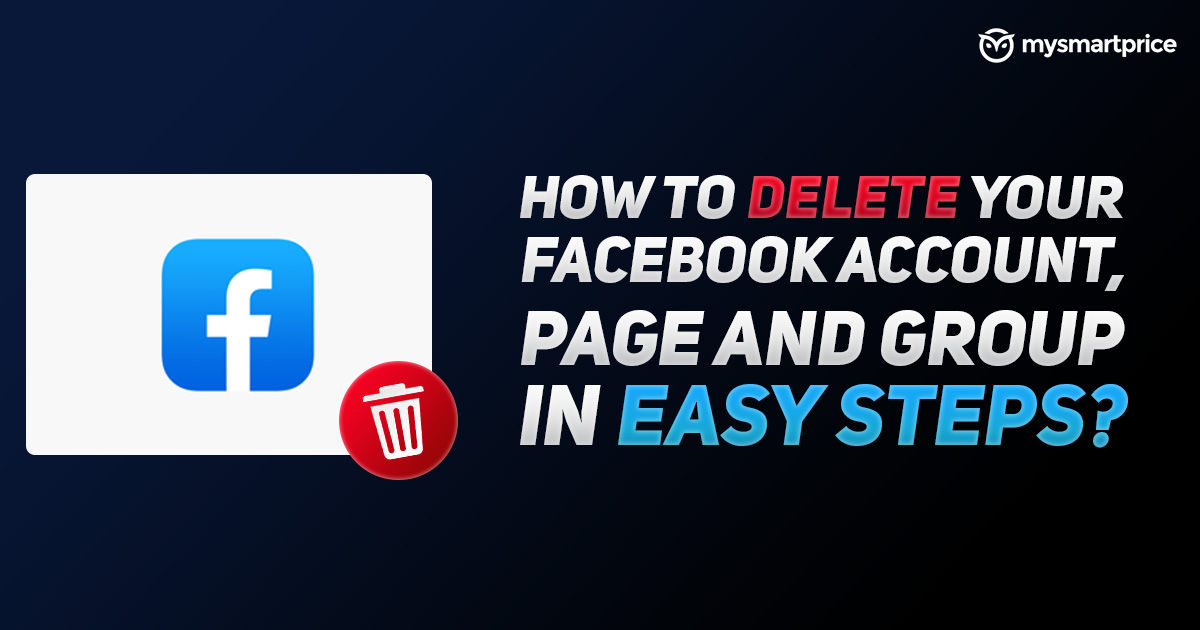 Facebook is the biggest social media platforms across the globe. The social media platform has roughly 2.8 billion monthly active users. The company has different products including WhatsApp, Instagram, and Facebook Messenger. Founded in 2004 by Harvard student Mark Zuckerberg, the social media platform is currently the biggest social networking service in the world. However, there are times when you simply want to move away from Facebook. The reasons could anything: perhaps you are spending too much time on it or maybe you don't want to share your personal data or information with Facebook. So, if you are looking to delete your Facebook account, you have come to the right place. In this article, we will show the correct way to delete your Facebook account along with Facebook Page and Groups. So, let's begin.
Also Read: Facebook ID Search: How to Find Facebook Profile Using Different Methods
How to Delete Your Facebook Account?
Before proceeding further, you should know that deleting your Facebook account is very much different from deactivating it. With the former, you will lose your profile, photos, posts, videos and everything else you have on your Facebook account. Furthermore, you won't be able to use your Facebook login for other apps that you might have signed up for like Spotify, Pinterest, and more. Moreover, you will not be able to use Facebook Messenger as well.
So, if you really want to delete your Facebook account, we suggest you first download a copy of your information like photos and posts from Facebook. In order to do that, you need to follow these steps:
Go to Settings and Privacy and then click Settings
You will find Your Facebook Information topic. Click on it and next to Next to Download your information, click View.
You can add or remove categories of data according to your need. Once done selecting the data, you click on Create File.
Also Read: YouTube to MP3 Converter: 3 Best Apps and Softwares to Download Audio from YouTube on Your Phone or Laptop
Then you need to go to the Available copies section. Click Download and enter the password to download your information. Once you are done with these steps, you can now delete your account. Here's a step-by-step guide on how to delete your Facebook account:
Open the Facebook app and go to the Settings & Privacy section, then click on Settings.
Click on Your Facebook Information and then go to Deactivation and Deletion
Choose Permanently Delete Account, then click Continue to Account Deletion.
Click Delete Account, enter your password and then click Continue.
Alternatively, you can simply to go this link and simply delete the account permanently. However, it is important to note that you can cancel the process within 30 days since you initiated the deletion process. The company says that it might take up to 90 days to delete your account from the social media platform.
Also Read: How to Download Videos From YouTube, Instagram, Twitter and Facebook to Your PC or Phone
How to Delete Your Facebook Group?
You can easily delete the Facebook group that you created. However, it is important to note that you should be the admin of the group. Furthermore, if you haven't created a group but still you are the admin, you can only delete it with the original creator of the said group that has left it. Moreover, deleting a group is an irreversible step. So in this guide, we are going to show a step-by-step guide on how to delete a Facebook group using these simple steps:
Open your Facebook app and click on the Group from the left menu
Select the group you want to delete and click Members below the name of the group
Click the three dots next to each member's name and then remove them.
Once all the members are removed from the group, you need to click on the three dots next to your name.
There you will see an option to Leave Group. Click on it and the group will be deleted permanently.
How to Delete Your Facebook Page?
For those who don't know, a Facebook Page and Facebook Profile are two different things. The Facebook Profile is your personal account, while the Facebook Page is created to promote your business, groups, and more. There are multiple reasons to delete a Facebook Page like you no longer want to manage it, the page is not useful anymore, it is out of date, and more. Here's a step-by-step guide on how to delete Facebook Page:
Open Facebook and sign into your account
Open the Page you want to delete by going to clicking on the Pages section in the left menu
Go to your page and click on the Page Settings
Scroll down to the bottom of the page and you will find an option that says 'Delete Your Page'
Click on it and a notification will appear to confirm your request. Confirm it and your Page will be deleted.
However, it is important to note that the Facebook page won't be permanently deleted until 14 days. So, if you want to recover the page, you need to do it within 14 days. The process of recovering the page is fairly simple. All you need to do is follow the above-mentioned steps and then click on Cancel Deletion at the top of your Page to recover it.