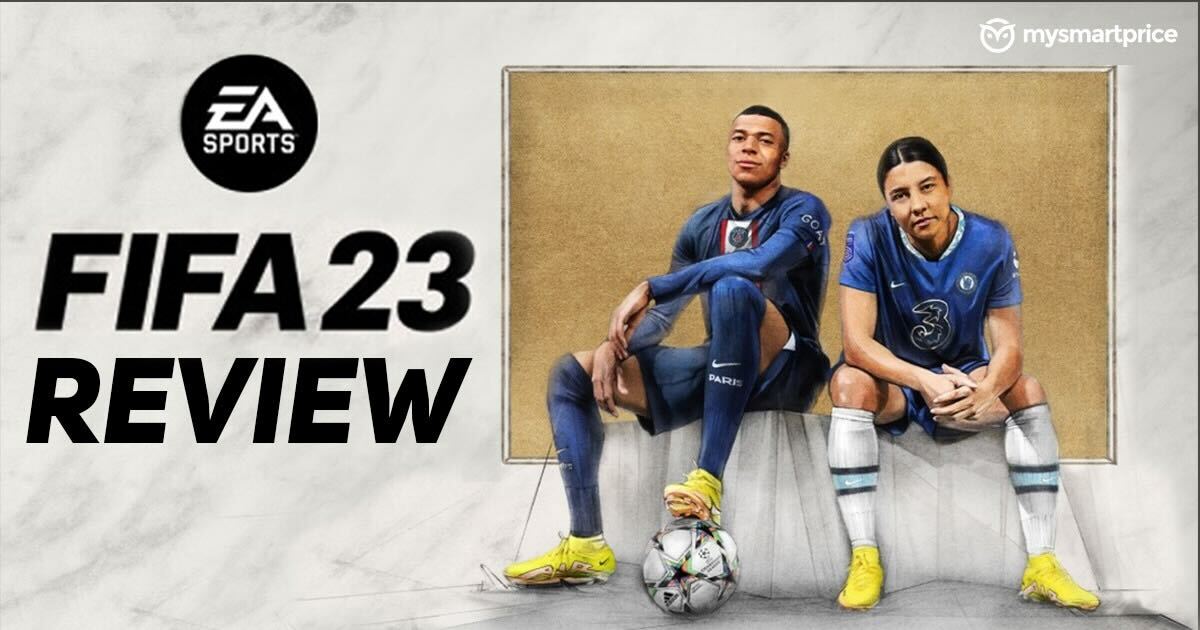 EA Sports' most beloved arcade games series — FIFA — sees yet another iteration being launched. The game is available across PC, Nintendo Switch, Xbox, and PlayStation consoles, and is EA's 30th and sadly, the final edition of the most iconic collaboration. The love affair between EA and FIFA comes to an end after three decades of togetherness. A licensing scuffle with the official board of FIFA after the footballing body asked to increase the contract pricing has caused this untimely break-up. However, as they say, "the show must go on." Luckily, both parties extended their contracts post-July, to include the upcoming FIFA World Cup 2022, which is to be held in November.
This change has given birth to a new naming convention for the game. Next year onwards, it'll be called EA Sports FC — yes, we have mixed feelings about it. With e-football (formerly known as PES), now free-to-play and rated as the worst game on Steam, and potential competition in the name of UFL, yet to see the light of day, FIFA seems to continue running their show in terms of football games globally.
Unless you've been living under a rock, you are well aware of the blunder from Epic Games where they offered the Ultimate Edition of the game for as low as Rs 4.80. However, kudos to them for honouring the Rs 4.80 price for everyone who got their hands on it. As for the people planning to get the game at full price, continue reading the review.
Aside from the naming convention, FIFA 23 also introduces PC gamers to the closer to realism world of HyperMotion. Besides the improved graphics, the individual finger ripples of a goalkeeper, bouncy hair, remodelled characters, Women's Club Football (finally) and Shaolin Soccer-esque power shots — does FIFA 23 really bring something new to the field? And can it be a 'perfect goodbye' before the beginning of a new era? Find out in this review.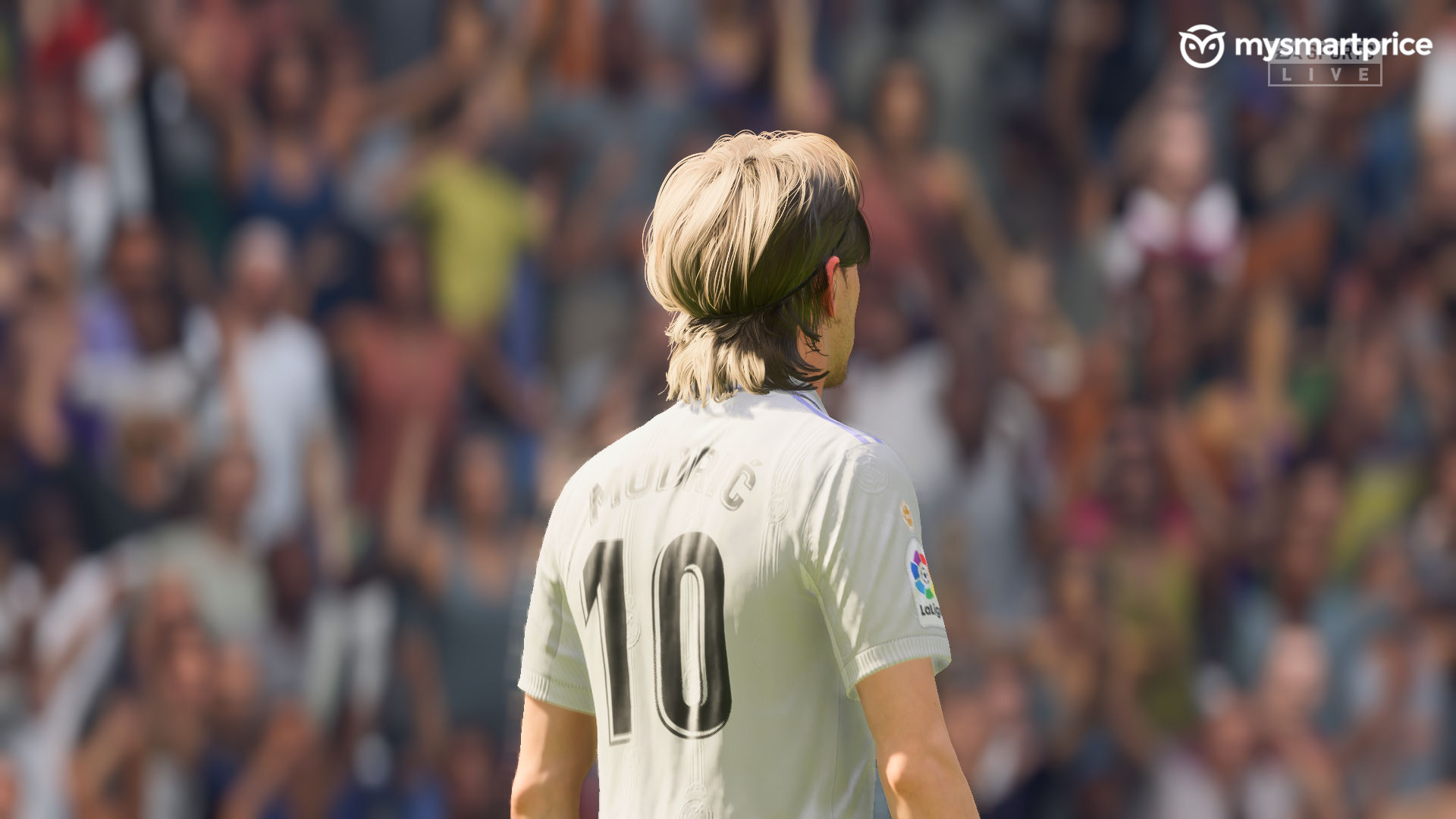 FIFA 23 Review: For One, For All — Say Hello To HyperMotion2
With FIFA 22, EA made a big deal about HyperMotion Technology — while that was a major change, considering FIFA is known for its incremental upgrades, it was only available for the next-gen consoles. In the previous editions, Xbox One, PlayStation 4 and PC versions of FIFA were on par with each other, while the newer generation — PlayStation 5 and Xbox Series S/X, were tied together. Unlike FIFA 22, EA won't be turning a blind eye to PC players. FIFA 23 has introduced HyperMotion2 Technology to all consoles and PC, in the light of cross-play integration (more on that later). The new technology brings along various improvements in the gameplay and adds a tiny hint of verismo with 'Machine Learning',  'Technical Dribbling', and more.
To collect relevant data, EA claims they pitched an 11v11 match and a couple of training drills to motion-capture player movements, dribbling, and more. This allowed them to capture every minute detail on the pitch and how the players reacted to each situation. This in turn helped them to improve their AI to provide a much better experience. Players bumping into each other or falling to the ground have a much more palpable feel to it as opposed to the previous editions with an arcade-ish look. While at face value the differences seem very nuanced, there are a bunch of new additions and tweaks that are likely to change the course of your gameplay.
Graphics Improvements
Each year, FIFA improves the graphics and player models by a sliver. However, this time around there are some changes that are worth mentioning. Let's begin with the pitch. The rectangular grass-filled land looks stunning with more audience elements added. The grass looks much better, especially when the players perform the traditional knee slide celebration — blades of grass can be seen flying off. These are the minute details that help enhance the experience. Stadium announcements also have a couple of tweaks with the announcer notifying the audience of the colour and make of a car that has been parked in the wrong spot, and a couple of more interactive lines such as saying it's a 'no smoking' zone — of course, it doesn't add practicality but it gives a tangible feel to the game.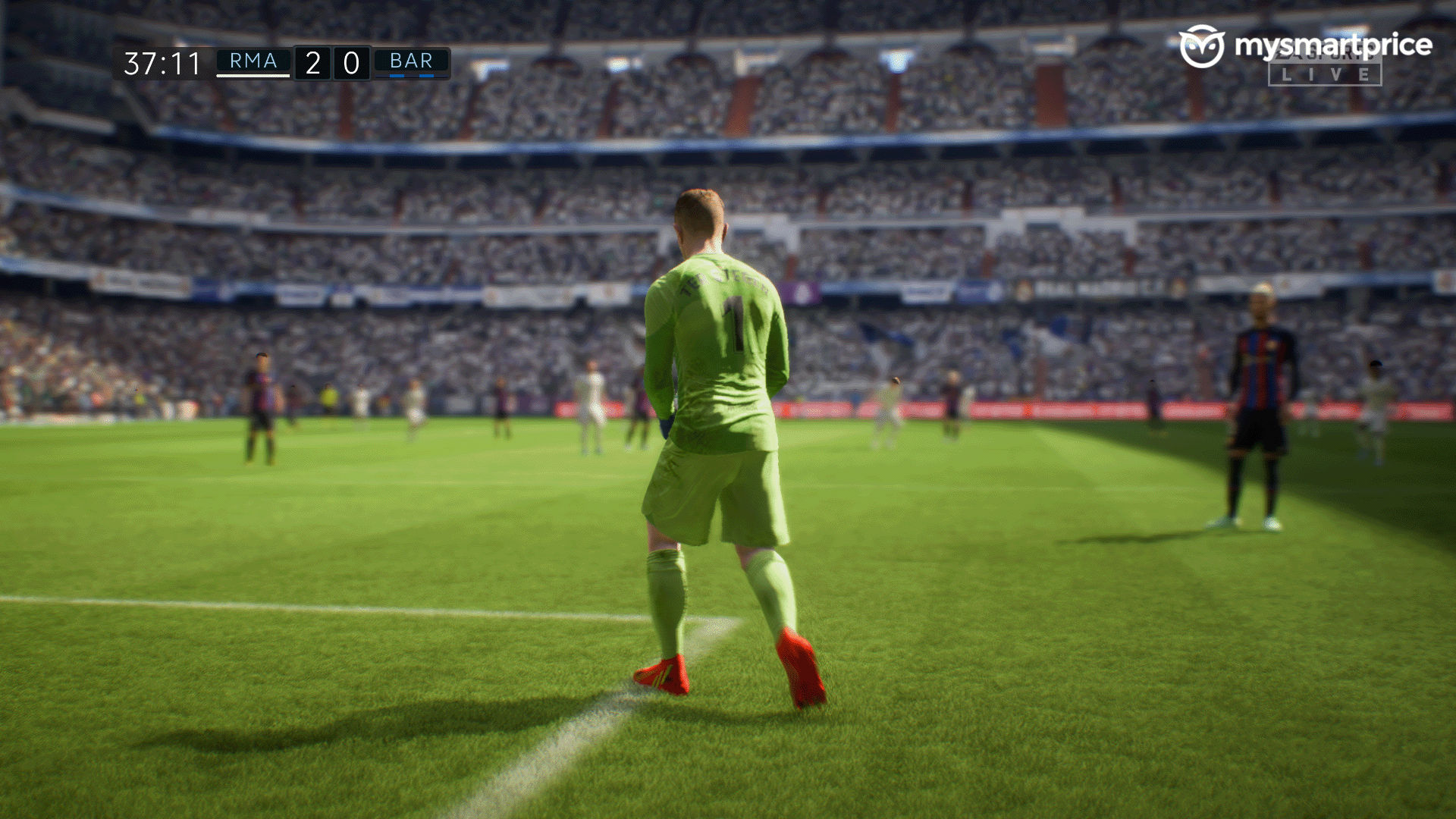 Individual scans of players have helped improve character models to a large extent. The biggest improvement can be seen in the form of Pedri from FC Barcelona and Spain – from looking like a generic player made in career mode to looking closer to life shows us what kind of changes FIFA intends to do.
Pedri's FIFA glow up 😅 pic.twitter.com/ilJf39NgBb

— ESPN FC (@ESPNFC) September 30, 2022
Besides this, EA has worked more on hair physics as well. Players such as Luka Modric and Jack Grealish with a high volume of hair will see a bouncy effect, this can be noticed during celebrations. A couple of new cut-scenes also make their way into FIFA 23. Scoring a last-minute goal in any mode makes the cameraman go bonkers along with the fans and players running onto the sideline as if they had just won the Champions League. Along with this, gamers can now tweak around with the tension of the goal net. It can be kept loose or tightened as per your requirement. The sound of the ball hitting the back of the net is majestic.
Bugs and glitches have been a huge part of FIFA for a long time. The latest iteration has also seen a bunch of them, but not in a great many in number compared to previous editions. Goalkeeper blunders are very common and I have come across a few on social media. Funnily enough, one weird bug happened to me, something that was a first for me, ever. While playing with a friend online, I chose Real Madrid while they chose Paris Saint Germain. Strangely for my friend, the Los Blancos were wearing bright red colours from Old Trafford, when in reality my players were of course in the iconic white jersey. They didn't notice it until I scored a goal with Karim Benzema — completely bamboozling my friend until he picked up the bug.
Defenders Are the Backbone of a Team, Literally
FIFA 22 made sure the players broke their controllers every time the goalkeeper made an unbelievable save. Until they gradually made it a bit easier as months passed by. With FIFA 23, it's time for the defenders to take the lead. AI-powered defenders are absolutely tough to deal with, especially when they come in batches. Gone are the days when you could enjoy a goal fest with either team scoring a total of 10-12 goals. AI is smarter than ever and it knows how to mark the run of an opponent while also cutting down spaces to avoid a goal-scoring opportunity. The Team Press mechanic also sees a revamp with the inclusion of "Partial Team Press" which can be enabled by hitting the D-Pad button. An AI defender will accompany you when on the back foot, giving you a better chance of winning the ball.
FIFA is known for its arcade style of gameplay, and it is also known to benefit speedy players. In the past, runners like Kylian Mbappe, Vinicius Junior and Kingsley Coman could just waltz through the defence by just outpacing the back four. This has been brought under control with the latest tweak in the defensive lineup. While there's still a hint of benefit with fast players, the defenders somehow manage to catch up and jockey well.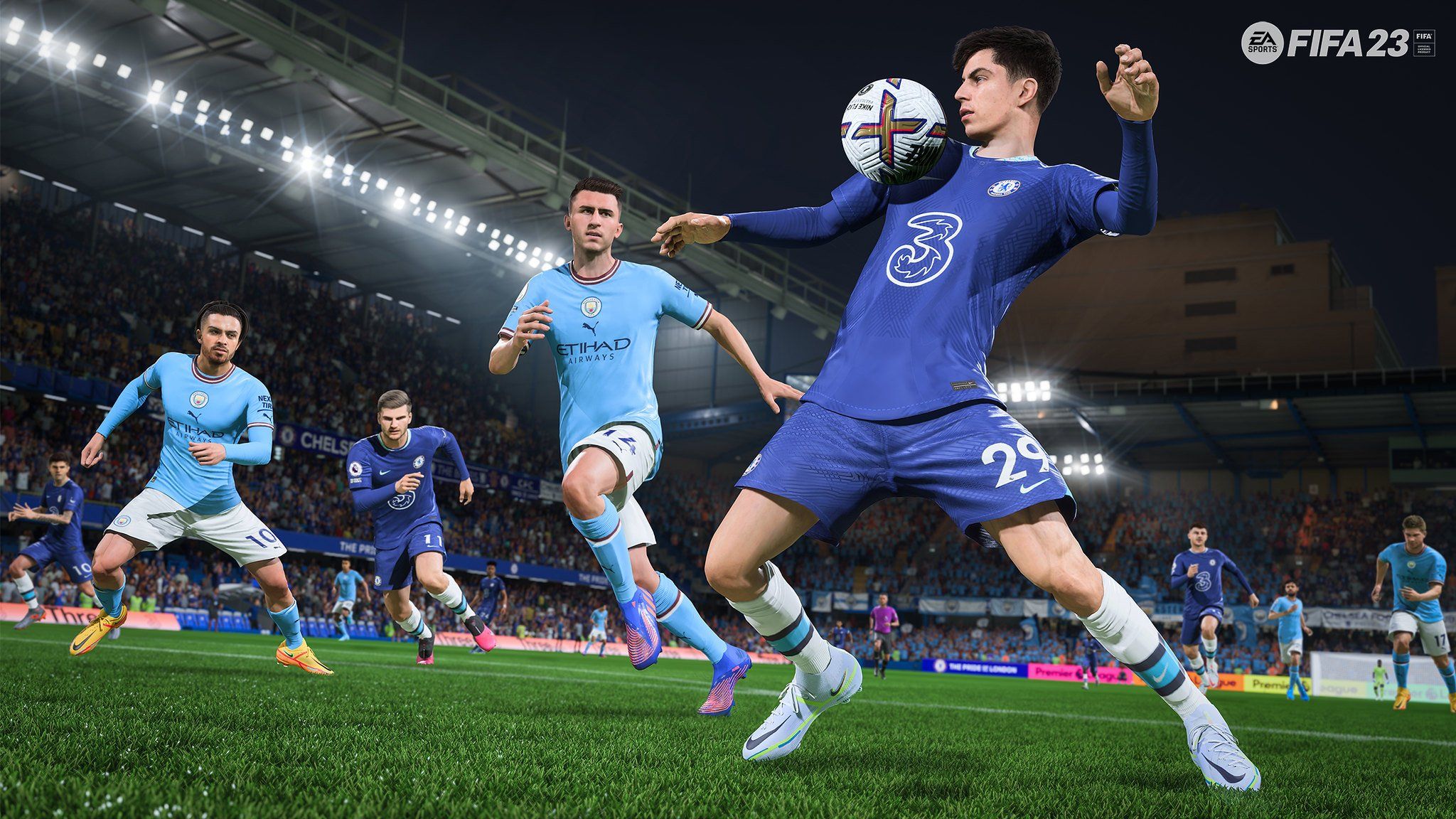 I've noticed that risky tackles can also yield good results in last-ditch moments. High-value defenders such as David Alaba, Sergio Ramos, and Antonio Rudiger — tend to catch the ball while sliding into the tackle more often than not. The chances of conceding a penalty are slightly lower than before. As said before, with FIFA 23, EA is aiming at bringing a more realistic approach to the game — slide tackles now leave a mark on the pitch which remains there for the entirety of the match. If you are someone who tends to panic in your own box, chances are you'll be creating some eye-catching graffiti on the pitch.
FIFA 23 also introduces something called "Hard Tackles" — this can be used for those last-ditch tackles to save yourself from embarrassment. These tackles do not consider keeping the ball in play — though there are chances of taking out the player as well, which could end up in a card. Speaking about fouls, there's a lot of leeway provided by the referee, even when it comes to slide tackles. There have been many instances when I got away with a ruthless tackle. Defenders are more assertive when it comes to airballs too. Lobbing the defender or trying to chip in a cross into the box is tougher than before.
Coming to the saviours on the field and the last line of defence — the goalkeepers. For years we have seen goalkeepers go through some drastic changes. Either they are too good, or somewhat bad. This year, they are just shambolic. Despite the adaptation of HyperMotion 2 Technology and the improved game physics, goalkeepers are not up to the mark. FIFA 22 had keepers flying into each top corner like Superman, with FIFA 23, they were not able to save shots directed at them. Something, even Sunday League keepers could handle with one eye closed.
While on the attack, aiming for the near post has a higher chance of scoring, as for some reason the keeper continues to neglect that area — come on, that's goalkeeping 101. FIFA touted the new finger-rippling movements in their trailer, but that's hardly something the gamers will notice since the ball is more likely to end up in the back of the net. Hopefully, this will be fixed with future patches.
FIFA 23 Review: Power Shots, Controlled Attacks, and Set Pieces
With each edition, EA tweaks the speed of the gameplay. FIFA 22 saw a slightly slower approach on the field and with the latest and final edition, we see a much slower overall game style. This is not bad by any means. In actuality, it gives the gamers more command of the player and attacks feel more controlled. Players will have to build the game with slow passes instead of searching for long crosses as they are more likely to be intercepted. Through balls — even semi-assisted ones — need more manual control. This applies to headers as well. Scoring a header is not that easy anymore. A more precise direction on the controller is needed for the ball to end up in the goal, this is good as you get to aim it to perfection steering it away from the luring defender on the goalpost during a corner. It will definitely take some time to master it, so don't put yourself down much.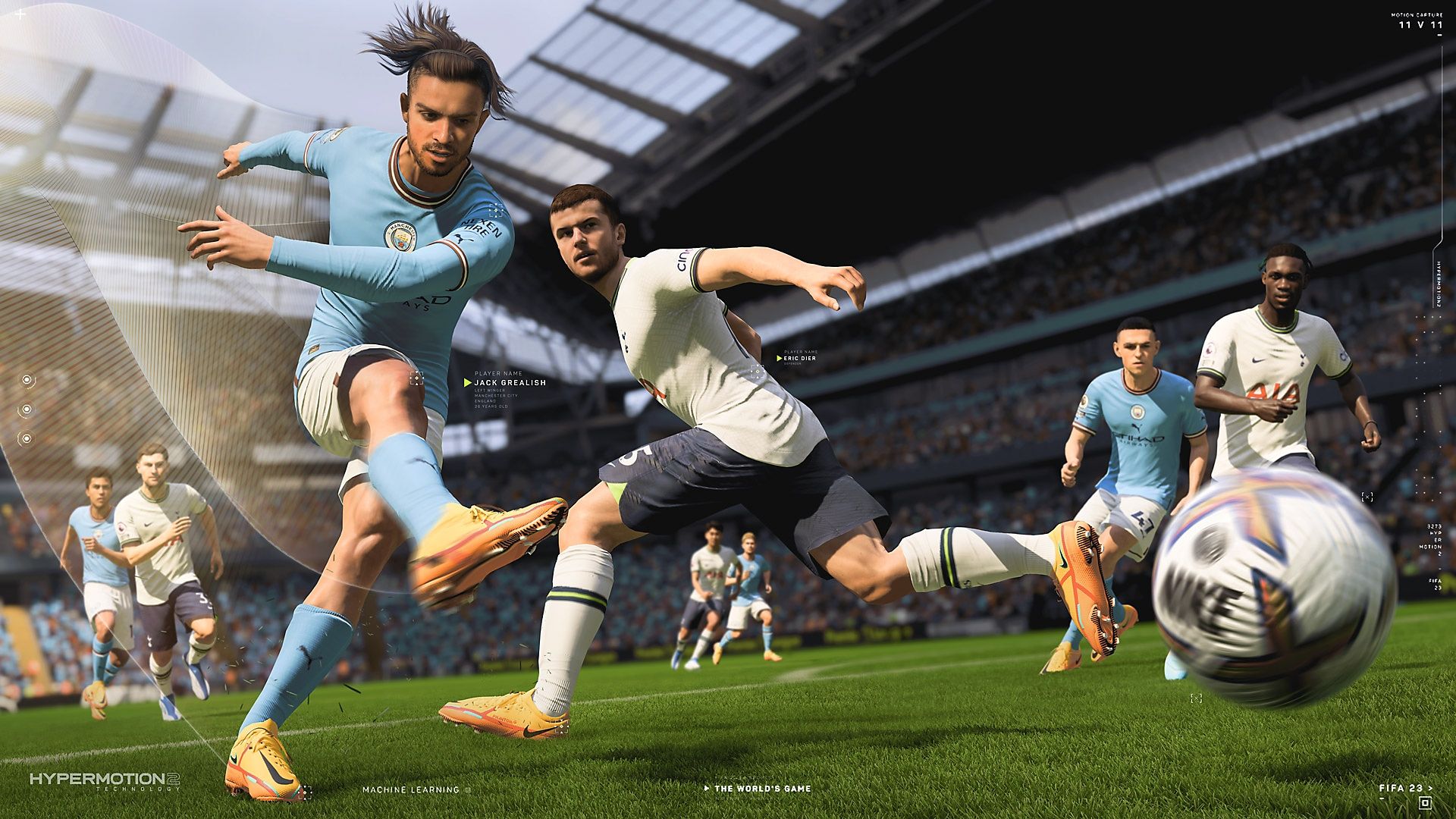 FIFA 23 may be trying their best to establish a more lifelike approach, but power shots are something that makes it more arcade-ish. Don't get me wrong, it's a neat addition, but its insertion in online matches doesn't make much sense to me. Using LB + RB + B on Xbox, and L1 + R1 + O on PlayStation cinematically zooms the camera into the player taking a shot. This looks like a scene straight out of Shaolin Soccer, without all the other flairs. To somehow balance the effects of this overpowered feature, gamers need more time to set up the shot. A well-timed and aimed shot is bound to tear apart the back of the net, while an untimed shot without much space will result in a lost possession of the ball. This will take some time for players to adapt but can be brutal in online matches, especially FUT. A new replay mechanism has also been introduced with slow-motion shots and multiple angles. It also shows you the speed at which the ball was struck and the xG rate, it's a cool addition.
Finesse shots (RB/R1 + B/O) are still the meta in FIFA 23. Skilled players such as Cristiano Ronaldo, Lionel Messi, Luka Modric, Neymar Jr. and more can curl in a shot from 30 yards without breaking a sweat. In fact, scoring such bangers using Vinicius Junior and Aurélien Tchouaméni was also quite possible for me. If you've mastered the art of Finesse shots, online matches should be slightly easier for you if you can beat the defence to make up some space.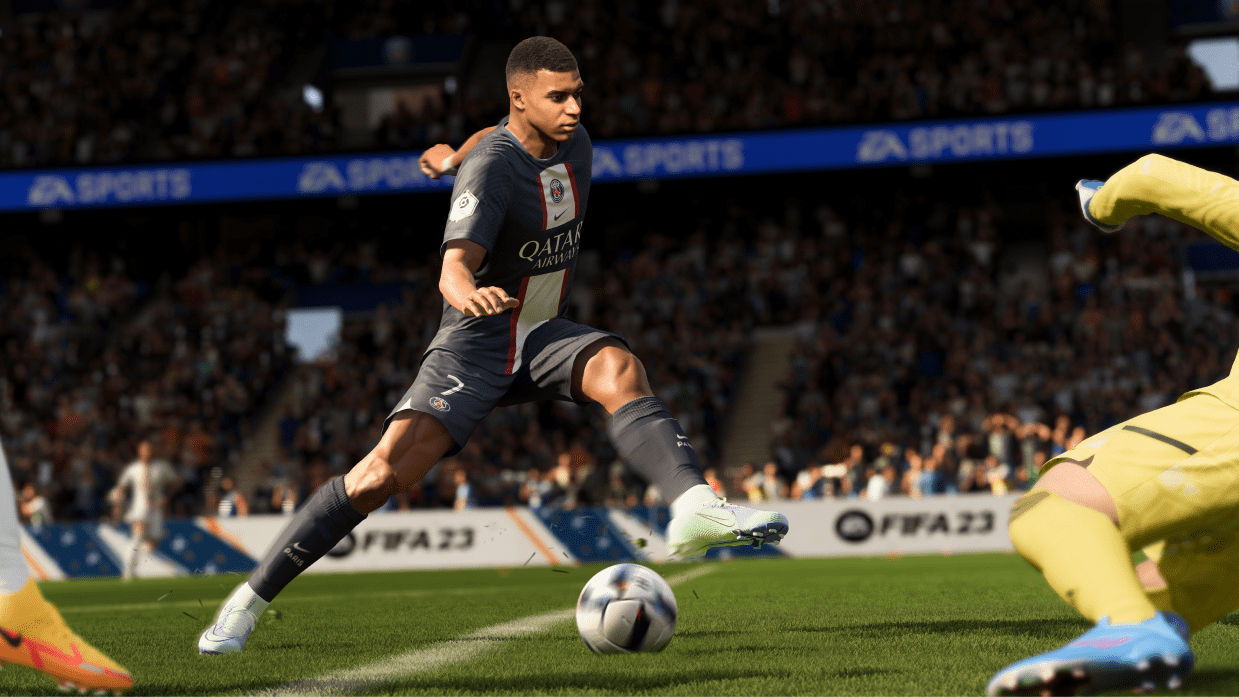 As far as games created on sports are concerned, no one has been able to master the art of proper foot placement. That is planting the foot down on the pitch in a way that feels natural. FIFA 23, even with HyperMotion2, has managed to fumble that. Players at times seem to be ice-skating on the field, whenever an attack breaks. This, yet again, makes it look more like an arcade game. It was inconsistent at most times, so I'm hoping this is just another glitch with the latest HyperMotion and can be fixed shortly.
Set-Pieces sees a drastic change and a welcome one. Corners and direct free-kicks have shifted from the match camera angle to a third-person perspective. Now, you can use the left stick to choose where the ball is supposed to go and the right stick gives you more granular control over where the player will strike the ball. This allows you to either curl the ball in, curl it out, or just straight up take a knuckleball cross to confuse the opponent — and maybe yourself. It caught me off guard for the first few attempts since I'm more used to the older method.
After spending a couple of hours with the new technique, I was able to convert the crosses into goals during corners. The same goes for free kicks, although I still couldn't convert as much. From a defending standpoint, you can now have a player lie down behind the wall — a practice recently popularised by Marcelo Brozovic during a match against FC Barcelona. Hitting the 'B' button on Xbox or 'O' button on PlayStation allows you to do this.
Penalties also get a revamp with the target reticle now out of the picture. A small circle surrounding the dead ball ensures you about the shot. Hit it when the circle is the smallest and in green colour, and there's a chance of it ending up in the net, hit it too early and the ball might smack someone in the stands. The removal of the target reticle also means you no longer have to hide it during couch co-op.
Women's League, FUT, and More
We've had women's team on FIFA for some time now. However, they were limited to international teams. This changes with FIFA 23. Women's Club Teams — limited to English and French leagues as of now, have been made accessible. A tab in 'Friendlies' and 'Kick Off' modes allows you to switch between Men's Team and Women's Team, you cannot play them against each other. That is only possible in a Pro Clubs match, where the players are customised. Sadly, Women's Club Football does not have a Career Mode yet — just like cross-platform (read below), this has also been executed half-heartedly.
Besides all this, FIFA has aimed at attracting more popularity by signing on the entire team of AFC Richmond, along with their infamous manager, Ted Lasso from the Emmy-winning series on Apple TV. I believe this is something FIFA has pulled off for the first time, and it's more than welcome — though I doubt many will choose this team, as career mode lacks storytelling with dialogues. Speaking of career mode, there are a bunch of nifty additions such as special cutscenes for when a player leaves the club, squad depth and deal rating metrics, and also a tension meter during negotiations. There are also 'Playable Highlights' which allow you to just play some attacks whenever you are not in the mood for an entire match. My gripe with career mode and its press conference outlook remains the same from last year, it just feels weird seeing an entire press room ask questions without any dialogue being spoken.
Volta Football and Pro Clubs have now been combined. Customised avatars can be carried forward to each mode. Volta also has a bunch of mini-arcade games that are fun when you pair up with friends. As for Ultimate Team, the money-making machine for EA sees a slew of changes, pretty obvious — they have to justify the micro-transactions. It's still pay-to-win, unsurprisingly. There's also FUT Moments which has been integrated into Ultimate Team — while I like the idea, there's a lot of work to get into the 'moment' for new players. A bunch of them need me to fulfil the prerequisites — such as having Kylian Mbappe on my team. For a beginner, that's hard to pull off — unless you open a bunch of packs. FUT Moments also introduces a new in-game currency called "Stars."
The commentary department sees a slight change. It now allows you to disable negative commentary that could hurt your morale. Neat. There are a couple of new lines added, but the old ones tank them. I'm bored of listening to Stewart Robson and Derek Rae say the same thing about Karim Benzema for the umpteenth time. Though listening to them say Bruno Fernandes (pronounced Bruno Fernanshhh), is able to get a giggle out of me — I would like to see Peter Drury on the commentary gantry. I mean, who wouldn't love a comeback poetry narrated in his soothing yet ecstatic voice?
You Got Crossplay-ed
Crossplay — the biggest feature I've been waiting for EA to implement into FIFA. With the integration of cross-platform play, players can join lobbies with their friends across any console or PC. This has been long overdue. However, the excitement train halted just as I realised that it was limited. Sadly, cross-play is restricted to just 1v1 modes — which doesn't make any sense. This means you can only play Online Friendlies with your peers, and frustratingly enough, you cannot even jump onto a co-op lobby with them. Come on FIFA, don't be that guy. I'm sure you know know how cross-play works, but if you don't — please take cues from Rocket League.
The whole point of cross-platform is to increase the playing field, lower matchmaking time, and also to pair up with friends who are on different consoles. To add to this misery, cross-play is not enabled on Pro Clubs as well.
Keeping the negatives aside, cross-play between friends worked without any hiccups. Creating a lobby or being invited into one is as easy as it can be on PC. EA Social is built into the game and holding down 'RT' gives you a list of your friends — who can then be invited on to a 1v1 game. After entering the match, FIFA 23 lets you know whether they are on a console or on PC by hovering a small caricature on top of the players' heads.
There's a lot of room for cross-play to be improved. This can be started by allowing more than one person to enter the lobby.
Should You Buy FIFA 23
It's sad to see the partnership between EA and FIFA end so abruptly. What worries me is the licensing for future editions, besides that this means that the inclusion of World Cup Modes won't likely be a thing from here on. But, it's good to see EA put in some effort for the final hurrah. The slower gameplay gives you much more control over the players, and with the refined graphics and game physics — the package seems like a sweet deal. Although forget all your past tricks of beating the defenders by just outpacing them, that's just not possible in FIFA 23 — maybe Kylian Mbappe or Vinicius Junior can do it once or twice, but not consistently. The pace abuse ends here. I am still not a fan of 'Power Shots', but they are sure to flood your YouTube recommendations with fancy shots from far out.
It would've been great to see some extra story modes like "The Journey" from FIFA 18, or even the storyline from Volta (which ended), but there's nothing of that sort included here. Crossplay is probably the biggest feature FIFA has introduced in years, while it's commendable — the half-hearted execution that allows only 1v1 modes across platforms is truly frustrating. Knowing EA, they will most likely introduce this in the next edition, as a new feature. I'll welcome it with a big hug, but for now — you have been crossplay-ed.
The thing is, with no proper competition breathing down their necks, and with their ever-growing legacy of over 25 years — FIFA are able to run its show, the way they want to. Nevertheless, FIFA 23 is an upgrade from last year, partially because of the slight modifications HyperMotion2 brings in and a couple of touches here and there.
Unlike Manchester United's downfall — EA is aiming at saying farewell to build upon its legacy in the coming years. This is a fitting goodbye, with room for improvement.
What Is Good?
Improved physics, graphics
Smooth gameplay, tough AI defenders
HyperMotion 2 for PC
Good soundtracks
Addition of Women's Club Football
Crossplay enabled (but limited)
Better set-piece techniques
What Is Bad?
FUT is still Pay-to-Win
Power Shots are arcade-ish
Online matches only allow three subs
Goalkeepers need some tweaking