Highlights
Flipkart's summer sale is around the corner.
This sale features various amazing offers for Phones, Refrigerators, and more.
You can find all the offer-related details here.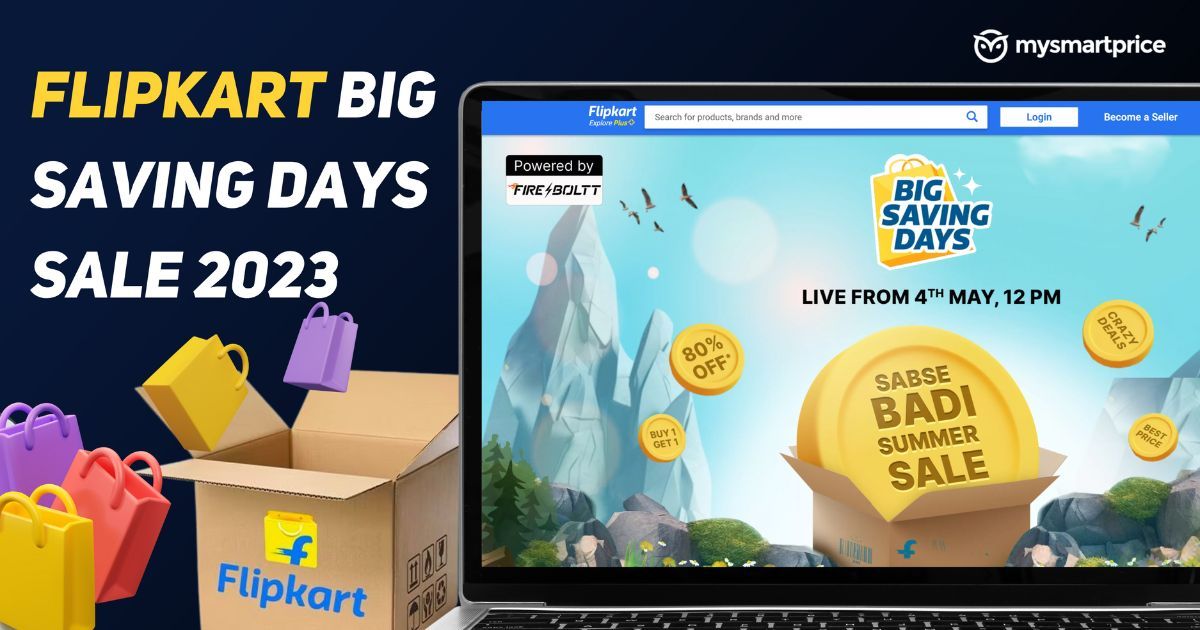 The season of sale is here and Flipkart has announced their Big Saving Days Sale for 2023. Just like last year Flipkart has some exciting offers for the customers. There are offers on smartphones, TVs, TWS, appliances, and many more. These offers ensure up to 80% discounts and extra bonus on exchange values. The teaser page for the offer is already live on Flipkart's website and it indicates some never-before offers for smartphones, laptops, audio, and refrigerators.
Below you will also find the sale schedule as well as the announced deals by Flipkart on smartphones, laptops, audio products, and refrigerators. Apart from this, there are also partner bank offers that gives additional spot discount of up to 5%. While these are announced deals there are many deals that Flipkart has yet to keep suspense from us and will be revealed on the day of the sale. So let's check out the deals, dates, and offers that we already know of.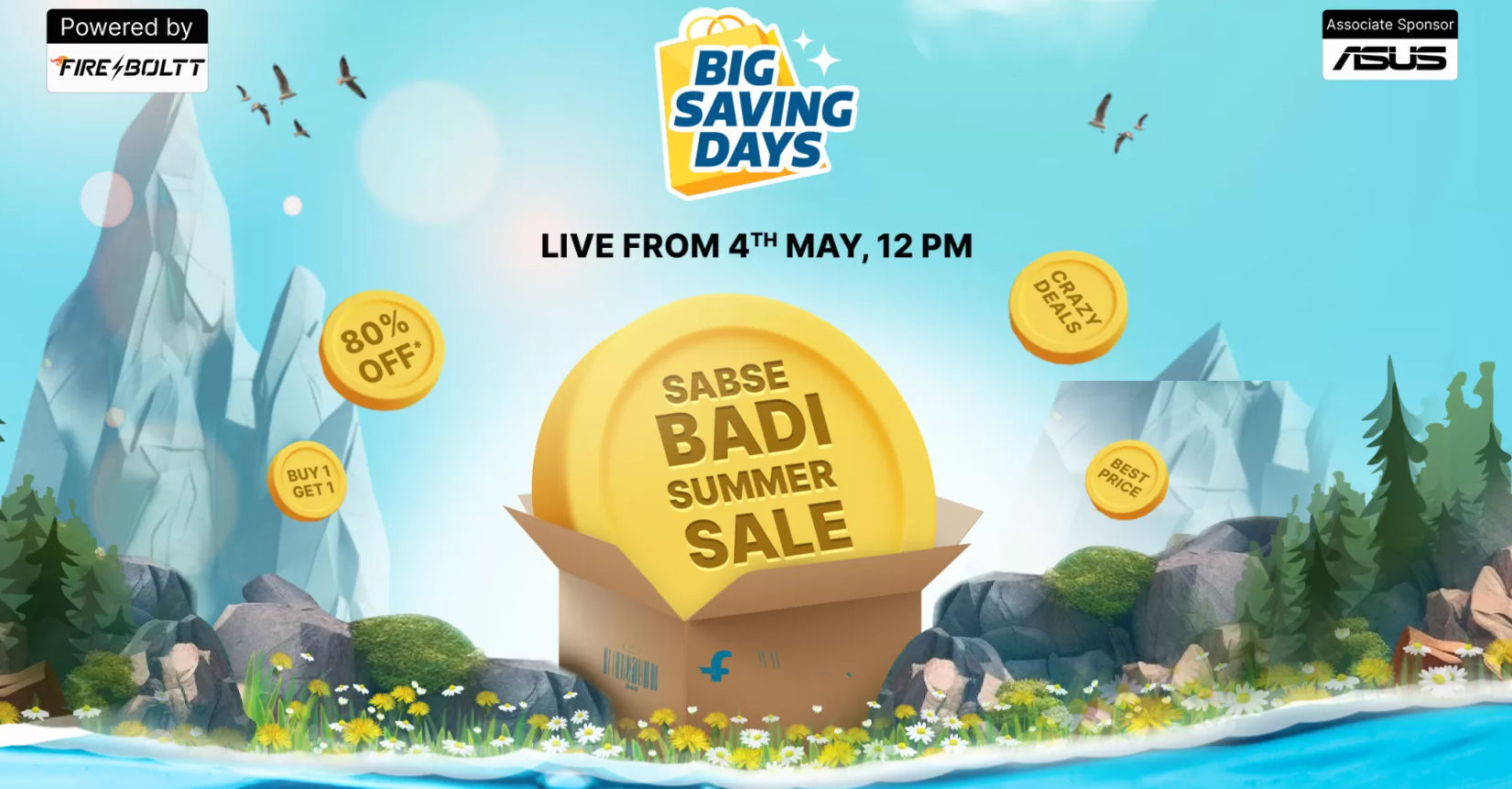 Sale Type

Flipkart Big Savings Day Sale May 2023

Sale Duration

4th May to 10th May for non-Plus members




3th May 12PM to 10th May for Plus members

Partner bank

Flipkart Axis Bank, SBI Credit Card

Offers and discounts

5% On Flipkart Axis Bank & 10% (One Time) on SBI Credit Card
Flipkart Big Saving Days Sale 2023: Offers Start Date and End Date
The upcoming Flipkart Big Saving Days Sale will kick off on May 04, 2023, for non-plus members and will last for 7 days. However, for the Plus members, the Big Saving Days Sale will start on 3rd May at 12 noon. If you are eager to get access to sales earlier than the normal user you can opt for the Plus membership before the offer starts.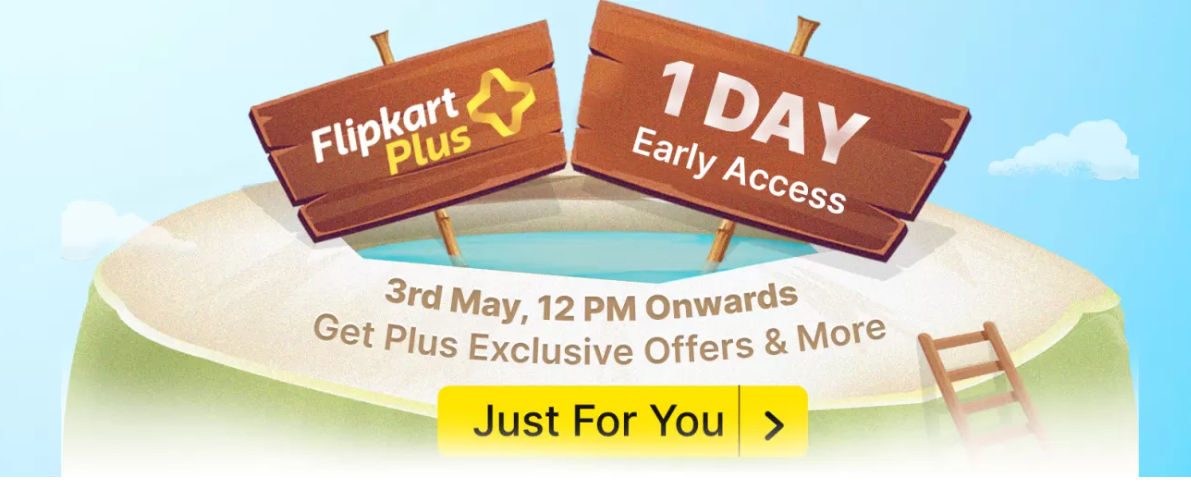 Flipkart Big Saving Days Sale 2023: Bank and Wallet Offers
There are multiple offers for select bank offers and Flipkart wallet users. You can check out these offers below so you can arrange the slated card of a top-up Flipkart wallet to get maximum offer value out of the sale.
This time around, Flipkart will give up 5% flat cash back to the Flipkart Axis Bank Credit card holders, a 10% Instant discount on SBI Credit cards, and EMI Transactions. On top of the cashback, Flipkart Axis Bank Credit card users will be also eligible to get 4X super coins per purchase and can get rewards worth up to Rs 20,000.

Besides bank discounts Flipkart Pay Later users are eligible to get Rs 1,000 worth of Gift cards on purchase and Paytm wallet users get flat Rs 100 Cashback per Transaction. The gift card will reflect in the user's account after the return period of the product is over. Also, there are multiple banks offering EMIs to purchase in instalments on various banks' credit cards.
| | | | |
| --- | --- | --- | --- |
| Bank/Wallet | Offer | Cashback / Discount | Rewards |
| Bank | Flipkart Axis Bank SuperElite Credit Card | 5% Unlimited Cashback | 4X Super coins + Rs 20,000 worth of rewards |
| Bank | SBI Credit Card Transactions/EMI | 10% Instant Discount | – |
| Wallet | Paytm Wallet Transactions | Rs 100 Flat cashback | – |
| Wallet | Flipkart Pay later | – | Instant Credit + Rs 1000 Gift Card |
How to Get Maximum Out of Flipkart Big Saving Days Sale
Now that you know the card deals and cashback offers, there are plenty of ways to get the most out of sale offers. We will discuss some of those ways here.
Make a wish list: The best thing is first to filter out the products that you need to buy during the sale. Creating a wish list on Flipkart of the products that you desire to buy can help to stay away from last-minute rush hours while buying desired items. Because of impressive discounts, the items tend to go out of stock earlier than expected. So keep it on the wish list and grab it as soon as the sale starts.
Look for Additional Discounts: Other advantages of these sales are additional discounts using cards and wallets on top of discounted MRP. Before the sale starts, you can check out the product you are willing to buy and see if it comes under the deal and are eligible for card or wallet discounts. If it does, you can buy it with added discount at cheaper rates.
Compare Prices: it is always better to check for the prices on other platforms so that you can make an informed decision.
You can check out all the smartphones, Laptops, Audio, Laptops, Air coolers, and Refrigerators listed below. All the listed products below have sales discounts with their original MRP compared with the sale MRP, and you can buy it at lesser prices by applying mentioned bank offers.
Flipkart Big Saving Days Sale 2023: Best Mobiles Offers
The sole reason many buyers are waiting for Flipkart Big Savings Day is to get their hands on their favourite mobile device at discounted rates. Flipkart has not disappointed the same. There are plenty of rs available on mobiles during Big the Saving Days Sale. Without further delay let's jump into the list of smartphone offers available in Flipkart's Saving Days Sale.
Best Samsung Mobile Offers
| | | | | |
| --- | --- | --- | --- | --- |
| Sl No. | Mobile | MRP | Offer Price | Link |
| 1 | Samsung Galaxy Z Flip 3 | Rs 95,999 | Rs 42,999 | Buy Now |
| 2 | Samsung S21 FE 5G | Rs 74,999 | Rs 29,999 | Buy Now |
| 3 | Samsung Galaxy F14 5G | Rs 17,490 | Rs 11,999 | Buy Now |
| 4 | Samsung F04 | Rs 11,499 | Rs 6,999 | Buy Now |
| 5 | Samsung Galaxy F23 5G | Rs 22,999 | Rs 13,499 | Buy Now |
| 6 | Samsung Galaxy F13 | Rs 14,999 | Rs 9,699 | Buy Now |
| 7 | Samsung Galaxy S23 5G | Rs 79,999 | Rs 63,999 | Buy Now |
| 8 | Samsung Galaxy A14 5G | Rs 18,499 | Rs 14,999 | Buy Now |
| 9 | Samsung Galaxy A54 5G | Rs 41,990 | Rs 35,999 | Buy Now |
| 10 | Samsung Galaxy A23 5G | Rs 28,999 | Rs 20,999 | Buy Now |
| 11 | Samsung Galaxy S22 Plus | Rs 1,01,999 | Rs 69,999 | Buy Now |
Best Xiaomi Mobile Offers
| | | | | |
| --- | --- | --- | --- | --- |
| Sl No. | Mobile | MRP | Offer Price | Link |
| 1 | Redmi 10 | Rs 14,999 | Rs 8,749 | Buy Now |
| 2 | Redmi Note 12 Pro | Rs 29,999 | Rs 20,999 | Buy Now |
| 3 | Redmi Note 12 Pro Plus | Rs 36,999 | Rs 26,499 | Buy Now |
| 4 | Redmi 11 Prime | Rs 14,999 | Rs 8,999 | Buy Now |
| 5 | Redmi Note 12 | Rs 18,999 | Rs 12,999 | Buy Now |
| 6 | Redmi A1+ | Rs 14,999 | Rs 5,489 | Buy Now |
| 7 | Xiaomi 11i Hyper Charge 5G | Rs 31,999 | Rs 20,749 | Buy Now |
| 8 | Xiaomi 11i 5G | Rs 31,999 | Rs 22,249 | Buy Now |
Best Realme Mobile Offers
| | | | | |
| --- | --- | --- | --- | --- |
| Sl No. | Mobile | MRP | Offer Price | Link |
| 1 | Realme 10 Pro+ 5G | Rs 25,999 | Rs 22,999 | Buy Now |
| 2 | Realme GT Neo 3T | Rs 34,999 | Rs 19,999 | Buy Now |
| 3 | Realme C55 | Rs 12,999 | Rs 10,249 | Buy Now |
| 4 | Realme 10 Pro 5G | Rs 22,999 | Rs 17,999 | Buy Now |
| 5 | Realme C33 2023 | Rs 13,999 | Rs 8,749 | Buy Now |
| 6 | Realme 10 | Rs 15,999 | Rs 11,499 | Buy Now |
| 7 | Realme 9 5G Speed Edition | Rs 24,999 | Rs 22,999 | Buy Now |
| 8 | Realme C35 | Rs 13,999 | Rs 10,999 | Buy Now |
| 9 | Realme 9i 5G | Rs 17,999 | Rs 13,999 | Buy Now |
| 10 | Realme GT Master Edition | Rs 31,999 | Rs 19,999 | Buy Now |
Vivo Mobile Offers
| | | | | |
| --- | --- | --- | --- | --- |
| Sl No. | Mobile | MRP | Offer Price | Link |
| 1 | Vivo T2x 5G | Rs 20,999 | Rs 12,249 | Buy Now |
| 2 | Vivo T2 5G | Rs 24,999 | Rs 17,499 | Buy Now |
| 3 | Vivo V27 | Rs 36,999 | Rs 30,999 | Buy Now |
| 4 | Vivo V27 Pro | Rs 52,000 | Rs 34,999 | Buy Now |
| 5 | Vivo Y75 | Rs 25,990 | Rs 18,499 | Buy Now |
| 6 | Vivo Y56 5G | Rs 24,999 | Rs 17,999 | Buy Now |
| 7 | Vivo Y16 | Rs 12,439 | Rs 9,999 | Buy Now |
| 8 | Vivo X90 | Rs 64,999 | Rs 54,499 | Buy Now |
| 9 | Vivo X90 Pro | Rs 91,999 | Rs 76,999 | Buy Now |
Apple Mobile Offers
| | | | | |
| --- | --- | --- | --- | --- |
| Sl No. | Mobile | MRP | Offer Price | Link |
| 1 | iPhone 13 | Rs 69,900 | Rs 55,749 | Buy Now |
| 2 | iPhone 11 | Rs 43,999 | Rs 37,999 | Buy Now |
| 3 | iPhone 12 | Rs 59,999 | Rs 51,999 | Buy Now |
| 4 | iPhone 14 | Rs 79,900 | Rs 63,999 | Buy Now |
| 5 | iPhone 14 Pro | Rs 1,29,900 | Rs 1,16,749 | Buy Now |
Google Mobile Offers
| | | | |
| --- | --- | --- | --- |
| Mobile | MRP | Offer Price | Link |
| Google Pixel 6A | Rs 43,999 | Rs 25,999 | Buy Now |
| Google Pixel 7 | Rs 59,999 | Rs 44,999 | Buy Now |
Moto Mobile Offers
| | | | | |
| --- | --- | --- | --- | --- |
| Sl No. | Mobile | MRP | Offer Price | Link |
| 1 | Moto G13 | Rs 10,999 | Rs 7,499 | Buy Now |
| 2 | Moto G62 5G | Rs 21,999 | Rs 14,499 | Buy Now |
| 3 | Moto E13 | Rs 10,999 | Rs 7,499 | Buy Now |
| 4 | Moto G73 | Rs 21,999 | Rs 16,999 | Buy Now |
| 5 | Moto G32 | Rs 16,999 | Rs 10,999 | Buy Now |
| 6 | Moto Edge 30 | Rs 30,999 | Rs 21,999 | Buy Now |
| 7 | Moto G52 | Rs 17,999 | Rs 12,999 | Buy Now |
| 8 | Motorola Edge 30 Ultra | Rs 69,999 | Rs 44,999 | Buy Now |
| 9 | Motorola Edge 30 Fusion | Rs 49,999 | Rs 39,999 | Buy Now |
POCO Mobile Offers
| | | | | |
| --- | --- | --- | --- | --- |
| Sl No. | Mobile | MRP | Offer Price | Link |
| 1 | POCO X5 Pro | Rs 25,999 | Rs 20,999 | Buy Now |
| 2 | POCO X5 | Rs 20,999 | Rs 14,999 | Buy Now |
| 3 | POCO C55 | Rs 11,999 | Rs 7,999 | Buy Now |
| 4 | POCO C50 | Rs 8,999 | Rs 5,499 | Buy Now |
| 5 | POCO M4 5G | Rs 15,999 | Rs 10,999 | Buy Now |
| 6 | POCO M4 Pro AMOLED | Rs 17,999 | Rs 11,999 | Buy Now |
| 7 | POCO M5 | Rs 15,999 | Rs 8,999 | Buy Now |
| 8 | POCO M4 Pro 5G | Rs 16,999 | Rs 14,999 | Buy Now |
Infinix Mobile Offers
| | | | | |
| --- | --- | --- | --- | --- |
| Sl No. | Mobile | MRP | Offer Price | Link |
| 1 | Infinix Hot 20 5G | Rs 17,999 | Rs 9,999 | Buy Now |
| 2 | Infinix Hot 30i | Rs 11,999 | Rs 9,499 | Buy Now |
| 3 | Infinix Smart 7 | Rs 9,999 | Rs 6,569 | Buy Now |
| 4 | Infinix Hot 20 5G | Rs 17,999 | Rs 9,999 | Buy Now |
| 5 | Infinix Hot 20 Plau | Rs 11,999 | Rs 7,449 | Buy Now |
| 6 | Infinix Zeo 5G 2023 Turbo | Rs 24,999 | Rs 15,999 | Buy Now |
| 7 | Infinix Zeo 5G 2023 | Rs 24,999 | Rs 13,999 | Buy Now |
| 8 | Infinix Not 12 Pro 5G | Rs 24,999 | Rs 16,249 | Buy Now |
| 9 | Infinix Note 12i | Rs 12,999 | Rs 8,999 | Buy Now |
| 10 | Infinix Zero 20 | Rs 24,999 | Rs 13,999 | Buy Now |
| 11 | Infinix Zero Ultra | Rs 49,999 | Rs 29,999 | Buy Now |
Flipkart Big Saving Days Sale 2023: Best Laptop Deals & Offers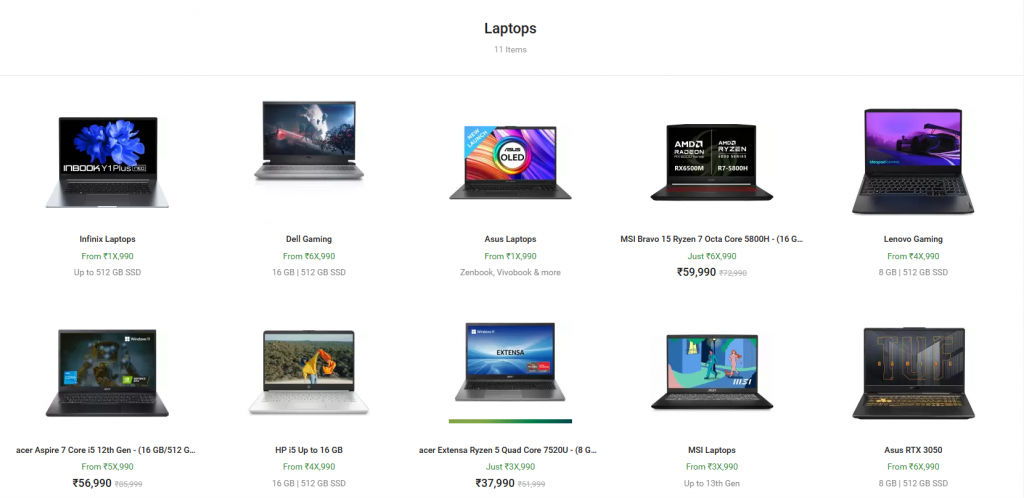 | | | | |
| --- | --- | --- | --- |
| Laptops | MRP | Offer Price | Link |
| Acer Aspire 7 Core i5 12th Gen | Rs 85,999 | Rs 56,990 | Buy Now |
| Infinic INBooks | Rs 29,990 | Rs 19,990 | Buy Now |
| HP i5 Laptops | Rs 75,191 | Rs 49,990 | Buy Now |
| Lenovo Gaming Laptops | Rs 86,690 | Rs 48,990 | Buy Now |
| HP Victus | Rs 1,02,959 | Rs 59,990 | Buy Now |
| MSI Laptops | Rs 62,990 | Rs 39,990 | Buy Now |
| MSI Bravo Ryzen 7 | Rs 72,990 | Rs 59,990 | Buy Now |
| Acer Extensa Ryzen 5 7520U | Rs 51,990 | Rs 39,990 | Buy Now |
Flipkart Big Saving Days Sale 2023: Audio Offers
| | | | | |
| --- | --- | --- | --- | --- |
| Sl No. | Audio | MRP | Offer Price | Link |
| 1 | Fire-Boltt Fire Pods Ninja G201 | Rs 3,999 | Rs 999 | Buy Now |
| 2 | ENTROK M19 TWS | Rs 1,999 | Rs 599 | Buy Now |
| 3 | PHILIPS TAT1215BK | Rs 4,999 | Rs 1,499 | Buy Now |
| 4 | Nokia TWS-201 | Rs 3,999 | Rs 1,599 | Buy Now |
| 5 | Fire-Boltt Fire Pods Ninja Pro 401 | Rs 4,999 | Rs 999 | Buy Now |
| 6 | Matlek Earbuds With Deep Bass | Rs 1,990 | Rs 569 | Buy Now |
| 7 | Boult Audio AirBass Y1 | Rs 5,499 | Rs 1,299 | Buy Now |
| 8 | JBL Wave 300 | Rs 5,999 | Rs 3,099 | Buy Now |
| 9 | Samsung Galaxy Buds 2 | Rs 13,990 | Rs 6,999 | Buy Now |
| 10 | Apple AirPods 2nd Gen | Rs 14,100 | Rs 9,999 | Buy Now |
| 11 | OPPO Enco Buds 2 | Rs 3,999 | Rs 1,599 | Buy Now |
| 12 | OnePlus Nord Buds 2 | Rs 3,299 | Rs 2,999 | Buy Now |
| 13 | JBL Tour One M2 | Rs 34,999 | Rs 24,999 | Buy Now |
Flipkart Big Saving Days Sale 2023: Air Conditioners Offers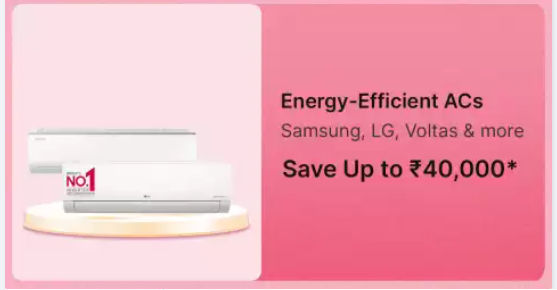 | | | | | |
| --- | --- | --- | --- | --- |
| Sl No. | AC | MRP | Offer Price | Link |
| 1 | LG AI Convertible 6-in-1 1.5 Ton | Rs 75,990 | Rs 45,490 | Buy Now |
| 2 | SAMSUNG Convertible 5-in-1 Cooling, 1.5 Ton | Rs 72,990 | Rs 42,599 | Buy Now |
| 3 | Whirlpool Convertible 4-in-1 Cooling 2023 Model 1.5 Ton 5 Star | Rs 70,600 | Rs 37,990 | Buy Now |
| 4 | CARRIER Convertible 6-in-1 Cooling 2023 Model 1.5 Ton 5 Star Split AC | Rs 76,090 | Rs 41,999 | Buy Now |
| 5 | Voltas 1.5 Ton 5 Star Split Inverter AC | Rs 75,990 | Rs 39,990 | Buy Now |
| 6 | Daikin 1.5 Ton 5 Star Split Inverter AC | Rs76,200 | Rs 45,490 | Buy Now |
| 7 | Haier Frost Self-Clean 2023 Model 1.5 Ton 5 Star Split Inverter AC | Rs 71,490 | Rs 39,990 | Buy Now |
| 8 | Panasonic 1.5 Ton 4 Star | Rs 59,400 | Rs 37,499 | Buy Now |
| 9 | Daikin 1.5 Ton3 Star Split Inverter AC | Rs 58,400 | Rs 34,499 | Buy Now |
| 10 | Bluestar 1.5 Ton 3 Star | Rs 62,340 | Rs 32,990 | Buy Now |
| 11 | Realme Techlife 1.5 Ton 5 Star Split AC | Rs 59,999 | Rs 29,499 | Buy Now |
Flipkart Big Saving Days Sale 2023: Air Coolers Offers
| | | | |
| --- | --- | --- | --- |
| Air Cooler | MRP | Offer Price | Link |
| Thomson 75 L Desert Air Cooler | Rs 11,499 | Rs 7,999 | Buy Now |
| novamax 100 L Desert Air Cooler | Rs 21,990 | Rs 12,886 | Buy Now |
| Orient Electric 50 L Desert Air Cooler | Rs 13,490 | Rs 9,200 | Buy Now |
| Crompton 100 L Desert Air Cooler | Rs 21,500 | Rs 14,225 | Buy Now |
| Symphony 75 L Desert Air Cooler | Rs 11,229 | Rs 9,891 | Buy Now |
Flipkart Big Saving Days Sale 2023: Refrigerator Offers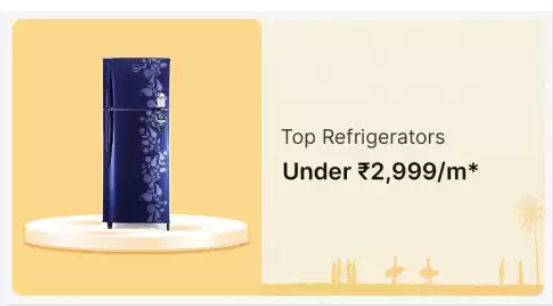 | | | | |
| --- | --- | --- | --- |
| Refrigerator | MRP | Offer Price | Link |
| SAMSUNG 189 L Direct Cool Single Door 5 Star Refrigerator | Rs 24,999 | Rs 17,990 | Buy Now |
| LG 185 L Direct Cool Single Door 5 Star Refrigerator | Rs 20,990 | Rs 17,690 | Buy Now |
| SAMSUNG 215 L Direct Cool Single Door 4 Star Refrigerator | Rs 26,999 | Rs 19,990 | Buy Now |
| SAMSUNG 215 L Direct Cool Single Door 4 Star Refrigerator | Rs 25,999 | Rs 18,690 | Buy Now |
| SAMSUNG 189 L Direct Cool Single Door 5 Star R5-Starrator | Rs 25,999 | Rs 17,590 | Buy Now |
| LG 185 L Direct Cool Single Door 5 Star Refrigerator | Rs 21,999 | Rs 16,990 | Buy Now |
| Whirlpool 184 L Direct Cool Single Door 4 Star Refrigerator | Rs 19,600 | Rs 15,240 | Buy Now |
| SAMSUNG 189 L Direct Cool Single Door 5 Star Refrigerator | Rs 24,999 | Rs 17,990 | Buy Now |