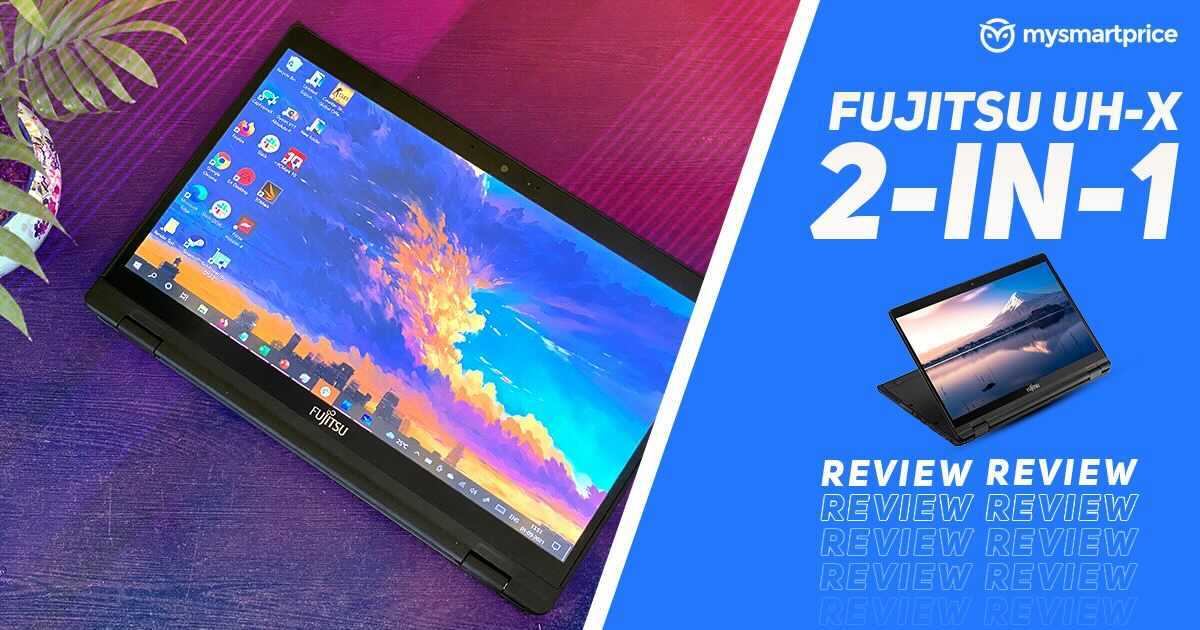 The biggest problem in using laptops as Windows tablets is the weight. Most are well over a kilogram, and can't stand a chance against the ergonomics of an iPad. But what seemed like an unassailable task for the mainstream PC makers, has been accomplished by the Japanese brand Fujitsu with the UH-X 2-in-1 laptop. This one weighs just 997 grams, transforms into a tablet, and features one of the best keyboards in this business. This is PC computing at its utilitarian best, but there's one glaring fault. Read our detailed review to find out —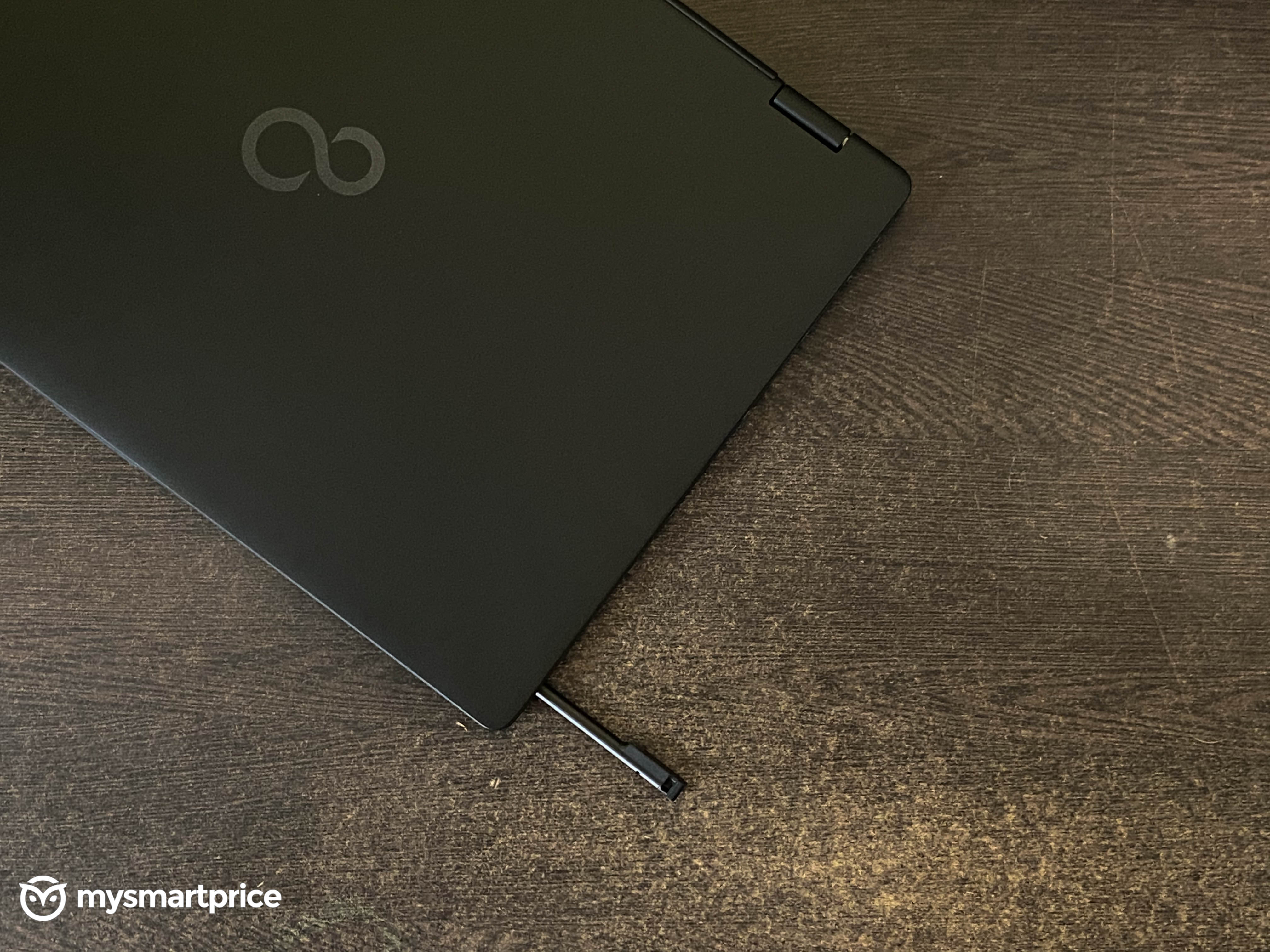 Fujitsu UH-X 2-in-1: Specs
Fujitsu UH-X 2-in-1: Design and Build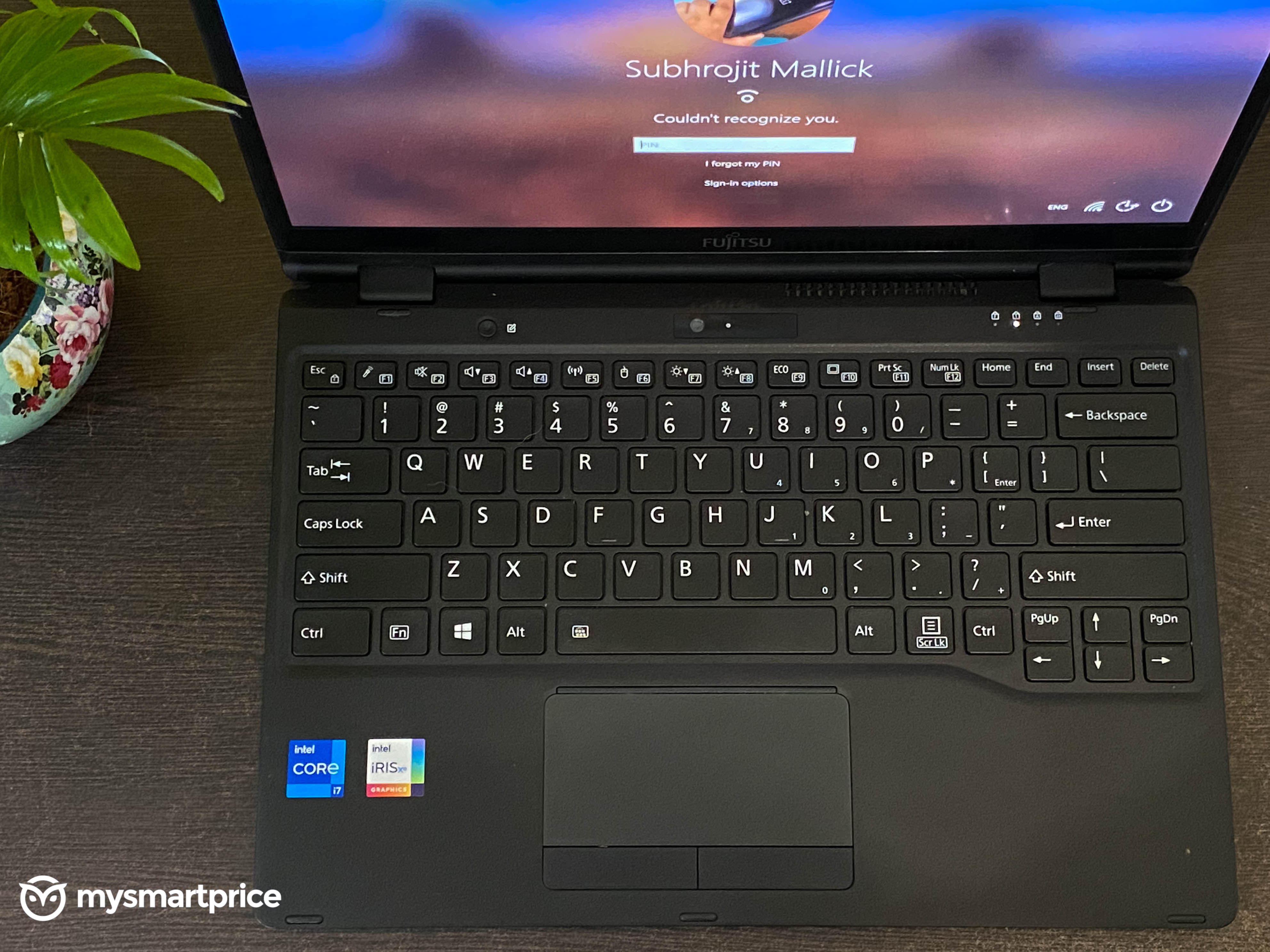 The Fujitsu UH-X courts the craftsmanship Japan is known for. There's razor-sharp attention to the very details that, while not adding to the style quotient, refines the real-world experience a great deal. There are a lot of laptops at Rs 90k that stand out just in the way they look, but the UH-X's finesse will only be appreciated by the person using it.
The feather lightweight is indeed the first thing I noticed, and it's achieved not by taking away the essentials, but by using magnesium-lithium alloy which weighs half as much as aluminum. This also does away with the doubt that a lightweight laptop won't be as durable as the metal-bodied ones. In fact, Fujitsu has gone a step further and added an elastic resin around the display that protects it from breakage, and there is rubber padding on the chassis to keep the panel protected when the lid is shut.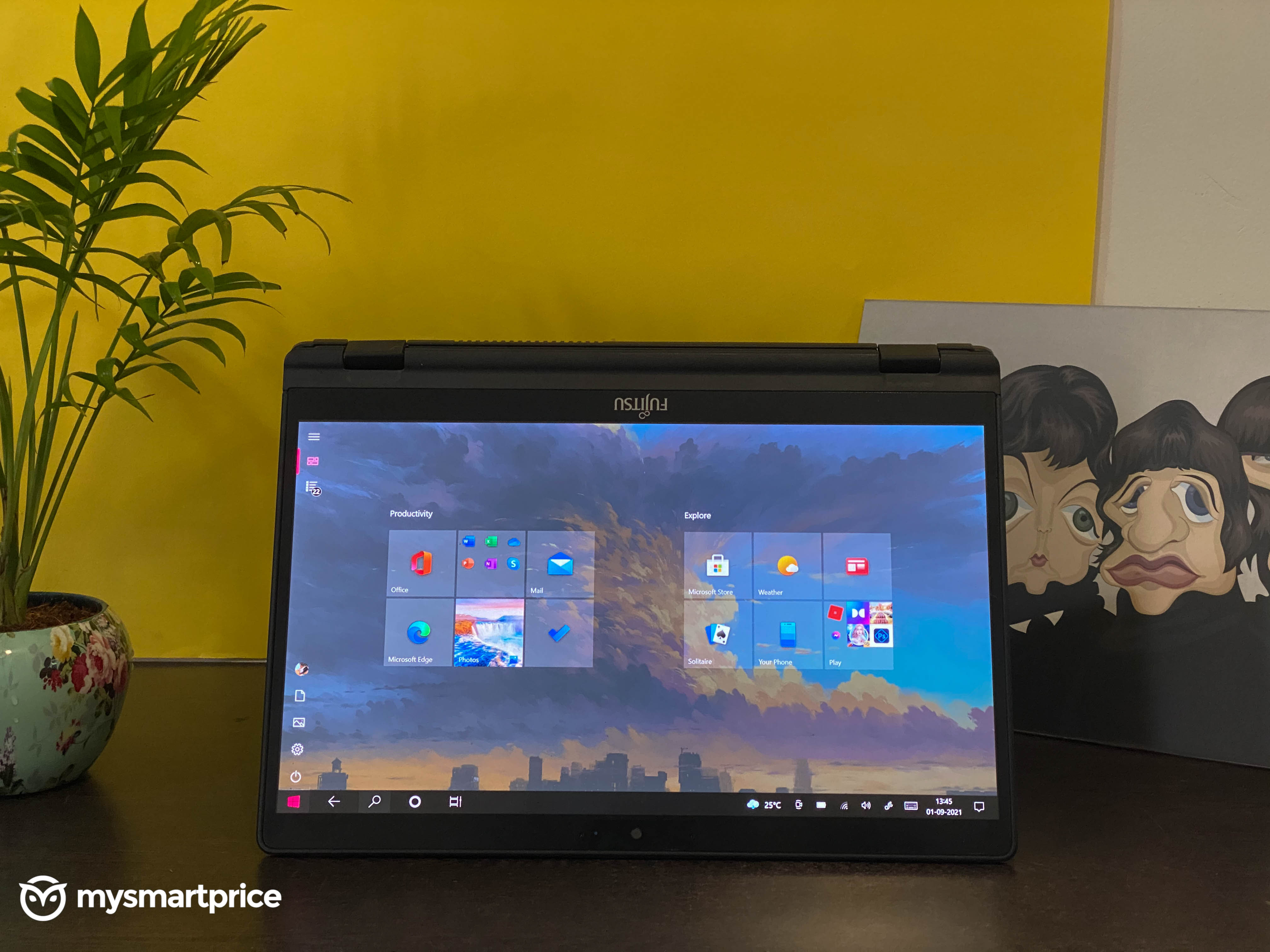 The 360-degree hinge is pretty tight, so you won't be able to open this with one hand, and there are two webcams on the body for some odd reason. The first one, mounted on top of the panel has the necessary sensors for Windows Hello-based facial recognition, and the second one above the keyboard is a 'rear' camera.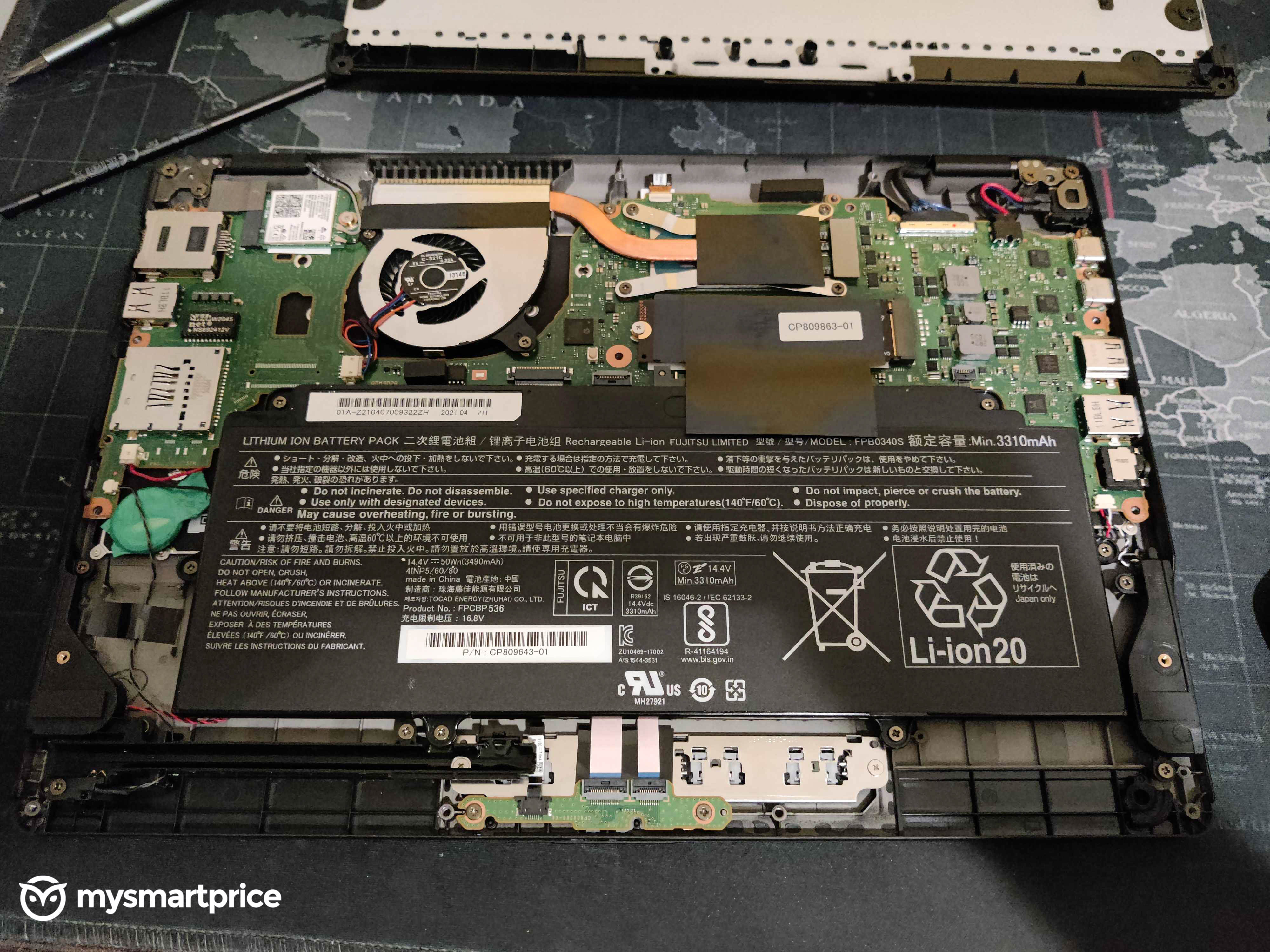 Inside, the Fujitsu UH-X 2-in-1 relies on a single-fan cooling solution with a single air vent right below the display. During my two weeks of usage, it never heated up like crazy, and can easily be kept on the lap for long hours.
The real benefit of the lightweight design comes when you're using this in tablet mode. It's almost like using a lightweight Android tablet, but with a vast 13.3-inch display. And just like the Samsung Galaxy Note phones, there's a silo in the chassis itself where you can stow away the active stylus. The display is larger than any iPad out there, and for what it's worth, this tablet is a lot more akin to a computer than the iPad ever will be.
It's also surprisingly packed with ports and connectivity options. There are two USB-C ports, one with support for USB Power Delivery and Display Port, and another a regular USB 3.2 (Gen 1), two USB 3.2 (Gen 1)-Type-A ports, along with HDMI, Ethernet RJ-45, SD card, 3.5mm combo jack. There's also a DC-in for power supply, but you can top this up with a USB PD charger which you might be using for your smartphone.
Fujitsu UH-X 2-in-1: Display and Audio
The UH-X 2-in-1 sports a 13.3-inch that feels slightly more plasticky than most other laptop displays in this price range, especially when you're using the stylus or the touch. It doesn't feel as rigid as glass displays, but this one's an IGZO panel, that comes with its own added advantages.
IGZO or Indium Gallium Zinc Oxide is used as the thin-film transistor to power each individual pixel in the display. Typically, these transistors are made of amorphous silicon that has slower electron mobility, high current leakage and thus consume more power. IGZO transistors are naturally transparent and the semiconductor material allows for higher electron mobility, which means it requires less power to illuminate the display, and the same amount of power can be used to drive higher brightness.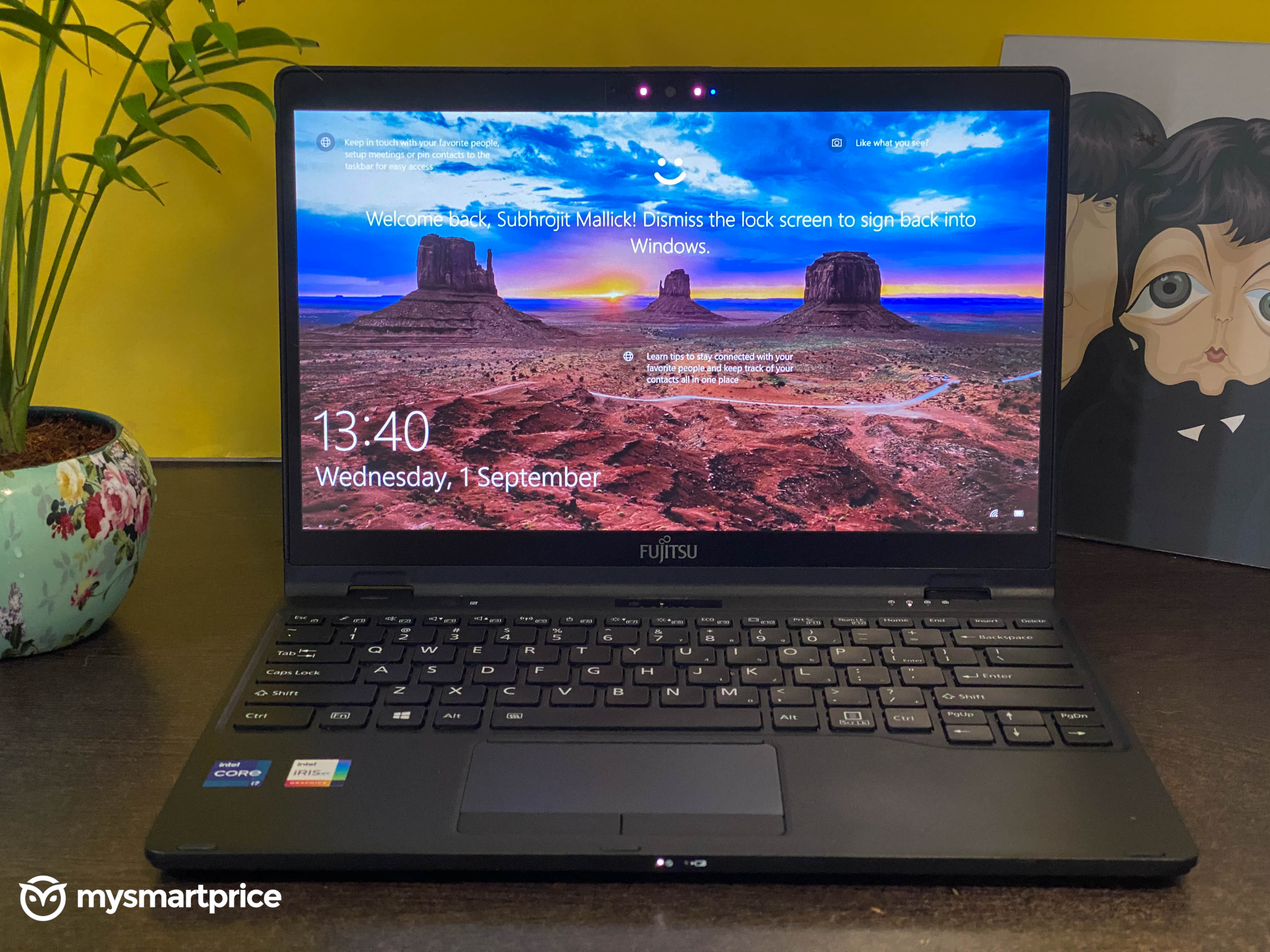 Fujitsu advertises 400 nits of brightness, and it does look far brighter than the 300-nit 2K display on the ROG Flow X13. You can easily use this outdoor in the sun.
But this is far from the perfect display for the price. IGZO's inherent advantages of low power intake and high electron mobility are used by OEMs to deliver high refresh rates at low costs. The UH-X, however, sticks to 60Hz. The tech should also ideally improve touchscreen performance, but my experience with the touch, especially with the stylus wasn't as good as some of the other 2-in-1s I've tested this year. The VivoBook Flip 14's Pen felt a lot more responsive and fluid.
The UH-X also fumbles in delivering loud audio. The twin 2W speakers are placed on the sides, instead of the bottom where it could have used the surface to bounce the soundwaves and create a louder profile. As a result, audio from Zoom meetings, or when watching an episode sounds tinny and you'll be hard-pressed on hearing it with the ceiling fan on.
Fujitsu UH-X 2-in-1: Performance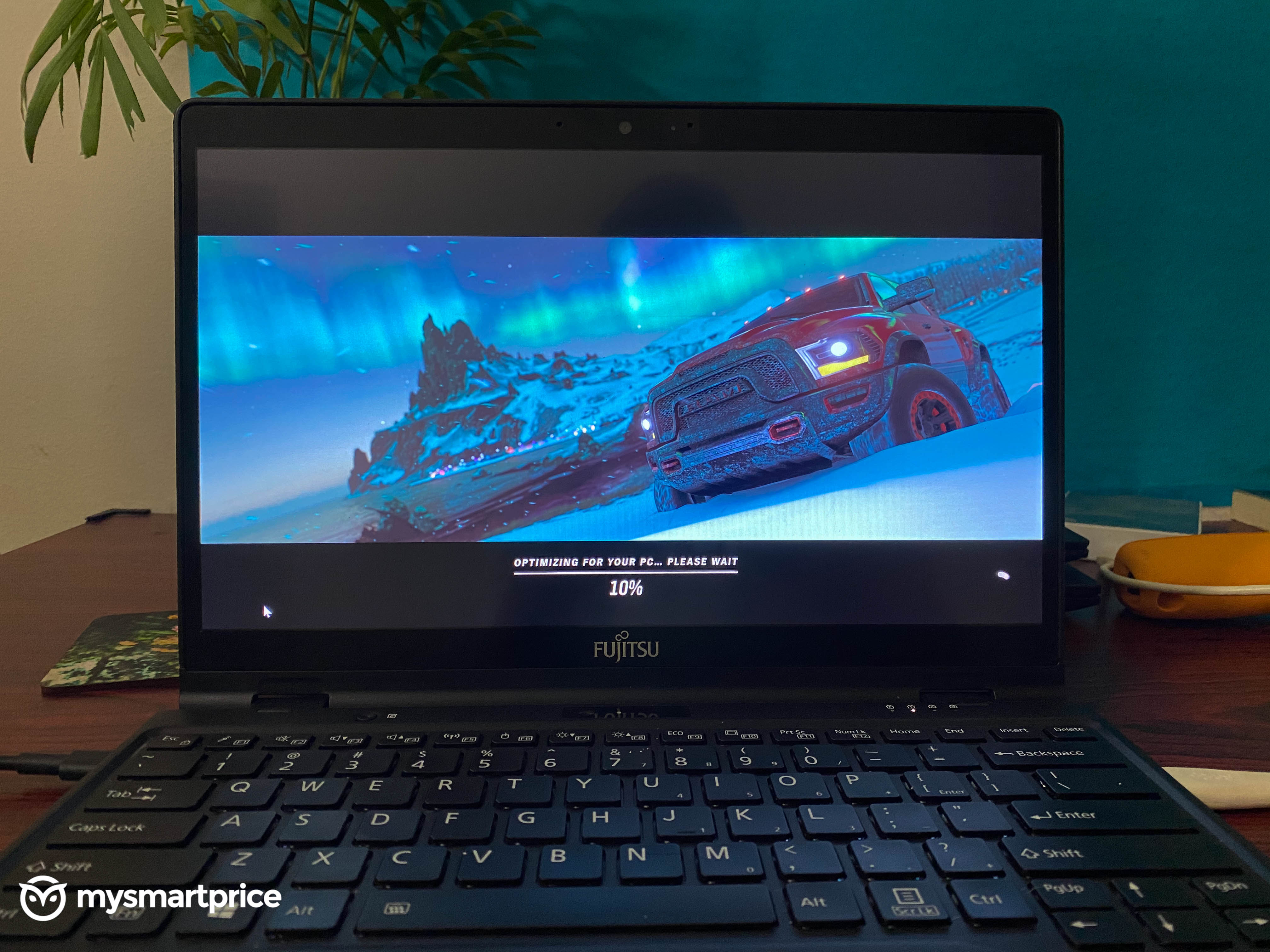 Under the hood is the Tiger Like Intel Core i7 1165G7, a low-power CPU primed for lightweight ultrabooks. The CPU is used on a lot of Intel Evo-certified laptops including the Lenovo Yoga 7i and the Asus ExpertBook B9, and safe to say, it's one of the best low-power CPUs to come from team blue so far. Safe to say, there were absolutely no issues with the performance of the laptop as far as daily mainstream use is concerned. You also get a lot of storage space, divided into two drives, with the 1TB NVMe SSD.
My daily usage isn't as intensive, to be honest. It involves a bunch of Firefox tabs across multiple windows, Spotify in the background, Slack and Adobe Lightroom, which isn't too intensive for a modern-day PC. But my work also has me switching rapidly between multiple apps and tabs and that's when the laptop just purrs. Combined with 16 gigs of RAM and solid-state storage, the UH-X can be used for just about every mainstream task and even some intensive ones like video editing and gaming.
It also holds up well against its high-end rivals like the Lenovo Yoga 7i and the Asus ExpertBook B9, and scores high on single-core performance beating even the Asus Zephyrus G14 gaming flagship with the AMD Ryzen 9 5900HS.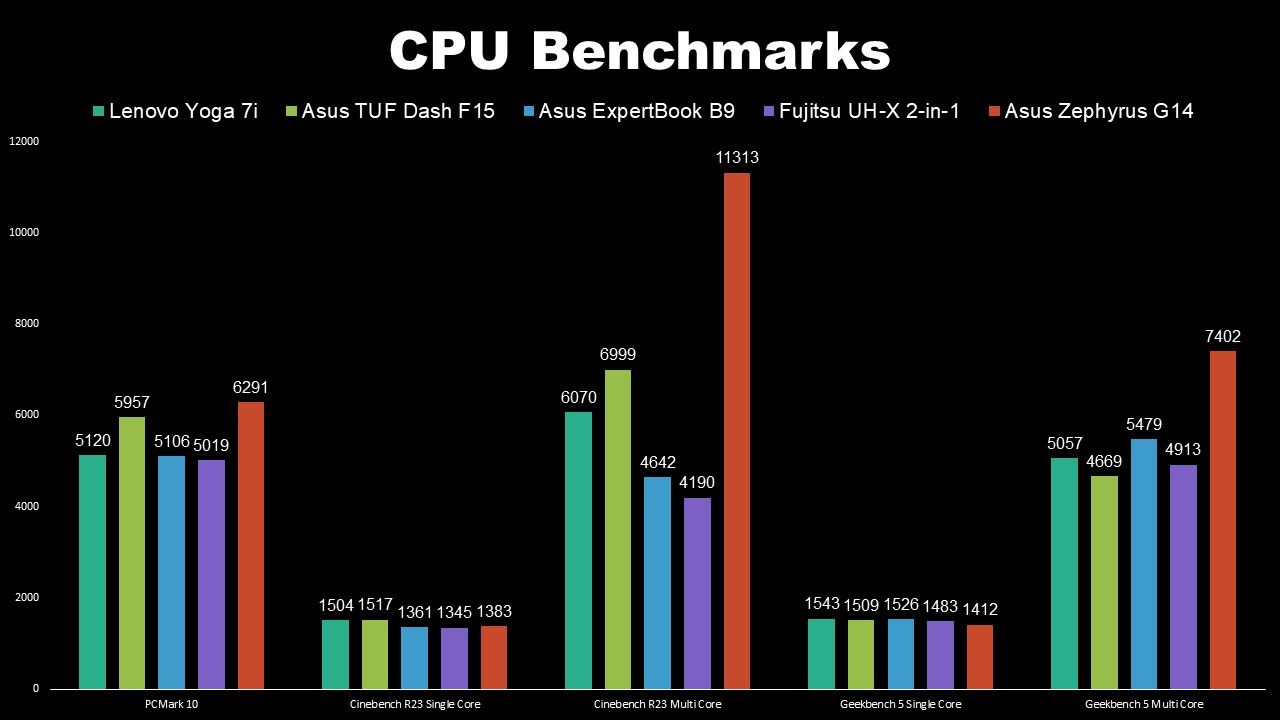 RAM usage is particularly well-optimised here. The 16GB RAM gives you plenty of buffers to scale up your usage and keep multiple apps and files open in the background without slowing down your system.

But what left me really impressed was the Intel Iris Xe GPU in the laptop. Intel is almost ready with its discrete graphics cards that will take on Nvidia and AMD, and the Iris Xe GPU is proof that its time. The GPU is already capable of handling some of the popular games like Forza Horizon 5, CS:GO and FIFA 21, albeit not at the highest graphics quality. The GPU also features an AI accelerator particularly tuned for intensive Adobe apps like Premier Pro.
I'm pretty impressed by how well the Fujitsu UH-X performs. It's almost the perfect laptop in a lot of ways. It transforms into a feather-light tablet, performs like a legit PC, and gives you plenty of space and ports to accessorise up. But there's one thing you need to be concerned about.
Fujitsu UH-X 2-in-1: Thermal Performance
This laptop heats up. With even a little stress on the hardware. A few too many tabs, a few too many Photoshop layers, or a 10-minute CS:GO session, you can feel the heat from the keyboard deck itself. And looking at the innards, I deduced the reason down to two things —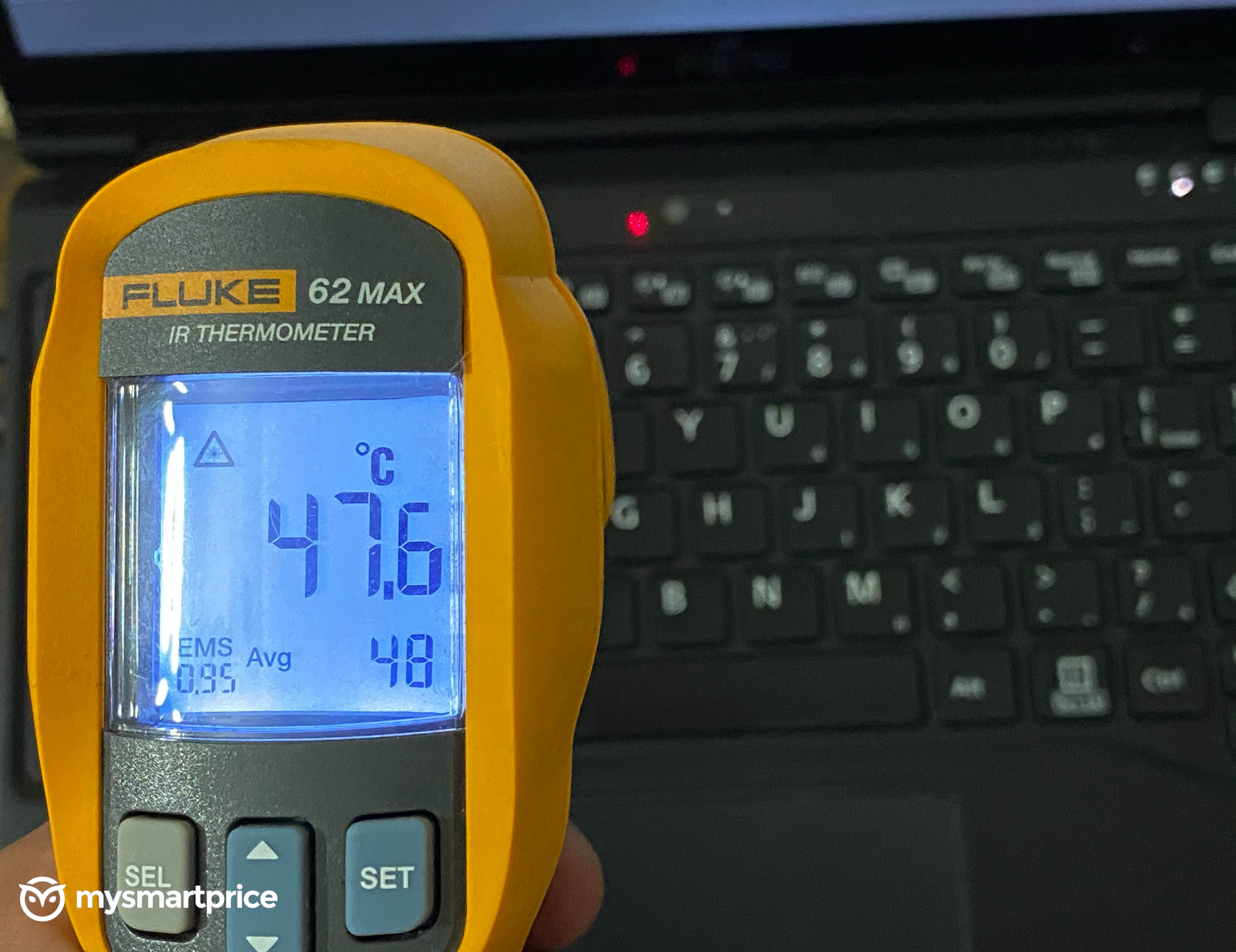 1. The entire system is cooled by a single copper heat pipe feeding into a single fan with only a tiny outflow vent at the bottom of the hinge. There's little space for the fan to push out heat from the CPU, and it starts spreading across the entire chassis. The top of the keyboard and the bottom remains hot most of the time, so you can rule out using this on your lap, and once you start up a game or a video editing app, the heat starts spreading across the keyboard. The WASD keys got pretty toasty during my CS:GO session.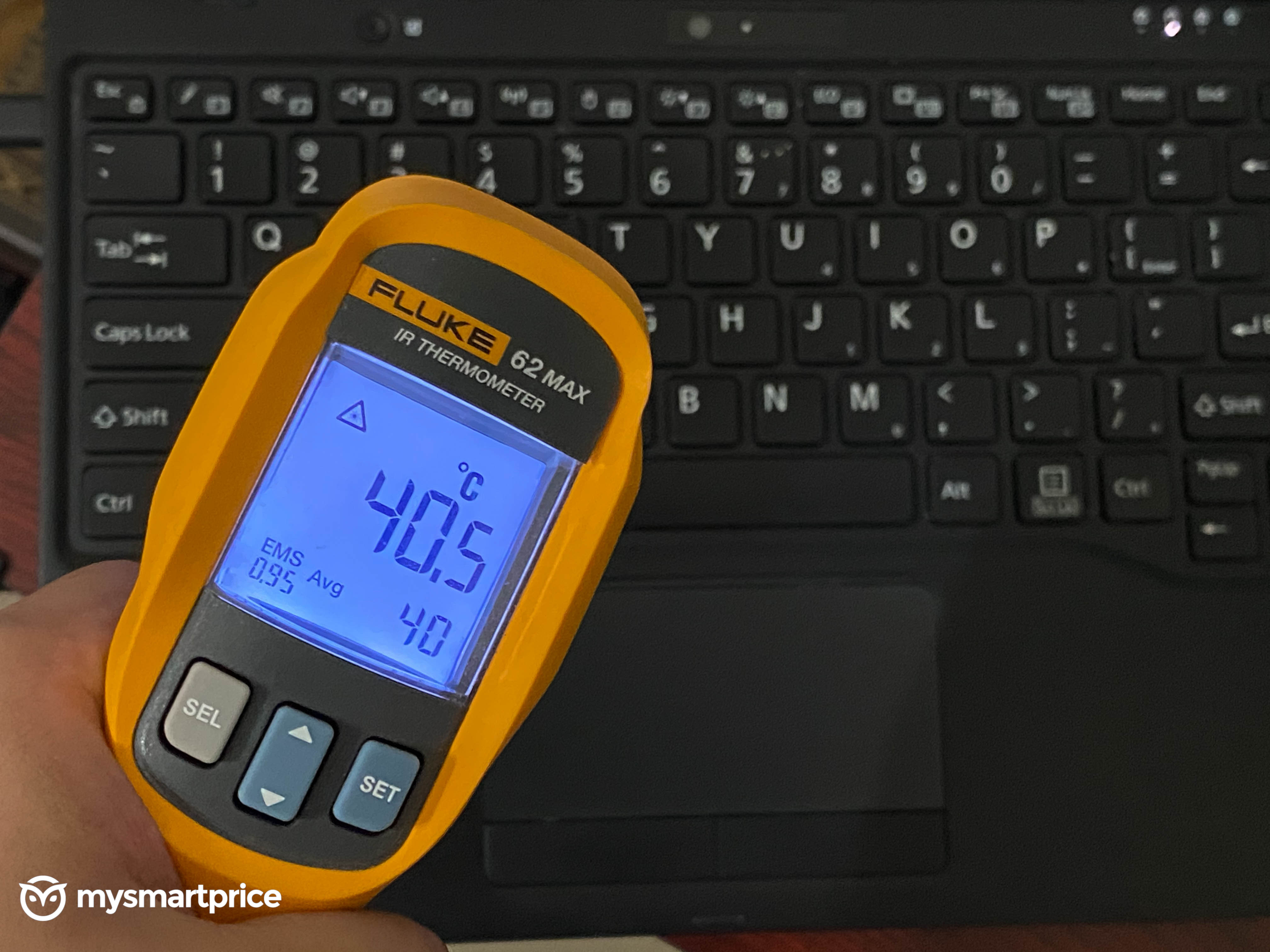 2. The Magnesium-lithium alloy body that renders it almost weightless, has a low ignition point. That's why, despite being lighter than aluminum, it has limited application in aerospace technology. With the hot air finding no space to escape, the chassis can clock well above 40 degrees, especially the area above the keyboard. That's usually a no man's land when using a regular clamshell laptop, but when using the UH-X as a tablet, you're gonna feel that heat singeing your hands.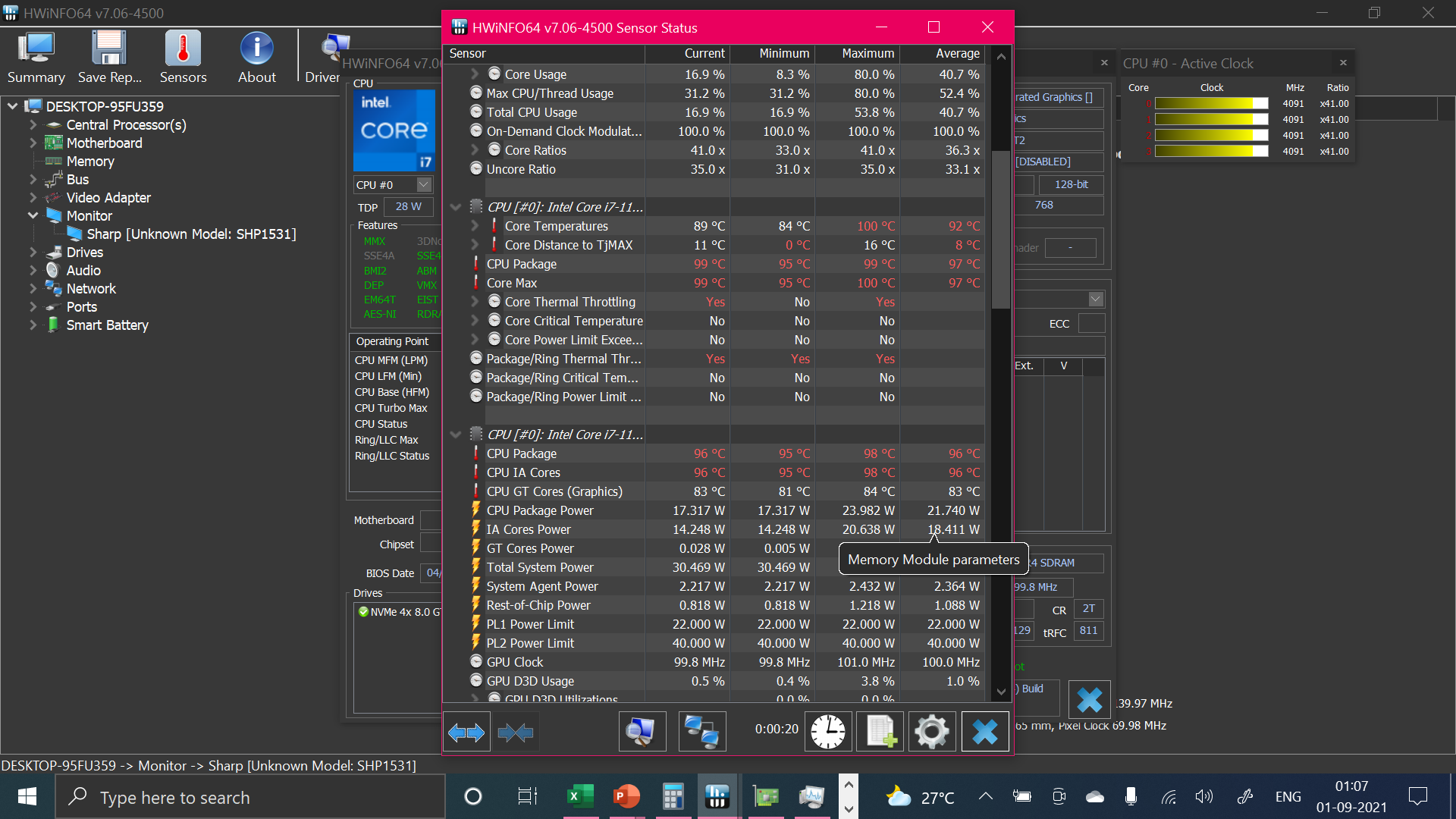 And both things combined give the Intel Core i7 CPU a pretty hard time. Even while doing something as normal as typing out this review with a bunch of tabs and monitoring apps open, I can see the average CPU temperature hovering around 75 degrees and the maximum touching 100 degrees, which is just inches away from crossing the thermal threshold of the CPU. As a result, there are times when the heat forces the CPU to throttle performance, which explains the slightly lower CPU scores when compared to other Core i7 1165G7 laptops.
This, sadly, is this laptop's Achilles' heel, but I wouldn't call this a deal-breaker if you're not going to use it for heavy lifting.
Fujitsu UH-X 2-in-1: Keyboard and Trackpad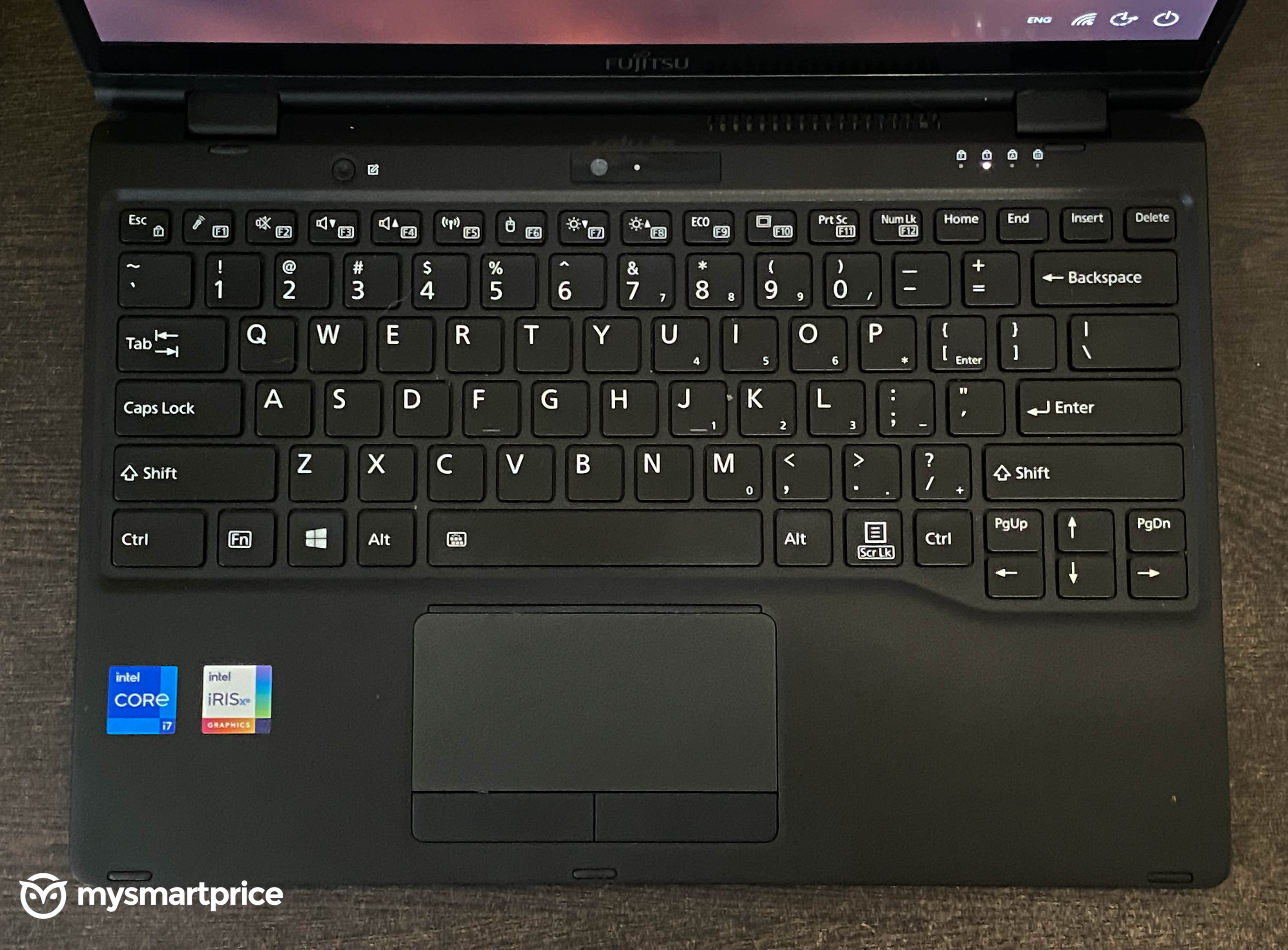 If you can ignore the heat creeping up on the keyboard, typing is just effortless on this. The UH-X features full-sized keys with dimpled keycaps and fast springy action, which make all the difference. It's almost like you're using an extremely responsive mechanical keyboard, with less resistance but just as good feedback. The palm rest is surprisingly rigid and the trackpad is placed inside a crater to prevent accidental touches while typing.
I showed this laptop to a coder friend of mine, and he instantly took to it, exclaiming how the layout and the feedback are perfect for long hours of coding. So if you're a coder — hint, hint. There's also a shortcut key on the top that's by default mapped to launch the Windows Ink interface, but you can use the Function Manager app to remap it.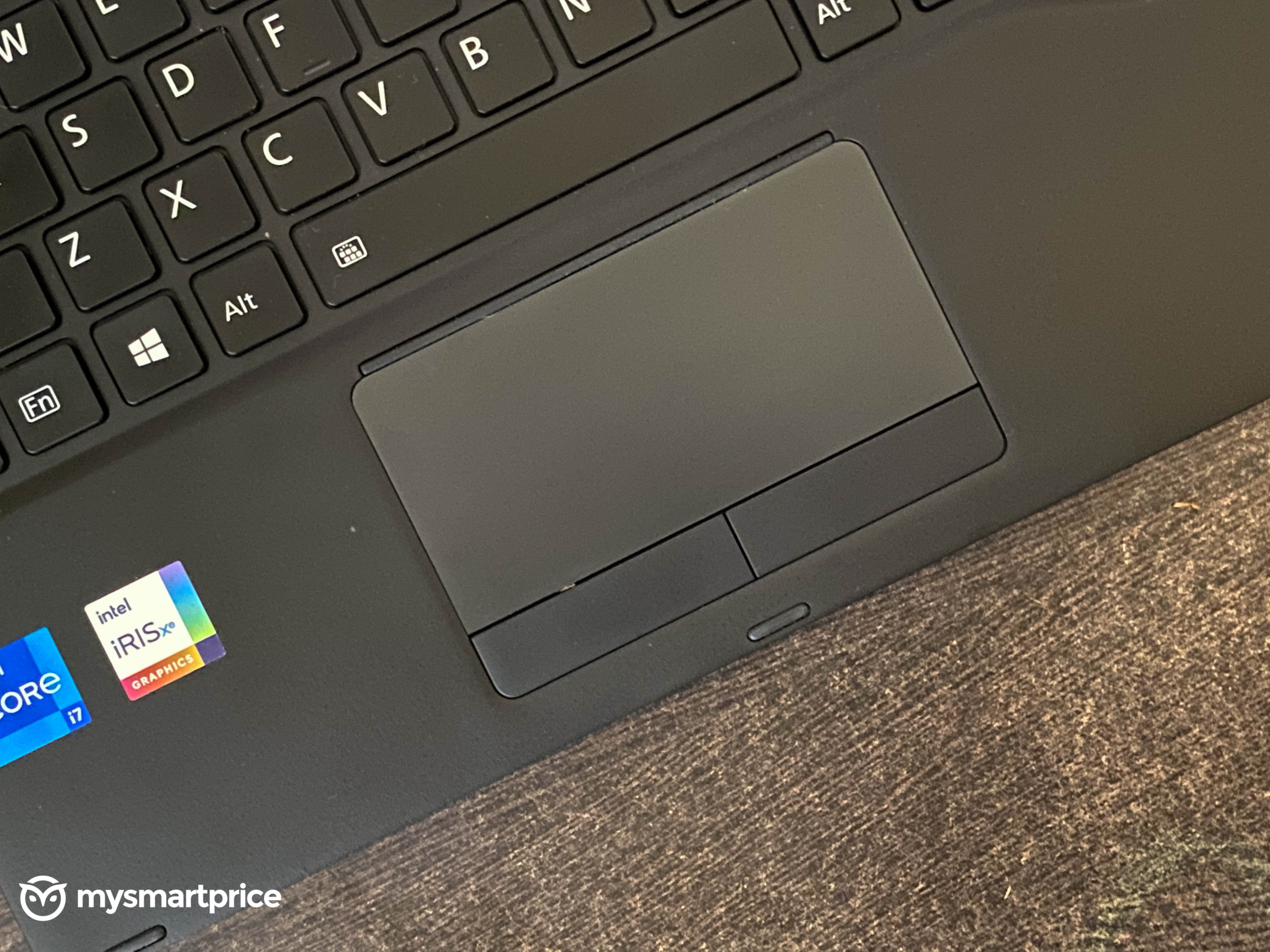 The trackpad is admittedly a bit old school. You can't press down on it to perform click functions. Instead, there are two giant left and right-click buttons for those actions. It took a bit of time to get used to at first, after having used multiple laptops with interactive trackpads, but it actually helps prevent accidental clicks while scrolling. Speaking of which, the tiny surface is mighty sensitive and supports all multi-finger gestures in Windows 10.
Fujitsu UH-X 2-in-1: Battery Life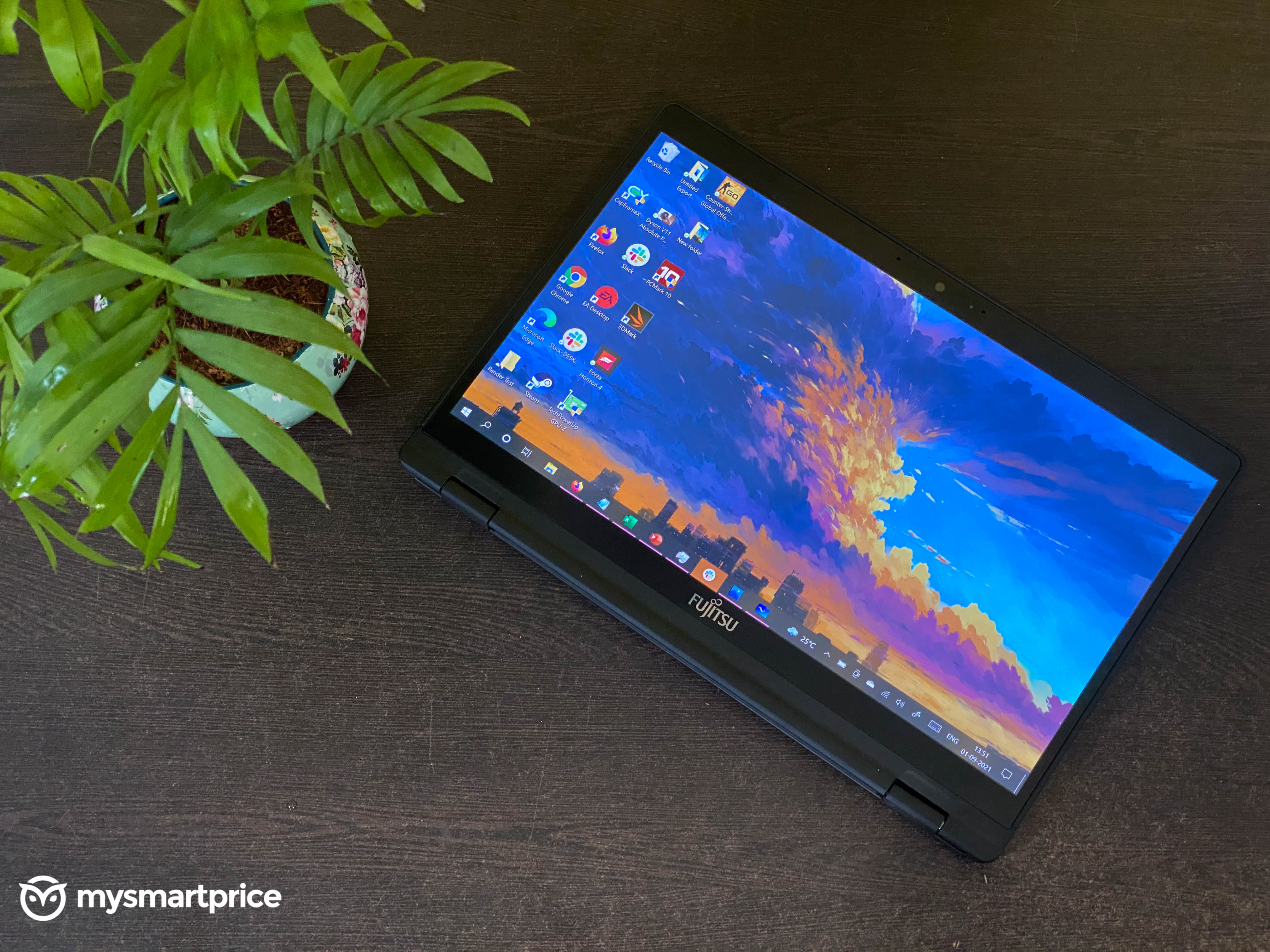 There's very little to complain about the Fujitsu UH-X 2-in-1. It's almost like the perfect laptop built for on-the-go use. And the battery life complements it perfectly. The 50Whr battery is larger than what you'll find in most 13-inch laptops, and with the screen taking up less power, this one lasts a long time.
My active usage usually revolved around multiple Firefox tabs, Slack and Spotify, with intermittent YouTube videos, lots of social media use, and typing out reviews like this, and the laptop managed to last around 9-10 hours with intermittent sleep, which is fantastic.
The bundled 65W charger uses a barrel-pin DC port to charge the laptop, but you can also charge this using a USB PD charger using one of the two USB-C ports. But that same USB-C port also doubles up as the Display Port, so if you have a second monitor paired, you'll have to default back to the in-box charger.
Fujitsu UH-X 2-in-1: Should You Buy?
The Fujitsu UH-X 2-in-1 is an ultrabook, in the truest sense. It weighs less than a kilogram and can transform into a feather-light Windows tablet, and perform like a high-end PC. It also has one of the best keyboards in the business and a bright display. But there's one place where it falters and falters hard. It heats up and impacts the experience, both inside out. Do something intensive, and the keyboard gets toasty, hold it in tablet mode to take notes, and the hot hinge starts to singe, and don't forget the trapped heat starts throttling the CPU, and that certainly doesn't bode well for long-term use. So, while there are all these excellent positive points, that one negative aspect disbalances the whole equation. Thus, while I really appreciate the intricate attention to detail, I can't really recommend buying this for intensive use. For everything else, this one easily passes muster.
Fujitsu UH-X 2-in-1 Laptop
105990
Keyboard and Trackpad
7.0/10
What Is Good?
Feather-light design
Spongy keyboard
Bright Display
Nifty Performance
What Is Bad?
Heating Issues
Touchscreen not sensitive enough
No keyboard backlight