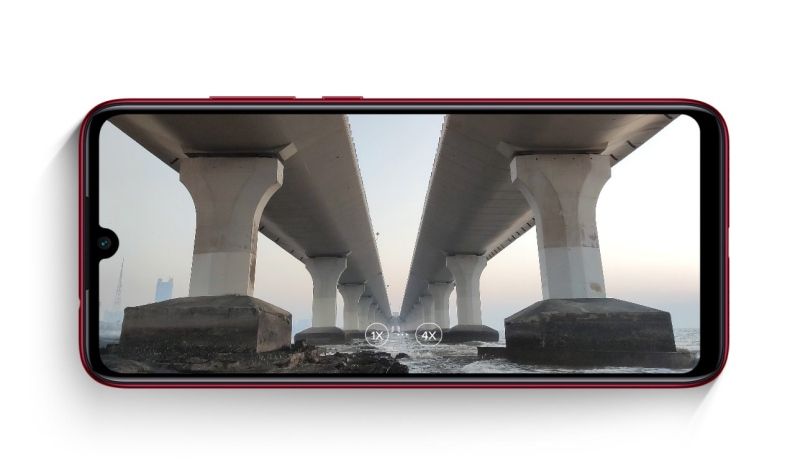 I'm not a fan of Pixel 3 and Pixel 3 XL phones due to their boring design. However, giving credit where it is due, these two handsets feature stunning cameras. Especially, the Google Camera Night Sight is hardly matched by most flagship phones on the market. At this point, the Google Camera app is only available for Pixel devices. However, there's a way to get it working on budget phones. Obviously, your affordable phone won't pull off Pixel esque low-light performance. But, you get a significant boost in the camera performance. For this write-up, I side-loaded the Google Camera on the hottest budget phone in the market, the Redmi Note 7. And before guiding you through the process, here's are a few samples to highlight how much of an improvement it delivers over your default camera app.
Google camera and Redmi Note 7 default camera comparison
As clearly established by the samples, the Google Camera blows your phone's default snapper out of the water. With that out of the way, let's take a look at the requirements of this app. First up, your phone needs to have Camera 2 API support. This allows third-party apps to access your camera hardware properly. Thankfully, the Redmi Note 7 is compatible with it. During the process, I found out that the Realme 3 and Samsung's Galaxy M30 partially support this API. And some phones completely lack the support. There's a workaround, which involves rooting your phone. We don't recommend it because you not only lose your phone's warranty, but the app never works properly in such cases. To be precise, even after rooting and modifying system files, the Night Sight Feature remains inactive. Kind of defeats the purpose of this whole exercise, doesn't it?
Keeping things easy, there's a higher success rate with Snapdragon powered phones. Those with MediaTek and Exynos based phones may also try their luck. But, as per my experience, the Night Sight mode never seems to work properly with budget phones based on Mediatek and Exynos chips.
Instructions
1. Go to device's Settings and enable app installation from "this source".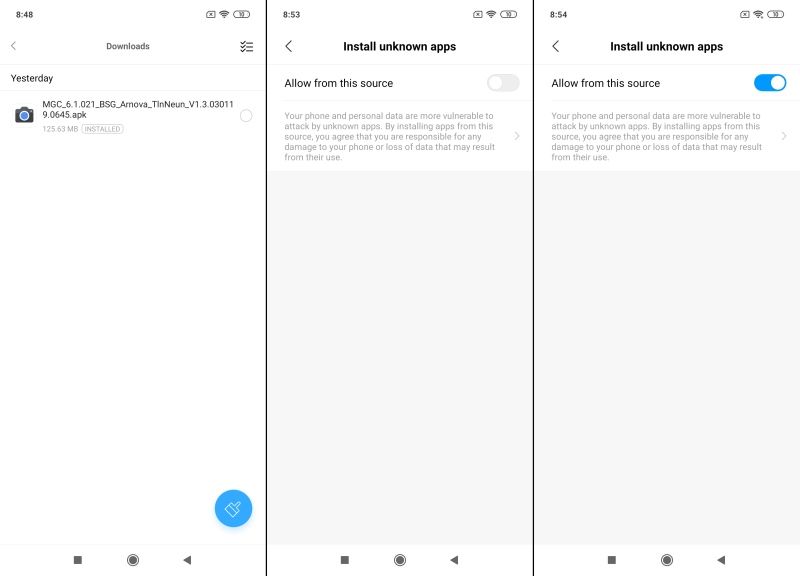 2. Click here to download Google Camera for the Redmi Note 7 and many other Snapdragon based phones. For a comprehensive list of available builds, head over to this page.
3. Once installed, fire up the app, and click on More to access Night Sight mode.
Protip
When framing a shot, ask your friends not to move much.
Try different focus points to fine tune the final result.
Hold the phone as steady as you can. Try holding your breath, it helps reduce the camera shake.
Don't forget to breath after taking a shot.
How Does It Work
Night Sight uses the magic of algorithms to deliver stunning results in extreme low light conditions. The difference between images shot in normal and Night Sight mode is like that of day and night. Behind this software wizardry is computational photography along with machine learning. To get a proper shot at night, a camera needs to capture as much light as possible. One way of achieving this is with longer shutter, but since you can't hold the phone steady for so long, it often results in blurry images. Flash is not an ideal solution as it flattens the image and is ineffective for faraway objects anyway.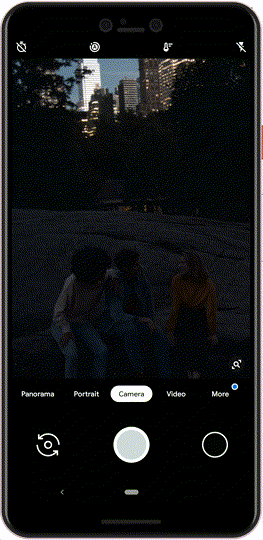 Google's Night Sight tracks your natural hand movement and anticipate shakiness to compensate for it. The Google Camera alters exposure time based on the camera stability. Hold your phone steady, and Night Sight will take its time to capture more light. If you fail to do so, the camera will settle for shorter exposure time.