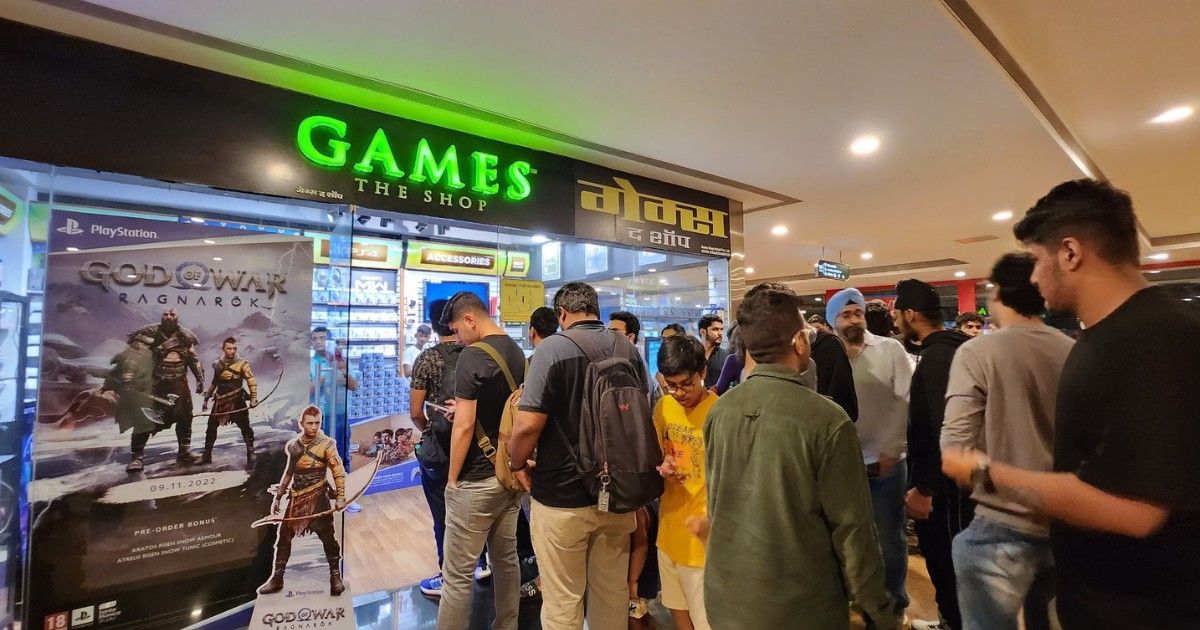 4 years of massive anticipation lead to this as God of War Ragnarok is finally out and the game has been received overwhelmingly positively by the critics as well as fans. In anticipation of hype at launch, several major retail stores in India announced Midnight Launches for the game in select cities across India, and from the looks of it, fans have lined up in droves, confirming that the God of War fandom is alive and thriving in the country.
Fans in cities like Mumbai, Bengaluru, Lucknow, and more lined up for the game at midnight on 8th November and went home with their copy of Santa Monica Studio's latest, God of War Ragnarok. The game is a follow-up to 2018's God of War, which set a high bar for AAA games and it looks like its sequel is about to do the same for years to come.
The awesome @ItsUnico_ has some pics from the Lucknow midnight launch. pic.twitter.com/OWjWKScI6g

— 0xSkeptic (@RishiAlwani) November 8, 2022
The game is currently available for purchase digitally on the PlayStation Store. Those looking to grab a physical disc for the game can do so from retailers such as Games The Shop, Amazon, and Flipkart.
Also Read: PlayStation 5 Next Restock Confirmed for November 11, New Prices Now in Effect
The Indian Gaming Community Has Showed Up in a Big Way for God of War Ragnarok Launch
Here's the line for the Mumbai midnight launch of #GodofWarRagnarok @GamesTheShop. #ps5 #india pic.twitter.com/gzcU7cFM5p

— 0xSkeptic (@RishiAlwani) November 8, 2022
The launch was always going to be a massive affair across the globe and India is joining in, in a big way. Midnight Launches in cities like Mumbai saw scenes of massive approval from fans as fans queued up for the game at midnight, sending a big message to PlayStation that the Indian gaming community will turn up for their games.
India is a massive market for gaming at the moment and the thriving mobile gaming space and esports are testaments to this fact. It will be interesting to see sales figures from retailers in India for God of War Ragnarok. 2022 has been a massive year for gaming fans in India as one of the year's biggest releases, Elden Ring, was also received with similar fanfare.
— cory barlog (@corybarlog) November 8, 2022
Reports suggest that retailers imported a massive number of copies of the game and they seemingly flew off the shelf just as quickly as they came in. This is a massively positive sign for both gamers and publishers who might have previously been on the fence regarding India's viability as a major market for console/PC games. Platform holders such as Nintendo are still yet to have an official presence in the country, but that could change soon with the way things have been developing as of late.
Although, gaming is about to get quite a bit more expensive as Sony has now confirmed that the PS5 will now cost Rs 5,000 more than it did on launch. This is a response to economic conditions across the globe and it remains to be seen how it affects sales – but we should have an answer soon as the next restock is set to go live with updated prices.