Take-Two Interactive recently posted their latest earnings report and it seems to have revealed somewhat of a timeline as to when we can expect Rockstar's GTA 6. As perhaps the most highly-anticipated title in videogame history, Rockstar looks like they are biding their time with Grand Theft Auto 6 as the FY 23-25 pipeline from Take-Two doesn't list the Rockstar behemoth.
The FY 23-FY 25 timeline lists games such as the upcoming "The Quarry" and Marvel's Midnight Suns as well as New Tales from the Borderlands – but it doesn't include GTA 6. Take-Two has also reiterated that an updated FY24/25 timeline will be provided with Q4 FY2023 results – so there is a small likelihood of Grand Theft Auto 6 popping up in that particular pipeline.
As of now, Rockstar has confirmed that GTA 6 is indeed in development but hasn't offered any update since that infamous tweet.
Also Read: Grand Theft Auto 6 (GTA 6) in Development Confirms Rockstar Games
GTA 6 Might Not Be Coming Out Till 2025, According to Current FY 23-25 Pipeline by Take-Two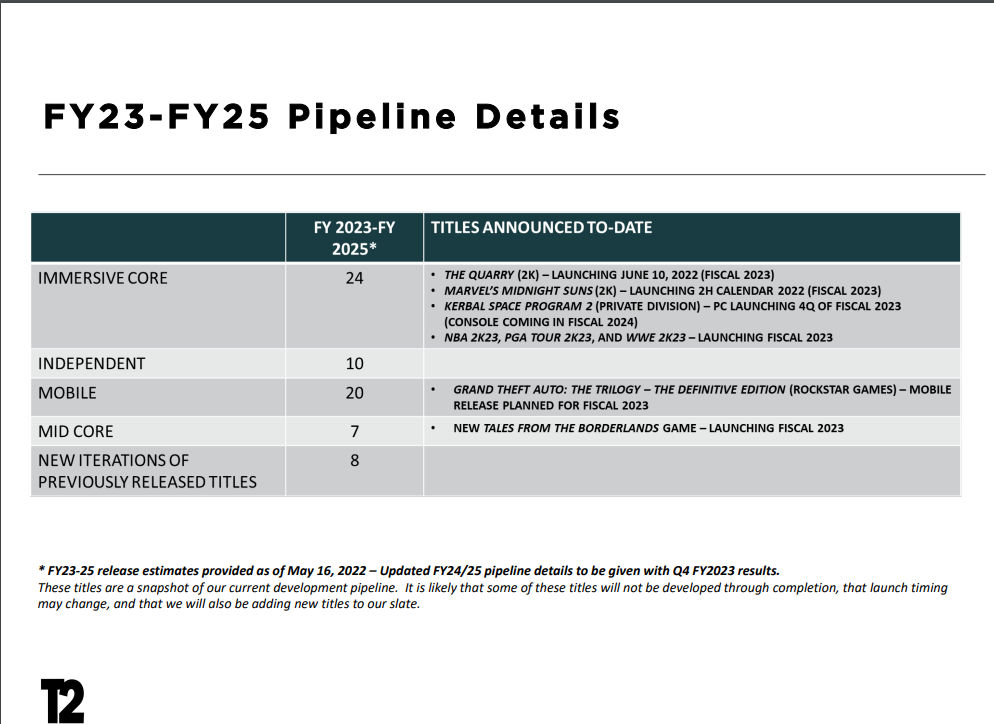 Rockstar Games has faced criticism in the past for crunch and the studio went through a complete overhaul of its development schedule and work environment post-Red Dead Redemption 2. This probably means that both the publisher and the studios will be looking to avoid instances of crunch as much as possible – which probably means a longer development cycle for GTA 6.
The pressure is immense on Rockstar to deliver a timeless classic with the upcoming title and the scale and scope of the game have to be pretty staggering, given what they were able to achieve with past Grand Theft Auto titles. Adding to the workload is also the need for Grand Theft Auto and Red Dead Online to receive continuous quality updates.
Rockstar Games is yet to reveal any more information about the game so it looks like players might have to wait quite a while before we hear or see more about GTA 6.